Your backyard is more than just a place of beauty. It's also a place for you to relax, whether you prefer to recline in a hammock or enjoy a cold beer in your patio chair. And few things can wreck your tranquility faster than a swarm of angry wasps. So, how do we get rid of these pesky, stinging pests?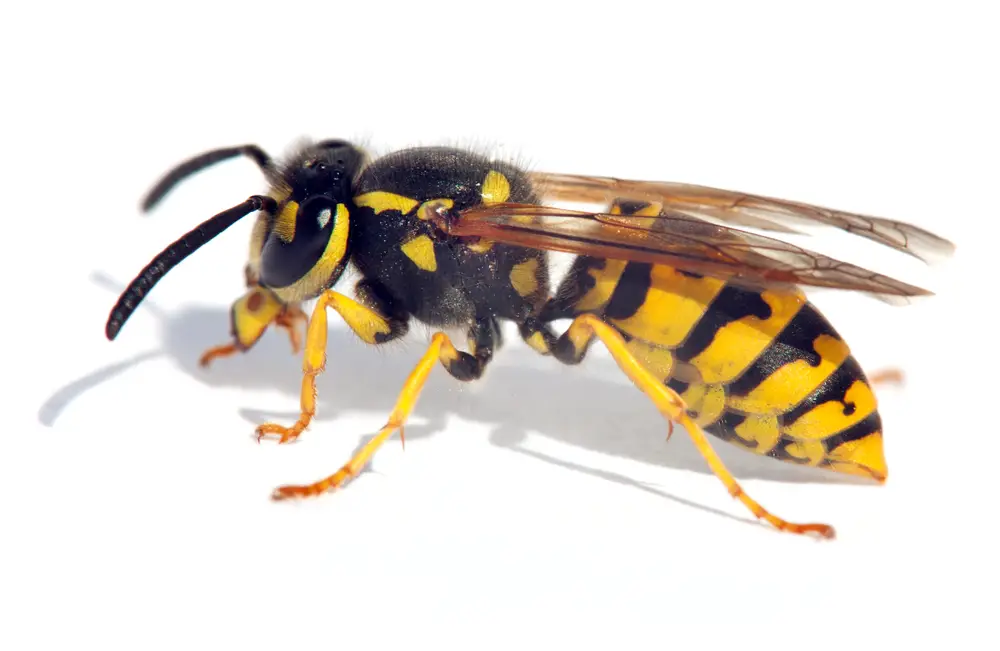 The answer, in many cases, is simply to get a wasp trap. Last week, we talked about rat bait, and how to get rid of your rat problem. And today, we're going to help you find the best wasp trap available.
Let's see what's hot, what's not, and what will get your wasp problem cleared up in a snap.
In a Hurry? Here's Our Top Picks…
1. Aspectek Wasp Trap
ASPECTEK 2-Pack Gourd-Shaped Hornet, Bees Wasp Trap, 2 Pack, Yellow
BEST DEAL PACK: 2-pack of proven-effective wasp traps
Effective: catches wasps, hornets and Yellow jackets around your property
FOOD BASED LURE: Traps lure insect inside with an irresistible mixture of water & sugar
VERY EASY TO ASSEMBLY: Recipe description included in the manual
LIGHT AND DURABLE: Crafted of plastic material with an 18″ nylon cord for hanging
Last update on 2023-09-20 / Affiliate links / Images from Amazon Product Advertising API
The Aspectek Wasp Trap is a cheerful, pumpkin-shaped trap that has a decorative appearance. If you want to fix your wasp problem, but you don't want to deal with ugly, bulky traps, this is an attractive option that will keep your yard wasp-free and appealing.
This trap uses a basic sugar-water bait, which is easy to mix up in your kitchen. As a result, you can save money on replacement bait by making your own. On the other hand, the bait doesn't discriminate and attracts bees just as much as it attracts wasps. So if you rely on honeybees to pollinate your garden and flower beds, it might be better to choose another option.
One upside of the sugar-water bait is that it also attracts fruit flies. This makes the Aspectek useful for indoor use, especially when autumn comes and kills the wasps while driving fruit flies indoors.
Aspectek's traps are very reasonably priced and come in a 2-pack that lets you attack more than one trouble spot at once. The tops unscrew easily, which makes it easy to dump out when they've collected several wasps. For the same reason, they're also very easy to refill.
These traps include strings for easy hanging. Alternatively, you can leave them on a railing or ledge, where they'll look like a simple decoration. They also come with an instruction sheet for mixing up your own bait.
Pros:
Reusable design
Can be hung or placed on a surface
Cheerful, decorative design
Also catches fruit flies
Cons:
Check Price and Reviews on Amazon
---
2. RESCUE! Disposable Yellowjacket Trap
RESCUE! Disposable Summer Yellowjacket Trap - West of The Rockies - 6 Traps
LURE & ELIMINATE YELLOWJACKETS – This disposable yellowjacket trap is effective in targeting and trapping all major species of yellowjackets found in North America, especially during warm, dry summer months.
HIGHLY EFFECTIVE DURING SUMMER – This trap is most effective during summer months when the weather is warm and dry. Once inside the trap, yellowjackets drown in the liquid.
EASY TO USE – Simply add water to activate the powdered attractant and hang the trap outside! The attractant lasts for weeks, and no rebaiting is necessary. Once it's full, dispose in the trash.
WEST OF THE ROCKIES – Make sure you choose the right trap! The attractant in this model is specially formulated to lure yellowjacket species found in states west of the Rocky Mountains.
MADE IN THE USA – At RESCUE!, our goal is to design, manufacture, and market the safest and most effective pest control solutions available for homeowners. We are proud to manufacture our products in the USA!
Last update on 2023-09-20 / Affiliate links / Images from Amazon Product Advertising API
RESCUE! Disposable Yellowjacket Traps are designed specifically to attract yellow jackets, as the name implies. This is because yellow jackets are uniquely attracted to sweet bait. However, the same bait is equally effective for catching hornets, so you'll be able to catch the most dangerous wasps efficiently.
The design is straightforward, with a flexible plastic bait compartment, and a solid, funnel-shaped lid. Setup is easy. All you have to do is cut the top along the dotted line, and fill with water as per the instructions.
This 6-pack is a great value for the money, but keep in mind that the traps are single-use only. Once the bait has been exhausted, there's no way to empty and refill the trap without tearing the plastic, which means you'll have to set a new trap altogether.
As with any soft-bodied traps, these RESCUE! traps aren't designed to sit on a surface. They need to be hung. Suspend them from a tree branch near a nest, hang them off an exterior wall near your trash bin, or hang them from a bird feeder or any other object in your yard.
We recommend these traps if you prefer not to have to handle any dead wasps. The disposable design means you can simply discard the entire trap, wasps and all. This is a significant benefit, and you won't have to worry about emptying the trap if there's still a live wasp or two inside.
Pros:
Disposable
Comes in a 6-pack
Large capacity
Easy to set up
Cons:
Check Price and Reviews on Amazon
---
3. RESCUE! Trapstik for Wasps
Sale
RESCUE! TrapStik for Wasps, Mud Daubers, Carpenter Bees
Eliminate Wasps – Our exclusive VisiLure technology lures wasps, red wasps, mud daubers, and carpenter bees with appealing colors and a multi-dimensional pattern. Once attracted, they become stuck to the sticky surface and expire.
Visual Attractant – The targeted insects are naturally lured to the trap without odors, chemicals, or wasp sprays. It catches queens and workers, from spring through fall.
Thoughtful Design – Our unique Glue Guards create a barrier around the sticky trap surface to reduce the chances of non-insect catches.
Prevent Damage – Mud daubers (mud wasps, dirt daubers) and carpenter bees can cause serious property damage. Our TrapStik can stop this before it starts, without the use of potentially harmful sprays or chemicals.
Made in the USA – At RESCUE!, our goal is to design, manufacture, and market the safest and most effective pest control solutions available for homeowners. We are proud to manufacture our products in the USA!
Last update on 2023-09-20 / Affiliate links / Images from Amazon Product Advertising API
The RESCUE! Trapstik is a sticky trap that works on the same principle as flypaper. Wasps are attracted to it, they land on it, and they get stuck and die. This design is as old as glue itself and is still very effective, and the adhesive is waterproof to prevent it from washing away in the rain.
The downside of an adhesive trap is that it will inevitably catch other species. While bees, ladybugs, and other helpful insects won't necessarily be attracted as much as wasps, there's always the risk that you may trap some. On the plus side, RESCUE! has built a plastic cage around the trap, which prevents it from accidentally catching any birds.
The main attraction of these traps is the color pattern, which is only partially visible to humans. Ultraviolet paint also attracts wasps, with patterns that are commonly found on flowers. Unfortunately, once again, these same colors will also attract bees, so you'll want to avoid these traps if you have friendly honeybees in the neighborhood.
Like the last RESCUE! traps we looked at, the Trapstik is disposable. When it's covered in dead bugs, all you have to do is take it down and throw it out.
One significant benefit of these traps is that they're designed to attract queens in the spring. We haven't had the opportunity to test this. But by attracting queens, you can potentially eliminate a nest before it even gets started.
Pros:
Requires no bait
The plastic guard keeps birds safe
No pesticides or chemicals
Inexpensive
Cons:
Single-use only
Also catches other insects
Check Price and Reviews on Amazon
---
4. Fatal Funnel Wasp and Hornet Traps
Sale
Last update on 2023-09-20 / Affiliate links / Images from Amazon Product Advertising API
If you're a fan of DIY projects, you'll enjoy the Fatal Funnel. These traps are rubber screens with a funnel-shaped design, and they're designed to be inserted into the side of a 2-liter soda bottle.
The plus side of this design is that it's very affordable. You get a 6-pack of traps for the cost of some single traps. On the downside, you'll have to do the assembly yourself.
You'll also need to supply your own bait. Leaving an inch or two of soda in the bottom of the bottle is perfectly fine, but you can also mix up your own sugar-water. Make sure to add a splash of vinegar, though, since this will keep bees away while still luring wasps.
The Fatal Funnel isn't just good for catching wasps. It's also a great way to keep your kids busy for a little while! Be aware that assembly will require some cutting, so this is best left to kids who are old enough to be trusted with a pair of scissors.
The nice thing about this design is that it's very versatile. You can set the traps on a flat surface like a table or a railing, or hang it from a tree or bracket.
In addition, the Fatal Funnel gives you a useful way to repurpose your old soda bottles. Why recycle them when you can literally give them a second life in your own backyard? It's not recycling; it's upcycling!
Pros:
Great value
Choose your own bait
Makes a great activity for kids
Cons:
Check Price and Reviews on Amazon
---
5. DynaTrap Insect Trap
Sale
DynaTrap DT1260-TUNSR Mosquito & Flying Insect Trap with Pole Mount – Kills Mosquitoes, Flies, Wasps, Gnats, & Other Flying Insects – Protects up to 1/2 Acre
What We Catch – Attracts and traps mosquitoes, biting flies, house flies, moths, no-see-ums, June beetles, wasps, yellow jackets, stink bugs, gnats, and biting midges
3-Way Protection – The UV light and TiO2 coating lure flying insects to the trap, then the powerful, whisper-quiet fan sucks them into the basket
Powerful Protection – The trap effectively protects up to 1/2 acre of your property
All-Weather Construction – A durable design for indoor or outdoor use. Keep it continuously running all season long for non-stop insect protection
Discreet Design - The sleek tungsten finish and decorative basket are designed to effortlessly blend in with your existing décor
Last update on 2023-09-20 / Affiliate links / Images from Amazon Product Advertising API
The DynaTrap Insect Trap looks like a bug zapper at first glance, but it's actually even better. While bug zappers are noisy and can interrupt your evening with a constant series of buzzes, the DynaTrap is nearly silent.
While it uses light to attract insects, similar to a bug zapper, it catches wasps and other pests with a quiet vacuum fan. The dead bugs are collected into a small bin at the bottom of the unit, which you can empty into the trash at your leisure.
This trap is extremely effective, and it doesn't just catch wasps. At night, the light will reliably attract mosquitos, providing a solid one-two punch that's a great value for your money.
That said, the DynaTrap needs to be plugged in. This means you'll only be able to use it near a power source, so you won't be able to set it up near the edge of your property.
One thing we really like about the DynaTrap is that it looks like a small, decorative lamp. It's an attractive addition to your landscape, not a bulky bag trap or soda bottle, so you can set one up without detracting from the beauty of your backyard.
Another great feature of this trap is that it's constructed from durable aluminum with a tungsten finish. Wind, rain, and storms will not make a dent.
Pros:
Also kills mosquitos
Attractive, decorative design
Quieter than a bug zapper
Tough and durable
Cons:
Requires a power supply
Pricey
Check Price and Reviews on Amazon
---
Wasp Trap Buying Guide
As you can see, there are quite a few quality wasp traps on the market. But how do you decide which one is the best? For that matter, how do you even know if you need a wasp trap, to begin with?
No worries. We'll walk you through some of the basics, so you'll be able to make an informed decision.
Different Wasp Species
Depending on what kind of wasps you have, you may not want to get rid of them. Some species are actually beneficial!
Beneficial wasps include paper wasps and mud daubers. These wasps are long, slender, and creepy-looking, and they build nests of mud or paper under your eaves.
But as creepy as they look, they tend to avoid humans. Even better, they pollinate flowers, and they kill caterpillars that feast on your garden. If you're dealing with these types of wasps, your best bet is to ignore them and let them go about their business.
Digger wasps nest in the ground. And while they also avoid humans, they're more of a concern because your children or pets may accidentally step on their nest. In this case, the wasps will get angry and attack. So, you may want to set up a trap if children and pets are a concern.
Yellowjackets are a more serious concern. Not only do they nest in the ground, which means you can accidentally step on their nest, but they can become aggressive if you get too close. In addition, they're attracted to sweet foods and beverages, so they can turn your backyard barbecue into a disaster.
The most dangerous types of wasp are hornets. These are big, venomous wasps that have an extremely painful sting. You can easily identify their nests, which are large and turnip-shaped, and hang from tree branches. Worse, they're highly territorial, and they will attack any humans or animals that get too close.
To sum up, paper wasps and mud daubers are actually good for your lawn and garden! But if you've got yellow jackets or hornets, it's time to set a wasp trap.
Types of Wasp Traps
So, let's say you're dealing with one of the nastier varieties of wasp. What kind of trap do you need?
Let's take a look at the most common varieties.
Reusable Traps
Reusable traps have bait on the inside that's designed to attract wasps. Generally, they're tube or funnel-shaped. Wasps can fly in through the small opening, but they get confused once they're inside and become stuck. Eventually, they either starve, drown, or die from exhaustion.
These traps are designed to be emptied, cleaned, and reused. But you'll need to buy replacement bait to set them up again.
Disposable Traps
Disposable traps are designed similarly to reusable traps, but they're typically constructed from flexible plastic, like a sandwich bag.
The benefit of these traps is that you don't need to worry about cleaning out a bunch of dead wasps. Just discard the whole trap when you're done. On the other hand, you'll need to replace the entire trap, not just the bait, so they tend to cost a little more over time.
Sticky Traps
Sticky traps are similar to flypaper, but they tend to be much larger, in order to catch larger insects.
These traps are strong, they're cheap, and they're easy to replace. However, they don't discriminate between different types of insects and can catch beneficial species like honeybees and ladybugs. Because of this, you'll want to be very careful about where you deploy this kind of trap.
Electrical Traps
Electrical traps, or "bug zappers" are the most efficient option. However, much like sticky traps, they can also catch beneficial species. They also need to be installed near a power outlet so they can be plugged in.
One upside of electrical traps is that the glowing light attracts mosquitos. So they'll kill wasps by day and mosquitos by night. That's not a bad combination!
Other Options
Some wasp traps are simply funnels or slotted openings to a 2-liter soda bottle. These traps are the most inexpensive of all, but you'll need to put a little bit of effort into getting them set up.
Regardless of what you choose, avoid so-called "wasp repellants". These are essentially fake wasp nests, but wasps will not smell any wasp pheromones, so they'll know the "nest" is empty. You may as well throw your cash in the barbecue as buy one of these repellants.
How to Make a DIY Wasp Trap
Of course, a wasp trap is a pretty simple device. If you're a do-it-yourselfer, you may simply want to create your own. It probably won't be as pretty as a pre-made trap, but it will get the job done. Best of all, you can make it out of trash!
Here's what you need:
An old 2-liter soda bottle
Sweet bait (juice, wine, apple cider vinegar, jam, or sugar water will all work)
Vinegar
String or wire (if you want to hang your trap)
A knife
A sharpie
To begin with, draw a line around the neck of the bottle, near the top but before it narrows down. Use a rubber band or other guide if you need to, in order to keep the line straight.
Now, take your knife, and carefully cut along the line. Take your time here. Not only don't you want to cut yourself, but you want to keep the line as straight as possible.
Now, put your bait in the bottom of the trap. To keep your trap from catching any friendly honeybees, add a small amount of vinegar. The scent will keep bees out, while still attracting wasps.
Next, flip over the top portion of the bottle and slip it into the bottom with the opening pointing inside. You can either set your trap on a table or ledge or punch small holes in the sides to attach a string and hang the trap. If you use this method, make sure to punch through both the top and bottom portions of the bottle so they don't come apart.
Best Wasp Trap Brands
Before you make a purchase, it's important to understand who you're dealing with. After all, if you're going to trust your safety to a wasp trap, you'd better have confidence in the manufacturer and their reputation. Here's a quick look at the brands we've listed.
FAQ
Before we wrap up, let's address some common questions about wasp traps.
Q: Where Should I Hang My Wasp Traps?
A: Just as with any animal trap, you'll want to place your wasp traps in a location that the wasps are already hanging out. The easiest way to do this is to put your trap near their food.
One common food source for wasps is outdoor trash bins. They'll feast on kitchen scraps, crawl into empty soda bottles, and generally scavenge everything we messy humans leave behind. Hanging a wasp trap over the trash bin will be like setting up a big neon sign that says "free food".
Another common gather place for wasps is any place where there's standing water. Ponds, pools, and birdbaths are all places where the wasps will go to get a drink. Hang traps near these areas, and you'll catch more wasps than you know what to do with.
Finally, keep in mind that wasp traps are designed to attract wasps. Surprise!
This means that you want to avoid placing wasp traps near patios, or anywhere that you and your family spend time outside. Keep the traps at least 20 feet from patios, gardens, and walkways, and you'll be drawing wasps away from your family, not towards them.
Q: What Do I Do If I Have Wasps In My House?
A: Most wasp traps are designed for outdoor use. However, there's no reason you can't make a DIY trap like we mentioned above and use it indoors. Just make sure to empty it regularly, and to keep it near windows or in the kitchen where wasps will typically be attracted.
That said, wasps should be a rare occurrence inside the house. If one or two slips in through an open door, a fly swatter will be more effective than any trap.
Similarly, if you've got a large number of wasps inside the house, you've got yourself an infestation. Forget about setting traps, and call an exterminator!
Q: When Should I Set My Wasp Traps?
A: Depending on the time of year, wasp traps can be more or less effective. While most wasp traps claim to be useful from spring through fall, the reality is that they're usually baited with sugary liquid. But in early spring, wasps are generally looking for protein; at this time of year, consider a DIY trap with meat as bait.
Conversely, commercial traps work best in the fall, when wasps are loading up on sugar to feed their queens for the winter.
Normally, there's no reason to set a trap in the spring, since you don't know where wasp nests are going to crop up. However, if you've had problems for several years, the spring is the best time to catch a queen. If you're lucky enough to catch one, you can eliminate an entire nest before it even gets built.
Q: Can Wasp Traps Hurt Bees?
A: Most commercial wasp traps are designed to catch wasps only, and contain ingredients that bees want to avoid. However, if you want to be 100 percent sure, read your trap's instructions.
If it turns out that a particular trap is going to attract bees, switch to a different brand. There's no reason to kill off helpful honeybees while you're managing your wasp problem.
Wrap Up
Now that we've talked about what makes a great wasp trap, it's time to render a verdict. What's the best wasp trap on the market?
If you're looking for a durable, long-term solution, it's hard to argue against the DynaTrap. Compared to other options, it's a bit pricey, but you'll never need to purchase refills or replace a broken trap. It has a life cycle of 30,000 hours, which is nearly four years of continuous operation. Considering the fact that you'll want to turn it off during the winter, this is a great value!
Of course, an electric trap, even an efficient one like the DynaTrap, is energy-intensive. If you're looking for a more eco-friendly option, consider the Fatal Funnel. Not only does it require no power, but it gives you an opportunity to upcycle your old soda bottles.
Finally, if you want the most convenient option, the RESCUE! Disposable Yellowjacket Trap is tough to beat. Add water, hang it up, then throw it in the trash when you're done. No need to muck around with dead bugs or bait refills.
At the end of the day, what matters most is which trap works best for you. We've chosen some great options. Now you decide!