Tired of having to deal with the upkeep of your yard's lawn? A simple solution to your problem exists in the form of artificial grass — not only does this wonderfully low-maintenance product require no cutting, no watering, no leveling, and no spraying for bugs, but the best artificial grass for backyards these days even looks the part, too, with some models even eclipsing the real thing in terms of aesthetics.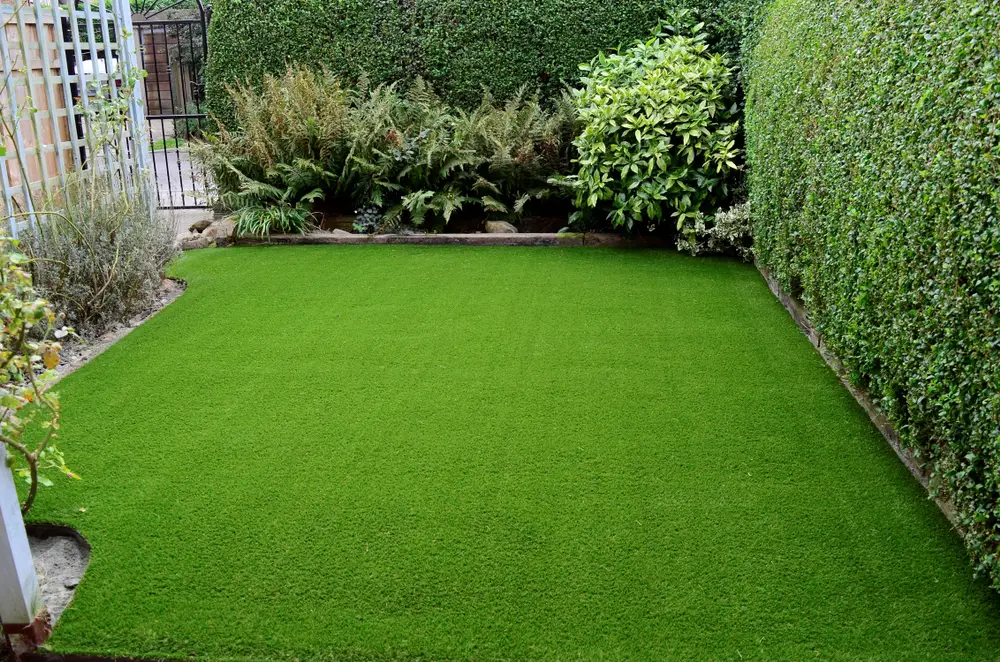 In this article, we will introduce you to our selection of the best artificial grass for backyards out there and also throw in a detailed buyer's guide to help you choose the best option for your yard.
In a Hurry? Here's Our Top Picks…
Best Artificial Grass for Backyards
1. LITA Premium Artificial Grass
LITA Premium Artificial Grass 28 in x 40 in (7.7 Square FT) Realistic Fake Grass Deluxe Turf Synthetic Turf Thick Lawn Pet Turf -Perfect for Indoor/Outdoor Landscape - Customized
MATERIALS: Made of high quality synthetic material,superior resilience and durability,Constructed of the highest quality UV resistant polyethylene and poly polypropylene yarns,70 oz total weight per square yard to ensure an extremely high-density artificial grass.
ENVIRONMENTALLY FRIENDLY: It is eco-friendly and non-toxic,Its 4 tone pattern is soft, lush and the thatch looks just like natural grass,providing you with year round green and turf enjoyment, Perfect for all indoor and outdoor projects.
SAVE MONEY BY GOING GREEN: No mowing, no watering, no spraying,just years of enjoyment with family, friends and pets And they would not have to worry about the grass thinning out or dying off during hot or cold weather.
SIMPLE INSTALLATION: Laying out our grass is very simple-Simply mark and dig out an area, lay out the base, roll out the turf, and seal the matter,Infilling is your choice, though we recommend it,Blade height is close to 1 3/8" and perfect for that well-manicured look.
BEST CHOICE IN ARTIFICIAL GRASS: Top quality and Low price - 10 years warranty with 30 days return policy, IF YOU WANT CUSTOMIZE OF THE ARTIFICIAL GRASS, CLICK THE LITA AMAZON STOREFRONT.
Last update on 2023-09-18 / Affiliate links / Images from Amazon Product Advertising API
The best artificial grass for backyards should satisfy certain criteria. It should be authentic-looking, durable, reasonably priced, boast a nice feel, and be able to deal with a high volume of foot traffic for the sake of longevity.
The LITA Premium Artificial Grass ticks all of the above boxes…and a few more.
This grass is made with a blended polyethylene and polypropylene yarn that is both water and UV resistant. Its high-density pile also gives the LITA a very soft and cushioned feel underfoot and the yarn's four-tone blades, together with a short, curly, yellow-hued thatch, provide a remarkably lush and natural look not found in many kinds of grass in this price range.
Finally, this grass also offers exceptional drainage, retains its color very well, and is easy to trim to size and install. In terms of overall functionality and value for money, they don't come much better.
What We Like:
Eco-friendly and non-toxic
Easy to install
Authentic appearance provided by four-tone pattern and yellow thatch
Reasonably priced
Durable polyethylene and poly polypropylene yarns
Good drainage in polyurethane backing
What We Don't Like:
At 1 3/8", the pile height is relatively low
Very thin overall compared to other products
Check Price and Reviews on Amazon
---
2. SunVilla Artificial Grass
SunVilla SV7'X13' Realistic Indoor/Outdoor Artificial Grass/Turf 7 FT X 13 FT (91 Square FT)
✅Premium quality: SunVilla is a marvelous, multi-purpose and very durable superior quality artificial grass/turf Brand, made of Advanced UV resistant Yarn, polyethylene fabric and durable latex backing, All materials come from the top suppliers All over the world and strictly tested in our laboratory. Perfect for all indoor and outdoor projects. SunVilla grass Doesn't require any infill for even high traffic.
✅ENVIRONMENT FRIENDLY: SunVilla artificial grass is non-toxic and lead free, making it an excellent surface for pets and kids to play on. 4 tone patterns are soft, lush and with 1 3/8" blade height just look like natural grass, providing you with year-round green and turf enjoyment.
✅Save money & always Green: no mowing, no watering, no spraying, no fertilizing, SunVilla artificial grass needs no maintenance and looks perfectly fresh and Green all year Round.
✅BEST CHOICE IN ARTIFICIAL GRASS: Make perfect well-manicured look. SunVilla provides with 10 years with 30 days return policy plus hassle-free customer service make your purchase 100 % worry free!
✅Best matching: please select SunVilla artificial turf self-adhesive seaming tape for your SunVilla turf installation projects for a perfect seamless outcome by clicking
Last update on 2023-09-18 / Affiliate links / Images from Amazon Product Advertising API
It might be a fraction pricier than the average artificial turf, but SunVilla Artificial Grass offers more than enough in the way of overall quality and appearance to justify the added expense.
First up, SunVilla offers this product in ten different sizes, making it easier to install and reduce wastage from trimming. The grass is made with high-quality, UV-resistant monofil polyethylene and curled polypropylene yarns that are both hard-wearing and retain their color better than most of their competitors.
The backing on this grass is water permeable, making it ideal for use in wetter climates, and is composed of three layers—a polypropylene backing, a grid layer, and a high-quality rubber waterproof base — that provide a supple, soft feel but also excellent durability. And if that rubber doesn't hold out as long as you'd hope, SunVilla's ten-year warranty has you covered!
One of the most attractive features about this grass, however, is the density of the blades, which is so high that it is feasible to go infill-free without fear of flattening the blades.
What We Like:
Dozens of size options available
4-tone coloring
10-year warranty
Laboratory tested for color degradation, durability, and fire resistance
Non-toxic
Natural appearance thanks to curly yellow thatch and
No infill required
What We Don't Like:
Relatively expensive
1.4" pile height will be a fraction short for some buyers
Check Price and Reviews on Amazon
---
3. Artificial Grass Wholesalers2" Synthetic Turf
New 15' Foot Roll Artificial Grass Turf Synthetic Fescue Pet Sale! Many Sizes! (Premium 15' x 40' = 600 Sq Ft)
REALISTIC NATURAL APPEARANCE: Our grass is meticulously crafted with each blade having slight variations in color, dimension, and texture, giving it an incredibly realistic and natural appearance. Your lawn will be the envy of the neighborhood, creating a picturesque landscape that stands out from the rest.
DURABLE PU BACKING & EFFICIENT DRAINAGE: Our foot roll artificial grass turf features a durable PU backing, which provides added stability and strength to withstand heavy foot traffic and outdoor conditions. Additionally, it is equipped with drainage holes, allowing for efficient water drainage. This prevents pooling and keeps surface clean and dry, even after rainfall or watering.
EASY INSTALLATION: Hassle-Free Setup - With our user-friendly design and clear instructions, installing the artificial grass turf is a breeze. Transform your backyard or play area quickly and effortlessly. Best of all, our artificial turf rolls require no infill, saving you time and effort during installation and maintenance.
VERSATILE USE: Whether you need a lush lawn for your balcony, a safe play area for children, a grass carpet for your indoor patio furniture, for photography, or a pet-friendly surface, our foot roll artificial grass turf is suitable for various applications, offering versatility and convenience.
VARIOUS SIZES AVAILABLE: Enjoy the luxurious feel of our 2" super soft pile height medium green artificial grass turf, which is available in a wide range of sizes. Whether you have a small backyard or a large outdoor floor space, you can find the perfect fit for your landscaping or recreational needs.
Last update on 2023-09-18 / Affiliate links / Images from Amazon Product Advertising API
With a lofty, plush, two-inch pile height and neutral green yarn with a very natural-looking brown thatch, this grass is among the most aesthetically pleasing and softest varieties of fake turf we've ever come across.
It also boasts multi-toned coloring, does not require infill, and is designed to provide the perfect balance between durability and feel. And what this grass offers on its top side is matched on the underside, with a hardy polyurethane backing offering excellent water resistance and permeability through a grid of drainage holes that are big enough to shed rainfall without being so large as to allow weeds to grow through.
On the downside, this grass takes a little more effort to install – the thick PU backing is tricky to cut through and also requires tacking in place instead of gluing or stapling — not deal-breaking issues, but something to think about for those averse to a bit of extra donkeywork.
What We Like:
Wide variety of sizes available
Effective drainage holes shed rainwater and ensure grass remains stink-free
Polyurethane backing offers great durability
Multi-tone coloring gives a natural appearance
UV-resistant
15-year warranty
Very soft, spongy feel
2" pile height
What We Don't Like:
Kinda pricey
Must be tacked in place
Difficult to cut
Regular model a bit rough
Check Price and Reviews on Amazon
---
4. iCustomRug Thick Synthetic Artificial Grass
Artificial Thick Realistic Grass Mats & Rugs 8' X 10' Synthetic Finished Rug Indoor Outdoor Garden Landscape,Pet Pad Dog,Deck, Pre-Finished Edges Fake Grass
Synthetic 1" Pile Height - Looks & feels like real natural grass
Finished all around with carpet binding tape – for a  authentic rug look. Prevents fraying.
Soft underfoot, 100% Olefin UV Stabilized with two year fade warranty, extremely stain resistant and easy to clean, just hose down water drains through.
Great for outdoor decks & patios, campers, pet centers, gyms, sports areas,  pool areas, landscaping, garden areas and grass replacement
TOP QUALITY outdoor grass. Choose from many CUSTOM SIZES available
Last update on 2023-09-18 / Affiliate links / Images from Amazon Product Advertising API
If you happen to harbor fears about your artificial grass fading and losing some of its colorings over time, this turf from iCustomRug could well be the solution you're looking for.
This product is made with 100% UV-stabilized Ofelin, which is far more fade-resistant than any other yarn material in our review and can deal with rain, sun, snow, and pet pee better than the majority of its competitors. The manufacturers have such faith in their product's fade-resistance, in fact, that it comes with a two-year fade warranty for added peace of mind.
In addition to fade-resistance, this grass scores highly in a handful of other factors, too, boasting a superbly soft feel, stain and mildew-resistant materials, binding tape to prevents fraying around the edges, a polypropylene backing that offers excellent water resistance and durability, and, as the name suggests, can be customized to the size of your lawn area.
On the downside, this is quite pricey for a polypropylene product and has a pile height of only 1 1/4" tall—both highly forgivable and minor failings, we should say, given all of this turf's other attributes and fantastically tidy appearance.
What We Like:
Available in a wide variety of sizes
Effective drainage holes
100% Olefin UV-stabilized yarn offers great fade-resistance
Stain and mildew-resistant
Flame retardant materials
Super-soft feel
What We Don't Like:
Relatively expensive
The pile is only 1 1/4" tall
Gets a little stinky in very high temps
Not as lush or authentic-looking as other grasses on our list
Check Price and Reviews on Amazon
---
5. Pet Zen Garden Premium Artificial Grass
Last update on 2023-09-18 / Affiliate links / Images from Amazon Product Advertising API
This artificial grass is one that divides opinion due to boasting one central feature that will appeal to some buyers and not to others—namely, its rubber backing. While this feature makes this product wonderfully soft to walk around on and ideal for kids likely to be tumbling around on it, the trade-off comes with that rubber's lack of durability and tendency to degrade after a few year's exposures to the elements and foot traffic.
Backing aside, however, this grass ticks all the boxes that need ticking. Its 1.6-inch pile height makes it a happy-medium option between astroturf-like models in the 1-1.25" range and super-lush but pricey models in the 2" range—most of which, we might add, require infill to keep the pile erect. And blended into those 1.6-inch blades is a dense, brownish thatch that gives this grass an even more cloud-like feel underfoot. Top this off with a 4-tone color scheme and you have, dare we say it, an artificial grass that almost looks better than the real thing!
One of the main attractions of this grass, however, is its easy maintenance—the polypropylene yarn does not absorb pee odor from your pets, the backing uses ample drainage holes to reduce the risk of standing water, and a short hose down easily removes any leaves or other debris from the yarn.
All in all, a winner if you prioritize feel and appearance over durability.
What We Like:
1.6-inch pile height
Effective drainage holes
Double-layered construction (thatch and bladed yarn)
Natural-looking, 4-tone coloring
Very soft rubber backing
What We Don't Like:
Rubber backing lacks long-term durability
Despite being UV-resistant, yarn can fade and overheat in high temps
Check Price and Reviews on Amazon
---
Artificial Grass Glossary
When surveying the options of the best artificial grass for your yard, you're likely to come across a few unfamiliar terms that make the whole business sound somewhat esoteric. Thankfully, it isn't, and to demystify things we've added a short layman's guide to some of the most common terms you're likely to find:
Back Weight: This refers to the weight of the base material ( or "backing") to which the blades of artificial grass are attached. As a general rule, the heavier the back weight, the more durable the product will be. The only downside to heavy back weight is the added effort required during installation.
Front/Face Weight: This refers to the weight of the "yarn" (see below)—that is, the blades of the artificial grass is composed of. In most cases, the heavier the face weight, the higher the quality of the turf.
Infill: The infill is a material (typically crumb rubber) added at the base of the blades to help them stand upright and to protect the backing material.
Pile Height: This refers to the height of the blades of grass.
Yarn: The fibers that compose the 'blades' of the
Why Choose Artificial Grass for Your Backyard?
Back in the day, the only place you were ever likely to find artificial grass was on the odd soccer field and the occasional "lawn" of a fancy hotel with lazy groundstaff. In the last decade or so, however, this once-frowned-upon product has become all the rage.
The reasons behind artificial grass's rise in popularity may well have something to do with improvements in its quality, but there are several other factors that have made fake turf a favorite of thousands of homeowners worldwide.
Below, we list the top ten reasons why:
It's low-maintenance.
It's low-cost.
It's easier to install than sod.
It keeps the kids clean.
It's pet-friendly.
It doesn't need sunlight to flourish.
It saves water.
It looks good year-round.
It's eco-friendly.
It's very durable.
How to Choose Artificial Grass
When buying choosing artificial grass, several factors come into play that will determine the product's quality and suitability for different purposes:
What Pile Height is Best?
Most types of artificial grass on the marker measure between 1 and 2 inches in height. Generally speaking, the taller pile is viewed as a marker of superior quality artificial grass. In terms of appearance, taller pile typically offers a more "lush" and healthy-lawn kinda look, whereas lower pile heights can, in some cases, look like oversize foot mats for cleaning your clogs!
That said, the choice between different lengths is very much subjective and your decision will ultimately come down to how you plan on using it, how much traffic you envision passing over it, and how fussy you are about aesthetics.
Short (1"—1 1/4"): Products with this pile height tend to be lower quality and, in most cases, bear the least resemblance to real grass. While a good option for amateur golfers looking to practice their putting or those working on a tighter budget, this length of the pile is unlikely to satisfy the demands of the aesthetically inclined homeowner.
Long (1 1/2"—2"): While often much pricier than artificial grasses with shorter pile lengths, products in this range typically offer a far more natural, healthy appearance and the higher pile will compensate for the effect of grass compression that occurs over time with heavy foot traffic.
Is a Blended Pile Best?
"Blended" yarn or pile refers to the variety that uses a combination of green straight yarn and shorter, curly yellow yarn to give the grass a more natural appearance, even close up. Owing to this increase in density, blended yarn is also typically more durable, softer to the touch, and more resistant to the wear and tear caused by heavy foot traffic.
Which Fiber Material Should I Choose?
The material used in the fibers of any artificial grass is perhaps the greatest determiner of overall quality. Beyond more obvious variations in feel, the type of material also determines durability, appearance, and how the grass will respond to heavy use or traffic and exposure to the elements.
Below, we offer a short overview of the most common material types to help you choose the best for your needs.
1. Polypropylene
While this fabric dries off very quickly and is less likely to deteriorate in harsh environments,  polypropylene (PP) is generally a lower-quality material that boasts a shiny finish that's easily detectable as fake, even from a distance. In terms of feel, PP is also stiffer than other materials, making it decidedly prickly and harsher to the touch.
2. Polyethylene
Although similar to PP, polyethylene (PE) typically have a more natural appearance, has a much softer feel, boasts the longest-lasting UV resistance of all-fiber materials, and offers solid water resistance.
3. Nylon
Nylon is the only fiber material used in artificial grasses that is not plastic and is generally considered to be the highest-quality material available.
Why?
First up, nylon is more durable than both PE and PP and so is a better choice for areas you expect to be subjected to heavier foot traffic. Secondly, nylon is far softer than other materials, making it a great choice for those with kids who are likely to be taking tumbles in the yard. Thirdly, nylon turf looks more natural and less plasticky than PE or PP.
On the downside, nylon is usually very expensive, highly susceptible to UV degradation, fades more quickly than PE or PP grasses, and also takes longer to dry out.
Which Material is Best for the Backing?
When choosing the best backing for your artificial grass, there is usually a trade-off between feel and durability, with highly durable backing materials usually offering a firmer, less pliant feel and less durable backing materials offering a softer and even bouncier feel.
The two main types of backing material in use are polyurethane and rubber, both of which have distinct advantages and disadvantages:
1.Polyurethane
Polyurethane is by far the most commonly used material in the backing of artificial grasses. This is mainly because it offers a far more hard-wearing and durable alternative to rubber. Although polyurethane does have a stiff and unyielding feel beneath the feet, it is far more capable of handling heavy traffic without losing shape and offers far superior water resistance.
2. Rubber
As a general rule, rubber is only chosen over polyurethane by buyers who prioritize the feel of their artificial grass over its durability. Rubber is softer than polyurethane and so provides a slight but noticeable degree of "bounce" or rebound when stepped on—a feature that will appeal to buyers with kids who might be bouncing around (voluntarily or not!) in the yard. On the downside, rubber is naturally biodegradable, does not respond well to water, and can lose its shape over time.
How Do I Choose a Color?
When choosing a grass, it's important to make sure the coloration will match your expectations and look as authentic as possible. While this can be difficult to gauge when buying online, there are a few "tells" that will give you a better idea pre-purchase.
The most obvious of these is to read online buyer reviews. With certain models, the terms "lime," "plasticky", "shiny" or "unrealistic" are all too common and are sure giveaways of the turf's unsuitability for buyers looking for more natural coloration.
The other tell is the number of shades used in the yarn. As a general rule, the more tonalities featured in the yarn, the more natural the turf will look—real grass, after all, is rarely uniform in color.
Finally, the presence or absence of "thatch" can determine how authentic your fake grass will look. This short, curly addition at the base of the turf not only increases softness and density but also provides the contrast of color needed to mimic the composition and appearance of the real thing.
Should I Request Samples?
Yes! Gauging how any artificial grass will look or feel when laid out on your lawn can be tricky and making such a large investment on the basis of a few online photos could end in disaster. Thankfully, most reputable suppliers will send out free samples that will help you avoid any expensive returns.
Is Warranty Important?
While buying artificial grass with a warranty is certainly advisable, the Synthetic Turf Council claims that most varieties of artificial grass outlast the company's warranty, meaning this shouldn't really be a priority.
Best Artificial Grass Brands
Altruistic Grass: This brand, which makes the LITA Grass featured above, has been on the go for over two decades and stocks a wide range of products that include pet-friendly grasses and others intended for both indoor and landscaping use.
Artificial Turf Supply: This California- based company is the producer of the Artificial Grass Wholesalers Grass featured above and is one of the most well-known manufacturers of artificial turf out there, with over 10,000 commercial projects under their belts to date.
SunVilla Grass: This California-based brand has over ten years' experience in creating affordable artificial grass for both residential and commercial applications, specializing in landscaping, indoor flooring, playgrounds, sporting fields, putting greens, and more.
Artificial Grass FAQs
Q: What's best to lay artificial grass on?
A: Ideally, you should lay your artificial turf on a 1.5" layer of compacted sand. Leaving vegetable material under your new grass is inadvisable as this will eventually rot and leave the surface of your artificial lawn uneven.
To see the installation process in full, check out this video from MKM Building Supplies:
Q: What is the best artificial grass for dogs?
A: Because nylon is highly porous and prone to soak up liquids, grasses made with polyethylene or polypropylene materials and featuring plenty of drainage holes are most capable of reducing odor from dog urine. Many other types of pet-friendly grass—like the Pet Zen Garden turf featured in our review—also use antimicrobial treatments to help neutralize odors.
Q: Can artificial grass be laid on concrete?
A: While it's possible to do so, this would prove sub-optimal for drainage and also probably mean laying the grass out loosely on the surface because of the difficulty entailed in tacking it to concrete.
Q: Does artificial grass smell?
A: If not properly installed or maintained, then artificial grass can acquire a bit of a funky odor over time.
The former of these problems can be solved by laying 1.5" of compacted sand beneath your turf before installation to improve drainage and the latter by regularly hosing the turf down and raking to remove debris. The other cause of the odor is dog urine, which can build up in the membrane of the materials. This can be countered by using specialized odor-eliminating products like Astro Fresh.
Q: Is artificial grass toxic?
A: No. Manufacturers of artificial grass are held to health and safety regulations that require their products contain no toxic materials. The only toxins related to artificial grass are those founds in supplementary (and optional) crumb rubber infills.
Conclusion
Finding the best artificial grass for backyards is a task complicated by several variables. The most notable of these include the size of your yard, whether or not you have pets, your preferences as regards the appearance of the grass, the climate you live in, and your expectations with regard to durability.
That said, there are a few universally desirable attributes that have allowed us to sort out the proverbial wheat from the chaff in selecting the above five options and, from these, choosing the best of the best.
Having weighed up these options, our review has chosen LITA Premium Artificial Grass as the best artificial grass for backyards in 2019. This grass not only looks more realistic than the vast majority of its competitors, but also offers outstanding durability, a soft feel, easy maintenance, and great value for money overall.