Horseshoes is a classic backyard activity and an excellent addition to your games collection, whether you want to set up a court in your backyard, bring it along with you to the beach, or even play it indoors with the little ones, there's a horseshoe set out there for everyone.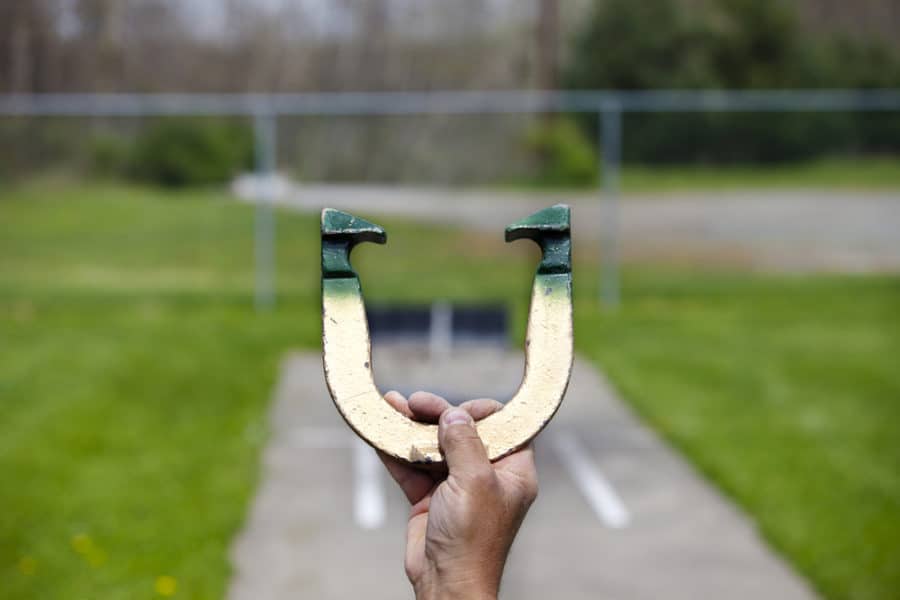 If you're trying to find your lucky horseshoe, check out this guide on the best horseshoe sets for casual players.
In a Hurry? Here's Our Top Picks…
Champion Sports Rubber Horseshoe Set
Champion Sports Indoor/Outdoor Horseshoe Set Red
Rubber design for all ages: These Lightweight horseshoes are easy to throw and aim compared to traditional metal horseshoes, and their soft design also makes them safe to use for kids and adults
Indoor or outdoor play: Designed with lightweight rubber playing mats and horseshoes, this horseshoe game is suitable for indoor or outdoor use as it will not damage floors or walls during games and is sure to stay in place
Bright, vibrant colors: This horseshoe set comes with bright red and blue horseshoes along with vibrant yellow pegs, improving visibility for outdoor play and making it easier for players to see their target when throwing the horseshoes
Everything you need to play: With 4 horseshoes, 2 rubber mats with center pegs, and 2 red plastic dowels, this horseshoe set comes with everything needed to start a game in your backyard, on the playground, or in the gym
Quick, easy set up: Made to be easy and convenient to set up and tear-down, this horseshoe game is simple enough for anyone, including kids, to put together on their own right out of the box
Last update on 2023-11-19 / Affiliate links / Images from Amazon Product Advertising API
If you're looking for a horseshoe set that can be handled easily by children as well as adults, you can't go wrong with the Champion Sports Rubber Horseshoe Set. Instead of being made from steel, like the rest of the horseshoes on this list, this set is made from quality rubber, making them lightweight and easier to aim and throw than metal sets. Being made of rubber has the added bonus of making them incredibly durable and long lasting!
This set is designed for indoor or outdoor play, so it features both a set of red plastic stakes and a pair of rubber mats with plastic center pegs so you can play indoors without damaging your floors. The set-up is so simple that younger children will be able to set it up without help (though always with supervision). It really is a great set for getting your kids hooked on horseshoes from a young age, or even for playing with adults if you've only got an apartment and don't want to invest in a heavy-duty lawn set that you'll only be able to play at the park! Because this set is good for using indoors, it makes a great addition to your patio, house party, or even office!
While this set is great for using with kids or for small indoor games, if you're looking to get the real horseshoe feel, you're better off going with a set that uses real steel horseshoes and higher quality materials. On the other hand, in terms of cost, you won't beat this set of horseshoes for affordability.
Things We Like
Lightweight and highly durable rubber horseshoes great for players of all ages
Non-slip rubber mat for safe indoor play
Bright colors for easy visibility
Check Price and Reviews on Amazon
---
Franklin Sports Starter Horseshoes Set
Sale
Franklin Sports Horseshoes Sets - Includes 4 Horseshoes and 2 Stakes - Official Weight Horseshoes and Stakes - All Weather Durable Sets - Starter
OFFICIAL SIZE AND WEIGHT HORSESHOES: Look no further for an official size set. The Starter horseshoe set includes (2) gold horseshoes and (2) silver horseshoes made of cast iron and built to last for years
SOLID STEEL STAKES: This set comes with (2) 20. 0" inch solid forged steel stakes that are built to stand up to years and years of ringers. Just plant 9-10" in the ground and you're ready to play.
HORSESHOE WEIGHT: Each official size horsehsoe weighs 2. 1 pounds and is designed to be evenly weighted and balanced for consistent flight and rotation
PORTABLE: This set comes with a carrying box included so you can quickly pack the game up and bring it on the go, or store away easily when not in use
GREAT OUTDOOR FUN: Perfect for the beach, backyard, an outing or your next party. It's all about the details and this horseshoe set has all you need for a day of fun with family and friends.
Last update on 2023-11-19 / Affiliate links / Images from Amazon Product Advertising API
If you're looking for a simple, no-frills starter set, look no further. This starter horseshoe set comes with four cast iron horseshoes in gold and silver colors. The horseshoes weight about 2.1 pounds, which puts them within regulation size but on the lighter side compared to some of the more professional sets reviewed here. It also includes two 20-inch solid steel stakes and a manual with instructions on setting up your court and learning the basics of the game.
This is a reasonably priced option and is perfect if you're setting up a court in your yard and don't plan on moving it around much, as it doesn't include any kind of carrying case. The slightly lighter weight horseshoes will be good for younger and older players.
Things We Like
Solid steel stakes won't bend or break
Ready to set up and play immediately
Check Price and Reviews on Amazon
---
St. Pierre American Professional Horseshoe Set in Wood Case
St. Pierre American Professional Horseshoe Set in Wood Case
Features. Includes 4 solid steel horseshoes with a baked-on, non-slip finish that is electrostatically applied. Finish is more resistant to chipping, corrosion and weathering than other coatings.
Also includes two 24-in solid steel stakes, rulebook and a carry box. Proudly made in the USA.
Last update on 2023-11-19 / Affiliate links / Images from Amazon Product Advertising API
St. Pierre has made a name for themselves with their American made horseshoe products and you typically can't go wrong deciding to get any of their sets and the American Professional Horseshoe Set is consistently rated as one of the best sets you can get without breaking the bank, whether you're a recreational player or looking to go pro. It comes with four solid steel horseshoes that have a baked-on non-slip hammertone finish that is resistant to chipping, corrosion, and weathering. The stakes are painted in gold and silver.
One of the only drawbacks to this set are the stakes, which are nicely made from stainless steel but only measure 24 inches, which means you don't have a lot of stake left to plant in the ground if you're looking to have the regulation 15 inches of stake above ground, so it can make for either unsteady or shortened stakes in gameplay.
This set also includes a mahogany stained carrying case with a natural wood cover featuring heat branded graphics, giving it a rustic, homey feel, and an official rulebook that has instructions for getting your court all set up!
It's on the higher end that you'll pay for a set. If the price spooks you but the quality intrigues you, you can also get a slightly cheaper version of this set that comes with a black plastic tote instead of the wooden box.
Things We Like
High-quality hammertone finished horseshoes are durable and well weighted
Stylish mahogany carrying case
Check Price and Reviews on Amazon
---
Viva Sol Premium Horseshoes Outdoor Game Set
Last update on 2023-11-19 / Affiliate links / Images from Amazon Product Advertising API
Viva Sol has produced one of the best horseshoe sets in terms of quality, durability, and price, featuring four forged steel horseshoes, weighing in at 2.5 pounds, which is the regulation weight for professional horseshoe sets. They're also powder coated in chip-proof and delightful blues and greens that are resistant to dirt and stains from heavy use. The two stainless steel stakes are rust proof and easily installed in the ground, with a perfect length of 60 cm, which lets you plant them far enough into the ground that they hold fast, even during aggressive play!
One of the great additions to this Premium Horseshoes Outdoor Game Set is its two-tone wooden carrying case, which features oil rubbed bronze latches and heavy duty hemp handles, so that you can bring your game with you wherever you want to play. The carrying case also has molded foam padding to keep your horseshoes and stakes from getting scuffed during transport. Plus the poplar veneer with a walnut finish is beautiful. You'll look great carrying your horseshoe set wherever you want to take it, whether you're playing in your backyard, local park, or at the beach!
This set gets my seal of approval. I think it's the best buy for the price if you're a casual player or even an enthusiast. The horseshoes are built to regulation, so even if you have dreams of playing pro, this set will stick with you. The high-quality craftsmanship speaks for itself!
Things We Like
Aesthetically pleasing carrying case and horseshoe colors
Forged steel horseshoes are durable and rustproof – may be the last set of horseshoes you ever need to buy
Rustproof stainless steel stakes
Check Price and Reviews on Amazon
---
Why Horseshoes?
A timeless and simple classic, the game of horseshoes has its origins in the ancient Greek game of discus throwing. With its easy setup and simple rules, anyone can learn to play horseshoes in no time and many people find that horseshoes goes from hobby to passion because of the fun and social nature of the game.
Setting Up Your court
Before you can play the game, you'll need to set up a court to play in, this can be done easily in your backyard and the game is easily scalable to whatever sized space you have to play in. Your horseshoes set will come with two metal stakes which will be your targets. Ideally, you want 37 feet between your two stakes, and you want the stakes angled slightly towards one another, rather than pointing straight towards the sky. 37 feet is the regulation court size, but typically women, children, and elderly players will play from a line marked out at 27 feet from the stake. If your yard is smaller than that, it's okay, just use the space you have. When playing with children or elderly participants, a smaller court is even better than a large one.
To plant the stakes you want to loosen up the soil around where your stake will be, so that thrown horseshoes have a bit of softer ground to catch them and don't go bouncing away. Be careful not to loosen past the first two or three inches of soil. You'll need the harder earth to secure your stake, which should have about 15 inches left aboveground after you've placed it. If you'd like a more in-depth guide, with tips for creating a longer lasting court, check out this link!
Alternatively, you can use premade courts if they're available at a local park or beach. Just BYOH (bring your own horseshoes)!
How To Play
The goal of horseshoes is pretty simple, you're trying to throw, or "pitch," your horseshoe so that it lands wrapped around the stake, in a finishing move known as a "ringer." Even if you don't get it wrapped around perfectly, you can still get points for having your horseshoe closer to the stake than your opponent.
There are a couple of different pitching styles that professional and recreational horseshoe players tend to use. Typically, players will either grip the horseshoe at the rounded end, where the two shafts are connected, and throw the horseshoe through the air so it flips. Unsurprisingly, this is called "flipping." This is the most popular method for casual players.
Most professional players, who are playing on the full 37-foot court, will try to "turn" their horseshoes, rather than flipping them. It's fun to learn how to do it and to practice getting your turn just right, but flipping is perfect for casual backyard play. Here's a great guide for beginners!
Scoring
There are a few different ways you can score horseshoes and the two main ones depend on how competitive you want to get. If you're having a wholesome game with friends and family where the goal isn't so much the winner as the process, then the main scoring system says that ringers are worth three points, "leaners," which are when the horseshoe is standing up and leaning against the stake, are worth two points, and any horseshoe within six inches of the stake is worth one point.
That's all well and good if you're playing for fun, but if you're playing to win and have a group of friends who like to brawl for their victories, then you'll want to play by the competitive rule set. With this set of rules, only the person whose horseshoe is closest to the stake gets a point and if both of their pitches land closer to the stake than either of their opponent's, they get two points. Ringers are still worth three points, but if both players score a ringer, they cancel each other out and no one gets any points. Play by these rules at your own risk!
Things to Consider
Location
Although you can play horseshoes anywhere, even indoors, you want to make sure that the set you're buying is a good fit for the space you have. You wouldn't want to try playing an indoor game with heavy steel horseshoes, but if you have a large outdoor space to set up your court or want to bring your horseshoes to the beach, then steel horseshoes are a perfect option!
If this is for your kids to play with indoors or if you're trying to liven up your office environment, you're going to want a lighter weight horseshoe that is less likely to cause damage to its environment and comes with stakes that can be used indoors. You're looking for something plastic or rubber in this case.
Material
You can get horseshoes made in several different materials with differing levels of quality. Plastic is your bottom tier material and typically only horseshoe sets for young children are made from plastic. Unless you're buying the game for toddlers, you'll want to pass on plastic.
Rubber is the next best and actually can end up being a high-quality material. Only steel horseshoes will have the same rough and tumble durability as a rubber horseshoe, but rubber horseshoes can be purchased for a much lower price. In terms of weight and family friendliness, rubber horseshoes are both lighter, so younger and older players can use them comfortably, and less likely to cause serious damage if a stray horseshoe goes flying.
You can get horseshoes made of iron as well, which offer a similar feel and weight to steel, but with less durability. They tend to not last as long and are known for splitting when you least expect it.
Unless you're specifically purchasing a young family friendly, lightweight game, your best bet is to go with a steel horseshoe. They're durable and have the best feel to them. Decades of study and passion has gone into designing the shape and steel. Of course, they're also more expensive, but the extra you spend on a set of steel horseshoes is really saved in terms of not having to buy another set for a very long time, if ever!
Tips for Caring for Your Horseshoe Set
Even if you've built a permanent court in your backyard, don't leave your horseshoes out in between games where the elements can get to them. Long-term exposure can cause colors to fade or horseshoes to rust.
It's always a good idea to give your horseshoes a good rinse after playing, especially if you can see they're visibly dirty. Make sure to dry them completely before you pack them away to avoid any rusting.
Join A Club!
If you want to improve your horseshoe game by practicing with other enthusiasts (and occasionally pros), you can always join a horseshoe club. They provide opportunities to meet and play with other people, participate in competitions, and keep you in the know about horseshoe related events. If you're interested, you can find a club near you on the National Horseshoe Pitchers Association website!
Best Brands
Champion Sports has been making high-quality sports equipment for over 50 years. They're committed to producing quality goods for reasonable prices to keep sports accessible for everyone.
Franklin Sports may be better known for their MLB gear, but they also produce a ton of different family games that make a great addition to your backyard or game room.
St. Pierre is the largest manufacturer of pitching horseshoes in the US and are known for setting the standard for the game. It's a family company and all of its products are manufactured in Massachusetts!
Viva Sol products are all made with an emphasis on durability and craftsmanship, creating beautifully made versions of popular lawn games.
FAQ
Q: Where does the game of horseshoes originate?
A: A tricky question! While the act of throwing horseshoes itself dates back to the ancient Greeks, when followers of the army who couldn't afford a discus to throw, like the soldiers did, would throw horseshoes instead, there wasn't a codified set of rules for the game we know as horseshoes now until the 1800s in England.
Q: Can you throw horseshoes overhand?
A: While technically no rule prohibits throwing overhand, especially if you're playing in your backyard where you make the rules! However, you'll never see a professional pitcher throw overhand as it allows for less control over the horseshoe and could be dangerous.
Q: Can you play horseshoes on grass?
A: Of course! If you're playing in your backyard for fun, anything goes. The horseshoe may not slide as well and could get caught on the grass, but it's not a big deal unless you're trying to go pro.
Wrap Up
If you're looking for a horseshoes set that is going to last you a long time, although you can't go wrong with any of the St. Pierre products, I really think the Viva Sol Premium Horseshoes Outdoor Game Set is the best set you can get as a recreational player. In addition to the horseshoes and stake being made from high-quality materials, the beautiful carrying case makes it easy to bring this set with you anywhere you go – and look stylish doing it!