If you or one of your close-by neighbors has chickens, then you know that chickens get into everything. They'll peck for bugs around your yard, get in your garden, and even come up to your porch! Keeping chickens in their place can seem like an impossible task, which is why we've put together this guide for how to keep chickens out of your garden (the easy way!).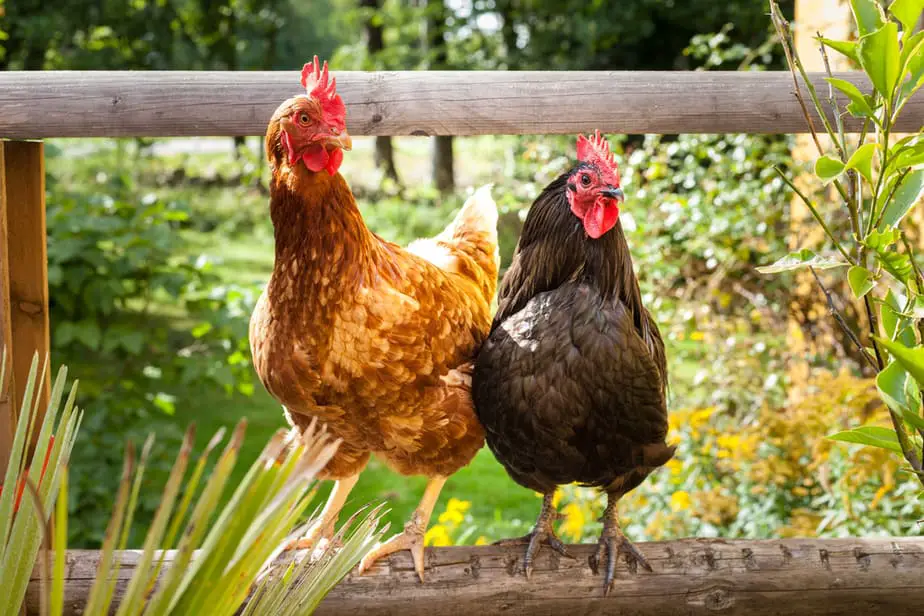 Let's get started!
1. Fence Your Garden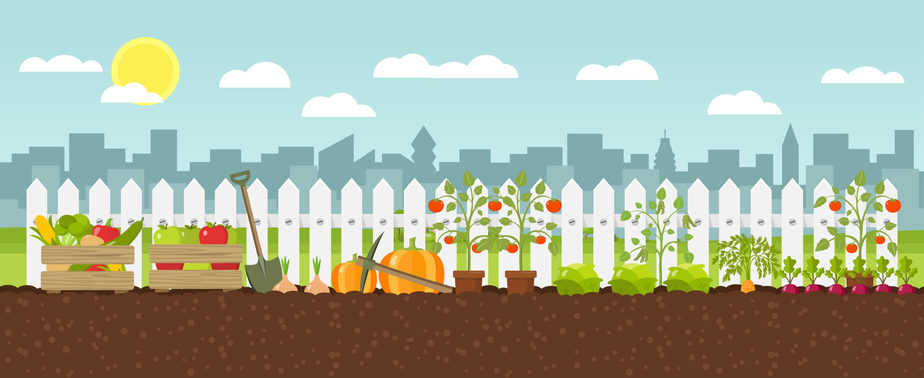 The first thing should do, if you haven't already, is to fence in your garden. Having a barrier between your chickens and garden will prevent wandering hens from pecking their way into your vegetable patch. If your chickens tend to jump over fences, you'll want to make sure that you install a higher fence around your gardens.
Typically, to prevent chickens or other animals from entering your garden, you'll want to install a 6-foot tall fence. We also recommend that the fence be made out of material that animals have a harder time climbing, such as wood fences with an overhang at the top.
Alternatively, you can simply install a 6-foot fence made out of chicken wire (click here to see how to do that). This is a much more affordable option, and can even be made a temporary fix until you make other arrangements for your chickens, or can afford a better quality fence for your garden.
Chicken Wire
MTB 20GA Galvanized Hexagonal Poultry Netting Chicken Wire 72 inches x 150 feet x 1 inch Mesh
PREMIUM LONG LASTING QUALITY Our poultry netting chicken wire is made using high quality material and galvanized before packing to ensure long-term use. Ideal for making garden fences, chicken enclosure, livestock confinement, runs and cages for pets, lawn netting and more!
LIGHTWEIGHT & STURDY: Compared to a plastic chicken wire, our reinforced hexagonal aviary netting are lightweight, sturdy and equally spaced to provide long-term use making them more cost-effective than any other galvanized fencing.
SIMPLE & CONVENIENT: Our poultry netting is designed with double direction hexagonal twist while staying flat and straight making it easy to install and trim to your desired size for various applications.
SIZE & LENGTH: The size of MTB Galvanized Hexagonal Poultry is made from 20 gauge steel wire with 1"x1" hexagonal mesh opening. Measures 72-inch width by 150 feet length giving you enough to make a wire fence for garden.
THE RIGHT PROTECTION: Whether you want to keep your garden flower bed, vegetable, grape vines, farm field and landscape safe from animals like cat, dog, gopher, goat and pest as repeller, keep chickens from getting out or simply make a protective fence or enclosures, around the house, our rust resistant garden fencing wire has you covered.
Last update on 2023-11-29 / Affiliate links / Images from Amazon Product Advertising API
---
2. Use Plants that Repel Chickens
If you don't want to use conventional methods to keep your free-range chickens out of your gardens, there is a natural alternative: plants.
There are many plants that animals will avoid, generally due to their scent, and chickens are no exception. Some plants that chickens will avoid are:
Pot marigolds
Lavender
Spearmint and Peppermint
Sage
Rosemary
Catmint (or Catnip)
By planting these around your garden, you'll be providing your fruits and veggies with a natural barrier from your chickens. Plants like spearmint, peppermint, sage, and rosemary have a particularly potent smell to chickens, and can even be plucked and used as another herb in your kitchen!
Keep in mind that while chickens will generally keep away from these plants, if food is scarce, or if they require minerals or insects in their diet that they're lacking (and know that they can find in your garden), chickens may still wander into your garden to obtain nutrients — plants may not be a one-and-done solution.
You can find these plants at your local plant nursery, or at an online shop.
Peppermint Seeds
Seed Needs, Peppermint Seeds - 1,000 Heirloom Seeds for Planting Mentha piperita - Non-GMO, & Untreated - Great for Pots & Containers (2 Packs)
QUALITY - All seeds packaged by Seed Needs are intended for the current and the following growing seasons. All seeds are stored in a temperature controlled facility that is free of significant amounts of moisture.
QUANTITY - Seed packets by Seed Needs offer generous quantities. You can share with friends and family, or save your extra seeds until the next season, if properly stored.
PACKETS - Each packet displays a beautiful illustration of the variety to be grown, as well as detailed seed sowing information on the reverse side as well. Measures 3.25" wide by 4.25" tall.
PROMISE - Seed Needs will never knowingly supply GMO based seed products. The vast majority of our seeds are open pollinated & heirloom, with the exception of a few hybrids.
GERMINATION - Seed Needs packets contain some of the freshest seed available. Direct from the growers. If sown correctly, you will begin seeing results in only a matter of days.
Last update on 2023-11-29 / Affiliate links / Images from Amazon Product Advertising API
---
Sage Seeds
Sow Right Seeds - Sage Seeds for Planting - Non-GMO Heirloom Packet with Instructions to Plant and Grow Kitchen Herb Garden - Indoor or Outdoor - Great for Pollinators - Culinary Seasoning (1)
Beautiful - Large color seed packet of the popular culinary herb Sage (Salvia Officinalis); This hardy shrub-like perennial is a staple for a classic herb garden. There are many culinary uses for the flavorful dusty green leaves. Beautiful pink and white flowers in early spring. Minimum of 400 mg per packet (148 seeds).
Productive - Sage germinates in 10-20 days when soil temps are 65-70°F. Plant 1/4" deep and space 15" apart in an area with partial shade. This variety will grow 1-3' tall with a spread of 2-3'. This variety will mature in 75 days, but you can begin harvesting as soon as your plant has 3 or 4 sets of leaves. Plant in USDA Zones 4-10.
Savory Sage On Hand - Fresh Sage is an essential ingredient for meat dishes like salmon, chicken, turkey, sausage, and steak. It also gives a fresh savory flavor to butternut squash, soups, bean dishes, Sage pesto, and cornbread dressing. Fresh Sage has a rich savory taste and smell that will make your food taste gourmet.
Easy to grow - Instructions included on each packet. Plus, we are available to answer all your questions. If these seeds don't germinate, we will happily make it right for you.
Safe and Sustainable - Our operation is fully solar powered, and Sow Right Seeds has taken the Safe Seed Pledge to sell only fresh Non-GMO heirloom seeds for you and your family.
Last update on 2023-11-29 / Affiliate links / Images from Amazon Product Advertising API
---
Rosemary
Bonnie Plants Rosemary Live Edible Aromatic Herb Plant - 4 Pack, Perennial In Zones 8 to 10, Great for Cooking & Grilling, Italian & Mediterranean Dishes, Vinegars & Oils, Breads
Tiny, strongly aromatic & flavorful leaves, blue blooms
Garden use: Herb garden, flower border, containers, low clipped hedge
Culinary use: Italian & Mediterranean dishes, vinegars & oils, breads
Plant in full sun for the best yields
Plant during spring & fall
Last update on 2023-11-28 / Affiliate links / Images from Amazon Product Advertising API
---
3. Use Raised Garden Beds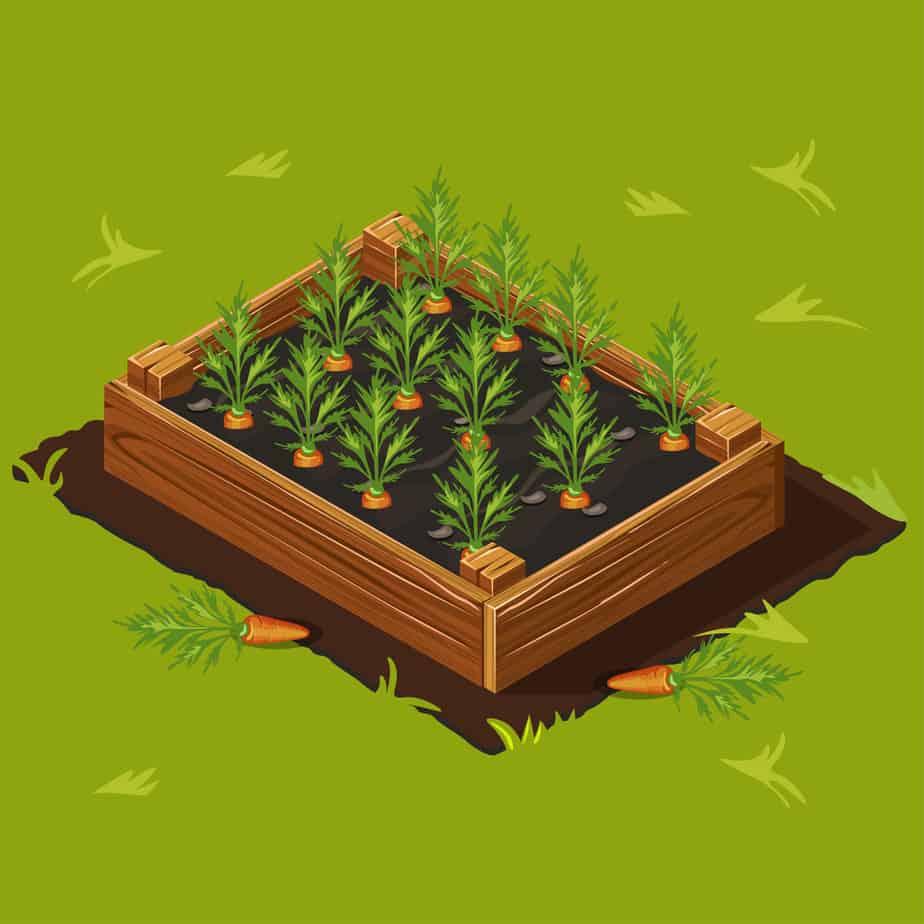 If you aren't raising a lot of crops, and only want to have a few small to medium-sized garden beds, you can try converting your gardens into raised garden beds. Waist-high raised garden beds would be excellent for keeping chickens out of your crops.
There are a few ways you can go about obtaining waist-high garden beds. The first is by building your own, which may be ideal for those who are looking for larger options. The second way is by purchasing an already-built waist-high raised garden bed (like the one shown at the bottom of this section).
If you only need a small space to plant herbs, vegetables, or fruits, then we recommend that you purchase a premade raised garden bed. However, you have much more freedom when you build your own, which is our overall recommendation for those that are considering raised garden beds to deter their chickens.
For more on building a waist-high raised garden bed, check out this article. The outline in the guide does have limited space, but it can help to give you a general idea of how a raised garden bed should be built, and you can alter the dimensions to your needs.
Waist-high Raised Garden Bed
Best Choice Products 48x24x30in Raised Garden Bed, Elevated Wood Planter Box Stand for Backyard, Patio, Balcony w/Bed Liner, 200lb Capacity - Natural
LARGE PLANTING SPACE: Designed with a long bed space (5CuFt) deep enough to provide your plants and vegetables with ample room to breathe and grow healthy
PROPER DRAINAGE: Allows excess water to drain out, keeping soil fresh and protecting plants from waterlogging or mineral buildup
ALL-WOOD CONSTRUCTION: Naturally durable Chinese fir wood provides a water- and weather-resistant structure while optional foot caps discourage absorption and breakdown
ERGONOMIC HEIGHT: The 30-inch tall design reduces excessive bending and kneeling to help preserve your back and knees as you tend to your balcony, deck, or patio garden
RAISED GARDEN BED LINER: Separates wood from the soil, keeping the wooden garden planter in excellent condition and discouraging weeds and animals from interfering with plant growth
Last update on 2023-11-28 / Affiliate links / Images from Amazon Product Advertising API
---
4. Clip Your Chicken's Wings
If your chickens are flying up to heights that they shouldn't be able to reach, it may be time to clip your chicken's wings. If you're new to rearing chickens, you may be unfamiliar with the practice of clipping wings. Wing clipping is a painless procedure that removes the parts of the animal's wings that enables them to fly.
How to Clip Wings
If you're a beginner, here is a quick guide to help you clip your chicken's wings correctly. For a more in-depth guide to wing clipping, check out this article.
Step 1: Catch and Hold the Chicken
Before you can even begin clipping your chicken's wings, you'll first need to catch them. If you have free-range chickens that go all over your property, this may prove to be quite the task. Once you've caught your chicken, hold it firmly by placing one hand underneath the chicken's breast, and the other hand on its back.
Then, you're in the position to either clip the feathers yourself or have someone help you as you hold the chicken in place.
Step 2: Expand the Wing and Clip the First 10 Feathers
Gently expand the wing with the hand that was placed on the chicken's back, or have someone do it for you as you hold the chicken steady.
Once the wing is fully extended out from the side of the chicken, and before you begin clipping, take a close look at the first 10 feathers (the primary flight feathers), starting from the top of the wing nearest to the head. If the shaft of the feathers is dark in color, that means there is a blood supply in the newly forming feathers. Do not cut where the feather shafts are dark. This will hurt the chicken.
If the first 10 feathers have shafts that are not darkly colored or are clear/a creamy white, you're free to start clipping. Clip approximately 6 centimeters off of the feathers. Do not go any further down, and be sure that you remove 6 centimeters, otherwise, your chickens will be able to fly.
Step 3: Allow Your Chicken to Roam or Join the Flock
Once your chicken's wings have been clipped, they'll likely be in a fluster and wanting to get away. Allow them to roam freely again and join the flock. If the other chickens in the flock appear agitated at the flustered sight of the clipped chicken, give them a few minutes to calm down before attempting to clip another.
---
5. Upgrade Your Chicken Run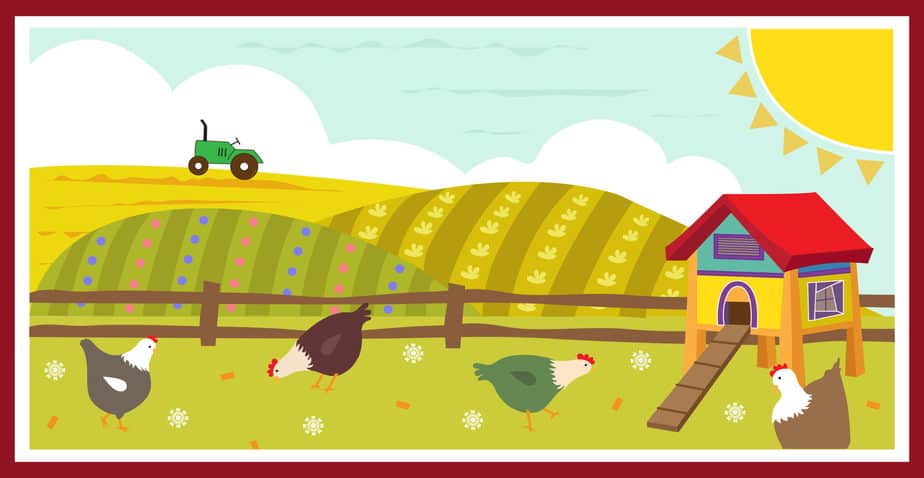 The final option you can consider to keep chickens out of your garden is upgrading (or building) your chicken run.
Upgrade the Fencing
If the fence isn't high enough, or needs repairs, make those changes and implement a chicken wire fence of at least 6 feet. You may even want to consider putting an overhang on the fence, in case the chickens try to fly out.
You could also construct a chicken run that is entirely enclosed from top to bottom. This will prevent your chickens from flying out, and predators from flying or climbing in. These chicken runs can be made out of sturdy chicken wire, as well.
Make the Run More Enticing to Your Flock
If upgrading your fence isn't an option, or you have free-range chickens, make their coop and run area more enticing so that they stay there (and not in your gardens). You can do this by having dirt or sand holes for the chickens to dust in, fresh hay laying around for them to scratch, raising fresh bugs or mealworms near their run for them to feed on; or by having things they can jump on top of, like tree stumps or old chairs.
For more ways to make your chicken run more fun for your chickens, check out this article!
Building a Chicken Run
If you don't have a chicken run, and you're having problems with your chickens making their way into your gardens, then you should consider building one. We recommend building a predator-proof chicken run, which is a run that is completely enclosed from top to bottom. Alternatively, you can buy one.
Depending on how many chickens you have, you'll need to alter the size of the chicken run to accommodate the flock. If you plan to keep your chickens in the run continually, without letting them out, we recommend making the run as large as possible. At the bare minimum, each bird should have 10 square feet of space to roam.
This guide to how to build a chicken run is incredibly informative and uses pictures to showcase the building process step-by-step.
Chicken Run
Last update on 2023-11-29 / Affiliate links / Images from Amazon Product Advertising API
---
Final Thoughts
When it comes to how to keep chickens out of your garden, there are about 5 ways you can go about it: fencing your garden, using plants to repel chickens, utilizing raised garden beds, clipping your flock's wings, and upgrading or building your chicken run.
All of these methods will be useful in deterring chickens from your enticing fruits and veggies, and if possible, we recommend implementing more than one of these into your property to keep your chickens where you want them. We hope our guide to how to keep chickens out of your garden has been helpful! Happy homesteading!