Note: If you are looking for some awesome cornhole boards, you should check out our other post Best Cornhole Boards: Reviews and Complete Buying Guide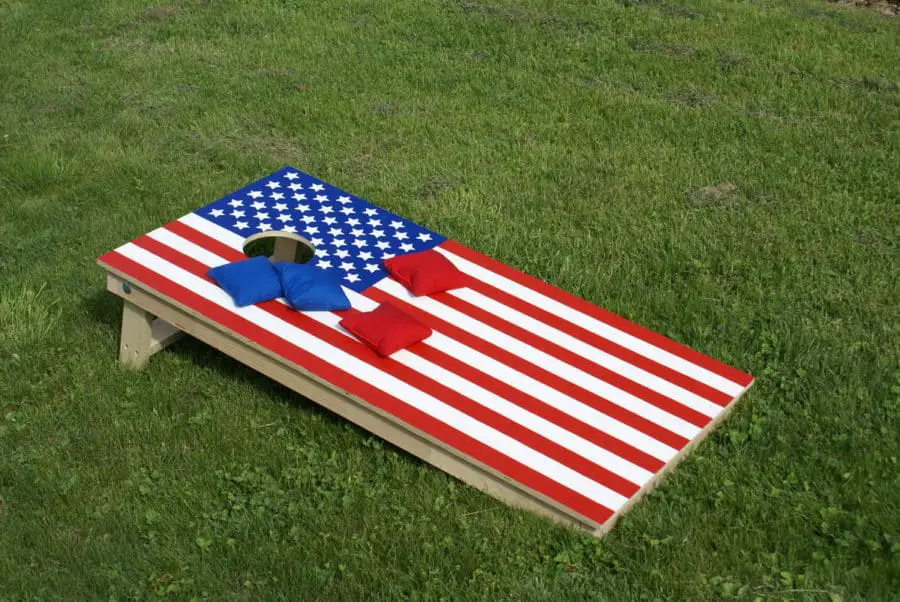 Using a lousy cornhole bag with your awesome board is like pairing a Pinot Noir with some cheap store bought cheese AKA. It's going to ruin your experience.
If you are looking for cornhole (bean toss) bag that won't break open during a game, you have come to the right place. Today we're going to review the best cornhole bags you can order for your next corn toss game. If you like tossing objects for sport, don't forget to check out our Top 5 Best Throwing Knives article!
In a Hurry? Here's Our Top Picks…
Top 5 Cornhole Bags for the Money
1.Free Donkey Sports Cornhole Bags 
Last update on 2023-09-20 / Affiliate links / Images from Amazon Product Advertising API
The free donkey cornhole bags are made from 16-OZ corn feed. These are the same bags used during official tournaments. The material is made from high quality 100% cotton canvas giving it a pretty nice feel in your hands. As a bonus it also comes in tons of colors, so you are guaranteed to find one you like.
However, since the bags use authentic corn-feed, they need to be maintained carefully, or you risk having the corn feed decay and destroying your bag.
Pro Tip: Keep away from water
What we like
Comes in a ton of different colors
ACA approved weight and dimensions
The corn filling gives the game a real and original experience
What we don't like
Uses corn kennel which can decay if not taken care of properly
Cheaper options are available
Many buyers reported receiving the wrong colors
Check Price and Reviews on Amazon
---
2. Alderox Cornhole Bags – The bag for kids
Last update on 2023-09-20 / Affiliate links / Images from Amazon Product Advertising API
On the other end of the spectrum, you get the Alderox cornhole bags.  These bags are intended as toys for kids making it perfect for games with your family. The Alderox bags use a sand filling and weigh just 2.6 pounds making it is super light.
You may notice your bag getting heavy when wet or some staining from the water but this is perfectly normal and nothing to worry about. Alderox cornhole bags are pretty waterproof. So cornhole away!
What we like:
Cheap
Light-weight and perfect for kids
Uses sand as the filling so no chance of decay
What we don't like:
The weight difference might bother a lot of people
Poor quality stitching
 Cheap nylon used
Check Price and Reviews on Amazon
---
3. 
JBM international Forbidden Road

 – Regulation Size Cornhole bags With A Twist
JBM Forbidden Road Cornhole Bag Bean Bags Pack of 8 for Tossing Core Hole Games with Duck Canvas Material Cover and PP Plastic Pellets Inside - Free Carrying Bag Included (Gray & Wine Red, 14OZ)
Eco-friendly Plastic Pellets - Environmental material plastic pellets would be used to fill up the corn hole bags. Adopting superior quality plastic pellets to make up corn hole bags could help this bag become more durable. Apart from that, the using of plastic pellets gives cornhole bags a strong ability in weather resistance.
Standard Size & Weight - Official size 6 " * 6 " ( 15 cm *15 cm ) means that the bags fits most standard cornhole boards. Tossing game players could use these accessories in most cornhole tables no matter what the brand is.
Strong Martial Duck Canvas - Durable cornhole bags enable toss game players to enjoy it for a long term using as it adopts high quality martial duck canvas. Undoubtedly, bags cover with excellent quality would protect corn hole from being destroyed in some extent.
Ten Color Assortment Available - The most then popular color palettes are available now. More color choices give more fun to game players while they playing the toss games. Moreover, colorful cornholebag would be a good idea to be gifts for your friends.The package includes 4 cornhole bags which are in the same color.
PACKAGE - 4 corn hole bags in One color in a package. There are 10 combinations could be chose: Black; Orange; Red; Gray; Yellow; Lake Green; Dark Gray; Wine Red; Dark Blue, Deep Royal Blue. A carrying bag is included in the package FOR FREE.
Last update on 2023-09-20 / Affiliate links / Images from Amazon Product Advertising API
If you are looking for a regulation size cornhole bag but want something that's a bit more weather resistant, you might be interested in a JBM international corn bag.
The problem with most ACA approved cornhole bags is that they use corn feed. Although corn feels fantastic in your hands, it decays quickly and needs constant care. To avoid this issue, JBM has created a cornhole bag that replaces the corn feed with plastic pellets. The advantage of using plastic pellets is that these bags are now waterproof and easier to maintain.
However, using plastic pellets instead of corn comes at a cost. These bags don't slide up the board the way normal corn bags do, and you have to throw the bag directly into the hole if you're looking to score a point.
This is going to be a major turn off if you are looking to play competitively.
What we like:
Regulation Sized Cornhole bags
Plastic is very durable
Comes in a variety of attractive colors(our favorite one is the blue-grey combination)
What we don't like
Don't slide the way real corn bags do
Using plastic pellets don't feel as good as authentic corn feed
Some users have reported seeing a pile of white dust where the bags hit the board
Check Price and Reviews on Amazon
---
4. Proline NCAA Cornhole Bags
PROLINE 6x6 NCAA College Michigan Wolverines Cornhole Bean Bags - Stripe Design (A)
Made according to tournament approved standards
Includes 4 officially licensed, tournament-grade, all-weather bags
Regulation size (6" x 6") and weight (15-16oz)
Ultra durable stitching and duck cloth material. Perfect feel provides the best throw
Proline Tailgating is part of the Wild Sports Family of Brands. Check out our other great brands: Wild Sports and Kan Jam
Last update on 2023-09-20 / Affiliate links / Images from Amazon Product Advertising API
Are you looking to spruce up your cornhole game with a bag that shows off your favorite college sports team? You might be interested in this bag.
These proline NCAA bags will display your favorite team's logo on its cover. You have an insane range of options to choose from and are guaranteed to find one for your team. As a bonus, these bags are ACA regulated and come with a plastic pellet filling.
What We Like:
Representing your favorite NCAA sports team during cornhole games feels great
Follows ACA regulations
All-weather plastic pellets
What We Don't Like:
Many users reported issues with the quality of the logo.
Plastic pellets don't feel as good as authentic corn pellets
The sellers have distributed a version of each bag as a separate product; this makes it hard to find the bag for your favorite team
Check Price and Reviews on Amazon
---
5. Corn Hole Bag Set of 8 By Tailor Spot – My Top Pick
Last update on 2023-09-20 / Affiliate links / Images from Amazon Product Advertising API
If you are the kind of person who likes to take things into their own hands, maybe this bag will impress you.
Tailor spot is offering corn hole bags in 25 different colors if that wasn't crazy enough for you. You can even mix match colors to create your own combination(giving you over 625 options to choose from)
To select a custom color set, you need to message the seller with the colors you have in mind otherwise the seller will send you a generic set of Red and blue bags. These bags are made completely hand-sewn in the US, and the seller himself is a dedicated corn hole player.
You can see his passion for cornhole by the amount of effort put into each bag. Every bag is double stitched on all FOUR sides with Gutermann Tex-100 threads. These threads have incredible tensile strength so you know you can trust its durability. You can read more about them here
What we like:
ACA regulation size
Huge range of colors to choose from
Extremely high-quality standards
What we don't like
Uses corn feed which is difficult to manage
few users reported quality issues, but these were very rare
Check Price and Reviews on Amazon
---
Things You Should Consider Before Buying A Cornhole Bag
What Kind Of Stitching You Should Select
Imagine you are constructing a building with the best materials available, You work hard on it every day and want it to be perfect. Just as the building is about to be completed the entire structure collapses
It turns out the contractor you hired had cut costs when building the foundation. This is exactly what it like is to use the best fabric and fillings with bad stitching.
It doesn't matter how good your fabric or your filling is if your bag is poorly stitched it is going to break apart on your first game.
You want to use an extra thick nylon thread or double stitching. As you are buying your cornhole bags, try to figure out how they are produced.
Are they made at home or a factory?
An industrial sewing machine generally produces a much stronger bond that can take a lot more abuse than one made at home.
When selecting your bag try to select one that is made in a factory.
What does an Official Cornhole Bag Look Like?
1.Fabric
In a competitive environment, official cornhole bags use a duck cloth material. This material has one side with a heavy, plain weaved cotton fabric while the other side has a micro-fiber cloth. The duck cloth allows the bags to slide on the decks much easier
2.Stitch
ACA has stated that all official cornhole bags use quarter inch double stitched seams on all sides
3.Size
The minimum acceptable size of a cornhole bag is 6 inches by 6 inches
4.Weight
A regular cornhole bag weighs between 14-16 ounces. This is taken very seriously and if your bag lies outside this range when you take part in a tournament. You are automatically disqualified.
5.Color
You can use any kind of color you want. Most professional corn-hole players use the colors of their bags to differentiate them.  Some players even use glow in the dark bags to stand out.
What kind of Filling should I use?
There are 3 major kinds of materials you can use in cornhole bags. The material you pick is much more important than you think, they will change the way you play the backyard game and how difficult it is to maintain the bags
Corn Kernels
Cornhole was first played by farmers in the midwest and as they had no other alternatives to use as a filling they filled the bags with dried corn kernels
The tradition has continued to this day and all official cornhole bags use a corn feed filling.
Traditionalists and passionate fans of cornhole will argue that using any other type of filling is sacrilege.
The Reasoning? A corn kernel filled bag plays differently than one using Plastic Resin pellets.
This happens because the corn filling actually breaks when it hits the board and releases a bit of dust. This dust provides a slight slide to the board which completely changes the game.
Corn also has a ton of problem and needs a lot of maintenance. As with any natural product, corn is susceptible to mold and decay which means they have to be replaced often.
Plastic Pellets
To combat these problems traditional corn bags are now slowing being replaced by plastic pellets.
Using cornhole bags with a pellet filling makes your bags much more long-lasting and much cost-effective. This is perfect for the casual cornhole player who is looking for a low maintenance alternative
But the problem with plastic pellets is that they make the bags bounce on the board instead of slide on it. This will completely alter the gameplay and are the main reason they are not being used in official tournaments
If you are looking to buy a cornhole bag for your house where cornhole is played for fun rather than a serious game. You should look for cornhole bags with plastic pellets. On the other hand, you should buy a bag with a corn-kernel filling if you are looking to play competitively
Should I make my own Cornhole Bag?
Building your own cornhole bag gives you a lot of flexibility. You can mix-and-match your favorite materials, fillings and stitching quality to get the exact kind of bag you are looking for. You cannot achieve this kind of flexibility with a store bought cornhole bag. This is why most professional players create their own bags from scratch.
Additionally, building your own bag will also you save you money. If you old bags gets damaged you could reuse its materials in your new one. With all these benefits it seems like a no-brainer to build a cornhole bag yourself.
But it's not as easy as people make it out to be. You need a bag that can absorb all kinds of abuse it will face when you throw it on the board.
Unless you have grandma level stitching skills your bag is going to tear and if you are not aiming to be a professional cornhole player. It doesn't make sense to put in the effort to learn to create a cornhole bag
The Best Brands For Cornhole Bags
No list on corn hole bags would be complete without at least mentioning Go Sports. Go Sports is the granddaddy of Yard Games and although we didn't feature any bags by them.
They have many options you can choose from and you're certainly going to find one that you will love.
Free Donkey is well-known for producing high-quality cornhole bags for a really long time. All bags are completely manufactured in the USA. So no Chinese sweatshops for you.
Even the owner is a hardcore-cornhole enthusiast. He used to work for a large corn toss company before quitting to start Free Donkey.
You're probably wondering
What is duck cloth?
The fabrics used in your cornhole bag is extremely important. During a cornhole game, you are going to be throwing your bag from over 25 feet. This means a bag held together with cheap fabric is going to tear easily.
This is why one of the most common fabrics used for cornhole bags is duck cloth. Duck cloth is super tough and soft, plus it is cheap and easily available. The Amercian Cornhole Association has even endorsed it as the official cloth to make tournament ready bags.
Do new bags bounce more?
You might have heard a lot of veteran players quote that new bags bounce more than the broken in ones.
This is mostly a myth. Although a new bag does bounce more than an old one, the way you throw it matters more than it's age
A good toss looks like a flat pancake that doesn't flip over multiple times. You can also use a stick and slick bag to prevent this from happening. Read more about them below.
I should also point out that overfilled bags bounce more.
What are stick and slick cornhole bags?
A stick and slide bag has 2 sides – a slippery side and a sticky one. The slick side slides up the board while the sticky one has a lot more grip to it
We usually use materials like suede to create a slippery surface while the sticky side uses duck cloth.
These kinds of bags are becoming really popular among professional players. You can throw up a blocker shot or keep a bag on the board with the sticky side while scoring points with the slippery one.
This is helping to add a degree of complexity to the game and raising the skill barrier.
Conclusion
We believe a high-quality corn hole bag is a great investment that will pay for itself over time. This is why we prefer the tailor spot cornhole bags. Not only do you get to customize the bags to your choice but they also use very high-quality materials.
But if you want your bag to have a personality, we reckon you go with the NCAA cornhole set by Proline. They come in a ton of logos from all your favorite college teams.