Regardless of the level of experience or skill, a high-quality bag should be an essential component of every disc golf player's game. This valuable tool makes the game more fun and convenient and in all honesty, it's more of a necessity than it is a luxury. In this comprehensive guide, we'll try to demystify the main characteristics of these bags and help you pick the best disc golf bag that's available today.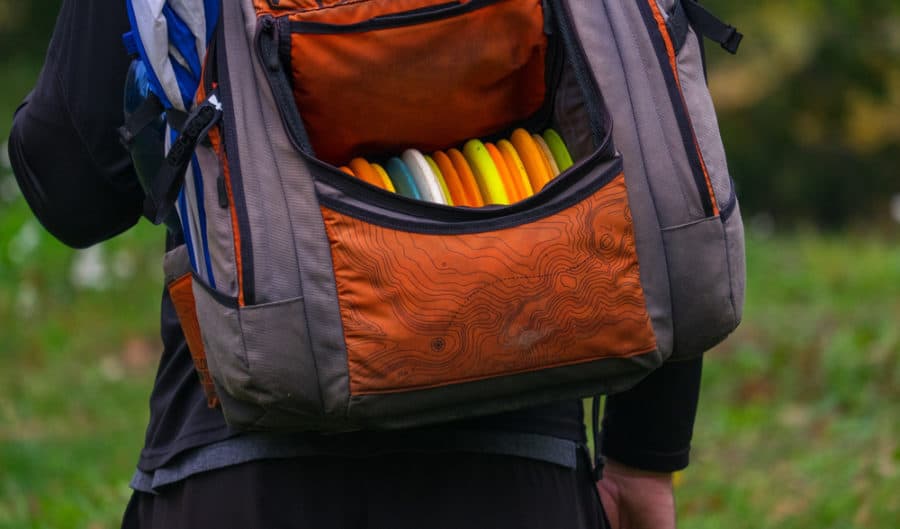 If you need more help with disc golf essentials, check out our Best Disc Golf Shoes, and Best Disc Golf Discs articles!
In a Hurry? Here's Our Top Picks…
1 – Dynamic Discs Trooper Disc Golf Bag
No products found.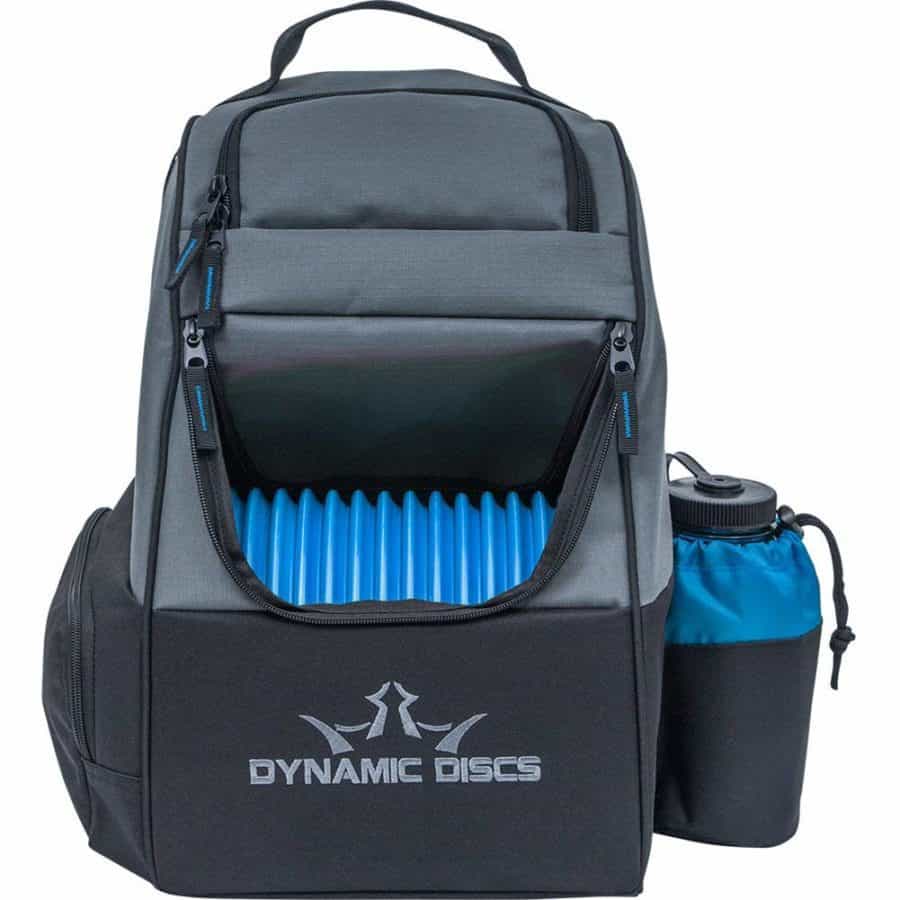 The first disc golf bag in the list boasts a number of qualities that distinguish it from the vast majority of entry-level products. It has a large main compartment that can hold a staggering 18 discs, as well as an upper compartment that you can use to carry a sizable number of accessories.
To help you keep your belongings organized, the bag is designed in a way that allows you to keep different types of items separate from each other. One side is equipped with a drawstring-enclosed bottle holder whereas the other is reserved for smaller and more valuable items such as keys, phones, and wallets.
Besides its low price and impressive disc capacity, the highlight of this bag is without a doubt the ease with which you can carry it. The well-padded shoulder straps and the ergonomic back panel provide maximum support at all times and ensure that you don't experience any discomfort during a game.
What We Like About this Bag
The price-to-quality ratio is the best on the market
The padded shoulder straps and ergonomically-designed back panel provide ample comfort
It has two external pockets
The zipper is sturdy and easy to pull
What We Don't Like About this Bag
The side holder is not designed to accommodate long bottles
Check Price and Reviews on Amazon
---
2 – Dynamic Discs Sniper Disc Golf Bag
No products found.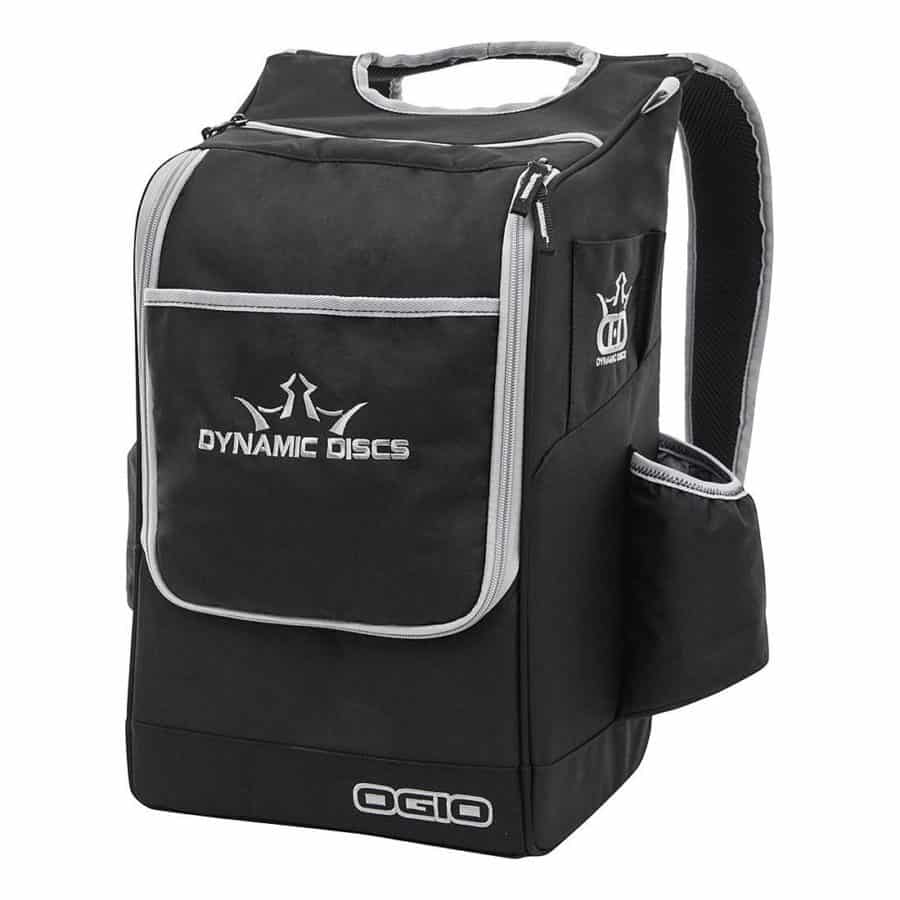 The first noticeable characteristic of this bag is its remarkable spaciousness. It can handle up to 16 discs with relative ease and comes with ample storage for the wide range of items that you'll need in a golf game. It features two pockets that are designed to hold large bottles and boasts an efficient design that doesn't wilt when the bag is fully loaded.
The bag comes with a number of design features that are geared toward increasing convenience and practicality. You can easily access your discs thanks to a well designed Velcro pocket that is placed in the front of the bag. This saves you the time and effort that is often required for retrieving your items from inside the bag.
Considering its affordable price, this golf bag is an ideal option for beginners who want an upgrade from generic bags to ones that are specifically tailored for golfers.
What We Like About this Bag
It's competitively priced
The Velcro pocket is conveniently placed on the front
It can hold up to 16 discs
It features a spacious interior mesh pocket for storing valuable items
What We Don't Like About this Bag
Check Price and Reviews on Amazon
---
3 – Throwback All Day Pack – Disc Golf Backpack with Oversize Cooler Built-in
Last update on 2023-11-21 / Affiliate links / Images from Amazon Product Advertising API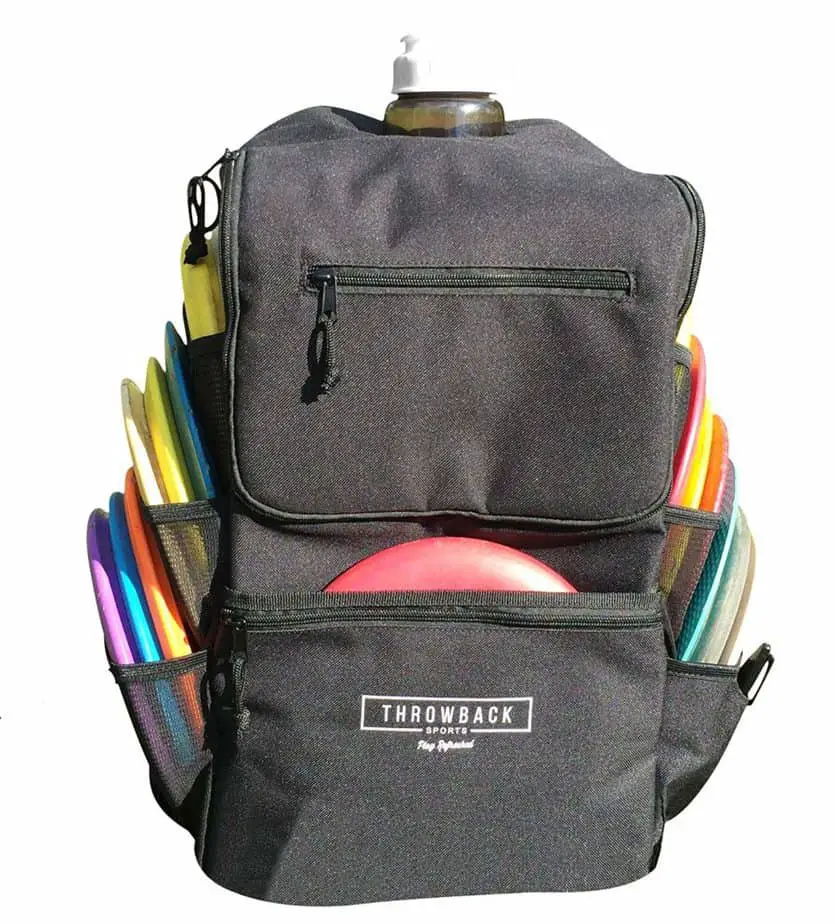 This is another competitively priced option that comes with most of the features that you'd like to see in a great disc golf bag. It has decent storage capacity and can handle around 16 discs. Another selling point of this bag is its relative lightness and compactness compared to other alternatives in its price range.
On top of its spacious main compartment, this bag provides an impressive number of pockets for storing essential belongings. Moreover, these pockets are fully stretchable and are designed to handle the rigors that come with a full day of golf.
As far as overall durability is concerned, this bag gets the full mark. The materials that were used to make it are top-notch and important parts such as the plastic feet and the zippers are remarkably sturdy and long-lasting.
What We Like About this Bag
It's one of the most durable options in its price range
The main interior compartment provides a large carrying capacity
The pockets are stretchable and durable
The bag is relatively light and compact
It's equipped with a cup holder
What We Don't Like About this Bag
The lack of external hooks
Check Price and Reviews on Amazon
---
4 – Innova Champion Discs Standard Disc Golf Bag
Last update on 2023-11-21 / Affiliate links / Images from Amazon Product Advertising API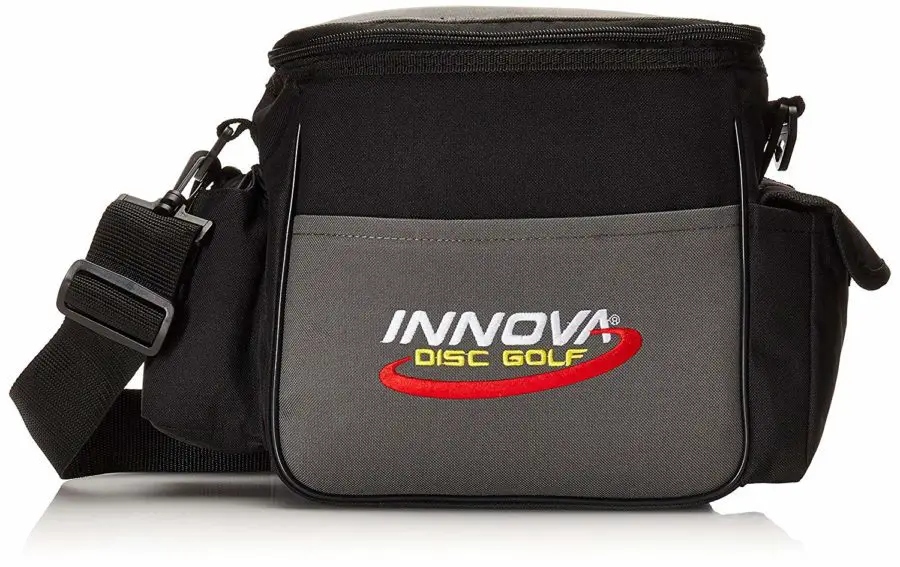 This bag is perfect for people who are looking for a cheap medium-sized bag that can hold an adequate amount of discs. Those who favor comfort and mobility over carrying capacity will surely appreciate this bag's lightweight, simple construction, and well-padded shoulder straps.
For its size and price point, the Innova Champions does a decent job of holding most of the items that you'll need for a golf game. It's capable of carrying upwards of 12 discs and offers ample room for a wide assortment of items such as beverages, snacks, and scorecards.
The stylish design of this bag is also worth noting. The minimalist color patterns are effective and eye-catching and the effortless simplicity that it exudes is perfectly suited for disc golf.
What We Like About this Bag
It offers tremendous value for the price
The carrying capacity of the bag is impressive considering its size
The bag is light and compact
The design is simple, yet effective
What We Don't Like About this Bag
It may not be suited for seasoned players
Check Price and Reviews on Amazon
---
5 – Dynamic Discs Commander Backpack Disc Golf Bag – 20 discs
No products found.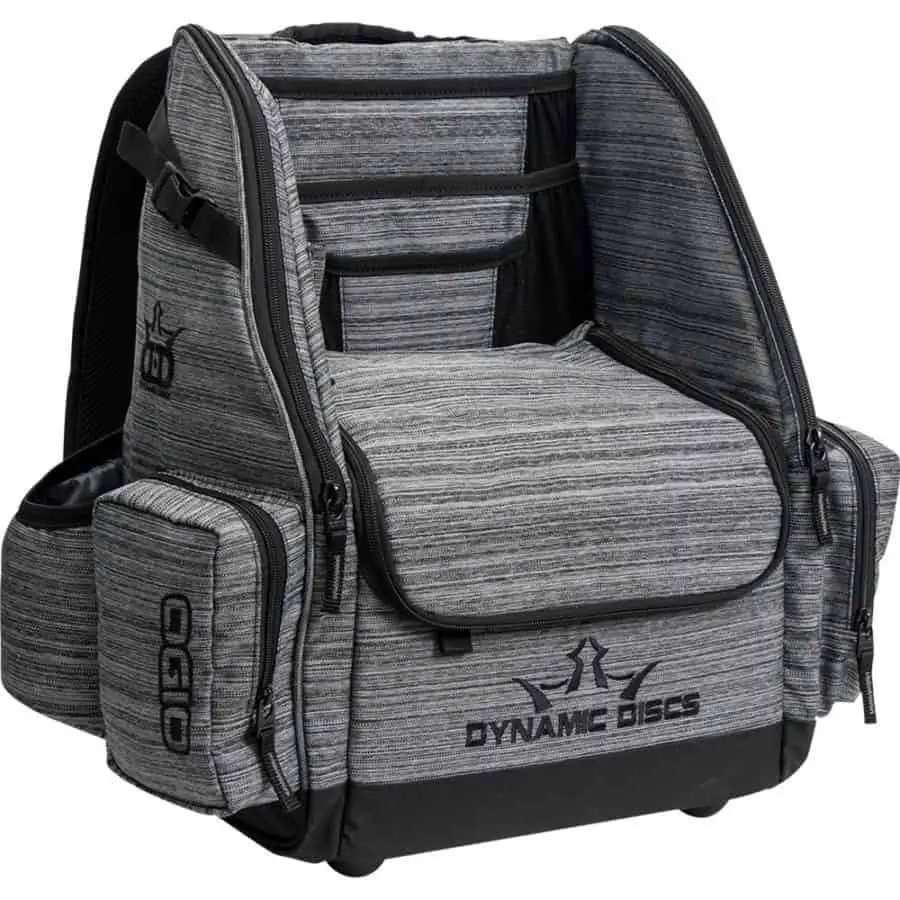 This bag from Dynamic Discs is designed for experienced players who are willing to spend a little bit more for premium quality and large disc capacity. Thanks to the spacious interior compartment and the two vertical wall pockets, you can expect to take more than 20 discs to the course, which in turn adds a layer of versatility to your game.
In addition to accommodating discs of all shapes and sizes, the bag has enough space for all the items that you'd like to bring with you to a golf game. Whether it's large bottles, clothes, or bulky disc retrievers, the vertical pockets have sufficient space for it.
As you would expect from products in this price range, the construction quality is simply immaculate. It was designed from high-end materials and made entirely in the USA in accordance with the latest quality standards and regulations.
What We Like About this Bag
It accommodates all types of discs
The bag is equipped with two bottle holders
It provides enough room for all disc golf-related items
The construction quality is one of the highest on the market
What We Don't Like About this Bag
The straps are not very padded
Check Price and Reviews on Amazon
---
Factors You Should Consider Before Buying a Disc Golf Bag
A good disc golf bag is the first thing that you should consider buying if you want to take your game to the next level. A bag that is specifically tailored for the needs of players can really change the way you experience the game and add a lot of fun to it. However, the process of picking the right option might seem like a daunting task, especially if you're a beginner. To help familiarize you with the basic qualities of disc golf bags, we've compiled some of the main features that you need to be aware of.
Disc capacity
This factor is a no-brainer. Disc capacity quantifies the number of discs that a bag can hold and is usually a function of size. The typical capacity range starts from 8 discs for the smallest entry-level bags and exceeds 20 for the high-end models.
While capacity is fairly important for the quality of your game, it's worth mentioning that there is a point of diminishing returns when it comes to high capacity bags. Even though they can hold a lot of discs, these bags are often heavy and bulky, which can severely reduce comfort and mobility.
Bottle holders
Access to refreshing drinks while playing is a convenience that you should not miss. The vast majority of disc golf bags these days come with pockets and pouches that were specifically designed to hold bottles and cans of various sizes and shapes. Before buying a particular model, make sure that it comes with a holder that fits your preferred cups/bottles.
Comfort
As is the case with any type of bag, you should always put a premium on comfort. The components that you should focus on are the padding of the shoulder straps and the quality of the back panel. The straps should be relatively thick and padded enough to provide ample support for your shoulders, and the back panel should preferably have an ergonomic design to accommodate your back.
Waterproof materials
This factor is extremely important, especially if you live in an area with frequent rain. Bags that are waterproof can protect your belongings in case you get caught in a downpour. Due to the outdoor nature of disc golf, this is pretty much inevitable.
Durability
It goes without saying that your bag should be extremely durable. Playing in the outdoors for extended periods of time will surely test the bag's ability to withstand constant exposure to a host of elements. Great disc golf bags are usually made from high-density fabrics that can handle the roughness of outdoor activities.
Stability
Capacity is not the only metric that's relevant to the bag's ability to hold discs, in fact, stability is just as important. It refers to the bag's capacity to retain its balance and remain standing on its own when it's placed on the ground. This is highly important because a bag that lacks this quality will constantly fall over and spill all the contents of your bag, including the golf discs that can sustain damage in the process.
Assessing the balance and stability of a bag just by looking at its specs and features is not exactly a simple process. It's advisable that you check some user reviews in order to get a firsthand account of what to expect. Generally speaking, bags that are equipped with sturdy plastic or rubber feet are typically more stable.
Shoulder Strap or Backpack
This is a point of hesitation for many people who are looking to buy a disc golf bag. Each style has its own set of benefits and drawbacks.
The main advantage of shoulder strap bags is that they allow you to retrieve your objects in a fast and convenient manner. This comes in really handy when you're in the midst of the game and have to quickly get your discs out of the bag. On the flipside, they feel a little unbalanced and awkward when you're carrying them.
Backpacks are preferred by many due to their impressive storage space. Their design is generally more efficient, and they can handle a heavy load without losing their shape or firmness.
Choosing between the two options is predicated on identifying your priorities. If you value capacity and balance over everything else, then a backpack is ideal for you. On the other hand, if you like your bag to be light and easy to access, consider opting for a shoulder strap.
Best Disc Golf Bag Brands
When it comes to companies that have built a stellar reputation for crafting the best disc golf bags, a few names come to mind. The brands discussed below have consistently delivered high-quality products earned acclaim for users and industry experts alike.
Dynamic Discs: Founded 13 years ago, this brand specializes in all products that are relevant to disc golf. The brand is known for creating the best budget bags on the market. On top of their high-quality products, their customer service is one of the best in any industry.
Innova Discs: Calling this company a pioneer would be an understatement. Innova Discs was the first to capitalize on the increasing popularity of disc golf more than 30 years ago and has managed to establish itself as the trusted provider of equipment for millions of players across the globe.
Throwback Sports: This aspiring brand has been making a lot of noise lately. They make great sports bags that are suited for a wide range of outdoor activities. While they don't have the same brand value and track record as the other two companies, user reviews have been nothing short of stellar so far.
Frequently Asked Questions
1. What's a bag tag?
Golf bag tags are a stylish and multi-functional item that's used to personalize a player's bag. Its main purpose is to identify players and clubs in competitions. They can be customized to reflect the player's tastes, personality, and style of play and can also be used to promote local business and golf-related events in your area.
2. How do I know if a bag is ideal for my size?
Most disc golf bags are equipped with adjustable straps that can be adapted to fit any size. However, if you want to buy a bag for your child, you should consider getting a model that's specifically designed for children. Adult-sized bags are too bulky for them and even when the straps are tightly set at the minimum, carrying it would still be uncomfortable.
3. Is the bottom of disc golf bags water resistant?
Bags that are water resistant are usually impermeable from the inside, outside, or both. The bottom, on the other hand, is rarely advertised by manufacturers as being waterproof. We've found some bags to be quite decent at preventing water from leaking in from the bottom; but in order to stay on the side of caution, it's advisable that you avoid placing your bag on a wet surface.
4. Are disc golf bags small enough for carry-on?
Regardless of their size, disc golf bags are still small enough to pass as carry-on luggage. The largest bags are about the size of a medium backpack and they can easily fit under the seat of an airline.
Final thoughts
Considering all the variables discussed above, it would be hard to argue against the Dynamic Discs Trooper Disc Golf Bag as the best disc golf bag on the market today. It simply ticks all the right boxes and covers the full scope of a player's needs; it's cheap, spacious, and boasts a beautiful design that is guaranteed to make you stand out on the course. As far as budget-friendly options are concerned, the Dynamic Discs over-delivers in a major way.
If you want a bag that has more disc capacity, you should consider the 20 discs version of the trooper disc golf bag. It boasts the same baseline qualities as the smaller version but comes at a slightly heftier price tag.
Before committing to any purchase, make sure that you have a clear idea of what your needs and expectations are. At the end of the day, the best disc golf bag is the one that is perfectly tailored to your own needs.
Interested in all things sports? Check out our Best Golf Nets, and Best Putting Mats articles!