Nothing kicks the fun at your next outdoor event into overdrive like an oversized game! Partygoers and players of all ages will have a blast playing; it's all but guaranteed. Whether you want to relive your favorite tabletop games or try something entirely new, there's something on this list for everyone. If you're tired of playing boring normal-sized activities, we've found the best giant yard games to take your party to the next level.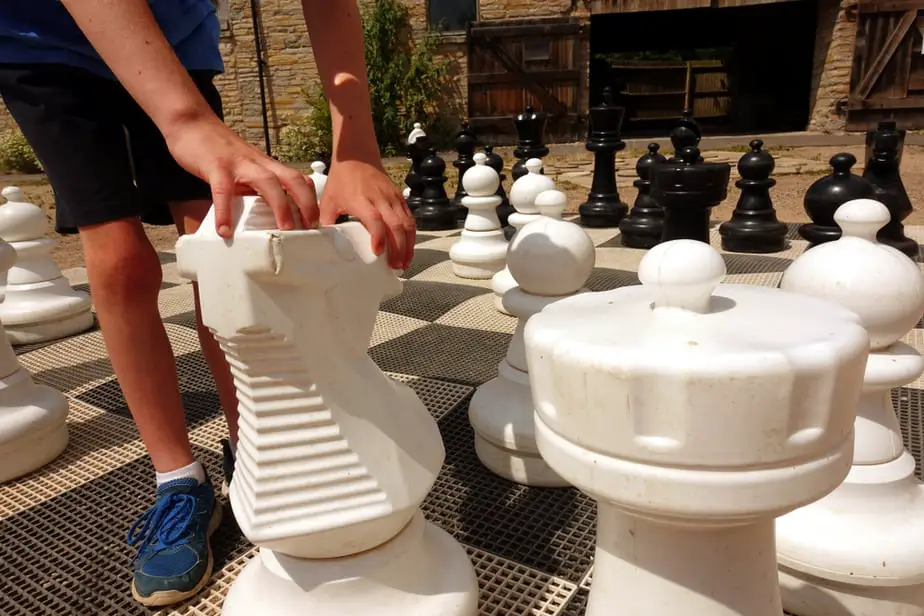 In a Hurry?  Here's Our Favorite Giant Yard Games
Giant Yard Pong
Yard Games Giant Yard Pong with Durable Buckets and Balls Including High Strength Carrying Case
12 giant buckets and 2 heavy duty plastic balls that don't blow in the wind! Exact ratios for buckets and balls to enjoy your favorite beer pong games
Includes instructions and high-quality and high-strength carrying case to play your favorite pong games the way they were meant to be played at a larger scale!
Perfect for outdoor events such as parties, BBQs, tailgating, group events, camping and much more
100% Satisfaction Guaranteed. We are a US based company and will replace any piece of this game if you are not satisfied. Or if it's just not working out, send it back for a full refund.
Last update on 2023-09-20 / Affiliate links / Images from Amazon Product Advertising API
Pong is a party favorite. Whether you're at an adult only party or playing with kids, everyone loves this classic tabletop game. Now you can play it jumbo sized! This Giant Yard Pong comes with twelve giant buckets and two heavy-duty plastic balls. The set is designed to maintain the exact ratios of the smaller red solo and ping pong ball version of the game, so your skills will transfer perfectly, right? Right?
These 9-inch tall buckets are made from plastic 1.3 mm thick; just fill them a quarter of the way up with water or sand (or you can use beanbags if neither of those are available), and they'll stand up to even the most aggressive throws. The balls are burlier than your average whiffle ball and designed to perfectly mimic a ping pong ball, only bigger.
This giant yard pong set comes with a convenient and durable high strength carrying case that fits the buckets and balls perfectly, so it's easy to bring it with you wherever you go for hours of fun. They double as a jumbo-sized game of flip cup too!
Things We Like
Durable design and thick plastic makes this a long-lasting addition to your spring and summer outdoor games repertoire
Durable carrying case makes for easy transport no matter where you want to play
Check Price and Reviews on Amazon
---
MegaChess Giant Premium Chess
MegaChess Giant Oversized Premium Complete Set of Chess Pieces with 25 Inch Tall King - Black and White
MOST POPULAR SET: The Premium 25-Inch Plastic Giant Chess Set is the most popular set from MegaChess. It includes 16 black and 16 white pieces. The Giant Chess Pieces range in height from a 25-inch king to a 16-inch-tall pawn. The set can be used both indoors and outdoors and is made with high-quality, long-lasting materials. Chess can become a communal experience and bring together family and friends when played out in the open on a lifesize set. Chess board is sold separately.
HIGHLY DURABLE MADE TO LAST: These jumbo plastic chess sets are displayed all over the world, in various climates and environments. They can stay outdoors for extended periods without maintenance, staining, or fading, making them a great addition to any lawn, backyard, or garden. Made of high-density polyethylene (HDPE) injection-molded, hollow, recycled plastic, they are waterproof, resistant to UV rays, and will retain their huge shape and color regardless of weather.
ADJUSTABLE WEIGHT AND HEIGHT: Standing at 25 inches tall, these mega lawn chess pieces are surprisingly light enough for even the youngest of players to move easily, yet large enough to resist the wind. Our unique modular construction gives you have the option to increase their weight and height by adding add up to seven pounds of sand, water or weight to the bases. Additional inserts can be purchased to increase the height of the chess set to 37 or 49-inch-tall chess sets.
COMMERCIAL OR RESIDENTIAL: This king-size yard chess set can be displayed anywhere - big open floors, backyards, parties, campgrounds, shopping malls, schools, university and corporate campuses, cruise ships, local parks, museums - for groups of people to enjoy the complex and entertaining strategy implementation in a game of chess.
MEGACHESS QUALITY: Each MegaChess item is meticulously handcrafted by artisans to ensure it maintains its appearance and integrity in all weather conditions and with long-term frequent use. We have been in the business of manufacturing large chess and checkers sets, boards, mats and other accessories using the highest quality standards since 2002.
Last update on 2023-09-20 / Affiliate links / Images from Amazon Product Advertising API
Giant chess isn't just a game. It's a functional piece of your outdoor space. It's a conversation piece. It's an investment. And you will have a tough time finding a better quality set of chess pieces than this set.
Featuring a full set of sixteen pieces per side (in white and black), these pieces are made of high-density plastic. They're waterproof, UV protected, and resist staining and fading, so they'll stand up nicely to the elements no matter where you are. If you find the weight needs adjusting, you can add sand to them through a hole in the bottom to increase the weight. As they come, this set is perfect for players and pros of all sizes. It's light enough for children to use with ease and rugged enough to handle their use.
The downside is that this set doesn't come with a checkered mat to play on. With its steep price tag, you may not be thrilled about needing to invest in a mat separately. If you're looking for a cheaper DIY alternative to picking one up, the set fits comfortably on 12-inch tiles.
Things We Like
Highly durable design makes this the only giant chess set you'll ever need to buy
Adjustable weight to make the pieces sturdier if you need
Check Price and Reviews on Amazon
---
GoSports Giant Wooden 4 in a Row Game
Sale
GoSports 3 Foot Width Giant 4 in a Row Game with Carrying Case, Made from Wood
GIANT SIZE FUN: Game measures over 3 feet wide and 32 inches tall and can be setup in seconds
100% WOODEN CONSTRUCTION: Each game is crafted from wood and painted white for our signature look
GAME PIECES INCLUDED: 42 GoSports Plastic Coins (21 red + 21 blue) - The coins are made from extremely durable plastic and will never break
TRAVEL CASE: Includes premium carrying case for neat storage or taking the game on the go
2 PLAYERS: Fun for kids and adults of all ages - makes for a unique accent in the backyard and is a hit at parties, cookouts, outdoor weddings, and more!
Last update on 2023-09-20 / Affiliate links / Images from Amazon Product Advertising API
This re-sized childhood favorite is just as much fun for adults as it is for children to play! This 3-foot wide game stands 32-inches tall and makes a great centerpiece for indoor and outdoor activities. Built from premium wood, with a choice between a classic white finish and a stylish dark stain so that your game matches your backyard aesthetic. This Giant Wooden 4 in a Row Game is available in three sizes, so you can get a perfect fit for your outdoor area.
The game comes with 42 plastic coins in red and blue so you're ready to play as soon as it arrives, but if you're looking to match with certain colors (for a wedding reception or baby shower perhaps) you can pick up customized colored coins in a whole range of different options. The coins are made from so-durable-they're-practically-unbreakable plastic that you can play rough with without worrying about breaking them.
If you want to bring your game with you on the go, this set also comes with a sturdy canvas carrying case. It'll keep your game organized and out of the way when it's not in use and makes it easy to take it with you on outings!
Things We Like
Plastic coins are practically indestructible for gameplay
Customize the color of the game, the color of the coins, and the size of the board to get your perfect set
Carrying case makes it easy to bring the game with you wherever you go
Check Price and Reviews on Amazon
---
Yard Games Giant Tumbling Timbers
Sale
Yard Games Giant Tumbling Timbers with carrying case starts at 2.5-feet tall and builds to 5-feet
Giant size timbers include 56 timber blocks measuring 7.5 x 2.5 x 1.5 inches and stacks 19 levels high! Includes two extra blocks for added height and best packing arrangement.
Fully set up game starts at 7.5 x 7.5 inches and is 2.5 feet tall! Game can grow to over 5 feet while playing based on skill level.
Comes with 56 sustainable sourced New Zealand Pine wood blocks hand sanded smooth for easy setup and game play. Perfect for indoor or outdoor events such as parties, BBQ's, tailgating, group events, camping and much more.
Includes high-quality and high-strength nylon carrying case for easy storage and transport and makes the perfect sized gift! Provides hours of fun and entertainment for the entire family. Anyone can play and create lasting memories.
100% Satisfaction Guaranteed. We are a US based company and will replace any piece of this game if you are not satisfied. Or if it's just not working out, send it back for a full refund.
Last update on 2023-09-19 / Affiliate links / Images from Amazon Product Advertising API
If you're looking for one of the biggest giant jenga sets on the market, look no further. Out of all the giant jenga options, this one is easily one of the best. It's oversized, high-quality, and its user reviews speak for themselves. It's a hit.
Yard Games Giant Tumbling Timbers comes with 56 kiln dried and hand sanded pine blocks. That gives you the standard 18 rows with an extra two to add to the bottom for a little extra height and stability. Each of the blocks measures 1.5" x 2.5" x 7.5."
Standing over 2.5 feet when it's fully set up, during gameplay your tower can grow to over five feet. Talk about giant! This game is great for groups of all ages. It's just as much fun to watch as it is to play, so all of your guests will be entertained.
This game also comes with a handy carrying case so you can transport your game conveniently to all kinds of outings and keep it safely out of the way and all together when it's not getting played.
Things We Like
Blocks are made from a hard pine that doesn't dent easily when the tower falls
Additional blocks form a sturdy base to play on
Durable carrying case lets you bring your Giant Tumbling Timbers with you wherever you go
Check Price and Reviews on Amazon
---
GoSports Giant Wooden Playing Dice Set
Sale
Last update on 2023-09-20 / Affiliate links / Images from Amazon Product Advertising API
There are so many different games you can play if you've got a set of dice and now you can play those games on a jumbo scale with the GoSports Giant Wooden Playing Dice Set. This set comes with everything you need to get the party started: one set of giant dice, a double-sided dry erase board with a pen, and a sturdy canvas carrying case.
The dice measure 3.5" x 3.5" x 3.5" and are made from high-quality pine wood and hand-sanded to smoothness. The numbers are burned into the wood so you don't have to worry about them rubbing off – and they look stylish too!
The dry erase board comes with score charts for Rollzee and Farkle, but you can use it to keep score for all kinds of other dice games too. It's a handy addition. Plus, the canvas bag is great for storage and transportation.
Things We Like
Dice are manufactured from a hard pine wood that doesn't dent easily
Number markers are burned into the wood to keep them from wearing off
Durable carrying case makes it easy to bring it with you everywhere you go
Check Price and Reviews on Amazon
---
GoFloats 6' Giant Inflatable Beach Ball
GoFloats 6 ft Giant Inflatable Beach Ball, Extra Large Jumbo Beach Ball - Patch Kit Included
GIANT SIZE FUN: 6 foot diameter - fun times at the beach, in the backyard, at school events, and more!
RAPID VALVE INFLATION: New rapid valve allows for the fastest inflation and deflation compared to traditional valves - must use a pump to fill beach ball (not included)
CLASSIC DESIGN: Fun eye catching colors inspired by the classic beach ball design, great for adults and kids of all ages
DURABLE: Material is thick and built to last for the best value, but only use on soft surfaces
Last update on 2023-09-20 / Affiliate links / Images from Amazon Product Advertising API
Last on our list is the GoFloats Giant Inflatable Beach Ball. With a 6-foot diameter, this thing is unreasonably large. Incidentally, it's also unreasonably fun. Whether you're throwing a pool party, a backyard barbeque, or want to add some whimsy to your garden party, nothing says 'good times ahead' like a giant beach ball.
This Giant Inflatable Beach Ball is made from a thick, durable material that is designed to last, as long as you're playing on soft surfaces. If you have a surplus of cactus in your outdoor living space, this might not be the right giant yard game for you.
With its rapid valve inflation, this ball can be inflated in only four minutes with an electrical pump, so you'll be ready to play in no time. The ball is available in a classic multicolor design that will bring back all your favorite beach memories or in a patriotic 'Merica design.
Things We Like
Thick and durable material is designed to stand up to rowdy play
Rapid valve inflation takes almost no time to inflate your newest backyard addition
Check Price and Reviews on Amazon
---
Choosing the Best Giant Yard Games
When you're picking out the best giant yard games for your next outdoor shindig, barbeque, or birthday party, think about the space you have for it. Games like MegaChess Giant Premium Chess will need a little more space to play than something like the GoSports Giant Wooden Playing Dice Set and less space than the massive GoFloats 6' Giant Inflatable Beach Ball.
You also might want to think about the age range of your attendees. Older partygoers may get more out of an oversized game of pong than younger partygoers, but everyone enjoys a game of giant jenga.
How to Play
Pong
Although best known as a drinking game, beer pong can also be played with water if you're playing in a more wholesome and kid-friendly environment. To set up your game you need to fill the cups up a quarter to half full with water (or other liquids). Arrange them in two triangles, one on either side. Add an extra cup on either side filled with water. You'll rinse your ball in here before taking your turn to keep everything a little cleaner.
The game can be played one versus one or in teams of two. Start out with a quick game of rock paper scissors to decides who goes first. Standing on your side of the table, you throw a ping pong ball and try to get it into one of the cups. When you successfully land a ball inside, that cup is removed from the table. Your goal is to get rid of all of the cups before your opponent(s).
Need more info? Check out this guide.
Tips for Victory
Arc the ball when you throw it to increase your chances of success
Instead of aiming for cups around the edge, shoot for a cluster of cups
Distract your opponents without getting in the way of their eyelines
Figure out what throwing method works for you, whether it's overhand, underhand, or something entirely different
Chess
Oh boy. If you don't know how to play chess already, you've got a lot of work to do. Here's a more comprehensive guide. We'll just give you the basics.
Each piece on the board has a designation that tells you how many spaces it can move per turn and in which direction. You play against a single opponent and each of you can move one piece each turn. You can't move through other pieces, but if you land on an opponent's piece, then you can take it off the board. That piece is defeated.
Your goal is to put their 'king' into a position where it can't move without placing itself in harm's way. This is called 'checkmate.' When a piece threatens one of the kings, that king is in 'check' and that turn has to be used for protecting the king, either by moving the king itself or by placing another piece between it and the aggressor or taking the aggressor off the board.
Tips for Victory
Keep an eye on the whole board or you may miss something
Consider all of your options
Know when to trade your pieces and make sure you get the better deal
4 in a Row
As the name implies, the goal of this game is to get four of your pieces in a row. The line can be vertical, horizontal, or diagonal. To get your pieces lined up, you have to outthink your opponent, since you play by taking turns placing a single playing coin in one of the slots. As they stack up, it becomes a game of strategy.
The game continues until either a victory is declared for one of the players or all 42 slots on the board are filled. When it ends, you can claim your bragging rights and release the playing coins and start again!
Tips for Victory
Block your opponent
Take control of the center to get the most opportunities for victory
Watch the board so you don't accidentally give your opponent the win (or miss one your own shot at victory!)
Plan ahead so you can set yourself up to be the champion
Jenga
Giant jenga is one of our favorite giant games! The blocks are arranged by stacking them in alternating rows of three to form a solid tower.
Rather than trying to win, the goal of jenga is simply not to lose! On your turn, you pull one of the blocks out of the tower and place it on the top layer. The longer you play, the taller and more precarious the tower becomes. The loser is the one who knocks it over.
Tips for Victory
Don't rush; just take your time and breathe.
Plan ahead by placing your top pieces to give your opponents a trickier tower
Look for blocks that will be easy to dislodge instead of going for more challenging or tightly placed block
If you want to learn more about giant jenga, including all the strategy you need to be a jenga pro, check out our buying guide!
Giant Dice
There is a nearly endless number of dice games, but we'll stick with just two since the board that comes with the set we've recommended is designed with these games in mind.
Rollzee is essentially the classic dice game Yahtzee, just played on oversized dice.
Farkle, the other game on the scoreboard, is easy. Your goal is to have the highest score above 10,000. On your turn, you roll all six of the dice and then add up your score, based on whether you've rolled scoring combinations or scoring dice. Here's a scoring guide to help you out.
Once you've rolled you have several choices for your next move. You can set the dice that have scored points aside and reroll the non-scoring dice to try to get more points. This can keep until you have no dice left but you risk rolling a Farkle, which is when you roll and get no scoring dice. Any points you've earned at that point are lost, though you can try again to roll any remaining dice you haven't set aside.
Alternatively, you can bank your points and pass the dice to the next player. If you had some "hot dice" and all of your dice scored on your first roll, you can roll all the dice again to add to the points you've already earned.
The first player to have over 10,000 points wins, assuming at the end of a full round no one has surpassed their point total.
Tips for Victory
Don't always set aside all your scoring dice, you may be able to maximize your points by having more dice to roll the next time
Bank your higher scoring combinations, even if it's on your first roll
Stop while you're ahead; the fewer dice you have to roll on later turns, the higher your chances of rolling a Farkle and losing your points
Ball
What can't you do with a ball? From an oversized game of catch to a massive monkey-in-the-middle, you're not short on options.
Best Brands
Yard Games
Yard Games is one of the most popular manufacturers of giant yard games. They've got a solid reputation for high-quality goods!
GoSports
GoSports is one of our favorite brands for outdoor games and equipment. Their products are consistently some of the best available, no matter what you need to make the most from your outdoor space.
GoFloats
The makers of GoSports are also behind this leading floaty brand. GoFloats makes a whole variety of inflatable products to make your beach or pool time better.
FAQ
Q: What are the best yard games for children?
A: All of the games on our list are designed to be enjoyed by children just as much as adults. If you're playing with younger children, you may have the most success with simple games like the GoSports Giant Wooden 4 in a Row Game or Yard Games Giant Tumbling Timbers, just make sure they get clear when the tower falls!
Q: Are there any DIY options for giant yard games?
A: If you're handy and thrifty, you've got a few options for DIY versions of these games. You can follow the instructions here for a DIY giant jenga game. You could also put together a giant version of pong, but you actually end up saving on both money and effort by picking up the Giant Yard Pong.
Wrap Up
No matter what you choose for the best giant yard games for your next outdoor event, you're going to have a great time. Everything on this list is designed to be enjoyed by players and partygoers of all ages. Our personal favorite is the Yard Games Giant Tumbling Timbers, since giant jenga is always a hit no matter who's playing!
Check Price and Reviews of Yard Games Giant Tumbling Timbers on Amazon