Ben Franklin once said something along the lines of "by failing to prepare, we are preparing to fail." While old Ben was talking about matters of state, his words are equally applicable to the way we treat our yards, and one of the best ways to go about avoiding "failure" (poor soil quality, poor irrigation, uneven lawns, flower beds not fit for planting) in this case is to till our soil adequately before we get down to the finer details of planting, sowing seed, or leveling our lawn. To help you do so in the most effective and efficient way possible, below we aim to play matchmaker and help you find the best electric rototiller for the job.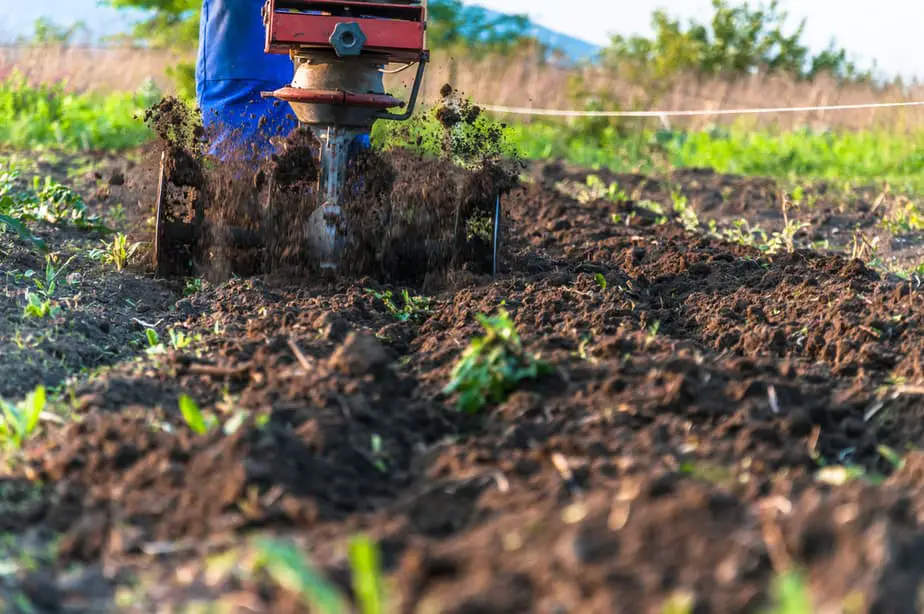 In a Hurry? Here's Our Top Picks…
1. Earthwise TC70016 16-Inch Corded Electric Tiller/Cultivator
Earthwise TC70016 16-Inch 13.5-Amp Corded Electric Tiller/Cultivator, Grey
Earthwise cultivator machine with 6 adjustable tines
Motor cultivator with 11" to 16" adjustable working width and 8" working depth
Corded electric roto-tiller with powerful 13.5-amp motor
Ergonomic and maneuverable electric hand tiller design
Compact and lightweight design with assembled product dimensions of 40 x 19 x 42 inches
Last update on 2023-11-21 / Affiliate links / Images from Amazon Product Advertising API
We get our review rolling with a tiller that is among the most versatile of machines we've ever seen. This rototiller-cum-cultivator is a true all-rounder, boasting the ability to do just about everything you need to prep, plant, aerate, and maintain high-quality, nutrient-rich soil short of planting your flora for you, sowing your seeds, and sifting ousted weeds into a neat and tidy pile…
The Earthwise Corded Tiller uses six adjustable tines and, for such a heavy machine, is remarkably easy to use. It also has a till width of eight to sixteen inches, allowing you to be more precise when need be and tear up more terrain when tilling a larger plot, and a till depth of 8 inches, which is about as much as you need for most types of soil.
Other winning features in this tiller include its ergonomic handle and soft grips, its very quiet motor, and duo of flip-down wheels that provide for easy transportation.
The only things that aren't so impressive about this tiller are its hefty, 29-pound weight (which, we should add, isn't too much of an issue thanks to the adjustable wheels), and its slightly poorer performance on tough ground. All told, however, this is a highly practical machine that easily merits its place on our best electric rototiller list owing to its versatility and ease of use.
What We Like
5-amp motor
6 adjustable, durable steel tines
Ergonomic handle
Quiet motor
Adjustable width (8"-16")
8" Depth
What We Don't Like
Not cordless
Not the best on tougher terrain
Heavy (29 lbs.)
Check Price and Reviews on Amazon
---
2. Sun Joe Electric Tiller and Cultivator
Sale
Sun Joe TJ603E 16-Inch 12-Amp Electric Tiller and Cultivator , Green
[DURABLE]: 6 Steel angled tines for maximum durability and performance.Voltage (V) : 120. Maximum Extension Cord Length (ft.) : 100..Start Type : Switch. Rust Resistant : Yes.
[EASY STORAGE]: Handle folds for convenient storage and easy transport
[WHEEL-ADJUSTMENT]: 3-position wheel adjustment. Maintenance free
Last update on 2023-11-21 / Affiliate links / Images from Amazon Product Advertising API
In recent years, Sun Joe (the associate brand of Snow Joe) has established itself as one of the market leaders in outdoor power tools. And after a quick glimpse at the specs and features of its Electric Tiller and Cultivator, it's easy to see why.
This machine is a true ticker of boxes and admirable performer in every feature a potential purchaser could ask for, boasting a powerful 12-amp motor that can plow through the toughest terrain with ease, a tilling width of up to 16 inches, a tilling depth of up to 8 inches, fold-down handles for easy storage, and starts instantly with the flick of a switch.
Perhaps the thing we like most about this rototiller, however, is that you get all of the above for about half of what you might pay for a comparable model from competitor brands—in terms of value for money, therefore, this one's a hands-down winner.
This machine's downsides are better described as minor foibles and are highly forgivable given its budget price. While not cordless (and therefore limited to tilling areas within 100ft of a power source), boasting only one speed, and weighing in at a fairly ponderous 27 pounds, if you want a machine that packs plenty of punch without unpacking your wallet, this tiller deserves expediting to somewhere very near the top of your shortlist.
What We Like
Powerful, 12-amp motor
6 durable steel tines
Adjustable till width and depth
Foldable handle for easy storage
Wheel adjustment
370 RPMs
2-year warranty
What We Don't Like
Not cordless
Only one speed
Quite heavy (27 lbs.)
Check Price and Reviews on Amazon
---
3. Mantis Electric Tiller
Mantis 7250-00-03 Electric Tiller, Pack of 1, Red & Black
Quiet, instant-starting, 3-speed 540 watt motor
Weighs just 21 pounds, but as powerful as a gas model
The compact 9 inch width allows the tiller to get into tight spaces around your yard that larger tillers cannot get to
The unique, curvy tines can be used to till down 10 inches deep. Or, simply turn the tines around to shallow cultivate the top 2 to 3 inches of soil
Folds for easy transport and storage
Last update on 2023-11-21 / Affiliate links / Images from Amazon Product Advertising API
If a lightweight tiller that offers excellent versatility and power levels comparable to those found in heavy-duty gas models sounds good, then the Mantis Electric Tiller is well worth a place on your shortlist of potential purchases.
This machine weighs in at a reasonable 21 pounds and, thanks to its powerful, 3-speed, 540-watt motor, is far easier to handle than models that don't boast variable speed functionality. One of the most appealing features in the Mantis for lovers of peace and quiet or those who just want to stay on polite terms with their neighbors is the near silence of the motor, even when working at top speed and on tougher ground.
With a tilling width of nine inches and tilling depth of three to ten inches, this machine is by no means a standout but offers a good balance between the amount of terrain it can till in a single pass, maneuverability, and easy handling.
And the downsides? Well, it might be nitpicking given the Mantis' outstanding overall performance, but it would have been a nice and very handy addition if the manufacturers had thrown in adjustable tilling width to put the proverbial icing on the cake…
What We Like
3-speed, 540-watt motor
10-inch tilling depth
Not too heavy (20 Lbs)
Quiet motor
Compact and easy to store
What We Don't Like
Not cordless
Width not adjustable
Check Price and Reviews on Amazon
---
4. Greenworks Corded Tiller
Sale
Greenworks 8 Amp 10-Inch Corded Tiller, 27072
Powerful 8 Amp Motor for reliable results with an easy electric start eliminates the need for mixing gas and hard to manage recoil cords
(4) 8 inch forward rotating tines for highest performance when digging into earth
Adjustable tilling width of 8.25 inches to 10 inches for quick reliable tilling; Assembly details: Assembly required, no tools needed
Adjustable tilling depth, up to 5 inches offers the versatility to dig for the right planting depth
Handle folds down for simple and convenient storage and transportation
Last update on 2023-11-21 / Affiliate links / Images from Amazon Product Advertising API
If ease of use and maneuverability are high on your list of desirable features in an electric rototiller, then the Greenworks Corded Tiller could well be the machine for you.
This tiller has a lot more going for it, however, than easy handling alone, most notably a powerful, 8-amp motor that starts instantly with the flick of a switch, unlimited runtime owing to its corded configuration, and exceedingly robust 8" tines that can churn through even heavier and wet ground with ease.
What we like most about this rototiller is that, in addition to all of the above benefits, it is also fully adjustable, offering a tilling width of 8.25" to 10" and a tilling depth of up to 5", thereby allowing you to match your settings to the type of soil you are tilling and to switch easily between breaking new ground and simply aerating lighter topsoil.
The only downsides of note to this device are that it is fairly heavy compared to many competitors offering similar performance and requires some (fairly tricky) assembly. If you can see past those relatively minor and forgivable, flaws, however, what's left is a highly functional and versatile tiller that's among the best for small to medium-sized yards out there.
What We Like
Fully adjustable tilling depth and width
Powerful, 8-amp motor
Durable steel tines
Handle folds down for easy storage
What We Don't Like
Heavy (29 lbs)
Tricky to assemble
Not cordless
Check Price and Reviews on Amazon
---
5. Black & Decker Cordless Tiller
Sale
BLACK+DECKER 20V MAX* Tiller (LGC120)
Powerful transmission with dual tines break up soil to allow water and nutrients to reach plant roots
Powered by 20-volt MAX lithium-ion battery, with longer lifespan and charge retention than NiCad batteries
Cultivates up to 325 square feet per charge
Counter-oscillating tines prevent weeds from tangling
2-year limited warranty; includes battery and Energy Star-qualified charger
Last update on 2023-11-20 / Affiliate links / Images from Amazon Product Advertising API
For decades, Black and Decker has stood as one of the most reliable and well-known manufacturers of domestic power tools out there and in the B&D we find a product that continues that tradition in fine form.
This nifty little tiller looks like a strimmer and offers much the same in the way of handling, using a soft-grip handle that makes maneuvering easy and comfortable and weighing in at a very manageable and highly portable 8.1 pounds.
Naturally, such a lightweight device comes with a few drawbacks, most notably a lack of power and inability to deal with tougher, weed-infested ground and/or cover large plots of land. That said, this tiller's 20-volt engine offers plenty of power for small jobs in established seed or plant beds and is ideal for those looking for more dexterity, easier handling, and not intending on breaking new ground in larger areas—even if its makers claim the device can till up to 325 square feet of yard per charge.
The bottom line? Ideal for lighter work in small spaces but not a good option for tougher jobs in dense soil or terrain with more stubborn weeds.
What We Like
Long-lasting lithium-ion batteries provide around a 40-minute runtime
Very easy handling
Ideal for smaller spaces
Lightweight (8.1 lbs.)
Dual, counter-directional tines
What We Don't Like
Not suitable for tilling larger areas
Designed for use on softer, prepared soil
Short on power: struggles with tougher weeds and thick grass
Check Price and Reviews on Amazon
---
How to Find the Best Electric Rototiller for Your Yard
What is an Electric Rototiller?
An electric rototiller is a powered lawn tool with varying numbers of blades (called "tines") that churn and break up the soil. Most are similar in size to lawnmowers and typically weigh between 12 and 30 pounds.
Rototillers can be used to perform many tasks, but most commonly to break new ground to prepare the soil for landscaping, returfing, seeding, planting, or leveling your yard. They can also be used for weeding and to aerate garden soil.
Do I Need to Till My Yard?
The main reason for tilling your yard or garden is to loosen up hard and compacted soil. Doing so has many benefits and can serve several purposes, such as helping to control weeds, help organic nutrients regenerate, aerating the soil, making it easier to plant, improving drainage and root growth after planting, and prepping the soil for laying turf or leveling your yard
Should I Buy a Rototiller or a Cultivator?
Sometimes the terms cultivator and rototiller are used interchangeably. There are, however, significant differences between the two types of tool. Below, we provide a quick overview of these differences.
Cultivators
Cultivators are typically lightweight, highly portable lawn tools that work best for aerating the soil in your yard and clearing weeds from established flower beds.
Both electric-powered and gas-powered cultivators rely on the cutting blades for propulsion and, as a general rule, are far less powerful and designed for lighter work and smaller jobs than rototillers.
Rototillers
Generally speaking, garden tillers boast more powerful engines than cultivators and are especially designed to break new ground.
Rototillers come in three different configurations: front-tine, mid-tine, and rear-tine.
As mentioned above, the 'tine' on a tiller refers to the blades, and the three above configurations each offer something a little bit different in terms of performance.
Front-tine tillers are usually low-cost models that are ideal for lighter, easier jobs such as weeding, blending soil, or breaking softer ground on new plots. While not ideal for larger jobs with heavier, clay-based soil, this type of tiller is a good option for those working on a tighter budget, with smaller areas to till, or working on more biddable soil.
Mid-tine tillers offer the easiest handling of the three types of tiller owing to their even weight distribution and, as the name suggests, offer a happy medium in terms of performance between lightweight front-tine tillers and heavy-duty rear-tine tillers. As such, these tillers are a good choice for anyone with relatively large areas of relatively dense soil to till but are still second best to rear-tine tillers when working on particularly dense soil or for a deeper till.
Rear-tine tillers are the best bet if you are planning on breaking new ground on a plot with particularly dense and heavy soil. This type of tiller's wheels are usually driven by the engine, meaning that the tines work independently of the wheels, making them both easier to push and guide through heavy soil. In most cases, rear-tine models also use counter-rotating tines that are more capable of tilling new or tough ground and penetrating soil more deeply on the first pass.
Electric Tiller Vs. Gas Tiller
As with most yard appliances or tools, the differences between electric and gas models are fairly significant and relate mainly to the device's power and maintenance.
As a general rule, gas-powered tillers offer a lot more power than electric models and, by virtue of this power and of being cordless, are far better suited to tilling larger plots of land with harder earth.
On the downside, gas tillers tend to be heavy affairs, take up a lot of storage room, require regular maintenance, and have ongoing fuel costs.
Corded Vs. Cordless Electric Tiller
While corded and cordless tillers typically offer similar performance in terms of power and are usually similarly portable and maneuverable, the most obvious difference between the two exists in the ability of cordless models to till land far from any power source. For that benefit, however, there's a price to pay, namely limited runtime—a problem easily overcome if you're willing to fork out a few extra $ for a second battery.
How Long Should the Battery Life or Runtime Be?
If you happen to be in the market for a cordless electric rototiller, then the machine's runtime or battery life is a hugely important factor to take into consideration. While a short runtime will no doubt be adequate for smaller, lighter jobs, if you plan on doing any serious tilling and ground prep, then you'll need a superior runtime (or that aforementioned second battery).
But just how long is long enough? This, of course, will depend on how fast you work and the size of the area of land you plan on tilling. Most cordless models offer runtimes ranging from as low as 20 minutes up to around 40 minutes. For bigger jobs, be sure to buy a model at the upper end of that scale.
How Many Tines do I Need?
Electric tillers typically have either two, four, or six tines, which are the blades that slice through the ground and churn it up for aeration, weeding, or prep for planting.
How many tines a tiller has naturally has a direct bearing on the machine's tilling width, which, in turn, has a direct bearing on how long it takes you to till any given plot of land—the more tines any model has and the wider its dimensions, the more ground it will till in a single pass. This being so, buyers who plan on tilling larger plots of land will most likely be best served by a tiller with more tines and a greater tilling width.
What's the Best Rotational Speed for a Rototiller?
"Rotational speed" refers to the rate at which a rototiller's engine rotates the blades or tines and is measured in RPMs. Most electric models offer rotational speeds ranging from as little as 120 up to as much as 250 RPMs. As you might expect, the higher the RPMs, the quicker the blades will rotate and the more work you'll be able to get through in a shorter time, but for most amateur, domestic users a model with somewhere in the region of 180 RPMs will usually suffice.
Do I Need a Variable Speed Setting and Adjustability?
This function allows you to control how much power your tiller puts into each rotation and how deep it tills. While not necessary for most applications, if you're landscaping and/or planning on tilling varying types of soil then this is a very handy feature to have.
This is also true of models that offer adjustable width and depth settings, which allow you to alter the width and depth of your till to suit your needs, whether those be deep landscaping or just loosening topsoil in preparation for planting or laying turf.
Should My Electric Rototiller Have Adjustable Wheels?
Adjustable wheels can help to make your tilling jobs both a lot easier and more precise. Some models come with wheels that can be shifted to make for easier transportation between the garage and tilling area and others use adjustment levers in the wheels that allow you to select the depth of the cut made by the tines. If you are tilling a large area with varied soil hat you plan on using in different ways, therefore, this latter feature could prove to be extremely useful.
Is Weight Important?
How light or heavy a rototiller is usually has a direct bearing on how maneuverable the device is, though certain other factors like the inclusion or absence of an "auto-drive" or "assisted-drive" mode or variable speed setting, and the functionality of the machine's wheels will also have an impact.
As a general rule, heavier models usually have more tines and offer superior power, but if you aren't enthused by handling a machine that weighs in excess of thirty pounds then it may be worth opting for a smaller machine with less power and a narrower tilling width and simply accepting that the job will take a little longer to finish.
Best Electric Rototiller Brands
Sun Joe: This New Jersey-based brand has been on the go since 2004 and specializes in high-quality, durable, and affordable outdoor tools and machinery.
American Lawn Mower Co.: Established in 1895, this Chicago-based brand is one of the oldest producers of yard tools in the US. The company's subsidiary brand, Earthwise, boasts a catalog that includes high-quality and affordable lawnmowers, snowblowers, chainsaws, trimmers, cultivators, and rototillers.
Black & Decker: This Maryland-based brand has a long reputation of producing high-quality home improvement products and boasts a small selection of functional tillers and cultivators.
Best Electric Rototiller FAQs
Q: How do I use garden tiller?
A: Whether you buy a gas-powered, battery-powered, or mains-powered rototiller, most models work more or less the same and are very easy to use. With regard to prepping the land you plan to till, the only important pre-till task is to make sure the soil is free of any large rocks or stones that might damage the tiller's blades. We'd also highly recommend wearing safety glasses or goggles as the blades in many rototillers are prone to throwing out rocks, soil and debris from time to time. If you value your toes, moreover, then it's also well worth throwing on a pair of steel-toe-capped boots, just in case they happen to have a collision with those rotating blades!
Once you've prepped the ground and donned your safety gear, it's time to adjust the till width and till depth settings to those best suited to the task at hand and, if included on your machine, choose the speed at which you want the blades to rotate. Then, you're good to go!
Q: Why should I use a rototiller?
A: The simplest way to answer this question is with another: ever tried to till a plot of land manually with a hoe? If so, the chances are you will have discovered that it is back-breaking and time-consuming work and not something anyone should try to take on unless they have a very small plot of land in need of tilling, oodles of free times on their hands, are possessed of a slightly masochistic streak, and/or want Popeye-style forearms but aren't willing to fork out for a gym membership (!).
Q: Do electric rototillers require a lot of maintenance?
A: For the most part, no. While gas-powered models need frequent cleaning, oiling, oil changes, and refueling, most electric models are very low maintenance and only require a little light cleaning from time to time. If you use the machine more frequently, sharpening the blades once every six months to a year may improve its ability to cut through wet or heavy soil and tough roots.
Conclusion
There are many reasons why adding an electric rototiller to your armory of garden tools is a good idea, most notably because they allow you to prep land for planting quickly and effectively, save you a lot of donkey work with standard yard tools, can regenerate your soil through aeration, and are a much quieter, cleaner, and hassle-free way of breaking ground than a gas-powered tiller.
But just which of the above is the best electric rototiller out there?
While all of the models of tiller featured in our review are high-quality tools and ideal for different applications, our pick of the bunch has to be the Sun Joe Electric Tiller and Cultivator. Not only is this tiller very versatile, powerful, and fantastically easy to use, it also offers exceptional value for money by dint of providing comparable performance to that offered by many of its far pricier competitors.