If you've ever tried to manually get your garden ready, you know that using a spade or shovel makes the work incredibly strenuous. If you are looking for a way to make the job easier, a rear-tine tiller is likely your best choice. This tool can work to break up even very hard ground.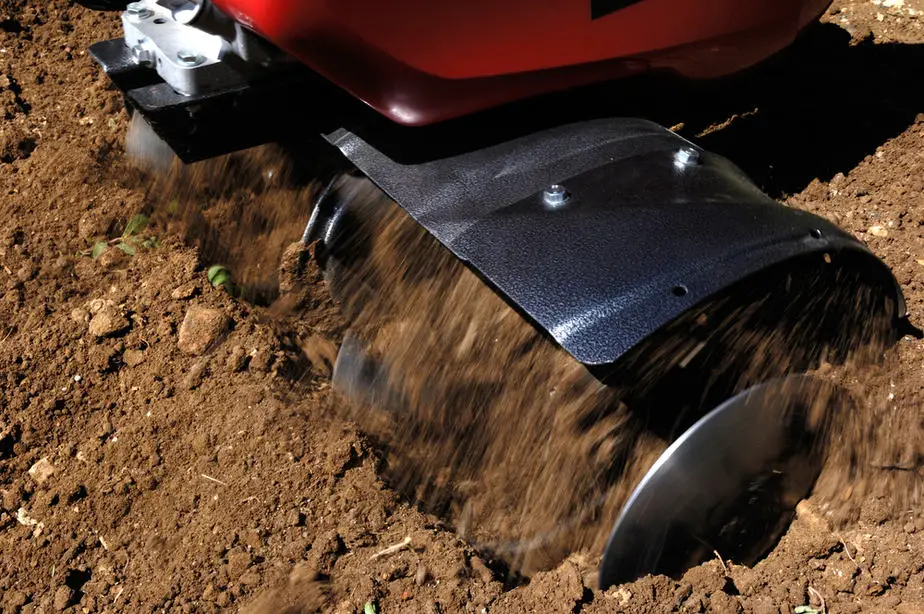 It will till that hard ground right into easy to manipulate garden soil. Then, you can cultivate and sow as needed. You won't break your back but you will end up with loose soil. So, how do you know which rear-tine to purchase? We'll take a look at the top 5 below.
In a Hurry? Here's Our Top Picks…
1. YARDMAX YT4565 Dual Rotating Rear Tine Tiller
Last update on 2023-11-07 / Affiliate links / Images from Amazon Product Advertising API
This is a dual-rotating option that uses a 208cc engine made by Briggs & Stratton. You'll get a good amount of torque and you'll also enjoy a rotating speed that's quite impressive.
There are seven positions available when it comes to depth. So, you have plenty of depth options available and can switch pretty easily. The tool is easy to maneuver and handle. It's also easy to push and can really be done using just one hand.
It has a counterweight which is great for maintaining balance. You'll also enjoy the pneumatic wheels, which measure 13 inches. They are pretty durable and able to get through rough terrain with ease.
There is a drag bar that can easily be adjusted. This is another feature that will help you get a good balance in all different conditions. There is also an adjustable side shield along with a serrated rear shield. Both of these will give you greater performance and safety.
This option is dual rotating and has a tilling width of 18 inches and a tilling depth of 6.5 inches deep. The tire size is 13 inches by 5 inches.
Things We Like:
Seven positions for depth adjustments so you can cover all ground
Powerful engine for increased torque
One reverse and one forward gear for improved control
Things We Don't Like:
Oil isn't included with purchase
Check Price and Reviews on Amazon
---
2. Troy-Bilt Super-Bronco
No products found.
This option from Troy-Built offers a 208cc 4-Cycle engine. You'll get a tilling width that extends up to 16 inches and the transmission is top of the line when it comes to durability.
The tool itself is made from carbon steel so you should have no issues when it comes to this tool staying strong for years to come. It's durable and there really never seem to be any issues with it standing up to consistent use.
You'll likely really enjoy the power reverse features which allows you to back right out of areas quickly and easily. You can till forward and then quickly get back to your starting point if needed.
The tines on this option are counter-rotating so they move in the opposite direction from the way the wheels are moving. The tires are 13 inches and are very easy to maneuver. You also get a two-year warranty with this purchase.
Things We Like:
Great durability in construction and transmission so you don't need to worry about it breaking down
Solid 16-inch width lets you get in between tight garden rows
Power reverse lets you back up easily
Things We Don't Like:
Check Price and Reviews on Amazon
---
3. Craftsman CMXGVAM1144036
No products found.
This option from Craftsman offers some unique features, including a self-propel option. That self-propel feature means that you don't really have to push this tiller nearly at all. You just simply guide it. That means less work for you, the user. The steel tines on this rear-tine tiller are ten inches long. This is a bit smaller than the other options on our list but the machine itself is smaller.
The cultivating width on this rear-tine tiller is 14 inches and the cultivating depth is 7 inches. This is a smaller tool but that might be just what you need for your particular garden. The smaller size also means easier navigation.
This tiller from Craftsman also offers a tine shield that protects you from flying debris. You'll also enjoy the two-year warranty on the product along with a lifetime warranty on its transmission.
Things We Like:
Two-year warranty/lifetime transmission warranty means you don't have to worry about malfunctions
Very easy to navigate
Self-propel option means you don't have to exert much force
Things We Don't Like:
The small size means it is easy to navigate but it won't handle larger jobs that come up
Check Price and Reviews on Amazon
---
4. Southland SRTT212
No products found.
This rear-tine tiller from Southland offers a cultivating depth of 8 inches and cultivating width of 18 inches. This tool has a 4-cycle motor with a capacity of 212 ccs. It is one of the more powerful options on our list.
This rear-tine tiller uses counter-rotation so the tiller works in the opposite direction from the direction of the wheels. You'll get good depth and a lot of power.
The wheels on this product have a width of 13 inches and they are durable enough to really push through almost any terrain you can throw at them. They move both forward and backward.
This tiller is quite easy to navigate once its assembled and the setup is actually really straightforward and easy to complete. The width is quite wide, so you'll want to keep that in mind depending on the jobs you typically need to get done.
Things We Like:
The wide width of 18 inches for working quickly
4-cycle motor which offers more durability than a 2-cycle motor
Durable wheels for getting through terrain
Things We Don't Like:
A bit more expensive than some alternatives
Check Price and Reviews on Amazon
---
5. Champion 19-Inch Rear-Tine Tiller
Sale
CHAMPION POWER EQUIPMENT 22-Inch Dual Rotating Front Tine Tiller with Storable Transport Wheels
Efficient- a variable 16 to 22-inch tilling width and up to an 8-inch tilling depth make this Tiller ideal for preparing large flower beds and vegetable gardens, and weeding between rows
Convenient - 8-inch storable transport wheels make it easy to transport your Tiller from storage to your garden and back, plus they increase balance and maneuverability in loose soil
Versatile - four 13.8-inch heavy-duty hardened Steel tines with dual rotation make it easy to till narrow spaces or wide rows
Powerful - the 212cc engine provides the power to transform the toughest ground into perfect planting soil
Champion support - includes 2-year limited Warranty with free lifetime technical support from dedicated experts
Last update on 2023-11-07 / Affiliate links / Images from Amazon Product Advertising API
This rear-tine tiller from Champion offers a cultivating depth of 8 inches and cultivating width of 19 inches. It is counter-rotating and also comes with a 2-year limited warranty. It offers some unique features including a low oil shut-off sensor and a self-propel feature.
The cultivating width of 19 inches is actually quite wide when compared to other options on the market. Given its width and the self-propel feature, you shouldn't find that you have to work too hard when using this tiller. The self-propel feature basically means you just have to guide the tiller as opposed to pushing it.
The cultivating width is pretty good at 8 inches as well. However, this is really at tiller intended to complete smaller jobs. That said, it is one of the most inexpensive options on our list. It also comes with a 2-year warranty from Champion which means if anything does go wrong you can work with the manufacturer or repairs.
Things We Like:
19-inch cultivating width for more efficient work
A self-propel feature so you only have to guide the tiller instead of pushing it
Things We Don't Like:
Some parts seem to break down easily. Even though there is a warranty, this can really slow down the progress of your job.
Check Price and Reviews on Amazon
---
Education
We've looked at five of the best rear-tine tillers you can find. You'll want to know everything you can about the tool in order to narrow down your selection. Keep the following considerations in mind when making your purchase. Also, bear in mind what type of jobs you plan to complete. Buying the largest rear-tine tiller isn't always in your best interest. The size of your job should always be a consideration.
You'll also want to consider what jobs might come up in the future. Buying a rear-tine tiller is a sizable investment. Don't purchase one just for the job you currently have to complete. You'll want to think about what might reasonably come up in the future.
What are the different Rotation Styles?
There are three different kinds of rotating tines. They are dual rotating, counter-rotating and standard. Standard is also often referred to as forward rotating. You'll want to think about which option is best for you, based on how they work.
Dual Rotating
A dual rotating tine tiller can be used either as a counter-rotating tine tiller or a standard one. This can give you a whole lot of versatility. If you think you need both options, this is likely the best choice for you.
Counter-Rotating
As the name suggests, the tines on this tool rotate counter-clockwise. You can actually till really compact soil fairly easily with this tool. That's due to the counter-rotation and the frontward pull on the wheels. This tool is considered the best option when you are trying to loosen up clay soil or soil that is really hard.
Standard Rotating
A forward rotating tine tiller has tines that rotate along with its wheels. Both move in the same direction together. This tool is considered best if you are tilling ground that has a depth of 5 inches or less.
Tilling Width and Depth
You might automatically think that you just want the biggest rear-tine tiller you can find. However, that might not actually be the case. A wider tilling width will certainly help you get your job done faster. However, they can also be harder to maneuver around. You want to consider how much strength you have and if you really want to deal with a wide tiller. You'll need to balance ease of use with efficiency.
If you know that you tire easily, or just don't have the muscle power to deal with a wider tiller, consider a narrower one. You can also consider one that has the self-propel feature if you really think you'll tire out. Then, you don't have to worry much at all about applying pressure. You'll just need to guide the tiller.
When it comes to depths, you'll see that many tillers are adjustable. This can be a really great feature to have. Just make sure that the maximum depth is a minimum of ten inches. This depends on what you plan on putting in your garden. However, some things that you'll likely want to plan will require deep soil to grow.
Manual vs. Electric Start
An electric start is certainly more expensive, so you'll want to decide how important it is for you to have one. A manual start works similarly to what you'd find on a lawnmower. You pull on a cord and it starts up.
Many of the newest models do have electric starts, which work by just pushing a button. They are certainly nice to have but given the added expense, you'll want to weigh the pros and cons. You'll also want to think about how often you'll be using the rear-tine tiller you decide to purchase. If you aren't going to use it all the time, you likely don't require an electric start. You can probably deal with a manual start if you'll be using the product infrequently.
What are some other features to consider?
There are a few other features to consider when making your rear-tine tiller selection. Some features come standard and you will just want to select the best one for what you need.
Other features don't come standard with every rear-tine tiller but might prove really useful for your job. Some features to consider include the transmission, tires, counterweight, and drag bar. You'll also want to think about whether or not you'd like to find a product that comes with a warranty.
Transmission
Another consideration when choosing the best rear-tine tiller is its transmission. It should have both reverse and forward speeds which means that you can back up safely if you need to re-till certain areas.
It's great to find one that also has various forward speeds. This gives you the opportunity to choose your pace as you go. If you pick one with just one forward speed, you are stuck working at that speed every time you need to till. That can prove really impractical over time.
Tires
Rear-tine tillers will have heavy-duty, big tires. Those tires have large treads so you can get traction in soil that might be muddy or thick.
Power is transferred from the engine to the tool's wheels. This lets the tool perform bigger jobs. It also means that you don't have to do much other than guide the tool as you go. It should be equipped to make it through thick soil as well as sod.
You don't want to have to do a lot of pushing when tilling in your garden. So, you want to find a rear-tine tiller that has good tires on it.
Counterweight
A counterweight is considered a safety feature on a rear-tine tiller. It aids your tool in remaining balanced as it works. It can also help prevent the tool from jerking or bucking while you are using it.
Drag Bar
A feature that isn't necessarily standard but is helpful to have is a drag bar. It sits behind the tiller and it gives you the change to move through at a consistent depth. They are usually adjustable which means you just set your desired depth, which will obviously change based on the job at hand.
Warranty
You'll see that some options highlighted on our list come with some kind of warranty. Whenever possible, we advise you to get a warranty on your product. Though we've chosen high-quality and durable products for our list, a warranty is always great protection on your purchase.
Be mindful of the kind of warranty you receive with your purchase. Some are limited in what they cover while other manufacturers will either replace or repair your product with no questions asked.
A warranty is an especially good idea if you plan on using your rear-tine tiller frequently. Even the most durable products will wear out with strenuous and continuous use.
Best Rear Tine Tiller Brands
YARDMAX
YARDMAX is actually a fairly new brand but it's been very well received in the outdoor power equipment industry. It launched a wide range of products back in 2016 and many of them are some of the most highly reviewed in the U.S. market.
Troy-Bilt
In 2015, Troy-Bilt became a subsidiary of MTD. It was originally formed back in 2001. It manufactures and sells a variety of outdoor equipment including pressure washers, tillers, mowers, and generators. However, when the company was first built, it started with just one offering, which was the rotary tiller.
Southland
Southland has more than 100 years of experience in the outdoor power equipment industry. Its offerings include walk-behind edgers, garden tillers, field trimmers, blowers, handheld line trimmers, blowers, brush cutters, and cultivators.
Craftsman
Craftsman is a well-known name in the industry and was originally owned by Sears and its first tools were sold back in 1927. It is now controlled by Stanley Black & Decker.
FAQs
Q: How do I use a rear-tine tiller?
A: Using a new tool can feel intimidating but using a rear-tine tiller really doesn't have to be that way. You really only need to follow a few quick steps to safely use your rear-tine tiller:
Make sure you've cleared away all debris that might get in the way. This means clearing the area of any roots, plants, and rocks. You don't want a hard object to damage the tines on your tiller.
Adjust your depth. You want your tilling depth to be around four to six inches for beds that are already created. For those that are new, or for really challenging soil, you can set the depth up to ten inches.
Set the tiller to forward, or drive, and begin moving in a straight line.
If working on difficult soil, do the bed a second time using a crosshatch pattern.
Q: What is the difference between a tiller and cultivator?
A: A cultivator is less powerful than a tiller overall. They aren't intended to be used to loosen hard soil or break up the ground. They are more fitted for helping to control weed growth, stirring in fertilizer or compose, and blending soil before planting. A cultivator is not going to prepare your garden in the same way a tiller will.
A rear-tine tiller is used for when you are starting a big garden plot. They help break up hard ground, dig large gardens and loosen rocky and hard soil. A front-tine tiller can help break up ground that's moderately hard, dig small gardens and loosen up the soil.
Sometimes you can find products that are cultivators and tillers in one. We prefer individual products, as they do perform different functions. We've found that you lose some performance in both areas when you purchase a dual product.
Q: Which is better: front-tine tiller or rear-tine tiller?
A: This really just depends on the job at hand. A front tine tiller is best for tilling close to obstacles or when you are in a small space. The engine is mounted right above the tines and the tines are in front of the wheels.
Rear-tine tillers better suited for larger garden areas. They also tend to cost more money than front-tine tiller.
Wrap Up
Now you know just about everything you need to in order to select your choice for the best rear-tine tiller. Your choice will obviously depend on your specific gardening needs. When making your choice, however, we urge you to consider everything we included when it comes to features to consider. Match those features with the option that best aligns with your needs and you'll be creating your perfect garden in no time at all.
Each of the five options on our list would be a great tool for you to have in your arsenal while creating your perfect garden. Our top pick, however, goes to the YARDMAX YT4565 Dual Rotating Rear Tine Tiller. We really like that it is dual rotating with a powerful engine and several depth adjustments available.
YARDMAX is a newer brand but it brings some good innovation to outdoor power equipment. If you're interested in creating your perfect garden, whether, for beautiful flowers or delicious fruits and vegetables, it's a perfect choice. You might also be pleased to know that not only is it our top pick, but it is also one of the cheapest options on our list.