So you have your own garden, it's your small piece of heaven away from the world. You're already planning out the design in your head, here's where the hammock will go, maybe a couple of bean bags over there, a lemon tree, a dog house, but what are you going to do with that bit of a slope over there? Or maybe you don't have a slope, but you want your garden to look different? Have you considered a rock garden? Let me tell you more about it.
What's a rock garden and why would you want one?
A rock garden can just be a part of your garden or the whole lot. It's simply using rocks and their different arrangements instead of keeping the area purely green. You can also use low growing plants in your rock arrangements to add more color and serenity to the scene. Rock gardens can be used to cover parts of your garden that don't look so good or problematic areas that would otherwise be left as is.
Rock gardens are also low maintenance and will help you save on your water bill as you won't be doing as much watering as when you have an all-green garden. There are a thousand rock garden ideas out there, I'll be presenting a few of them here, so you're definitely going to find a design that suits your taste. Still not convinced? You can find out more about the benefits of having a rock garden here.
Ok, fine, sold, now what?
Get your pen and paper, or open MS Word, whichever works for you, and start planning for your awesome new rock garden!
The Plan
First things first, you need to plan/design your rock garden. There's a rock garden idea for every garden, the big, the small, the front and back yards, whatever you have we can work with. But you need to know what you want, how much you're willing to spend, how much space you have and which plants are good for your rock garden. You can always hire a landscaping contractor to do all the work for you, but I think it would be more rewarding for you to create your own rock garden and then sit back and relax while enjoying the scene. Also, it's definitely cheaper!
The Budget
The budget, of course, depends on how big your rock garden's going to be and what kind of rocks are needed to give you the rock garden of your dreams, but let's talk about the basic cost:
Rocks: cost can vary from $20 to $600. Pebbles are cheaper than boulders, obviously. The rock garden design will help you decide which kinds of rocks you should get. More details on prices here.
Soil: you'll need peat moss, pebbles and topsoil. A bag of each would cost you a total of $50. The quantity you'll need depends on the design and size of your rock garden. Check this article for tips on what to do with the soil

Tools: like a shovel, wheelbarrow, basic gardening tools, could cost around $50 if you don't already have them lying around

Plants: With $100 you can get yourself a nice collection of rock garden-friendly plants like hens and chicks, lamb's ear and beardtongue. Find more rock garden plants here.
Space
One thing to consider when you're planning your rock garden is its location. Is it only part of your yard or will you be turning the whole space into a rock garden? Is it in a sunny area or a shady one? Is the ground sloping or leveled? Is it a small space or a big one? Because each of these factors will determine which design, rock selection and plants will complement each other and better serve your needs.
Ok, now that you know what you can work with, let's cut to the chase and check out a few rock garden ideas!
Rock garden ideas for small spaces
Here are a few ideas if you have a small garden or only want to turn a small part of your yard into a rock garden. You can also mix and match between designs, they aren't set in stone!
Alpine garden with bridge and small water pond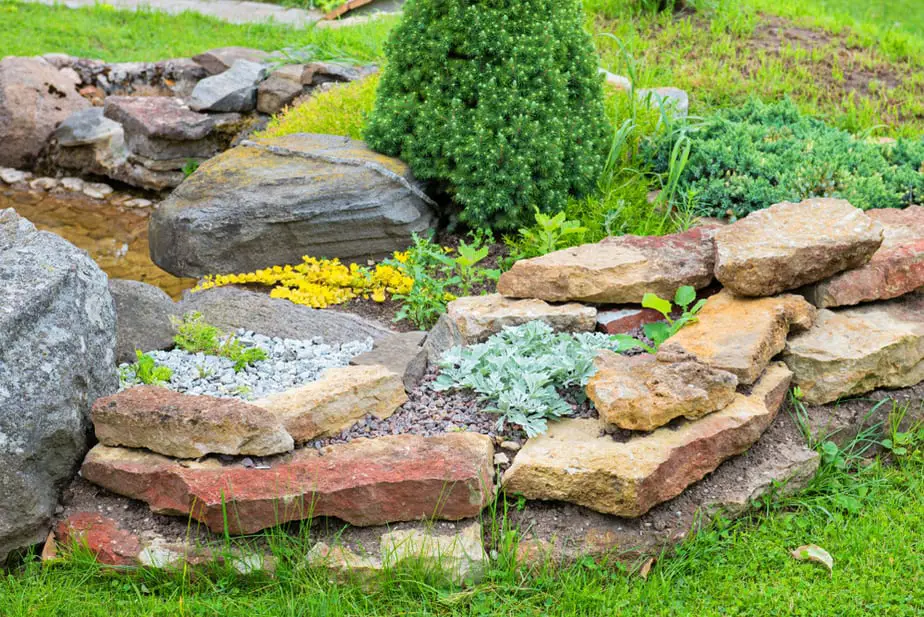 This is a beautiful arrangement with a small pond built entirely with rocks and pebbles. It might be a bit costly because of the number of boulders used, but you can always customize based on your budget and actual garden area.
A small rockery for the front of the house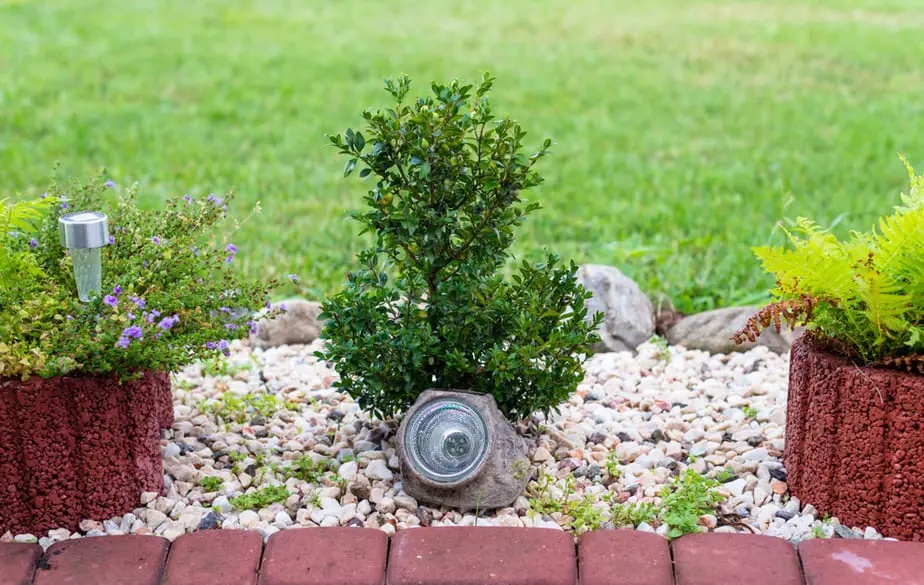 This is a very good idea if you have a small space to work with, or you want to combine both rock garden and all-green. You can do this as a beautiful rocky boundary surrounding your yard or you can just do it in the corners.
Rockery garden with alpine plants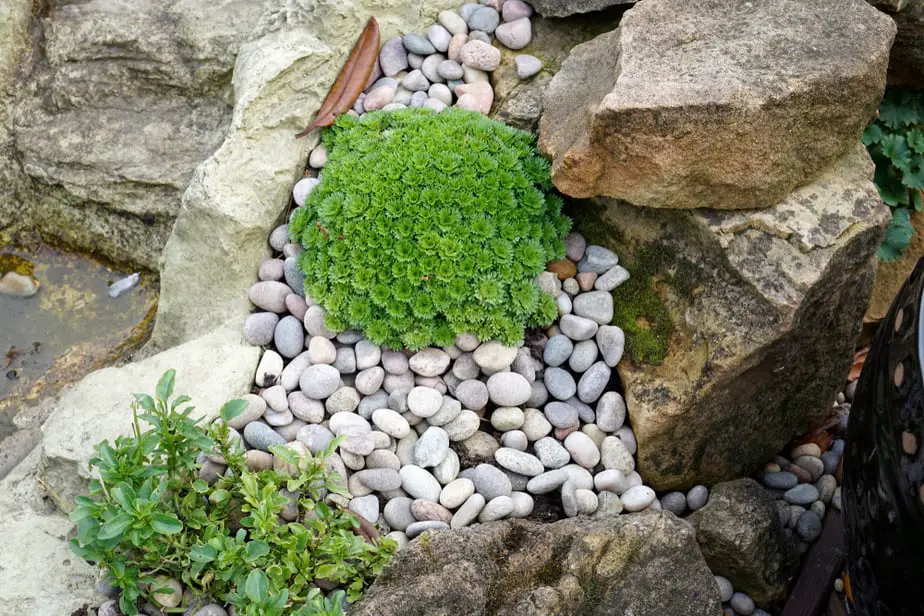 Alpine plants are very popular for small rock gardens. You can use this arrangement for a corner of the garden or even at the center. This also makes a good choice if you're on a tight budget.
Mediterranean dry garden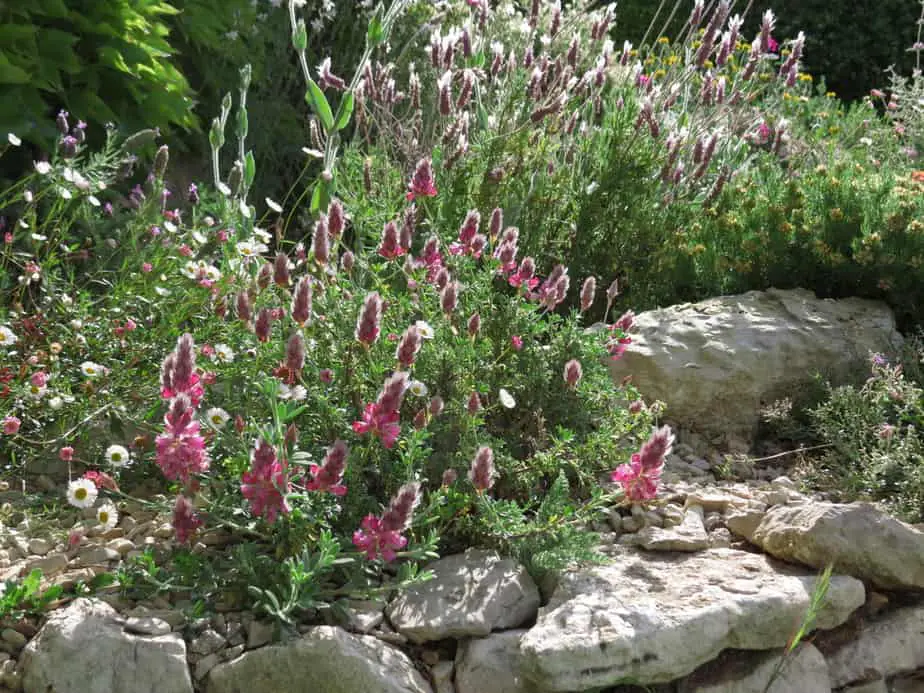 This is definitely a very good rock garden idea if you're a fan of flowers, like me. You can always use other plant types like lavender, purple fountain grass or both!
Natural stone landscape design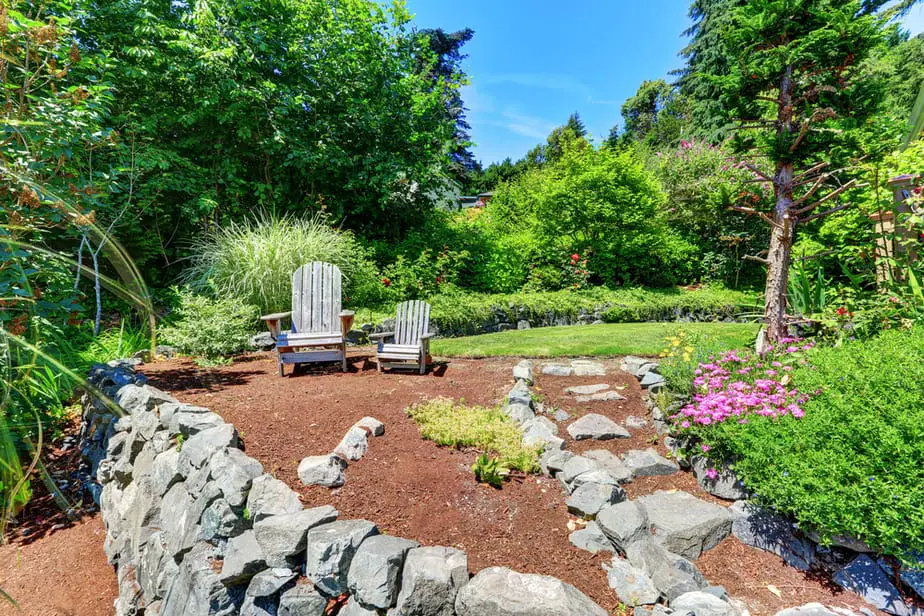 This is a cozy rock garden arrangement. It gives you space to relax and enjoy the view and at the same time, it requires the least preparation and maintenance efforts. You can always add more plants between the boulders or leave as is, totally up to you.
Rock garden with step path and flower bed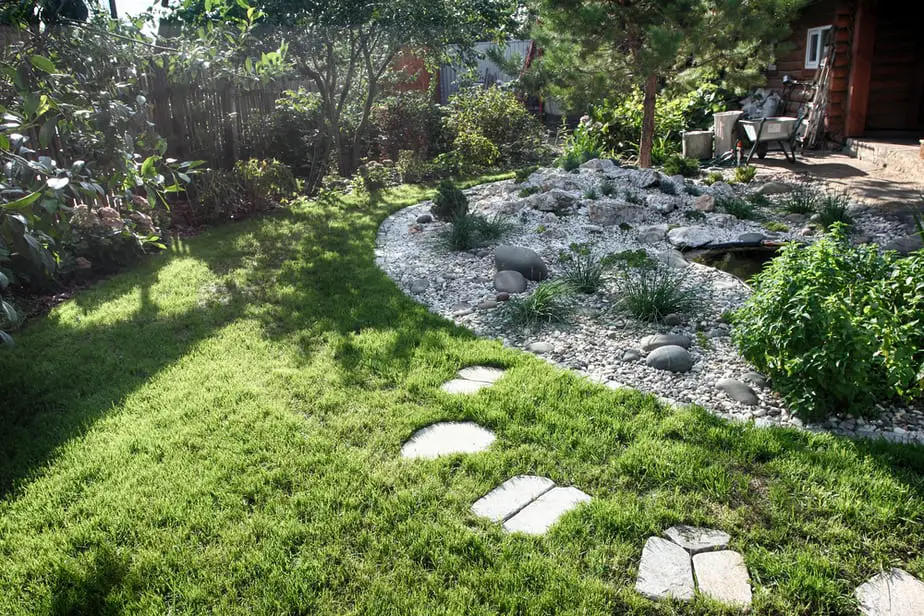 This design mainly uses pebbles, a few boulders, and shrubs. You can lose the step path if you want to, or just keep it to give you easy access around the rock garden. This option is also a good one for tight budgets, as you'll mainly depend on pebbles, which are much cheaper than boulders. Plus, it's simple and definitely low maintenance.
Rock garden with cactus plants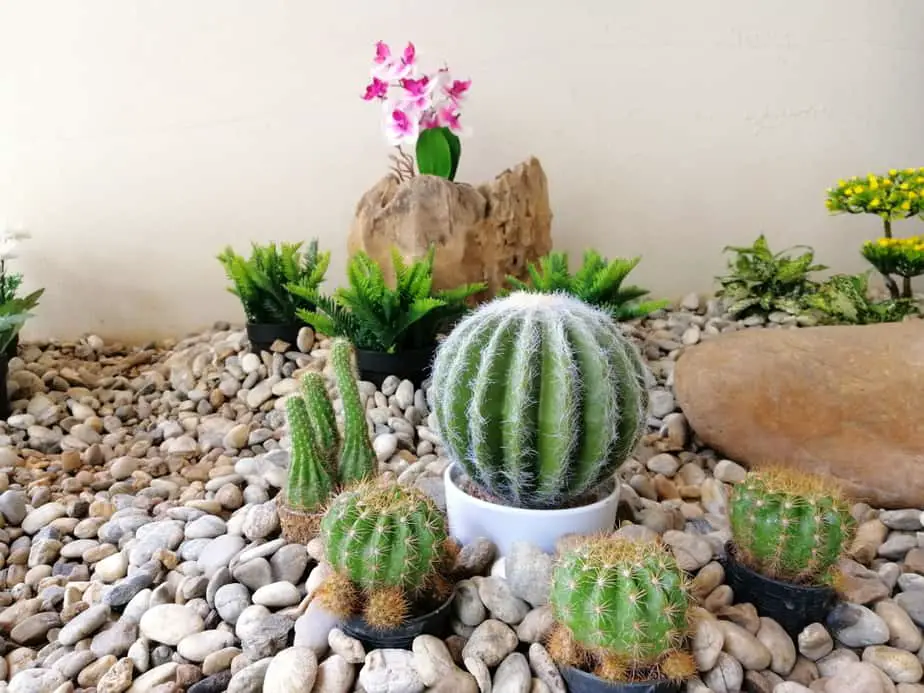 This is a pretty arrangement that'll definitely lighten up your garden. Cacti are beautiful, especially flowering ones, and look very natural with pebbles and rocks. This arrangement can be at the very center of your garden or right in the corner. It's also a good option if you don't want to go through the hassle of planting the cacti in the soil, you can just keep them potted.
Green bush on white rock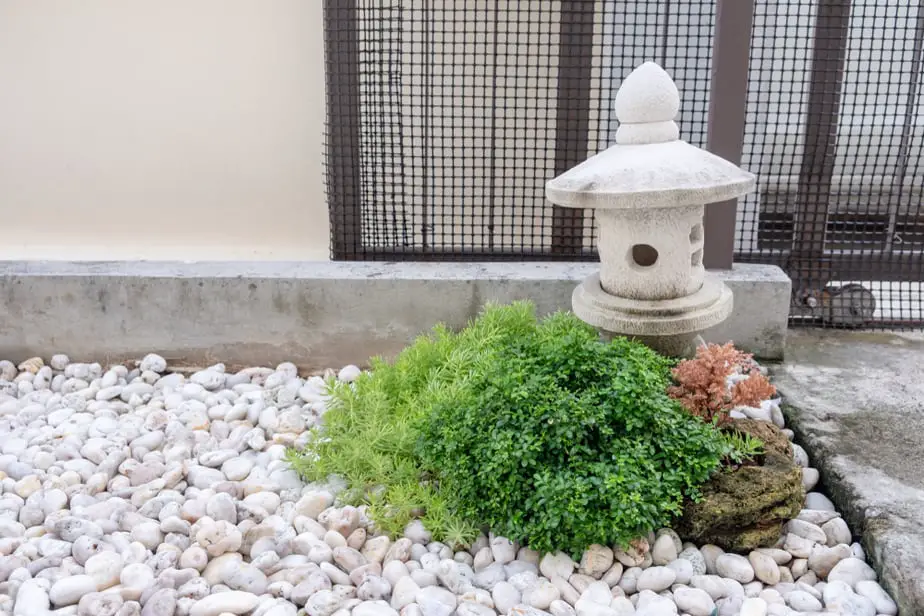 You can always replace the stone lantern with any stone statue of your choice. But it's better to keep it simple and short so it would go well with the garden stone arrangement. This is another simple option that doesn't require much work either for preparation or maintenance and also won't break the bank, given you don't splurge on the statue of course!
Do you still want more ideas for your small space? Check this link!
Sloping rock garden ideas
If you're suffering from a sloping garden and are running out of ideas to make it look good, fear not, we've got your back!
Rock steps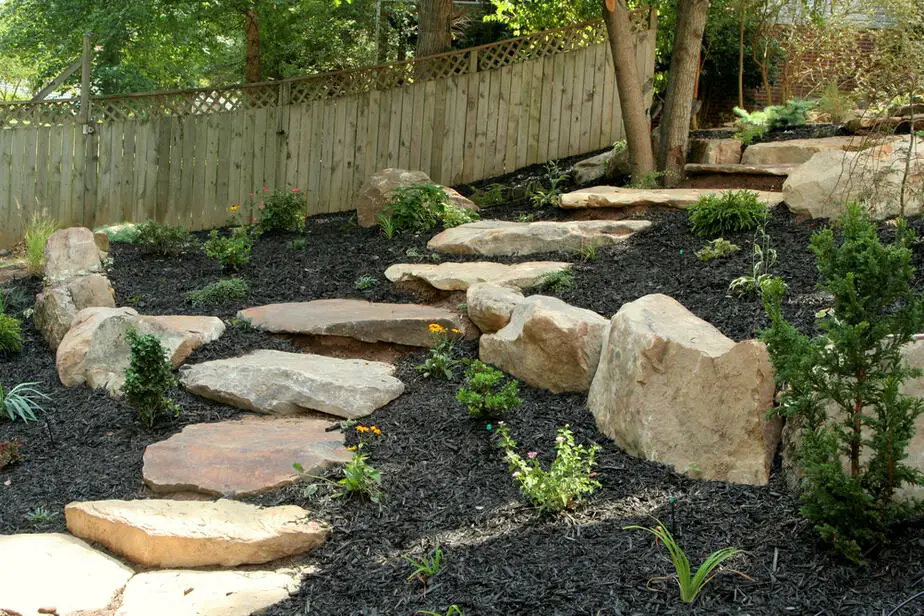 This arrangement mainly depends on preparing the soil correctly, planting rock garden friendly plants and flowers and then arranging your stepping stones. You can also add a few boulders here and there to your arrangement.
Stone steps with flowers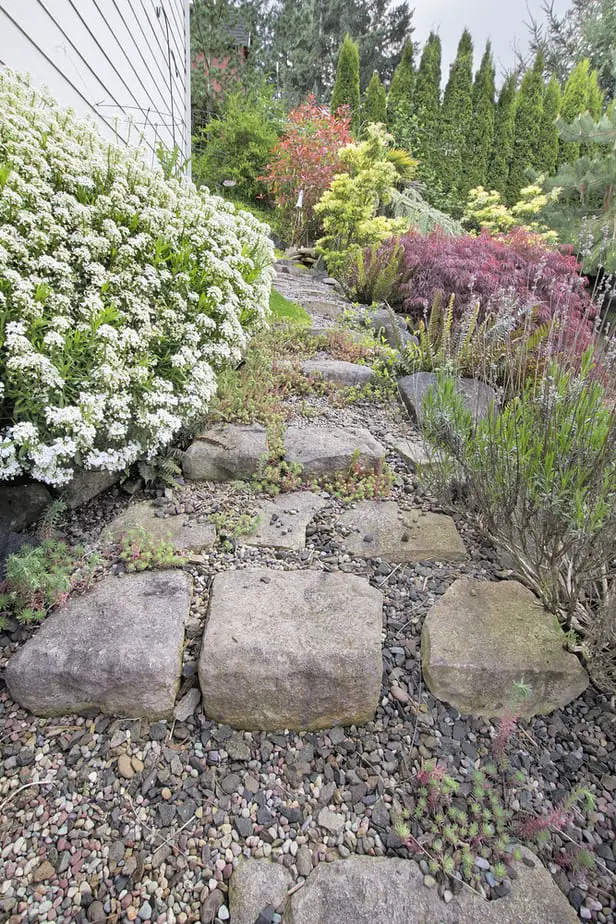 This design is suitable for a narrower rock garden. You have your stone steps, your pebbles and your beautiful flowers lined on either side of the steps. You can replace the flowers with a few cacti or green shrubs.
Hillside rock garden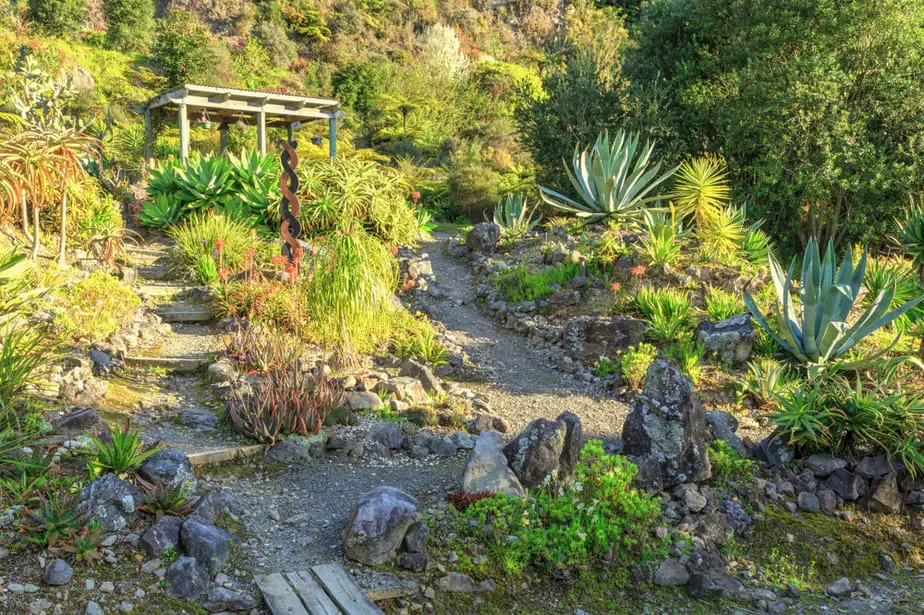 If you have a big garden that has a slope, this design is for you. You can put stone steps in one place, pebble pathway in another, and arrange your rocky flower beds in between. There are all types of cacti and bushes in this one from which you can pick and choose.
You can also find more ideas and tips here
Japanese rock gardens, for those of us who are more Zen
Japanese rock garden designs are inspired by nature, using the rocks and flowers to represent Mother Earth and its beauty.
Traditional Japanese Zen style garden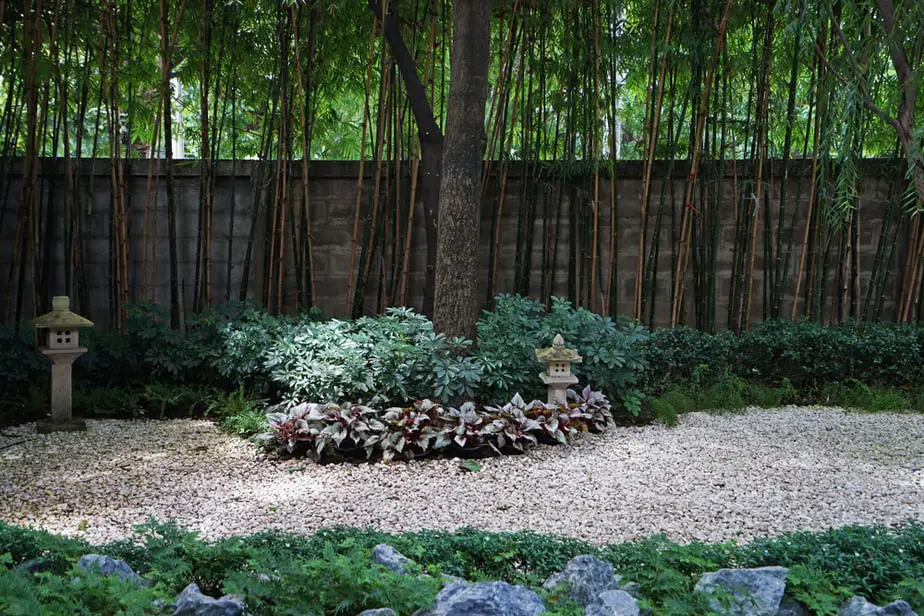 This design depends mainly on pebbles and green shrubs, lots of them. A few boulders are scattered throughout the arrangement. It's a generally very peaceful design, suitable for both large and small areas.
Small oriental rock garden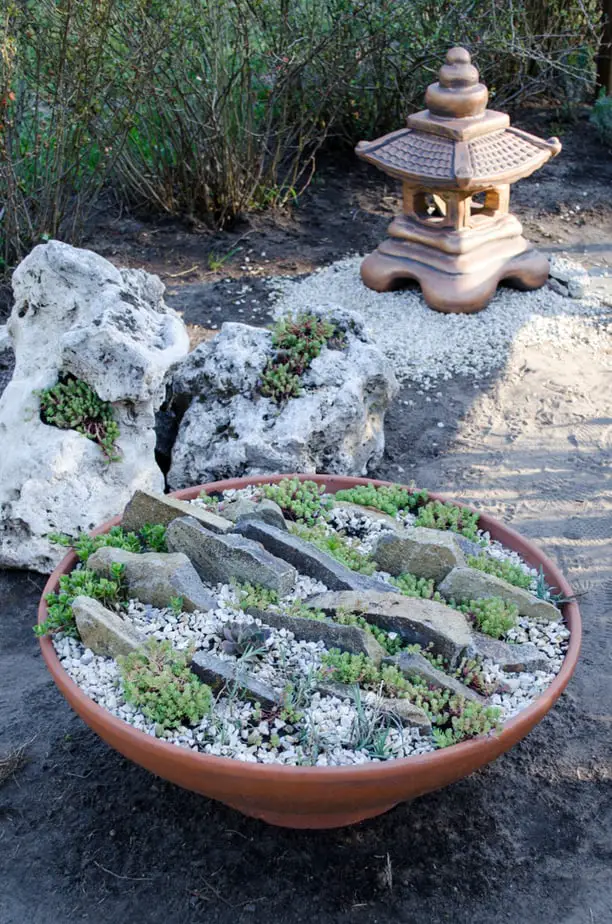 This design works well for both big and small areas, also very low maintenance and doesn't require a lot of preparation. It's a good way to make smaller areas look bigger.
Japanese Zen arrangement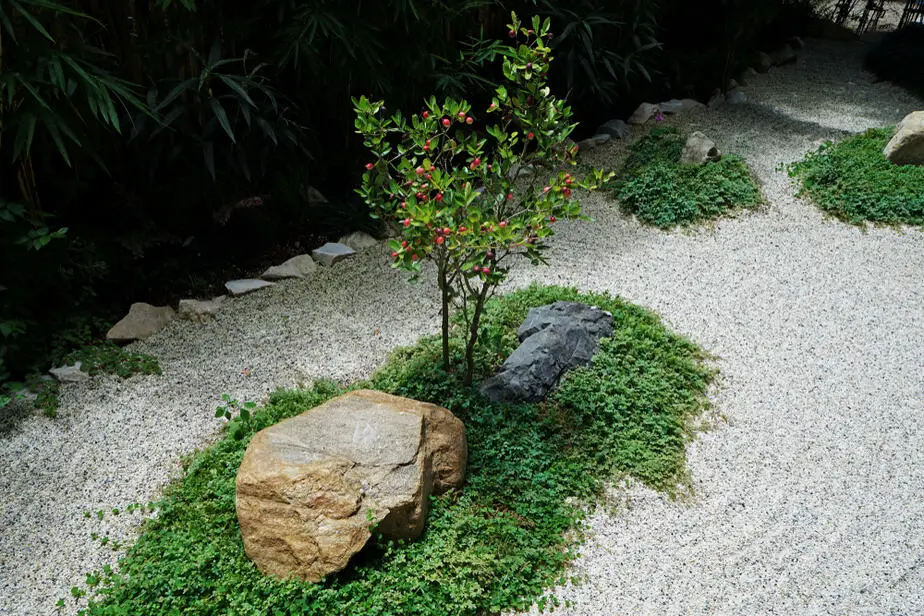 This is a beautiful and relaxing arrangement, also suitable for both big and small gardens. It's also a tight-budget-friendly design. The greenery in the middle and on the sides would definitely brighten up your backyard.
River rock gardens
This design relies mainly on pebbles. So you'd have to be a big pebble fan to choose this one. As mentioned before, you can always mix and match between different designs to create your own.
Rock garden with small brook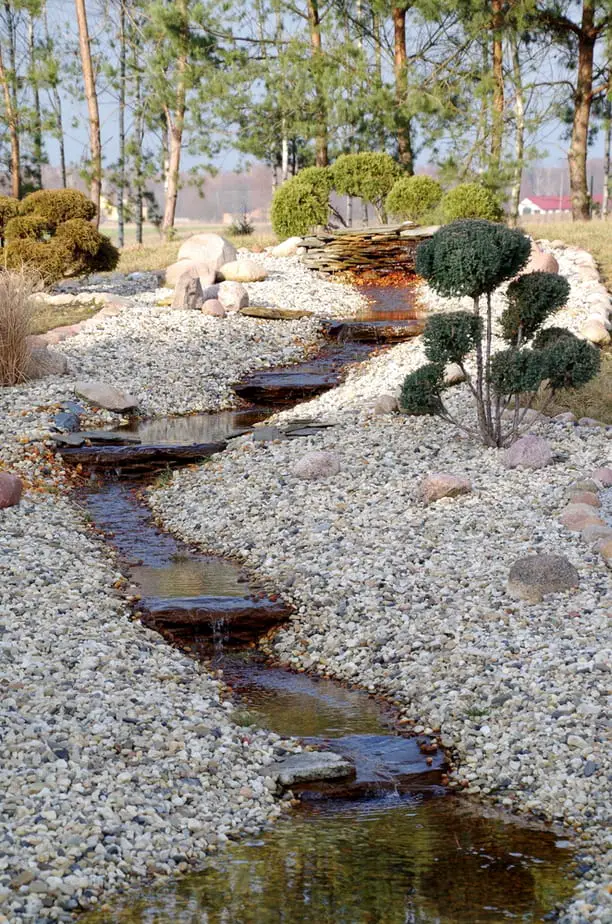 A beautiful arrangement if you have a big garden and want to add a water feature. It can also work for sloping gardens, tiny waterfall style. You'll definitely need lots of pebbles for this one.
Pitcher and water pond
This arrangement is simple and would complement a corner of your big garden or the center of your small one. You can use any stone pitcher you have, even a broken one.
Last but not least, this is for the big ones!
When you have a lot of space on your hands, you need an extravagant design!
Rock garden with plants and bushes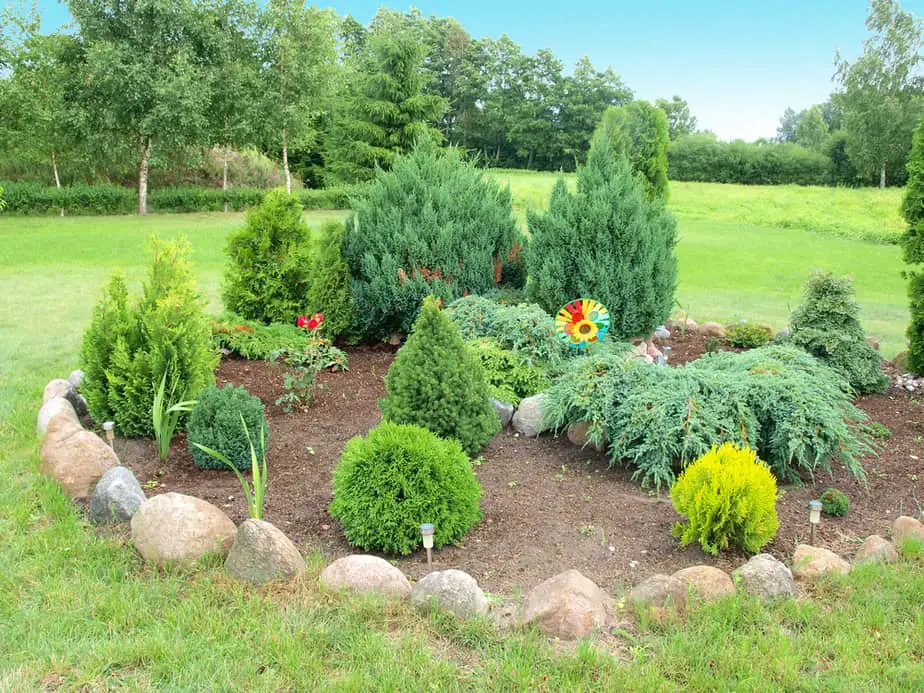 You'll need more than a few boulders for this one, soil preparation for the plants, and big green shrubs. You can also scatter flowers for color if you want.
Pond landscape rock garden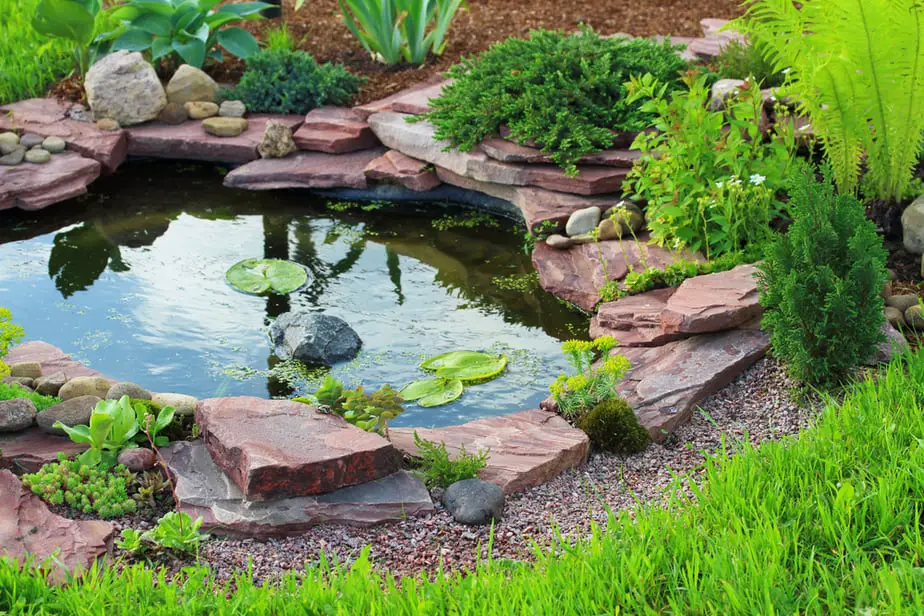 Beautiful design that uses a combination of pebbles, boulders, green shrubs and cacti. Go for this one if you're a fan of garden water features that bring about serenity.
Summer rock garden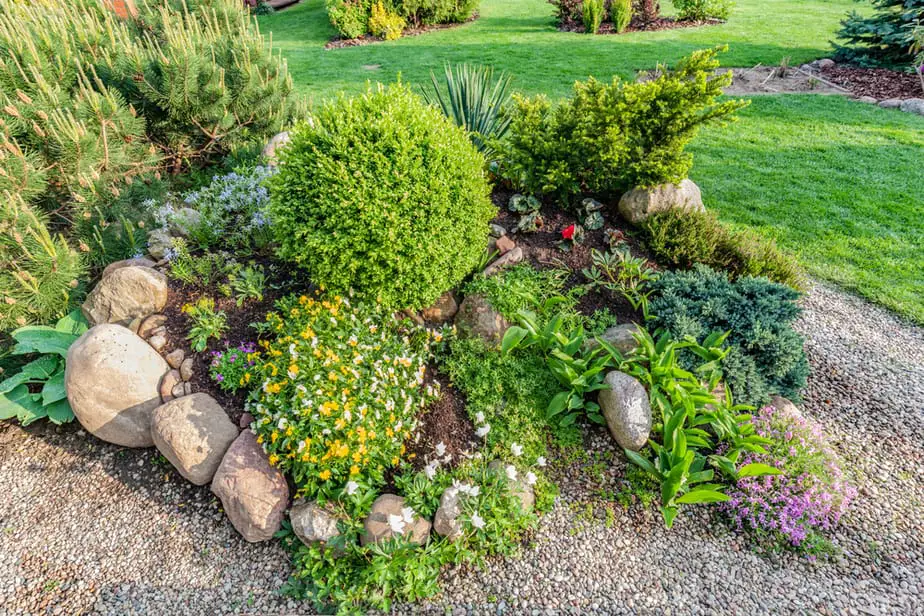 Pebbles, flowers, rocks, greens and more rocks, who wouldn't love this one?
Garden pebble path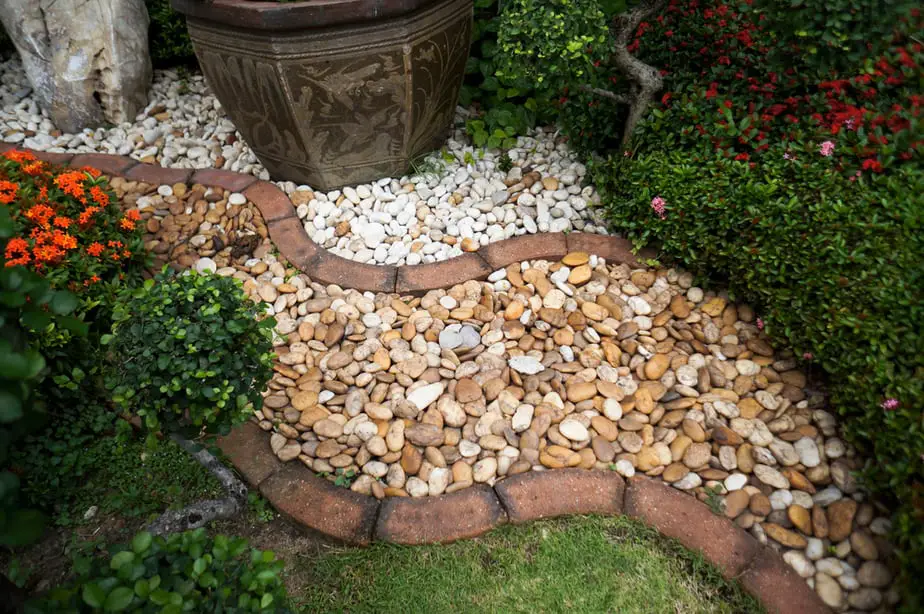 It's a beautiful addition to every rock or even regular garden. A pebble path lined with flowers or green shrubs on either side is definitely a good idea.
Rock garden with pond in decorative backyard
Arrangement of big boulders complementing a backyard brook. This will break the bank, but, in return, will turn your garden into a rainforest!
And finally, to wrap up
Rock gardens are a great idea for your yard if you're looking for something that's cheap, low maintenance, suitable for both big and small areas and with a variety of design ideas to choose from.
So now all you have to do is:
Do your research
Set your budget
Measure your garden
Decide on a design
Get your supplies ready
and Go for it!
You can also check the below sources for more DIY rock garden ideas:
https://plantedwell.com/rock-garden-ideas/
https://www.thespruce.com/how-to-build-rock-gardens-2132674
https://www.countryliving.com/gardening/garden-ideas/g3592/rock-garden-ideas/
https://www.mnn.com/your-home/organic-farming-gardening/stories/how-make-rock-garden