Do you think that you can only enjoy spending time in the backyard if it's a big one? Think again.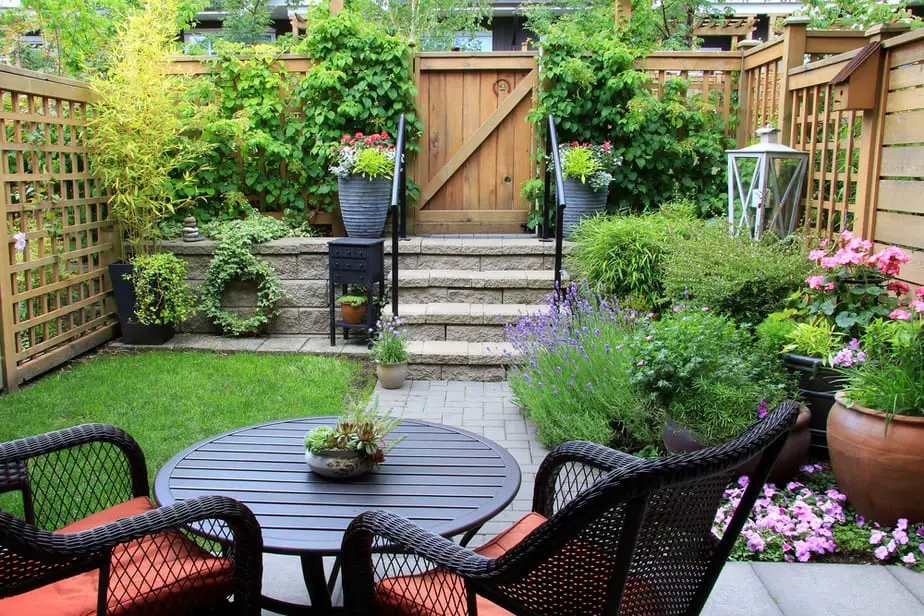 There are lots of small backyard ideas that will help transform this limited space into a functional and interesting spot. Adding a few pieces and colors to your small backyard will make it look exceptional, and doesn't necessarily cost much. It just takes a little bit of imagination.
Transforming your small backyard into an interesting spot gives your family a cozy space that they can enjoy for summer dinners, birthday parties, and other events. It also increases the value of your property if you decide to sell it later on.
The key to enjoying this small space is to make sure that every piece you use adds functionality, as you don't want to clutter your small backyard. There are several types of seating arrangements, swings, and accessories that you can think about when you're considering a new backyard transformation.
Think of your lifestyle, number of people in the household, activities that you're likely to practice to make sure that you've chosen something that suits you well. At the same time, you should consider the landscaping of your small backyard. Your choice of plants and their arrangements will bring life to your small space and create comfortable shade.
The options are unlimited, so I've brought you some cool small backyard ideas that you can consider for your upcoming makeover. Some of them don't require much more than rearranging a few furniture pieces while others require some more detailed work. Check them out and pick what you like.
1. Comfy Reading Bench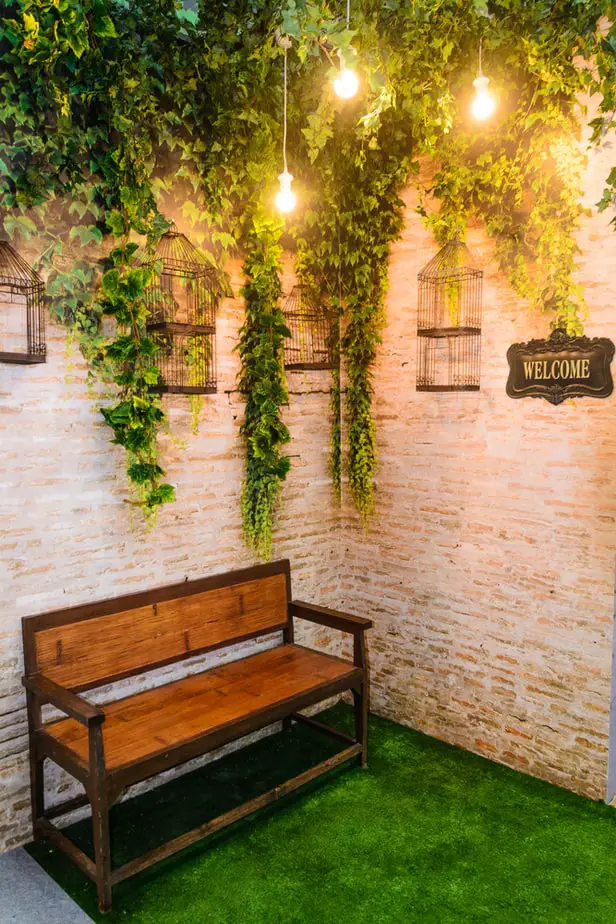 It doesn't take much time or money to transform your backyard into the perfect getaway spot. This wooden bench is what you need to enjoy your favorite book, hot drink, or a heartfelt conversation. Choosing wood for your backyard furniture creates harmony and balance that will make you feel more comfortable.
The bench blends beautifully with the surroundings and will withstand years of continuous use. Moreover, the hanging lights guarantee that you will be able to enjoy some privacy at night time.
2. Sunset Backyard Idea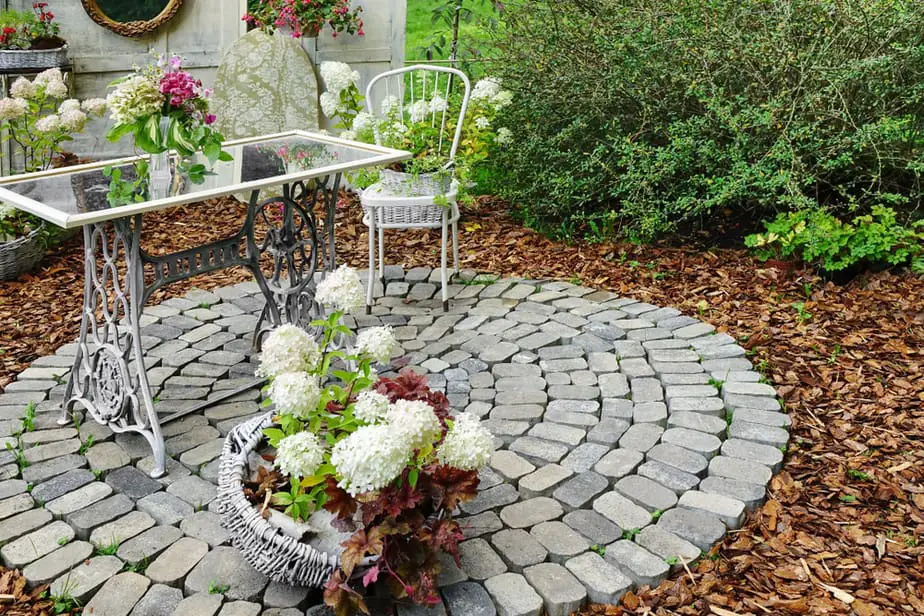 Choosing simple furniture maximizes space in your small backyard. The simple design of the chair and the glass iron table creates the wonderful spot for your afternoon tea or summer lunch.
The combination of the cobblestone and flower pots resembles the vintage style you're likely to find in European palaces. Now you can grab your favorite romantic novel and let your imagination go wild.
3. Jar Fountain Design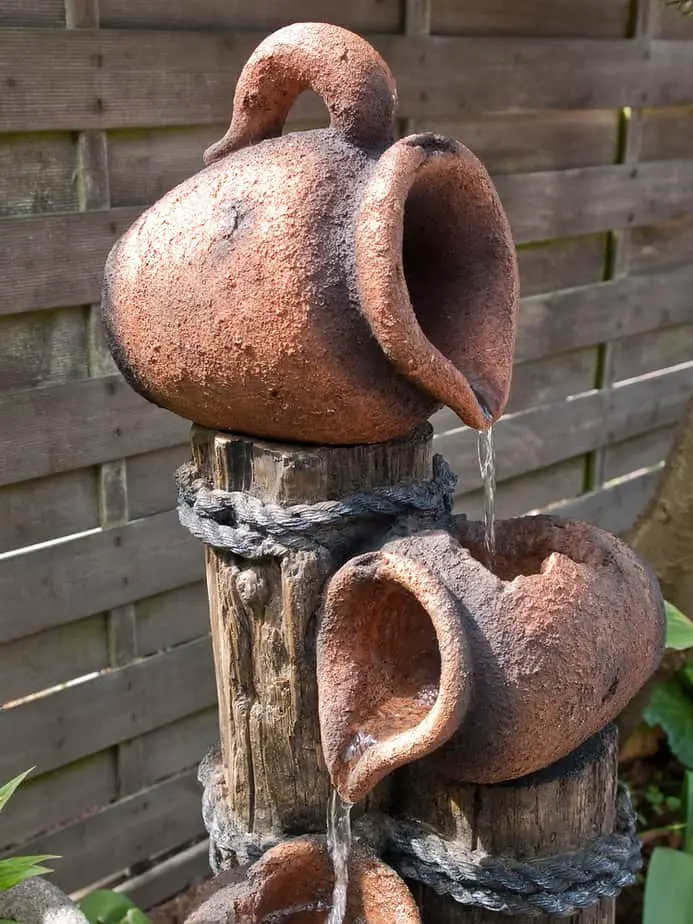 Listening to the sound of the water flowing down from the jars is very relaxing. The design is made of natural materials that blend beautifully with the surroundings so everything feels right. Moreover, there will be a water source for birds to enjoy on hot summer days.
4. Comfortable Hammock in the Backyard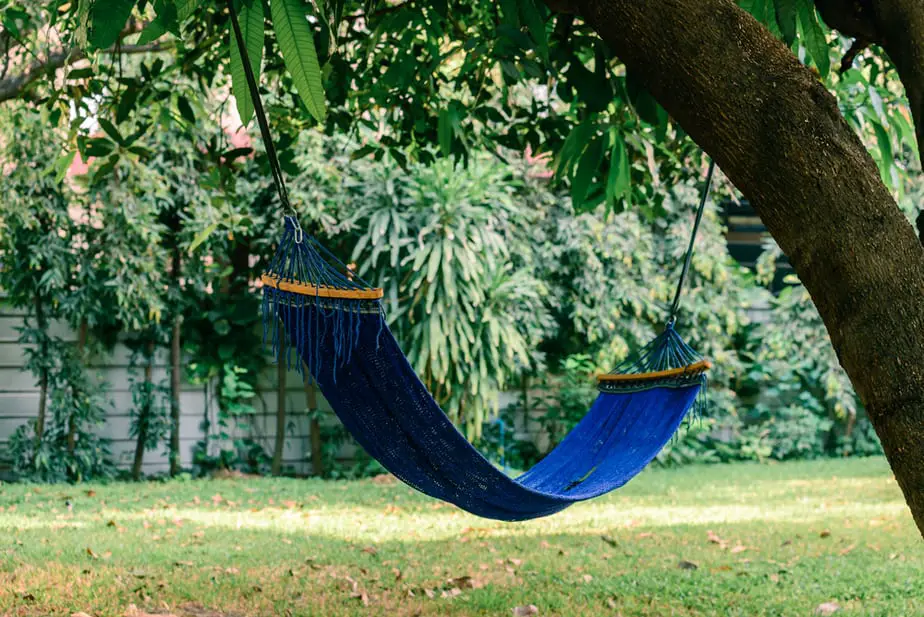 This is a great option for people who are on a tight budget and want to create a relaxing corner in their backyard. This hammock is very easy to install, use and is incredibly relaxing. In the warm and hot weather, this will become everyone's favorite spot. You might consider installing more than one so that several people in the family can enjoy the breeze.
5. Cozy Canopy for a Small Backyard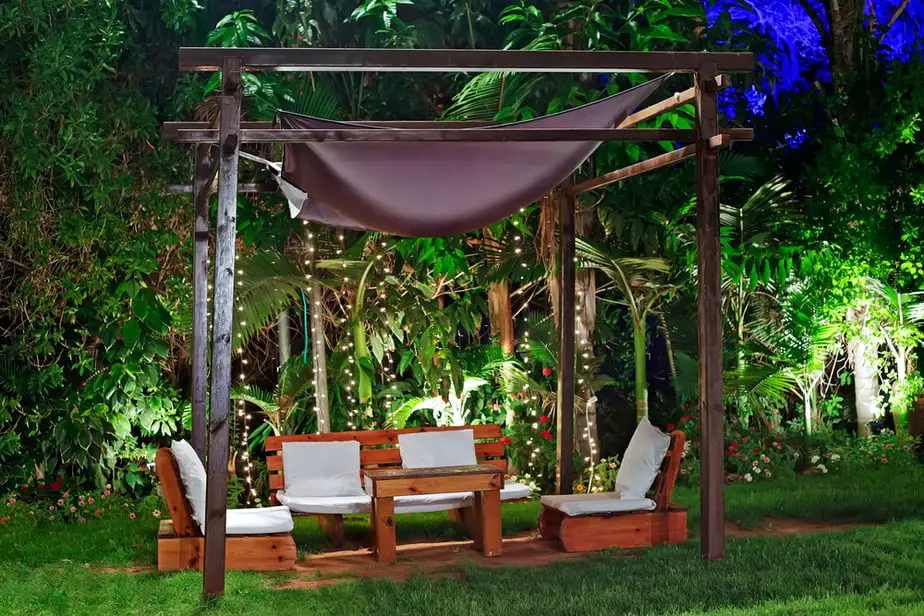 Your small backyard shouldn't limit your options. This small canopy is the perfect addition to your backyard because it is great to use in the morning and at night.
You can enjoy relaxing in this outdoor seating area under the shade of your canopy in the morning and afternoon. Install some baby lights for a splendid time in the evenings and at night. You can enjoy having your favorite drink, reading a book, or catching up with close friends in this appealing setting.
6. Hanging Flower Pots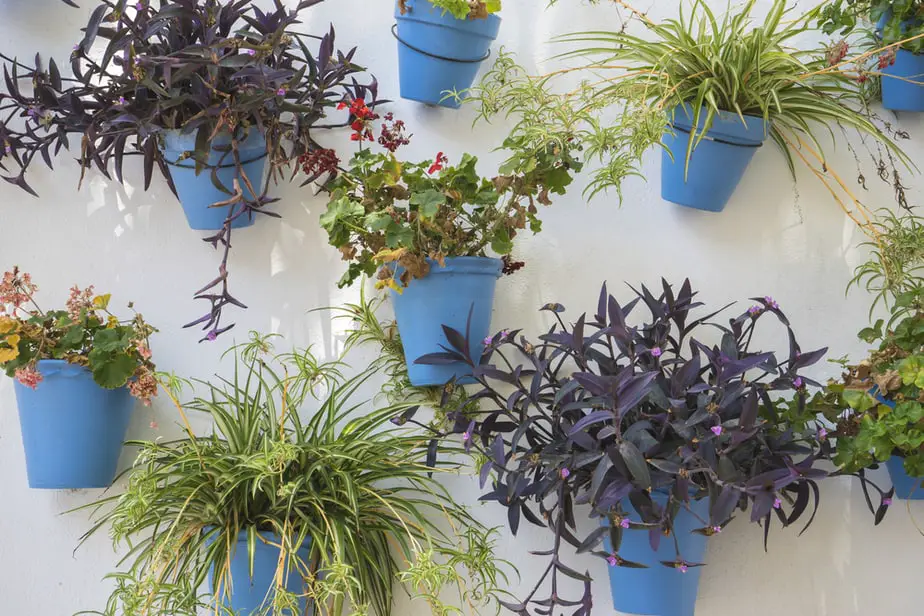 Even if you don't have enough space in your backyard, you can use the wall to add some plants and flowers. Choose the blue flower pots to create a cool design using edible herbs, flowers and green grass that will make your backyard feel relaxing.
7. Uplifting Landscape Using Bright Flowers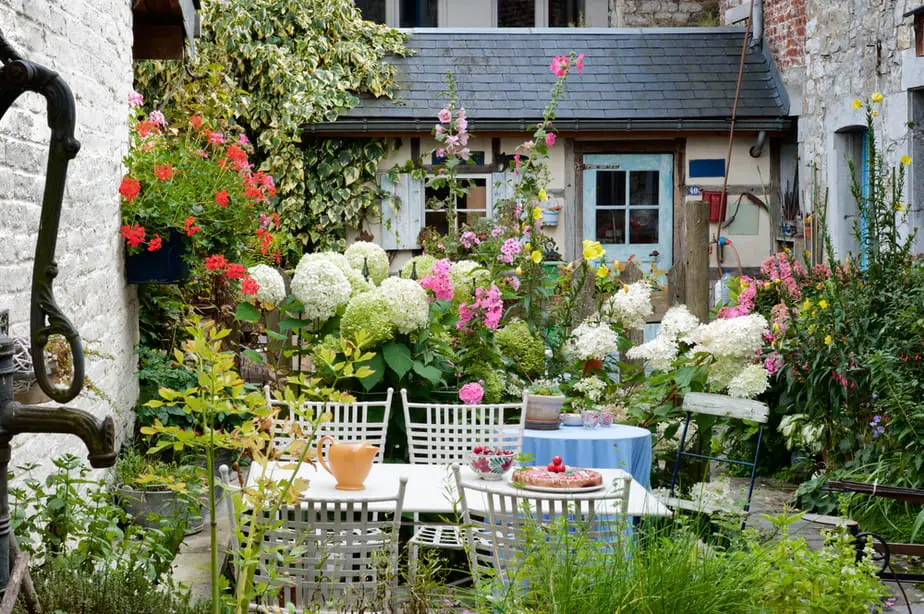 Bright flowers can make all the difference in your small backyard. Adding different flower arrangements in your small seating backyard area can transform it into a lively spot where you can enjoy several meals.
Choose plants of different heights to create the illusion of a bigger vintage-style space. For the furniture, choose a neutral color like white or beige so you can draw attention to your colorful flower collection.
8. Outdoor Family Seating Area
This outdoor seating area is a perfect solution for big families and casual events. Choosing earthy colors for the sofa and chairs creates the most relaxing spot in your small backyard.
When you don't have much space, you want to choose multi-functional pieces. The three different tables can be used by several people at the same time, and won't occupy much space when you choose to put them away after every use.
9. Cozy Fire Pit For a Small Backyard Idea with No Grass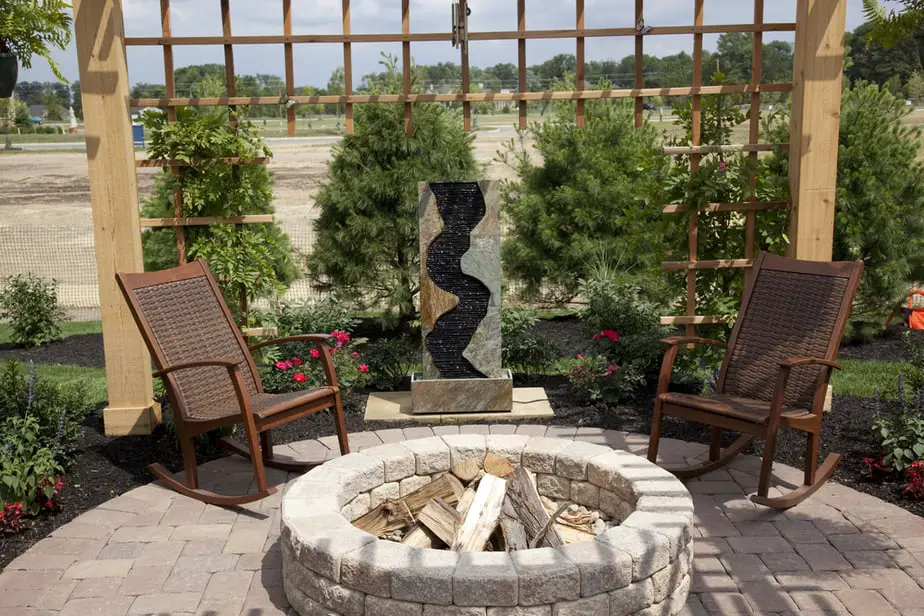 You can still enjoy your backyard, even if you don't want to have grass that requires attention and maintenance. This corner is very easy to clean and provides an adequate and comfortable seating space.
The rocking motion of these two beautiful chairs is extremely relaxing while the fire pit and the fountain create the right balance between warmth and coolness. Choose the right mix of fire and water depending on the occasion, creating a different mood every time.
10. Outdoor Dining Area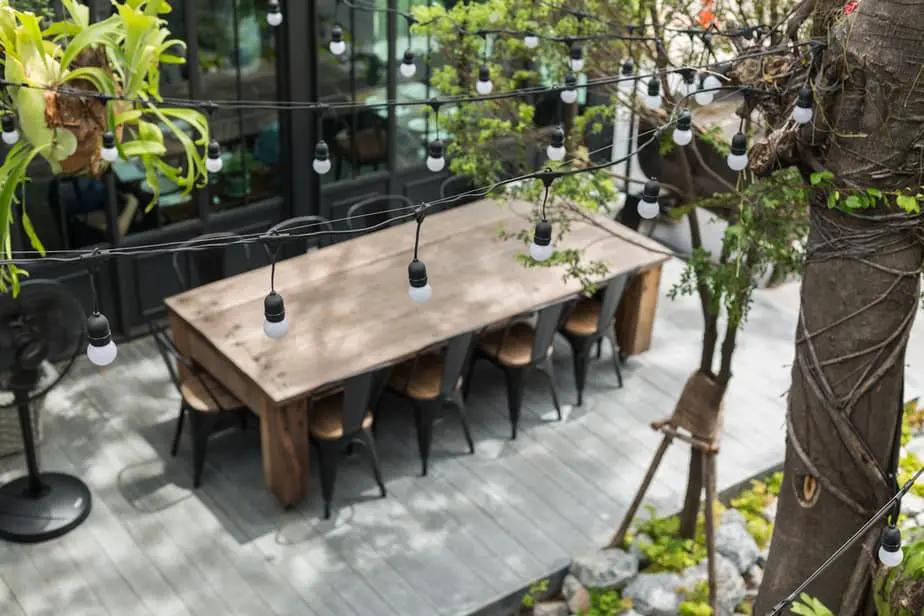 Even if you have an indoor dining table, nothing beats having a delicious meal in the fresh air. Let the inner chef take over and prepare some cool dishes for everyone to enjoy in the backyard. You can transform your small backyard to a simple yet elegant dining space using a rectangle wooden table and chairs.
This comfortable seating area is the perfect choice for family feasts and birthday parties where everyone can enjoy the cool night breeze or the warm rays of the sun. Switch on the hanging lights for the perfect romantic effect at night. Now, you just need the right music and it will be a wonderful occasion that everyone will remember.
11. English-Style Small Backyard Idea on a Budget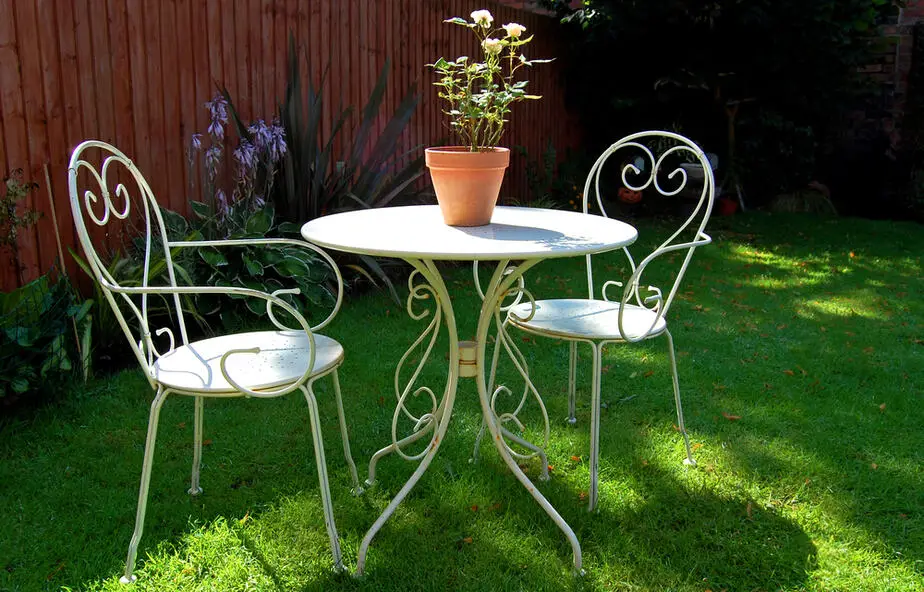 Two iron chairs and a round table is all it takes to create an elegant seating spot in the backyard. This is the perfect solution for people who want a cozy spot for enjoying the morning coffee or breakfast without breaking the bank.
Add a flower pot to decorate the table and remove it whenever you feel like enjoying a drink or a snack with a friend. This minimalist design will immediately transform your unused backyard to the most desirable morning and afternoon relaxing spot.
12. Portable Flower Boxes for your Small Backyard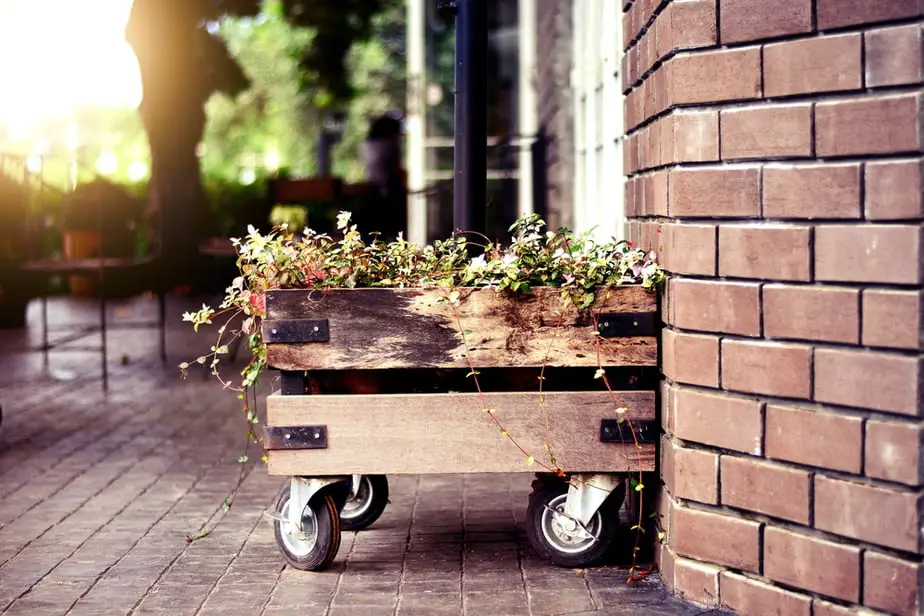 A vintage style flower wooden box is a practical solution for people who can't afford to spend time taking care of the backyard landscape. These wooden boxes are easier to maintain and don't cost much money.
You can pick as many as you want and choose any kind of plants to change the decoration of your backyard. You can even plant culinary herbs for your homemade dishes.
13. Hanging Swing in Your Small Backyard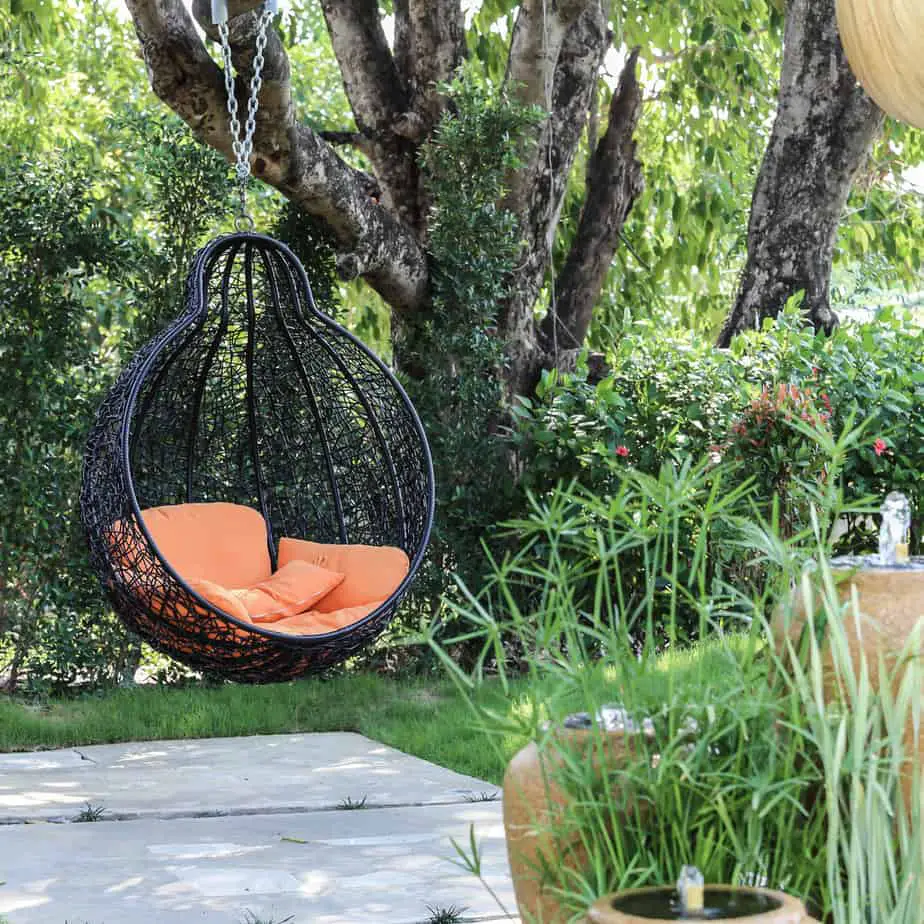 You can have your own sanctuary by installing this hanging swing in your small backyard. It doesn't take much preparation or money. Choose a strong branch that can withstand the weight and pick some bold colors for the pillows. This the perfect place where you can enjoy some private thoughts, your favorite music, or a lovely book.
14. Small Fountain in your Backyard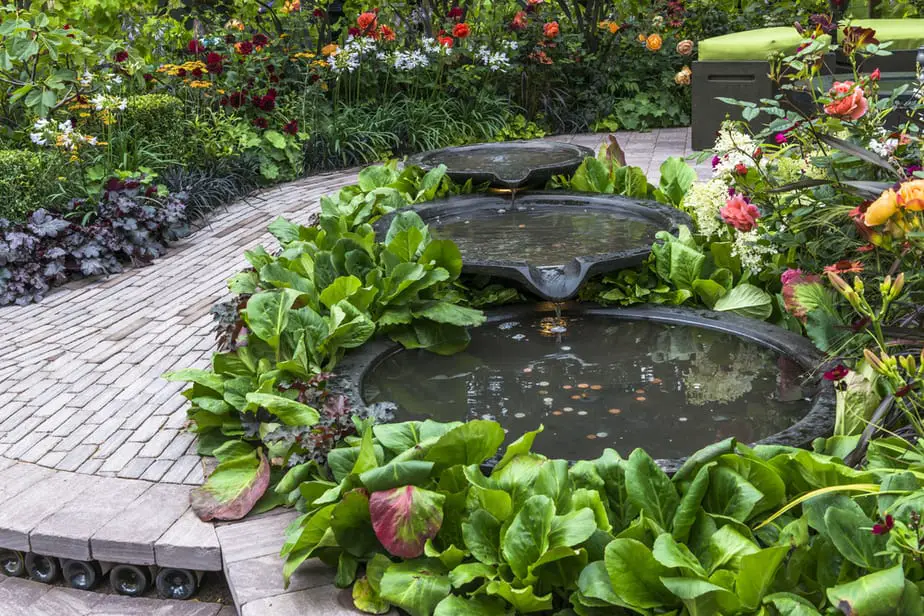 Adding a small fountain will make your backyard feel cool even on the hottest summer days. The little fountain will provide a source of water for the little birds which will come and visit your backyard often.
You will need to hire an experienced plumber, and probably an interior designer to suggest the most suitable design, but this is an investment that will transform the look of your backyard and will also increase the value of your property.
15. Comfortable L-Shaped Sofa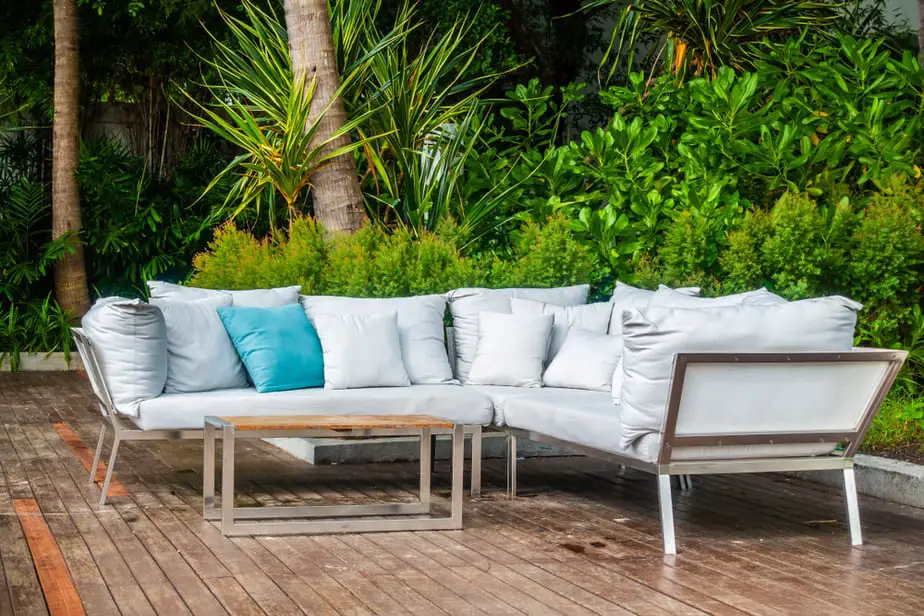 An L-shaped sofa is a convenient solution for tight spaces. This ultra-modern sofa provides enough space for a big group of people enjoying drinks or light snacks.
Choose comfortable pillows that people can remove or keep for maximum comfort. The metal frame creates some contrast with the earthy surroundings for a unique feeling. Make sure that you pay attention to the landscape so you can always enjoy the views.
16. Fire Pit Table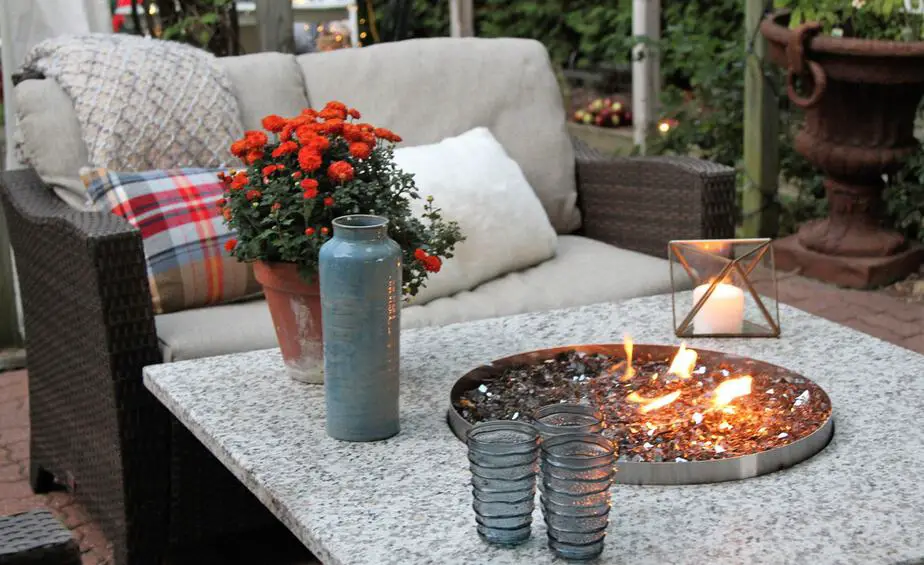 For those chilly mornings and afternoons, you can still enjoy spending time in your backyard. The wicker seating arrangement and the fire pit table create the ideal combination for those cold days.
This gas fire pit provides warmth and light for warm conversations and cozy coffee dates. It can transform your backyard to the perfect romantic spot for special occasions.
17. Hanging Chairs for the Warm Weather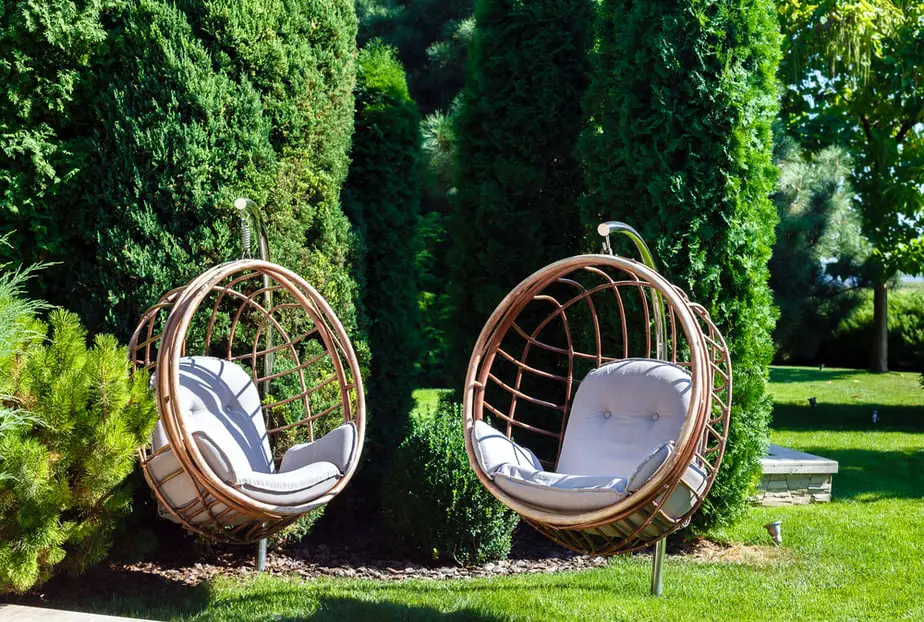 Nothing beats relaxing in these hanging chairs. They won't clutter your backyard and can be installed wherever you chose. Each chair features a comfortable pillow that will support your back and neck that you'll probably end up enjoying a relaxing nap in the cool breeze.
White is the most relaxing and peaceful color that you can choose for your backyard furniture. Nevertheless, you can always experiment with bolder colors and patterns to add character to your special spot.
18. Flower Garden In a Small Backyard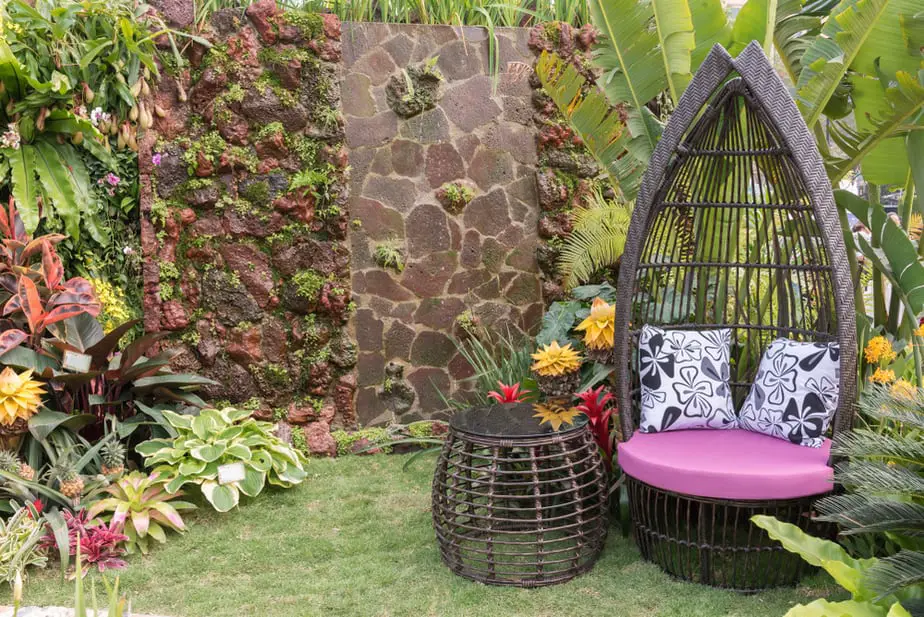 It takes a little bit of proper planning to transform the look of your backyard. For this idea, you need a wicker round table and a long back chair with colorful pillows. Adding colorful plants and flowers of various colors and shapes will immediately make this spot your favorite one in the house.
Wicker is a good choice for outdoor furniture because it withstands the heat and rain. It's also very easy to clean. Moreover, the furniture pieces are lightweight and versatile, so you can change their places or store them if it starts to rain.
19. Wooden Swing for Limited Spaces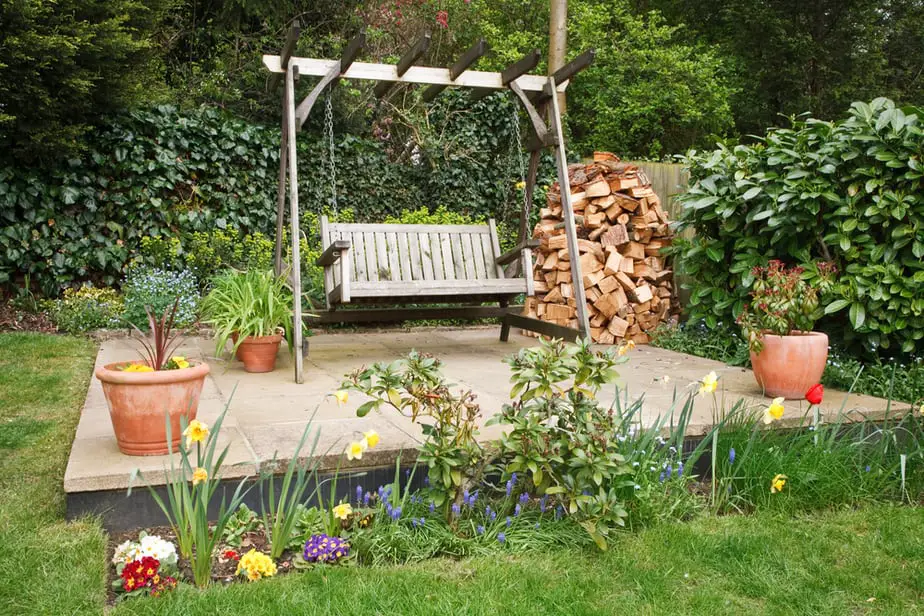 After you're done chopping wood for the fire, cooking for the family, or doing whatever you need to do, you need a cozy retreat where you can relax and unwind. This wooden swing can make all the difference in your life.
You can place it on the grass or on top of a platform like this one. This is the perfect space to talk to your loved ones because the pleasant setting will bring out all the positive feelings.
20. BBQ in the Backyard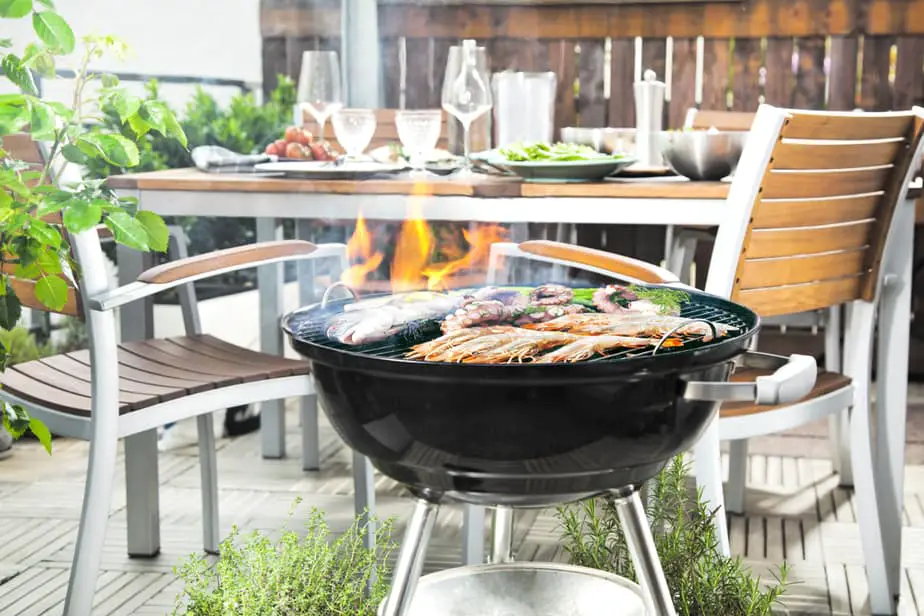 Who said that you can't enjoy the most delicious meal just because you have a small backyard? This portable grill will allow you to prepare amazing lunches and dinners for everyone you love.
For the dining area, wooden furniture makes a perfect choice. The combination of white and brown creates a good balance while the green grass accentuates the cozy and friendly atmosphere.
21. White Shelves for Vertical Landscape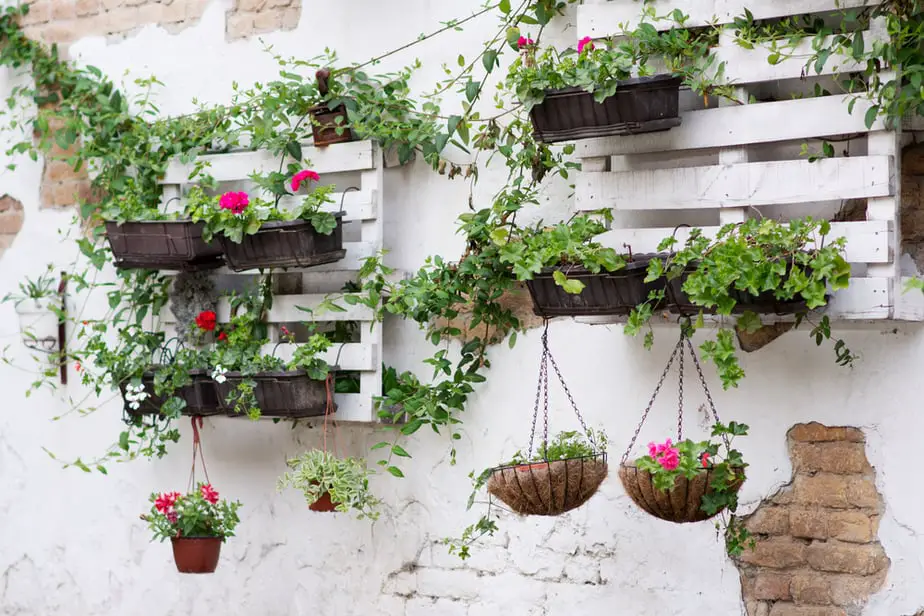 When you're space challenged, you should make use of every corner in your backyard. Here, the use of white wooden shelves creates a space where you can hang flower pots for the perfect vertical landscape arrangement. You can keep on replacing or adding plants to your little backyard garden to create the perfect ambiance.
Wrap Up
Incorporating a few items in your small backyard can transform it into an interesting and relaxing spot. The key is to think of your budget and preferred style before considering the benefits each piece will provide.
Whether you're planning to create a cozy spot for peaceful reading or a dining area for family feasts, there are several amazing small backyard ideas that you can choose from. Make sure that every piece serves a purpose and doesn't cause clutter so you can enjoy spending every second.