Ticks are a nuisance and a potentially dangerous garden guest, known to carry nearly a dozen bacterial diseases. Without the proper precautions, ticks can wreak havoc on our pets and even on us, burrowing into the skin and feeding off of their living host.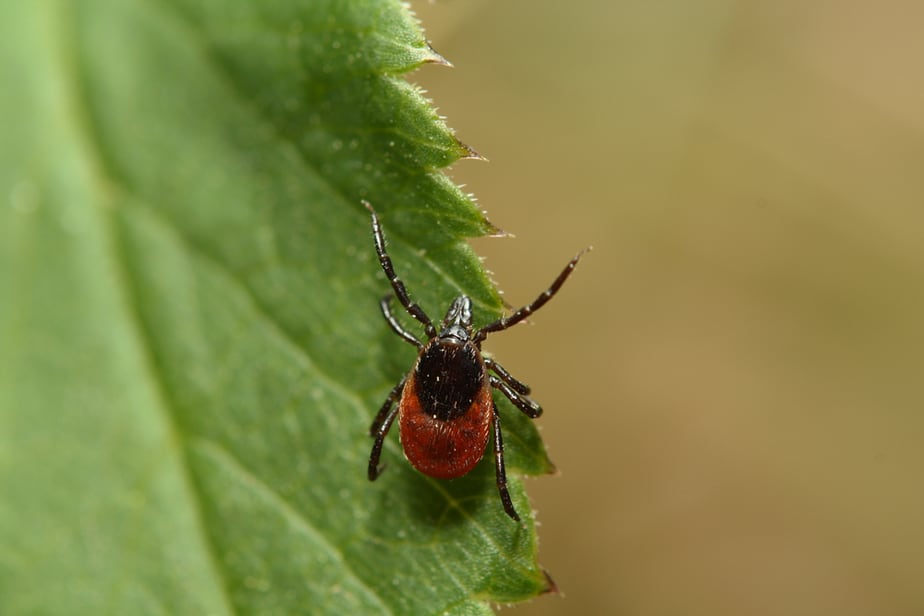 If you've read our Plants That Repel series, then you know just how effective plants can be at warding off pests. From mosquitoes to flies and ticks, plants can play a vital role in keeping your yard clear of unwanted visitors. In this article, we'll be covering 10 of the best plants that repel ticks (and look great while they do it!).
1. Beautyberry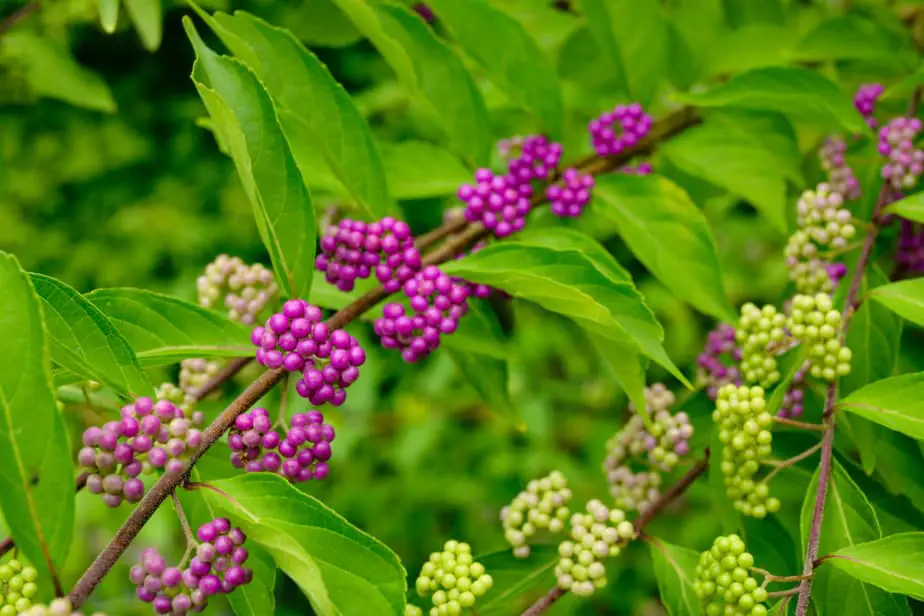 Our first plant that repels ticks, the American Beautyberry is a gorgeous bush adorned with vibrant green and purple berries. And not only does this plant live up to its name by being beautiful, but it's also as effective (if not more than) as DEET at repelling insects.
Crushing the berries and leaves and rubbing them on the skin is a great way to deter ticks whenever you're walking through woody areas. But the effects of Beautyberry aren't limited to just ticks. Beautyberry is great for repelling all sorts of biting insects, including biting flies and mosquitoes.
You can find Beautyberry seeds online through Amazon or at your local plant nursery.
Last update on 2023-09-16 / Affiliate links / Images from Amazon Product Advertising API
---
2. Garlic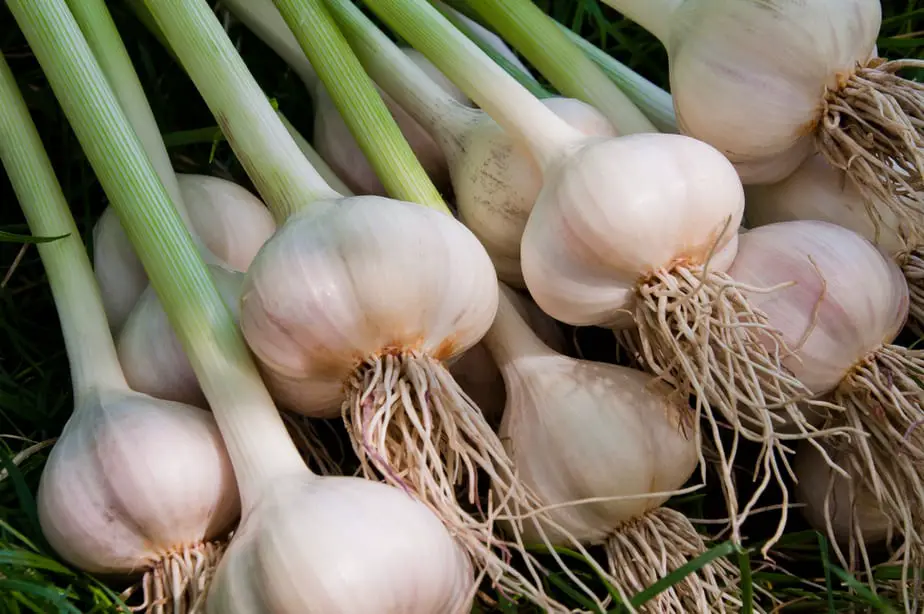 Most of us love the strong scent of garlic when using it for dishes, but pests like ticks are sensitive to the potent aroma. Garlic is a natural antibacterial that, when used as a spray, works wonders to scare ticks (as well as mosquitoes, fleas, mites, and flies) away.
To make garlic spray, simply pulverize 3 or 4 garlic bulbs by blending. Mix every 1/4th cup of garlic juice with 1 cup of water – or you can just spray the garlic juice directly into your yard for higher potency.
3. Rose Geranium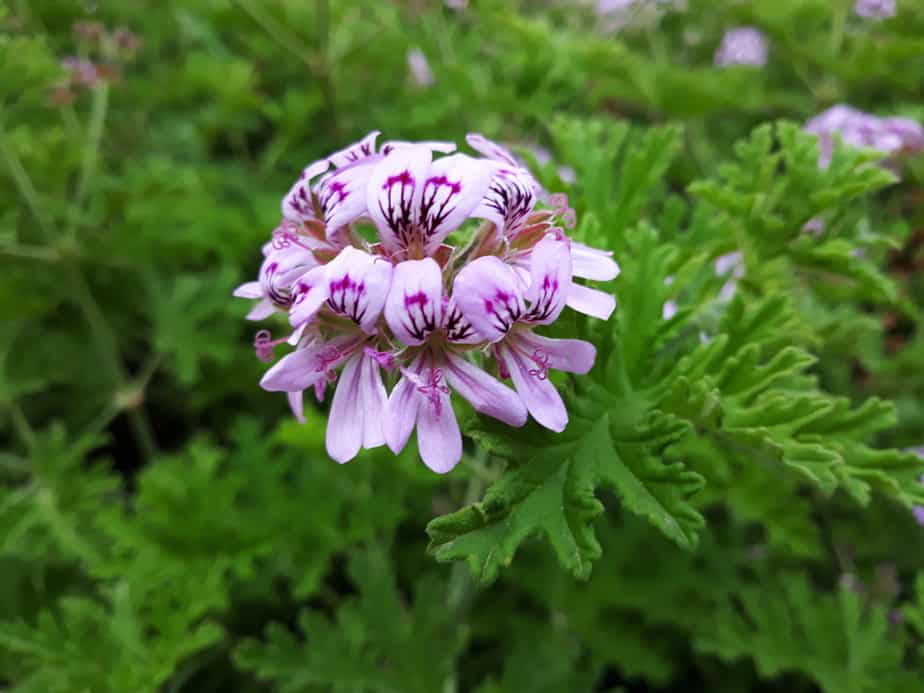 Yet another plant shown to deter ticks as well as DEET, Rose Geranium contains potent oils that are unappealing to a tick's sensory organs. The oils are safe to put directly on the skin, but you can create a spray using Geranium oil to cover more skin.
To create a Rose Geranium oil spray, simply mix 2 tablespoons of witch hazel and 30 to 40 drops of Rose Geranium oil into a 2-ounce bottle. Fill the rest of the bottle up with water.
You can find Rose Geranium oil through Amazon or at your local health food store.
Artizen 30ml Oils - Rose Geranium Essential Oil - 1 Fluid Ounce
100% Pure & Natural Rose Geranium Essential Oil - What sets Artizen Essential Oils apart are their unparalleled purity and concentration. Natural, with no adulterants or dilution, their oils provide the maximum benefit possible and are uncompromising.
Don't Fall Victim To Cheap Diluted Rose Geranium Oil - Most of the competition dilute their oil with a cheap carrier oil or even other potentially dangerous chemicals. Our rose geranium oil is routinely tested for purity and other unique qualities in order to ensure you are buying the purest oil available
Most 4 Ounce Rose Geranium Oils Contain Less Than 1/3 Of Natural Oil - Unfortunately, there's a lot of misrepresentation of the term 100% oil, however it's usually only 1/3 of the natural oil and 2/3 carrier oil.
High Quality Glass Bottles With Eyedropper - We use high quality glass infused with a uv colored coating to protect essential oils against sunlight and degradation.
Lifetime Warranty - The manufacturer, Artizen Essential Oils, offers a lifetime warranty and guarantee on their product. If you are ever unsatisfied for any reason they will replace your product or refund your money. And they stand behind and guarantee the purity of their oils.
Last update on 2023-09-16 / Affiliate links / Images from Amazon Product Advertising API
---
4. Fleabane Daisy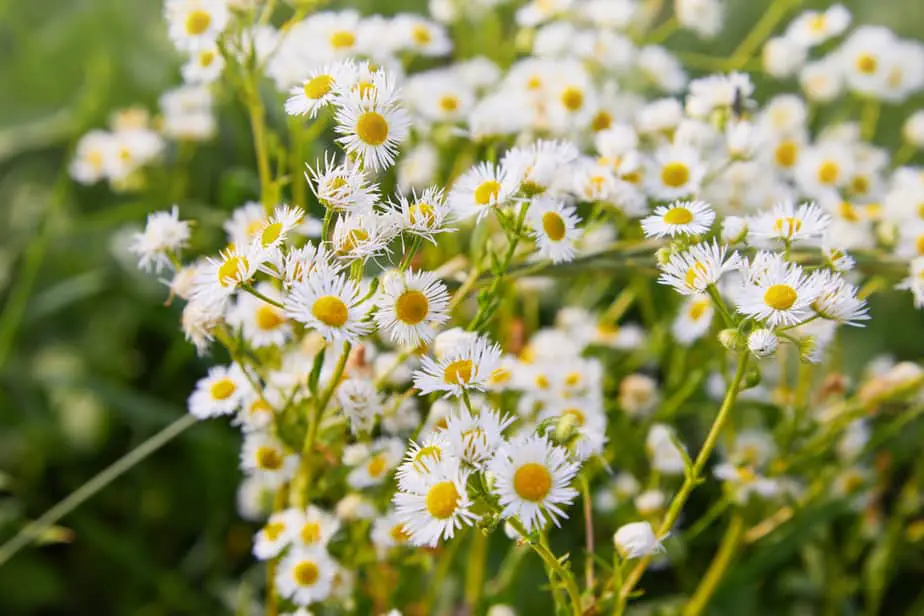 As the name suggests, Fleabane Daisies are best known for repelling fleas. However, they're also great at keeping ticks and other insects at bay. The presence of Fleabane Daisies is enough to make your yard a no-bloodsucking zone. But you can also crush and rub the Daisies onto you or your pet's skin whenever you're outdoors.
You can find Fleabane Daisy seeds online through Amazon or at your local plant nursery.
No products found.
---
5. Marigolds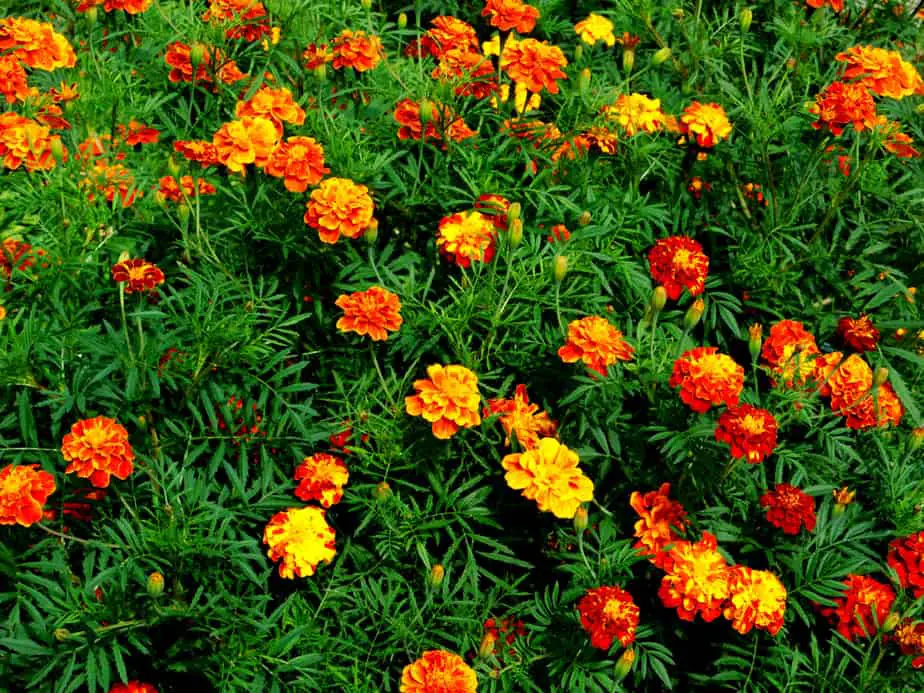 Marigolds are gorgeous flowers known for their brightly-colored, firey petals and sweet, subtle scent. They make perfect companion plants and can liven up any garden. But did you know that they can also repel pesky insects?
Lice, roaches, fleas, and ticks don't stand a chance with Marigolds. Their scent is enough to make the little critters run for the hills; and there's no need to crush the flowers and rub the mixture onto your skin like other plants on our list, either. Simply having the flowers around your home and yard is enough!
You can find Marigold seeds online through Amazon or at your local plant nursery.
Sale
Outsidepride Tagetes Patula French Marigold Garden Flower Seed Mix - 1000 Seeds
This marigold seed mix is a surefire way to add an easy to grow dwarf marigold to your flower garden, container, or raised bed. Removed fading petals to ensure an even longer blooming period. Butterflies will visit the flowers again and again. Marigold plant care includes removing spent flowers to encourage extended bloom period and to keep plants compact.
Tagetes patula mix is our most popular marigold mix sure to grow across the country as an annual in USDA zones 3 - 10. Enjoy sunny blooms all summer long by starting Marigold seeds in the early spring. This seed mix produces small, compact plants with flowers in shades of orange and yellow. These dwarf plants are perfect for edging the front of the sunny flower garden or for baskets and containers.
Low growing Marigolds are quick to bloom and quick to attract pollinators during the entire flowering season; however, they do not attract deer!
These heirloom, non-gmo seeds are quick to germinate when seeds are kept continually moist in full sun. Marigolds are not fussy and will tolerate most conditions. However, with rich, well-drained soil and plenty of sunshine, these plants will thrive. Generous amounts of organic compost or well-aged manure mixed into the garden prior to planting will greatly improve the health of flowers — Keep the soil moist, but not wet.
Sow 2 to 3 seeds per plant or 5 ounces per 1,000 square feet. Use starter soil and gently press the seed into the soil and lightly cover. When seedlings are big enough to handle and after acclimatizing the seedlings to outdoor conditions, transplant outdoors after frost danger has passed. May also be sown directly outdoors after last frost in prepared beds. Marigold plant care includes removing spent flowers to encourage extended bloom period and to keep plants compact.
Last update on 2023-09-19 / Affiliate links / Images from Amazon Product Advertising API
---
6. Lavender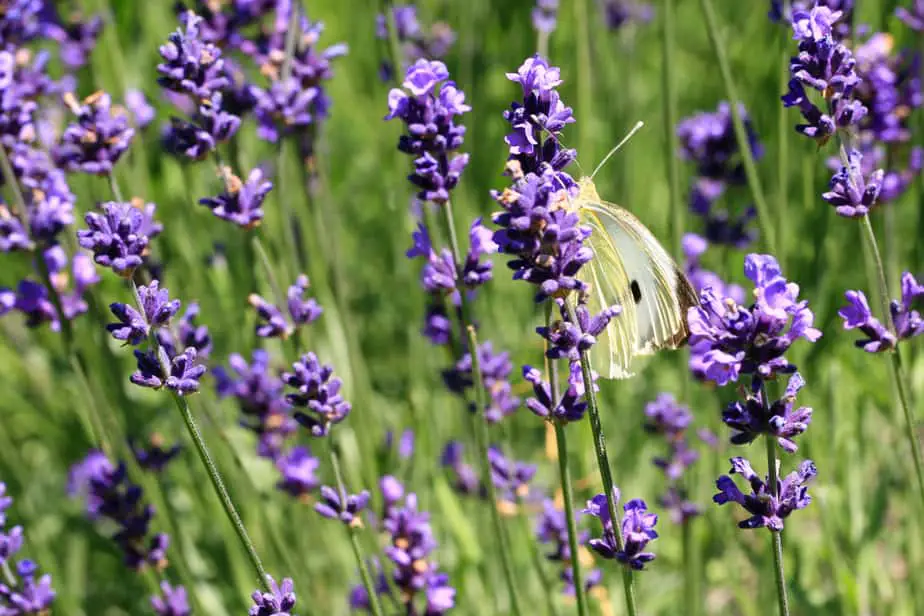 Ah, the scent of lavender. It puts us to sleep, freshens up our homes and clothes and creates an overall soothing environment. But to ticks, the scent is unbearable. And that's exactly why lavender is the perfect plant to add to your garden beds.
Planting lavender is an effective method at keeping ticks from coming too close, but lavender essential oil can often be a more potent option for when you're out and about. Lavender essential oil is completely safe to put on the skin with or without a carrier oil. When placed on the skin, the scent will constantly remind the ticks not to come and bite!
You can find lavender seeds at your local plant nursery and lavender essential oil at your local health food store or through Amazon.
Sale
NOW Essential Oils, Lavender Oil, Soothing Aromatherapy Scent, Steam Distilled, 100% Pure, Vegan, Child Resistant Cap, 1-Ounce
ESSENTIAL AROMATHERAPY - Lavender is soothing, normalizing and balancing with a floral scent that promotes balance and relaxation. When your life is truly balanced, maintaining a healthy mood and a positive outlook just seems to come naturally.
NATURAL/RESPONSIBLY MADE - This oil is extracted through steam distillation of flowering tops. Our oils are made in state-of-the-art laboratories, are naturally derived and subject to purity testing in-house, vegan and never tested on any animals.
100% PURE/UNDILUTED - Our essential oils are highly concentrated and 100% pure and free of synthetic ingredients, delivering the very best benefit of the source of the plants, fruits, seeds, flowers, bark, stems, roots or leaves from which they come.
MULTI-USE/BENEFITS - Aromatherapy is an ancient and time-honored tradition. Can be used in diffusers to breathe fresh air into a room or to enjoy aromas that relax or stimulate your mind. Melt away stress and tension in an instant with a simple drop.
CLEAN/SAFE ALTERNATIVE - Presents a safe, natural alternative to toxic, artificial aerosal sprays or messy candles. If you're concerned about keeping your home both clean and fire-safe, we'd highly suggest throwing some essential oils in the mix!
Last update on 2023-09-19 / Affiliate links / Images from Amazon Product Advertising API
---
7. Thyme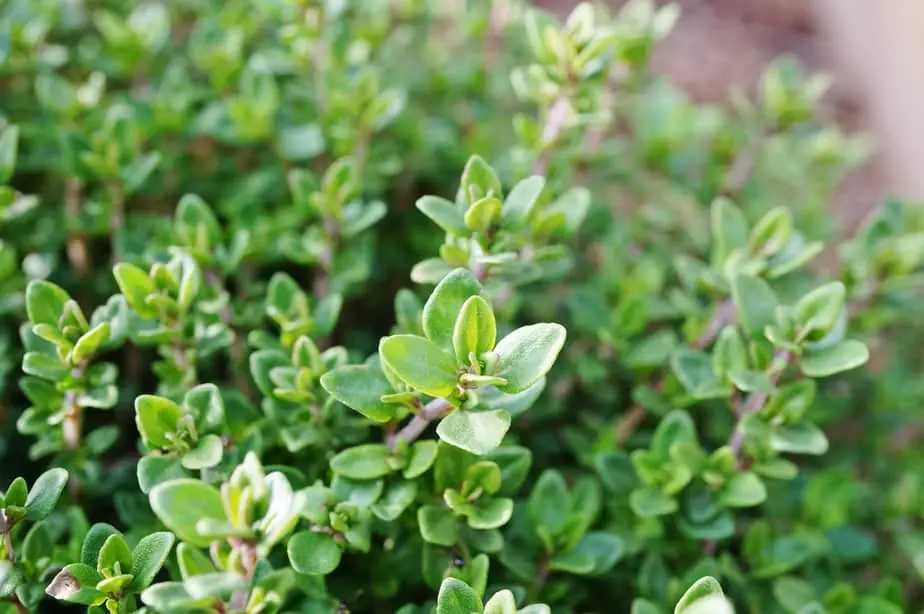 Herbs such as Thyme are yet another yummy ingredient to us, but a natural enemy of the tick. Thyme is an easy-growing plant that loves the sun. It's hardy and can turn even the blackest thumb to a bright green color. They're great for planting in widow planters, around the house or deck, or as companion plants in flower or vegetable gardens.
You can also use Thyme essential oil with a carrier oil (such as coconut oil) on the skin if you'll be walking in particularly woody areas.
Thyme can be found at your local plant nursery and Thyme essential oils can be purchased through Amazon or at your local health food store.
Healing Solutions Organic 10ml Oils - Thyme Essential Oil - 0.33 Fluid Ounces
Certified USDA Thyme Essential Oil - Healing Solution's Thyme essential oil is registered on the USDA Organic Database
100% Pure Thyme Essential Oil - All of our Essential Oils are routinely tested for purity and results of these tests are publicly available. We are the only Essential Oils Manufacturer That Makes These Results Publicly Available.
Superior Experience: Healing Solutions Thyme is a great candidate for your new favorite oil! Make a staple home ingredient and create a huge difference to your relaxation with its energizing aroma - a popular choice among many!
Healing Solutions Offers a Purity Guarantee - Purity guarantee is our guarantee and commitment to you and all of our customers that the oils we sell have been GCMS tested and analyzed for purity and lack of adulterants.
Last update on 2023-09-19 / Affiliate links / Images from Amazon Product Advertising API
---
8. Lemon Grass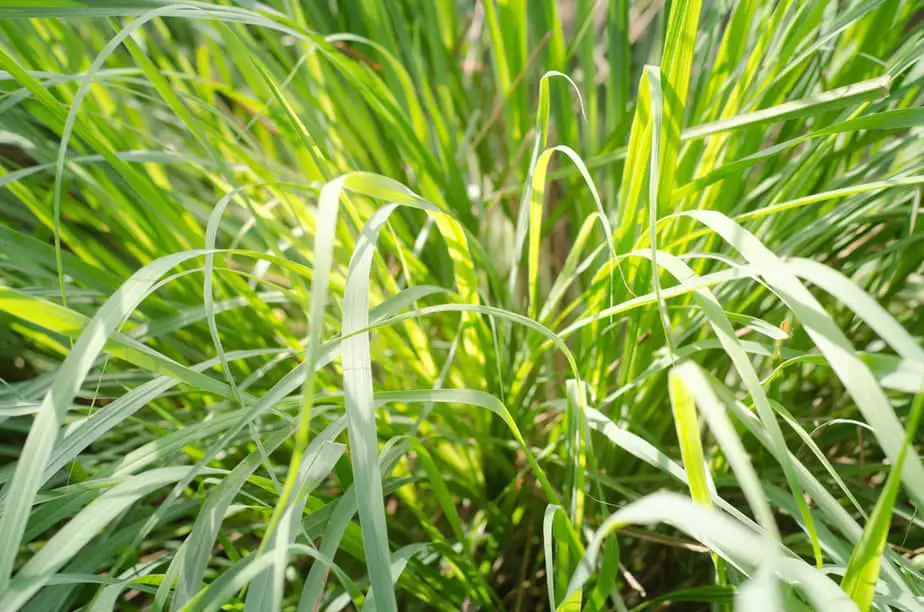 As we've mentioned in our previous bug-repelling articles, Lemon-scented anything is great for keeping unwanted bugs from moseying onto your yard. The smell of Lemongrass is far too strong for a tick's senses but not so strong that it will overwhelm your yard or impede on the scents of your other plants.
While the plants themselves make for a good tick repellant, the essential oil is much more concentrated and would be better suited for walks in the woods. However, Lemongrass essential oil can be irritating to the skin when not used with a carrier oil. Coconut oil is a wonderful carrier oil that has its very own insect-repelling properties.
And not only could Lemongrass irritate humans, but pets, as well. If pets happen to eat Lemongrass, it can cause an upset stomach, so it's a good idea to be wary of that and keep rambunctious pets away.
You can find Lemongrass plants at your local plant nursery and Lemongrass essential oil at any health food store or online through Amazon.
Plant Therapy Organic Lemongrass Essential Oil 100% Pure, USDA Certified Organic, Undiluted, Natural Aromatherapy, Therapeutic Grade 30 mL (1 oz)
ALL-PURPOSE, REJUVENATING ESSENTIAL OIL: Lemongrass Organic is a great choice for skin issues. It may help boost circulation and relieve sore muscles and joints too.
100% PURE CYMBOPOGON FLEXUOSUS OIL: The crisp, lemony, tea-like scent of lemongrass oil will refresh even the smelliest rooms. Diffuse and feel an instant boost in your spirit, it can help ease pesky tension headaches as well.
BATCH SPECIFIC GC-MS REPORTS ON EVERY OIL: Every bottle of oil from Plant Therapy goes through multiple rounds of testing including organoleptic testing and multiple rounds of GC-MS testing by several third-party laboratories.
HIGH-QUALITY AFFORDABLE ESSENTIAL OILS: At Plant Therapy our goal is to positively impact the lives of as many people as we possibly can, by selling such a high quality product at an affordable price. Be confident knowing you are purchasing quality oils at direct-to-consumer prices.
CERTIFIED AROMATHERAPISTS ON STAFF: Our customers are our #1 priority and we'd love for you to join the Plant Therapy Family. Our Certified Aromatherapists are happy to help you with all of your Essential Oil questions. We want you to be confident and satisfied with your purchase.
Last update on 2023-09-19 / Affiliate links / Images from Amazon Product Advertising API
---
9. Rosemary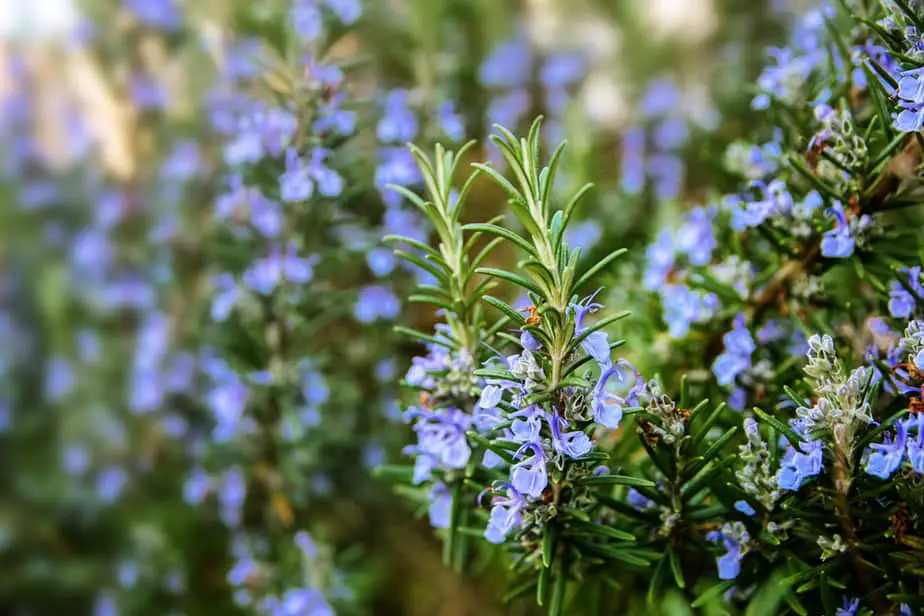 Like Thyme, this herb is mouth-watering for us but repulsive to ticks. In fact, this plant that repels ticks is so repulsive that simply sprinkling Rosemary sprigs around your yard or home is enough to keep ticks from wandering too close.
Rosemary thrives in small spaces and are great companion plants. They like the sun and can be placed in window planters, in small planters on the porch, or allowed to grow and spread throughout your gardens.
Plus, you'll have a delicious herb to add to your authentic Italian dishes. What more could you ask for?
You can find Rosemary at your local plant nursery or online through Amazon.
Bonnie Plants Rosemary Live Edible Aromatic Herb Plant - 4 Pack, Perennial In Zones 8 to 10, Great for Cooking & Grilling, Italian & Mediterranean Dishes, Vinegars & Oils, Breads
Tiny, strongly aromatic & flavorful leaves, blue blooms
Garden use: Herb garden, flower border, containers, low clipped hedge
Culinary use: Italian & Mediterranean dishes, vinegars & oils, breads
Plant in full sun for the best yields
Plant during spring & fall
Last update on 2023-09-22 / Affiliate links / Images from Amazon Product Advertising API
---
10. Mint Plants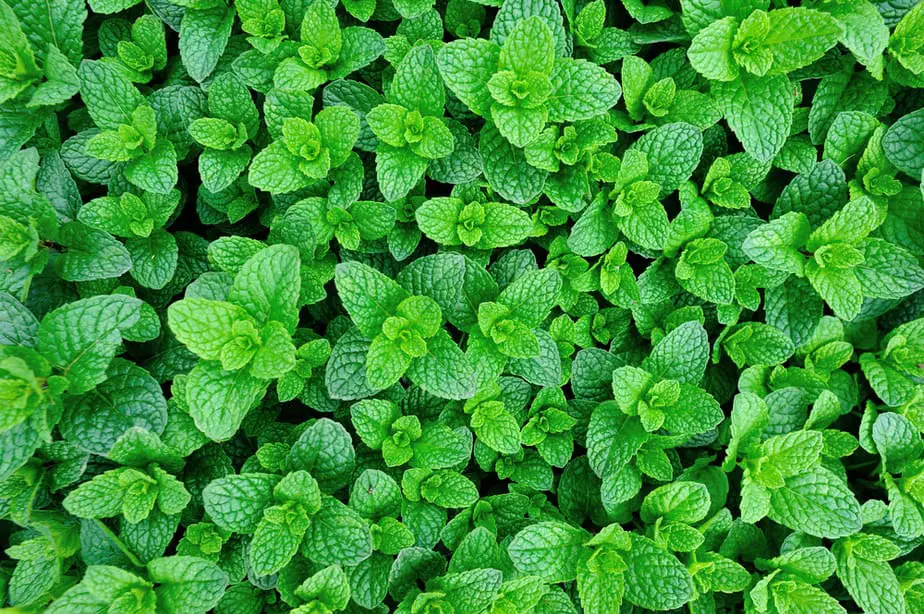 Peppermint, Spearmint, Catmint… ticks hate them all. Plants in the mint kind are incredibly aromatic and the cooling sensation is irritating to biting bugs like ticks. Planting mints around your home and in your yard or garden is a great way to ensure that ticks keep away from your family and pets.
Mint essential oil is also a wonderful remedy for whenever you're waking in areas with thick brush. However, mint essential oils can be irritating to the skin if applied in large quantities. Mint essential oil is best applied with a carrier oil, such as coconut oil.
You can find mint plants at your local plant nursery and mint essential oil at a health food store or online through Amazon.
Garden of Life Essential Oil, Peppermint 0.5 fl oz (15 mL), 100% USDA Organic & Pure, Undiluted & Non-GMO - for Diffuser, Aromatherapy, Meditation - Energizing, Invigorating, Refreshing, Uplifting
ATTRIBUTES: Energizing, refreshing, uplifting, invigorating
STORY: The Chinese praised mints for their tranquillizing properties, and the Greeks and Romans served the herb after meals as a digestive aid; Peppermint essential oil is known to give a cooling, awakening and refreshing feeling
USE: Add to coconut oil before applying directly to skin—or add 1 drop to your favorite soap, shampoo or bath salt; Add 10 drops to diff­user for an energizing boost (Pairs well with Organic Rosemary and Lavender Oils)
APPLICATIONS: Body lotions, bug repellent, hand sanitizer gels, room sprays, chest salves, lip balms, exfoliating scrubs, cleansers and massage oils
THIRD-PARTY CERTIFICATIONS: Certified USDA Organic and Non-GMO Project Verified
Last update on 2023-09-22 / Affiliate links / Images from Amazon Product Advertising API
---
Preventing Ticks in the Yard
Now that we've covered the 10 best plants that repel ticks, let's take a look at some other ways you can prevent ticks from taking over your yard:
Remove piles of leaves. Ticks love hiding in leaf piles, as it gives them a safe place to nest.
Mow the grass. Ticks will attach themselves to long grasses and weeds. When your child or pets rub against these tall grasses, there is a chance that the tick will hitch a ride. So it's always best to keep a well-manicured yard.
Take precautions against wild animals. Deer and other wildlife tend to carry ticks, and if they get into your yard, they'll be bringing the pests along with them. Using methods to discourage deer from wandering near your home is an effective method of keeping ticks at bay.
Remove trash or furniture. If you have old furniture, collectibles, or trash in your yard, it's best to remove dispose of them appropriately. These things give ticks a place to hide.
Keep toys and play equipment away from trees. Playground toys near trees can encourage ticks to host off of your children. Always keep toys away from wooded areas.
Create a barrier between your home and the woods. Laying a 3-foot wide barrier of gravel or wood chips between your home and the start of the woods is a great way to discourage ticks from migrating onto your property. We recommend using gravel, but wood chips can work just as well.
Apply pesticides to your yard. If you have a severe problem with ticks, taking the previous precautions as well as applying the right pesticide to your yard can be an effective tick-reducing method.
Final Thoughts
Ticks can be a dangerous pest. They feed off of our families and pets and carry diseases that have no place in our yards. Using plants that repel ticks is a natural and safe way to keep the little critters at bay without breaking the bank or putting your family at risk. You can also deter ticks by keeping your yard well-kept and tidy so that they have no place to burrow.
We hope you enjoyed our article covering the best plants that repel ticks!