Everybody loves a luscious garden filled to the brim with vibrant flowers and vegetation – but not everyone has the space for a large flower garden. For apartment dwellers, we've gathered our favorite balcony gardening ideas and products to help you use your space in the grandest way possible.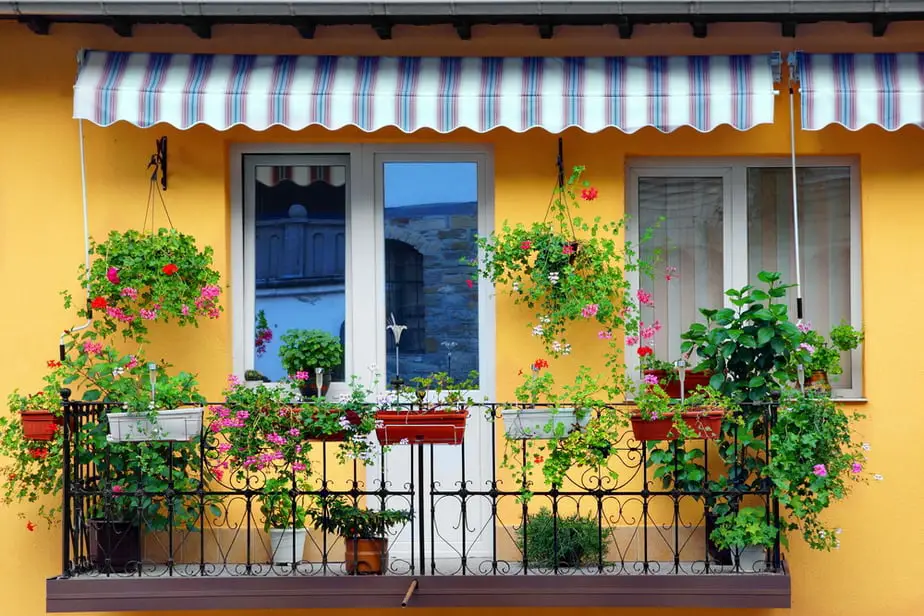 Let's get started!
1. Vertical Plant Shelves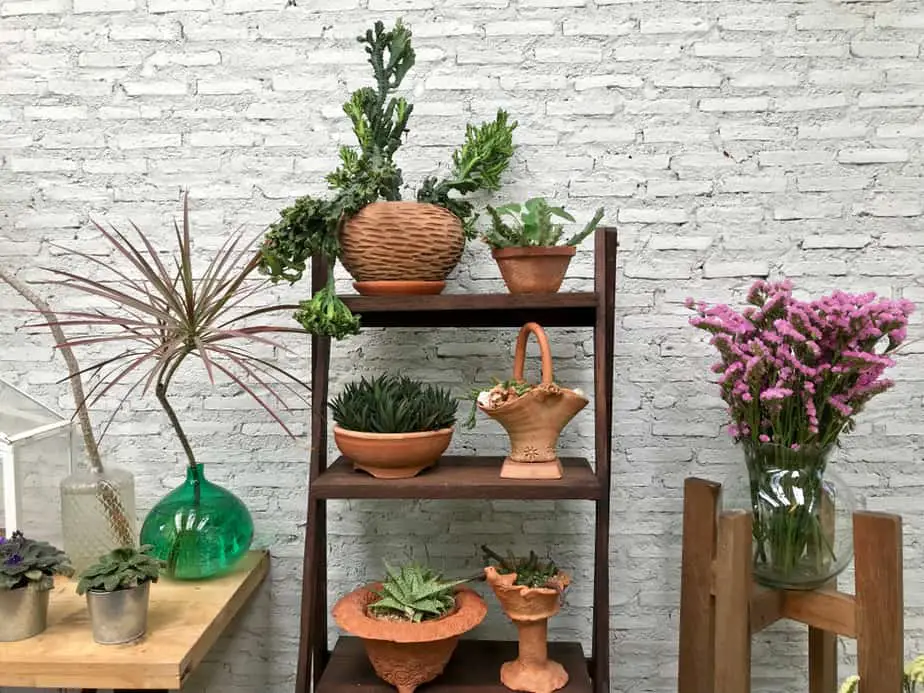 Plant shelves are a gorgeous way to display your flowers without taking up too much space on your balcony. The shelves create a layered look that evenly shows off plant pots and vegetation, as to not hide any decorative aspects of your plants.
These can be placed comfortably in the corner of your outdoor space and most have the ability to fold up for effortless storage when they're not in use.
You can find similar vertical planters and shelves at your local gardening center or online through Amazon.
Ufine Bamboo Ladder Plant Stand 3 Tier Foldable Flower Pot Display Shelf Rack for Indoor Outdoor Home Patio Lawn Garden Balcony Organizer Planter Holder
NATURAL BAMBOO LOOK: This 3 tier ladder plant stand made of high quality bamboo, finished with 3 polishing process and healthy varnish treatments; sturdy and nice looking; attractive way to display all your plant babies
PERFECT SIZE FOR INDOOR OUTDOOR: Looking for a stylish plant shelf to organize your cluttered space? Ufine 3 tier bamboo plant stand is good size for smaller balcony or apartment, also a great way to display your succulent collection
STURDY & DURABLE: Solid construction with 3 tier ladder design and reasonable growth height for each tier; strong bearing capacity up to 100lbs;also the varnish finish is great for water drainage and protect the shelves from humidity
FOLDING DESIGN: Features lightweight bamboo and easily folds up so you can move it from room to room and outside in the garden; Note: Loosen the screws a little for easy folding and tighten the screws when it in use to ensure the stability
EASY TO ASSEMBLE: Assemble could be done in 30mins by one person with clear instructions and tools; please feel free to contact us if you have any problem, our 24/7 customer service team will be here to help you
Last update on 2023-11-18 / Affiliate links / Images from Amazon Product Advertising API
---
2. Wall Planters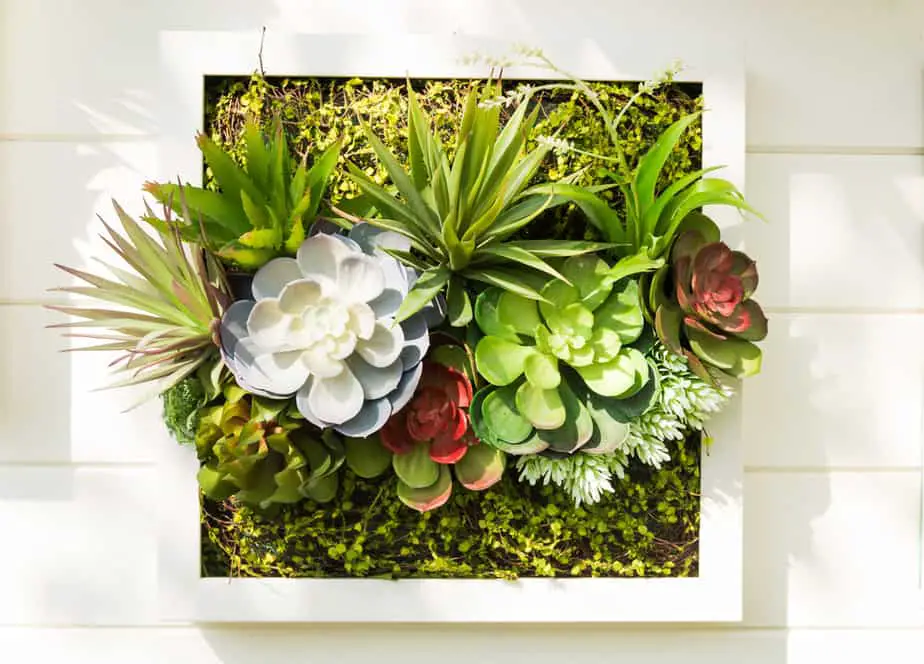 Wall planters are a unique balcony gardening idea that is great for optimizing the amount of space you have available. They can be hung high or low on any wall, adding splashes of color and intricate shapes to places that would otherwise lay bare.
Succulents or plants with deep root or vine systems are a great option for wall planters. These plants are perfect for creating a busy, bright wall piece.
You can find wall planters at your local gardening center or online through Amazon.
No products found.
---
3. Hanging Baskets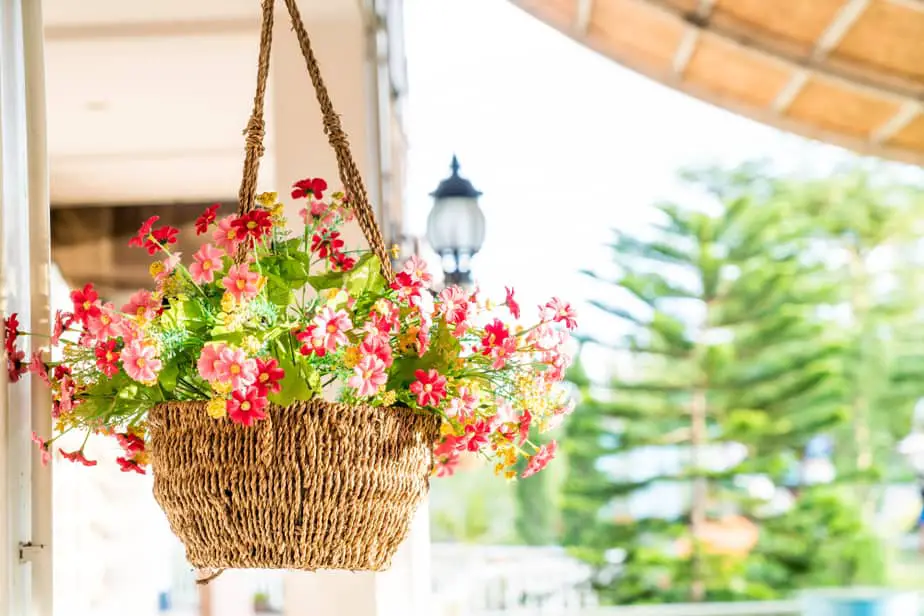 Quite possibly one of the most common and charming balcony garden features, hanging baskets are a decorative force to be reckoned with. They take up absolutely no floor space and your gorgeous flowers hanging high on display will be the envy of the complex.
Wicker hanging baskets, in particular, add a cutesy look to balconies and are an adorable alternative to your average black, plastic baskets.
You can find decorative hanging wicker baskets at your local gardening center or online through Amazon.
Last update on 2023-11-18 / Affiliate links / Images from Amazon Product Advertising API
---
4. Rail Garden
These plant pots are specifically designed for use on rails – which means they're perfect for balconies. They take up a minimal amount of space, add a bit of privacy, they're safe and less likely to fall and wreak havoc on your neighbors below, and your pretty flowers will be shown to the world via your railing.
Can it really get any better than that?
You can find plant pots for railing at your local gardening center or online through Amazon.
Sale
Last update on 2023-11-18 / Affiliate links / Images from Amazon Product Advertising API
---
5. Trellis Arrangements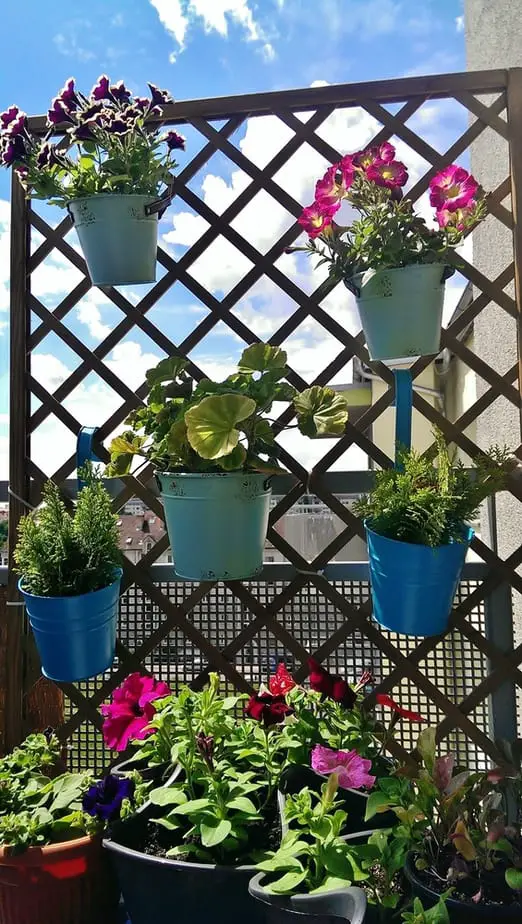 If you're looking for a bit more privacy, adding a trellis to your balcony is the way to do it. Hanging pots are a great way to decorate trellises and the leaves of your plants will also block any potential peering eyes.
You can purchase hooked pots at your local gardening center or online through Amazon.
Hanging Flower Pots, Young Go 10 PCS Metal Iron Flower Holders with Drainage Hole Basket Bucket Planters Balcony Garden Patio Planter Wall Fence Hanging Flower Pot with Detachable Hook Home Decor
BRING A COLORFUL AND VIGOROUS GARDEN: 10 pcs flower pots in different color bring vigour to your garden. It can be hung on the balcony, porch, window, railing, fence, anywhere in the house as a wonderful decoration.
DRAINAGE HOLE DESIGN WITH DETACHABLE HOOK: The drainage hole makes watering easier and airflow to circulate through the pot. A drainage hole is necessary when purchasing a succulent planter.There is a detachable hook on the pot so that you can hang it anywhere you want to.
MULTIFUNCTION FLOWER POTS: This planter is not only for colourful flowers, tasty herbs, various vegetables, but also for dried flowers, silk flowers and other cute decorations.
MATERIAL AND DIMENSION: Durable and galvanized metal iron flower pots made it corrosion resistant, ideal decoration for the creative gardener. Dimension: 3.9*3.9*3.2in.
24 MONTHS WARRANTY: Do not hesitate to contact us for support if you have any question with our products. We offer one month no reason money back service. 24 months return and lifetime kindly customer service.
Last update on 2023-11-18 / Affiliate links / Images from Amazon Product Advertising API
---
6. Faux Grass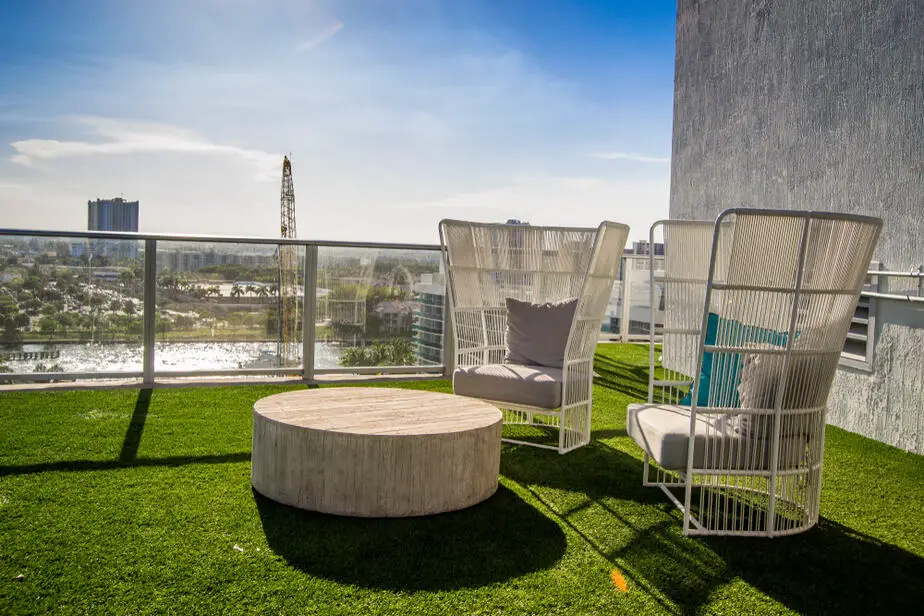 To make your balcony as natural and garden-y as possible, adding grass rugs or turf is a wonderful option. There is an abundance of realistic faux grass options on the market that would surely bring the feel of the natural world to your concrete jungle.
You can purchase grass turf at your local gardening center or online through Amazon.
Sale
Synthetic Artificial Grass Turf 5FTX8FT Indoor Outdoor Balcony Garden Synthetic Grass Mat, Party Wedding Christmas Rug,Drainage Holes Faux Grass Rug Carpet for Pets
VALUE SYNTHETIC GRASS RUG:Designed and made according to the real fescue-like grass, with the blade around 0.4'' in length, safe for kids and pets - all for a very economical price.
PERFORMANCE :Made of the highest quality poly polypropylene yarns, synthetic material high temperature.Rubber backed with drainage hole, can be dry quickly.
FRIENDLY & SAVE MONEY: It is friendly. No mowing, No watering, Safe for pets and children.
Perfect for indoor used as Mat, Carpet . DIY Decorations for Fence Backdrop, interior and exterior or your own creative design on party, Wedding, Christmas decorations. Also used in outdoor rugs, such as Garden, Lawn, Patio, Landscape, Backyard, Balcony,Deck, Porch and other outdoor place. Recommended use it with lawn nails.
Last update on 2023-11-18 / Affiliate links / Images from Amazon Product Advertising API
---
7. Rustic Drawer Planters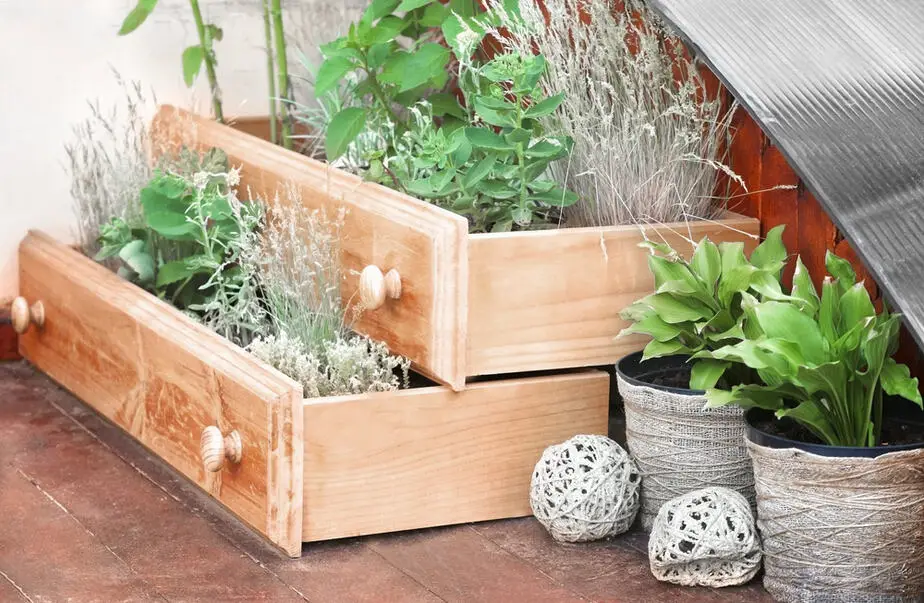 For the rustic side of you, these adorable drawer planters are a must. Whether you have old drawers lying around or you buy drawers made to look old, these planters will bring out the vintage, country chic appearance of your balcony.
You can find drawer planters online through Amazon.
Last update on 2023-11-18 / Affiliate links / Images from Amazon Product Advertising API
---
8. Hanging Glass Terrariums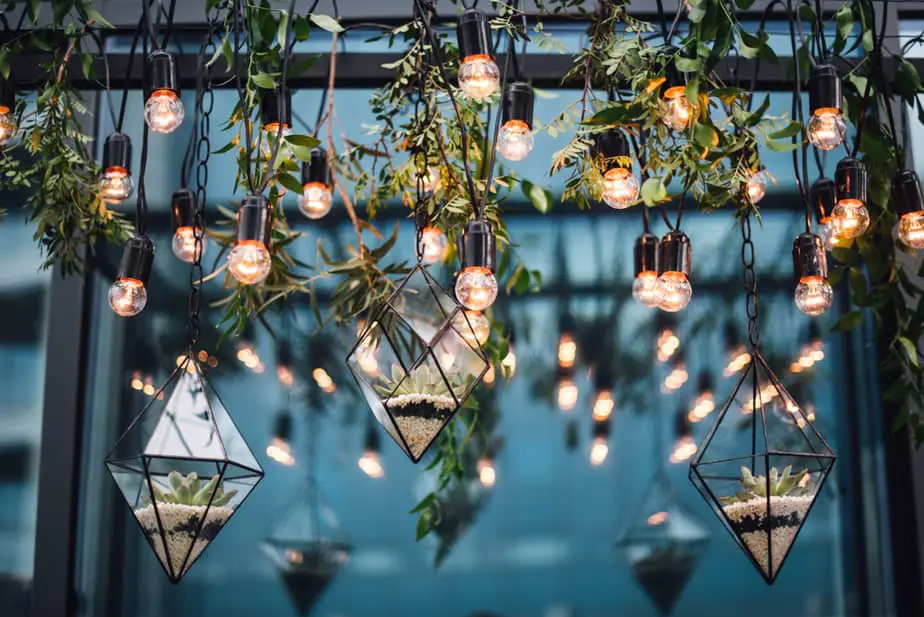 Terrariums consist of unique geometric shapes that would make a great addition to any modern balcony garden. They're often made of glass and metals for a sturdy build and are usually filled with tiny pebbles and drought-resistant plants such as cacti and varieties of succulents.
If you're low on space and don't have room to place a terrarium on the ground, you can also purchase hanging glass terrariums. Attach them to your balcony ceiling and watch and your guest's eyes dance when they see your outdoor decor.
You can find hanging terrariums on Amazon.
Sale
Mkono 2 Pack Glass Hanging Planter Air Fern Holder Terrarium Plants Hanger Vase Home Christmas Decoration Gift Idea for Succulent Moss Tillandsias Air Plants, Globe and Teardrop
Ideal for home and office decoration to display small plants, adds more greens and vitality to your living surroundings. Decorates it with moss, airplants, seashells, other accessories to design a little vertical garden. Prefect for a DIY project by your imaginations, will get an unique ornament.
Featured with flat bottom for tabletop and top loop for hanging with rope. Displays your plants by sitting on the desk, or hanging it beside the window in your indoor garden. Great for using on Xmas, wedding, party, festivals, creates a romantic and warm atmosphere.
Package Included: 1× Teadrop terrarium, 1×Globe terrarium, and Jute Rope. Note: Plants and other decorations are not included in this set. Glass products are fragile, please treat it carefully when hanging.
Size:Teadrop-shaped is 7.5"H×3.5"W, Opening's diameter is 1.75";Globe-shaped is 4"in dismeter, Opening's diameter is 2". Featured with flat bottom for tabletop and top loop for hanging with rope.
Material: High boron silicon heat resistant glass. Mkono is a registered trademark and our product is professional manufacturing and sole selling.
Last update on 2023-11-18 / Affiliate links / Images from Amazon Product Advertising API
---
9. Jungle-Cony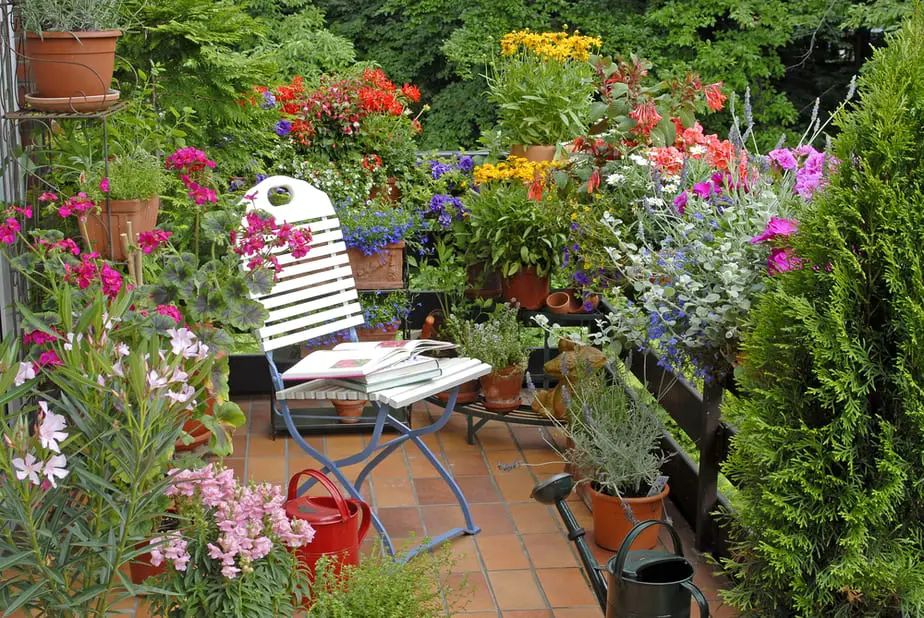 Is it a jungle, forest? Nope. It's your balcony. And it's covered in tons of gorgeous plants.
If you're someone who loves privacy or wants to bring nature right to your balcony, adding a large variety of plants to your railings, on the floor, and hanging plants is the way to do that. Balcony gardens, like the one above, create a serene, calming outdoor lounge space.
10. Abstract Floral Displays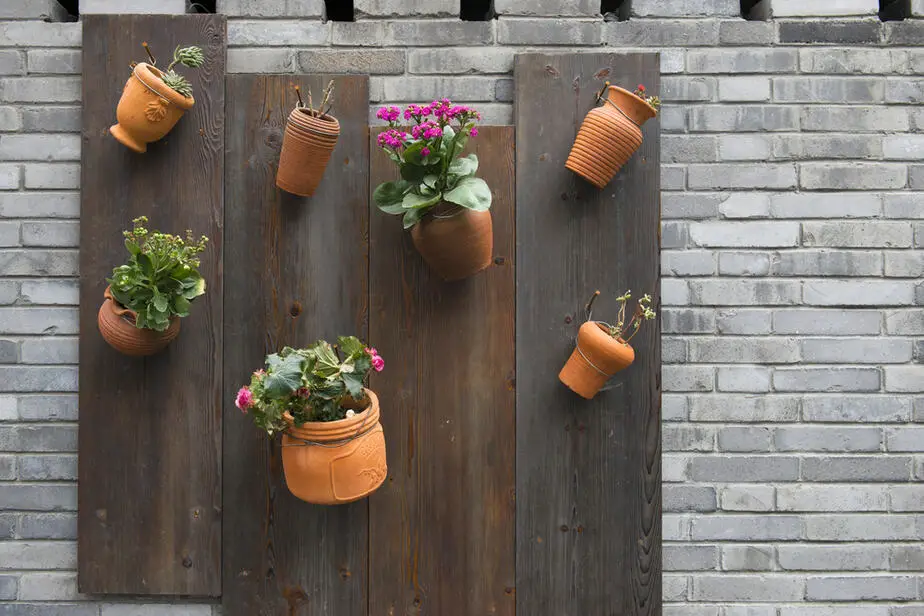 An artistic display, these flower pots are hung on a stained wooden panel and tilted. Pots that are hanging in abstract manners are good for drawing the eye to certain areas of the balcony. Artistic displays like this are also wonderful for freeing up space on the balcony floor for larger plants, lounge furniture, or other garden decorations.
These can be easily constructed on your own with large wooden boards, screws, and metal wire.
11. Neatly Tucked Away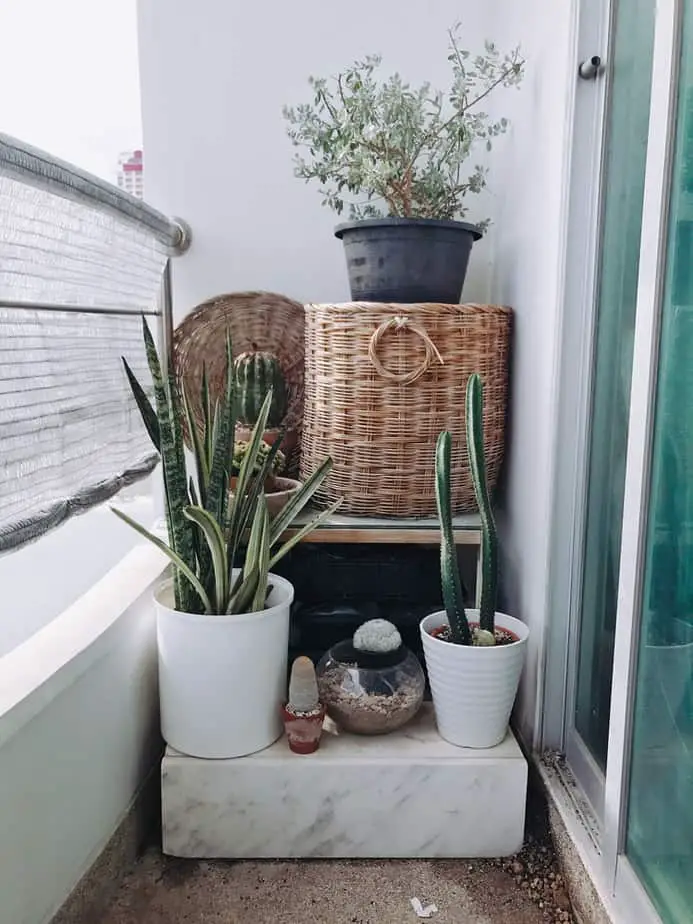 Not all balconies are created equal. Some are large and some are the size of a small closet. If your balcony is on the smaller side, this compact balcony garden idea may be just the thing you've been searching for. The stacked appearance is tastefully busy, yet tidy, as not to be too overwhelming or crowded.
The coloring is monotone and uniform, which adds to the appealing aspect of this outdoor gardening idea.
12. Italian Vogue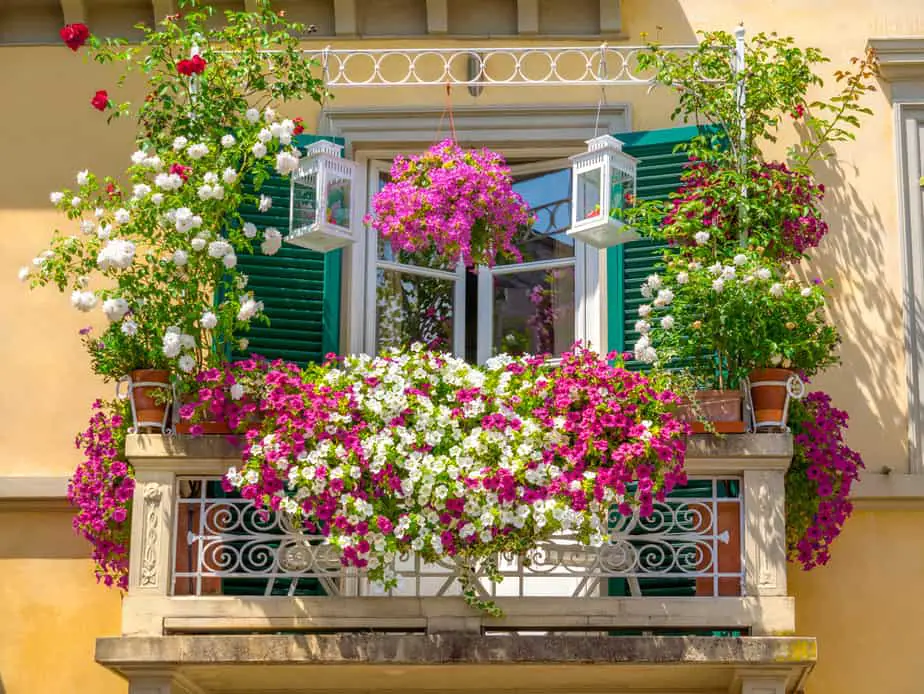 Balconies in Italy are known for their vibrant floral displays. To recreate the beautiful Italian flair on your balcony, focus heavily on brightly-colored, bunched flowers, climbing vines, hanging baskets, and rail flower boxes.
Like in the photo, large, bushy flower plants are necessary for creating the classic Italian appearance.
13. Flattering Color Schemes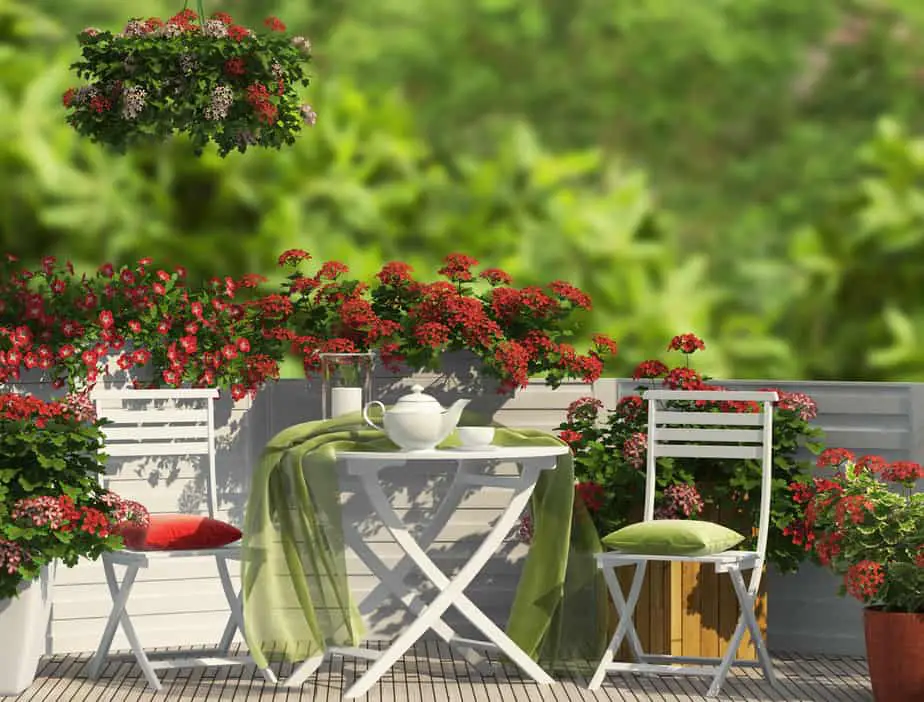 If mixing random colors isn't your cup of tea, finding and creating a flattering color scheme for your balcony garden is a lovely option. Complimentary colors, such as the red and green in the photo above, make balconies appear more uniform and professional. Other great color combinations include red and white, greens and whites, yellows and oranges, and purples and blues.
14. Colorful Oasis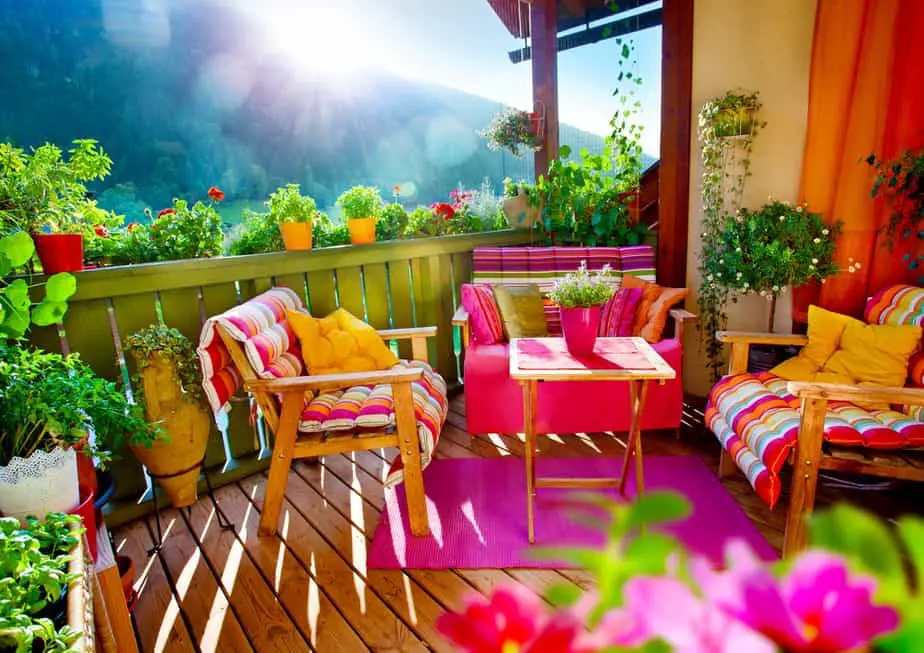 Say "aloha" to this gorgeous tropical balcony garden.
This colorful balcony garden is a must-have for the islander at heart. The vibrant colors of the furniture and the lush greenery lining the rails are enough to make us wish we had our toes in the sand.
Colorful pots are used to house bushy greens and florescent red flowers, adding stunning color visuals and taking up space. This would be a wonderful design choice for larger balconies.
It's almost like we can hear the ocean waves.
15. Floral Balcony Room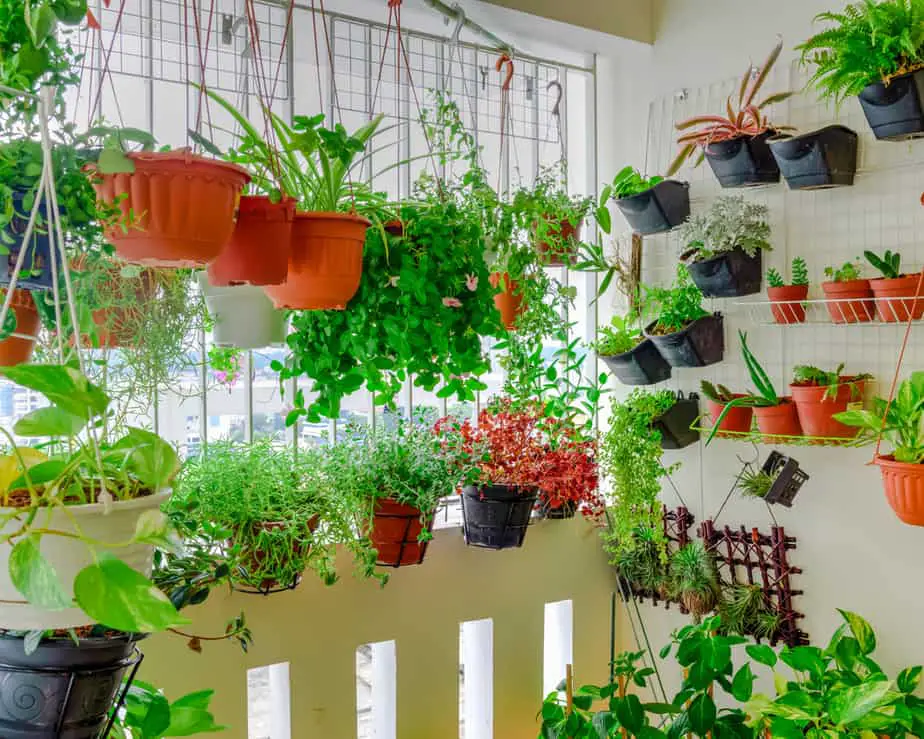 A makeshift conservatory, this balcony gardening idea would be a room extension of your apartment. To create this look, you can hang plant pockets from the ceiling above your railing, place hanging baskets on the ceiling, add wall planters, and anything else your little heart desires to fill the room with greenery.
You can purchase plant pockets at your local gardening center or online through Amazon.
Sale
Ogrmar 36 Pockets Vertical Wall Garden Planter Plant Grow Bag for Flower Vegetable for Indoor/Outdoor (36 Pockets, Black)
MEDIUM SIZE: 39.4" X 39.4" (100 cm x 100 cm), Built Well Enough For Growing Season, Can Match Several Planters Together For Covering Large Wall Areas And Move Randomly.
EASILY FIXED: Can be Easily Attach To a Fence by Zip Ties and mounted on a wall using nails with a larger heads. Or You are mounting to a wall with screws you should get washers to keep the heads of the screws from slipping through the grommets. And It is able to remove it easily.
ECO FRIENDLY MATERIAL: felt material, Holds moisture good and allows drainage and can breathe. Resistant, Eco Friendly and Non Toxic.
GROWING CONDITIONS: Water Retaining Felt Material Creates Perfect Soil Condition, Use For Indoor/Outdoor
36 pockets to grow a variety of plants
Last update on 2023-11-18 / Affiliate links / Images from Amazon Product Advertising API
---
General Gardening Tips
Now that we've gone over a few of the most amazing gardening ideas for your balcony, let's take a look at some general tips on how to care for your plants:
Know what your USDA Hardiness Zone is. Knowing which USDA Hardiness Zone you're located in will help you to better choose the plants that will thrive where you live. You'll also learn when it's best to plant edible plants in your area.
Be sure to follow the care instructions on your plants. Every plant has its individual needs. Some plants require more light, others prefer shade; some plants need watering every few days and others you won't have to water for weeks. Sticking to the care instructions will keep your plants happy and healthy!
Remove dying limbs or leaves. It's completely normal for plants to shed some of their leaves or branches. Once stems, branches, or leaves begin to wither and brown, be sure to prune them in order to keep the rest of the plant healthy. And once they've been pruned, use them in your compost!
Don't overwater your plants. This is one of the most common mistakes new gardeners make. As we mentioned previously, the care instructions will list how often you'll need to water your plant.
Use good – and the right – soil. Of course, different plants require different types of soil. But, generally, organic soils with natural feeders and nutrients is the way to go if you want thriving greenery.
Keep invasive plants quarantined. It goes without saying that plants that tend to be invasive to other kinds should be planted in their own planter to keep them from overpowering other plants.
 More fertilizer doesn't equal better plants. But good soil does (as we've mentioned). So don't go overboard with the miracle grow. Use less synthetic fertilizers and more compost.
Transfer your growing plants into larger pots. This seems like a no-brainer, but some people often forget to do this. It's important to transfer your plants to bigger planters once they begin to outgrow their nursery pot. This will, of course, give the plant more room to thrive.
Plant your plants when the weather permits. Many plants don't hold up well in colder conditions, so be sure to plant your vegetation whenever the season is suitable for your flowers (or for whatever else you'll be planting).
Don't plant or dig in wet soil. Digging in wet soil can compromise its structure, so be sure to plant your plants in drier soil.
Safety Tips for Balcony Gardening
Because balconies overhang streets, sidewalks, and other people's homes, it's necessary to use precautions when placing planters and plants on your balcony. Falling plants or plant pots have the potential of being extremely hazardous to people or pets below, and it's your duty to be sure everyone stays safe and sound as you decorate your little haven.
Here are a few safety precautions to keep in mind as you build your balcony garden:
DON'T set unsecured plant pots on your balcony railing. No matter how wide the railing around your balcony is, it's imperative to never place unsecured pots on the rails. When placing flower pots on rails, be sure that you're using a pot specifically crafted for rails. This dramatically lowers the chance of the pot falling and potentially hitting someone or destroying property below.
DO secure your hanging plants. Hanging plants should always be securely hung with heavy-duty metal hooks to avoid falling.
DON'T place small plants near openings in the railing. Small plants placed on the floor, such as budding cacti or succulents, have the potential of accidentally being knocked through large railing slits. Take care of where you place tiny plants. Sitting them on tables or shelves is a great alternative.
DO keep all of your gardening tools together. Keeping all of your gardening tools tidy will lessen the chance of them falling over the ledge or sliding under the railing.
DO protect yourself from potentially harmful plants. Plants with barbs, spikes, or jagged edges may pose a minor threat to your wellbeing. Always wear gardening gloves and a long-sleeved shirt when dealing with pokey plants.
Final Thoughts
It's no secret that apartments have limited space. But there are ways to utilize the available room to create visually stunning gardens. Your imagination is the driving force behind a great balcony garden, and there's no limit on the beautiful combinations. Keep your safety and gardening tips and mind, and most importantly, have fun!
We hope you enjoyed our article covering our favorite balcony gardening ideas!