The perfect backyard doesn't look quite as perfect with an overgrown lawn. When it comes time to break out the mower, you've got two choices: electric vs gas lawn mowers. While both will cut your grass down to size, they can differ in surprisingly significant ways. In this guide, we'll go over the major aspects of electric and gas lawn mowers and help you find the best mower for your yard. Let's get into it.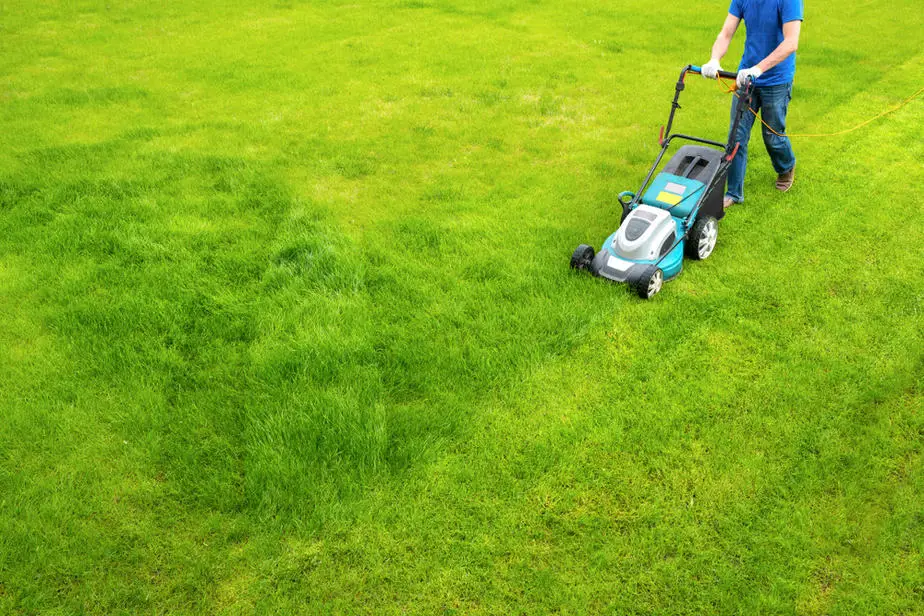 In a Hurry? Here's Our Top Picks…
1. American Lawn Mower Company 50514 Electric Lawn Mower
American Lawn Mower Company 50514 14" 11-Amp Corded Electric Lawn Mower, Black
Electric lawn mower with a powerful 11-Amp motor to cut all types of grasses; High efficiency, yet low-maintenance motor for gas-like cutting power.Motor : 120V, AC only, 60Hz, 11 Amps
Corded electric lawn mower with a large 14" cutting width and 5 changeable cutting height adjustments from 1" to 2.5"
2-in-1 rear discharge and mulching system that includes a hard-top 9-gal grass bag with grass level indicator for easy disposal
Corded lawn mower with adjustable handle height and position for easy and comfortable handling; Compact and slim frame with foldable handles for easy storage and transport
Lightweight and maneuverable; planet-friendly gas-free lawn mower
Last update on 2023-11-06 / Affiliate links / Images from Amazon Product Advertising API
This lawn mower features a powerful 11-amp motor that runs 14-inch blades to provide you with the cutting and clearing ability to handle lawns both large and small. This cutting width comes with five different positions you can switch between at will, allowing you to change the cutting height of the blade from 1 inch to 2.5 inches.
This lawn mower further features a rear discharge and mulching system. It's a perfect choice if you like to use your grass trimmings to fertilize your existing lawn. At the same time, this mower comes with a 16-gallon grass bag. You can switch between grass disposal methods depending on your preferences or goals for the current mowing session.
Add to all of these benefits multiple handle height positions and a compact and slim frame and you've got a fantastic machine that's suitable for most users. You can even fold up the handles to store it more easily. All in all, it's a great example of the versatility and easy operation offered by electric mowers without many downsides. Just be sure to keep the cord away from the wheels and blades and you'll enjoy it for a long time.
Things We Like:
Very easy to use and over
Has both grass disposal systems available
Blade type can be easily adjusted
Storing the mower is easy as well
Things We Don't Like:
Cord can get trapped and cut
Check Price and Reviews on Amazon
---
2. GreenWorks 20-Inch Corded Electric Lawn Mower 25022
Greenworks 12 Amp 20-Inch 3-in-1Electric Corded Lawn Mower, 25022
Powerful Cutting: The 12 amp motor and 20-inch steel deck with a 3600 RPM work together to cut through the toughest grass with ease
Versatile Cutting Options: The 3-in-1 system allows for mulching, rear bagging, and side discharge, giving you the flexibility to handle clippings in various ways
Easy to Use: The easy push button start and single lever 7 position height adjustment make using the mower a breeze, while the cam lock handle allows for easy folding and storage
Efficient and Durable: The durable steel 21-inch cutting deck gets the job done quickly and efficiently, while the AC corded power provides unlimited run-time with no gas, oil, or emissions
Extension Cord Requirement: It is important to use a 14 gauge 50' or 12 gauge 100' extension cord (not included) for optimal performance
Last update on 2023-11-07 / Affiliate links / Images from Amazon Product Advertising API
This is an electric lawn mower with a 12-amp motor that puts it on par with some smaller and lighter gas-powered machines. It also has a 20-inch steel back, affording space for a wide blade that can cut tall or thick weeds without an issue. There are seven-blade height positions adjustments you can make, offering ranges between 1.5" to 3.75". This is perfect for cutting through all types of grass or weeds, making it an ideal choice for homeowners or professional mowers alike.
It also features 3 different grass disposal methods. You can switch between the traditional two at your leisure: side discharge or the rear bag. You can also mulch the grass the mower collects to make it a better fertilizer for your existing lawn. This versatility is perfect for homeowners that switch their goals or needs from season to season.
This mower easy to start with a single button, plus foldable handles. It also features 10-inch rear wheels and 7-inch front wheels, so getting the mower where it needs to go is never difficult. All in all, this is a higher-powered variant of the traditional electrical motor with some great design choices that caught our eye. Pick it up if you're in the market for a motor that can handle anything.
Things We Like:
Offers lots of adjustments for blade height
Can be maneuvered anywhere
Very easy to start
Grass can be disposed of in three ways
Things We Don't Like:
Cord holder isn't very secure
Check Price and Reviews on Amazon
---
3. Sun Joe MJ403E Mow Joe Electric Lawn Mower
Last update on 2023-11-06 / Affiliate links / Images from Amazon Product Advertising API
This electric lawn mower and mulcher is a perfect pick since it can switch between both functions easily. It's a convertible machine that can accomplish both tasks quickly. It uses a 13-amp motor and cuts a 17-inch wide path, so it's a phenomenal choice if you have a larger backyard or need to cut through thicker weeds that have grown out of control.
You can switch between its modes of operation by clicking a button, the same way you can adjust the blade height positions, of which there are seven. This ease of use makes it an excellent pick for an electrical machine that will be used both by adults and teenagers. Even the grass bag, attached to the back, can be detached without much effort. Disposing of your grass trimmings only takes a few seconds as a result.
We also really like the cord holder here. Even though you have to be aware of the cord to ensure you don't run over it, keeping it in place with the holder near the handles is pretty consistent. The handles are at a comfortable height and ergonomic angles. When all is said and done, you can even pick this machine up for an affordable asking price and a warranty. Definitely consider this pick if you want a high-powered electrical power for your large lawn.
Things We Like:
Delivers great power to weeds and grass
Can be started easily
Converts into mulcher
The cord is held tightly
Things We Don't Like:
A bit loud, even for an electrical machine
Check Price and Reviews on Amazon
---
4. Craftsman M105 140cc Gas Powered Push Lawn Mower
Craftsman M105 140cc 21-Inch 3-in-1 Gas Powered Push Lawn Mower with Bagger, Liberty Red
140cc OHV gas powered engine: Engine comes equipped with recoil and auto choke. No more fussing with a primer or choke - just pull to start!.Clipping Collection: Rear bag collects grass clippings for easy cleanup or composting.
3-In-1 capabilities: unit has side discharge, rear discharge, and mulching capabilities.
21-INCH CUTTING DECK: Efficient cutting deck helps trim grass in one quick pass for an easier yard job.
Dual-lever adjustable cutting Height: Choose from 6 different height settings to suit user's needs.
Attached bagger included: bagger included with purchase to catch grass clippings you're your convenience.
Last update on 2023-11-06 / Affiliate links / Images from Amazon Product Advertising API
This is a gas-powered lawn mower with a 140cc engine. This affords its phenomenal cutting abilities, making it a perfect choice for chewing through thicker weeds or yards that haven't seen maintenance in some time. The engine is equipped with recoil and auto choke, as well. As a result, the mower starts consistently with almost every pull of the cord. It's also nice since you don't have to mess with a primer or choke.
It has a 21-inch cutting deck that can trim tons of grass in a single pass. The grass is ejected, stored in a bag, or mulched depending on your preferences. The bag comes with your purchase and is easy to attach or detach. You can also use the dual lever to adjust the cutting height, of which there are six positions.
This mower's wheels are 8 inches in the back and 7 inches in the front. This gives it plenty of maneuverability, even over rougher terrain. All in all, it's quite the tough mowing machine and plenty powerful for most lawncare needs.
Things We Like:
Engine power is fantastic
Easy to start
Three grass disposal methods
Easy to adjust the blade height
Things We Don't Like:
Check Price and Reviews on Amazon
---
5. PowerSmart DB2321S Lawn Mower
PowerSmart Self Propelled Gas Lawn Mower - 22 Inch, 200CC 4-Stroke Engine, 3-in-1 with Bag for Large Lawn Mowing, DB9422SR-DP…
200CC GAS ENGINE & 22-INCH MOWING DECK: 200cc 4-stroke engine deliver powerful back up for clearing tallest and toughest grass. 22-inch steel mowing deck allow you finish job with less mowing path.
SELF PROPELLED LAWN MOWER: 86lbs weight, metal deck with 8" front wheels and 11.5" inch rear wheels. Self-propelled with large wheels provides better trafficability and compatibility of different lawn.
ADJUSTABLE CUTTING DEPTH: 5-position grass height adjustment from 1.2" to 3.5", which allows you to change the cutting height to cut grass and overgrowth easily.
3-in-1 Mower with Bag: side discharge, mullching capabilities, rear bag discharge, helps you control the nutrients put back into the soil. With rear bag this mower can collect dead-leaves and grasses, clean up your lawn while mowing.
CUSTOMER SATISFICATION: PowerSmart is always aiming on providing great consumers value with the absolute best price and quality entire line of products. All of our products qualify for a 3 years warranty, Our service team will provide premium service to help solve any problem.
Last update on 2023-11-06 / Affiliate links / Images from Amazon Product Advertising API
This gas-powered lawn mower has an excellent 161cc engine. This exceptional power can be brought to bear on lawns or wild grass of all species and thicknesses; we think its engine alone makes this a perfect choice for professional mowers or homeowners that haven't tended to the grass in some time. Despite its power, the engine can be started with a consistent cord that does, nonetheless, require quite a bit of upper body strength to manage.
It features 3 grass disposal methods, just like the Craftsman, although the side ejection distance is a bit longer. This is perfect for spreading much around the yard or just ensuring that your yard trimmings don't get close to your porch. It also offers five-blade height adjustments, plus 8-inch rear wheels to make moving the mower about an easy affair.
The mower comes with a two-year limited warranty, although its durable shell and uppermost plating make it unlikely that this mower will ever face significant damage. Overall, it's a pricy pick, but well worth it if you want a heavy-duty mower that won't falter no matter how thick the grass of your lawn grows.
Things We Like:
Very power engine
Easy to start
Grass ejection is far from the mower
Very durable
Things We Don't Like:
Pull cord requires significant strength
---
What to Look For in an Electric or Gas Lawn Mower
Finding the right electric or gas lawn mower for your yard depends on focusing on these major factors.
Electric vs Gas Lawn Mower
There are two main types of lawn mowers: electric or gas. They can both cut grass but have several key differences that might affect your enjoyment of each.
Check Price and Reviews on Amazon
---
Electric lawn mowers come in two sub-types themselves: corded or cordless. While both of these lawn mower types run on electrical power, corded lawn mowers must be constantly plugged into a power outlet, usually located in your garage. This can be incredibly inconvenient, especially if you have to maneuver the lawn mower around a sizable yard.
Battery-powered lawn mowers are a much better bet for many homeowners. The batteries have to be charged independently of the main mowing machine, but they can normally be charged overnight or over a small number of hours and give you all the energy you need to trim most backyards. These batteries normally don't weigh too much, as a bonus.
Gas-powered lawn mowers can only function with a steady supply of gasoline, although they don't guzzle too much if you don't leave them running while you're not cutting. These lawn mowers don't tether you to your home or the charging port of your battery so long as you have a little extra gas lying around, making them an ideal choice for professional mowers or for mowing a lawn away from home.
In addition, gas-powered lawn mowers are frequently a little more heavy-duty than electrical lawn mowers. This makes them a better choice if you need to cut down tall or weeds and grass that put up more resistance than the typical small stuff. While some electrical lawn mowers can give gas-powered machines a run for their money, gas lawn mowers are usually agreed to be best when it comes to raw cutting power.
Overall, both types of lawn mowers can be effective for any size backyard. But we'd recommend going with electrical lawn mowers if you have a smaller yard to maintain and if you can get in the habit of charging the lawn mower battery when it's not in use. Alternatively, homeowners with larger backyards will want to stick to a gas-powered lawn mower if they can afford it.
Grass Disposal Method
Lawn mowers of either type will dispose of the grass they cut in one of two ways.
Bag
Many of the best lawn mowers will have attached bags at the rear of the main motor and blade unit. These bags catch grass cut by the blades, preventing it from fanning out over your perfectly trimmed lawn. Once you're finished mowing, you can detach the blades from the lawn mower and dumped the mulch into a waste bin or use it as fertilizer.
Bagged grass disposal methods are great if you don't want your yard trimmings to be spread amongst your grass to act as extra fertilizer, or if you're worried about grass trimmings spreading out over the rest of your property. For instance, it can make your porch look terrible if grass trimmings float over the deck over several days.
Keep in mind that these bags do have a limited capacity, so homeowners with larger lawns may need to periodically stop mowing to empty their grass bags.
Ejection
Many lawn mowers will alternatively eject any cut grass out from the side of the mower unit. The grass can act as fertilizer for the rest of your lawn and is propelled far enough away that you won't step on the trimmings immediately.
Obviously, this can have immediate benefits for your lawn if you don't regularly fertilize it, or if you don't particularly care about disposing of your cut across in an organized manner. It's quite an easy way to go about your mowing if you don't have to worry about grass trimmings floating onto your porch.
But you do need to be careful about where you direct your mower if it uses this grass disposal method since the funnel that ejects cut grass normally can't be adjusted or redirected. It will either come out of the left or right of the lawn mower. If you aren't careful, you could potentially spray somebody with grass trimmings if they walk on the wrong side!
Size
Your mower's size will determine its appropriateness for your backyard and any other mowing tasks. Homeowners with larger backyards would be smart to invest in bigger lawn mowers, they can have longer blades that cut more grass at once. These are, of course, much more demanding in terms of energy consumption, but it often works out to less time and energy spent cutting a larger lawn with a larger mower than trying to do it all with a more energy-efficient but smaller machine.
Alternatively, smaller lawn mowers are great if you have a smaller yard that requires more agile maneuvering. Smaller mowers are easier to handle and don't make as much noise, meaning they're a better pick if you have neighbors that are liable to complain about your rising early to get your weekend chores done.
Noise
Many lawn mowers will describe their motor noise levels in terms of dB, but overall we expect most people to want as quite a mower as possible. These days, it's even possible to find relatively high powered lawn mowers with quieter engines or mufflers. These can be really helpful if you don't want to disturb your neighbors or if your own ears might start to ring after hearing the drone of the motor for hours on end.
There isn't a single noise level that we'd recommend for everyone. Just keep this factor in mind so it can act as a tie-breaker between two otherwise equal lawn mowers. If you're stuck, just pick the one that isn't as loud.
Blade Type
Finally, consider the blade types that come with your lawn mower purchase. You can always purchase additional blades later, but the ones that come with your mower might save you some money if they're exactly what you need.
Low Lift
Low lift blades are perfect for smaller mowers and are great for trimming residential grass or keeping a trim lawn looking neat. They don't require a lot of maintenance and don't take a lot of energy to spin.
Medium Lift
These blades are a little larger and are better for cutting thicker grass and some species of weeds. As a result, their versatility makes them popular among both commercial and professional lawn mowers.
High Lift
High lift blades can cut down lots of tough weeds and chew through huge expanses of grass in no time at all. These blades take a lot more energy than the other two types but they're usually more durable and more efficient.
Mulching
Finally, mulching blades are great for composting your grass as it is cut. These blades are ideal for mowers that will be used to fertilize your existing grass even as they cut it to size.
The Best Lawn Mower Brands
This company's emphasis can be found right in the name. While they also create other landscaping tools, their primary focus has always been on lawn mowers and in ensuring that their customers only get the best machines.
GreenWorks is a manufacturing company dedicated to green technology and renewable power. As a result, all of their products use high-quality lithium-ion batteries that are known for their longevity and performance.
Founded in 2004, Sun Joe makes outdoor and landscaping tools of all varieties. While they don't specialize in anything, all of their products are well-made and developed.
Now controlled by Black and Decker, Craftsman was originally founded in 1927. They've been a big player in the tools and manufacturing departments for almost a century.
This American company features all sorts of outdoor equipment, plus a knowledgeable staff that's dedicated to creating high-quality products at rock-bottom prices.
FAQs
Q: Which Should I Use? Gas vs Electric Lawn Mower?
A: The right lawn mower for your yard depends on your yard size and priorities. Electric lawn mowers are easier to maintain since they don't require you to change their oil or mess with gasoline. It may also be cheaper, both on the initial purchase and over time since you won't need to purchase new gas again and again. Electric mowers are quieter and a little better for the environment.
Gas lawn mowers are more powerful and are more mobile provided you can bring the gas along. They also tend to be more durable and can cut through thicker grass without as much effort. They are louder, but they're a perfect choice if you need to do some heavy-duty mowing in the near future.
Q: Do You Start Electric Mowers Like Gas Mowers?
A: In most cases, electrical lawn mowers can be started through a button or key. This makes them easier to start than most gas mowers, which rely on the traditional pull cord method. This means that electric mowers are better for kids or teenagers, who may not have the upper strength required to reliably start the machine.
Q: How Long Do Lawn Mower Blades Last?
A: That depends on how often you use them and what kind of grass they cut. Thicker weeds will blunt lawn mower blades more quickly, but regular grass won't produce the same amount of wear and tear. Regardless, all lawn mower blades should be maintained by cleaning them every so often. Overall, most lawn mower blades should last at least a year of frequent use.
Conclusion
One's lawn mower choice reflects their goals or desires. For an electric mower, we'd be hard-pressed to go against the Sun Joe MJ403E Mow Joe Electric Lawn Mower, which offers phenomenal power and versatility, especially with its mulching mode. The PowerSmart DB2321S Lawn Mower is a similarly-great pick for gas-powered enthusiasts who want to chew through weeds with ease.
All in all, any of the mowers we chose above should be perfect for your lawn care needs. Good luck and thanks for reading!