For the environmentally conscious, a quality compost solution is a near-necessity. Instead of throwing all your old food scraps and lawn waste into a landfill, it's more sustainable to compost your organic waste and re-use it as fertilizer. And if you grow a backyard garden – or even grow a few flower beds – you've got plenty of ways to use your storage. Now, you could just use a traditional compost bin. But traditional compost bins take up a lot of space, and they can take a full year to produce reliable results. To help you speed up the process, we've set out to find the best compost tumbler on the market.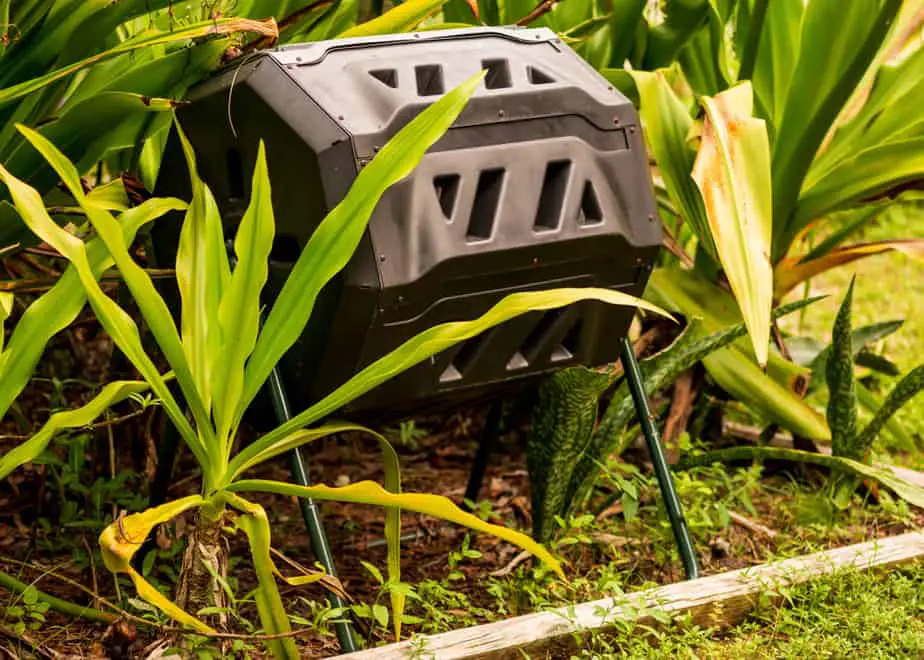 Let's get started!
In a Hurry? Here's Our Top Picks…
1. EJWOX Composting Tumbler
Garden Compost Bin from BPA Free Material, Dual Rotating Outdoor Composting Tumblers (43 Gallon,Black)
DUAL CHAMBER COMPOST BIN - Dual chamber composter allow for continuous composting. Fill up one while the other nears the end of the compost process, the rich black stuff ready to use. Once empty, that becomes the one to fill up while the other completes the cycle.
AERATION SYSTEM- Aerated internal bar mixes compost & allows needed airflow.Black, double-wall panels absorb and retain heat.Perfectly suited for your garden and for people not wanting to mix the organic waste in their traditional compost bin.
INGENIOUS TUMBLER DESIGN - Turns on axis for easy and balanced rotation.Easy slide doors will help keep track of each batch,the length of 1 door is 10.23" and the width is 6.1
CONVENIENT LOADING HEIGHT - Enough height to put a cart under this compost tumbler.Easy to turn barrel, waste mixed easily, fast batch composting.
STURDY POWDER-COATED STEEL FRAME - Powder-coated steel frame provides a sturdy base for the large compost bin.Galvanized steel feet prevent rusting and deterioration.
Last update on 2023-09-02 / Affiliate links / Images from Amazon Product Advertising API
The EJWOX Composting Tumbler is an affordable tumbler that has a 2-chamber design. This is exactly what it sounds like; rather than being built as a single, giant tub, each side is filled and emptied independently. Fill one side, then the other. By the time the second side is full, you'll be ready to empty the first side.
While the overall capacity is a relatively modest 43 gallons, this gives you the ability to use your tumbler continually, without the need to use a separate bin for storing compost while your bin is "cooking". This is a particularly useful feature if you plant at multiple times a year – for example, flowers in March, garden vegetables in May, and fall flowers in late August.
Both sides have their own sliding doors, although they don't turn independently. The price is very reasonable, particularly considering how rugged the design is. The polypropylene shell is surprisingly durable and stands up well to foul weather.
That said, the EJWOX Composting Tumbler is difficult to assemble. The instruction sheet isn't very clear, and the hardware isn't sorted. This means you'll need some patience during assembly, and you shouldn't fully tighten any screws or bolts until the unit is fully assembled. In the event that you mistakenly put the wrong screws in the wrong holes, you'll need to be able to easily remove and replace them.
Pros:
Compact size is ideal for small yards and apartment roofs
The 2-chamber design allows for constant use
Smooth, easy-to-use doors
Affordable
Cons:
Check Price and Reviews on Amazon
---
2. FCMP Outdoor IM4000 Tumbling Composter
Sale
FCMP Outdoor IM4000 Dual Chamber Tumbling Composter Canadian-Made, 100% Recycled Resin - Outdoor Rotating Compost Tumbler Bin for Garden, Kitchen, and Yard Waste, Black (37 Gallon)
Made in Canada from 100% post-consumer recycled plastic - The original 8-sided dual chamber tumbling composter.
TUMBLING COMPOSTER – Avoid digging and mixing your compost pile by hand. The tumbling design makes mixing easy and efficient. Just close the door and turn it 5-6 times every 2-3 days. In hot sunny conditions and with a proper balance of ingredients the compost can finish in as little as 2 weeks.
EASY TO USE – Fantastic for beginners! The large openings and removable door make it easy to add scraps/clippings and remove finished compost. Deep fins on the body provide great ergonomic handholds.
TWO COMPOSTER CHAMBERS ARE BETTER THAN ONE – Two separate sides allow the first side to finish while leaving the second side available to add fresh scraps/clippings. Continuously swapping sides after finishing will create an uninterrupted flow of rich, healthy compost. Total capacity 37 gallons (5 cu Ft)
EXCELLENT AERATION – All our composter models feature aeration holes as well as deep fins to break up clumps inside the chamber and mix lots of oxygen into the compost. Tumbling composters allow far greater aeration than standard models.
Last update on 2023-09-02 / Affiliate links / Images from Amazon Product Advertising API
The FCMP Outdoor IM4000 Tumbling Composter is one of the top-selling composters online. This Canadian-made compost tumbler is designed to stand up to even the most miserable weather conditions, with a cold-weather-friendly design that's ideal for cold climates, although ultimately sub-freezing temperatures will make your compost go dormant eventually no matter how tough the tumbler is.
It has a 2-sided design, although you wouldn't know that at first glance. Both chambers are part of a single tub with a dividing wall, so they turn together, rather than independently. They also share a single door, which can be slid to either side in order to add compost or dump it out into a wheelbarrow.
Because this composter is constructed from thick, black polypropylene, it heats up very quickly in the sunshine. This is a good feature in cold conditions since it will help keep your compost from freezing.
However, it can be a drawback in warmer climates. Even though the plastic is UV-resistant and very durable, it will get too hot and dry if you leave it in direct sunlight. In these conditions, make sure to leave your FCMP in the shade or partial shade, in order to keep it as cool as possible.
If you do decide to use this compost tumbler in a hot climate, turn it every 2 to 3 days. Turning your tumbler this often is normally not advisable, but with this particular tumbler in these particular conditions, it's a good idea.
Pros:
Tough, UV-resistant barrel with rust-proof galvanized steel frame
Opens from the top and empties from the bottom
Plenty of ventilation
The 2-chamber design allows for constant use
Rugged steel frame
Affordable
Cons:
Small, 37-gallon capacity
Check Price and Reviews on Amazon
---
3. Miracle-Gro Large Dual Chamber Compost Tumbler
Miracle-Gro Large Dual Chamber Compost Tumbler – Easy-Turn, Fast-Working System – All-Season, Heavy-Duty, High Volume Composter with 2 Sliding Doors - (2 – 27.7gallon /105 Liter), Black
YOUR RECIPE FOR PLENTIFUL PLANTS – Do you dream of a huge harvest or a front yard full of vibrant flowers? Achieve all of your garden goals with Miracle-Gro's large 2x - 27.7gal (105L) dual chamber rolling compost tumbler! It'll help you produce a constant and abundant flow of the coveted "black gold." Give your plants the nutrient-dense fertilizer they crave, and watch your garden bloom like never before!
DOUBLE-DUTY, CONSTANT COMPOST – Serious gardeners need an endless supply of compost to keep their gardens looking and producing their best. Miracle-Gro's turning garden composter does just that with its dual chamber design and high volume capacity. Add compost ingredients to 1 side, while letting the other side cure, and you'll never get caught without compost again!
FAST AND EASY – Stop struggling with that clunky, cumbersome, difficult to use outdoor compost bin! Miracle-Gro's rotating compost bin is easy to use for everyone. Our efficient tumbler system is simple to load and unload, while creating perfectly cooked compost without having to dig, turn, or mix by hand. It's also designed to speed up decomposition, yielding rich, fertile compost in just 4-6 weeks!
LONG LASTING DEPENDABILITY – With a name like Miracle-Gro, you know you're getting nothing but the best quality. This all seasons compost bin tumbler is crafted with sturdy side-locking mechanisms, a strong galvanized steel base, and tight seals to keep out unwanted pests. Plus, the BPA-free, food grade, UV-protected plastic ensures faster and more efficient composting all year round, while never leaching harmful toxins.
FREE BONUS GIFT – Achieve your garden goals with a FREE pair of Scotts multi-purpose gardening gloves! Each pair is latex-free, water-resistant, and features a no-slip grip, perfect for both indoor and outdoor projects. Grow your green thumb with Scotts and Miracle-Gro!
Last update on 2023-09-02 / Affiliate links / Images from Amazon Product Advertising API
The Miracle-Gro Large Dual Chamber Compost Tumbler is made by – who else? – Scotts Miracle-Gro, manufacturers of quality seeds, fertilizers, and all kinds of lawn equipment. So when we heard that this respected brand was producing a compost tumbler, we were excited to see what they had to offer.
This is another 2-chamber tumbler, but unlike the last two we've looked at, the chambers on this tumbler can be operated with independent handles. This makes it an ideal choice for anyone with back problems or limited strength because you only have to turn half of the tumbler at a time.
Each side of this unit has a capacity of 27 gallons. This makes for a generous total capacity of 54 gallons, while still keeping each chamber light enough to be easy to rotate.
The frame and the chambers are both very durable, with a stainless-steel frame and polypropylene drums. That said, the drums mount to the frame with plastic clips instead of actual screws and brackets. This gives us some concern about long-term durability, although it certainly seems sturdy enough when it's first assembled.
Because each side of this unit is fairly small, it can also process compost faster than most larger units. If you're rotating on a reasonable schedule, you can have a small – but useable – batch of compost ready to go in as little as a few weeks.
Pros:
Thick, rugged polypropylene body
Durable frame
The 2-chamber design allows for constant use
Easy to open, turn, and empty
Cons:
Check Price and Reviews on Amazon
---
4. Spin Bin Composter
No products found.
The Spin Bin is a relatively new composter on the market. As a matter of fact, it's the only product that the manufacturer even offers. But don't underestimate the Spin Bid just because it's young. It's got a lot to offer.
To begin with, you're looking at an impressive, 60-gallon capacity. This gives you enough compost to fertilize a fairly large garden and enough capacity that you're not going to run out of space halfway through the summer.
This is a drum-style composter, so the body looks more like an oil drum than it looks like anything environmentally-friendly. The drum is vertically oriented, which is an unusual design, but conveys an unusual advantage: it causes the compost to drop further with each spin, which gives more opportunity for aeration. Aeration is further improved by the 20 ventilation slots on the outside of the unit, which allow for plenty of airflow.
The Spin Bin is made in the USA, and it comes with a 2-year manufacturer's warranty. This gives us a lot of faith in the overall quality of the design. The only thing we didn't like is that it can be heavy when it's fully loaded. If you have back problems or limited arm strength, you may only want to fill it up partway.
Pros:
Excellent ventilation
Large storage capacity
Easy to rotate
Can be filled or emptied from both sides
2-year manufacturer's warranty
Cons:
Fill openings are on the small side
Check Price and Reviews on Amazon
---
5. Jora Composter Tumbler JK270
Jora Composter JK 270 - Outdoor Dual Chamber Compost Tumbler - 70 Gallon - Galvanized Steel Construction
Save Time and Effort - The Jora Composter is thoughtfully designed for ease of use and simplicity of rotation. Acting as a compost turner, it can be effortlessly turned by hand whenever waste is added. With dual chambers, while one side is being filled, the other matures, providing a continuous composting process.
Incredibly Well Built - Unlike most outdoor composting bins, the Jora backyard composter boasts stable, food-grade, non-toxic insulation. This unique feature allows temperatures to soar beyond 160 degrees F, ensuring quick and efficient composting.
High Volume Capacity - With a generous volume of up to 70 gallons and the ability to handle 7-8 gallons of waste per week, the JK 270 is the ideal large compost bin. Keep it conveniently placed outside, enabling you to dispose of waste in an efficient and environmentally-friendly manner.
Improved Aeration - The Jora Composter stands out as one of the few compost bins equipped with side vents, facilitating a steady flow of oxygen into the compost mixture. Coupled with kitchen waste (green) and a carbon source (brown), these side vents ensure successful composting.
Attractive Backyard Addition - Designed with our customers' convenience in mind, this compost tumbler boasts an appealing look and feel. Crafted from galvanized steel, it not only enhances durability but also adds a touch of charm to your outdoor space.
Last update on 2023-09-02 / Affiliate links / Images from Amazon Product Advertising API
The Jora Composter Tumbler JK270 is the only metal-bodied composter on our list. While many metal tumblers are prone to rust, this one is constructed from galvanized steel, which means the only rust you'll see is on the tips of the bolts where they protrude from the frame. Other than that, it's going to stay sleek, shiny, and intact for years.
That said, the metal body is significantly heavier than your average plastic compost tumbler. It weighs 52 pounds, so you'll need a friend to hold it in place while you screw in the bolts for assembly. That said, it's exceptionally sturdy, and can handle significantly more abuse than your average plastic tumbler.
The JK270 has a large, 70-gallon capacity, making it the beefiest composter on our list. If you're looking for a compact way to process a year's worth of kitchen waste, this is a great choice.
You might think a metal composter would be cold, but you'd be wrong. The walls on this unit are insulated for warmth, and the door seals firmly. Not only does this keep your compost from getting too warm, but it also ensures that the smell of rotting vegetables will remain inside the drum unless the doors are open. You'll appreciate this, and so will your neighbors.
Pros:
Insulated walls are ideal for cold climates
Strong door seal eliminates odors
Easy to rotate
Large, 70-gallon capacity
Rust-proof galvanized frame and painted body
Cons:
Difficult to assemble
Expensive
Check Price and Reviews on Amazon
---
Compost Tumbler Buying Guide
Choosing the best compost tumbler is only possible if you know what you should be looking for. With that in mind, we've put together a handy buying guide to help you sort out which tumbler is the best for your needs.
Size
Size is a consideration for two reasons: first, if you have a small yard or you're working on an urban roof garden, you may not have enough space for a big tumbler. And in those situations, you're not likely to need enormous quantities of compost, to begin with.
On the other hand, if you have a large yard with a large garden, you'll need a proportionally larger composter. Not only will this allow you to fertilize a big garden, but it will also give you something to do with some of the leaves and other debris that litter your lawn.
Ultimately, there's no "right" size. It all depends on the size of your lawn and garden. Also, keep in mind that a large, single-chamber tumbler will be easier to turn than a smaller one.
Materials
There are three types of materials that are used to build compost tumblers.
The first is plastic. Plastic does an excellent job of retaining heat and is also very durable. Just be careful not to get a plastic tumbler that's too thin; invest in a tough, rugged unit, and you'll be much better off.
The second material is metal. Metal is harder to puncture than plastic but is typically easy to dent. Ferrous metals are also vulnerable to rust, which you don't need to worry about with plastic.
Finally, some tumblers are made of wood. Wood does a great job at heat retention, but many cheap woods will rot along with your compost over time. Look for a reliable, rot-resistant wood like cedar.
Different Varieties
Depending on your needs, you might want a different style of tumbler. Barrel-style tumblers are designed to be rolled along the ground, although many newer models are built on an axle and are designed to be spun by hand. Other models have a hexagonal or octagonal design and have handles that are designed for easier spinning.
Both types of design are sometimes dual-chambered. This design allows you to load one side at a time, so you won't have to store your compost in a separate bin while you wait for it to finish.
Other Considerations
One thing that many people overlook is how easy the tumbler is to turn. This is something you can ultimately only learn by putting your hands on the unit, so we recommend testing your tumbler immediately if you've bought it online. That way, if it's not right for you, you'll have time to return it.
Ventilation is also important. Without proper air circulation, bacteria won't have enough oxygen to break down your organic waste. This is a bigger concern for composters than for tumblers since it mixes your compost with air when you spin it. Still, look for a composter with plenty of air holes.
Patience is a Virtue
So, how long does it take to get a quality batch of compost? With a standard compost bin, it can take up to a year. But a tumbler will get the job done in around three months. Obviously, this is dependent on climate. In colder areas, the composting process will take longer, and will stop altogether in winter if the compost freezes.
Provided your compost isn't frozen, how quickly it fully decomposes will also depend on how often you turn it over. Ideally, you should be turning your pile every two to four weeks. Any longer than four weeks and your decomposition will slow down. But don't turn your bin over more often than every two weeks. It takes two weeks for heat to fully build up in the bin, and heat helps speed up decomposition.
Pros & Cons of Compost Tumblers
Before we move on, let's take a minute to talk about why you should – or shouldn't – choose a compost tumbler, to begin with. For more information, watch this video about different types of composters.
Pros:
They keep pests out of your compost. Old, discarded food is bound to attract rats, stray cats, and raccoons. If you don't want to wake up to the sight of compost strewn all over your lawn, a compost tumbler will keep it contained.
They're less smelly. Composting is an important way to help the environment and grow your garden, but compost stinks. A compost tumbler keeps your fertilizer contained, so you'll only need to smell it when you're actually using it.
They're faster than a compost bin. We've already talked about timelines before, but this is a significant advantage. If you want to compost in weeks instead of months, a tumbler is the right tool for the job.
They save space. If you live in the suburbs or the country, you've probably got plenty of space for a traditional compost bin – although you may have limitations if you live on a very small lot. That said, if you're living in an urban environment, growing a roof garden may be your only option. In this case, a compost bin is impractical, but a tumbler is perfectly suited for the purpose.
They're easier on your back. Take a look at this video of a guy turning over his compost pile. If your back hurts just from watching that video, you'll probably be better off with an easy-to-use compost tumbler.
Cons:
They cost more than a compost bin. As we've demonstrated, you can buy a decent compost tumbler for the price of a new pair of dress shoes. But if price is a concern, you can build a compost pile for free.
Moisture can become a problem. In a traditional compost pile or bin, any excess moisture will simply drain out of the bottom of the pile and soak into the ground. With a tumbler, you need to provide the right balance of material to prevent the compost from becoming waterlogged. Here's a video with more information about fixing wet compost.
Best Compost Tumbler Brands
EJWOX: EJWOX is a European gardening manufacturer that was founded in 2004. They got their start by producing fruit presses, and quickly expanded into other home gardening needs such as compactors. They've recently expanded from Europe to sell in the US.
FCMP: FCMP was founded forty years ago as Forest City Models and Patterns. While they started with an emphasis on landscaping tools, they've since grown to produce a variety of lawn and garden equipment. Located just outside of London, Ontario, they're now a global business.
Scotts Miracle-Gro: If you've ever been to a nursery center, you're familiar with Scotts. This company was founded by Civil War veteran Orlando McLean Scott in Marysville, Ohio in 1868. While they started as a grass seed company, they've since expanded to offer a variety of lawn and garden products.
Spin Bin: This is a relatively new startup brand that's made in the USA. If you've never heard of them before, we wouldn't be surprised. The Spin Bin Composter is their only product! It's highly reviewed, very popular, and it's made in the USA.
Jora Composters: Jora stands for Johnathan Ramious, a Swedish engineer who set out to solve the problem of composting in cold climates. In 1989, he patented his first compost tumbler. In 1991, Jora Composters was born, and they've been producing a variety of quality composters ever since.
FAQ
So, you still have questions? Good! We've got answers. Here, we'll clear up some common points of compost tumbler confusion.
Q: Do I Need to Wet Down My Compost?
A: Generally not. Most compost is already moist unless you're trying to compost large quantities of dried leaves – which we wouldn't recommend. As a matter of fact, adding water can cool the compost off, slowing down the decomposition process. That said, in very dry areas, it may be necessary to add moisture from time to time.
Q: What Do I Do if My Compost is Wet and Soggy?
A: Your compost bin should be moist, but it shouldn't be wet. If there's actual water swishing around in there, or if the compost resembles a pile of gooey much, you need to add more carbon-rich material. As a general rule, carbon-rich material (greens and lawn clippings) tend to lead to a dry compost, while nitrogen-rich material (most vegetables) leads to wet compost.
So, if your compost is too wet, throw in some lawn clippings. If it's too dry, you'll want to limit how much lawn waste you add and focus instead on composting vegetables for a bit. At the end of the day, you want your compost to have a moist, loose consistency that's not sticky or gooey.
Q: What Do I Do if My Composter is Too Heavy to Spin?
A: If you tested your composter on arrival as we recommended, you should have no problem turning it. That said, there are a couple of things you'll want to check for. First, make sure the composter is level. If it's not, shim up the low side with bricks or pavers.
Another possibility is that the composter is so full that you're having trouble turning it. In this case, consider only filling your tumbler two-thirds or even half of the way to keep it from getting too heavy.
Q: Do I Need a Compost Starter?
A: Compost starters have become popular in recent years. These compounds are basically a pre-packaged compost that's rich in plant-eating bacteria. By adding some to your compost, you can, in theory, increase the rate of decomposition.
In reality, they're only really helpful when you're making your first batch. After that, you can simply save a few handfuls of your old batch to use as a starter for the next load. You can even use rich garden soil as an alternative.
Jobe's Organics 09926 Fast Acting Fertilizer Compost Starter, 4 Pound
Organic compost starter with Biozome; Speeds up the composting process; Ideal for compost piles
OMRI listed for organic gardening by USDA;
Jobe's Biozome.the proprietary microorganism archaea that aggressively breaks down organic material for faster results
Jobe's Biozome improves soil conditions, and drought during the growing season
Easy pour bag; Guaranteed fertilizer analysis: (4-4-2) 4 pound bag; Apply every 4 to 6 weeks
Last update on 2023-09-02 / Affiliate links / Images from Amazon Product Advertising API
---
Q: Do I Need to Put My Composter in the Sunlight?
A: At first blush, it might seem logical to put your compost tumbler in direct sunlight. After all, as we've discussed, heat helps speed up decomposition. Wouldn't you want to put your composter in the sun?
In reality, it depends. This can be a good idea if you live in a colder climate since it can keep your tumbler warm enough on chilly early spring and late fall days. But in warmer climates, it's not really necessary.
In addition, plastic composters can fade or warp when they get too warm. Unless you want to replace your tumbler within a year or two of buying it, keep it in the shade or partial sun, and keep the plastic safe from any damage.
Wrap Up
So, what's the best compost tumbler on the market?
It's hard to make a case against the Spin Bin. This composter combines the best aspects of just about every other option. It has a large capacity for all-year use, and it's constructed from tough, heavy-duty polypropylene that can take a serious beating. In addition, it comes with a 2-year warranty, something you don't often see with non-powered outdoor equipment.
That said, the Spin Bin can get heavy when it's full. What if you don't want to deal with turning such a large container?
In that case, we recommend the Miracle-Gro composter. Because the sides are operated independently, you won't have to handle nearly as much weight. If you suffer from back pain, or even if you're just a senior citizen and don't want to overstress yourself, this is a good choice.
Finally, in very cold weather, the FCMP is the best of the bunch. We've discussed how this tumbler was developed in chilly Sweden. If you live in a chilly area, this is a great tumbler for you.
And that about covers it! We hope this guide was helpful and informative. Now go get the best compost tumbler for your needs.