The leaves are changing colors. The weather is getting cooler. Fall is finally here! Time to get outside and enjoy nature with your family and friends.  What better way than to camp in your own backyard? In this article, we'll show you how to camp out in your backyard!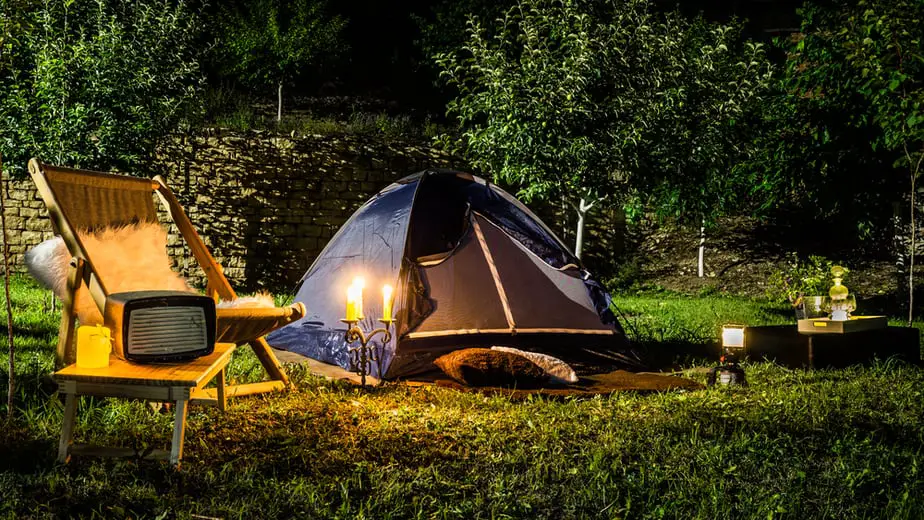 Are you planning a big camping trip with family or friends? Why not do a practice run in your backyard? Maybe you'll find out there's something else you need to make the trip a successful one.
Let's get started, campers!
Camping in the Backyard
First things first: get prepared for a fun night in your own backyard. Even though you will only be steps away from your back door it's always a good idea to plan ahead.
We're going to help you make this experience an amazing one!
Step 1: Plan Ahead
The first step in our "how to camp in your backyard" guide is to check the weather to make sure it will be good for camping. Make sure it will be warm enough (but not too warm). You also need to make sure it is not too cold to sleep outside. Check for rain in the forecast, as well.
Do you have a tent to sleep in? What about sleeping bags? Are there certain games you want to be prepared to play? What about the food? Do you need bug spray?
We recommend that you take some time to make a list. Write down everything you need for your camping adventure. Make another column and write down everything you still need to buy.
Step 2: Get Your Food Together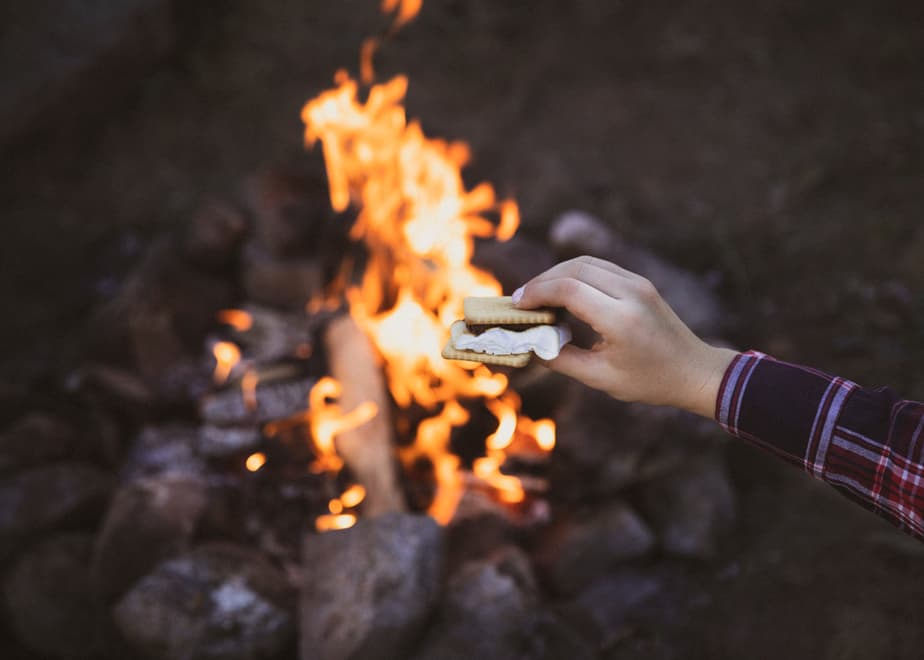 The second step in our "how to camp in your backyard" guide is to get the supplies. Head to the store and get the food you need if you don't already have it.
We suggest buying the ingredients for smores, hotdogs, buns, chips, and drinks. After all, what's a camping adventure without smores? Don't forget your Hershey's chocolate bars, big marshmallows, and graham crackers.
You'll, of course, want to have a place to eat your meals comfortably.  If you have a backyard table and chairs set up that would work great!  If not, get a blanket and throw it down on the ground, spread it out, and have a picnic in front of the tent or campfire.
And don't forget to grab something for breakfast the next morning!
Step 3: Build a Campfire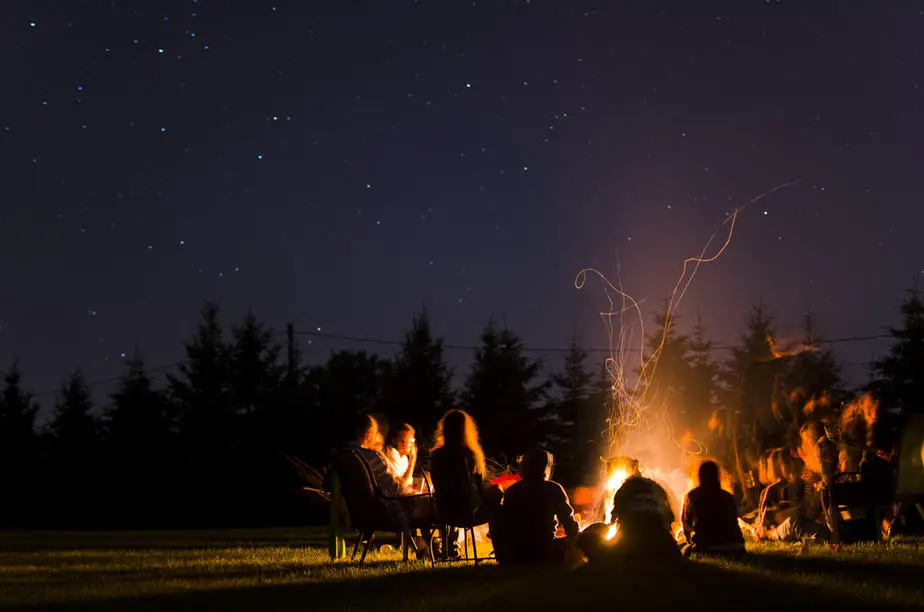 The third step in our "how to camp in your backyard" guide is building a campfire.
Before you do anything, check your local laws or rules to make sure you can start a campfire in your yard. Sometimes there are burn bans in effect, so be sure you're in the clear.
When preparing for a campfire, make sure you have dry wood and something to start the fire with. When you've got your fire going, you may want some roasting sticks to cook some open-fire treats on:
Ajmyonsp Marshmallow Roasting Sticks Smores Stick for Fire Pit - Hot Dog Campfire Skewers Mashmellow Camping 32 Inch Long Extendable Forks 5 Pack
HIGHEST QUALITY STAINLESS STEEL & SCALDING RESISTANT WOODEN HANDLE - The collaspable marshmallow roasting sticks are made of 304 Stainless Steel, easy to clean and no rusting. Smooth comfortable wooden handles gives you a firm, steady grip and no more hot handles.
SAFE FOR KIDS - Campfire hot dog sticks have a telescopic design, that could be stretched up to 32 inches, you can ensure that your child is always at a safe distance from fire. The end of the stick is a non-pointed, blunt flat design to prevent kids from hurting your fingers and accidentally harming yourself or others.
SMORES MAKER ESSENTIALS - You can enjoy delicious food with family after combining toasted marshmallows with graham crackers and chocolate. With two non-sharp prongs so you can easily hold marshmallows, hot dogs, sausage, tomato, onion, steaks, meat, chicken wings, wieners, vegetables. Easily rotating fork of your fingers prevent marshmallow, hot dogs, and sausages from uneven cooking.
EASY CLEANING & STORAGE - Cleaning the roasting sticks is very easy! You just need to put the tips in a glass of water for about 15 minutes. Our telescoping marshmallow sticks come with a heat-resistant and waterproof bag, so you can easily take it with your campfire and camping cooking equipment. Drawstring bags are convenient for long camping trips or storage at home.
PERFECT GIFT FOR FAMILY & FRIENDS - Best smores skewers for anyone looking for a high quality, great value product to enjoy at the cookout. 5 pcs different color sticks, the color ends of the handles make each one easy to identify. Color coding helps keep track for the kids. Everyone can find one they like, and have a great campfire evening!
Last update on 2023-11-24 / Affiliate links / Images from Amazon Product Advertising API
If buying roasting sticks isn't on the table, then you can use a wire hanger to roast over the fire. Unravel the hanger and straighten it out to use it as a roasting stick. We suggest holding it over the fire for a little bit before use to sterilize the end. Be careful when using the hangers for long periods of time, as they might get hot.
Additionally, make sure that you have enough wood to last you through the night and the morning if need be.
Take this wood-gathering time to review or teach fire safety rules with the kids. Remind them not to run near a fire or touch it, and don't forget to teach them how to carefully use their roasting sticks.
Campfire Safety Rules:
Make sure it is not too windy.
Check for the burn bans discussed above.
Never leave a campfire unattended.
An adult should always supervise around a fire.
Keep a bucket of water or sand nearby.
Step 4: Gathering Supplies
Put all your supplies in one spot. It's best to have everything nearby, in one central area, so that it's easier to set up when the time comes.
Supplies to Have Ready:
Tent
Sleeping bags, blankets, pillows
Extension cord
Air mattress
Fan or heater
Craft supplies
Games and entertainment supplies
Evening meals of your choice
Treats of your choice
Breakfast food of your choice
Firewood, matches, lighter
Something to start the fire with
Step 5: Setting Up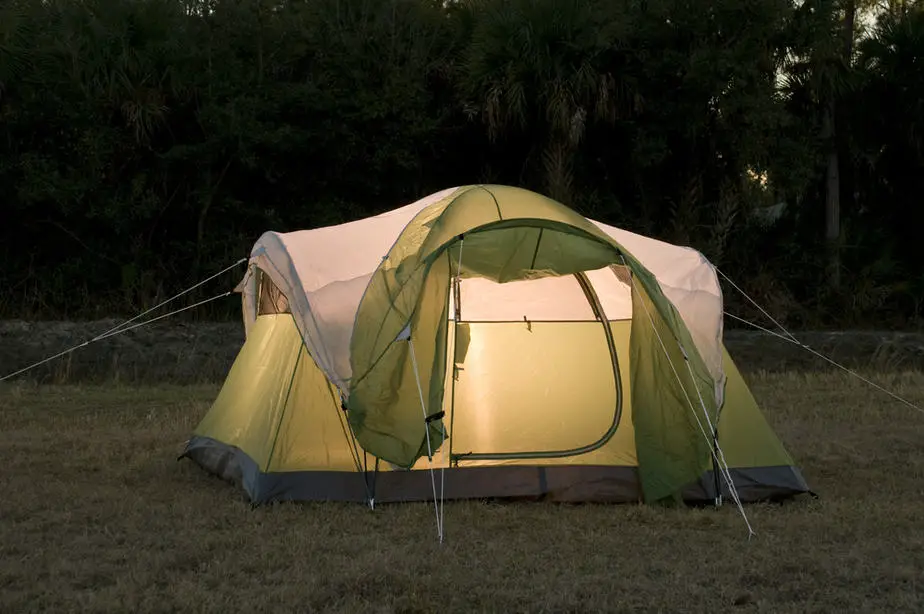 The fifth step in our "how to camp in your backyard" guide is to get set up.
Start by setting up your tent. Find a nice level spot in your backyard to set your tent up. Hopefully, you have a tent that is fairly easy to put up – some tents are a pain!
If you have air mattresses, get them out and blow them up. Make your beds. If an air mattress isn't your thing, we recommend getting foam floor mats. They interlock and make the ground a bit more soft for your family when sleeping in sleeping bags.
Sale
BalanceFrom Kid's Puzzle Exercise Play Mat with EVA Foam Interlocking Tiles, 9 Colors (36 Tiles)
16-Tile: Item comes with 16 tiles in 4 colors and 24 end borders (6 boarders each color). Each tile measures 12"x12"x0.4". Each square = 1 square foot; total coverage 16 square feet (4' x 4' area)
36-Tile: Item comes with 36 tiles in 9 colors and 54 end borders (6 boarders each color). (9 different color tiles, each tile has 4 piece) each tile measures 12"x12"x0.4". Each square = 1 square foot; Total coverage 36 square feet (6' x 6' area)
Nontoxic, tested free of lead, BPA's and Phthalate; Meet or exceed the US regulated toy safety standards. Easy to clean with damp cloth & mild soap. Interlocking feature and make it very simple to assemble
With high density EVA foam, the 0.4'' thick premium mat comfortably cushions spine, hips, knees and elbows on hard floors. With double sided non-slip surfaces, BalanceFrom puzzle mat comes with an excellent slip resistant advantage to prevent injuries
Last update on 2023-11-24 / Affiliate links / Images from Amazon Product Advertising API
If the weather isn't a comfortable temperature, you may want to use a fan or a small heater that you have stored somewhere.
Finally, get your campfire set up and you'll be ready to go!
Step 6: Figure Out Activities and Entertainment
Our sixth step in our "how to camp in your backyard" guide is picking out activities and games. Decide what you want to do ahead of time so when it comes time to play you will be prepared.
Maybe you want to find some good outdoor games for your adventure of camping in the backyard? Or perhaps you'd like some fall activities to do as you enjoy the crisp Autumn air?
Let's go over some of our favorite campsite activities:
1. Catch Fireflies
If it's warm enough for fireflies then why not try to catch fireflies? If you see a firefly try to catch it and check it out. Once you're done, release it back where you found it.
2. Flashlight Hide and Seek
Flashlight Hide and Seek is basically just a normal game of Hide and Seek. The only difference is that you play at night and use flashlights to find players and light your way.
3. Cornhole
A popular game we love is cornhole. You can play this with two to eight players, and it's great for both kids and adults alike!
Equipment:
Two sets of bags. Four bags in each set.
To make things easier, make sure each set of bags have a different design or color. You will be able to tell them apart when throwing at the same board.
Two cornhole boards. Cornhole boards are raised boards with a hole in the middle at the top. The boards are 2 by 4 feet and the hole is 6 inches centered 9 inches from the top. Each board is angled with the top of the board 12 inches off the ground.
Rules:
You stand behind the board to throw the bags. They can be thrown from the left or right side of the board as long as you are still behind the board.
You alternate turns to throw the bags. Try to get the bag into the hole or at least on the board.
If the bag goes into the hole you get three points.
If the bag lands on the board you get one point.
4. Outdoor Treasure Hunt
Have fun with a backyard treasure hunt.
Grab some of your kid's favorite toys.
Hide them around the backyard.
Make a simple map to help locate them.
If you want to make it a little harder, do the treasure hunt in the dark with flashlights.
5. Backyard Twister
Grab some grass paint and turn a spot in your yard into a twister game. How much fun could that be?
6. Lawn Darts
Play lawn darts.
7. Flashlight Tag
It is just like regular tag but the tagger gets a flashlight. The tagger will tag people with the flashlight instead of their hands.
8. Glow in the Dark Ring Toss
Grab some glow in the dark necklaces.
Stick a few sticks in the ground.
Throw the necklaces and try to get them around the sticks.
9. Explore bugs
If it is still warm enough see if you can find bugs. See how many different bugs you can find in five minutes.
10. Play Telephone
Sit around the campfire. You start with one person. That person whispers something into the next person's ear. Then that person whispers what they heard into the next person's ear and so on. See if you ended with what the first person whispered.
11. Twenty Questions
This word-guessing game can be played with two or more people. Before we go over the simple rules, let's explain some terms: "Animal" refers to any living thing. "Vegetable" refers to all plant life and things made from plants. "Mineral" refers to all nonliving things.
To play, get one person to think of an object. Then, have everyone ask up to twenty questions to try to guess what that person is thinking of.
The players should start by asking if it is an animal, vegetable, or mineral. Then they'll ask up to 19 yes or no questions. The person or team who guesses correctly chooses the next object.
13. Sing Campfire Songs
There is just something about singing around a campfire. And we have just the songs to get you started:
She'll be Coming Around the Mountain
Stand by Me
This Little Light of Mine
The Bear Went Over the Mountain
Or whatever song your group can agree on!
14. Tell Stories
Picture this: You're sitting around the campfire. Your bellies are full of delicious food. You've played a few games and sang some songs. The fire is blazing warm on your face. You're relaxed and having an amazing time making memories with your family or friends.
What better way to make the evening even more memorable than by telling a story or two? You can tell funny or scary stories or talk about your favorite memories as you make new ones. Telling stories is a classic campfire to-do!
15. Stargazing
Why not try to learn about the stars and the moon? Look to see if you can find the Little Dipper, Big Dipper, Hercules, and The North Star. Stargazing is one of the most beloved aspects of camping – and it can be done right in your backyard.
16. Make Campfire Popcorn
Have you ever heard about popping popcorn on the campfire? Try it out!
17. Drink Hot Chocolate
If it's cool outside you could drink hot chocolate around the fire. Don't forget the little marshmallows.
18. Camping Crafts
Have a contest to see who can create something with things only found in your backyard. Get creative and have someone judge the contest.
Step 7: Bedtime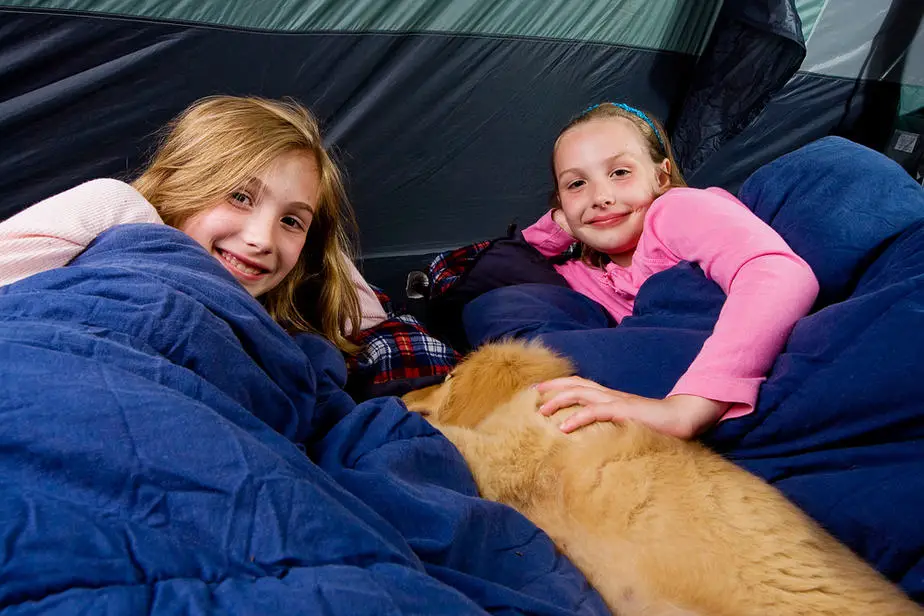 The best part about camping in your own backyard is that you can run inside to use the bathroom, take showers, and brush your teeth.
Be sure to always watch the campfire. Put it out before you go to bed. Remember to always have water or sand nearby to put it out in case you need to.  Go ahead and get the wood for a morning fire ready. It might be cool when you wake up in the morning.
It's finally time for bed. The fire is out. Get under those warm blankets. Hopefully, everyone is tired from all the fun they've had on your camping adventure.
If everyone is still wide awake, grab a flashlight and make shadow puppets in the tent. See how many you can think to make. Or have a thumb wrestling contest or play Rock, Paper, Scissors.
Step 8: The Next Morning
Whenever it's time to wake up, get the morning fire started and fix some old fashioned fire-cooked breakfast. Then just relax, play a few of those games from the night before, or take this quiet morning time to do some crafts with the kids.
Whenever you're ready to call it quits and start packing up, start with the blankets, pillows, or sleeping bags. Next, clean out the tent and put it away for next time. Lastly, clean up all of the games and crafts and put out your morning fire.
Conclusion
Whether you've already gone camping in your backyard and just needed a few new ideas or it's your first time going backyard camping, we hope our guide on how to camp in your backyard helped you out! We hope you have an awesome time with your family or friends.