Last week, we reviewed the best compost tumblers available online. These are a nifty, space-saving way to compost your lawn, garden, and kitchen waste. Best of all, they save your back a lot of stress, since you won't have to mix your compost with a shovel or a pitchfork.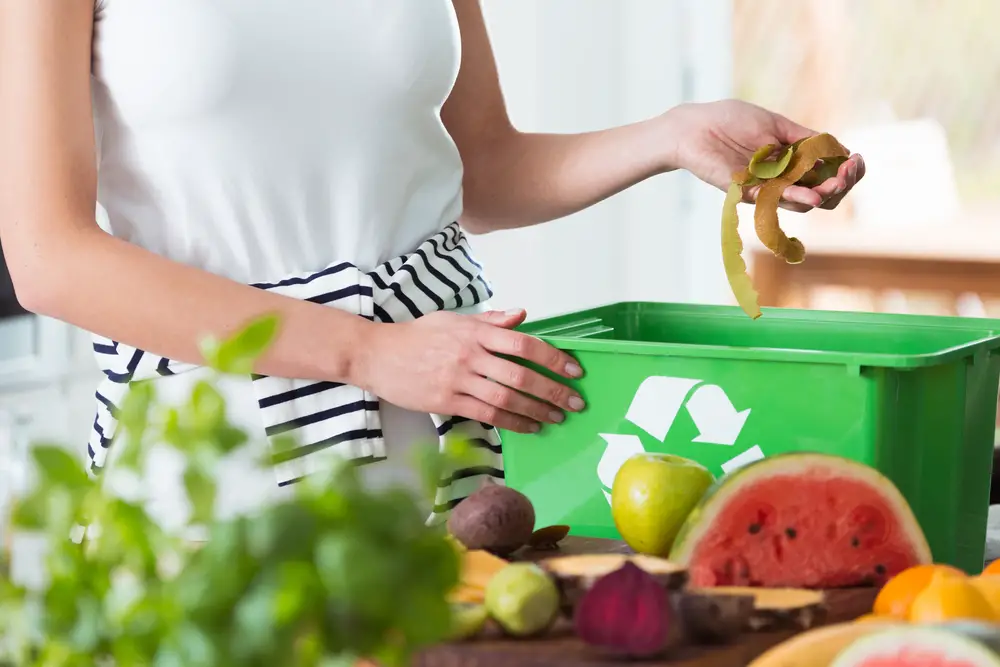 But what if you don't want to take your compost outside every single day? In that case, we'd recommend a kitchen compost bin. These are small, compact bins that are designed to sit right on your counter, so you can scrape out food waste as you're cooking and cleaning. Now, let's find the best countertop compost bin on the market.
In a Hurry? Here's Our Top Picks…
1. Epica Stainless Steel Compost Bin
Sale
EPICA Countertop Compost Bin Kitchen | 1.3 Gallon | Odorless Composting Bin with Carbon Filters | Indoor Compost Bin with Lid | Stainless Steel Kitchen Composter for Food Scraps & Waste Recycling
FEATURED IN BON APPETIT & FORBES: Recognized by renowned magazines, EPICA's compost bin is a perfectly sized marvel for your kitchen, compact yet spacious enough to hold days' worth of compostable organic waste. Measures 7.16" in diameter x 11" high.
CONTROL KITCHEN ODORS NATURALLY: EPICA's compost bin with an airtight lid and replaceable activated-charcoal filter can eliminate unpleasant odors in your kitchen naturally and conveniently.
EASY TO CLEAN & RESISTANT TO LEAKS: Our one-piece molded counter compost bin with lid, resists rust and leaks, making it easy to clean and maintain. Say goodbye to welded bins that deteriorate over time.
BUILT TO LAST A LIFETIME: Made of high-grade stainless steel, EPICA's counter top compost bin for kitchen is durable, scratch resistant, and won't leach toxic chemicals into your compost.
REPLACEABLE CHARCOAL FILTER FOR ODORLESS COMPOSTING: EPICA's specially designed activated-charcoal filter is essential for an odorless indoor compost bin. With proper handling, the filter lasts over six months.
Last update on 2023-09-27 / Affiliate links / Images from Amazon Product Advertising API
The Epica Stainless Steel Compost Bin is among the most highly-rated kitchen composters on the market. It has a classic, stainless steel look that matches just about any kitchen décor. In addition, there's also an activated charcoal filter inside the lid, which allows for plenty of air flow while eliminating odors.
The stainless steel construction is very strong and durable, so the Epica can stand up to a lot of bangs and bumps. It's also scratch-proof, so you won't end up with any grooves that can trap odors.
This unit measures 11 inches high and has a diameter of just over 7 inches. The overall capacity is 1.3 gallons, which is several days' worth of kitchen scraps for most people. That means you'll only have to dump your bin about once a week, depending on usage.
The charcoal filter is long-lasting and can lock down odors for up to six months. This is excellent protection, and the replacement filters are reasonably priced. That said, the top and bottom parts of the lid are tricky to separate, which makes the filter difficult to change.
Cleaning the Epica is easy and painless. Because it's crafted from a single piece of steel, there are no welded joints that can rust and hold onto odors. In addition, it's dishwasher safe, so you can clean it without the need to get your hands wet and wrinkly.
Pros:
Excellent odor control
Easy to clean
Tough and durable
Elegant design
Cons:
Lid design makes it hard to change the filters
Check Price and Reviews on Amazon
---
2. Linkyo Compost Bin
No products found.
The Linkyo Compost Bin is another stainless steel option that's designed to be tough and durable. The finish is resistant to both rust and stains, which means it's going to remain attractive for a long time. And the plain steel finish will match just about any kitchen, so you won't need to worry about it clashing with your décor.
The size of this composter is 11.2 inches tall, with a width of 7.8 inches. It has a thick lid, though, which limits the capacity to a gallon. That's still plenty for a few days' worth of fruit and vegetable scraps, though.
The Linkyo ships with a set of four activated charcoal filters for the lid. This makes it excellent at reducing odors. And since each filter lasts for three months, you'll have an entire year of odor protection.
Unfortunately, these filters have a loose mesh structure, and the lid has large air holes for oxygen flow. This is great for keeping bacteria active in the compost, but it provides a safe harbor for fruit flies. You'll need to stay on top of your cleaning game to prevent that.
One other thing we liked about the Linkyo was the sturdy steel handle. It rotates discreetly behind the bin when you're not using it, and swivels easily for carrying your compost outside.
Pros:
Easy to open
Simple to clean
Easy to maintain
Excellent odor control
Cons:
Vulnerable to fruit flies
Check Price and Reviews on Amazon
---
3. OXO Good Grips Easy Clean Compost Bin
OXO Good Grips Easy-Clean Compost Bin
Convenient size and design for everyday counter-top use
Lid flips up for easy filling and flips down to lock in odors
Smooth interior walls prevent foods and liquids from building up
Contoured bottom and removable lid makes emptying simple
Rotating handle for easy transport of waste to outdoor composter
Last update on 2023-09-27 / Affiliate links / Images from Amazon Product Advertising API
The OXO Good Grips Easy Clean Compost Bin is a plastic bin that's designed to be elegant and attractive. If you prefer the convenience and light weight of plastic, but you don't want something that looks like it came from the hardware store. The outer shell is available in black or white to match most kitchens, and the inner green layer adds an attractive splash of color.
This compost bin has a relatively small capacity, only ¾ of a gallon. This means you'll have to change it relatively frequently. On the other hand, kitchen scraps won't sit around long enough to stink up the kitchen.
The Good Grips' outside dimensions are 7 inches on all sides, which gives it a compact profile that will fit on most countertops. It's lightweight, and has no creases or crevices where gunk can build up and attract bugs.
One thing you'll appreciate about this compost bin is that it's dishwasher-safe. Be careful, though. The ABS plastic will warp and melt if it's too close to the heating element, so this is top rack only.
The Good Grips' lid allows for some air flow, although there aren't any vent holes. Then again, air flow isn't as much of a concern as it would be on a larger bin. With this small size, it's just not going to be sitting around for long enough for that to matter.
Pros:
Clean, attractive design
Very easy to clean
Easy to empty
Cons:
Check Price and Reviews on Amazon
---
4. Exaco ECO-2000
Last update on 2023-09-27 / Affiliate links / Images from Amazon Product Advertising API
The Exaco ECO-2000 is a big, beefy countertop composter that has a large, 2.4-gallon capacity. This is a great choice for large families, or if you have other materials like old newspapers or guinea pig bedding that are also compostable. The base measures 8 ½ inches by 9 inches, and the height is 11 inches, so you're still looking at a reasonably-sized profile for most countertops.
While it offers plenty of capacity, the ECO-2000 isn't going to win any beauty contests. It's forest green, and it's shaped like a miniature trash can, so depending on your kitchen it may not be a good match for your décor.
This compost bin comes with a 4-pack of carbon filters, each of which will last for 3 months. So you get a year's worth of odor protection before you'll need to worry about buying replacements. The filters are easy to replace, with a removable filter cover that clips in and out with minimal effort.
In addition, the filters and lid allow for plenty of airflow. On such a large bin, this is a necessity, since it will allow bacteria to get a head start on decomposition before you take your compost outside.
Like the Good Grips, the ECO-2000 is dishwasher safe, although as with any plastic bin you'll want to wash it on the top rack only. Given the large size, this may or may not be practical, so you might need to wash it by hand.
One thing we really liked about the ECO-2000 is the ergonomic handle. Not only does it swivel out of the way, but the scalloped design is comfortable to carry, and won't slip if your hands are wet.
Pros:
Good odor control
Large capacity
Can be wall-mounted
Cons:
Check Price and Reviews on Amazon
---
5. Gardenatomy Kitchen Compost Pail
Gardenatomy Kitchen Compost Pail Bin for Countertop - Large Decorative Copper Stainless Steel 1.3 Gallon Food Scrap Bucket for Indoor - Includes 1 Year Supply Filters and Bags (Stainless Steel)
BETTER VALUE: Most compost pails come with just 1 to 2 filters at most. Ours comes with an entire year's worth of dual charcoal filters & biodegradable liner bags... so you get more for your money.
PURE, PREMIUM STAINLESS STEEL: On the inside, our rugged bin is 100% stainless steel, seamless for leakproof strength. Rest assured it will never leach harmful chemicals into your compost!
BEAUTIFUL KITCHEN DECOR: Go ahead... set this gorgeous canister on any kitchen counter. With its glistening finish, it enhances any decor. Plus, it fits right in with all your other kitchen accessories.
NO MORE STINK: Insert one of our dual charcoal filters (included), then seal the airtight lid. The activated charcoal will neutralize odors, while the lid will keep any stray smells from getting out.
LOVE IT FOR A LIFETIME, GUARANTEED: If you don't absolutely love your Gardenatomy Compost Pail, send it back ANYTIME for a full refund of your purchase price. No questions asked!
Last update on 2023-09-27 / Affiliate links / Images from Amazon Product Advertising API
The Gardenatomy Kitchen Compost Pail is a beautiful, copper-plated stainless steel bin that has a classic, vintage look. On the one hand, it's hard to complain about how this bin looks on your counter. On the other hand, the copper finish is not well applied, and you'll notice it starting to wear off after a year or so of cleaning.
Then again, if this is a serious issue, you have a backup. Gardenatomy offers a lifetime satisfaction guarantee. Just call the company and tell them you need a replacement.
This bin ships with six charcoal filters, each of which is rated for two months of use. You'll have to change the filters more often than you will with some other models, but they offer fantastic odor control, and they're easy to slip in and out of the lid. You also get a roll of 50 liner bags, which makes emptying the Gardenatomy clean and easy.
The large air vents on the lid offer a lot of air flow. That isn't strictly necessary on a 1-gallon pail since your waste won't be sitting for very long. But it never hurts to give those microorganisms a head start in breaking down your veggie scraps.
Pros:
Beautiful, copper-plated design
Easy to clean
Excellent odor control
Cons:
Low-quality copper finish
Check Price and Reviews on Amazon
---
Countertop Compost Bin Buying Guide
Now that we've gone over our reviews, let's take a closer look at what makes a countertop compost bin worth buying – or worth taking a pass on.
Size and Capacity
Since this compost bin needs to fit in your available counter space, size is obviously a consideration. Make sure that you've got enough room available before you make your purchase.
Obviously, there's going to be a tradeoff here: the less space your bin occupies, the less capacity it will have. Most countertop models have a 1 to 2-gallon capacity, although some larger ones offer even more.
Material
Stainless steel is probably the most popular material used for home compost bins. It doesn't absorb odor, it's tough and durable, and it's easy to clean. In addition, it's a good match for almost any décor, so you won't have to worry about color.
Ceramic compost bins are also popular. They're a bit heavier than stainless steel, and they're both durable and easy to clean. That said, they're prone to shattering if dropped on the floor, so steer clear of ceramic if you have butterfingers.
Plastic is another common material. While it's not as tough as stainless steel or ceramic, it's significantly more affordable. On the one hand, it's easy to clean. On the other hand, plastic is typically easy to clean. Additionally, it's also easy to scratch, and scratches can form a safe haven for odors even when the bin is not in use.
Odor Protection
Here's the thing: compost smells. It's literally rotting vegetable matter. This isn't a big deal if you have a large outdoor bin far from your house, but it's a problem when it's literally right under your nose while you're cooking.
Most of the bins in our list have carbon filters. All of them close securely. These are important features to look for.
Physical Appearance
On the one hand, a composter's physical appearance tells you absolutely nothing about how it's going to perform. That said, appearance is still an important consideration.
Your kitchen is one of the most important rooms in your home. And other than your living room, there's probably no other room in the house that guests will see as often. So take the time to choose a bin that looks good on your counter and matches your décor.
Dishwasher-Safe Design
Most countertop compost bins are technically dishwasher-safe. However, you'll want to make sure before you just throw one in there. Be especially careful with plastic bins, though, since some plastics will melt if they're too close to the drying element.
Prepare For Fruit Flies
There's one downside to letting fruits and vegetables decay in your kitchen: they attract fruit flies. So how do you combat these pests?
To begin with, keep your eyes open. One fly may not seem like a big deal, but each individual female can lay up to 500 eggs at a time. With these reproduction rates, a small problem can become a major infestation in a hurry.
Once the eggs hatch, larvae eat the decaying fruit for 2 to 3 days before they transform into adults. Once this happens, you've got 2 days before they start mating again. So, in less than a week, you can go from a single fly to hundreds.
To prevent this, the first thing you'll want to do is to keep your countertop and sinks clean. Fruit flies will feed on spills, and even on debris around your drain. If their only food source is a sealed compost bin, you'll have far fewer issues.
Another way to stop fruit flies is to set traps. You can either make a homemade trap or purchase one from the store.
One popular style of homemade fruit fly trap is to use apple cider vinegar. Put it in a bowl, and cover the top with plastic wrap, and punch a bunch of small holes in the top with a fat sewing needle. The fruit flies will work their way inside to drink the apple cider vinegar, but they won't be able to escape the same way.
An even cheaper way to trap fruit flies is to leave out an old, half-empty beer bottle. The stale beer will have a sweet aroma, and fruit flies will be attracted inside the bottle. However, the neck will confuse them, and they won't be able to fly out again.
Alternatively, you can try a professional fruit fly trap like the Raid Fruit Fly Trap. This device is exceptionally effective, and it includes a refill pack that gives you a 180-day supply of bait. That's enough to keep your kitchen fly-free from April to October. And by the time you've made apple cider vinegar, dish soap, or beer traps for six months, the cost comes out around the same.
Sale
Fruit Fly Traps for Indoors by Raid | 2 Lures + 2 Refills | Effective Fruit Fly Trap for Indoor Use | Fruit Fly Killer & Gnat Traps for House Indoor | Easy to Use & Safe Food-Based Lure Fly Catcher
Convenient insect trap to protect your fruits: When looking for an easy way to kill fruit flies that ruin your food, don't just rely on ordinary fly catchers, food fly killer, or fly control product. Choose the Raid Fruit Fly Trap Indoor Bait. This apple-shaped gnat killer trap easily attracts, captures and keeps the fruit flies out of sight. Considered as one of the best fruitfly catcher traps, our Gnat Trap Indoor Catcher will help free your kitchen or dining area from those pesky fruit flies
Safe fruit fly killer that uses food lure attractants: When using the Raid Fruit Fly Killer Trap, you need not worry about getting in content with chemicals or killing agents. Our gnat traps only use a proven and tested food-based attractant that food flies couldn't resist. These plastic gnat catchers are even safe to put in food prep areas even beside real fruit. But while our fruit fly traps for kitchen are non-toxic, it's still advised that you keep it out of your kids' reach
Raid fruit fly trap you can count on: For many decades, Raid has always been the most trusted brand in pest control solutions. While we confidently stand by the quality of our fruit fly killer indoor traps, we want you to know that your satisfaction is our topmost priority. If in case you're unhappy with your purchase of our Raid Fruit Fly Catcher Indoor Traps, please let us know immediately so we can do everything to improve your overall experience
180-day bundle of fruit fly traps that work: Because this fruit fly traps indoor flying insects use a food-based lure, this indoor fly trap easily attracts all major species of fruit flies and making them enter the patented holes of the gnat catcher. Once the fruit or kitchen flies enter the hard plastic apple-shaped traps, they will be unable to escape and eventually drown. With 2 lures in the pack, plus 2 bonus refill lures, you're good to use these fruit fly catchers for as long as 180 days
Easy-to-use reusable fruit flies trap: Our fruit fly control traps amazingly attract, trap and kill fruit flies. Best part is, these fruit fly and gnat trap indoor catchers are easy to use. All you need to do is put the lure, add water up to the fill line and then close it for use. Once the fruit fly trap is full, you can reuse the trap for fruit flies and gnats after cleaning with warm soapy water. Just remember to replace the gnats and fruit flies lure every 30 days or until the trap is full
Last update on 2023-09-27 / Affiliate links / Images from Amazon Product Advertising API
---
Benefits of Composting
Composting adds friendly bacteria and nutritious humus to your soil.
Friendly bacteria from your compost will continue to live in the soil for years. They'll break down organic material that's already in the soil, and they'll also help prevent unfriendly bacteria from infecting your plants.
In addition, the compost material itself is incredibly nutritious. Kitchen waste will be high in nitrogen, an essential nutrient for growing both flowers and garden vegetables.
Composting reduces landfill waste.
According to the EPA, over 28 percent of the waste generated in the US is yard and kitchen waste. Yet only 8.9 percent of US waste is composted. If you do the math, this means that if every American composted their food scraps and lawn waste, we could reduce landfill waste by over 19 percent.
Composting eliminates the need for chemical fertilizer.
Chemical fertilizer eventually runs off the land and into our rivers and streams, and they eventually end up in the ocean. This causes algae blooms that kill off local species. While most of this runoff comes from large agricultural operations, we all have a part to play in eliminating fertilizer pollution.
Best Countertop Compost Bin Brands
Whenever you're investing in new home goods, it's good to know what the manufacturer's reputation is. You wouldn't buy a car from a company you've never heard of. Why should your countertop composter be any different? Here's a quick look at the brands we've covered today.
FAQ
When kitchen, lawn, and garden waste breaks down or rots, it leaves behind dark, moist humus that looks nothing like food and grass. The smell may be offensive to us humans, but that smell comes from a mix of bacteria and nutrients that your plants will love. But how do you make an effective mix? Here's a quick FAQ on composting in general.
Q: I've Heard About Balancing Nitrogen and Carbon. What Does This Mean?
A: Nitrogen is essential for bacteria and plants to create protein for building new cells. This is essential to keep your compost going since bacteria need to keep multiplying to produce heat that further breaks down the pile. The best sources of nitrogen are vegetable scraps, coffee grounds, and other wet materials.
Carbon is important for absorbing moisture from nitrogen-rich material, as well as for providing "bulk" to your bin. In addition, every plant needs carbon to grow. Dry materials like peanut shells and shredded newspapers are ideal, as are old leaves.
Maintaining enough carbon is the hardest part of using a countertop compost bin, so make sure to add some leaves or other dry waste to your compost heap every time you take your bin outside to empty it.
As for balance, the rule is simple: if your bin isn't breaking down quickly, you need more nitrogen. If your compost is soaking wet, you need more carbon.
Q: How Moist Should My Compost Be?
A: Much like balancing between nitrogen and carbon, it's also important to maintain the right level of moisture in your compost. Good compost needs air circulation to keep the bacteria active, and too much water can prevent the air from circulating. On the other hand, too little water will cause the bacteria to go dormant.
So what's the right amount of moisture? If you pick up a handful of your compost, it should feel moist, but there shouldn't be any dripping.
Q: Do I Need a Microbe Starter?
A: Generally speaking, a microbe starter isn't necessary. There are plenty of microorganisms in the air and on the outside of vegetable skins to break down your food waste. That said, the first time you use your bin, decomposition will start faster if you use an accelerator like the following one.
After that, it's easier just to save a small amount of your last batch to use as a starter for your new one.
Last update on 2023-09-27 / Affiliate links / Images from Amazon Product Advertising API
---
Q: What Shouldn't I Compost?
A: Compost bins are designed for plant material, not for animal scraps. Meat, fish, and bones will attract pests like raccoons. And in a countertop setting, these materials stink to high heaven.
Another thing you shouldn't compost are weeds. If any of their seeds accidentally get into the mix, you'll end up spreading weed seeds in your freshly-composted garden.
It's also important not to compost leaves from black walnut trees. These leaves are poisonous, and can contaminate your garden.
And never compost sawdust unless you cut the wood yourself. You never know what chemicals commercial lumber may have been treated with before you bought it.
If you'd like to know more, here's a more thorough list of materials you should never compost.
Wrap Up
At the end of the day, the best countertop compost bin is going to depend on your own individual needs. Primarily, you'll need to consider the size and capacity, as well as whether the bin matches your kitchen.
That said, if we had to pick one bin as the absolute best, the Epica checks just about every box. First, the stainless steel body is attractive and matches almost any kitchen. Secondly, it offers superior protection against odor, while still providing plenty of air flow.
Finally, the charcoal filters last for a full six months. Even though they're a bit harder to change than some of the other filters on the market, you'll still spend less time changing them, if only because you'll be doing it so infrequently.
That said, any one of these countertop compost bins would be a great selection. Consider your needs, and choose wisely!