Manual mowers can help you to save some money, get in better shape, and get the exact look you want in your yard. We know that there are a lot of options out there and it can be confusing to pick which one fits you. Here we're going to discuss the best manual lawn mower for your specific needs.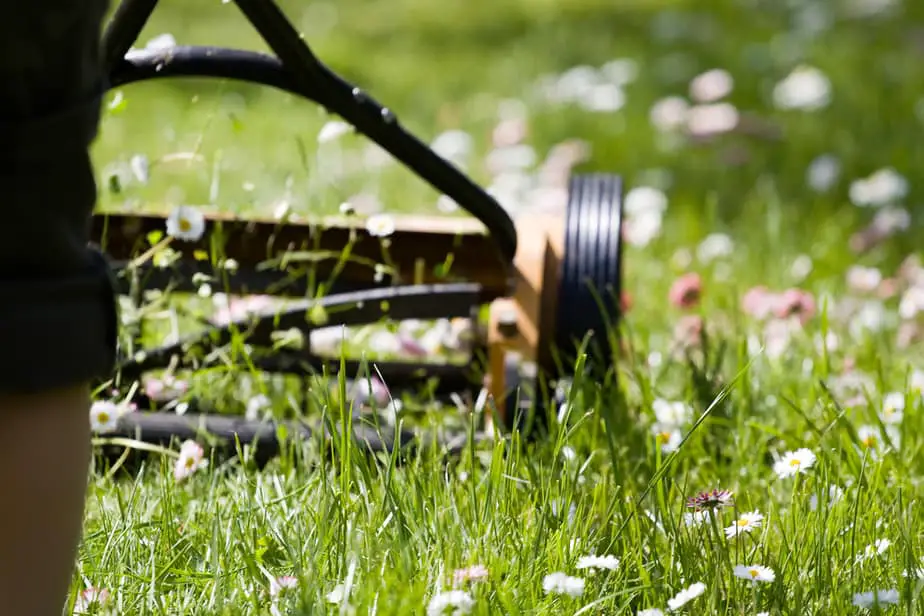 We've broken down our options so that you can know which mower is the one that will be best for your situation. We'll get started with one of our favorites.
Best Reel Manual Lawn Mower
Fiskars 18-Inch
Sale
Fiskars StaySharp Max Reel Push Lawn Mower - 18" Cut Width - Eco-Friendly Cordless Grass Trimmer - Black
ECO-FRIENDLY PUSH LAWNMOWER: Manual reel lawnmower with 18" cut width; No gas, oil, charging, or cords required; 60% easier to push than other reel mowers and ideal for regular lawn maintenance
BEST-IN-CLASS CUTTING PERFORMANCE: InertiaDrive Reel boasts twice the cutting power of standard reel mowers, while the StaySharp Cutting System eliminates the cost and inconvenience of manual blade sharpening
SUPERIOR ERGONOMICS: Reversible grass chute can direct clippings away from your feet, making it easier to mow tough patches while limiting messiness; One-touch handle height adjustment enhances your comfort and control
IDEAL FOR ALL TYPES OF GRASS: Cuts through tough southern varieties like St. Augustine, Zoysia, Bahia, and Bermuda; VersaCut technology offers cut height settings from 1"-4" to mow all types of grass cleanly
INCLUDES: 1 Fiskars StaySharp Max Reel Mower cordless grass trimmer; Limited 3-year warranty
Last update on 2023-11-28 / Affiliate links / Images from Amazon Product Advertising API
The Fiskars is the king of reel mowers, but its bells and whistles come at a price. Reel mowers are often purchased for their light weight and their high maneuverability.
The Fiskars comes with an 18-inch cut diameter, which is big but nothing too special. What is special about this mower, though, are two technologies that Fiskars calls InertiaDrive and StaySharp.
InertiaDrive helps the mower glide through thick, tall, or tough grass without you having to strain as much as with other mowers. Fiskars claims that their mower can be up to 60% easier to push than other mowers. Buyers agree that this mower can chomp through the hard-to-cut stuff.
StaySharp is another one of Fiskars's technology that is unique to this mower. StaySharp decreases unnecessary contact between the blades, ensuring that your mower doesn't need to be sharpened as often as other options.
This mower comes with 7 height adjustment options ranging from 1″ to 4″ and will allow you to select the direction of your grass discharge. You can either shoot the grass out the front of the mower or shoot it behind and down like most other reel mowers. If you eject the grass to the front, it can be cut again in a sort of "mulching" action that's popular with other mowers. We discuss the benefits of this in the Frequently Asked Questions section.
The Fiskars weighs in at 52 pounds, so it's one of the heavier items on our list. It's even heavier than some electric lawnmowers, but the Fiskars does come with a lifetime warranty if you're prone to breaking things.
What We Like:
Wide-cut diameter
InertiaDrive makes it easier to cut through thick grass
StaySharp reduces maintenance time for your mower
7 height adjustment options
Can select the direction of grass discharge
Lifetime warranty
What We Don't Like:
Very heavy for a reel mower
Bells and whistles can take a toll on the wallet
This is a great mower for someone who wants the absolute highest quality and doesn't mind paying a little more for it. You'll save on gas and maintenance with this mower and the lifetime warranty ensures that the Fiskars will pay for itself over time.
Check Price and Reviews on Amazon
---
Best Gas Manual Lawn Mower
Remington Trail Blazer 21-Inch
No products found.
Remington's mower is our favorite option if you're looking for a gas-powered manual mower. It packs a punch and comes with several features to help you get your yard how you like it.
Remington's mower is one that can check a whole lot of boxes you may have. The cut diameter on this one is 21 inches, which is about as big as cut diameters can get on mowers. It may not be a make or break feature, but bigger cut diameters mean that you won't have to take as many passes through your yard to get it all cut.
This mower comes with the option to side-discharge, mulch, or bag your grass after you cut it. No worries if you don't know what that means, we break it down for you in the Frequently Asked Questions section (so you might want to read on). This mower comes with 6 different height adjustments ranging from 1-1/4″ to 3-3/4″ so there are plenty of options to customize how you want your yard to look.
This mower is a gas-powered lawn mower. That's neither a pro nor a con but is something to be aware of. The initial upfront cost will be less, but the mower will cost you more over time than an electric mower would. Gas-powered mowers are most often a bit stronger than their electric cousins, so you can be sure that this mower will annihilate some thick and tall grass.
Remington's mower comes with a 2-year warranty.
What We Like:
Options to side-discharge, mulch, or bag your grass
6 different height adjustment options
Initial upfront cost will be less for a gas mower
Will be able to cut through thicker grass than most electric mowers
Comes with a 2-year warranty
What We Don't Like:
Cost over time is higher for a gas mower than for an electric or reel mower
This is the best push lawn mower for anyone who wants a gas mower with lots of customization options or those who have yards with grass that's too thick for electric mowers.
Check Price and Reviews on Amazon
---
Best Battery-Powered Manual Lawn Mower
Snapper XD 19-Inch
Snapper XD 82V MAX Cordless Electric 19" Push Lawn Mower, Includes Kit of 2 2.0 Batteries and Rapid Charger
Up to 90-minutes run time with (2) Briggs & Stratton 82V Lithium ion 2.0 Batteries; Kit comes with (2) 2.0 Lithium ion batteries and rapid charger
19 inch steel mowing deck with 3 in 1 design mulch, bag or side discharge grass clippings easily.
Smart, efficient load sensing technology power adjusts to meet the demands of the cutting blades
Push button start and a single lever, 7 position height of cut adjustment
Compact vertical storage capability saves room in a garage or shred
Last update on 2023-11-28 / Affiliate links / Images from Amazon Product Advertising API
Snapper's 19-inch cordless electric lawnmower presents us with an option that is all that the industry should be. This is a great mower for a wide range of yards from very small to very large.
This mower comes with two batteries that should last you about 45 minutes each. A fast charger is included and can charge a battery in about 30 minutes, so you can mow by swapping one battery for the other and putting the spent battery on the charger. By the time you use up one battery, the other should be charged.
The Snapper 19-inch comes with load-sensing technology, detecting how much power it needs to mow your grass and adjust its output. This helps save your battery, but the 45-minute battery life will be drained faster on taller or thicker lawns.
Snapper's mower comes with options to bag, side-discharge, or mulch your grass. One possible downside here is that the bag isn't very big, so you may need to empty it quite often if you decide to bag your grass.
This mower comes with 7 levels of height adjustment ranging from 1-3/8″ to 3-3/4″. Height can be adjusted using a lever, but some buyers said that the lever was a little hard to use. This mower weighs 59.5 pounds and the handles can fold, so storage shouldn't be difficult.
There is a 5-year warranty on the mower itself and a 2-year warranty for the batteries and charger.
What We Like:
Powerful enough to cut through tall or thick grass
Load-sensing technology allows the mower to adjust power output to your grass
Comes with two batteries that last up to 45 minutes and a fast charger that can charge a battery in 30 minutes
Allows you to bag, side-discharge, or mulch your grass
7 levels of height adjustments
5-year warranty on the mower, 2-year warranty on the batteries and charger
Handles fold for easy storage
What We Don't Like:
The bag isn't big, so you may have to empty it often
Height adjustment lever may be difficult to use
When all is said and done, this is a powerful mower that has enough customization options where you can get your yard to look just how you want it.
Check Price and Reviews on Amazon
---
Best Corded Push Lawn Mower
Greenworks 20-Inch
Greenworks 12 Amp 20-Inch 3-in-1Electric Corded Lawn Mower, 25022
Powerful Cutting: The 12 amp motor and 20-inch steel deck with a 3600 RPM work together to cut through the toughest grass with ease
Versatile Cutting Options: The 3-in-1 system allows for mulching, rear bagging, and side discharge, giving you the flexibility to handle clippings in various ways
Easy to Use: The easy push button start and single lever 7 position height adjustment make using the mower a breeze, while the cam lock handle allows for easy folding and storage
Efficient and Durable: The durable steel 21-inch cutting deck gets the job done quickly and efficiently, while the AC corded power provides unlimited run-time with no gas, oil, or emissions
Extension Cord Requirement: It is important to use a 14 gauge 50' or 12 gauge 100' extension cord (not included) for optimal performance
Last update on 2023-11-28 / Affiliate links / Images from Amazon Product Advertising API
If you were on a grass-covered, deserted island and could only pick one corded electric lawnmower, we'd recommend this one be at the top of your list.
This Greenworks mower has a 20-inch diameter and at 12 amps, will cut through grass that you've let grow for a bit. This mower also comes with the attachments to cut, collect, and mulch your grass. We discuss the differences between these three options later on, but for now, just know that this mower can be used for a variety of yards with a variety of desired looks.
The mower comes with 7 height adjustments ranging from 1-1/2″ to 3-3/4″, so you have lots of options on how tall you want your grass to be. These height options are also helpful if your grass is already wildly tall and will need to be cut in stages. You can start this mower with the push of a button, so no worries about having to pull the mower chord until you throw out your back.
The handles fold up for easy storage and the mower weighs about 56 pounds, so it's much easier to maneuver around than a gas mower or even a battery-powered one.
This mower comes with a 4-year warranty.
What We Like:
One of the more powerful options on the market, so it can cut through thicker or taller grass
Allows you to cut, collect, or mulch the grass
Many height adjustments
Handles fold for easy storage
4-year warranty
What We Don't Like:
The cord can take some getting used to if you haven't used a corded mower before
If you're looking for a powerful corded electric mower that can handle your yard in all seasons and one that isn't too tough to store, then this may be a good pick for you.
Check Price and Reviews on Amazon
---
Best Budget Manual Lawn Mower
American Lawn Mower Company 14-Inch
Sale
American Lawn Mower Company 1204-14 14-Inch 4-Blade Push Reel Lawn Mower, Red
4-blade reel mower with a cutting width of 14" and durable 8.5" polymer wheels for maximum maneuverability. Lightweight at only 19 pounds. Reel Lawn Mowers are great for small lawns..Deluxe hand-reel mower ideal for most turf grasses.
This push lawn mower has an adjustable blade height of 0.5"-1.75". Capable of cutting grass up to 4 inches tall and is less effective on taller grass.
Manual grass cutter is environment-friendly alternative to other lawn mowers. This push mower is pollution-free, noise-free, low maintenance, lightweight and easy to use.
A reel mower uses a cutting action that does not bruise or damage the blades of grass. For best results using a reel push mower, mow no more than 1/3 of the grass blade, so that the roots stay intact.
Increase the amount of overlap while using your push mower if your lawn reaches a height of 4 inches or more. It's better to mow smaller amounts more frequently than it is to let the grass get long. Try not reel mower when the grass is wet.
Last update on 2023-11-28 / Affiliate links / Images from Amazon Product Advertising API
American Lawn Mower Company makes the list again with a mower that is more suited to smaller yards, budget buyers, or those looking to get a very lightweight option.
This mower comes with 4 blades instead of the 5 blades included with most mowers on this list, so this option will dull a bit faster and will have a little more trouble on thicker lawns.
The mower here includes 7 height adjustment options ranging from 1/2″ to 1-3/4″, so it's allows you to customize how you want your yard to look. There's a reason this mower doesn't have height options for more than 1-3/4″ though: it's worth repeating that this mower will have trouble in taller or thicker grass.
American Lawn Mower Company's 14-inch mower is the lightest mower on this list, coming in at just 20 pounds. It's a good pick if you are afraid of having to push a heavier mower or want something that will glide over your shorter grass.
This mower comes with a 1-year warranty and is the most cost-effective buy on the list.
What We Like:
Your wallet will thank you
7 height adjustment options
Lightest option on this list
1-year warranty
What We Don't Like:
4 blades mean you will need to sharpen sooner
Not suited for very tall or thick grass
Warranty is shorter than some
This reel mower is one of the best options for those who want a great budget purchase or anyone who wants a very light reel mower.
Check Price and Reviews on Amazon
---
Things To Know Before You Buy…
Gas Powered, Electric, or Reel Mowers?
On this list we took a look at gas powered, electric, and reel manual mowers. Each one has its own benefits and challenges, so we're going to break those down for you.
Gas Powered Mowers
In general, gas mowers are stronger than electric mowers. Gasoline provides the extra oomph that electric mowers just haven't caught up to yet, so gas is a good option if you have very thick grass or have a bad habit of letting your grass grow too tall.
Gas mowers will tend to be a lot nicer to your wallet on day one, but it doesn't take too long for the honeymoon phase to give up the ghost. Gas mowers require a myriad of maintenance: they'll always need more gas (mowers have to eat too), you'll need to change the oil, spark plugs, keep an eye on that air filter, and you'll always start the mower by pulling on the dreaded rope. Angie's List has a list of things you'll need to keep an eye on.
A gas mower won't cost you an extra hundred bucks in the first week or even in the first several months, but those small costs do add up over the years. Maintenance takes more effort on gas than on electric or reel mowers, plus there are always more parts that can go wrong. If you'll notice, all of our electric mowers on this list have longer warranties than the gas mowers. There's a reason for that: electric mowers last longer.
Electric Mowers
Electric lawnmowers tend to run your bill up on the initial buy, but don't require as much work over time and are less subject to wear and tear. Keep in mind that it may take years to recoup your costs though.
Electric mowers tend to be a lot quieter than gas mowers, having a volume level of somewhere near your average vacuum cleaner. These mowers can be a tad weaker than gas mowers, but this shouldn't be a problem if you keep your yard well-maintained or don't have very thick grass.
Reel Mowers
Reel mowers are often the most quiet and most budget-loving of all the mowers (but there are exceptions). Reel mowers make almost no sound, which may be a downside if you are one of those neighbors who likes to take an active role in disturbing other people's Sunday naps.
These types of mowers require low maintenance that includes you sharpening the blades every few years. Reel mowers aren't powered by gas or electricity, so they are best suited for smaller yards. Since these mowers are powered by nothing other than your own two feet they can sometimes get tripped up on rocks or sticks.
Frequently Asked Questions
Which additional options do I need?
When taking a look at the best manual lawn mower for your situation, it's easy to get bogged down in all the features. What's the deal with side, front, or back discharging? Do I need an option to bag or mulch?
We're going to take a little bit to break down these options so you know which one works best for you. It is worth remembering that for all intents and purposes, front-discharge and mulching accomplish the same thing. Side-discharging and rear-discharge are the same except for the direction that grass is ejected.
Let's take a look at each of these.
Mulching or front-discharging grass  will cut each blade of grass twice: once from the ground, the second time from inside the mower to grind up the grass. Front discharging and mulching may require you to walk a bit slower as you'll be cutting each blade of grass twice and it is a more time-consuming process, but the grass clippings will be able to biodegrade into the ground and aid future growth.
Bagging causes all the cut grass to be collected in a bag so that it can be deposited elsewhere. This process is also a bit time-consuming, as you will need to empty the bag when it's full.
Rear-discharging or side-discharging the grass is just what it sounds like: when the grass is cut, the mower shoots it out the back or to the side. This is the fastest way to cut the grass.
If you're looking to cut your grass as fast as possible, we recommend going with the rear or side-discharge. You may end up leaving some grass clippings in your yard, but you can either cut over those clippings again or allow them to degrade au naturale.
If you have a specific spot you want to put your cut grass to allow it to biodegrade and nourish the ground in a certain area, we recommend going with bagging.
If you want your cut grass to go back into the yard to nourish it, we recommend front-discharge or mulching.
What options you need will depend on what your preferences are for how your yard looks and what you want to do with it. Not all mowers on this list include every cutting option so if this is important to you, you will want to keep an eye out for which options do what.
If you're looking to purchase a bag for bagging your grass, most mowers on this list allow you to attach one. This bag will work for the American Lawn Mower Company mower. This bag will work on the Fiskars. The non-reel mowers all come with their own bags.
Best Brands
Fiskars
Fiskars was founded all the way back in 1649 (and no, that's not a typo). Fiskars started as an ironworks in a Finnish village by the same name. Since then, they have expanded their product line to make it easier for people to do the things they love.
Remington
Remington was founded in 1921 by a man named Arthur Mall in Milwaukee, Wisconsin. Remington soon grew famous and spread wide due to the quality and dependability of their work. They are committed to keeping the quality of their work high today.
Snapper
Snapper was founded in 1951 when they made the first self-propelled rotary lawnmower. Since then, they have become obsessed with making your yard look how you want it. They have a wide range of yard tools, mowers, and tractors to help you achieve your goals to own your yard.
Greenworks
Greenworks was founded in 2007 to begin solving a large and growing need: they wanted to make battery-powered equipment strong enough that it could compete with the gas-guzzling kings of lawn care. Greenworks hopes to help the environment by providing battery-operated lawncare equipment tough enough to solve all your yard needs.
American Lawn Mower Company
American Lawn Mower Company started from a desire to make the world's best mower for smaller yards. American Lawn Mower Company strives to be the best in the business and responsible towards the environment – a mission they've been pursuing for over 120 years.
Conclusion
Thanks for reading our guide on the best manual lawn mower! When it comes down to it, the best option for you is going to be the one that suits your unique needs best.
Take note of the size of your lawn and the thickness of your grass to determine whether you'll want a gas, electric, or reel lawn mower. Ask yourself what you want your yard to look like and how you want it cut – are options like front/side-discharge, rear discharge/mulching, and bagging important? Lastly, take a look at your budget. We've reviewed lawnmowers from the high end picks to the most budget-friendly options, so there is surely something for everyone.
One of our favorits picks is the Fiskars 18-Inch. The Remington Trail Blazer is our favorite gas mower. If you're looking for the best cordless electric lawnmower, we recommend the Snapper 19-Inch. For corded mower, we suggest the Greenworks 20-Inch. The Greenworks 20-Inch is also a great budget buy, but our top budget mower is the American Lawn Mower Company 14-Inch.
The best manual lawn mower for your needs will be the one that can get your yard just how you like it. There's something for everyone here.