Everyone wants to own a beautiful lawn, but maintenance can be tough. If you struggle with long grass, overgrown weeds, and struggling cracked concrete full of crabgrass, you need a string trimmer and/or edger. These versatile tools are great for dealing with tough patches of long vegetation and can help you clear the area around the driveway and walkway in time for guests visiting.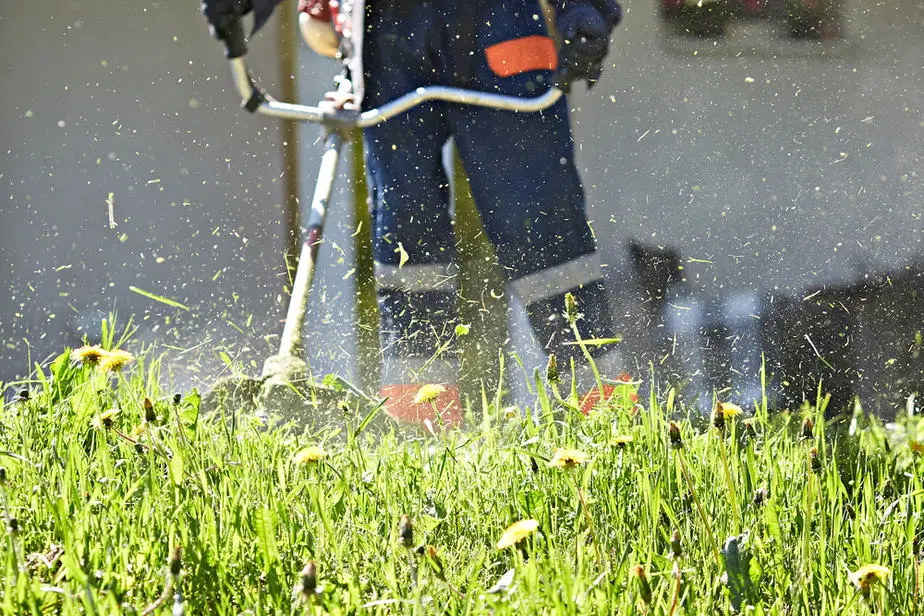 In this guide, we will cover the essential features of a string trimmer vs edger, and what qualifications are necessary to help you find the best model on the market. We even include some top-notch recommendations to help you get the lawn you want without extra hassle.
In a Hurry? Here's Our Top Picks…
1. Greenworks 12-Inch 40V Cordless String Trimmer
Greenworks 40V 12" Cordless String Trimmer, 2.0Ah Battery and Charger Included
40V STRING TRIMMER – powers through the toughest grass and weeds.String trimmer operation temperature range : 6.8°F (-14°C) - 104°F (40°C). Charger operation temperature range : 39°F (4°C) - 113°F (45°C)
12" CUTTING PATH - .065" line, auto feed head for quick and easy line advancement
VARIABLE SPEED TRIGGER – allows you to control cutting speed on the go, so you can easily maneuver around plants and shrubs
LIGHTWEIGHT – Ultra lightweight design, along with superior ergonomics allow for reduced user fatigue
EASY TO USE – Push button start. Included 2.0Ah battery recharges in 60 minutes
Last update on 2023-11-19 / Affiliate links / Images from Amazon Product Advertising API
This Greenworks string trimmer is one of the largest 40V battery-powered options currently on the market. It possesses a distinctive green color and a 12″ 065 dual-line that auto feeds instead of requiring a bump. An attached variable speed trigger allows the user to control how rapidly the trimmer spins and destroys grass and vegetation underneath the strings.
When you purchase this string trimmer, you can choose between a 2.0Ah and 4.0Ah battery, as well as whether or not the battery and charger are included. As an electric model, the Greenworks 12-inch cordless string trimmer can have the batteries charged before being used, which is what the charger is for. You do not need to keep the trimmer plugged in while in use. The battery possesses 30 minutes of run time on average and can cover up to ½ acre.
This model weighs 15 lbs. and is not attachment capable. However, it is lightweight and easy to use, even for individuals who are inexperienced with trimmers. Since this trimmer is battery-powered, it produces little noise and less kickback when used properly. A 2-year warranty is also included.
Things We Like
Quiet and lightweight
Covers a significant amount of ground in a single-use
Auto feeds for simple use
Things We Don't Like
The battery is not automatically included with purchase
Is not attachment compatible
Check Price and Reviews on Amazon
---
2. Dewalt DCST925M1 String Trimmer
No products found.
The Dewalt DCST925M1 string trimmer is ideal for individuals seeking a medium length string trimmer that strikes a balance between power and flexibility. Each model utilizes a 13 in. cutting swath with a 0.080 in. line. The line is automatically fed and battery-powered, meaning users can take it out of the garage as needed and get straight to work in the yard.
The Dewalt string trimmer is black and yellow and possesses gear drive transmission. The extra power allows you to force your way through even the most unruly of grass and vegetation. The battery possesses around 45 minutes of life and includes the battery upon purchase (a single lithium-ion one). The variable trigger also allows you to control the speed by rotating between high and low. This means you can control how much blowback that occurs in rocky areas and whether or not you want to tear through weeds or take it easy on the grass.
Besides these specifications, there are a few more details about the Dewalt DCST925M1 that make the string trimmer stand out. Because it is battery powered, it produces little noise and has a string feeder that is easy to open for quick replacement. Each model weighs around 12 lbs. and has full dimensions of 7.4 x 6.5 x 34 in. A 2-year warranty is included.
Things We Like
Long-lasting battery power
The battery is included upon purchase
The line is easy to feed and replace
Powerful enough to cut through tough vegetation
Things We Didn't Like
The head is heavier than expected and creates an unbalanced tool
The guard is small
Check Price and Reviews on Amazon
---
3. WORX WG163 PowerShare Cordless String Trimmer and Edger
Sale
Worx String Trimmer Cordless GT3.0 20V PowerShare 12" Edger & Weed Trimmer (2 Batteries & Charger Included) WG163
[TRIMMER & EDGER 2-in-1] Easily converts from a string trimmer to an edger lawn tool in just seconds
[INSTANT LINE FEED] This grass trimmer has innovative push button Command Feed spool system for instant line feeding. Plus, Free Spools for Life
[HEAD TILTS 90°] So you can use string trimmer and edger on sloped terrain, and get to tough-to-reach places
[RUBBERIZED WHEELS] Support and guide the edger, giving you straighter lines and cleaner cuts
[SPACER GUARD] Adjustable, so you don't damage plants, landscape features, and lawn ornaments while you're using the lawn trimmer
Last update on 2023-11-19 / Affiliate links / Images from Amazon Product Advertising API
Sometimes you want the best of both worlds by combining a string trimmer with an edger. If this is the case for you, there is the WORX WG163, a lightweight and battery-powered option ideal for individuals who want to cut their grass and remove the weeds around the driveway or walking path. To accomplish this, you can convert the tool from a trimmer to an edger and back in a couple of minutes.
This model features an automatic line feeder that utilizes a 10 ft. cutting line length and a 0.065 in. line diameter. The company is one of the only ones to offer free spools for life, so you don't need to worry about finding your type at the store. The line forms a 12 in. cutting diameter and has a 7600 rpm no-load speed.
The spacer guard is adjustable and the head tilts 90 degrees. This means you can control which vegetation is targeted and the angle of protection for your legs, ankles, and feet. There are even rubberized wheels to help guide the trimmer and edger while in use, making this model one of the easiest ones to utilize for beginners to yard work.
This is one of the most lightweight options on the market, weighing around 6 lbs. The full product dimensions are 36.3 x 7.5 x 5.5 in., and it comes with a 2-year warranty to cover regular wear, tear, and damage. The 20V batteries included with the product can be charged and also transferred to other WORX products if you have an entire collection of yard tools.
Things We Like
The tool functions as a trimmer and edger
The batteries are included and can run for an hour
The product is lightweight and adjustable
Free spools for life
Things We Didn't Like
The automatic line feed jams frequently when used as an edger
Check Price and Reviews on Amazon
---
4. Craftsman V20 String Trimmer and Edger
CRAFTSMAN V20* String Trimmer / Edger (CMCST910M1)
13inches Cutting swath with 0.080inches Line.Motor Type : Brushed, Number of Pieces : 6
Patented gear drive design that powers through overgrowth. Watt Hours - 80.0 Wh
Variable trigger with Hi/lo speed control for added power or extended runtime
High-efficiency Brushless motor maximizing run time and motor life
Lightweight and ergonomic design maximizes control and minimizes stress on your arm
Last update on 2023-11-19 / Affiliate links / Images from Amazon Product Advertising API
The Craftsman V20 string trimmer and edger is one of the most versatile models on the market, capable of transitioning between the two tools in only a few minutes. It is battery powered and uses 20V models to have an average runtime of 45 minutes between charges. The batteries are included with purchase, as is the charger necessary to keep the trimmer and edger functioning.
The Craftsman string trimmer and edger utilizes a 0.080 in. width line with a total length of 13 in. The trimmer is automatic rather than bump fed, meaning it is simple and easy to use. The spool container is easy to open, and strings are simple to replace. The high-efficiency brushless motor is also easy to examine and clean as necessary and creates a perfectly balanced tool that can be used by amateurs and pros alike.
Each model has a patented gear design drive capable of plowing through the overgrowth, including weed build-up and long grass. A variable speed trigger allows users to switch between high and low. When using the low power, you get extra runtime because less strain is placed on the motor and batteries.
This tool weighs around 11 lbs. and has full product dimensions of 44.5 x 6.9 x 10.1 in. A 3-year warranty is included with purchase and covers regular wear and tear. The pole also has an adjustable length so you can control how tall or short it is.
Things We Like
The trimmer and edger is highly adjustable
Craftsman offers a longer warranty than other brands
The string spools are easy to replace
The guard defends from blowback well
Things We Didn't Like
Releases extra line when it is not needed
Keeps cutting line when not needed
Check Price and Reviews on Amazon
---
5. Black and Decker LCC222 String Trimmer and Edger
Sale
BLACK+DECKER 20V MAX* POWERCONNECT 10 in. 2in1 Cordless String Trimmer/Edger + Sweeper Combo Kit (LCC222)
2IN1 DESIGN – Easily rotates 180 degrees from a cordless string trimmer to an edger for versatile use.
ADJUSTABLE HEIGHT AND SOFT-GRIP HANDLE – Provide convenient, customizable comfort and control for extended use.
AFS AUTOMATIC FEED SPOOL – Continuously feeds trimmer line without bumping for seamless, uninterrupted trimming.
DEBRIS REMOVAL – Sweeper is ideal for clearing driveways, sidewalks, decks, and garages of grass clippings, leaves, and other debris.
QUIET OPERATION – Keeps noise to a minimum while you work.
Last update on 2023-11-19 / Affiliate links / Images from Amazon Product Advertising API
The Black and Decker LCC222 is an unusual model that combines a string trimmer, edger, and rudimentary leaf blower into a single tool that can be utilized by amateurs and pros alike. This model has an automatic feed spool that does not require bumping. It takes a basic 10 in. trimming line and has an easy to open spool container. The line is cut automatically.
This is a battery-powered option that can take one or two 20V batteries that are included upon purchase. You can choose to buy a charger along with the tool itself. The combined nominal voltage comes in at 18, and the batteries need to be lithium-ion. Because this is an electric model, it is lightweight and quiet when in operation, weighing a mere 10 lbs. The total battery life is estimated to be 25-30 minutes.
The Black and Decker LCC222 is an easy to use tool with full product dimensions of 42 x 10.4 x 7.2 in. It comes with a 2-year product warranty for basic wear and tear.
Things We Like
Flexible and turns into three different tools
Warranty included
Great for basic yardwork
Easy to use for amateurs and pros
Things We Didn't Like
Check Price and Reviews on Amazon
---
What to Look For In a String Trimmer or Edger
A string trimmer and edger is a basic tool common around the world. This motorized device utilizes rapidly rotating strings to trim long grass and weeds that grow in yards and around driveways, walkways, and other paths. Over time, the strings break and need to be replaced by the user.
Although this tool is considered one of the simpler lawn implements, it has undergone a broad range of technological advancements in the last few years. The result is a plethora of string trimmers and edgers available for sale with different features.
To help you identify the best model for you, this guide explains the differences between modern trimmers and what traits you should look for before making a purchase.
Fuel
The most common disparity between string trimmers and edgers is in the fuel type used by the device. Old fashioned trimmers utilized a combination of gasoline and oil-fed into a fuel compartment. Through basic combustion, the gasoline/oil mixture would generate the energy necessary to rotate the strings and cut grass.
However, gas models are not as common in the contemporary age as electric devices. An electric string trimmer utilizes lithium-ion batteries to generate the energy needed to spin the strings. These batteries are inserted near the upper handle of the trimmer and are designed to be rechargeable.
Running Time
If you want a trimmer that can operate for a long period of time, then you need to get a gas model. This might be difficult, though, as the majority of companies have started to phase out gas devices for residential use, favoring the commercial market instead. The average gas string trimmer can run for several hours.
Battery operated trimmers only tend to last between 30 and 60 minutes depending on how many are inserted into the device.
Power
Battery operated trimmers are weaker than their gasoline-fueled cousins, but also tend to be lighter and easier to handle for the average person. If you consider yourself an "average Joe" with a basic yard, then you do not need the power of gas. However, it can be nice to have the extra oomph when dealing with brambles and crabgrass.
Noise
Gas-powered trimmers are loud. Extremely loud. Most people will need to wear some form of ear protection when operating this type of trimmer. When you use electric models, you get the benefit of a quieter tool that is easier to use in residential areas.
String Type
Every string trimmer and edger uses a different type of string to accomplish its yardwork feats. Strings vary in material, size, and shape depending on their designated use and the type of tool you buy.
Material
While people imagine the string in string trimmers would be made of basic fabrics, the majority are actually composed of synthetic materials designed to be stronger and easier to use. When shopping around for the ideal trimmers and edgers, you will need to choose between basic monofilament nylon and reinforced nylon.
Basic monofilament nylon is simpler to feed into the trimmer and is weaker. It works well for average jobs and can be spun at rapid speeds. If you are interested in performing heavier work, then you will want to find a feeder that incorporates reinforced nylon. This nylon is tough, doesn't break easily, and is designed for tough jobs.
Size
The size of a trimming string can be split into three categories.
Light: Strings intended for basic yard work tend to be between .065 and .080 inches thick. This is the type of string you would use when trimming around the driveway and working with basic grass.
Medium: Strings meant for slightly more intense activity are between .085 and .105 inches thick. These can be used for cutting grass and tackling thicker weeds like crabgrass.
Heavy: A string meant for heavy-duty work and activity should be .110 inches thick or greater. These strings will last longer and can tackle tougher jobs.
Shape
Finally, you will need to choose the shape of the string. The majority of products you buy will already have a type of string in mind, so you often have to choose a trimmer that works with the shape you desire. The most common shapes include round, twisted, serrated, and multi-sided.
Round trimmer lines are less prone to breakage but also do not have any cutting edges that can rip through the grass. A twisted line is stronger and also does not break easily. When you use serrated and multi-sided options, you get extra cutting power but will have to deal with an increased amount of breakage.
Choose wisely.
Brush Cutting
Sometimes a string trimmer/edger will claim to also be a brush cutter. A brush cutter is a tool that is capable of cutting through tougher foliage, branches, and even trees. In general, you will not find a reliable string trimmer capable of brush cutting as well unless you are willing to spend hundreds of dollars to get extra attachments.
If you do want a combination trimmer and brush cutter, then you will want a gas-powered tool that uses serrated string.
Brush Guard
A powerful string trimmer and edger need a brush guard. A brush guard is a small plastic or rubber shield that stops rocks, branches, and other debris from being blown back and striking you. This can stop you from being injured and suffering cuts, bruises, and other uncomfortable injuries.
Do not use a string trimmer that does not have a brush guard. This puts you at great risk and can be detrimental for your health and regular yard work.
Dimensions
Finally, you need to consider what dimensions you are comfortable with using when it comes to your tools. Sometimes people will purchase a string trimmer and edger that is way too long or short for their grip, which results in a disheveled lawn, strained back, and difficulty in doing regular yard work.
When checking out the dimensions of an ideal trimmer and edger, check for a model that is between 3 and 4 feet long with a string that has at least a 10 in. cutting swathe. A weight between 8 and 15 lbs. is ideal for the average individual, since the arms can tire quickly when operating a motorized instrument.
Line Feeding Type
Finally, take a look at how the string is fed in the trimmer. An essential component of the string trimmer and edger is how to string is replaced when it is broken by grass and vegetation. Older models implemented a feature called the bump feeder. The bump feeder would release more string when the user tapped it on the ground.
Bump feeders have largely fallen out of fashion in favor of the more technologically advanced automatic feeder. With an automatic model, the device senses when the line has been broken and releases more string to replace it. This is ideal for average yardwork since many people do not notice when their line has been broken without some kind of warning.
The main issue a lot of gardeners have with the line feeder is that the models can be disruptive and it is difficult to tell when too much or too little string is in use. Needing to bump the feeder while the power is running can also be dangerous and result in uneven patches on the lawn. Bump feeders are therefore best used by people with more experience.
The only catch with automatic feeders is that they can produce the wrong length of string. This is why all of the products reviewed on this list have been checked for quality when it comes to the feeding sensors built into the machine.
The Best Brands
Craftsman is a brand originally owned by Sears but which was recently purchased by the same parent company as Black and Decker. The tools have a long reputation of being some of the most durable and high quality, capable of lasting many years when regularly maintained and cleaned.
Likewise, Black and Decker are one of the most established companies that produces stable and easy to use tools for people of all backgrounds. Both brands manufacture their goods in the United States, which means they need to meet high-quality standards before they are allowed on the market.
If you are interested in affordability and improved environmental friendliness, then you can't go wrong with Greenworks. This brand is relatively new but focuses on eschewing traditional fuels and materials in favor of options that are 'greener' and more biodegradable. The majority of products are also lightweight and easy to use, making them ideal for someone who is unused to yardwork or only has a couple of small projects to complete.
FAQ
Q: Can you mow a lawn with a string trimmer?
A: This is a common question and one without a simple answer. In general, trying to mow a lawn with a string trimmer (or edger) has uneven results and requires a lot of labor. However, if you have a small yard that is less than 750 sq. ft., then it might be easier to invest in a trimmer than purchase a lawnmower.
Q: Can I use an electric trimmer on wet grass?
A: You should NOT use electric trimmers or edgers on a wet lawn. You do not have to worry about electrocution, but the wet vegetation places extra strain on the motor and can more rapidly drain the battery. The moisture is also slippery, and it is easy to injure yourself when trying to trim the lawn when it is wet.
Q: Why won't my device start?
A: The majority of string trimmers and edgers use a fuel combination that is part oil and part gasoline. The primary ingredient is gasoline, which forms the majority of the fuel composition. If you have tried a new fuel that has too much oil, then it is common for your device to sputter and struggle to start. Clean out the fuel canister and use a manufacturer's recommended product instead.
Q: Can a string trimmer be used to edge?
A: It is possible to use the trimmer around the edges of your lawn, but the results will not be as clean and it is more likely to get rocks and other debris kicked back towards your legs. If you want to use a string trimmer that also edges, be sure to buy a designated tool that is designed to do both to reduce the chance of injury and ensure you get a clean cut for your yard.
Q: How big should a guard be?
A: The brush guard is one of the most essential components of a string trimmer and edger since it protects your legs from flying debris. In general, you want a guard that is as long as your strings, so use one between 10 and 14 inches.
Conclusion
When it comes to choosing the best string trimmer and edger, it's important to take into consideration what kind of tool you want. If you want a single product dedicated to both trimming and edging, then you can't go wrong with the Craftsman V20 String Trimmer and Edger. This model is easy to adjust, has a simple automatic line feed, and also has enough power to get the job done without needing extra charging.
However, all of these models are simple and easy to use. Thanks for reading, and happy trimming!