Mowing your lawn is part of landscaping maintenance that serves several functions besides keeping your property looking well-kept. It can improve the health of your grass and garden while helping to prevent pests from finding new homes in your yard. The next step to a beautiful lawn involves researching the differences between an edger vs trimmer.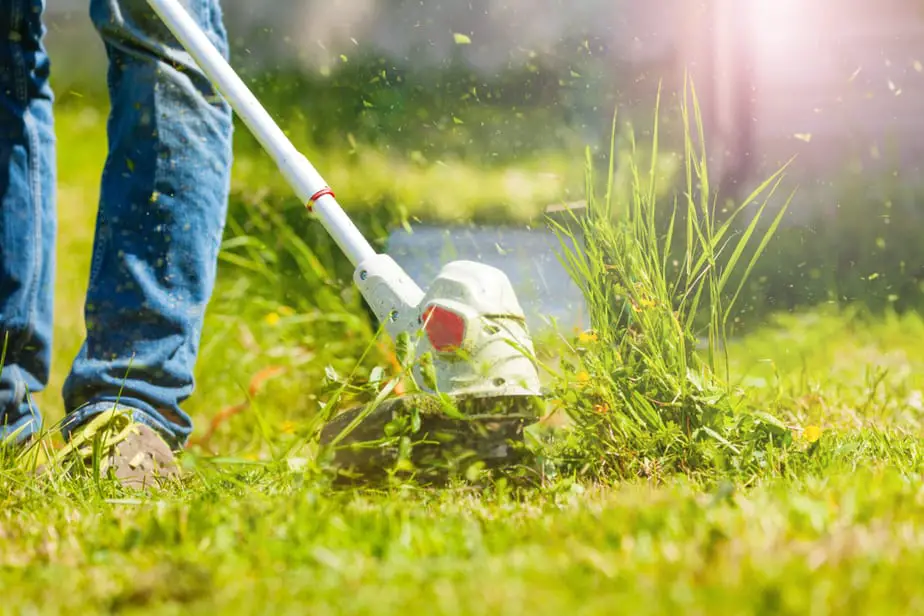 Both will help with your maintenance but in different ways that make knowing the pros and cons of each one essential to get the most out of your purchase. Our buying guide will give you the info you need to wade through the myriad of choices you'll find.
In a Hurry? Here's Our Top Picks…
1. AMES 2917200 Saw-Tooth Border Edger with T-Grip
Sale
AMES 2917200 Saw-Tooth Border Edger with T-Grip, 39-Inch
LANDSCAPING EDGER: Cuts trenches and creates clean, finished lawn edges along driveways, lawns and sidewalks
VERSATILE EDGER: Blade design cuts straight or curved edges
SERRATED BLADE: Serrated steel blade easily cuts through grass and earth; Durable serrated 15-gauge steel blade slices through grass and turf in 1 step
CONVIENENT FOOTPLATE: Fashioned with a footplate for comfort, control and consistency
BLADE DIMENSIONS: 8-7/8 in. W x 4-1/2 in. H
Last update on 2023-05-26 / Affiliate links / Images from Amazon Product Advertising API
The AMES 2917200 Saw-Tooth Border Edger with T-Grip is about an old-school as it gets with some improvements to make the work easier. The saw-toothed edge cuts through vegetation with ease. You are in total control of clearing it away. It measures 39.3 inches tall by 14.1 inches wide by 1.5 inches thick.
The ergonomic design gives you a lot of leverage to rock the blade back and forth to work through thicker foliage. It is relatively lightweight, yet it can handle rough treatment well, thanks to its steel construction.
Pros
The edger is well-made with steel for durability.
The serrated edge is uber-sharp.
It is affordably priced.
The edger cuts through weeds the first time.
Cons
The edger won't go through the thicker, woodier brush.
Some users may find the tool too tall.
Check Price and Reviews on Amazon
---
2. BLACK+DECKER 2-in-1 Landscape Edger and Trencher
BLACK+DECKER 2-in-1 String Trimmer / Edger and Trencher, 12 -Amp (LE760FF)
HEAVY DUTY EDGER AND TRENCHER - High- torque, 12 Amp electric edger and trencher for powering through overgrowth and digging clean-looking trenches
TWO-IN-ONE TOOL - Easily converts from edger to trencher in seconds
MAXIMUM CONTROL - Three-position blade depth adjustments and pull-up edge guide let you better control your cut
EASY OPERATION - Right or left-handed assist for added flexibility, no-tool set up, and door on guard for easy cleaning
BUILT FOR VERSATILITY - 7-1⁄2 in. blade with 3/16 in. thickness for a range of tasks
Last update on 2023-05-26 / Affiliate links / Images from Amazon Product Advertising API
The BLACK+DECKER 2-in-1 Landscape Edger and Trencher is a multi-task tool that handles two of the hardest landscaping jobs with one product. The 12-amp motor slices through vegetation easily. It has three depth settings to match the job. The edger measures 23 inches tall by 10 inches wide by 12 inches deep.
The product is an updated version. The new model adds ergonomic components and some tweaks in the design to improve its performance. It has two modes, depending on the job. The edger handles well whether you're edging or cutting a trench. Some assembly is required, but it's not hard. The instructions are clear to get you back in the yard fast.
Pros
You can purchase it with an extra blade.
The included guide keeps your edging on point for clean cuts.
It is easy to use with a powerful motor.
The large wheels are easy to maneuver through a variety of surfaces.
Cons
The tool is a bit heavy at just over 14 pounds.
Some users may find it hard to use because of its shorter height.
Check Price and Reviews on Amazon
---
3. WORX WG154 Cordless Edger
Sale
Worx WG154 20V PowerShare 10" - 12" Cordless String Trimmer & Edger (Battery & Charger Included)
[2-IN-1] Don't buy a separate trimmer and edger. Get this 2-in-1 and save time, money, and space in the garage
[ROTATING HEAD] It easily switches between trimming and edging functions: just grasp the head, pull is away from the shaft and turn it 180
[SAME BATTERY, EXPANDABLE POWER] The same battery powers over 75+ 20V, 40V, and 80V lifestyle, garden, and power tools in the Power Share family
[SIMPLE AND EFFICIENT] At only 4.2 lbs (3.2 lbs without the battery) this lightweight and compact trimmer and edger is made for everyone
[AUTO-FEED LINE] Just press the button when you need more line. The completely automatic system makes sure you have fresh string when you need it
Last update on 2023-05-26 / Affiliate links / Images from Amazon Product Advertising API
The WORX WG154 Cordless Edger is an excellent choice for small yards where you don't have a lot of edging to do. The battery-powered device is lightweight at just 6 pounds. That, along with its ergonomic handle, makes it easy to use. It measures 47 inches high by 11 inches wide by 10 inches deep. It cuts a decent-sized swath for quick jobs.
The device runs on a 20V lithium-ion battery with a five-hour charge time. The usage time is reasonable for most jobs. However, the wise shopper will add an extra battery to their cart before buying it. You can use it as a trimmer too, although it is a bit too lightweight for yards with heavy vegetation.
Pros
The edger has an automatic line feed.
It's lightweight for a battery-powered device.
You can adjust the cutting width from 10 to 12 inches.
It's easy to assemble.
Cons
The charge time is a bit longer than we'd like.
Heavy vegetation taps the battery quickly.
Check Price and Reviews on Amazon
---
4. WORX WG 163 GT 3.0 PowerShare Cordless String Trimmer & Edger
Sale
Worx WG163 GT 3.0 20V PowerShare 12" Cordless String Trimmer & Edger (2 Batteries & Charger Included)
[TRIMMER & EDGER 2-in-1] Easily converts from a string trimmer to a wheel edger in just seconds
[INSTANT LINE FEED] Innovative push button Command Feed spool system for instant line feeding. Plus, Free Spools for Life
[DO IT ALL WITH THE SAME BATTERY] Worx Power Share is compatible with all Worx 20v and 40v tools, outdoor power and lifestyle products
[BATTERIES INCLUDED] 2 powerful and lightweight 20V Power Share MaxLithium batteries come with this tool and can be used on any other tool in the WORX PowerShare family
[HEAD TILTS 90°] So you can trim and edge on sloped terrain, and get to tough-to-reach places
Last update on 2023-05-26 / Affiliate links / Images from Amazon Product Advertising API
The WORX WG163 GT 3.0 PowerShare Cordless String Trimmer & Edger is another multi-use device that brings more power and a user-friendly design to the mix. The head of the tool tilts so that you can match the angle with the job. We also loved the guard that helps control the trajectory of the cuttings and protects your landscaping.
The tool has an automatic feed, which we like to see in these types of products. And did we say you get free spools for life? The device handles well even around tight corners. It also has a one-year warranty. The battery life is decent too. It certainly helps that you get a second one with your purchase.
Pros
The package includes two batteries.
You can adjust it to the level you need.
It's lightweight at only 6 pounds.
The wheels traverse effortlessly over different surfaces.
Cons
The tool can't handle thick vegetation well.
You must pay the shipping on returns and for the free spools.
Check Price and Reviews on Amazon
---
5. Husqvarna 2-Cycle Gas String Trimmer
Husqvarna 128CD 17" Cutting Path, Detachable Gas String Trimmer
Features a 28cc 2-cycle engine which powers the 17 inch (cutting width) trimmer head
The curved shaft design helps to evenly distribute the weight of the trimmer so you can operate for longer periods with greater comfort
Trimmer engine runs on a mixture of unleaded gas and 2-cycle oil (2. 6 oz. Bottle is included, see bottle for mixing instructions)
Have no worries when it is time to replace the trimmer line - the T25 trimmer head is designed for simple and easy line reloading
A translucent fuel tank allows you to visually Monitor your fuel level as you work
Last update on 2023-05-26 / Affiliate links / Images from Amazon Product Advertising API
The Husqvarna 2-Cycle Gas String Trimmer is the tool for bigger yards and heavier use. There is extra maintenance with this type of tool, considering its power source. It uses 2-stroke oil and unleaded gasoline. It's a bit bulkier at 63.8 inches tall by 11 inches wide by 11.5 inches deep. It only weighs 11 pounds, but that is without fuel.
The trimmer is well-balanced and easy to use, although we recommend getting a strap for it. It's easy to start, which is always a plus. It uses a twisted line for heavier vegetation and woody brush. There are three optional attachments that make it a multi-purpose tool and better value.
Pros
The trimmer comes with a two-year warranty.
It's simple and quick to load a new line.
There are several attachments available to increase its versatility.
You can easily monitor that amount of gas left in the tank through its clear lid.
Cons
The trimmer is loud.
There are occasional issues with it bogging down during use.
Check Price and Reviews on Amazon
---
Edger Vs Trimmer Buying Guide
Now that you know the types of products that are available let's delve into what you should look for when deciding between an edger vs a trimmer. We'll cover the basic differences, along with the features that each one brings to the table to make your landscaping easier.
What's the Difference Between an Edger and a Trimmer?
Both tools perform a specific function, typically with the finishing touches after you've mowed your lawn. That, as we all know, is just the beginning of your landscaping maintenance. They serve a similar purpose—to tidy up the loose edges, as it were.
You can use an edger to cut the stray vegetation crossing the borders of your sidewalk, driveway, or any decorative trim you have as part of your landscaping. It makes short work of getting the job done while leaving a sharp edge that makes your lawn look neat. As you may surmise, an edger has specific uses in certain places.
A trimmer, on the other hand, is the clean-up crew coming in for the mop-up after you've mowed the lawn. You can use them to cut vegetation in areas where your lawnmower can't reach or where you don't want to risk damage, such as around trees. They work similarly to this type of equipment with a smaller reach and more controlled fashion.
The biggest difference between the two is that an edger has one job, whereas a trimmer can do double-duty for both tasks. You'll also see products that are multi-functional, which is a boon if you don't want to invest in a lot of power equipment.
Things to Consider
It's essential to step back before you buy an edger vs a trimmer to figure out what you need out of the product and how much you're willing to spend. You can spend anywhere from less than $50 to well over $1,000 for professional-grade equipment.
We'd suggest considering the labor factor too. It doesn't take long to find out that landscaping is hard work. It's no coincidence that neck and back pain is the third top source of healthcare spending in the United States. That's part of the reason that makes powered devices a smarter choice over manual ones for the 60 million American households that invest time and money in their landscaping.
When deciding whether to buy an edger vs trimmer, think about these factors:
Size of the Job
Power Source
Maintenance of the Equipment
Size of the Job
There are two aspects to this consideration. First, there is the physical size of your lawn. The average size lawn in the United States is about 0.2 acres. While that may not sound like a lot, you'll know first-hand what it means when you maintain a lot of that size. If your property is large, you may find it worthwhile to invest in bigger equipment to make the job quicker and easier.
Also, think about the type of land you're landscaping. If your property abuts a field or forest, you'll likely have a lot of tougher vegetation encroaching on your lawn. You may need power tools to cut through invasive weeds and woody plants.
Power Source
You'll find either product with several options for its power source. On the low end, you'll find manual equipment where you provide the elbow grease. They offer several advantages.  They are portable and typically lightweight. On the downside, there is labor.
You'll also see edgers and trimmers that use batteries. They offer portability, but they are also heavier. Electric devices don't weigh as much. However, there is a cord, which can easily become a hazard or limiting factor if you have a lot of areas to cover.
There are also gas-powered devices. They are also easy to use anyplace on your property. The fuel does add weight and needs topping off occasionally.  Then, there is the environmental factor. These tools emit several harmful greenhouse gases, including carbon dioxide and nitrogen oxides. The irony is that landscaping increases the green space, yet the maintenance is a risk factor.
Maintenance of the Equipment
From a practical point-of-view, you should also consider what you need to do to keep your lawn tools in tip-top shape. We strongly urge you to maintain them to get optimal use from them. That means keeping the blades sharp and changing the oil and filter as recommended by the manufacturer. They will operate more efficiently and cut down on the time that you have to use them.
Less use equals less greenhouse gas emissions.
Other Features
We'd recommend looking at other specs that can affect how well these types of devices work and your ease of using them. For example, weight is a vital consideration is you're using a string trimmer. While 5 pounds doesn't seem like a lot, you'll feel it after 20 minutes of hauling it around your yard. That's why we suggest using a strap to take the burden from your upper arms and shoulders.
Matching the type of trim line with the device is another critical factor. If you're only dealing with grass-like plants, a 0.065-0.08 round string will get the job done. If there is heavy brush, opt for 0.11 or greater sizes in square or multi-sided line. Checking the cutting width in the specs will help you choose a model that is appropriate for your situation.
Ergonomic grips are a godsend if you have a large area to cover. If you're using a battery-powered tool, we suggest getting a few extra batteries so that you can get your lawn down in one pass. Another essential consideration is the guarantee and warranty of the product you buy. We prefer ones that the manufacturer backs with satisfaction guaranteed.
Best Brands
Black & Decker
Black & Decker is a household name when it comes to power equipment, whether it's the coffeemaker in your kitchen or cordless drill. The America-based company got its start in 1910. Now known as Stanley Black & Decker, you'll find many other familiar brands in its line, including DeWalt and Craftsman. It has a reputation for affordable, quality products.
WORX
WORX specializes in lawn and garden tools with a full line of products from chainsaws to electric lawnmowers. Many of its items are multi-purpose and environmentally friendly. It is a relatively new company, founded in 1994 by the China-based Positec Tool Corporation.
Ryobi Seisakusho Co., Ltd.
Ryobi Seisakusho Co., Ltd. is a global company founded in 1943. Its product line serves a variety of industries from construction to automotive to power tools. It prides itself on its ability to better the quality of life of its consumers through innovative technology.
Frequently Asked Questions
Q: Do edger blades need to be sharpened?
A: Edger blades are no different from the ones you have on your lawnmower. They will lose their edge over time, especially if you use them on vegetation with tougher or woody stems. We recommend getting them sharpened professionally at least every two years. Remember that a sharp blade cuts cleaner and reduces your workload.
Q: Is the twisted trimmer line better?
A: You'll find rounded trimmer lines with most of these products. It's the safe bet for all-purpose trimming where there isn't a lot of woody vegetation. However, if you need the big guns, then the twisted line is a smarter choice. While it may cost more, it will make short work of anything in its way. You'll also find it more comfortable to use with less vibration.
Q: How do you add more string to a trimmer?
A: The process varies with the type of equipment you're using. You must do it manually with old-school models, which usually involves tapping the unit on a hard surface to get more line. You'll also see products with an auto-feed mechanism that makes adding line a snap. Newer trimmers take the guesswork out of adding more string by doing it automatically.
Final Thoughts
Power tools make landscaping easier and quicker, allowing you to spend more time enjoying your yard. Several products stood out with innovations that provide reliable service for a plethora of tasks like the WORX WG163 GT 3.0 PowerShare Cordless String Trimmer & Edger. If space and your budget are your primary concerns, you'll find a quality item.
Even though landscaping takes time and effort, there is no denying the pleasure and satisfaction of a well-kept lawn. Whether you're considering an edger vs a trimmer, you'll find the right tool to tidy up your lawn and keep it looking its best. As always, we recommend that you use eye and ear protection when using any power equipment.