The Stihl vs Husqvarna chainsaws matchup ranks up there with Apple vs Android, Windows vs macOS, Pepsi vs Coke, Nike vs Reebok, and Starbucks vs Dunkin' Donuts as regards great rivalries between popular brands.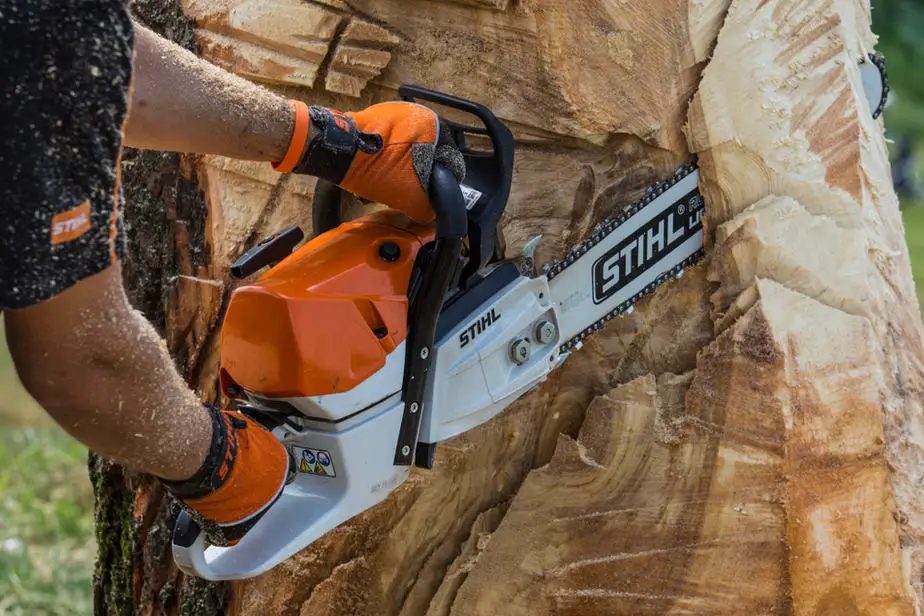 And while the quality offered by both brands means that determining which is best might seem like splitting hairs, for those in the know there are a handful of tangible differences between the two brands' offerings that make them a better or worse choice for your yard projects, whether you're felling trees, pruning, or just trimming firewood down to size.
How to Choose a Chainsaw
In the next few sections, we'll be going over the individual qualities of either chainsaw option to give you an in-depth overview.
Gas Chainsaws
Let's get straight to the bottom line: gas chain saws are usually the best bet for more heavy-duty and large-scale projects such as felling trees, cutting hefty branches, or cutting up either of the above for firewood.
Gas-powered devices are also the most mobile owing to their cable and battery-free deployment and offer greater cutting ability owing to their larger engine size and resultant upgrade in raw power.
While gas-powered chainsaws are noisy, heavy, require more maintenance, and have ongoing fuel costs, their power makes cutting much easier and their portability means they're the best option if you plan on using your chainsaw far from a power source.
Electric Chainsaws
Electric chainsaws are ideally suited to smaller projects such as pruning, trimming, and cutting up smaller branches near a power source.
Although less powerful than gas-powered chainsaws, electric models are typically much lighter, easier to handle, cheaper, lower maintenance, easier to use, quieter, and don't have the same ongoing fuel costs and high emissions.
If, therefore, you have lighter tasks to take of that are close to a power source and don't mind an electric cord dangling around, then an electric chainsaw will most probably serve your needs more than adequately.
Engine Capacity
Most gas-powered chainsaws have engine capacities between 32cc and 60cc. As you might imagine, those at the lower end of the scale are most suitable for lighter jobs but are usually slower cutters and don't offer the power required to do any substantial logging or felling.
Given the above, it might be tempting to opt for beefier a model in the 50-60cc range, but it's well worth bearing in mind that, though powerful, such models often come with several drawbacks, including more bulk and weight (and, thus, less maneuverability), increased fuel consumption, and can cost up to twice as much as low-powered machines.
Guide Bar Length
In short, the length of the guide bar on any machine will determine the thickness of the wood it's capable of cutting through and how easy it is to handle.
As a general rule, shorter guide bars make for easier handling but are also only capable of cutting through slimmer logs or trees, thereby making them a better choice for pruning and resizing firewood but not so great for felling trees.
To get around this problem, some machines are compatible with varying sizes of the guide bar (usually from 14" to 20"), but in order to enjoy that flexibility, you'll have to shell out another sizeable whack of $ to get a second blade.
Weight
While some lightweight chainsaws can weigh in at as little as ten pounds, many heavier models push and even surpass the twenty-pound mark.
This, of course, has a large bearing on how easy to handle the machine will be. If you happen to have Popeye-type forearms and don't mind schlepping the weight of a well-fed toddler around for as long as you're cutting, then weightier models might be an option, but it's worth bearing in mind that having less control over your machine makes accidents more likely.
As you might imagine, there's usually also a trade-off between weight and performance, with heavier models typically offering more power, using larger blades, and having larger fuel capacities. If none of these are essential, we'd highly recommend opting for a more manageable machine at the lower end of the weight scale.
Tool-Less Chain Tensioning
This feature may seem like an attractive but non-essential add-on, but only if you've never had to stop several times throughout a cutting session, get out your tools, and adjust the chain tension on your saw manually.
Chain tensioning is part and parcel of chainsaw usage and is something required frequently in most units. As such, tool-less tensioning can be a big time-saver and also make you more likely to avoid the damage to the saw, the chain, or the bar that can come of a poorly tensioned chain on those occasions when you decided to push on with a task to get it finished instead of taking the time to stop and lube up.
If ease of use and convenience are your thing, look for a model with a tool-less tensioning system such as a wheel tensioner—it might set you back a few more $ but it will save you a lot of time and hassle, particularly if you're likely to be using your machine frequently or on larger jobs.
Easy-Start System
Another feature conducive to ease-of-use and convenience is the easy-start system, something that is a feature in most, but not all, gas-powered models of a chainsaw.
Both Stihl (Ergostart) and Husqvarna (Smart Start) use easy-start systems in their chainsaw units. For our money, the better of the two is the Ergostart, which is very easy to pull without throwing yourself off balance thanks to a proprietary spring in the recoil mechanism.
Automatic Oiler
A well-lubricated chain is essential to keeping your chainsaw cutting efficiently. When a chain isn't adequately lubricated, the friction between the chain and the wood increases and with it the risk of
motor or chain damage, or, worst-case scenario, kickback, which is the leading cause of chainsaw-related injuries.
Automatic oilers release a steady trickle of oil while the machine is in operation and is a common feature on most chainsaws, but some automatic oilers are better than others. Naturally, most brands tout their automatic oilers as super-efficient and clean, and gauging to what extent this is true can be tricky. The only way to really do so is to read through user reviews and check how wasteful with oil and messy any machine is, and how liable the blade is to sticking due to a lack of oil in the system.
Safety Features
We probably don't need to tell you that chainsaws are dangerous, nor that buying a device that scores highly on safety features is the way to go. But the safety features in different devices vary greatly in their effectiveness. In short, just having them isn't enough. Below, we've identified how the most common features work and what you should look for when buying.
Safety Switch
Many chainsaws feature a safety switch that prevents the trigger from being accidentally engaged by a branch or log, or by your hand when moving between cuts. While this feature comes as standard on most devices, it's well worth checking before buying—if it ain't there, we'd advise you to spend your money elsewhere.
Chain Brake
The chain brake is normally located on a chainsaw's front handle and is triggered when kickback pushes the user's hand against the switch, at which point the chain stops instantly to prevent serious injury. While avoiding kickback mainly comes down to correct usage, this feature is well worth having for those odd occasions when your concentration slips, a tough cut takes you further down the bar than you intend, or when moving between cuts.
Stihl vs Husqvarna: Brand Overview
This Swedish brand has been on the go since the late 17th century (no joke) and originally made its name as a manufacturer of muskets. Muskets are no longer part of the Husqvarna catalog but these days the brand churns out a wide range of garden tools and backcountry tools like knives and camping axes.
Husqvarna has a long tradition of producing high-quality, long-lasting yard tools, and its selection of chainsaws is no exception.
But how do its chainsaws compare to those of Stihl? We've highlighted the main differences below.
Similarly sized and priced Husqvarna machines are generally more powerful and cut faster than Stihl models
Husqvarna machines are a little heavier
Husqvarna machines have larger fuel tanks (and, thus, longer runtimes)
Husqvarna machines are less greedy on the gas
Come with longer warranties
Formed in Stuttgart, Germany, back in 1926, Stihl is now based out of Virginia. Like Husqvarna, the brand produces a wide range of power tools but is mainly renowned for its high-quality chainsaws.
Some general observations we can make about Stihl chainsaws include the following:
Smaller fuel tanks make Stihl units lighter and easier to handle…
…but also means they need more frequent refueling
Lower torque makes them better on tougher woods
Stihl machines are cheaper than comparable Husqvarna machines
Most machines come with shorter warranties
The Best of Both Brands
Now that we've seen what makes a great chainsaw and know a little more about the backgrounds of Husqvarna and Stihl, let's take a look at two of the best chainsaws on offer from both brands.
1. Husqvarna 18 Inch 460 Rancher Gas Chainsaw
No products found.
This beast of a machine is available in 20 and 24-inch models, but for most non-commercial users the 18-inch bar on the Rancher will more than suffice.
This isn't the cheapest chainsaw out there, granted, but in return for your outlay you get a very powerful, 50.2cc, 2-cycle engine with low emissions, a SmartStart easy-start system, a relatively manageable weight of 12.8 lbs, and oodles of quality throughout the unit.
What we like most about this chainsaw is its versatility, with its user-friendly features and light, manageable weight making it ideal for everything from felling large trees to more delicate operations like pruning or cutting firewood.
Other nice features include an automatic oiler, an easy-to-use tensioning system, and a vibration reduction system that's surprisingly effective for such a powerful machine.
To top it all off, this chainsaw comes with a 4-year warranty—a whopping 3 more than on units made by rival Stihl.
What We Like
18-inch bar
Powerful 3.2 hp, 50.2 cc engine
Quick-release air filter simplifies cleaning
Impressive fuel efficiency
Effective vibration reduction system
Easy to start
Chain brake and inertia chain brake
Effective automatic chain oiler
Simple and quick side-mounted chain tensioning system
4-year warranty
What We Don't Like
Pricey
It's a bit of a gas-guzzler
Check Price and Reviews on Amazon
---
This feature-rich chainsaw is one for those who want an easy-to-use, lightweight device that doesn't make too many compromises in terms of overall performance.
Weighing in at a mere 11.9 lbs, this chainsaw offers very easy handling and is ideal for those who envision using it for less heavy-duty tasks like felling small trees, pruning and thinning, and cutting firewood.
And for such a lightweight machine, the MS 251 also provides plenty of power and cutting performance on a par with many far heavier chainsaws thanks to its 45.6 cc engine, 18-inch bar, and STIHL's Easy2Start starting system.
This machine also comes with a bespoke chain-tightener that doesn't require additional tools, offers up to 20% fuel savings and 50% reduced emissions compared to previous iterations of this model, has an effective vibration-reduction system, and boasts a handful of safety features, most notably a Quickstop chain braking system, front and rear hand guards, and a 'Master Control Lever' that reduces the risk of accidents by forcing the user to pull the throttle trigger before operating the choke.
What We Like
Compatible with 14", 16", and 18" bars
Powerful 45.6 cc engine runs at just under 3hp
Lightweight (11.9 lbs)
The effective vibration reduction system
Quick chain tensioning
Automatic oiler
Easy to start
What We Don't Like
Short warranty (one year)
Pricey
High fuel consumption
Conclusion: Stihl vs Husqvarna Chainsaws
Deciding which of these two awesome brands offers the best chainsaw will ultimately depend on what you need your chainsaw to do.
As a bottom line, we'd suggest that both brands offer such high-quality devices that you can't really go wrong, but if pushed to advise which of the two is best for your projects, we would offer the following:
If you're likely to be using the saw frequently on tougher and larger jobs, then the added power and runtime are likely to make Husqvarna models your best bet. If, however, you're more interested in having an easy-to-use machine that requires less maintenance and is better suited to smaller jobs that require easier handling and better maneuverability, in most cases an equivalent model from Stihl will more than suffice and, most likely, save you a small handful of $ to boot.