If you've ever visited your childhood home as an adult, you probably made one glaring observation: it was much smaller than you remembered. The fact is that you're right. When you consider how big is the average backyard, it's isn't as large as it used to be. However, the factors behind these trends in backyard size say more than you may think.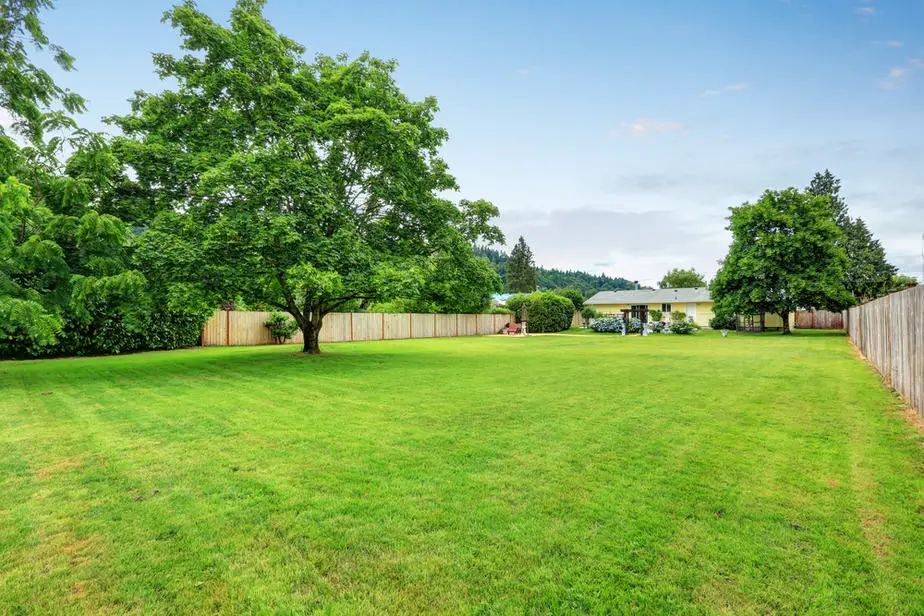 Lot Size
Back in 1992, the lot size was about 10,000 square feet, according to the National Association of Home Builders. Then, starting in 1995, things started to go downhill. Today, the average hovers around 8,560 square feet or about 15 percent less at about 0.2 acres for a small backyard.
However, that figure doesn't tell the whole story. It also varies where you live.
If you live in the Midwest, your backyard likely runs around 9,583 square feet or about 0.22 acres. Things get a bit smaller on the Pacific coast where it averages 6,534 square feet. To put it in perspective, an NFL football field is 360 feet long by 160 feet wide or 1.3 acres.
On the other end of the spectrum, New England enjoys the largest backyards at 0.4 acres or 17,424 square feet. That means you can put just over three East Coast houses on a football field compared to almost nine from the West Coast.
Wilson NFL Super Grip Official Football Brown, Official (Age 14+)
Football is a game of will. Take hold of the game with the NFL Supergrip. Made with a high-performance composite material, this football offers the ideal blend of durability
Official Size Football
NFI branded
Super grip composite cover for a premium feel
Butyl rubber bladder for advanced air retention
Last update on 2020-12-14 / Affiliate links / Images from Amazon Product Advertising API
---
House Size Versus Lot Acreage
Interestingly, the average size house has seen the reverse happen. In 2001, the mean square footage for your dwelling was about 1,725 square feet. It jumped to 1,980 square feet or about 10 percent larger. Some of the extra room we have inside our homes has come at the expense of our yards.
Again, it also varies not only in what region but what state you live in too.
If you live in Vermont, you're in luck if you like being outside. The median lot size is a whopping 75,794 square feet. Your house covers less than one-quarter of your property. That's a lot of backyard to enjoy! But think of all that mowing too.
There is a lot of variation between the states. You may be surprised to learn that the place with the smallest median lot size is Nevada with a mere 6,098 square feet, second only to Washington D.C. However, Nevada and Vermont are anomalies on both sides of the story.
After Vermont, the places with the largest acreage per dwelling are:
Montana

Mississippi

New Hampshire

Maine

Louisiana
Factors Affecting Backyard Size
It turns out that many things come into play when you discuss lot size, house square footage, and backyard. The cost per square foot comes to mind as one possibility. However, the top five also had some of the highest median home prices in the country. So, how do we explain the differences?
In New England, it's zoning laws that dictate the population density. The lots are big because, well, they have to be. Most are too.
The size of the house will also directly affect how big is the average backyard. The top five states with the largest homes are:
Utah: 2,305 square feet

Colorado: 2,126 square feet

Wyoming: 2,052 square feet

Montana: 2,040 square feet

Texas: 2,031 square feet
With the exception of Texas, all are well above the US average home price of $195,000. It's worth noting that Utah, Colorado, and Texas are all in the bottom 10 of mean backyard size. So, people differ in what they value for the use of their land. Other things may play a role in both the size and usage.
Outdoor Participation and Backyard Use
One thing that may explain the disparity between the house and yard sizes is the degree of participation in outdoor recreational activities. Some people may spend so much time outside that their indoor space is more important for them. Perhaps it's no coincidence that Nevada has the highest percentage of land in federal ownership and the smallest backyards at nearly 80 percent.
What are they doing with their property and their backyards?
The American Backyard
Maintaining a healthy lawn is a part of the mix. Turfgrass makes up 2 percent of the total US surface area. That may not sound like a lot unless you start looking at the numbers. It is, in fact, our largest crop, exceeding the combined acreage of alfalfa, corn, orchards, and rice at 59.6 million acres.
Usage and How Big the Average Backyard Is
An American homeowner loves their backyard and likes to landscape it with a garden bed or two or put additions on our houses to enjoy our time outside better. According to the US Census Bureau, there were 840,000 new single-family houses in 2018 of which less than 9 percent did not have any outdoor features.
We are also making better use of our space, even if the backyard sizes have dropped recently. The deck and patio industry has grown by 3 percent each year from 2014 through 2019. It doesn't stop there. According to the American Society of Landscape Architects, the features that homeowners want the most include:
Native plants

Plants tolerant of environmental stresses like drought

Vegetable gardens

Low-maintenance yards
It's not a stretch of the imagination to suggest that the line between our living quarters and the yard is blurred with more homeowners getting creative with outdoor kitchens, alfresco dining, and other features. Perhaps that explains the trends in lot, house, and backyard sizes. It's worth mentioning that the swing set of yore didn't even make the top ten projects.
The statistics bear out this suggestion. Homeowners view their land as an extension of their homes, with outdoor living rooms one of the most requested special function rooms, according to the American Institute of Architects' Home Design Trends Survey. It's even better if it can make up for any lost space.
While we want to use our yards differently, we still lean toward minimalist elements. We'll avoid clutter; we want comfort. Just like we keep our favorite things around us inside our homes, we're also taking it outside in our backyards. And cozy, after all, speaks more to these feelings than a sprawling lawn.
Sale
Landmann 28345 Big Sky Stars and Moons Firepit, Black
Big sky firepit with stars and moons design cutouts and black finish
Sturdy steel construction with black finish
Includes cooking grate and spark screen with poker
Safety ring for easy transport
Large 23-1/2-inch fire bowl
Last update on 2020-12-14 / Affiliate links / Images from Amazon Product Advertising API
---
Final Thoughts
The chances are that you spent a lot of time in your yard growing up as a kid. Maybe you had a cool swing set or jungle gym. You probably can still remember telling you and your siblings to go outside and play. It was a rite of passage we all enjoyed.
Today's homeowners are more willing to give up acreage for a more affordable home. Perhaps we can explain the numbers as a paradigm shift. We're using our yards differently, with more emphasis on making it a part of our living space.  That's the takeaway message we can take from learning how big is the average backyard.