Using a leaf blower can really improve your ability to clean up your yard quickly and efficiently. In the fall when leaves seem to be everywhere, you likely don't want to spend hours cleaning up. Many blowers even offer other functions such as vacuuming and mulching. There are two brands that seem to be the most popular. They are Toro and Black and Decker and both offer reliable solutions to cleaning up your yard. However, who wins out in the comparison of Toro vs. Black and Decker blower? Here, we'll take a look at five options, spending time on the features that make them unique.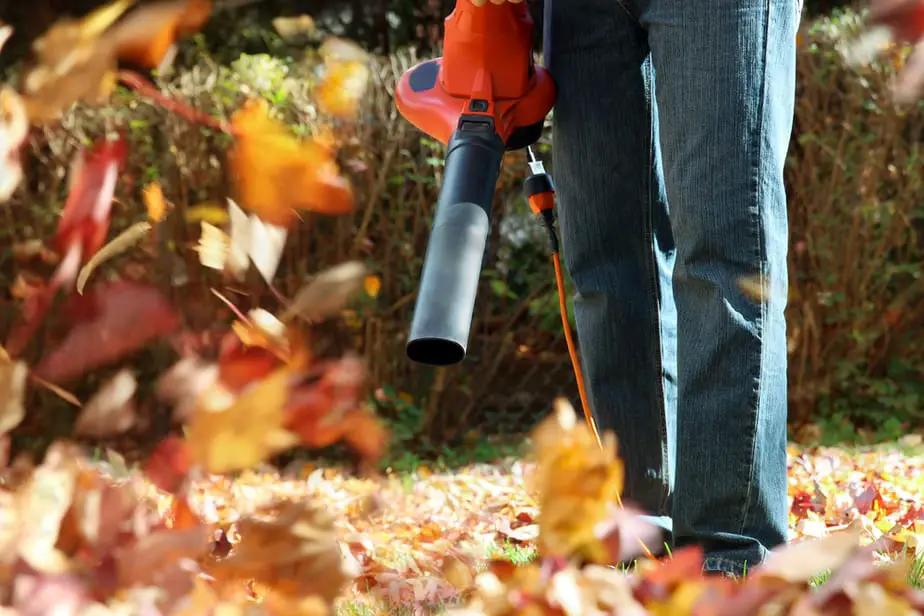 In a Hurry? Here's Our Top Picks…
1. Black & Decker BEBL7000
Sale
BLACK+DECKER Electric Leaf Blower, Leaf Vacuum and Mulcher 3 in 1, 250 mph Airflow, 400 cfm Delivery Power, Reusable Bag Included, Corded (BEBL7000)
3IN1 DESIGN – Easily converts into a corded leaf blower, leaf vacuum, or mulcher for versatile use..Blower is ideal for clearing debris from hard surfaces and leaves from yard. Vacuum is ideal for mulching leaves and other lawn debris INCLUDES – (1) BEBL7000, (1) blow tube, (1) vac tube, (1) backpack bag.
POWERFUL AIR SPEED AND AIRFLOW – Air speeds up to 250 mph and airflow up to 400 cfm deliver the power you need for quick, effective clearing.
BACKPACK STYLE – Easy-to-wear backpack with up to 2x the bag capacity allows for hands-free operation.
POWERBOOST – More power at the push of a button.
FLEXI-TUBE – Allows for enhanced maneuverability when vacuuming leaves and debris.
Last update on 2023-11-19 / Affiliate links / Images from Amazon Product Advertising API
This model from Black & Decker gives you 250 miles per hour and 400 CFM so you'll get plenty of power out of it. You get plenty of components with this model including a backpack bag, blow tub, and vacuum tube.
This model easily converts from a vacuum to a blower and comes with a zipper-free bag so you can empty quickly given the wide opening. You get three functions in one tool. It is a blower, vacuum, and mulcher.
There is a power boost feature with this model so that you can get a boost of power when needed and on-demand. It works really well when trying to clear debris from your yard or other hard surfaces.
Things we like:
Power boost button gives you an added boost when needed
Zipper-free bag offers an easy emptying
Easy to wear backpack included
Things we don't like:
The hose can be difficult to detach when switching modes
This model is pretty heavy at 11.1 pounds so it isn't easily used by just anyone
Check Price and Reviews on Amazon
---
2. Toro Ultra Blower Vac 51619
Toro 51619 Ultra Electric Blower Vac, 250 mph, Red
New larger metal impeller drives power and improved mulching
Powerful up to 250 mph degree
Vacuum tube, bottom-zip bag, power insert, concentrator nozzle and cord storage hook included; Extension cord not included
Variable speed control for better control in both blower and vac mode
Top rated air horse power degree degree for comparison purposes only; Performance claims based on controlled laboratory testing
Last update on 2023-11-19 / Affiliate links / Images from Amazon Product Advertising API
This option from Toro is quite powerful. It's a blower with up to 250 miles per hour airspeed but that isn't all. It's a 3 in 1 machine that also functions as a leaf shredder and high-speed vacuum as well. You'll receive a bottom-zip bag, vacuum tube, concentrator nozzle and power insert along with the blower.
You'll get variable speed for improved control in both the vacuum mode and the blower mode. There's a quick-release latch that allows you to convert your vacuum into a blower in just a few seconds and you don't need any tools to do so.
This model offers a metal impeller which is a great feature to have as opposed to a plastic one. It really does grind, shred, and dispose of leaves along with small twigs that would likely break a plastic impeller.
There's a built-in cord lock that allows you to keep the cord attached to the blower. There is also a cord storage hook and storage is easy with this blower. You simply put all of the pieces into the vacuum bag that can be hung right on the wall.
The vacuum bag is a nice feature but isn't all that durable. The zipper on the bottom of the bag seems to fail once the bag has a good weight of leaves in it. This can really decrease your productivity.
Things we like:
Durable metal impeller makes shredding leaves easy.
Easy transfer from blower to vacuum mode
Things we don't like:
The vacuum bag is not durable so you can't fill it too much. This can really delay your progress on chores.
Check Price and Reviews on Amazon
---
3. Black & Decker BV6600
BLACK+DECKER 3-in-1 Electric Leaf Blower, Leaf Vacuum/Mulcher, Corded, 12-Amp (BV6600)
The 12 amp motor operates a 3 in 1 blower, vacuum and mulcher all in one
250 mph blower with variable speed selections
Disposable leaf bag system
Can grind up to 16 bags of mulch down to one. Product Application: Yard Work
Air Speed: 140 250 mph; Bag: 1.5 Bushels; Decibels: 68 dBA; Included Components: BV6600 12 Amp Blower Vac, (1) Blow Tube, (1) Vacuum Tube, (1) EZ Empty Reusable Collection Bag, (1) Concentrator; Mulch Ratio: 16:1; Power Source: Electric; Type: Blower Vac
Last update on 2023-11-19 / Affiliate links / Images from Amazon Product Advertising API
This is another 3-in-1 option so you get a blower, mulcher, and vacuum in one tool. You are able to grind up to 16 bags of mulch down into just one bag. This can be incredibly helpful if you find that you often get a lot of leaves and need to turn them into mulch.
It offers 250 miles per hour of air blowing power and there are variable speed settings available. You can arrange for airspeeds ranging from 140 miles per hour to 250 miles per hour. It uses 12 amps of power and weighs 8.1 pounds. Along with the tool, you also receive a blow tube, vacuum tube, concentrator, and reusable collection bag.
You can switch from blower to vacuum mode in just a few seconds and the high impact metal fan will help prevent you from getting any clogs when you're mulching. It is nice to have a metal fan as opposed to a plastic one when it comes to the durability and longevity of the product.
Things we like:
Variable speeds make for easy work on different projects
The powerful grinder makes for significantly fewer bags of mulch. The grinder is also quite durable.
Things we don't like:
The bag is not very durable and often needs to be replaced long before you need a new blower.
Check Price and Reviews on Amazon
---
4. Toro 51585
Sale
Last update on 2023-11-19 / Affiliate links / Images from Amazon Product Advertising API
This blower will give you a speed of 160 miles per hour which is pretty powerful for a light option. It is also a very lightweight option, weighing in at only 4.6 pounds. There are two different speeds available and it comes with a 2-year full warranty.
Those two speeds are available through an easy-to-reach control switch which is located right on the handle. It falls right beneath your thumb so you need only tough it to switch between speeds. You can use the low-speed option when you need more control or are working in a smaller space. The high-speed setting will give you more power when you need it or are working in larger areas.
The warranty covers nearly everything so if something goes wrong, you can work with the manufacturer to have the item repaired or replaced.
Things we like:
Very lightweight which means just about anyone can use this, even for a long period of time.
The two-speed options make it pretty versatile for different jobs
Things we don't like:
It comes with a very short cord which means you have to attach it to an extension cord that does not come with the blower. This can be really cumbersome.
This doesn't come with any attachments or different nozzles.
Check Price and Reviews on Amazon
---
5. Black & Decker LSW 321
Sale
BLACK+DECKER 20V MAX* Cordless Sweeper with Power Boost (LSW321)
130 MPH sweeper easily clears debris from hard surfaces.Sweeper is ideal for clearing driveways, sidewalks, decks, garages and other hard surfaces of leaves, grass clippings, and other lawn debris. Included Components: (1) LSW321 20V MAX POWERBOOST Cordless Sweeper, (1) LBXR2020 20V MAX Lithium Ion Extended Runtime Battery, (1) Charger, (1) Blow Tube
Low noise design allows for quiet operation
Up to 25 minutes of runtime allows you to complete a variety of tasks
POWERBOOST increases power to clear stubborn debris
Part of the 20V MAX System; 1 System - Endless Tasks. Power for your Style
Last update on 2023-11-19 / Affiliate links / Images from Amazon Product Advertising API
This blower offers a speed of 130 miles per hour. One of the most notable features of this model is that it offers really quiet operation. This is ideal if you live in a quiet neighborhood and don't want to disrupt your neighbors.
This model is cordless, and you'll get up to 25 minutes of continuous use before you need to charge again. There is also a power boost option for when you need a bit more power. Along with the blower, you'll also get a Lithium-Ion battery, blow tube, and charger. Keep in mind that 25 minutes will not allow you to complete a long chore so this model is really more perfect for those chores that aren't big projects.
This blower is very light at just 3.7 pounds. It can be used by really anyone and it is very easy to maneuver around. This is a very light option so if you need that, this might be the best fit for you.
Things we like:
Very lightweight so it can be used by anyone
The cordless design means you aren't limited in where you can work
Things we don't like:
Run time is pretty short at 25 minutes. You'll likely need to take breaks to complete larger chores.
Check Price and Reviews on Amazon
---
Education
There are plenty of things to take into consideration when choosing the best blower for your needs. When comparing Toro vs. Black and Decker blower, you'll want to keep a few things in mind about each potential model, as well as the respective manufacturer.
We've highlighted each of these major features in the reviews above. You'll want to keep these in mind when you move through the options and arrive at your top choice.
To begin, you need to decide what actual type of blower is best suited for your needs. Then, you'll need to move on to features and characteristics of that type to choose the blower that is going to be most effective in completing your chores.
Different Types of Blowers
The first thing to consider is what type of blower you actually need. There are a few different types available and they all have their own pros and cons. Here, we'll take a look at the different choices you have available and their respective advantages and disadvantages.
Corded Electric
A corded electric blower will usually weigh somewhere around 8 pounds and is typically made for use with just one hand. These models also usually have a start feature that is no-hassle, such as a simple push-button to get it going. There are pretty powerful and have zero exhaust emissions.
The disadvantage with this type of blower is that of course you are limited in your mobility, given the cord. This is a good option if you know you will always be around 100 feet from an outlet. If you have a tiny yard, this might be a good option for you. If you need to walk around more to complete your chores, you likely want to consider a different type of blower that doesn't require you to be close to a power supply.
These, of course, can also be used if you have power outlets elsewhere outside.
Cordless Electric
Cordless electric models are often pretty lightweight as well, but they are generally a bit heavier than the corded options. These are usually somewhere around ten pounds in weight, which is similar to the gas-powered models.
These are a good option if you don't want to use a gas-powered model, but you also don't want to be limited in your mobility. The trade-off for more mobility, however, is that you will lose a little bit of power.
You will also lose longevity in time you can use the blower. Rechargeable batteries tend to last an hour at most. If you have a chore that lasts longer than that, you'll be taking a break to charge up the blower. These models are good for anyone with a small yard who doesn't anticipate needing to use the blower for long periods of time.
Gas-Powered
The benefit of a gas-powered model is that you can bring it anywhere and it won't ever need to be charged up. You'll need to pull a cord to get it started and they do require tune-ups periodically. Most of them weigh somewhere around ten pounds. It is also true that these will run for longer than the models that require charging.
Keep in mind that gas models are pretty loud, even though they've gotten quieter in recent years. Most of them use two-stroke engines which will mean you'll be mixing oil and fuel. Four-stroke engine models don't require you to do this and they tend to run cleaner. They are also usually more expensive, which can be worth it if you want to avoid the mixing stage.
Weight
You really want to think about how much your chosen blower weighs. This is actually a pretty big consideration, especially if you plan on using it to perform chores that take a long time to complete.
Ten pounds doesn't seem like a heavyweight to carry around but it will start to feel quite heavy twenty minutes into your work. You'll see from our list that weigh varies by model. You'll also realize that the weight will depend greatly on the type of blower you choose. For the most part, a five-pound blower is very light while a ten-pound blower is on the heavier end. You'll need to determine what weight is comfortable for you, keeping in mind how long you plan to hold and carry the blower.
Noise
In general, the bigger the blower the more noise you can expect. This isn't just a matter of comfort when using the tool. In fact, some towns even restrict the decibel levels and hours of operation. So, you'll want to keep that in mind when choosing the model for you.
Some blower models can be quite loud so you really do want to take into account how much you are willing to deal with when performing your chores. In general, gas-powered models are the loudest and they can actually get quite loud. If you don't want to deal with the noise, it's suggested you stay away from that type of blower.
Ultimately, you want to balance the power you need with the noise you are willing to hear, or that you think your neighbors will be willing to hear on a Saturday or Sunday morning.
Vibration
If you are worried about the impact of vibration when you are using your blower, there are some models available that offer reduced vibration. These reduction features can improve your comfort overall.
You will have vibration with nearly every model, however. It is just a product of air moving through the blower at a high rate of speed. You will ultimately get used to the vibration but you need to be comfortable with the level at which your blower vibrates.
Sometimes a model that requires you to take a break, such as those that are battery-powered, can help you mitigate the impact of vibration since you have to take a break to charge the model.
Multiple Functions
You saw on our list that we included straight blower models but also included some models that also function as mulchers and vacuums. You'll need to decide which functions you need most. If you think that you also want to be able to vacuum and mulch, a 34-in-1 model might be the best choice for you.
The blowers that convert to a vacuum allows you to collect light debris, including leaves and twigs right into an attached bag. Those blowers that also function as a mulcher will then let you grind the debris. This can make cleanup and disposal much easier and quicker. You can essentially get the entire job done with just one tool.
Some models can even be used to clean gutters or spray trees. You just need to determine exactly what you plan to use the blower to do and then find a compatible model that will allow you to complete all of your chores. This can limit how many separate tools you have to purchase.
The more functions the tool can perform, the more expensive it will likely be overall. However, you will probably spend less purchasing just tool instead of three or four separate ones.
Best Blower Brands
Black & Decker
Black & Decker has been manufacturing products since 1910. Those products range from things for the home to outdoor yard care equipment to power tools. This manufacturer was the first to create a portable electric drill with a trigger switch and pistol grip.
The company began as a small shop in Baltimore, Maryland and has grown to be a global manufacturer of products with a household name.
Toro
Toro has been developing products for more than 100 years. Those products include everything from products that help with turf maintenance to landscaping solutions, irrigation, and outdoor lighting remedies and snow and ice management.
Toro prides itself on creating products that take into account benefits to the environment including biofuel, propane, and electric technologies.
FAQs
Q: Can a leaf blower clear snow?
A: A leaf blower can be pretty effective at clearing light, powdery snow from areas like driveways, vehicles, sidewalks, and steps. You need a good amount of power to do so, though. In addition, you aren't going to be able to move snow that is more than an inch thick or that is wet and heavy.
Q: Can a leaf blower get rid of acorns?
A: There isn't an easy answer to this question. It really depends on the power of your blower and the weight and size of the acorns. In addition, you can use a blower that converts to a vacuum and will collect the debris in a bag.
Q: Can a leaf blower get wet?
A: It isn't advisable to use your leaf blower in the rain. This is because doing so isn't considered safe. Wet ground is obviously more slippery which can cause you to slide, slip and fall. In addition, wet leaves are far heavier than dry ones and that means that your leaf blower won't perform as well and will require more work on your end.
Q: Can you use a leaf blower on grass?
A: Yes, a leaf blower can be a good option when you need to sweep grass clippings, dirt, or leaves that are on a hard surface such as a sidewalk, driveway or patio.
Q: Are leaf blowers dangerous?
A: One of the biggest dangers related to leaf blower use is air pollution. Gas-powered options emit pollutions that are quite similar to those emitted by cars. In addition, the odors that come from gas-powered engines can be really uncomfortable for those that are close by.
Wrap Up
It is a really hard choice when considering Toro vs. Black and Decker blower. Both manufacturers create reliable options. There are also plenty of models to choose from with both. With that said, our slight advantage goes to Black and Decker for several reasons.
We opted to highlight models that were closely aligned, including 3-in-1 options from both manufacturers as well as a straight blower option from each. In most categories, Black & Decker simply wins out, which is why we've selected Black & Decker as the winner over Toro.
The accessories are easier to use and handle and everything you need to get going is included with your purchase. If interested in trying out one of the models highlighted in our review list, you can find them at Black & Decker BEBL7000, Black & Decker BV6600, and Black & Decker LSW 321. Black & Decker is well-known and has been a household name for years. You can't really go wrong purchasing one of these models. Clean up your yard in next to no time at all and if you opt for the 3-in-1 model, you'll find that you save even more time.