If you're trying to find the best leaf blower of 2019, you might want to compare the Toro 51619 vs Black and Decker bv5600. Both are great models, but which one is the best for your lawn this fall?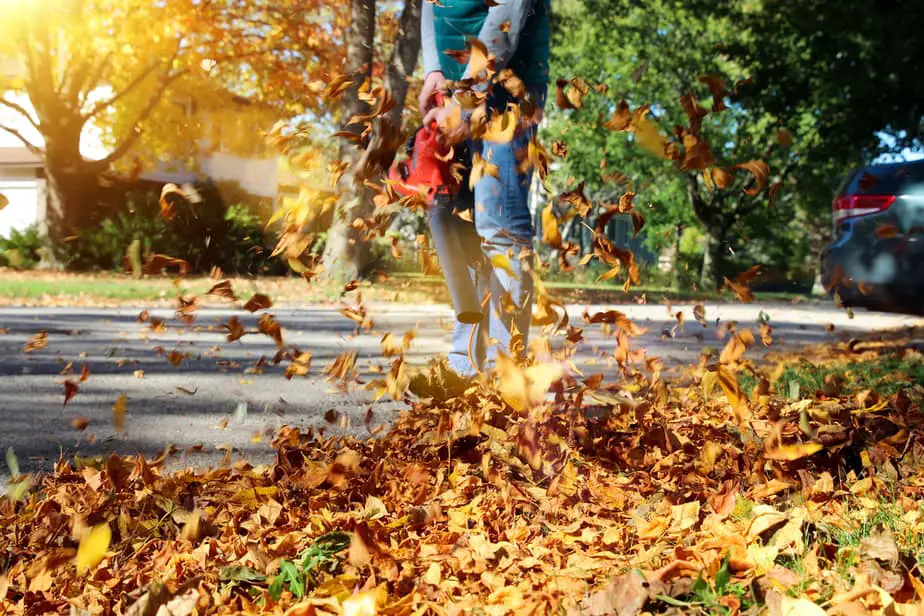 Fall is a beautiful time of year. Unfortunately, if you have a large yard, it is easy to grow tired of the leaves. While traditionally raking is great for building some upper body muscle, it is tedious and boring. This is why many people are turning to the leaf blower as the ultimate solution to the "autumn rain" of leaves.
Check out this quick guide to help you make a decision in the battle of Toro 51619 vs. Black and Decker bv5600.
Toro 51619
No products found.
The Toro 51619 is a classic and simple leaf blower capable of blowing leaves up to 250 mph. It features a large metal impeller and a distinctive red color, as well as new mulching capabilities to help you really mess some leaves up.
In terms of the basics, this leaf blower weighs around 8.5 lbs. and includes a vacuum tube to suck up unwanted leaves that can then be ground. A handy cloth bag is attached to the blower during the mulching process so you can carry your spoils to another location.
The blower is corded, so you will need to keep it plugged in while in use. It also has variable speeds so you can adjust the power and rapidity of you assault against the dreaded autumn leaves.
Full product dimensions come in at around 9 x 41 x 14 in.
Check Price and Reviews on Amazon
---
Black and Decker bv5600
The Black and Decker bv5600 is similar to the Toro 51619 in many ways. In particular, it is designed to be a 3-in-1 leaf blower, vacuum, and mulching kit to make it easier to manage the leaves in your yard. This model weighs around 8 lbs. and has full product dimensions of 15.6 x 20.8 x 9.9 in., which is quite square for a leaf blower.
This is a corded electric model capable of blowing up to 250 mph. The speed is variable and can be adjusted down to 180 mph. The Black and Decker bv5600 includes noise dampening features and comes with a cloth bag for better mulching.
This model has a 12 amp motor and is capable of producing an especially fine mulch.
What to Look for In a 3-in-1 Electric Leaf Blower
Electric leaf blowers are ideal for someone who does not want the weight or hassle of a gas-powered model. They are designed to be lightweight, convenient, and easy for someone who is smaller to use.
When an electric leaf blower is combined with a vacuum and mulcher, the most important feature to consider is how easy the device is to use.
Can you switch between the features easily?
Does each component work properly?
Are you able to carry the machine without it weighing you down?
If you answer yes to all of these questions, then you have the ideal device for you. If your 3-in-1 electric leaf blower does not meet these qualifications, then you will want to find a better model to better address your fall needs.
Weight
The other main qualifying characteristic of a leaf blower is its weight. We all want to believe we are the strongest person in the world, but the truth is most modern humans are weaker than their predecessors would have been.
When you purchase an electric leaf blower, especially one that contains a vacuum and a mulcher, you want to seriously consider how heavy the device is. If you buy something which is over 10 lbs., weaker individuals are going to struggle to carry it around the yard on a regular basis.
Mulching Capabilities
It isn't every day that you can buy a machine that will make mulch for you. Mulch is material designed to enrich soil and provide nutrients when you want to garden, grow grass, or nurture other plants. Since it is made of decaying matter, being able to turn the leaves in your yard to a beneficial purpose is a great pro for the buyers of 3-in-1 electric leaf blowers.
When you are looking at any model which claims to have mulching capabilities, you want to make sure the device can put money where its mouth is. Check the motor, take a look at the accompanying bag, and see if it as easy to make mulch as the sales pitches claim. If the system constantly jams or fails to break down material properly, then it is not worth the money.
Other Features
Finally, you want to take a look at some basic features like blowing speed, vacuum capacity, and overall product dimensions. The average speed for an outdoor blower is between 180 and 250 mph, and the vacuum should be capable of holding several pounds of material.
Comparison
Both the Toro 51619 and the Black and Decker bv5600 are great examples of how a 3-in-1 leaf blower should function. Although they seem similar at the outset, they do have some key differences which affect how well each one functions in the field.
In general, the Black and Decker bv5600 is easier to handle, with a seamless transition between each of the three main tools. The mulcher is also more powerful in this model than that of the Toro 51619, which is more suited to lightweight work.
On the other hand, the Toro 51619 is ideal for someone who worries about the length of the cord attached to their electric devices. This model is highly mobile and great for someone who has a larger yard that requires regular maintenance.
Besides these primary features which stand out, there is not a lot of difference between these two tools.
Conclusion
So, which one is better?
In the battle of the Toro 51619 vs. Black and Decker bv5600, I prefer the Black and Decker bv5600 for its more seamless transitions between the leaf blower, vacuum, and mulcher. It also has a more powerful engine and is lighter than the Toro 51619, making it ideal for regular use.