When it comes time to prepare your garden or land for planting, you have to make sure that your soil is ready for the crops you have in mind. But what if you haven't been tracking the land use meticulously for the last few years, or if you're a novice? The best soil test kit will have you covered. These kits will let you analyze the quality of your soil or the ambient light level around it in just a few minutes. With such resources on hand, your odds of successful crops or flowers will skyrocket.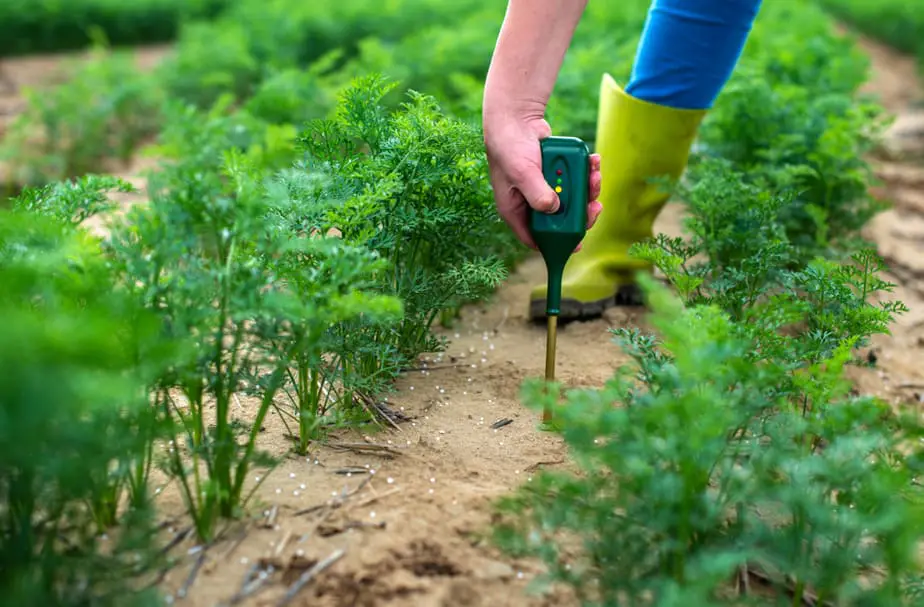 Our comprehensive guide has everything you need to find a perfect soil test kit for your needs. Let's get started.
In a Hurry? Here's Our Top Picks…
1. Soil Savvy Soil Test Kit
Sale
Last update on 2023-11-27 / Affiliate links / Images from Amazon Product Advertising API
The Soil Savvy Kit is a professional grade soil testing kit that brings the same quality of results to the access of the general public. That's why we recommended for anyone who wants to get the best bang for their buck in terms of soil test quality without compromising too much on price. It accomplishes this by including a premeasured soil scoop and a soil jar with the tester supplies inside.
Finally, there's a prepaid postage envelope with which you can mail your soil sample to a professional testing laboratory to get some of the most in-depth soil results available to average folks. This does take some time compared to other soil testing kits, but it can be advantageous if your soil is a bit mysterious or you want to be doubly sure about its attributes.
It can provide a full report and analysis of 14 nutrients contained in a sample of soil, including the three major ones of nitrogen, phosphorus, and potassium. It's also perfect for measuring the pH of your soil, so you'll be able to determine which crops are suitable for a particular patch compared to others.
The report you'll receive after the soil has been analyzed by the laboratory will include a detailed description of all the various macro or micronutrients contained in the soil and some fertilizer recommendations to help you make the most of the test. You can trust the results of the test since the analysis is reached by the same technology used by leading agricultural producers.
All in all, this is a perfect choice for a test to combine with other home-use kits or on its own, provided you have a couple of weeks to wait for the results. It's a niche product, but one that we'd recommend for just about anyone.
Things We Like:
Provides laboratory great results
Has everything you need to ship the soil to a laboratory
Report includes an in-depth analysis on all soil elements
Report includes fertilizer recommendations
Things We Don't Like:
Have to wait for soil results
Check Price and Reviews on Amazon
---
2. Hacoon 3-in-1 Soil Test Kit
SDTOGLIU Soil Moisture Sunlight Ph Test Meter,Soil Tester Meter, 3-in-1 Test Kit for Moisture, Light & pH, for Home and Garden, Lawn, Farm, Plants, Herbs & Gardening Tools, Indoor/Outdoors Plant Care
❤ 3-IN-1 FUNCTION: This meter integrated the function of soil moisture meter, soil ph meter and sunlight meter. You can measure the moisture, pH value of the soil and sunlight level of plant only with this meter, don't need to extra soil moisture meter, soil ph meter and sunlight meter. NOTE: The soil pH meter can't be used to test pH value of any other liquid.
❤ GREAT ASSISTANT OF Gardener: This 3-in-1 soil tester helps you to know about the situation of your plant easily. You can know if you need to water the plant or if the soil ph valuae fits the plant or not or when to add sunlight for the plant by monitoring the soil moisture, measure soil pH value and checking daily sunlight source level.
❤ ACCURATE AND RELIABLE: This soil moisture/ph/sunlight meter is designed with premium Double-needle Detection Technology, the speed and accuracy of detecting and analyzing soil moisture and pH has been enhanced strongly, with these reliabel data, you'll get a prosperity garden ,won't be a killer of plants again.
❤ EASY TO USE AND CAN BE USED INDOOR & OUTDOOR : This soil tester doesn't need battery, it works by the probe and light sensor, energy saving and environmental protection. Only need insert the sensor probe into the soil about 2-4 inches, toggle switch to test moisture, pH, sunlight, wait for a few minutes till the pointer stops swinging to get a stable reading on the scale dial.This soil ph meter is lightweight and portable, easy to carry around for outdoor use.
❤ QUALITY AND SERVICE: Our strict quality control system assures the quality of 3 in 1 soil tester, . We promise to refund your money or provide a New Replacement if you receive the defective products or have any questions, please feel free to contact us for any problem.
Last update on 2023-11-27 / Affiliate links / Images from Amazon Product Advertising API
The Hacoon soil testing kit is a home-use product. Unlike our last pick, you can use all of the tools contained within this set on your own so you can get results almost immediately. It's a three-in-one kit that can measure the soil moisture levels, pH levels and sunlight exposure all within just a few minutes of one another.
It accomplishes this through the use of a single tool that you plunge into your soil. It features twin rods that extend from the bottom of the unit, plus a single switch near the rods that you can flick between left or right. Whichever setting the switch is currently on will determine the readings you get at the top of the device.
You only need to plunge the probe about two to four inches into your soil and wait a few seconds to get reliable results. The meter at the top of the probe is easy to understand, even for the most novice gardener, and it will provide accurate soil moisture and pH results that are comparable to the analysis you get from a laboratory.
The downside is that there isn't any molecular analysis or nutritional analysis available with this kit. So it can't always help you when it comes to knowing which fertilizer choices will be best for your soil. But as a general soil reader, this probe is one of the best around.
It's never been easier to measure the main trifecta – light, moisture, and pH – than right now. Best of all, this probe works without the use of a battery, so you'll never be denied a great soil analysis just because you forgot to charge it.
Things We Like:
Features a single, easy to use tool
Very easy to switch between tests types
Doesn't need a battery
Gets results instantly
Things We Don't Like:
No nutritional or fertilizer analysis
Check Price and Reviews on Amazon
---
3. LaMotte Garden Kit
Sale
Lamotte Model El - Turf and Garden Soil Test Kit - 5679-01
Learn the specifics about your soil before starting your gardening project! Used for soil science education or garden analysis, this kit includes rapid test procedures, diagrammed instructions, and laminated color charts used to measure concentrations of nitrogen, phosphorus, potassium (15 tests each), and soil pH (30 tests).
Comes with Garden Guide manual and LaMotte Soil Handbook are included to interpret test results and give lime and fertilizer recommendations.
Simple, easy to use kit contains everything you need to test your soil!
Last update on 2023-11-27 / Affiliate links / Images from Amazon Product Advertising API
The LaMotte kit is best understood as an educational tool or as an in-depth soil analysis package. You can use it as both a beginner or an expert when it comes to garden analysis, as it has arguably the largest selection of tests and instructions you can find in-home use soil test kits.
It features up to 15 tests to measure concentrations of various important macronutrients and 30 tests to determine accurate pH readings for a given patch of soil. It also has several other tests to measure the viability of soil for various types of crops or plants, plus diagrammed instructions to help you accurately conduct the tests no matter your experience level.
There are laminated color charts included as well. These can help you interpret the test results with a high level of confidence. As a result, this is a particularly good choice for amateur gardeners who are trying to learn more about proper soil health and exceptional gardening practices. There are a couple of handbooks and manuals included in the package to offer various lime or fertilizer recommendations, too.
Everything comes in an easy to carry package that you can zip up for storage. The books are included without any extra charge, although the overall asking price is a little high compared to most other soil testing kits. But we still think this is a valuable choice for anyone wanting to learn more about the testing process and to receive in-depth results from a narrow slice of all available metrics.
Things We Like:
Has lots of specific tests for pH and nutrients
Comes with guidebooks for interpretation
Provides learning materials for new gardeners
Easy to store all the materials in the case
Things We Don't Like:
Doesn't have some basic tests, like light or moisture
Check Price and Reviews on Amazon
---
4. Atree Soil 3-in-1 Tester Kit
Atree Soil pH Meter, 3-in-1 Soil Tester Kits with Moisture,Light and PH Test for Garden, Farm, Lawn, Indoor & Outdoor (No Battery Needed)
3-IN-1 FUNCTIONS: You can measure soil moisture, pH value and sunlight intensity. It's helpful for you to plant flowers, plants and make them grow healthy and strong(This soil tester CAN ONLY be used in soil, it CANNOT be used to test any liquids)
EASY TO USE: Simply insert the probes into the soil about 4-6 inches (2/3 of the probes), and you'll get your reading
COMPACT FOR INDOOR & OUTDOOR USE: Know when to water, adjust pH, or change lighting for your flowers, plants both indoor and outdoor
NO BATTERY NEEDED: No batteries or electricity needed, plug and read
SCIENTIFICALLY ACCURATE: Sensitive probe could sense changes of the soil and transfer details to the conductor, displaying the accurate values for you
Last update on 2023-11-27 / Affiliate links / Images from Amazon Product Advertising API
The Atree soil testing kit is another easy to use home tool that features the same twin probe design as the Hacoon kit. Simply plunge the probes into your soil between four and six inches deep and you'll get your reading within just a couple of seconds.
The probe is functional for measuring the pH level of your soil, how moisturized it is, and the ambient light of the surrounding space. You can flick between these tests using a simple switch located above the rods. We like the simplicity of this design and the screen at the top of the device, which uses a simple needle apparatus to show you your results without the use of a battery.
Since you don't need any electrical power to use this tool, it's an ideal portable soil testing kit that you can take with you out to the borders of your property or far from home. It's also very lightweight and durable, so you should be able to use it consistently for a long time to come.
The probe's readings are very scientifically accurate and will shift frequently as you move the probe from patch to patch. This soil testing kit is best used for farmers or gardeners who need to check lots of soil for the basics without getting into the nitty-gritty of macro or micronutrient composition or poisoning probabilities.
Things We Like:
Very easy to use
Doesn't rely on electrical power
Gives you results in a few minutes
Durable casing
Things We Don't Like:
No information on macro or micronutrients
Check Price and Reviews on Amazon
---
5. Besmon Soil Test Kit 3-in-1
Last update on 2023-11-27 / Affiliate links / Images from Amazon Product Advertising API
The Besmon soil testing kit is a final 3-in-1 model with another twin probe design. However, one of its probes is slightly better at detecting accurate pH readings than many competing kits. So we'd recommend this for gardeners or farmers who have soil that tends to fluctuate wildly between different acidity levels; this kit will let you figure out the acidity of a patch of soil with more confidence than others.
Beyond this, the kit also measures the moisture level and the ambient light level of a given patch of soil. You only need to insert both probes about two inches or so, which is not as deep as many other probes of this model require. It delivers snappy results on its simple display and, of course, doesn't rely on electrical power to function.
It's extremely lightweight and is incredibly affordable, as well. Its affordability is a big plus. This is a fantastic soil reading tool for beginners since there is a low financial commitment but it covers the basic tests needed to determine minimum soil viability.
All in all, it's another great basic option when you don't need any in-depth soil readings for particular crops. It's best used as a probe to determine whether a patch of soil would be worth planting anything in at all.
Things We Like:
Easy to use
Features great pH level readings
Produces results quickly
Very affordable
Things We Don't Like:
No in-depth nutrient readings
Check Price and Reviews on Amazon
---
What to Look For in a Soil Test Kit
When you're looking for the ideal soil test kit for your garden or farm, keep these major factors in mind and you'll be sure to purchase the perfect kit for your needs.
Potential Readings
Different soil test kits can check for different things that may or may not be applicable depending on your future use fertile soil in question.
Temperature
Many of the best soil test kits will be able to check the temperature of any given patch of soil. Soil temperature directly affects which kinds of crops you can grow and how well you'll be able to grow them. Different plants and crops need different temperatures, and at different stages throughout the year, to germinate and sprout properly.
The best soil test kits will be able to measure temperature variance at plant depth (which is the depth at which the plant will feel the temperature) rather than adjust the surface.
pH
Virtually all soil test kits will be able to check the pH level of a patch of soil. The pH of soil is the measure of how acidic or basic that soil is on a scale of 1 to 14. Neutral pH rests right at seven, while smaller numbers are more acidic and higher numbers are more basic or alkaline.
When it comes to pH testing, you really want to be sure that your soil doesn't become too acidic overall. While soil that is too alkaline has its own issues, overly acidic soil prevents various fertilizing chemicals or compounds from reaching the plants they are supposed to help.
Light
Many excellent soil test kits can also check light intensity in a given area. These types of tests don't measure any aspect of the soil itself. Instead, they measure the light of the ambient environment as a whole. This can help estimate how much sunlight a growing plant would be expected to get throughout a regular growing season in a particular patch of soil.
This is incredibly important for certain varieties of crops or flowers, which often depend on very specific amounts and intensities of sunlight in order to grow efficiently. You can use this kind of test to determine whether a certain spot will be a good choice for a certain kind of crop or if you might need to alter your plans or crop layout before planting.
Moisture
Most soil test kits can check the amount of water currently held by the soil you test. These usually have a simplified scale that demonstrates whether the soil could be described as wet, moist, or dry. This can be helpful when planning out watering schedules for crops in the future or for layering your crops under the sprinklers of your yard or farm.
Certain crops do better or worse with more or less water. Using a moisture checking kit, you'll be able to better identify soil at proper moisture levels for those plants.
Conductivity
In addition, the best soil test kits will be able to check the conductivity of your soil. Conductivity is how gardeners or farmers can tell how nutritious or well-fertilized some soil already is. As you might imagine, this is important when deciding how much fertilizer to add to a patch of soil. Overly fertilized soil can cause plants to develop improperly and can lead to a waste of resources.
Soil test kits can measure conductivity in one of two ways. Firstly, they may check the TDS or total dissolved solids of the soil, which checks for fertilizer specifically. Other kits may test the electrical conductivity of the soil to tell you how many nutrients are within.
When it comes to soil test kits that can measure conductivity, you should always try to find kits that measure a higher number of nutrients than smaller. This leads to more precise readings and better decision-making material when it comes time to plan your next growing season.
Macro and Micronutrient Testing
The most useful soil test kits will be able to give your soil an NPK rating. This rating measures how much nitrogen, phosphorus, and potassium are in the soil and can help you figure out which types of fertilizer will be best combined with the soil in question. Keep in mind that measuring nitrogen is notoriously difficult, even for the best soil test kits in laboratories.
Many excellent soil test kits will also be able to tell you about common micronutrients in the soil such as calcium, iron, zinc, and magnesium, among many others. Once again, the level of micronutrients in your soil can help you find an ideal fertilizer brand to combine along with it. It can also give you some idea as to how appropriate some soil is for certain plant species or inappropriate brothers.
Even more importantly, accurate micronutrient testing soil test kits should be able to tell you about the amount of lead or sulfates in your soil. Both of these compounds can be a risk for your plants or yourself, particularly if you plan to eat some of the crops you will grow in the soil.
Being able to check for these compounds ahead of time can save you a lot of money in the long term and protect your general health.
All of the above tests are important, but only some soil test kits can perform all of them. These are perfect for gardeners or farmers who want the best bang for their buck and who need comprehensive analyses of their soil before planting season.
But soil test kits that specialize in only one or two of the tests can also be important if you already know one or more of the attributes of your soil beforehand. These kits are often cheaper as well.
Replacements
Many of the best soil test kits will come with several of each kind of test so you can do do-overs or repeat tests in order to verify the results. But you should also check to see if test replacements are easily re-orderable or if it will be too much trouble to get more copies of the same test using a particular kit.
This is more important for regular farmers or gardeners who like to examine their soil every year. In many cases, it's more cost-effective to purchase a soil test kit with easy to access reorderable tests even if it is slightly higher in price at the onset. Many cheaper kits will have expensive replacements that can really take a bite out of your wallet.
Similarly, try to find a soil test kit that has plenty of initial tests so you don't have to purchase replacements right off the bat. If any soil test kit only has a single of any kind of test, you might want to move on to a different choice.
Best Soil Test Kit Brands
Soil Savvy: SoilSavvy as a company only makes the singular products that we recommended. This allows their manufacturing team to work on perfecting the kit and ensuring that their laboratory procedures are top-tier. They're a perfect choice if you want laboratory great results for your soil test.
LaMotte: LaMotte originally began as a company that made water analysis tools for peoples' home pools or nearby lakes and rivers. But they've expanded to soil testing as well and brought a similarly high standard in product creation and education. They make some of the best soil testing kits on the market, as a result.
FAQs
Q: Why Test Soil, Anyway?
A: You can't just throw any kind of crop or flower in and free soil and expect things to go smoothly. Certain types of soil work better for different crops or flower varieties, and the only way to know if a given patch of soil will be good for the crop you have in mind is to test its composition and other attributes.
Testing soil is a great way to improve the viability of your crops even if you know that it's fine for a species. For instance, soil testing can let you know what kinds of fertilizer to add to the soil this year or when you need to let the soil rest for a year to rebuild its bank of nitrogen and other macronutrients. It'll also help you prevent over-fertilization, which many novices or amateur gardeners and farmers do in an attempt to boost their crops' chance of success.
Essentially, soil testing is a necessary process that you have to undertake if you want the best possible chance for your garden or crops to grow that season.
Q: What's the Difference Between At-Home and Mail-In Kits?
A: At-home soil testing kits are more convenient, but their very nature means that most affordable kits don't have all the tools necessary to properly analyze the finer details of soil composition.
This is why most at-home soil testing kits only test the big three aspects: sunlight levels, moisture readings, and pH levels. These kits can quickly analyze the above attributes but don't have the equipment necessary to analyze soil nutrient composition or poison probability.
In addition, most at-home soil test users lack the scientific knowledge to properly identify those compounds in the first place.
Mail-in soil testing kits are sent to a licensed laboratory that has the advanced scientific tools necessary to perform the above inspections. They will analyze a mailed sample of soil and compose a report detailing all their findings. Most kits sent into a laboratory will also come with a recommendation list or guide for fertilizer choices for the coming growing season.
Basically, mail-in kits are more in-depth but have the drawback of wait time. You need to be sure to send in your soil with plenty of time before planting to take advantage of such a kit's benefits. Otherwise, you may need to start planting before the laboratory even started to look at your soil sample.
Q: Are There Other Types of Soil Testing Kits?
A: There are also chemical soil testing kits. They require you to collect individual bits of a particular soil patch and place it into a vial with a capsule of liquid. Color changes will indicate certain responses that you can parse using an included chart. This can give you valuable information about soil composition or pH level.
Other variants of these tests will have you mix different chemical reagents or compounds. These are a little more in-depth and hands-on and require some scientific background in most cases. But they are particularly advantageous for experienced gardeners and farmers who want the best results from their at-home tests.
The most common at-home soil test kits are digital or analog kits, which don't use chemicals or compounds to determine certain results.
Q: Do Professional Soil Tests Cost Money?
A: It depends on where you send your soil to get tested. Many independent laboratories do charge a fee to test your soil to pay for both the labor of the scientists and the materials necessary for the analysis.
But you can usually get your soil tested for free by sending it to a local university's agricultural department. Your results may vary since the experience of the staff doing the soil testing is usually lesser than those employed at an independent lab. But you can still get in-depth soil analysis from these sources, and they usually don't charge since the soil is a great learning experience for students at the college.
Conclusion
The Soil Savvy Soil Test Kit is a phenomenal choice if you'd like the thoroughness and in-depth answers you can only get from the equipment and expertise at a laboratory. But for those of you who only need a few metrics of your soil measured and need them quickly, the Atree Soil 3-in-1 Tester Kit is your best bet, especially since it's so easy to use and doesn't require electricity.
We hope this guide is been helpful and wish you luck with your next growing season. Thanks for reading!