A weeding tool can go a long way towards making your natural areas look how you like, but it can be hard to find the one that's the right fit for you. There are a lot of variations among different products, so we've broken each down to figure out which is the best weeding tool for your specific situation.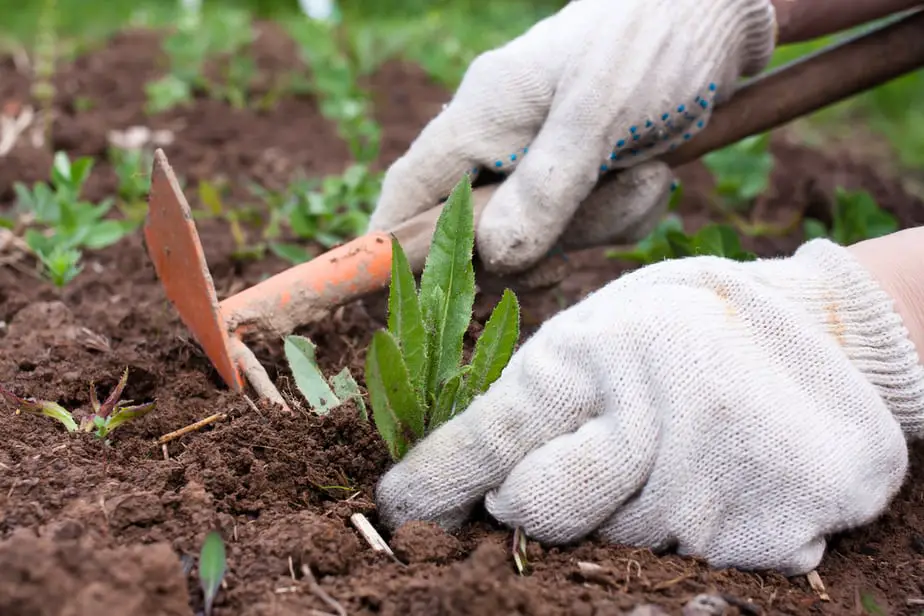 Let's get started with out best overall.
Best Weeding Tool Overall
Cobrahead Weeder
Sale
Last update on 2023-09-10 / Affiliate links / Images from Amazon Product Advertising API
The Cobrahead weeder is our favorite overall pick because it comes packed with several useful features.
Cobrahead's weeder is helpful for a lot of reasons, but none more so than for the head design. The head on this weeder is made to dig through even the stoutest of dirt. It works well as a dandelion grabber type tool but can also be used to pull out larger roots whole.
If your goal is to get smaller root balls like dandelions, you can just scoop them out. If the root balls are bigger, you can extract them in one handful by using this weeder to soften up the dirt around and on top of the root ball. Once the dirt is loose enough, you can pull the roots out whole.
The metal rod connecting the head to the handle is curved so that you can get more leverage under the ground. It's a small thing, but a big help when weeding. Some buyers mentioned that they wished the tip had a small groove in the tip like others weeders, but other buyers liked the spade-shaped design. It may come down to personal preference or the types of weeds you're working with.
The handles are made of recycled plastic and do a good job of being comfortable and staying out of your way. They are extra long to help you add power and force when extricating weeds.
The Cobrahead has a lot of features, but it's on the pricier side of weeding tools.
What We Like
Increased leverage from the curved blade
Can be used as dandelion weeder or help with larger weeds
Comfortable handles
Increased power and leverage with long handles
What We Don't Like
Some buyers didn't love the spade-shaped tip (but other buyers loved it)
Not a budget loving option
The Cobrahead is our favorite overall pick because it can be used for a huge variety of tasks.
Check Price and Reviews on Amazon
---
Best Weeding Toil For Loose Soil & Standing Up
Flexrake Hula-Ho Weeder
Sale
Last update on 2023-09-10 / Affiliate links / Images from Amazon Product Advertising API
Flexrake's Hula-Ho works a little different than many other weeding tools. It is a great pick if you have loose soil or would prefer to stand while weeding instead of getting on your hands and knees.
The Hula-Ho works by scraping the top layer of the ground. It grabs roots under the surface of the dirt. Correct technique is much like you're raking the ground and it's a bit different than other weeders, so here's a video demonstration.
<iframe width="560″ height="315″ src="https://www.youtube.com/embed/xEyFVnRy3sA?start=104″ frameborder="0″ allow="accelerometer; autoplay; encrypted-media; gyroscope; picture-in-picture" allowfullscreen></iframe>
The Hula-Ho is one of our favorite picks because it's one of the few quality weeders that allows you to stand up. You won't need to squat, bend, or crawl to get your weeding done. That little convenience goes a long way. One downside of this weeder is that it's best used for loose soil or soil that's already been tilled well.
If you've had a garden in a single spot for a while, then loose soil won't be an issue. This isn't the best tool for you if your soil is hard or rocky.
The Hula-Ho does a great job at getting larger and smaller roots alike. You can bring out weeds like dandelions or clear entire sections of grass. The blade self sharpens, so your maintenance labor is at a minimum.
The handle is long enough to allow you to stand and weed from a distance, but it isn't super comfortable. There's no plastic or padding and the wood can splinter given enough time and use.
All in all, it's a good pick if you need to weed a lot of ground, have loose soil, or don't want to stand to do your weeding.
What We Like
Good for weeding large areas
Blade removes large and small weeds by cutting under dirt
Maintenance is low since blade self sharpens
Allows you to stand while weeding
What We Don't Like
Not good for tougher soil
Handle could be more comfortable
The Hula-Ho is a great option if you want to stand to do your weeding and have loose soil.
Check Price and Reviews on Amazon
---
Best Weeding Tool For Durability
Wilcox All Pro
Wilcox All-Pro 350W 13" All-Pro Stainless Weeder
UNBREAKABLE METAL: No fear of bending or breaking due to high quality, ultralight, rugged heavy-duty 16 GA. stainless steel;
ONE PIECE DESIGN: design features a sharp "V" end and extra-long handle for additional leverage; Strong enough to dig dandelions, plus tougher weeds like thistle, queen Anne's lace, and burdock;
NO-SLIP GRIP: Handle is coated in heavy duty plastic for a comfortable and tight grip when digging or transporting materials;
PERFECT FOR CAMPERS & HUNTERS: Whether you're camping, backpacking, or treasure hunting, take your trip to a whole new level with this portable trowel; Easily stowed in a backpack or tool box;
NO FUSS, NO HASSLE: All Wilcox All-Pro gardening and cultivating tools come with a lifetime warranty and are proudly made in Iowa, USA;
Last update on 2023-09-10 / Affiliate links / Images from Amazon Product Advertising API
The Wilcox All Pro is our favorite weeder if you're looking to buy a product that will last you a long, long time.
This weeder embraces the philosophy that simple is better. For all intents and purposes, this weeder is a metal rod with a handle on it. But simple does not mean ineffective.
This weeder comes with a narrow blade that is notched into a V shape. The V shape tip goes a long way towards grabbing root balls and helping you pull them up. If you'll remember, some buyers wanted the Cobrahead weeder above to have a V shaped tip.
This tool is narrow and isn't very long, so it's not suited to larger root balls. You won't be pulling up rose bushes or box hedges, but this makes for a great little dandelion weeder.
The handle is extra long to give you more leverage and the simple design makes this weeder almost indestructible. It's not a great pick for bigger jobs though (for that, read on to our next item).
What We Like
Increased leverage from the long handle
Grab roots better with the notched V blade
Comfortable handles
This weeder will last a long time
What We Don't Like
Not suited for bigger weeding jobs
The Wilcox weeder is our favorite pick if you have a small job and want a weeder that might outlive you.
Check Price and Reviews on Amazon
---
Best Weeding Tool For Bigger Jobs
Japanese Sickle Weeder
Japanese Weeding Sickle Very Sharp Edge Quick Work
High carbon steel Japanese weeder
Sharp edge kept longer
Quick easy work for all weeding and gardening
Quick Work : This top-quality Japanese Sickle is made by hand one by one by a manufacturer specializing in gardening born in Japan
Last update on 2023-09-10 / Affiliate links / Images from Amazon Product Advertising API
The Japanese sickle weeder is our favorite weeder if you're looking to take out a lot of weeds. It works well in softer and tougher dirt.
The wide blade on this weeder makes going through thick weeds as easy as it can be. The whole tool is 13″ long while the blade itself measures a whopping 5″ wide.
One disadvantage to the Japanese style weeder is that it is better suited to cutting than to digging. In hard soil, you will be able to cut the weeds down and chop them off at the root. Digging your weeds out with this tool would be difficult.
Digging out weeds wouldn't be as challenging in soft soil, but the point stands: this tool is best suited for taking down a large growth of weeds. You could use it to fight back a large portion of weeds, clear a new garden, or maybe even to find off a zombie horde. It's not a great dandelion weeder though.
The handle is long enough to provide you with plenty of leverage, but isn't ideal for comfort. There's no padding, but it does have a type of groove where you can grab it better.
What We Like
Sharp blade on delivery means you can start weeding faster
Cut through big swaths of weeds with the wide blade
Cuts through weed roots in thick soil, can dig in loose soil
Long handle provides you with lots of leverage
What We Don't Like
Can't dig out weed roots in tough soil
Handle isn't too comfy
The Japanese style weeder is our favorite pick if you're wanting to chop down a whole lot of weeds. It does the work faster and easier than almost any other weeder on the market.
Check Price and Reviews on Amazon
---
Best Weeding Tool Budget Buy
Edward Tools Weeder
Edward Tools Weeding Tool - Leverage Metal Base Creates Perfect Angle for Easy Weed Removal and Deeper Digging - Sharp V Nose Digs deep to Roots - Stainless Rust Proof Steel
Leverage metal base makes this the most productive lawn weeding tool on the market - Rest the curved metal base on the grass and use the lever action to remove the bigger and harder to pull weeds like dandelions
Deep V nose design - while other weed pullers have short tips, this dandelion weeder is able to dig deeper and remove the deepest of roots making sure the weed doesn't grow back
Lifetime warranty - Rust proof stainless steel with solid wood handle and a no questions asked lifetime warranty
Extra large ergonomic cushioned handle for less fatigue
Best solution for organic lawn and garden care - No need for weed killer with this hand weeder you can kill hundreds of weeds in minutes
Last update on 2023-09-10 / Affiliate links / Images from Amazon Product Advertising API
The Edward Tools weeder is our favorite option if you're looking to get a budget weeding tool. This one doesn't miss out on too many features and still packs a punch.
At first glance, the Edward Tools weeder looks like someone tried to make a meat fork and didn't get it quite right. But everything you see on this weeder has a purpose.
The tip of this weeder is longer than normal and grooved into a V. The extra length helps you get on both sides of the root. The V notch does a great job at capturing the root you're trying to grab.
One special features of this weeder is a small, bent metal plate that sits under the neck of the weeder. This metal plate is there to provide you with extra leverage. Once your weeder is in the ground and you've grabbed the root, you can put the metal plate on the ground and use it to provide lever action. This lever action makes it all the easier to pull out tough-to-manage weed roots.
The handle is padded and cushioned so weeding won't feel like as much of a task.
This tool is on the smaller side at just 8 inches from tip to tail end. It's best suited for smaller jobs or as a little dandelion weeder. It may be small, but Edward Tools guarantees that their weeder is stout. They include a lifetime warranty.
What We Like
Great budget purchase
Extra long tip
Deep V groove
Small metal plate to increase leverage
Padded handle
Lifetime warranty
What We Don't Like
The Edward Tools weeder is our favorite pick if you're looking for a small budget buy. This little guy can hang with the best of them.
Check Price and Reviews on Amazon
---
Things To Know Before You Buy…
Weed Roots
When looking at what weeding tool you want to buy, it's important to take a look at the type of weeds you're going to be getting out of the ground. You'll want to take a specific look at the amount of weeds you're going to be taking care of.
If your weeds are pretty small or aren't widespread, then a dandelion weeder will work just fine. These types of weeders are good at taking out small weed roots one at a time.
Dandelion weeders often work by stabbing or grabbing the weed root to pull it out. This is good for permanent elimination; once the root has been removed from the ground, it is unable to continue growing.
Some of the larger weeders do not remove roots, but instead cut through them. Cutting through roots will eliminate the roots for a while (a year or so), but is not a permanent solution. If you have a large area that needs to be weeded, then cutting through the roots may just be an unnecessary evil. Pulling the roots out with a dandelion weeder may take too long.
If you have a large area that needs weeding work done, then it may not be a bad idea to get a weeder that cuts the root (such as the Hula-Ho or Japanese weeder). Once the weeds have been eliminated from the surface and you have a little bit more elbow room, you can go back with a dandelion weeder to take care of whatever is left.
If you have a lot of weeds and don't want to go over the area twice, you could try a weed killer instead.
How To Use
Using a weeding tool isn't too difficult, but it can take a little trial and error to figure out the best form.
The ultimate goal of a weeding tool is to eliminate weeds above ground and weed roots under the surface of the soil. Your technique will depend on the type of weeder you get, but the weeders that we've reviewed above can be broken down into 3 categories:
Dandelion Weeders (Cobrahead, Wilcox All Pro, Edward Tools): If you're using a dandelion weeder, you will want to either stab or get under the weed root to pull it up. Stick your weeder into the ground at about the spot you think a root will be and upturn the dirt in that area. If you get the weed, great! If you didn't get the weed, you will be able to see it in the dirt. Remove it and move to your next location.
Stand Up Weeders (Hula-Ho): If you're using the Hula-Ho, you're taking advantage of one of the few quality weeders that can be used while standing up. You'll want to use the Hula-Ho in a raking type motion where you go over the ground. The Hula-Ho will scrape under the dirt to either cut off or remove weeds.
Cutting Weeders (Japanese Style): The Japanese style weeders is one of the more unique options on our list in that it does more of a cutting than a digging action. This is great for wide swaths of weeds or loose soil. You'll want to chop the weeds off with this weeder. It's best to chop at an angle where you'll go right under the soil. If your soil is loose, you can try to upturn it to remove the weed roots underground.
Frequently Asked Questions
Will this weeder work on…?
You can fill in the blank here: Bermuda grass, dandelions, clover, strawberries, concrete. For all the weeders on our list, the answer is yes. It will work on whatever you're dealing with. Some work better than others, but this more often depends on your soil type than your root type.
Dandelion weeders work better on thick, hard soil. Stand up or cutting weeders work best on loose soil that can be upturned without too much of a fuss.
But no weeder works on concrete. Don't use it for that.
Should my weeder be sharp?
Yes. This isn't as big of a deal for dandelion weeders as it is for stand up or cutting weeders. Dandelion weeders work by getting under the soil and uprooting the weed whereas stand up and cutting weeders need to do more of a chopping action. Sharpening these would help (but the Hula-Ho and Japanese weeder we recommend ship sharpened).
Can my weeder by used between cracks in the concrete or in bricks?
Some weeders can do this job a lot better than others. It will depend on the size of the crack, but if you get the Cobrahead or the Wilcox All Pro then you will be able to do some weeding between cracks. This can be a difficult job since you are trying to pull the roots out. We recommend a good weed killer instead.
Best Brands
Cobrahead
Noel Valdes always believed that the world would be better if everyone was a gardener. Cobrahead started in 2002 when Noel thought that gardeners need a better, faster, and easier way to get pesky roots out. Drawing on his years of experience as a gardener, he made his own garden weeder. Since then, Cobrahead has worked hard to give gardeners the tools they need to thrive.
Flexrake
Coming out of WWII, George Brock thought that the growers of America needed a better way to manage their gardens and their yards. He made a flexing rake that worked better than comparable products on the market. Flexrake was born. Since then, the company has worked to provide people with the long-handled tools they need to own their yards.
Wilcox All Pro
Wilcox's beginning in 1968 was as a company that made durable, built-to-last garden hoes. Since the 60s they have continued in their mission. They tools are tough to wreck but easy to use. Wilcox wants to be known for their quality customer service, proven designs, and unbeatable work ethic.
Conclusion
Thanks for reading out guide on the best weeding tool! When it comes down to it, the best weeding tool for you will depend on your specific needs.
First take a look at the kind of weeding you're going to be doing. Are there a lot of weeds or just a few? Will you be cleaning out whole areas or just a few small spots?
If you need to clear out a few localized areas, then a small dandelion weeder should work just fine. If you have a wide swath of weeds that need to come out, then you may want to go for a standing or cutting weeder.
It's also worth considering whether or not you want long term results. Even though the cutting and standing weeders can get a lot done in a short period of time, they may not be great for pulling out the weed root. If the weed root itself isn't removed, then the weed always has the potential to grow back.
Take a look at the kind of soil you're going to be working with. If it's soft, then a stand up or cutting weeder will do fine at digging out roots. If your soil is hard or is a big hunk of clay, then a dandelion weeder will make it easier to remove the roots.
The best weeding tool for you will come down to your personal preferences. Take a bit to think through it and if you aren't sure, we recommend the Cobrahead weeding tool. It is strong enough to be a great dandelion weeder, big enough to cover a wide area, is comfortable, and is durable.