Dandelions aren't always dandy to have around.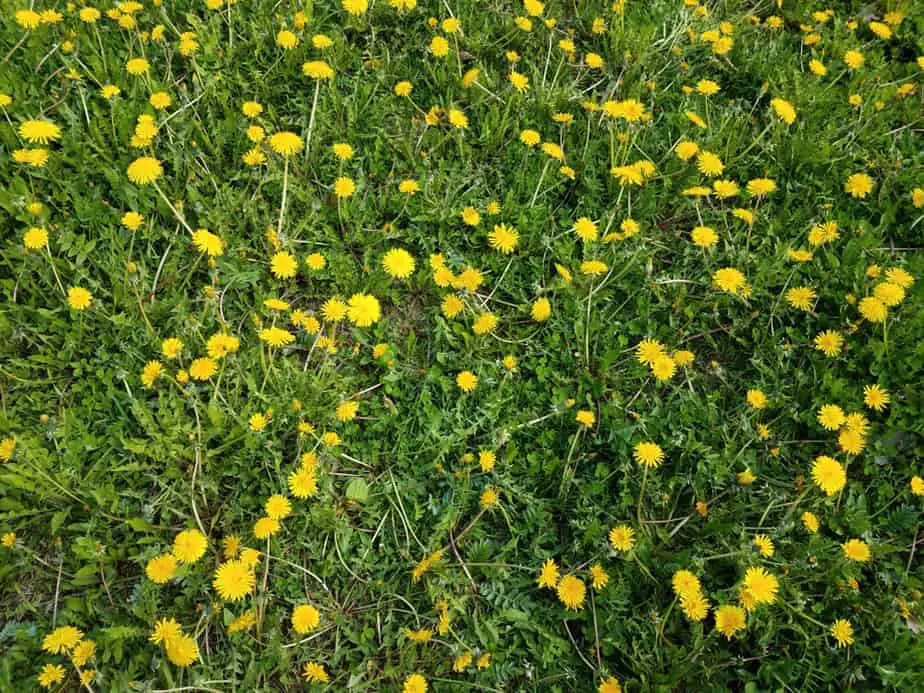 And they're especially unpleasant when they're taking over your yard and squeezing into the cracks of your sidewalks and driveway. Dandelion killers are a great way to get weeds under control and help you own your yard again.
So, without further ado, let's take a look at some of the best dandelion killers on the market today!
In a Hurry? Here's Our Top Picks…
1.
Green Gobbler Vinegar Weed Killer
Green Gobbler 20% Vinegar Weed & Grass Killer | Natural & Organic | Concentrated | 1 Gallon Spray | Glyphosate Free Herbicide
CERTIFIED FOR ORGANIC USE — Completely eliminates and desiccates weeds and grasses without using toxic chemicals. Made straight from corn grown in the USA. OMRI listed weed killer and certified for organic use.
KILLS WEEDS FAST — Eliminate any type of weed in just a matter of hours. Expect full desiccation in less than 24 hours. Green Gobbler contains 20% acetic acid. Use on crabgrass, dandelions, clover weeds, white clover, moss, etc. Works best for weeds exposed to direct sunlight.
POWERFUL FORMULA — NO cancer-causing chemicals. Glyphosate-free. 20% formula is four times stronger than traditional table vinegar. Made strictly from ethanol distilled from corn grain.
SAFE TO USE ANYWHERE — Perfect for residential, commercial, industrial and agricultural use. Apply where weeds and grasses are not desired. Use on driveways, sidewalks, concrete, mulch beds, pavers, flower beds, parking lots, farmlands, barns, etc. Ready to use right out the container.
30-DAY MONEY BACK GUARANTEE – If you are not pleased, call or email us with your order number and we will reimburse your entire purchase. We value our customers and we stand behind all of our products. Expect a refund with no questions asked.
Last update on 2023-10-02 / Affiliate links / Images from Amazon Product Advertising API
Our #1 pick, the Green Gobbler Vinegar Weed Killer is a natural solution to dandelion overgrowth. It's made with 100% natural ingredients that eliminate weeds and keep your family, pets, and the environment safe and sound. This dandelion killer is even certified by the OMRI for use on organic farms.
This product will destroy dandelions and other weeds in less than 24 hours with its potent formula consisting of 20% vinegar – vinegar that is 4 times stronger than traditional cooking vinegar!
There's no need for dilution, preparation, or measuring with this dandelion killer. It's ready to go right out of the gate! Simply spray the solution at its full strength onto the weeds and voila!
Likes:
All-natural formula with no potentially cancer-causing chemicals
Certified by the OMRI for use on certified organic farms
Begins attacking and killing dandelions in less than one day
No need for dilution and can be immediately used
Affordable product, even for those who may be on a tighter budget
Safe for use around pets and people (when used as directed – like any weeding product)
Dislikes:
This dandelion killer will leave a strong scent of vinegar behind until it dries
Check Price and Reviews on Amazon
---
2.
Spectracide Weed Killer Concentrate
Sale
Last update on 2023-10-02 / Affiliate links / Images from Amazon Product Advertising API
One of the biggest names in gardening and yard products, Spectracide brings us a potent dandelion killer. The Spectracide Weed Killer Concentrate is available in four different size options (16, 32, 40, and 64-ounce bottles) and in various pack options.
This solution is incredibly powerful, penetrating deep into the roots of dandelions, withering the weeds in as little as 3 hours. Additionally, this concentrate becomes water-resistant within 15 minutes of application.
Unlike the previous dandelion killer, the Spectracide Weed Killer is a concentrate and must be diluted with water before use. These concentrates are wonderful for covering large areas in yards, garden beds, driveways, and sidewalks.
Likes:
Affordable product
A potent solution that kills down to the root in as little as 3 hours
Water-resistant after 15 minutes of application
Great for covering large areas of dandelion overgrowth
Available in packs of 1, 4, and 6
Available in four size options: 16, 32, 40, and 64 ounces
Dislikes:
Requires a tad more preparation than other dandelion killers on our list
Check Price and Reviews on Amazon
---
3.
Gordon's Speed Zone Lawn Weed Killer
Sale
Gordon's SpeedZone Lawn Weed Killer, 20 Ounces, 652400
Visible results in hours - Reseed in just two weeks
Covers from 14,000 to 18,000 square feet - perfect for large property owners
Rapid and effective weed control for common and troublesome weed species in turfgrass
Does not harm lawn grasses - Cool Weather Performance
RESTRICTED: This product can NOT be shipped to the following states: AK, DC, MA, NJ,VT.
Last update on 2023-10-02 / Affiliate links / Images from Amazon Product Advertising API
Gordon's Speed Zone Lawn Weed Killer is a potent concentrate that works to wither dandelions within a few hours of application. This solution is powerful enough to destroy all of your dandelion issues without harming your grass.
This dandelion killer is a wonderful option for large areas including flower gardens, around trees, and on sidewalks and driveways; and can cover up to 18,000 square feet of land.
Likes:
Affordable dandelion killer concentrate that will last for years in storage
Great for covering large areas of dandelion infestation – covers 14,000 to 18,000 square feet of property
Unlike some dandelion killers, Gordon's won't harm your lawn grass
Begins working to wilt and kill dandelions within a few short hours
Dislikes:
This is a restricted product that cannot be shipped to AK, VT, NJ, MA, and DC
Check Price and Reviews on Amazon
---
4. Doctor Kirchner Natural Weed Killer
Last update on 2023-10-02 / Affiliate links / Images from Amazon Product Advertising API
Yet another natural dandelion killer option, Doctor Kirchner's Natural Weed Killer is a great option for those who are concerned with the wellbeing of the environment. This is a safe pet and family-friendly solution made with ingredients such as vinegar and saltwater.
This dandelion killer is ready to go – no measuring, no mixing, no diluting. Once this natural solution is sprayed onto the weeds, it will begin working immediately to penetrate and wilt the dandelions. Within 24 hours, your dandelions will be completely browned.
It's available in various sizes to meet your needs best: 1 quart, 1 gallon, 2.5 gallons, or 5 gallons. For especially overgrown yards, you can also purchase bundles.
Likes:
Made with all-natural, safe ingredients: vinegar, oceanic saltwater, and soap
Affordable, great quality dandelion killer
Available for purchase in bundles of 1 quart and 1, 2.5, and 5-gallon product
Ready to use immediately
Pet and family-friendly
Dislikes:
This dandelion killer will leave behind a strong vinegar smell until dry
Check Price and Reviews on Amazon
---
5.
Ortho Weed B Gon Weed Killer
Last update on 2023-10-02 / Affiliate links / Images from Amazon Product Advertising API
Yet another big name in the pest control industry, Ortho's Weed B Gon is a dandelion-killing force to be reckoned with. Once applied to dandelions, this weed killer immediately begins to penetrate down to the roots, yielding visible results within only a few short hours.
Within an hour of application, this solution becomes wet-proof as to not runoff during unexpected rains or when watering your flower gardens. They're also available with trigger sprayers and comfort wands.
Likes:
Destroys dandelions and 250 other kinds of weeds – but keeps your grass safe
Affordable, especially for the amount of product you receive
Kills weeds down to the root to prevent regrowth
Visible results only a few hours after application
Dislikes:
Apparently not sold in Texas
Check Price and Reviews on Amazon
---
What Exactly are Dandelions?
Dandelions are common weeds found in yards practically all over the United States. They're hardy plants that don't seem to mind hot temperatures, shade, or sun and will grow just about anywhere they can.
Aside from being pests in yards that prefer to be clean-cut, Dandelions actually have a lot of uses, including being edible. When you purchase Spring Mix salads at the store, you can bet that Dandelion leaves are part of the deal.
Herbalists use Dandelions as tonics for certain organs, such as the kidneys. And they're said to contain powerful antioxidants that cleanse the body, provide essential nutrients, and fight inflammation.
So, other than taking over your backyard and getting on your nerves, Dandelions aren't too bad when it comes to their alternative uses.
Preventing Dandelion Weeds
Now that we've gone over our favorite dandelion killers, let's take a look at some steps that you can take to prevent dandelions (and other weeds) from growing in your yard:
Mow. Keeping your lawn properly mown during the Spring and Summer will discourage dandelions from completely bombarding your yard. Be careful not to cut the grass too low, though. Grass that is too short actually encourages dandelions. Only cut your grass 1/3 of the total blade length and never cut it shorter than 5 centimeters. If you need some pointers on how to mow for a healthy yard, check out this article.
Seed your lawn. Seeding your lawn thickens the turf, which in turn makes your yard a difficult place for weeds like dandelions to thrive.
Use dandelion killers – properly. The subject of today's article, dandelion killers are great for killing and preventing future weed growth.
Use natural methods. If you only have a few dandelion weeds here and there, you can spray vinegar on and around them to kill existing weeds and prevent future growth. This would be an ideal method for flower or vegetable garden beds rather than an entire yard.
Safe Handling and Precautions
Of course, whenever you're dealing with pesticides or herbicides, it's always best to be cautious. Because of their potency, herbicides can pose potential health threats when not properly handled.
Let's go over a few safety tips for when you're handling dandelion killer:
Never directly inhale the fumes. As with any potent solution, herbicides do gas off their chemicals. It's vital that you do not inhale these fumes directly, as it could pose potential health risks. Wear a protective breathing mask if needed.
Wear protective clothing and gloves. When using dandelion killer, it's a good idea to wear gloves, a long-sleeved shirt, long pants, and close-toed shoes. It's important to avoid getting any of the herbicide solutions on bare skin. If you happen to come into contact with the herbicide, wash your skin thoroughly with warm water and soap.
Wear eye protection. To avoid potential backsplash into the eyes, wear eye protection. This could be a pair of sunglasses or protective goggles.
Keep children and pets away. Curious children and pets should not be allowed near dandelion killer. If swallowed, herbicides can cause extreme internal damage and sometimes death. In the event of ingestion, immediately call Poison Control and head to the nearest hospital or veterinarian.
Read the instructions carefully and use as directed. The majority of dandelion killers are safe for the yard when used as directed. If you want to avoid burning your grass with chemicals, be sure to carefully read and follow the directions listed on the back of the product.
Wash your hands thoroughly after use. Before you touch your face or other bare parts of your body – or before you eat or drink – be sure that you wash your hands thoroughly with soap and water after having used dandelion killer. Regardless of whether or not you were wearing gloves during the treatment, cleansing your hands is a common-sense must.
Best Dandelion Killers Brands
FAQ
Q: How long should I wait before applying more dandelion killer?
A: If the dandelions have not died off during the timeframe stated on the product packaging, you may reapply the product. After the dandelions have died, there's no need for upkeep or reapplication until you see new sprouts.
Q: When will I start to see results?
A: Depending on the product you choose, dandelion killers can take anywhere from a couple of days to a week to start yielding visible results. But, generally, they begin working immediately, penetrating down to the roots.
Q: Can I seed my grass after using dandelion killer?
A: Yes. Although, it's a good idea to wait at least three weeks before you apply grass seed to your yard in areas where dandelion killers have been sprayed. This will ensure that the potency of the solution will not affect your sprouting seeds.
Q: Are dandelion killers safe to use around bodies of water?
A: Generally, yes. Although you should create a buffer of rock or woodchips between the water and the area you're treating while the solution is in use. This will prevent the solution from running into the water and potentially causing harm to aquatic life. Dandelion killers will seep into the weeds and ground after a few minutes.
Q: Will dandelion killers stain pavers, sidewalks, and other outdoor features?
A: No. Dandelion killers dry clear and will seep into stone yard features. The only thing that will be negatively affected by the solutions are the dandelions. However, if you're worried about the areas where solutions have spilled, you can clean the area with a mild detergent and water.
Q: Will rain affect the potency of my weed killer?
A: It's a possibility. Before spraying dandelions, check the weather to be sure that there isn't a chance of rain for at least the next few days. No rain for a week is even better. If rain comes after the initial spray, it may cause the product to become diluted or runoff.
Q: Will dandelion killer affect my trees if the weeds are near exposed roots?
A: Large, mature trees will likely not be affected by dandelion killers (when the killer is used as directed). However, small sprouts will most likely suffer if they come in contact with the solution.
Q: Can I use dandelion killer near my vegetable garden?
A: We don't recommend using dandelion killers near edible garden beds. However, natural dandelion killers may be a safer option if you don't want to spend time weeding with your hands.
The Green Gobbler Vinegar Weed Killer that we reviewed above has been confirmed by the manufacturer to be safe when used in close proximity to vegetable gardens. (Use only as directed). Be sure to cover your vegetables and do not let the solution come into direct contact with any plants that you don't want to die.
Q: Will dandelion killer harm my artificial turf?
A: Artificial turf is quite durable, and it's not likely that any dandelion killer will hurt it. You can test the solution on a small corner of the turf if you're worried about potential staining or discoloration.
Q: I've pulled all of the weeds. Can I spray the dandelion killer in the area that the weeds were in to prevent regrowth?
A: This is not recommended. Spraying dandelion killer directly into exposed soil may have an adverse effect on the roots of surrounding plants such as grass or flowers. It may also disrupt the microorganisms in the soil, making it less fertile, among other negative effects.
We recommend that you only use dandelion killer as directed to avoid potentially harming your soil or wanted greenery.
Final Thoughts
Dandelions can be invasive weeds that take over your yard and really bring out the worst in you. But not to fret, there are ways in which your weed problems can be put to rest and dandelion killers are one of the best, most effective options.
When it comes to the best dandelion killers, we've covered the best of the best – but our favorite is the Green Gobbler Vinegar Weed Killer. It's natural, it's safe for pets and people, it does a fantastic job at eliminating dandelions, and it helps homeowners own their yards like never before. What more could you ask for?
Happy gardening!