We all know how tiresome it can be to untangle a wad of gardening hose, and it's often less than ideal to lug the entire hose around when watering. Garden hose reels are the perfect solution to all of our tangled garden messes. They make gardening a breeze and can add tidiness and decorative flair to your yard with their unique designs.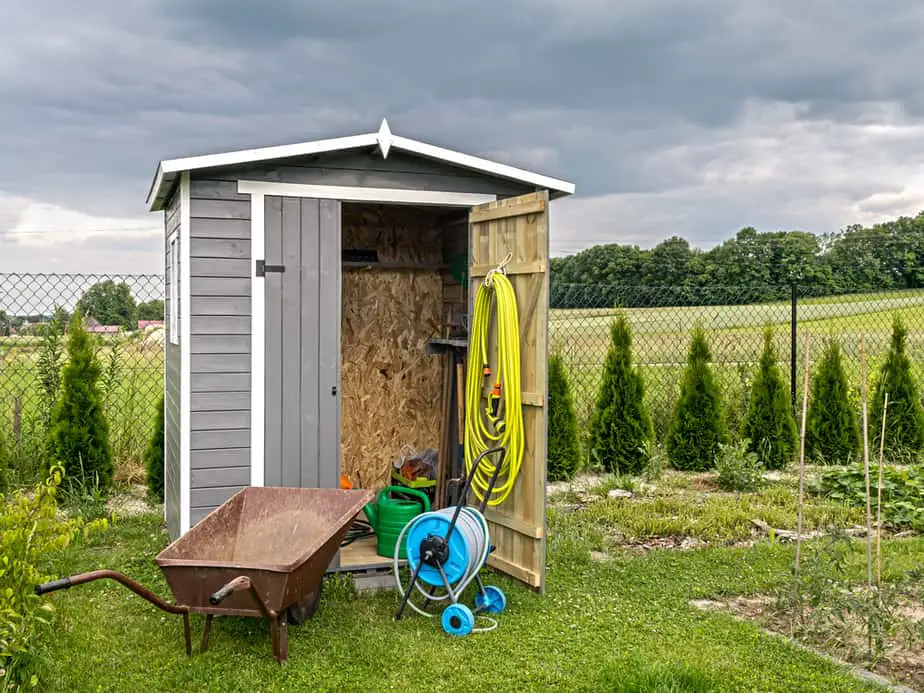 In this article, we'll be covering five of the best garden hose reels to make your life easier whenever you're in the garden.
In a Hurry? Here's Our Top Picks…
Our Pick
1. Liberty Garden Wall Mount Garden Hose Reel
Sale
Last update on 2023-11-01 / Affiliate links / Images from Amazon Product Advertising API
If you're someone who loves pretty details, this Liberty Garden Wall Mount may be just the garden hose reel you've been dreaming of. The gorgeous brass and aluminum finish would look great hanging on the wall in any yard, and won't rust or weaken after years of being exposed to various weather conditions.
This wall mounted garden hose reel can hold up to 125 feet of your average 5/8th of an inch garden hose. It rolls very smoothly for ease of unwinding the hose and doesn't lock up or become difficult to unroll. Positioned above the reel is a tray that would be incredibly useful for holding small garden tools such as trowels or plant food bottles.
The reel also keeps the hose evenly distributed to keep the hose tidy, untangled, and centered on the cylinder.
What We Like Best:
Lovely pattern
Made with sturdy metal materials
Won't rust or weaken in various weather conditions
The most affordable on our list
Holds 125 feet of garden hose
Unwinds smoothly
Tray for holding small garden items
Check Price and Reviews on Amazon
---
Other Great Garden Hose Reels
2. Suncast Automatic Hose Reel
Last update on 2023-11-01 / Affiliate links / Images from Amazon Product Advertising API
The Suncast Automatic Hose Reel uses motor-driven mechanics for the easiest gardening experience possible. The only work required for unwinding is simply pressing down the peddle on the outside of the container. The container itself provides gardeners with a bit of extra storage for small gardening supplies and keeps the hose out of the elements.
This automatic hose reel does require a battery, however, the battery lasts for up to 20 uses and is rechargeable. The container also indicates how much battery life remains with either a green light (fully charged), a yellow light (85% or less charge) and red (dead battery or charging).
It does come with anchors, but even without the anchors this hose reel is incredibly sturdy and doesn't wobble or move. Although, the anchors do provide a good deal of additional stability (so they're worth using).
These automatic hose reels are reliable and durable, lasting some users for nearly 10 years.
What We Like Best:
Long-lasting machine
Automatic reel
Battery life lasts for quite a while
Contains additional storage for small gardening supplies
Affordable
Comes with stakes for extra stability
Check Price and Reviews on Amazon
---
3. Liberty Garden Multi-Directional Garden Hose Reel
Last update on 2023-11-01 / Affiliate links / Images from Amazon Product Advertising API
This Liberty Multi-Directional hose reel allows gardeners to swivel the reel 90 degrees to maneuver how and wherever you do. Made of heavy-duty materials, this beautiful bronze metal garden hose reel is rust proof and able to withstand harsh weather conditions without weakening. Although the hose reel does flex when in use, so it's always best to be gentle with this appliance regardless of the durability.
It's able to hold a garden hose up to 125 feet long and comes fully assembled (though the mounting hardware is not included in the purchase). There is also a small basket attached to the side of the garden hose reel for storing small gardening items such as hose nozzles. This is definitely a garden hose reel built to last and has been faithful to many users for years.
What We Like Best:
Visually appealing bronze finish
Made of heavy-duty materials
Swivels 90 degrees each way for ease of use
Holds hoses up to 125 feet long
Comes fully assembled
The attached basket can be used to store small garden items
Has lasted many users years
Check Price and Reviews on Amazon
---
4. The Ames Companies Decorative Metal Hose Cabinet
AMES 2519100 NeverLeak Cold-Weather Resistant Cabinet with Auto-Track Reel, 150-Foot Hose Capacity
WEATHER RESISTANT HOSE CABINET: Metal hose cabinet built to withstand cold temperatures
LARGE STORAGE CAPACITY: Holds up to 150' of 5/8" hose; INCLUDES LEADER HOSE: Includes a leader hose to attach to faucet
NEVERLEAK BY AMES: Durable NeverLeak Water System made from aluminum, resists threading
AUTOTRACK WINDING: Auto-Track system distributes hose evenly across the reel
METAL HANDLE: Metal handle with soft rubber grip, easily winds the hose when done
Last update on 2023-11-01 / Affiliate links / Images from Amazon Product Advertising API
Similar to the Suncast Garden Hose Reel, The Ames Companies Metal Hose Cabinet contains the garden hose inside its box for protection against the elements (and for a more put-together, tidy appearance). This cabinet is made of black metal and has a very modern look to it. It unwinds smoothly and doesn't get caught up or kink the hose.
The leader hose is included and the entire cabinet requires very little setup. You'll only need to attach the legs and the crank. This garden hose reel does not require stakes or ties to hold it down and is incredibly sturdy when in use, so expect this reel not to wobble or move drastically as you water your flower garden.
This reel can easily hold garden hoses up to 150 feet long and was built to work beautifully throughout the years. The moving parts also come well-greased, saving you the time and keeping your reel working smoothly and quietly.
What We Like Best:
Moving parts are well-greased
Sleek black metal finish
Can withstand harsh weather conditions
Has lasted users for many years
Unwinds and winds up smoothly
Can hold garden hoses up to 150 feet long
Check Price and Reviews on Amazon
---
5. Liberty Garden Garden Hose Reel Cart
Sale
Liberty Garden Products Garden 301 Never Flat 2-Wheel Decorative Garden Hose Reel Cart, Holds-200-Feet of 5/8-Inch Hose - Bronze
PORTABLE REEL: If you've ever gotten tired of hauling a heavy hose, only to strain to reach those hard-to-reach corners of the garden, this portable reel is for you.
DURABLE: Aside from providing attractive storage, the 301 Liberty Garden Hose Holder is built with an attractive and durable steel frame.
CAPACITY: Easy reel feature keeps hose neatly stored and generous cart holds up to 200-feet of standard 5/8-inch hose
DIMENSIONS: (L x W x H): 39.8 X 27.3 X 30.5 inches
FEATURES: For your added convenience, the Liberty Garden Hose Cart comes with a 5-foot leader hose
Last update on 2023-11-01 / Affiliate links / Images from Amazon Product Advertising API
If you need a more portable garden hose reel, this Liberty Garden Garden Hose Reel Cart may be the way to go. This reel holds the most amount of hose on our list at 200 feet and can be transported all over your yard and garden with its sleek design, non-flat tires, and non-slip handle.
It's made of decorative, sturdy brass that will last you years and keep your yard looking grand. The stability of this garden hose reel cart is phenomenal and won't tip or wobble when the hose is in use or when the cart is being moved around.
What We Like Best:
Portable
Pretty design
Stable and won't tip or wobble when in use
Made of sturdy, lasting material
No flat tires and non-slip handle
Holds hoses up to 200 feet long
Lasts users years
Check Price and Reviews on Amazon
---
Consider This Before You Buy
Quality and Durability
One of the most important things to consider when purchasing a garden hose reel is the durability of the materials it's made out of. Usually, plastic garden hose reels are not the way to go and can break or wear out considerably quicker than metal garden hose reels. However, a plastic garden hose reel can be reliable if they're made with metal components (such as the Suncast Automatic Hose Reel we reviewed above).
You'll want to make sure that your garden hose reel is made of durable metal (or hard plastic) materials and isn't cheap. We would usually recommend the most affordable options possible in order to keep from burning a hole in your pocket, however, with garden hose reels, a pretty penny is worth spending for great quality. After all, what would be the point in wasting dollar after dollar on useless reels rather than investing in one decent garden hose reel?
Cost
Before you consider purchasing a garden hose reel, you may want to determine your budget. Garden hose reels are often the most reliable when they're on the more expensive end of the spectrum. As we mentioned previously, cheaper garden hose reels are, unfortunately, often made of low-quality materials with parts that end up breaking after only a few uses.
Spending a good chunk of money initially will certainly save you money in the long run. Instead of going through multiple cheaply made garden hose reels, we recommend investing your finances and time on a reliable, sturdy purchase that is sure to last you a few years.
Garden Hose Length
Knowing the length of your garden hose is pretty essential when searching for a garden hose reel. The majority of home garden hose reels can hold hoses between the lengths of 120 and 200 feet (at the very most). So be sure to keep the length of your garden hose in mind as you shop around. We recommend considering garden hose reels that can hold a few extra feet more than the size of your garden hose.
Build
Lastly, you'll want to look over the various types of garden hose reels and determine which will suit your situation and home the best. In this article, we covered swiveling reels, wall-mounted reels, floor reels, and portable cart reels. Let's take a look at each of these individually:
Swiveling Reels: These reels allow you to maneuver the cylinder usually 90 degrees each direction for easier movement. Swiveling reels can come in any of the following three types. Reels that swivel are really great because they keep the hose from becoming tangled or kinked when they're in use.
Wall-Mounted Reels: Wall-mounted reels do just as they sound; they're mounted to the outside wall of your home, gardening shed, or any other building. These are great for smaller spaces because they aren't taking up room on the ground and are fairly out of the way.
Floor Reels: Floor reels can either be bolted or staked into the ground for extra stability (or they can simply sit on the floor). They usually come in decorative "boxes" for visual appeal and contain additional storage for garden tools. These are wonderful if you don't exactly like the look of garden hoses and would rather have them stored neatly away.
Portable Cart Reels: These garden hose reels can be transported all over a yard with ease. They are not stationary and are the most portable options. These are great for if you have a larger space to water. They also don't take up as much space as reels that sit on the floor.
Automatic or Hand Crank
Automatic garden hose reels are wonderful for those who may be limited in their mobility (or for those who just want things to be as quick and easy as possible). These reels are powered by batteries that will last you 20 or so uses before it needs to be recharged. Automatic garden hose reels are considerably larger than hand crank reels so they're best suited for bigger yards.
Alternatively, with a hand crank garden hose reel, there's no waiting around on batteries to charge and you can water whenever you'd like (though it's a tad more work). They're also smaller in size, generally, and some can be transported with ease.
Both automatic and hand crank garden hose reels are built to keep water hoses from kinking or becoming tangled, so either option is really great. Whichever type of garden hose reel is best for you truly comes down to how much space you have in your backyard, your physical capabilities, and whether or not you want to wait on a battery to recharge every now and then.
Best Garden Hose Reel Brands
Now that we've covered the basics of what you'll need to know when searching for a garden hose reel, let's take a look at the brands of our top picks.
Liberty Garden: Founded in 1989, Liberty Garden has since been paving the way to better garden hose storage products. They are committed to providing gardeners with high-quality, sturdy, and lasting ways to store their hoses and are motivated by the dream to make gardening as simple, decorative, and enjoyable as possible.
Suncast: Suncast was founded in 1984 and since then has been manufacturing tools and storage for all of your home and garden needs. From storage buildings and snow tools to garden hose reels and planters, Suncast really does it all.
The Ames Companies: Founded in 1774, The Ames Companies is dedicated to bringing consumers a huge variety of useful tools for all of their gardening needs. And even though they're over 200 years old, they certainly won't be slowing down any time soon with their innovativeness.
FAQ
Q: Can portable garden hose reels be left out in harsh weather elements?
A: All of the garden hose reels we reviewed in this article are durable enough to be left outside in any weather condition, including snow. During seasons when your garden hose is not in use, you can cover the garden hose and reel with a weatherproof sheet, however, it's not necessary – especially with metal reels.
Q: Do I need to stake down my garden hose reel?
A: If you have a garden hose reel that will be positioned on the ground, it's always best to bolt or stake it down for added stability. Although, most users have reported that the garden hose reels we reviewed are sturdy enough to not be staked down. Usually, they won't even wobble or flex when in use whether they're staked to the ground or not. It really comes down to your preference.
Q: Do these reels have auto-track, to wind the hose evenly?
A: Yes, all of the garden hose reels we reviewed have auto-track to make sure the garden hose winds up or out evenly. This prevents the reel from wobbling and the knotting or kinking of the hose.
Q: Can wall-mounted garden hose reels be mounted on large poles, instead?
A: Yes. Wall-mounted garden hose reels can really be mounted anywhere just as long as the object you're attaching it to is sturdy enough to hold the weight of the reel and water hose.
Q: Are hand cranked reels hard to move?
A: Not usually. Garden hose reels don't require much strength to operate and are generally incredibly easy to wind and unwind.
Q: Will my garden hose reel rust?
A: Nope! All of the metal garden hose reels we reviewed were carefully crafted with rust-free quality in mind. Users have reported that their metal garden hose reels have been left out in the elements for years without rust.
Q: How high off the ground should I mount my garden hose reel?
A: The height doesn't really matter. Just as long as it's off the ground and the reel is able to move properly, everything should be fine. However, we do recommend that you mount your garden hose reel where you can reach the crank without having to bend over. This will make using the reel much easier and may even save your back.
Q: Can I bolt my wall-mount garden hose reel to the floor?
A: Absolutely. Most, if not all, wall-mount garden hose reels can be bolted to the floor and work just as well. Although, if you're worried about a wall mount potentially not working on the floor, it might be best to search specifically for a garden hose reel made for floor mounting.
Wrap Up
Garden hoses can be a pain. They're heavy to lug around, can kink up or become knotted, and are unsightly when they simply lay on the ground waiting to be used. Garden hose reels are the perfect solution to such problems and truly make gardening a breeze. They're reliable, sturdy, and can last you years of gardening pleasure.
We hope you enjoyed our article covering our top best garden hose reels!