When I was a kid, I saw my mother constantly creating wonderful spaces in our garden from plants and bricks and stones. It wasn't a one-time project, but a labor of love that she did every day of every season.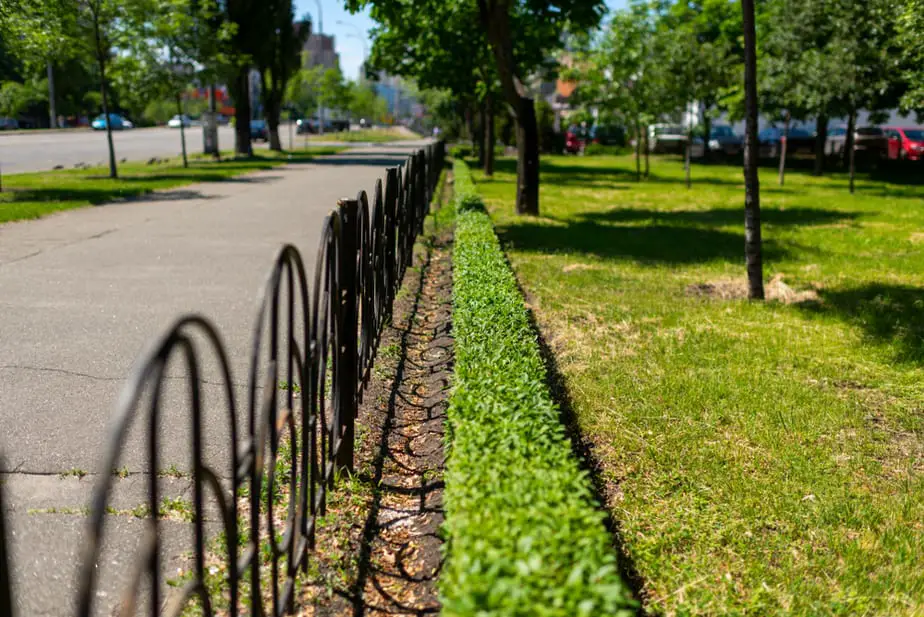 I still remember how our garden looked and smelled, and all the wonderful memories we had there. Well designed and cared for gardens are a true pleasure to the senses.
One of the tricks to keep your garden looking pretty is marking the edging of lawns and flower beds. Creating walkways is always good, and not just for taking a stroll, it's essential to move your wheelbarrow around the garden, and of course as a neat path from the house to the outside gate.
A well defined and nicely edged garden is not just a cool thing to have in your house, it's also a factor that increases the value of your estate.
Realtors have known this fact for a long time, and it's nowadays regular advice if you want to rent or sell. A creative edging for your lawn could easily translate into a nudge in the selling price.
It's important to have an edging that goes with the same style of your house. So take a close look at the materials, colors, and textures. Matching your edging with the garden landscaping has an instant effect of elegance.
Some edging ideas can be installed in a day, and you can probably do it yourself, while others could need professional assistance. The cost of materials also has a broad range, from recycled stuff you can salvage from the attic to expensive tiles or woodwork.
Plan ahead and go for the look you like best. Here are some garden edging ideas you can choose from.
Our favorite garden edging ideas
Gravel filling and concrete walkway
Curving contours are playful and give nice flowing lines. Walking along this path feels like leisure and relaxation.
The gravel separation between the lawn and concrete walkway feels very natural. The colors match, but the texture difference is interesting to the eye.
Stone and gravel multi-layered edging
Stone can be piled up in a geometric pattern, giving a clear border to the plants behind it. To enhance the effect, a flower bed can be planted in the front, and you can have it neatly edged with concrete tiles.
The juxtaposition of tiles and plants add plenty of interest to this simple structure. When it joins the spreading green lawn, it looks even better.
Terracotta tiles edging
The simple terracotta tiles are easy to install and relatively economic. Getting this practical and effective edging should be pretty simple.
The pebble walkway is lovely, and its color matches that of the tiles. The overall look is neat, warm, and natural.
V-shaped Ditch edging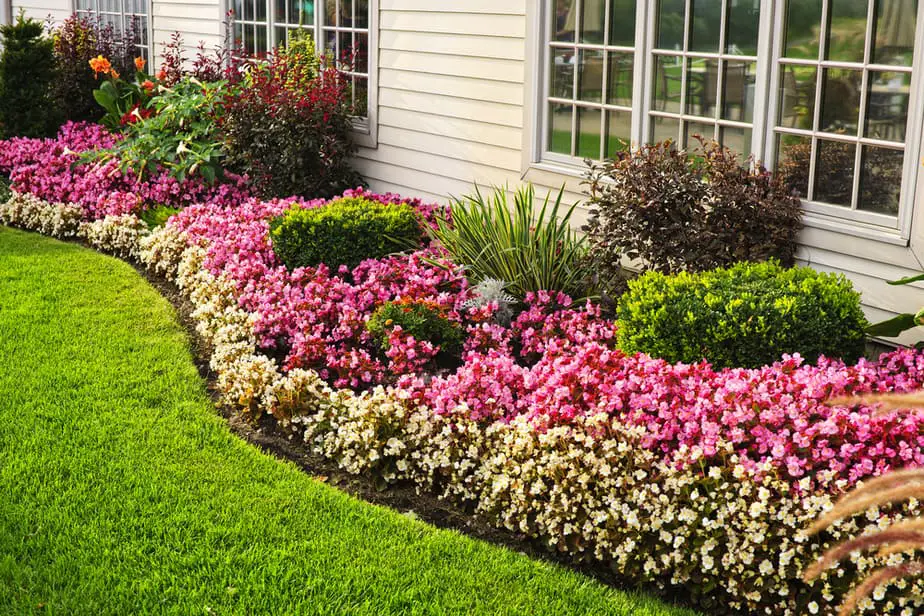 Here nothing separates the colorful flower bed from the lawn except for a V-shaped ditch. The curves are easy to maintain, just be careful when watering the flowers, and redo the ditch if it becomes too shallow or out of shape.
This is a quick and easy way to mark the edges of the lawn. It's probably the most economical as well.
Concrete tiles edging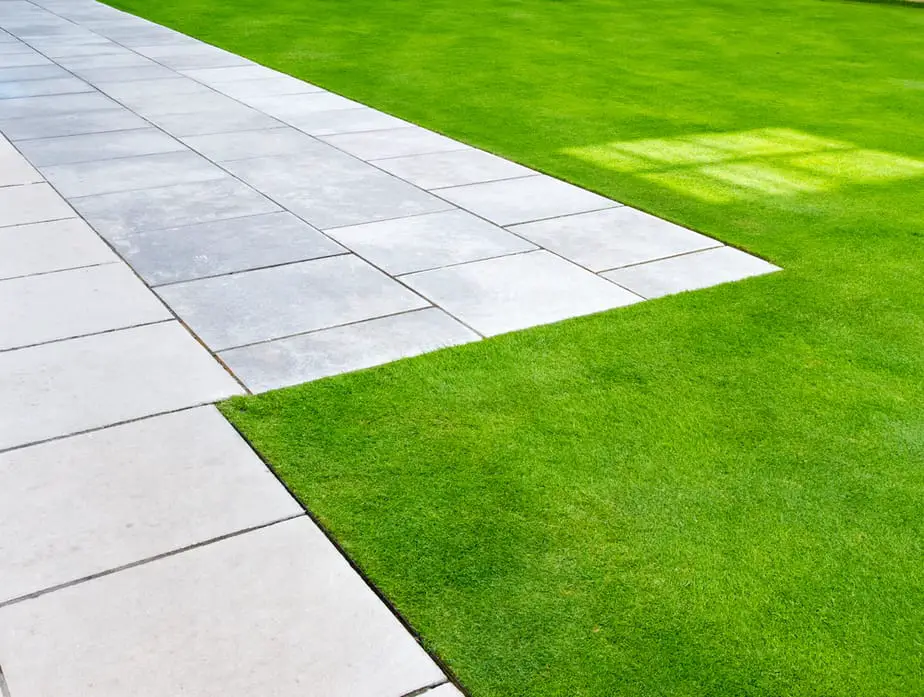 This is a simple and sharp way to mark the borderline of the lawn and create a walkway through the garden. This clean look would look great if your house has the same straight lines and modern style.
Stone walkway edging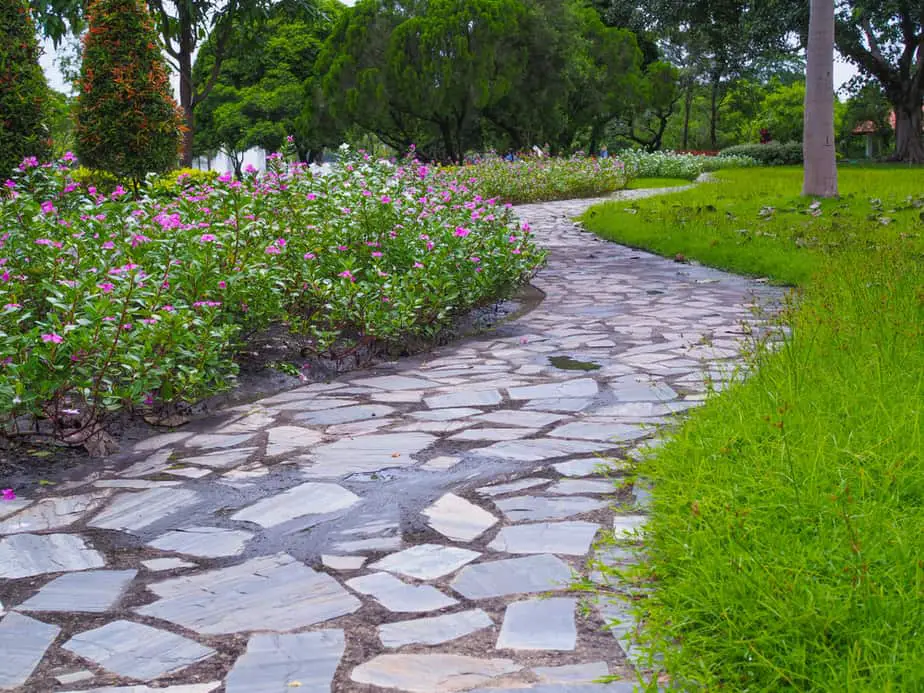 This edging might need the help of a professional, but it can be done as a home improvement project if you know your way around the necessary tools and materials.
It has an easily flowing curve that goes very nicely with the lawn. It also works well with the flowers on the other side. It's a very relaxed look, and it has a good fit with the surrounding scenery.
Concrete and gravel edging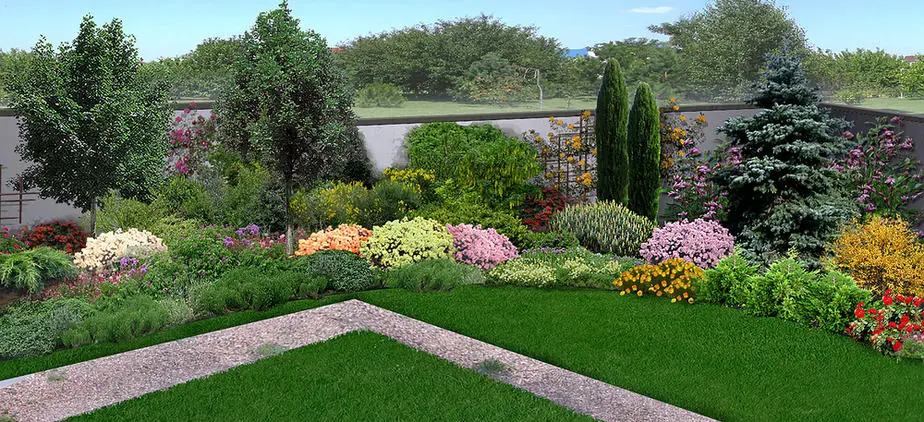 This garden looks well manicured, and elaborately designed, but if you look closely you will find that this is the effect of only two things: a well-cut lawn, and a rectangular pathway.
The tight geometric shape gives a sense of order to the garden. This style is a distant relative of the Versaille tapestry gardens, but it's done here in a simpler way.
Stone edging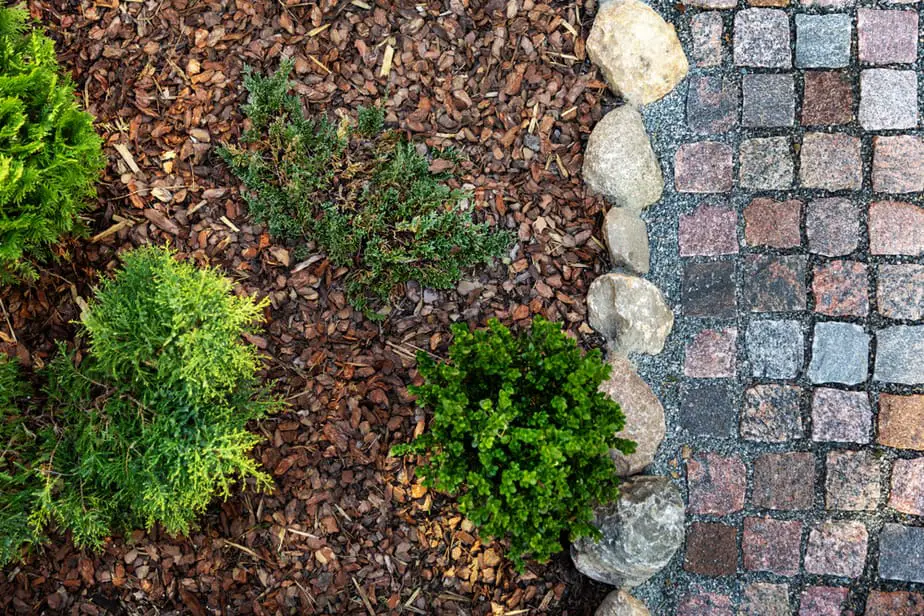 Stone is versatile, easy to install, and just as easy to remodel. It's a budget-friendly choice, and it doesn't need a professional to set up. This is why it's a popular edging material.
The warm colors add vibrancy to the walkway. It brings out the green of the plants quite nicely. The overall energy of this arrangement is positive and upbeat.
Tulip flower bed edging
Using tulips as a border marker for your lawn is easy and very beautiful. Any other flower could be used just as well, but tulips make such a statement, right!
Picket fence and flower bed edging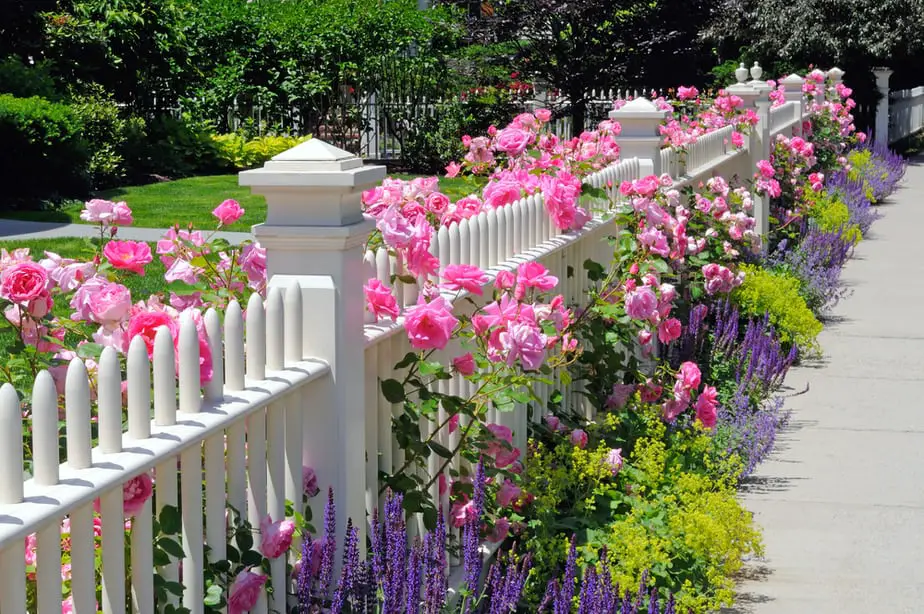 A white picket fence is a very elegant way to separate the lawn from the walkway. The flowers look great because the pinks, lilacs, and light greens are well matched with the white paint. The flowers aren't very rigid though, and they grow on both sides of the fence to give a nice flowing effect.
This edging will work best if the house is also white, or has an overall classical or countryside style.
Flowerbed and tile edging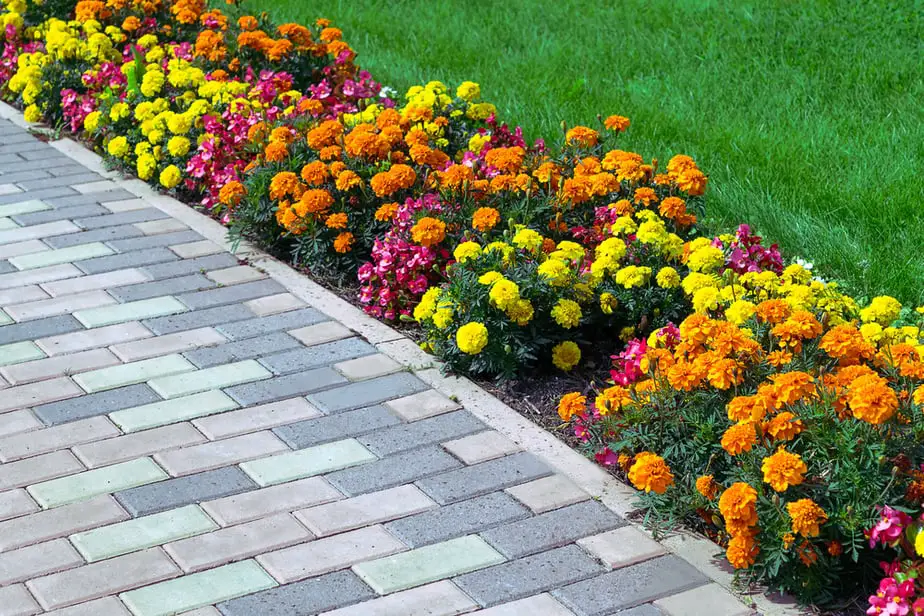 The tiles and flowers come in several tones, but they do that in a lowkey manner. The regular tiles keep the garden looking sharp and well organized.
Pond-side stone edging
This is a very natural looking edging, and it takes advantage of having a pond running through your garden. The stones are perfect here. They look as if they were set by mother nature herself!
Potted plants edging
Pansies are gorgeous flowers that come in a variety of colors and a unique shape. Putting each color in a pot, and placing it along the lawn border makes a great looking and budget-friendly edging.
Flower bed edging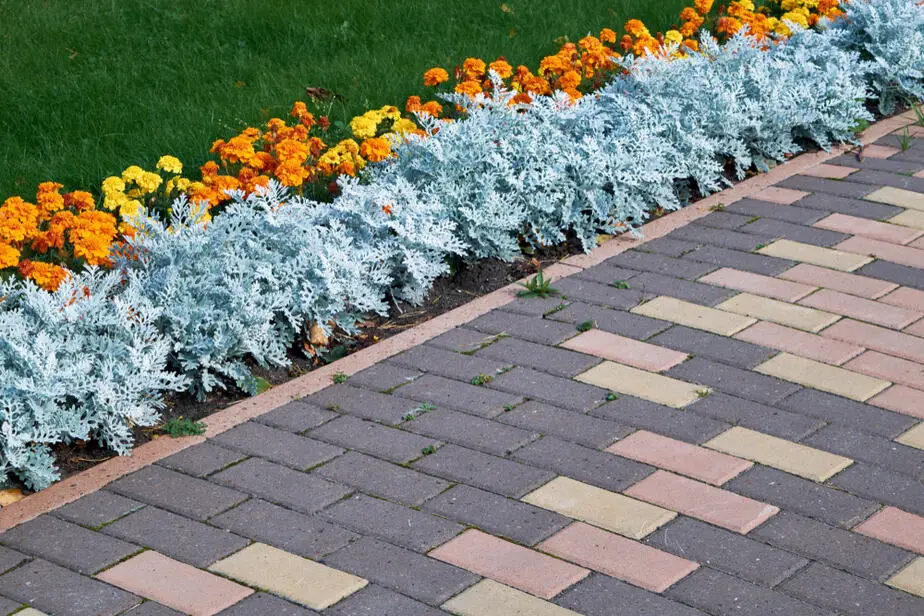 Using flowers for edging is always good. Here only two kinds of flowers are used right before the tiled walkway.
The whole design is very tight and regular. However, The brightness of the orange blooming flowers adds a touch of warmth and softens that regularity.
Mixed-material edging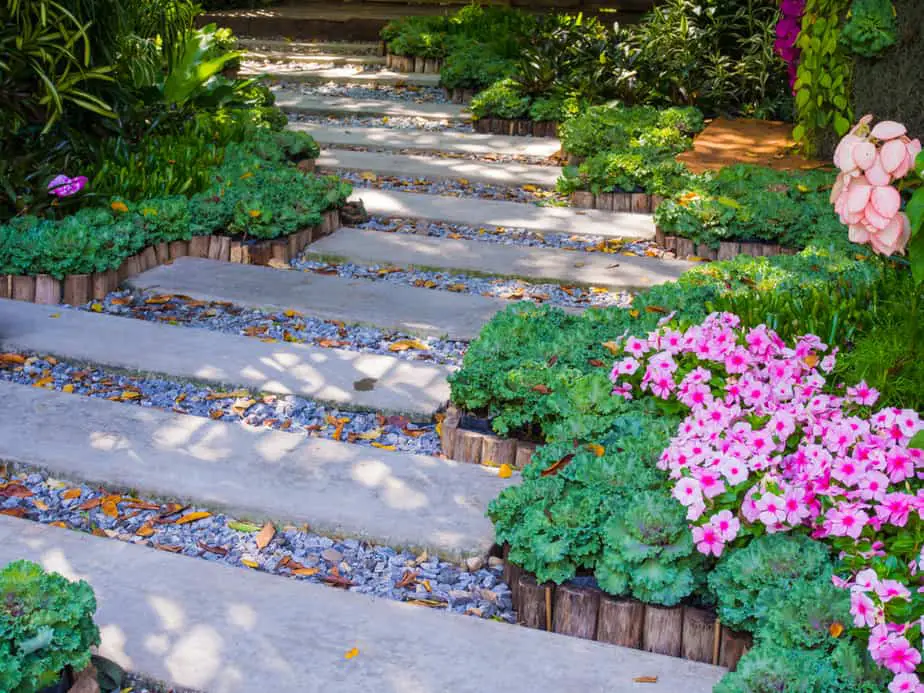 This design is one of my absolute favorites! The walkway is made from concrete slabs separated by colored gravel, and the sidelines have wooden stumps, flowers, and shrubs.
This has a surprisingly harmonious effect, considering the number of elements used! It's also very cheerful, and would brighten up any garden, not just define its edges!
Wooden stumps edging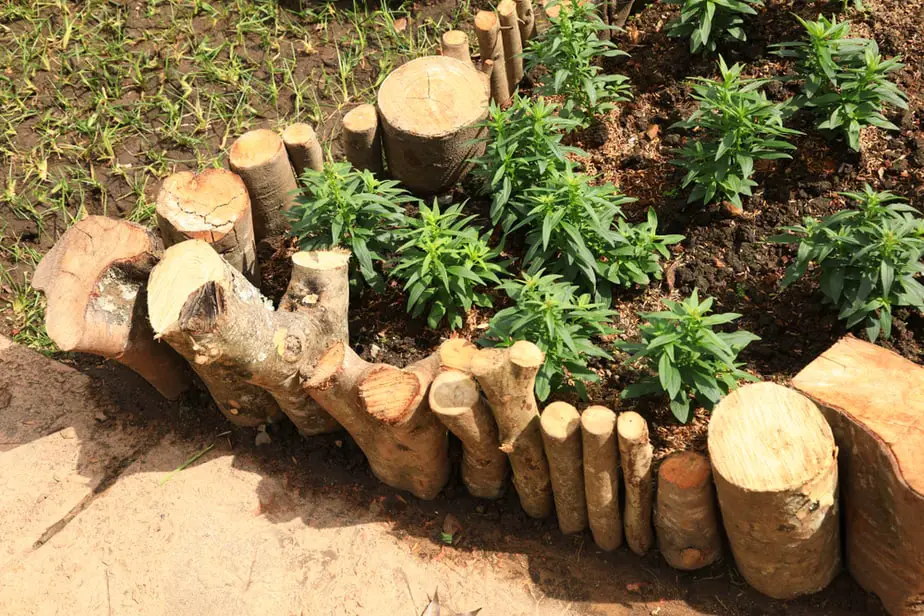 Wood stumps edging could have a regular form, by choosing as much as possible same size pieces, or it could take on a free form by just putting together an assortment of shapes.
Either way, using wood with plants is a great idea. It's easy to install, and wouldn't cost much. It will also give good texture and variety next to a stone or concrete walkway.
Straight edging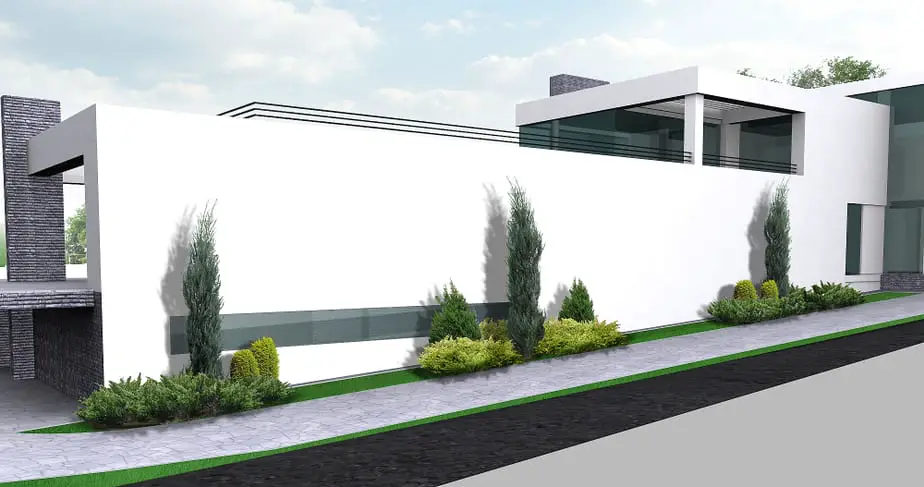 Gardens of modern houses should look just as futuristic and sharp. The plants are symmetric and repeat at regular intervals. Edging is done along the whole length of the wall, without the extra frills or flowers, or stone, or tiles.
It's simple, efficient, and chic.
Coleus edging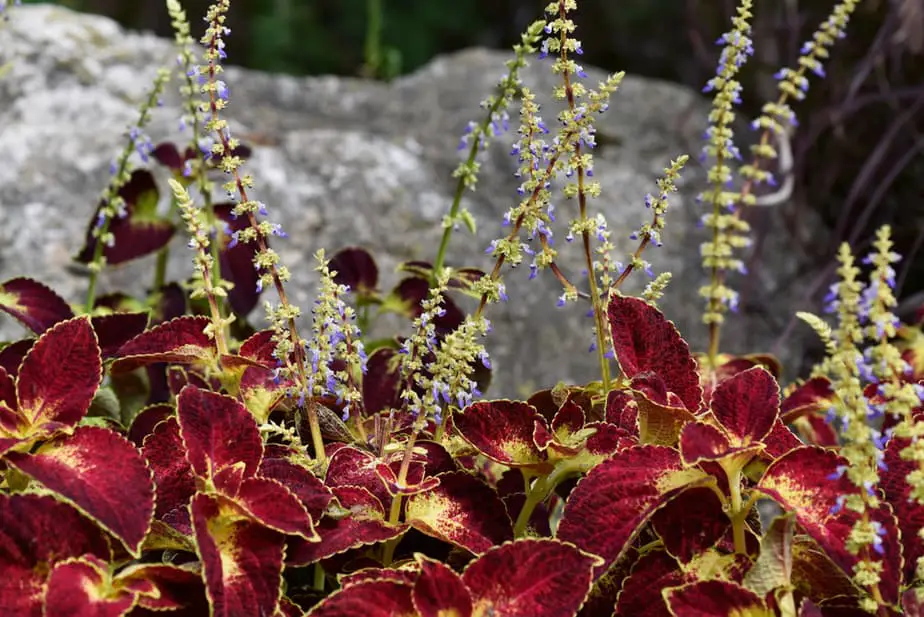 Coleus is a unique plant you can use at the edge of your lawn and neatly mark its borders. This is a stunning combination and a bold statement that goes so well with the pale green of the grass.
Primrose flower edging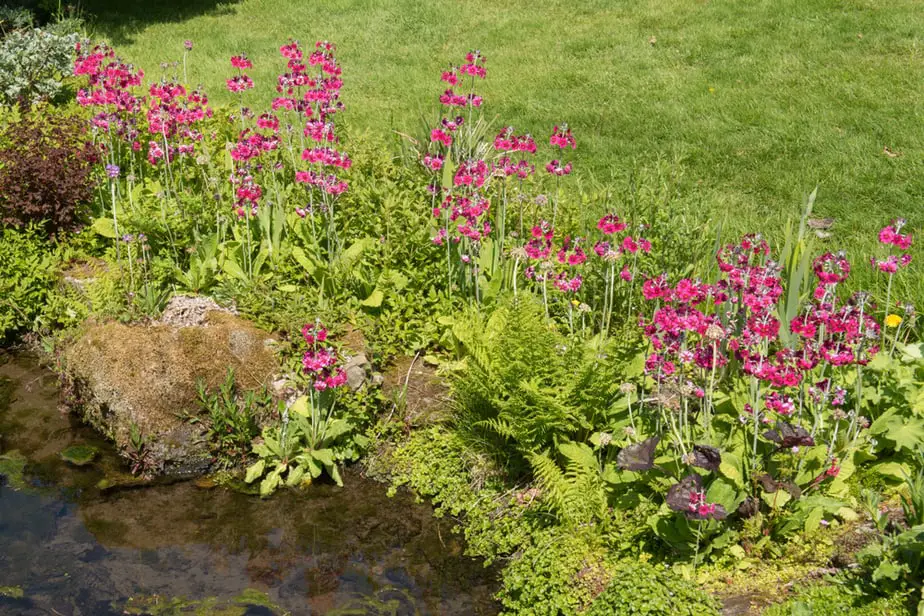 Primrose is another beautiful flower that can be used for edging. The beautiful pond seems even more so because of the vibrancy of this flower.
You can make a more complex arrangement by planting another row of a different flower, but I think this edging looks great just the way it is.
Pansy edging
Pansies were my mother's favorite flowers. They are so cheerful and have a festival of colors. They would look great as a border for your lawn, but they are a bit short so you can plant a second row of a taller plant for a nice layered effect.
Pansies are also seasonal. They only bloom for a certain time of the year. This edging is thus possible for that time of the season, after that, you'd need to pick another flower!
Multicolored flowerbed edging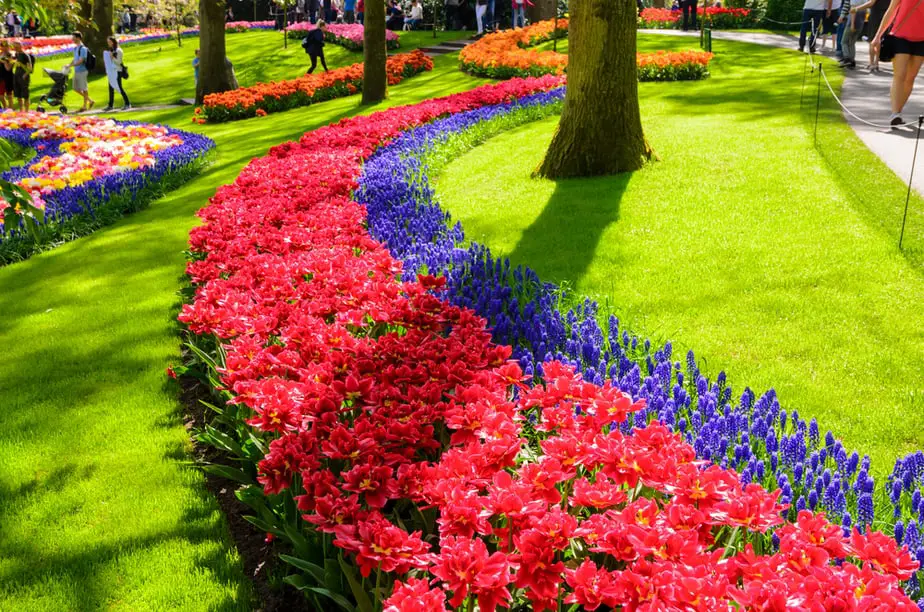 This playful arrangement takes some preplanning and design. Getting that effect is worth the trouble though. Simply stunning!
You can use several pairs of colored flowers in different parts of the garden. It's very effective in marking the various zones and bordering the plants.
Spring would be the best time to set up these edgings, it's when you would have the largest variety of blooming flowers to choose from!
Colored leaves edging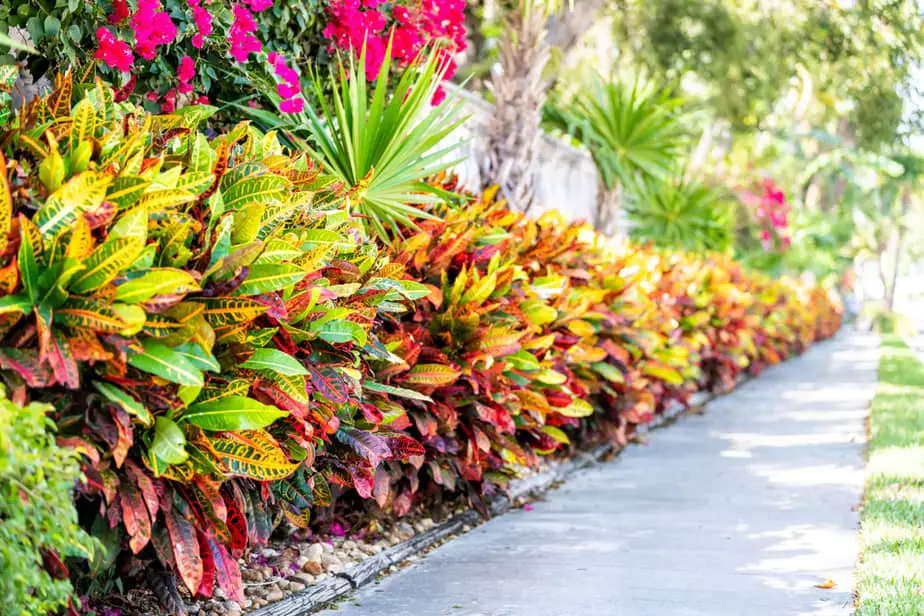 Playing with flowers is not the only option you have for original edging, you can also use leaves that come in various tones for a new look of your border. This is so pleasing to the eye, and its novelty makes it so interesting.
It's also easy to put up and maintain.
High and low edging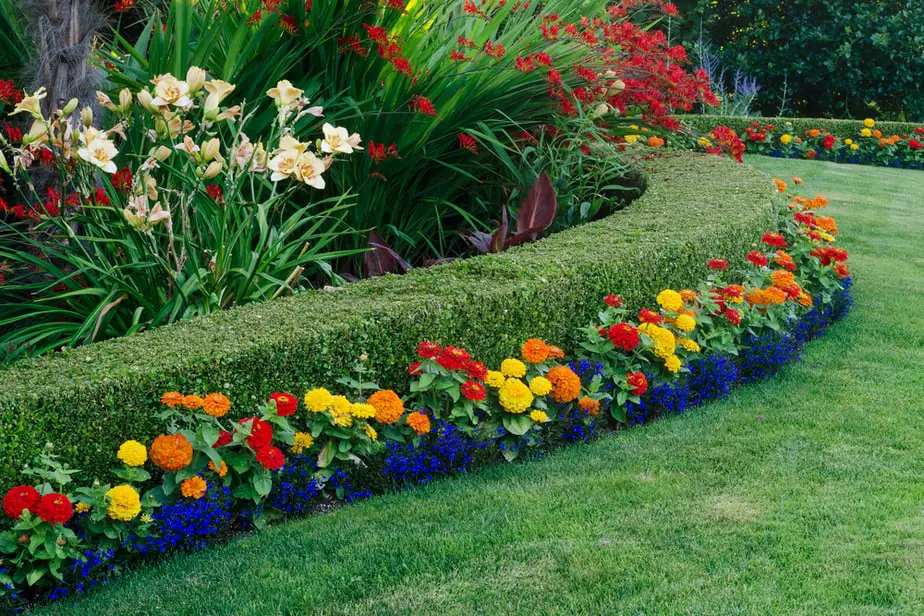 We have already seen edging by playing with colors and kinds of flowers. Here's a new trick: different heights.
You can place the blooming flowers at the shortest level, then the sharp-cut shrubs in the next level, and finally the tall flowers.
This is not done in a day of course, and naturally, it would take some pondering and planning.
Metal fence edging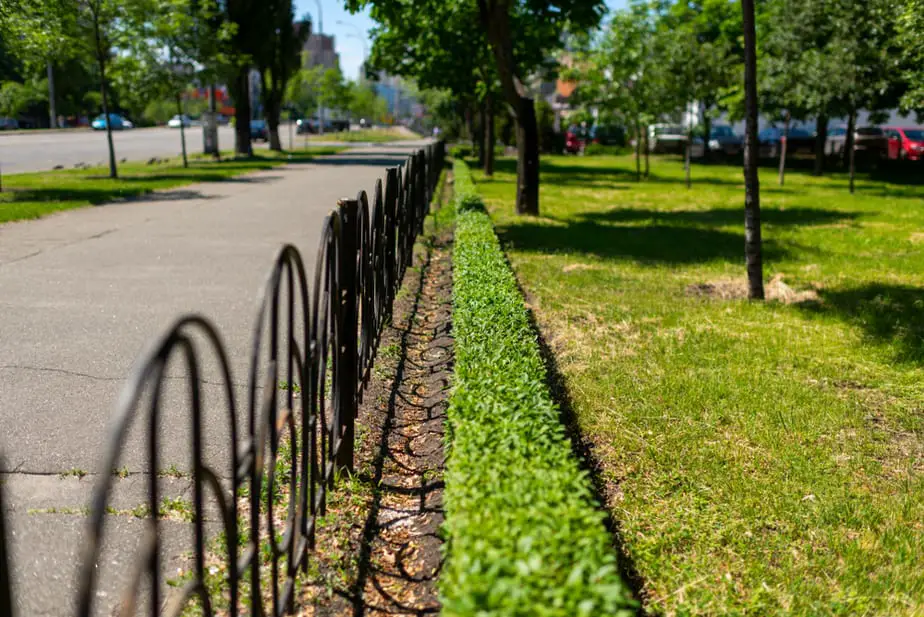 This is a new classic. If you watch old movies, you would probably see a lot of that iron fence in parks and public areas.
It's now back in the landscaping scene, and for good reason: it's pretty and very sturdy. Certainly more durable than flower arrangements or shrubs.
Empty bottle edging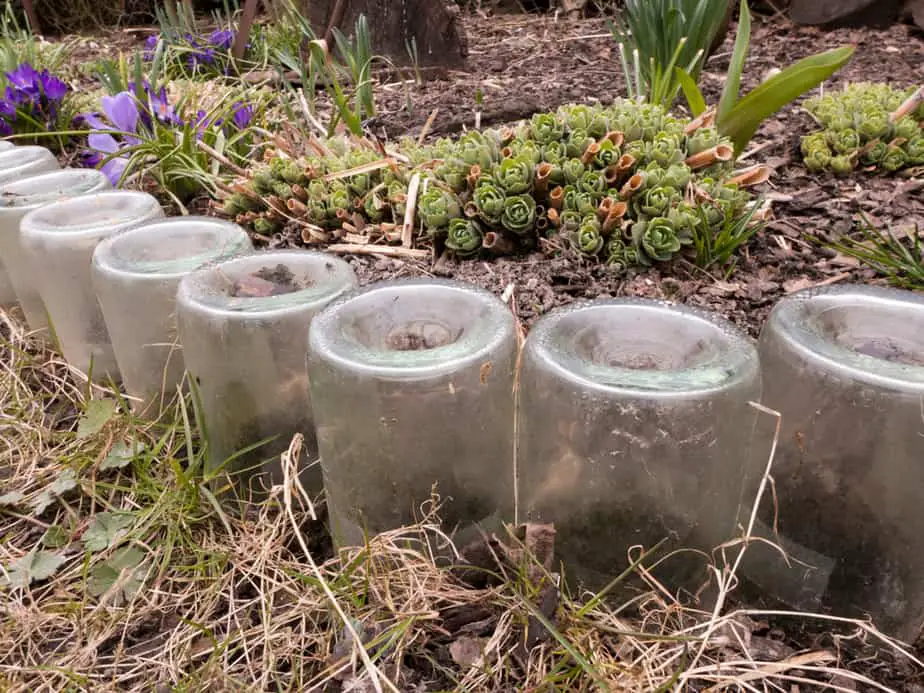 You can get as creative as you want with your edging, as long as it performs the function, and matches the overall look and style of your garden.
Plastic or glass bottles can be put to very good use here. The borderline can be straight or curved, it can be of a regular shape and color, or of contrasting items. Experiment till you get the effect that pleases you!
Meshwork edging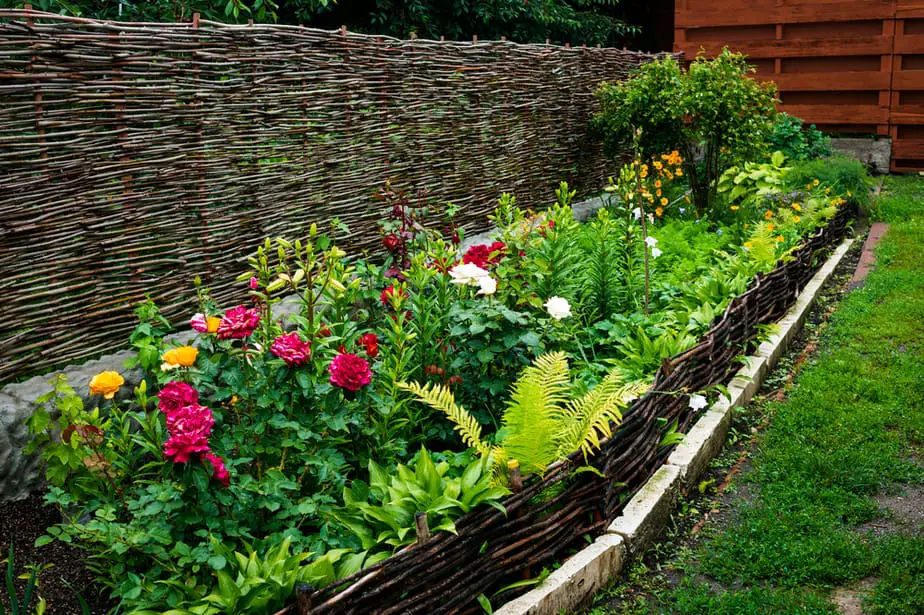 The meshwork is done in two places: The little fence in the front, and the back wall. The effect is stunning. The blooming flowers in the flower bed give it the contrast that it needs to stand out even more.
Playing with textures is always good, after all, gardens are supposed to please all the senses.
Brick edging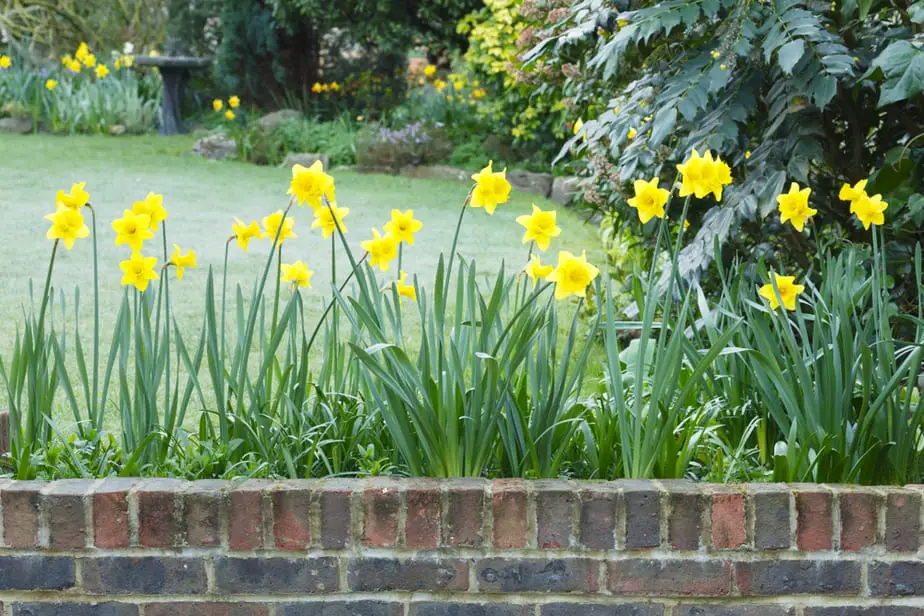 Brick edging is a durable and very solid border. You can achieve several patterns by layering and juxtaposing the bricks.
This variety always adds interest, as would planting a few daffodils right next to it.
To wrap it all up
Garden edging ideas are abundant! There's so much you can do to give your garden a polished and elegant look. Some choices can be done in a day, while others will give you the opportunity to ponder and design, and build up your edging day after day.
Matching your edging with the rest of the garden has a wonderful effect, and it will give you the best visual interest.
Remember, you don't have to make an identical copy of the general style, contrasts are playful and very interesting to watch.
So, have you picked an edging yet? We're pretty sure you did!