Greenhouse plastics are all alike, right? Wrong! In fact, some greenhouse plastics are so low quality that you'd be better off stripping them away right this instant. If your greenhouse isn't protected and assisted by a quality plastic sheath, then your greenhouse isn't working as well as it could be. We've put this guide together to show you the best greenhouse plastic online, plus give you some advice to help you find the perfect plastic for your growing season. Let's get started.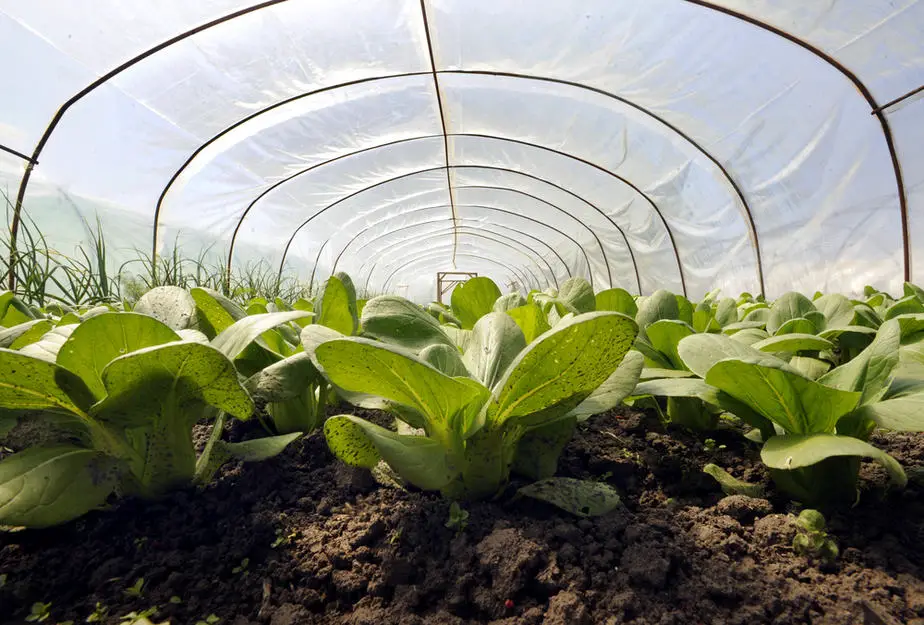 In a Hurry? Here's Our Top Picks…
1. Farm Plastic Supply Greenhouse Film 4-Year 6Mil
Farm Plastic Supply - Clear Greenhouse Plastic Sheeting - 6 mil - (32' x 25') - 4 Year UV Resistant Polyethylene Greenhouse Film, Hoop House Green House Cover for Gardening, Farming, Agriculture
Plastic Greenhouse Cover - Our 6 mil clear plastic for greenhouses is tough and durable. Made from premium polyethylene plastic sheeting, our green house plastic creates an optimal greenhouse environment. The Dimensions of the product are 32' x 25'.
Greenhouse Plastic UV - Farm Plastic Supply's 6mil clear plastic is constructed with anti-aging UV additives, made for long term use. These additives protect the green house film from UV rays and prolong the life of your hoop house plastic.
Superior Light Transmission - Our clear plastic for greenhouse's lets light through, distributing light evenly throughout your green house and allowing for even temperature distribution. Proper light transmission will aid in optimal crop growth.
32 FT x 25 FT Heavy Duty Green House Plastic Ultra Clear - This 6 mil plastic sheeting greenhouse film is 32 feet in width and 25 feet in length. It comes in a single roll and is easily unpacked and installed. Our greenhouse plastic can be used for hoop houses, crop patches, greenhouses, and more.
Multiple Applications - Our greenhouse clear plastic sheeting is built for protection against UV rays. It can protect your plants from extreme heat, heavy rain, frost, cold weather, and strong winds. Our clear plastic film polyethylene can also be used as a vapor barrier or for construction purposes such as a dust wall.
Last update on 2023-09-20 / Affiliate links / Images from Amazon Product Advertising API
This UV protected greenhouse plastic comes with enough of the stuff to last you for four years with regular use. While the asking price is a little high right off the bat, being able to purchase a huge quantity of quality greenhouse plastic might be a smart idea if you plan on keeping the same greenhouse orientation and design for the same period of time.
This greenhouse plastic has a thickness of 6 mil, which affords it considerable durability without compromising its ability to allow most of the sun's light through to your plants and greenhouse interior. It's UV protective coating will ensure that the plastic material doesn't degrade or rot over time.
As a result, this greenhouse plastic is perfect for greenhouses that spend most of their time in the sun. Greenhouses that are in cloudier climates don't necessarily need this protection, but this plastic is ideal for sunnier latitudes or weather.
The default dimensions for the greenhouse plastic roll are 32' x 25'. But you can select this greenhouse plastic in a multitude of different sizes. You can get it in rolls of 12' x 28' or 40' x 25', or anything in between. Being able to customize the dimensions of the roll will make it easier for you to fit the plastic onto your pre-existing greenhouse without having to cut it or tangle it into the right configuration.
Even if you do have to cut the roll, the plastic isn't so thick that you should have much difficulty customizing it for your greenhouse. At the same time, it's thickness is good enough to trap the majority of heat and light from the sun in your greenhouse interior.
Things We Like:
Comes in a multitude of dimensions
Is UV protected to ensure plastic longevity
Fairly thick, which improves durability
Still allows most light through
Things We Don't Like:
Can be a bit too thick for cloudy climates
Not dust protected, so not perfect for desert greenhouses
Check Price and Reviews on Amazon
---
2. ECOGardener Greenhouse Clear Plastic Film
Sale
Greenhouse Clear Plastic Film – 25' x 10' 6mil, 4 Year UV Treated, Anti Condensation Heavy Duty Polyethylene by ECOgardener
GREENHOUSE – This seamless Poly is 6 mil (0.006 Inch) thick is specifically designed for greenhouse applications
EXCELLENT LIGHT TRANSMISSION – To maximize the growing season and ensure your plants have every advantage
UV STABALIZED – Our Plastic Film has been UV treated so it is suitable for continual outdoor use for up to 4 years
ANTI-CONDENSATION –Our Greenhouse poly features surface tension modifies to limit the formation of water droplets
HEAVY DUTY - Also great for Poly Tunnels, Cold Frames, Garden Cloche or Covered Rows
Last update on 2023-09-20 / Affiliate links / Images from Amazon Product Advertising API
This roll of 25' x 10' greenhouse plastic is set to a thickness of 6 mil, which makes it ideal for sunnier climates or places that get plenty of sunshine to negate the mild deflecting effect. The roll has enough plastic to last for four years and has been UV treated with a special coating. This will prevent the plastic from rotting or degrading too quickly over the four-year lifespan, even if you get lots of sunshine.
The plastic is a polyethylene formula, which is the best possible material for greenhouse plastics. Furthermore, the plastic is treated with an anti-condensation treatment. This limits the formation of water droplets inside your greenhouse, which will improve light transmission even further.
This can make it a great choice for greenhouses in extremely humid or rainy climates that nonetheless receive lots of sunlight. The anti-condensation treatment will also help to ensure that the plastic lasts for as long as possible before you need to replace it.
However, this treatment can be washed off with enough rain or with a typical garden hose if applied too frequently. If you choose this plastic, it's wise to keep an eye on its capabilities as the season progresses so you can know if the anti-condensation treatment is wearing off.
This greenhouse plastic comes in only a single size for now, so consider whether the included dimensions will be workable with your greenhouse design. You may be able to cut through this plastic with scissors, but this can compromise the anti-condensation treatment at the edges of the plastic.
It may be smarter to purchase a couple of rolls of the plastic and combine them for overall coverage if you think this pick will be perfect for your greenhouse and climate.
Things We Like:
Comes with anti-condensation treatment to improve sun light transmission
Made of heavy-duty polyethylene
UV treated to improve longevity
Things We Don't Like:
Comes in only a single size
Check Price and Reviews on Amazon
---
3. A&A Green Store Greenhouse Plastic Film
Sale
A&A Green Store Greenhouse Plastic Film Clear Polyethylene Cover UV Resistant (8 ft Wide x 25 ft Long)
✅[4 YEAR UV ] UV resistant for prolonged sun exposure and creates an optimum greenhouse environment.
✅ [🇺🇸 MADE IN USA] TRUE 6 MIL Polyethylene Clear Greenhouse Film. Shipped as a roll or folded depending on size.
✅ [IDEAL LIGHT TRANSMISSION] Provides higher light transmission for plant photosynthesis.
✅ [5 LAYER SYSTEM] Weather-resistant and tear-proof. Superior strength and toughness.
✅ [ALL WEATHER] Protect plants and crops from the bad weather & enjoy longer growing seasons.
Last update on 2023-09-20 / Affiliate links / Images from Amazon Product Advertising API
This greenhouse plastic film is made with clear polyethylene and comes with a default roll size of 8' x 25'. However, you can choose between six different dimensions depending on your greenhouse need for personal preferences. Some of the larger choices are among the most extensive you can find online.
For instance, you can purchase this roll with 25' x 100' dimensions or go much smaller, selecting a roll that is only 5′ x 25′. Overall, this greenhouse plastic comes with the most practical variety in terms of its size.
Whichever roll you choose, you can take advantage of the polyethylene's superior clarity and strength. It's weather-resistant and tear-proof right out of the box and is formulated to provide higher light transmission to improve plant photosynthesis and greenhouse heat retention.
The greenhouse plastic is also UV treated. It won't degrade very long even under extreme sun exposure while still permitting the majority of the sun's rays inside your greenhouse. Even with all of these excellent aspects, this greenhouse plastic is among the most affordable regardless of the size you choose.
Obviously, larger sizes will be more expensive, but relative to other greenhouse plastic picks of similar size you'll still be getting a bargain.
The only thing missing is some anti-dust protection. The lack of this treatment means that this plastic isn't the best choice for arid environments. But it's an ideal choice for tempered environments or even humid environments since it's weather-resistant and can withstand strong winds and plenty of water before it starts to show signs of wear and tear.
Things We Like:
Ideal for a variety of weather conditions
Comes in a great selection of dimensions
UV treated to improve longevity
Unique polyethylene formula improves light transmission
Things We Don't Like:
Check Price and Reviews on Amazon
---
4. Grower's Solution Greenhouse Clear Plastic Film
Last update on 2023-09-20 / Affiliate links / Images from Amazon Product Advertising API
This greenhouse plastic is rated at 6 mil thickness, marking it as among the most durable and simultaneously light-transmitting polyethylene formulas you can find. The polyethylene film here has dimensions of 20' x 25', so it's ideal for larger greenhouses in need of wider patches of protective plastic.
It would still be nice if the plastic was available in alternative sizes. But you can always cut the plastic into smaller pieces if you have a greenhouse that is smaller than the dimensions in the minds of the manufacturers.
The plastic formula provides higher light transmission than competing polyethylene covers of a similar thickness or size. It's also been treated to be tear-resistant and features improved strength. That makes it resistant to heavy winds or wear and tear from regular activities.
A polyethylene has further been UV treated to keep it durable and clear even with tons of light exposure. But that's not all. This greenhouse plastic has also been treated with an infrared additive. This will boost the warmth of your greenhouse environment and reduce heat loss in winter months, as the infrared radiation from the sun will become trapped inside the greenhouse rather than escaping.
All in all, there's enough of the plastic film contained with the roll to last you for four years. This is good since this roll is among the most expensive you can find online. However, its versatile treatments and exceptional additives make it a great choice for greenhouse growers that want to maximize the success of their greenhouse plants.
Things We Like:
Is infrared treated for improved greenhouse warm
Great for most seasons
Light transmission is improved
UV treated for durability
Things We Don't Like:
Doesn't come in multiple sizes
A little expensive
Check Price and Reviews on Amazon
---
5. Be Cool Solutions Premium Polyethylene Greenhouse Film
Be Cool Solutions Polyethylene Greenhouse Film, 6mil, 24'W X 25'L – Clear Plastic Single Layer Greenhouse Cover Roll - UV Treated, 4 Years UV Protection, IRAD Greenhouse Supplies for Grow Tunnel
PERFECT GREENHOUSE SHEET FOR YOUR PLANTS: Our polyethylene greenhouse film with its 6mil (150micron) commercial grade thickness, is the ideal cover sheet to use for greenhouses and gardens. Simplified, hassle free poly installation is guaranteed, as it unfolds and unrolls into a wide, pliable cover.
MADE TO LAST – YOU'LL HAVE IT FOR YEARS: Manufactured using high quality polyethylene, our greenhouse cover is very durable and will last in all seasons for years. It folds up to 210% stronger, has a tear strength up to 164% higher and a puncture force up to 12% higher, making it the most premium product on the market that ensures longevity.
UV TREATED FOR A LONGER GROWING SEASON: Our 6mil greenhouse covering is UV treated and ensures up to 4 years UV protection. It captures the IR energy of the sun during the day and slowly releases the heat energy at night. The thermal preservative quality helps your plants grow by protecting them during the day from temp ill effects and maintaining warmer temps during the night
ANTI-DRIP & ANTI-DUST TO PROTECT YOUR PLANTS: The anti-drip inside treatment of our greenhouse plastic sheeting prevents formation of damaging drips inside your greenhouse, and the anti-dust additive keeps your cover less dusty. You can rest assured that your plants will be protected and that the light transmission will remain undisturbed.
PROVIDES IDEAL CONDITIONS FOR MAXIMUM GROWTH: You can use our greenhouse sheet to also cover your grow tunnel, yard mini greenhouse or garden for vegetables, flowers, fruits, herbs or more! The perfect growing conditions - high light transmission, humidity, temperature - of any cultivation, are guaranteed whether you need it for a single season or a full year.
Last update on 2023-09-20 / Affiliate links / Images from Amazon Product Advertising API
This clear polyethylene greenhouse plastic has a thickness of 6 mils and can offer up to four years of protection and warmth trapping for your greenhouse. It's been UV treated to improve its own durability. It's also been treated to be up to 210% stronger than many other greenhouse plastics of a similar thickness.
It can even resist puncture forces up to 12% higher than many other competing brands. This is all with the standard 6 mil thickness you can find with most greenhouse plastics. Furthermore, this greenhouse plastic is infrared treated to allow it to capture the low-band energy of the sun and put it to use in your greenhouse. It's perfect for greenhouses that need to continue operating during colder months.
That's not all. This greenhouse plastic also features anti-drip treatments on the interior of the plastic sheets. This will prevent water droplets from attaching to the inside of the plastic and working the sunlight that attempts to break through from the outside. It essentially improves light transmission for the greenhouse as a whole with no extra effort on your part.
There's also an anti-dust treatment on the outside of the plastic. This will protect your covers from collecting dirty shells that prevent light from reaching the interior of your greenhouse. This greenhouse plastic checks all the boxes and has virtually every treatment you could want all while retaining a standard 6 mil thickness.
Naturally, this greenhouse plastic is a little pricey but it's a must-buy in our book. It's the perfect choice if you want to buy the best greenhouse plastic you can and have it work in any environment. It does only come in a single size of 24' x 25'. Keep this in mind when planning how to apply the plastic to your greenhouse.
Things We Like:
UV treated for durability
Infrared treated to improve greenhouse work
Anti-dust treated to prevent dust pileup
Very strong and puncture-resistant
Things We Don't Like:
Only comes in a single size
Check Price and Reviews on Amazon
---
What to Look For in Greenhouse Plastic
When you're checking out various types of greenhouse plastic, keep these major aspects in mind to help you purchase the best plastic for your needs.
Radiation Ratings
Not all greenhouse plastic works with radiation the same. While all plastics will allow in most light, some have special coatings to modify their capabilities.
Most greenhouse plastic automatically defends against excessive UV radiation. Note that UV radiation isn't necessarily toxic to plants the same way it can eventually become for humans. Instead, greenhouse plastic that protects against UV radiation is specifically rated to not degrade when being exposed to that radiation over a long period of time.
Basically, greenhouse plastic rated for UV radiation will last longer. Greenhouse plastic that isn't rated for UV radiation will start to degrade within a year. Polyethylene plastic is a common component of most greenhouse plastics and it'll start to rot from within inside of a year if the plastic as a whole can't defend itself from UV radiation.
Some of the best greenhouse plastics contain an additive in their chemical compositions that allows them to trap infrared radiation inside your greenhouse. Infrared radiation doesn't actually harm plants or the soil, as it's a very low frequency of light.
Greenhouse plastic that traps infrared radiation can improve the warming effect of your greenhouse by preventing that radiation from escaping. Infrared rated greenhouse plastic can keep your greenhouse interior around 20° warmer than the outside. This type of plastic is particularly effective for plants that need high temperatures to grow well.
Alternatively, such plastic can be advantageous for greenhouses that must keep working throughout the colder winter months. Infrared rated plastic doesn't help keep the plants inside warm when the sun goes down, however.
Thickness
The thickness of your greenhouse plastic will affect much of its performance. Generally speaking, thicker greenhouse plastic is almost always better, although there are some niche cases where thinner plastic might be the better choice.
Greenhouse plastic thickness measurement is recorded in mils. One mil is one-thousandth of one inch. The difference between five mils and seven mils might not seem like much, but you'll be able to tell from touch alone the thickness difference once you experience it for yourself.
Thicker plastic is more durable and has more torsion strength. This will lead to less of a chance of the plastic warping or tearing from daily use. However, thicker plastic is more difficult to store and plastic thickness plays a roll in how many extra coatings or radiation ratings a cover can have.
For instance, plastic that is too thick may not have enough room left for an anti-dust coating. Therefore, we'd recommend going for the thickest plastic possible if you live in a temperate environment and your greenhouse doesn't suffer from excessive dust very often. Similarly, you can go for the thickest plastic around if you don't need to trap excess infrared radiation.
But it will be worthwhile to purchase a thinner type of greenhouse plastic with some extra coatings or protection if you live in a specialized environment. Overall, greenhouse plastic around 6 mils or more should be suitable for most uses, even with some extra coatings added on top.
Does it Resist Dust?
Some greenhouse plastics can more effectively resist dust. These plastics are coated with ionized polyethylene, which stops silica dust from sticking to the plastic surface. Less dust will make it inside your greenhouse, which will keep the environment healthier and cleaner overall.
Even more, anti-dust coatings can ensure that your plastic doesn't obtain a dusty exterior over time. Dust piling up over your greenhouse plastic must always be cleared away relatively quickly to allow your plants to obtain necessary energy from the sun.
But greenhouse plastics that are treated to resist dust in the first place will require less cleaning on your part and improve sunlight's ability to enter your greenhouse and fuel your plants.
Naturally, greenhouse plastics that have an anti-dust coating are best used in arid environments or in dusty environments. You should also investigate this plastic if your greenhouse is in a windy or dusty part of your property.
Since anti-dust coatings usually add a fair chunk to the overall price of plastic, don't worry about spending extra money on this if you don't have to worry about excessive dust already.
Material
Finally, greenhouse plastic material also plays a major role in its performance. Not all greenhouse plastic is made of polyethylene, although you'll hear this chemical compound spoken of frequently. It's one of the most common and most effective types of greenhouse plastic, though this can drive the price up.
You can also find greenhouse plastic made from PVC, or polyvinyl chloride. This is much less durable than polyethylene and it permits a lower percentage of light from the sun through its surface. Since the main purpose of greenhouse plastic is to protect your greenhouse while still permitting most radiation through, this can have negative effects on the growth rates of your plants.
But PVC plastic is more affordable for most people and it can adhere much more easily to various support structures. PVC supports are particularly easy to use with PVC plastic.
All in all, you can find exceptional greenhouse plastic products in both varieties. But most people will want to pick polyethylene plastic since it'll admit more of the sun's radiation into your greenhouse. This will have a better effect on the growth of your plants and greenhouse temperature. We'd recommend only going with PVC plastic if you are on a tight budget or are using the plastic to supplement an existing cover of your greenhouse.
Best Greenhouse Plastic Brands
A&A Green Store: A&A is a California-based business that provides high quality and technologically assisted products for a variety of gardening and farming needs. They primarily produce Israeli style greenhouse plastics and other products to assist with all kinds of growing endeavors.
Grower's Solution: These guys are master gardeners that provide equipment for any number of farming and gardening needs. Not only do they handle greenhouse kits and equipment but they also provide exceptional tools and disposable products for nature-based professions.
Be Cool Solutions: This company handles greenhouse products but also focuses on outdoor events, camping equipment, and festival supplies. The company has a diverse product portfolio and emphasizes product versatility and high-quality above all else.
ECOGardener: As the name suggests, ECOGardener emphasizes eco-friendly gardening products and greenhouse equipment. They're a perfect choice for farmers and greenhouse operators who want to lessen their overall environmental impact without compromising quality.
Farm Plastic Supply: Farm Plastic Supply, Inc. are experts when it comes to engineering top-tier plastic film and sheeting for greenhouses and other gardening structures. They have a relatively limited product line but that allows them to focus on keeping the current products high in quality.
FAQs
Q: Does Greenhouse Plastic Need to Fit My Greenhouse Perfectly?
A: Greenhouse plastic doesn't need to perfectly fit your existing greenhouse. In fact, most greenhouses can benefit from some overlapping of greenhouse sheets around their corners for weaker spots. You shouldn't double layer the entire greenhouse, as this will limit the light transmission percentage of the plastic cover.
But double covering the more vulnerable parts of your greenhouse can result in greater warmth retention without compromising light transmission too much. You can also use scissors to cut most greenhouse plastic into a better orientation or size. But do this sparingly. Cutting greenhouse plastic can result in its coatings wearing down more quickly.
Q: How Often Should I Clean My Greenhouse Plastic?
A: While greenhouses should be cleaned annually, your greenhouse plastic needs to be rinsed or wiped off any time too much dust is covering the exterior and preventing light from shining through to its maximum potential.
That can be as often as once a week to once a month to only a few times a year. It all depends on how dusty your environment is and whether or not your greenhouse plastic has an anti-dust coating.
When you do clean your greenhouse plastic, you should avoid using too much water or using harsh chemicals like some kinds of soap. This can rub off the special coatings that your greenhouse plastic may have come with, including the UV protective coating that increases the plastic's lifespan.
Remember, cleaning your greenhouse plastic is basically just rinsing off any excess dirt or debris that might be interfering with light transmission.
Q: Why do Some Greenhouse Plastics Warn Against Contact with PVC?
A: Many polyethylene greenhouse plastics should not be used with PVC pipes. This is because PVC pipe can sometimes create chlorine gas when utilized with regular polyethylene. This will eventually destroy the UV light stabilizers that extend the life span of the greenhouse film.
It will essentially cause your greenhouse plastic to rip and tear more easily. Because this is so common, any warranties that may come with your greenhouse plastic will likely be voided if you bring the greenhouse plastic contact with PVC.
You can still use PVC pipes with your greenhouse plastic if you thoroughly paint the pipes beforehand with a white acrylic latex paint or a similarly thick coating.
Conclusion
Greenhouse plastics are all fairly alike aside from the top choice: Be Cool Solutions Premium Polyethylene Greenhouse Film. In our opinion, this greenhouse plastic is above and beyond the best choice for most growers due to its excellent polyethylene composition and its fantastic series of coatings.
It can trap in infrared light better than most other greenhouse plastics. It also can resist dust coatings. This makes it a perfect choice for virtually any environment or climate. Add to that its greater light transmission and its exceptional starting size and you've got a fantastic plastic covering on your hands.
We'd recommend it for anyone, even if it doesn't perfectly fit your existing greenhouse dimensions. The value from its coatings is simply too great to ignore.
But whatever you choose, we hope this guide has been helpful and wish you luck in the coming season! Thanks for reading!