Nothing beats cooking your dinner over an open flame. But although cooking over a campfire is fun and produces tasty results, it can be tricky to handle a pan or pot over your fire pit by hand. Not only is it tiring, but it can be hard to keep the dish level the entire time to allow for even cooking. A fire pit cooking grate is a better bet for success.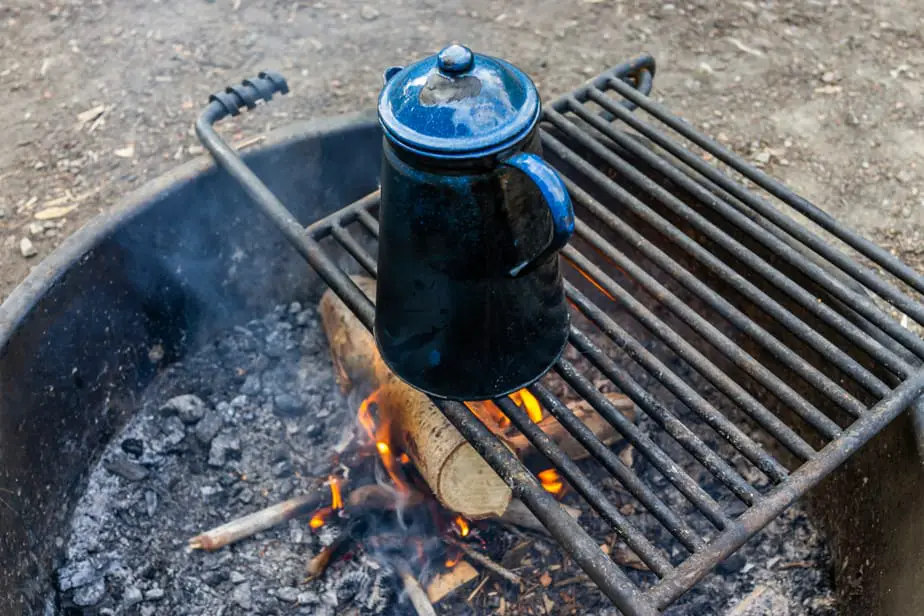 These handy tools will let you rest your food or dishes on their pre-set surfaces, while still providing open-flame access for campfire cooking. There's no need to spend time searching for the best fire pit cooking grates, however; we've already found them.
Let us show you the top fire pit cooking grates and explain what to look for as you decide.
In a Hurry? Here's Our Top Picks…
1. Texsport Heavy Duty Over Fire Camp Grill
Last update on 2023-09-20 / Affiliate links / Images from Amazon Product Advertising API
This is a table type fire pit cooking grill, so it's made to be extremely stable and sturdy. The grill grate's frame constructed of heavy-duty welded steel. While the steel is of high-quality, it isn't full-on stainless steel so it isn't very expensive, either.
The mesh is also made of steel to ensure sturdy support. Although the diamond-shaped mesh linings don't look very thick, this grate is sturdy enough to capably handle cast-iron cookware without an issue. Even with all this steel, the grate only weighs 5.6 pounds so it's not too heavy for most people to carry.
The grate has a 16" x 12" grilling surface, which adds up to 192 in.² overall on which you can put meats, veggies, or corn on the cob as you desire. While this is the initial height, you can also select from two larger sizes if you'd like some extra grilling surface or need to feed a larger group of people. The grate also comes in 24" x 16" and 36" x 18" sizes depending on your preference.
The legs of the grill fold up to allow for easy storage, although they aren't adjustable. This means that the height of the grill is set to 6.75" for the first default size, or 8.25" and 8.75" for the other two sizes, respectively. So this grate will be a great choice for fire pits that are embedded deep into the ground.
Overall, this is a simple and affordable fire pit grate solution that's an ideal pick for those who need to feed larger camping groups or who will be cooking on uneven ground. While its not corrosive resistant or heat retardant, you shouldn't have any issues with heat retention or warping of the steel due to its sturdy construction.
Things We Like:
Very sturdy and stable
The steel material as long-lasting and thick
Legs folded easily without breakable hinges
comes in three sizes
Things We Don't Like:
Can't adjust the height of the grate
Check Price and Reviews on Amazon
---
2. AmazonBasics Folding Campfire Grill
Last update on 2023-09-20 / Affiliate links / Images from Amazon Product Advertising API
This grill grate comes in two sizes: medium or extra-large. These options are in tune with the overall construction philosophy of the grate. It's meant for heavy-duty campfire grilling for larger groups of campers and is constructed with a high quality welded steel.
The medium size has a cooking surface of 214 in.², while the extra-large size has a cooking area of a whopping 727 in.². That's easily enough cooking surface to feed a small army!
The mesh on the top of the grate is a lighter steel variety, but no less durable and exceptional. It's perfect for placing cast-iron cookware on top, though we don't recommend cross-contact grilling with this grate.
The legs of the grating angle out for added stability, and they fold up when it's time to transport the grate back to your car or from place to place. The legs, unfortunately, don't shrink or extend, so you're stuck with the pre-made height of 9.3 inches for either size you choose.
But this initial height setting is actually quite generous and high for most set table type cooking grates. It should be high enough to allow you to get your fire going to a considerable roar before you run the risk of making your cookware too hot. In fact, you're more likely to wish that you could bring the grate closer to the flames rather than push it away.
The grate weighs 11.4 pounds in total, which is a little heavy to carry around all day. we'd recommend using a car to transport this grate or carry it on your back if possible. It will be more comfortable than lugging around under one arm.
As a final bonus, this grate comes with a one-year limited warranty. This covers any manufacturer defects you might experience upon receiving the grate or over the course of its use. The warranty provides fantastic value for money since the grate isn't too expensive already.
Things We Like:
Lots of cooking space regardless of size
Made of very durable steel
Extremely stable feet
Comes with limited warranty
Things We Don't Like:
A little heavy for easy carrying
Can't adjust the height
Check Price and Reviews on Amazon
---
3. Stromberg Carlson GR-1522 Stake and Grille
No products found.
This is a swivel-style grill that features a single cooking grate mounted to a thin mounting stake. The cooking grate can be easily manipulated or shifted from side to side using the isolated handle that rests on the other side of the mounting stake. This keeps your hand protected even if the wire grate has started to heat up after long exposure to your campfire.
The handle also locks and unlocks with a simple twist. You can move the cooking grate up and down the stake to easily adjust the heat of your food or cooking ware on the grate surface. The grate also features an upturned edge; this prevents food from rolling over the edge of the grate, especially if it isn't inside a dish.
Since the grate is made with stainless steel, feel free to cook food directly on the grate surface instead of having to place it in a pan or cast-iron skillet.
The grate itself comes with a cover that you can slide over its surface to protect it during transport and prevent it from becoming contaminated. The cover closes at the end so dirt or debris won't cover the wire lining as you move it from place to place.
The entire set weighs about 10 pounds. The stake is about 36 inches tall, which provides you with plenty of room both to stick it into the ground with lots of space left over to position the cooking grate. The grate dimensions are 15" x 22", creating a combined cooking surface area of 330 in.².
All in all, this is a steady swivel cooking grate that won't likely tip over or spill your food into the fire. Its adjustability lends the grate serious versatility and makes it an excellent choice for all types of outdoor chefs.
Things We Like:
Very easy to adjust the cooking height
Grate has upturned edges to protect food
The handle is away from the stake
Grate comes with protective cover
Things We Don't Like:
A little expensive overall
The handle isn't very comfortable
Check Price and Reviews on Amazon
---
4. Sunnydaze Décor Fire Pit Cooking Grill
Sale
Onlyfire Rectangle X-Marks Fire Pit Cooking Grate, 40-Inch
Dimensions: 40'' x 15'', Large cooking surface for a big family or group
Designed with a durable metal construction with high-temperature heat resistant paint finish
No assembly required and easy to clean
The cooking grate features two solid steel handles for maneuvering around fire, perfect for cooking over the open fire and X-marks design to create perfect grill marks in food
It can be used as a serving tray, great camping accessory
Last update on 2023-09-20 / Affiliate links / Images from Amazon Product Advertising API
This cooking grate is relatively unique. Most fire pit cooking grates are shaped like rectangles or squares. But this grate has a circular design with a 40-inch diameter. It allows for plenty of cooking space and features two thin handles on either side to allow you to carry it from place to place or settle it gently over the rocks surrounding your fire.
The biggest barrier with this grate lies with its difficulty of use. It weighs 16 pounds, so it's not exactly the lightest grate you can find. Add to this the weight of the cast-iron or other cookware you might pile on its surface and a full grate might weight quite a bit.
In addition, you'll have to practice setting this up over wood logs or balancing it on rocks that surround your fire pit. There are no legs that come with the grate, so its stability is totally based on the objects you select for mounting.
However, there's no denying that setting this grill grate up takes only seconds. If you already have a pre-set fire pit or some logs precut for the right height, this might be the perfect choice for you.
This durable grill is made of heavy-duty steel that features a high-temperature heat resistant paint as a finish. That means you should only use this grate with dishes or cookware, rather than placing food directly on the mesh surface.
Finally, the grate comes with a one-year manufacturer warranty. You can invoke the warranty if you find any manufacturer defects or if the metal arrives already warped.
Things We Like:
Lots of cooking space available
Very balanced once set up
Comes with one year warranty
Has heat-resistant paint finish
Things We Don't Like:
Can be difficult to set up over some fire pits
Handles aren't very thick or stable
Check Price and Reviews on Amazon
---
5. Texsport Heavy Duty Barbecue Swivel Grill
Sale
Texsport Heavy Duty Barbecue Swivel Grill for Outdoor BBQ over Open Fire
Solid Metal Construction welded of high quality steel to go over an open campfire
Large 24" x 16" Grilling Surface with 28" Vertical support Stake. Overall dimensions 24" L x 16" W x 17"H
Height adjustable to 17 Inch for optimal heat
Rotates 360 degrees to protect from heat and flames
an ideal portable grill for cooking over a fire
Last update on 2023-09-20 / Affiliate links / Images from Amazon Product Advertising API
This swivel grill grate features a large 24" x 16" grilling surface. That adds up to a surface area of 384 in.², which is perfect for feeding medium to large-sized groups. The vertical support stake measures in at 28" tall. It's not quite as tall as the other swivel grill grate we looked at, but it should still be sufficient to rescue your food from the flames of your fire if things get too toasty.
The height is adjustable down to the 17-inch mark if you want to increase the heat and get things searing properly. The grate can also be rotated 360°. So you can immediately remove your food from your flame just by swiveling the grate to the opposite side of the stake.
Both the stake and the grate mesh surface are comprised of the same high-quality steel. While there isn't any heat resistant paint, this does mean that the mesh surface is perfect for cooking uncovered food without placing them in cookware beforehand. Combined with the ability to lower the grate quite a bit, this grate is one of the best choices if you enjoy the taste of fire-roasted meats or other foods over an open flame.
The stake is placed into the ground with a sharp base and a long foot for added stability. It's perfect for marshier ground or uneven surfaces, although the grate doesn't have any raised edges. Be careful of hot dogs rolling off if you decide to go with this pick!
Things We Like:
Made of high-quality material
Easy to adjust grate height
Can rotate the grate 360°
Normally very stable
Things We Don't Like:
Grate doesn't feature raised edges
Check Price and Reviews on Amazon
---
What to Look For in a Fire Pit Cooking Grate
Finding the perfect fire pit cooking grate doesn't have to be tricky. Simply keep these major factors in mind as you browse and you're sure to find an excellent grate for your next cookout.
Type
There are two main types of fire pit cooking grates: table type and swivel. While both types of grates serve the same purpose, they operate slightly differently.
Table type grill grates look exactly as their name suggests: like a table. They usually rest on stable feet or legs which help the table to form a flat surface that can be positioned over an open flame. Most of these grates are rectangular in shape and are made from heavy-duty steel material. The surface is usually meshed in a pattern, though some grates may have flat bottoms to collect grease or juice.
Some of these table type grates may have collapsible or extendable legs to allow you to adjust the cooking height of the food on their surfaces. These types of grates are fantastic for cooking over an open fire and for cooking lots of food at once.
Because they're so stable, they're an ideal choice if you are worried about your fire pit cooking grate tipping over. Their stability makes them excellent for campgrounds that do not have perfectly level surfaces.
On the flip side, swivel grill grates are much more adjustable. They usually consist of a single-pole around which one or more grill surfaces or grates will be attached with a small arm. These grates can be swiveled around the pole to adjust their position or their distance from the fire.
These are excellent for cooking meals that have multiple types of food. You can place some types of food on one grate higher or lower on the pole and other food on a different surface. These grates are called "swivel" because the grates swivel back and forth around the pole in the center.
Many of the best swivel cooking grates have a locking mechanism that can hold one or more of the grates in a position you determine to be best. These are a great choice for more experienced chefs or if you have a campground with a relatively stable surface. They do run slightly more of a risk of tipping over since their entire stability is based on the main pole in the middle.
Material
The material of your cooking grate also matters a great deal. All grates will be exposed directly to the heat of your fire pit. So they'll all be constructed with heat resistant material at a minimum. But some types of materials are better than others.
The most common material for a fire grill grate is some kind of high-grade steel. This type of steel is incredibly durable and can last for a long time. But you may also find stainless steel cooking grates. Stainless steel is more lightweight and is a better choice for collapsible grill grates.
Stainless steel is also excellent because it resists corrosive damage and is hypoallergenic, so it's safer to serve food that has touched its surface.
Most grill grates have meshed surfaces with diamond-shaped cutouts. These are what create the signature sear marks on many favorite cookout types of meat, but you'll only want to place meats directly on stainless steel grates. Other mesh surfaces might be made of a separate material like heat resistant nylon or nichrome.
In addition to material, you should investigate whether a grill grate you are considering has a heat resistant treatment or paint. Paint that is not heat resistant runs the risk of flecking off and contaminating your food. It's well worth it to purchase a grill grate that has some kind of heat resistant treatment for safety and longevity reasons.
Don't cook food on the surface alone with painted grates, however.
Size/Dimensions
Don't forget to consider the size of a grill grate before you finalize the purchase. You'll need to carry the grates everywhere you go and store it in your vehicle as you head to your campsite. Larger grill grates are excellent for cooking more food at once while smaller grates are more easy to transport.
Most fire pit cooking grates have surfaces for cooking that are around 100 in.² or more. Swivel cooking grates may have up to 100 in.² of cooking surface split between their various levels of grates. Speaking of swivel grates, be sure to keep their total height in mind if you're not too tall yourself. You need to be able to reach the top of the grate to use it effectively!
Weight
Fire pit cooking grates can weigh rather heavy if you purchase a large one made of heavy-duty steel. But you can also find portable cooking grates that weigh only a little more than a single pound. There isn't a right or wrong answer when it comes to overall weight, but keep in mind as you shop so you don't accidentally purchase a cooking grate that is too difficult to carry around or set up.
This is especially important if you plan to hike to your campsite and need to carry your grate physically for some duration. Pick a portable grate if you'll be moving it physically more often than not.
Accessories
Finally, keep any possible accessories that might come with the purchase in mind. Some of the best fire pit cooking grates come with extra tools or spare parts that can increase the value for money of the set. Others might have additional stands or legs or some cooking oil or a heat treatment spray.
No accessories are necessary for a grate to be worthwhile. But the included accessories for a grill grate might help you decide between two options that are otherwise equal in your mind.
Best Fire Pit Cooking Grate Brands
Texsport: Texsport has been in the business of providing quality camping gear for over 65 years. They don't only make fire pit cooking grates; they also provide tents, chairs, and other camping equipment for a variety of needs. This company mostly focuses on camping equipment that works for families or smaller groups of people. All of their products tend to emphasize durability and versatility.
Sunnydaze Décor: Sunnydaze is a company focused on quality home and garden products, although they produce camping or outdoor cooking equipment as well. Their products tend to be aesthetically pleasing and suitable for larger groups and parties.
Stromberg Carlson: Stromberg Carlson is all about hard-core outdoor adventures and providing the equipment you need to stake your claim in the wilderness. Their products are suitable for families for larger groups and they often produce camping products that allow for lots of self-reliance and versatility. Many of their products are easy to set up and use.
FAQs
Q: Can I Cook Food Directly on My Grate?
A: You can, but you should only do so if the grate mesh is made of stainless steel in most cases. Stainless steel is totally hypoallergenic, so there's no chance of someone in your party having a bad reaction to food that came into contact with the grate mesh.
You can also cook food directly on your grate if it is made with a steel variety that hasn't been coated with some kind of heat resistant paint. Heat resistant paint is just that: heat resistant, not heat immune. This paint will eventually wear off over time, especially as you use the grate more frequently.
That food can then be contaminated by the paint, which can lead to health complications or sickness in your group. Overall, it's safest to rely on stainless steel above all other cooking surfaces. If your grate isn't made of this material, simply cook your food in a cast-iron skillet or another cooking pan by placing it atop the grate.
Q: What Height is Optimal for Cooking with a Fire Pit Grate?
A: The optimal height for cooking any kind of food with your fire pit grate depends on the food itself. When in doubt, err on the side of caution and cook your food thoroughly to avoid becoming sick or obtaining a parasite.
For instance, chicken and pork represent a higher risk for certain types of parasites so you should seek to cook them a little extra care. Lower your cooking grate closer to the flame when preparing these meats.
Beef, on the other hand, doesn't need to be fully cooked through to be safe. So you can get away with keeping your grate up higher on its legs or its stake depending on the grate you're using.
Q: Why Use a Grate Over a Cast Iron Skillet?
A: A grate allows you to cook multiple foods at a time and provides much more space than even the widest cast iron skillet. Cast iron skillets are great, of course, but you have to hold them over the fire yourself or keep your fire very low to avoid flames from engulfing the cookware.
Grates can be lifted or set higher, meaning you can make a bigger, hotter fire for your feast. Additionally, you can set your dishes on the grate and let them cook without having to hold everything the entire time.
Q: Can I Use Non-Stick Spray with my Cooking Grate?
A: You absolutely can use a nonstick spray, but we wouldn't recommend placing food on the grate unless it is made of stainless steel or you are sure that there isn't a chemical paint additive spread over the grate's surface.
Nonstick sprays can still be effective even if you don't put the food directly on the grate surface. These sprays can also help you remove your cooking dishes more easily and prevent residue from sticking to the grate wires over time.
Conclusion
There are lots of excellent fire pit cooking grates to choose from and for fire pits of all shapes and sizes. But overall, we'd have to recommend the Texsport Heavy Duty Barbecue Swivel Grill for most users. Not only is it easy to use and adjust, but it offers ample cooking space for larger meals and excellent stability overall.
Alternatively, you could go with the Texsport Heavy Duty Over Fire Camp Grill if you like something with a table shape instead. This is a super-stable grate which stands no chance of tilting over, even on unsteady terrain. It also offers lots of cooking room, plus three sizes to choose from depending on your fire pit size or personal strength.
Whichever you choose, have fun on your next cookout and thanks for reading!