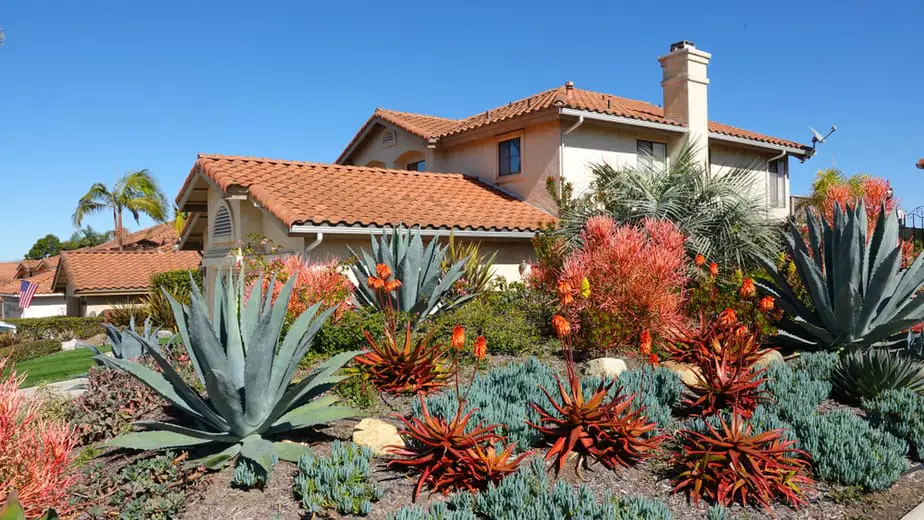 In arid regions where dry heat and low humidity prevail, the challenges associated with adopting a desert landscape are often dramatic. While the parched lands of the desert might not be the home of boisterous greenery and cultivated fields, the idea of a desert garden shouldn't come across as an oxymoron.
Besides the fact that you can grow plants and vegetation with educated planning, the sunny scope of the desert provides limitless opportunities to boastfully display regionally-appropriate landscape designs with a distinctive beauty and undeniable character stemming from the gritty surroundings.
Successful desert landscaping depends on integrating a few key factors conjointly to accomplish a cohesive and pleasing look. Those key factors are primarily the scale between the components of your landscape, the choice of colors that compliment the rocky and sandy plains, and the form of the items or plants that you intend on using.
Scaling your landscape doesn't necessarily mean that every component needs to be of the same size. However, everything should be represented in proportional dimensions. For instance, planting a few tall trees around a small-scale house can make it seem a bit taller, but planting an extravagant number of tall shrubs can diminish its height. In addition, you can create emphasis by surrounding taller desert grass with a few shorter shrubs.
Color can single-handedly make or break your landscape design. That's why every color should be strategically incorporated. A desert landscape should be rich with color combos that might include beige, shades of brown, khaki, warm red, dirty olive-green, light yellow, dirty dark blue, and maybe even some achromatic colors such as grey here and there.
Shape is an essential factor in evoking emotions and creating ambiance. To give an example, the rectilinear shape of a house gives the feeling of structure and formality, circles are rather soft and delicate, and triangles can be recognized as strong and sturdy. Luckily, in desert landscaping, you're most likely going to be working with irregular shapes, which are more casual and free.
We can probably keep talking about these three factors and how we can size them up together for days on end and we'll still have plenty more things to say, so let's just cut it with the chit-chat and jump right into some awesome desert landscape ideas that you can easily adopt today.
21 Best Desert Landscape Designs
Fountains and Waterfalls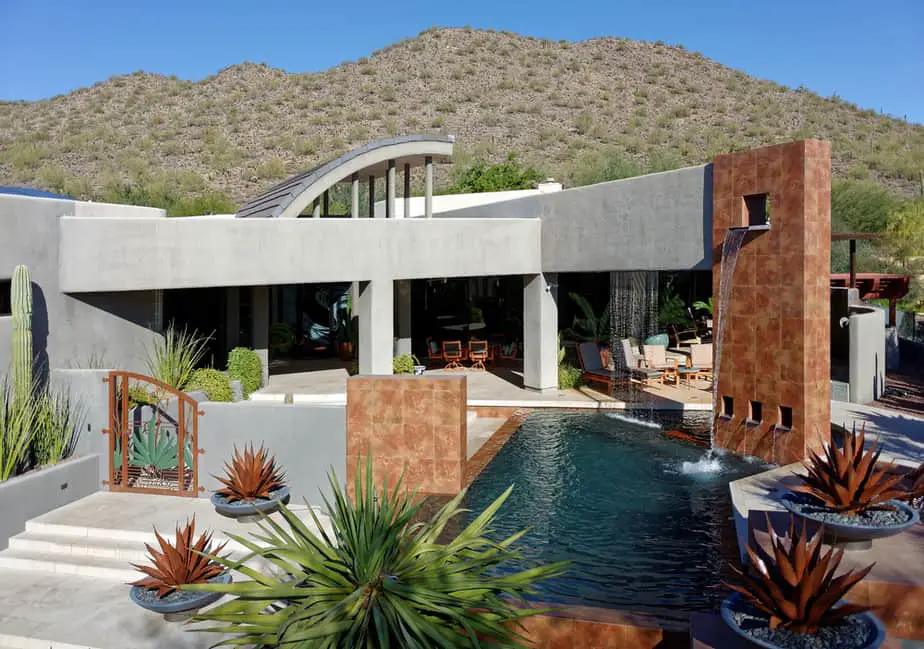 There's no better way to counteract the lack of water in a barren region than to provide it with a waterscape. Water features are arguably the hottest trend when it comes to today's landscaping because by adopting one, you forego of the high maintenance and boring expanses of vegetation and transform it into stunning, low maintenance water features.
What's even more cool about water is that it provides a sense of tranquility that can melt away any stress you're having after a hard day at work. Water also creates a magnificent mirror-like surface on sunrises and sunsets will reflect. Moreover, you can put some colorful fish in your shallow pond and watch them dart around while listening to the soothing sound of the waterfall.
Use of Lighter Colors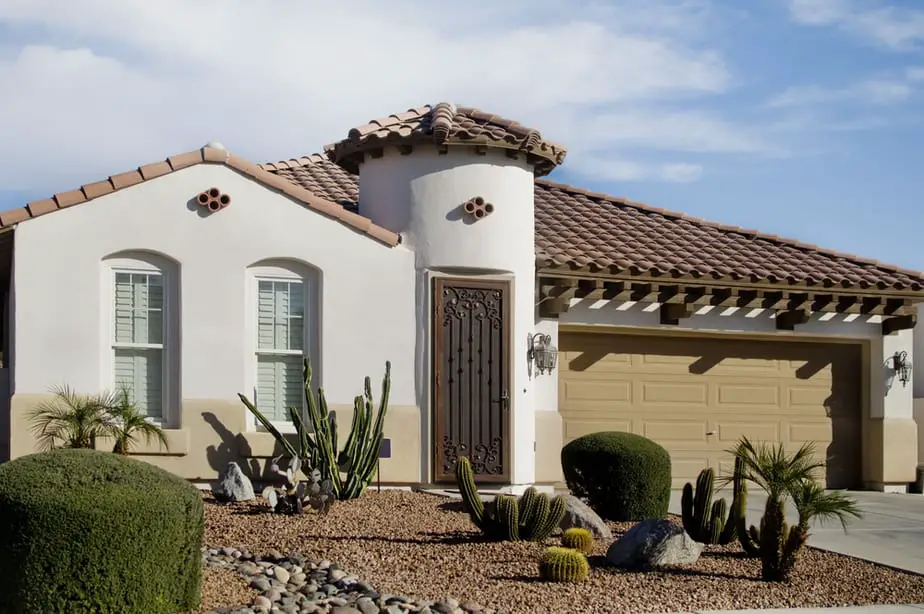 Deserts are super hot and can turn your home into an oven if you don't have proper ventilation or air conditioning installed. However, the use of lighter colors has been found to help with reflecting sunlight, and therefore, reducing a good deal of the heat falling on light-color surfaces. In addition, buildings that are made of stucco or light brick can create a good backdrop for rich shades cast by taller desert vegetation.
Trees Help With Heat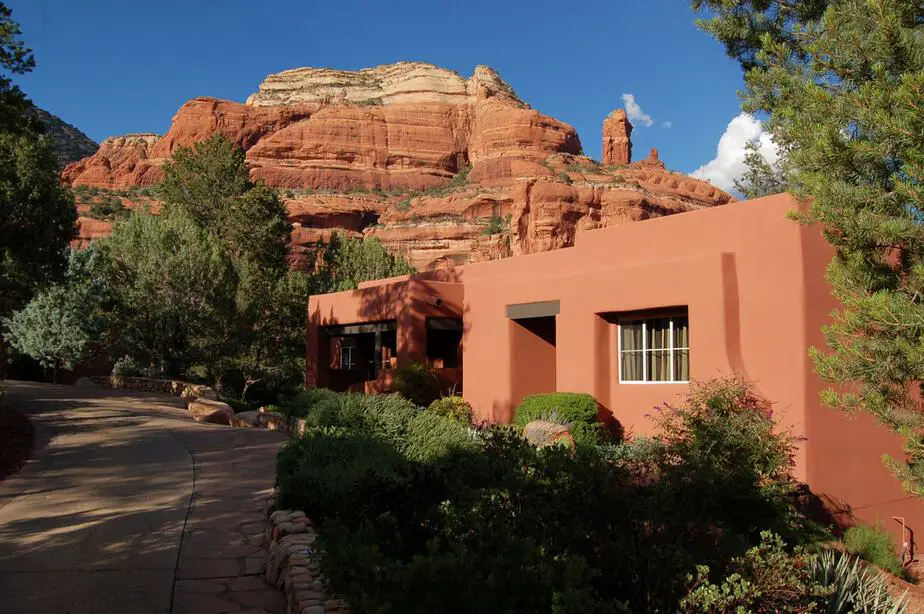 Planting a number of trees around your house will create shade in multiple spots and it will help you with wind control. Further, if you have a one-story house, a few taller trees around it can make it seem taller. In low desert regions, you should consider planting willow acacia, ironwood, shoestring acacia, and African sumac. For the high desert, on the other hand, go for the honey mesquite, incense cedar, and the honey locust.
Grass Carpets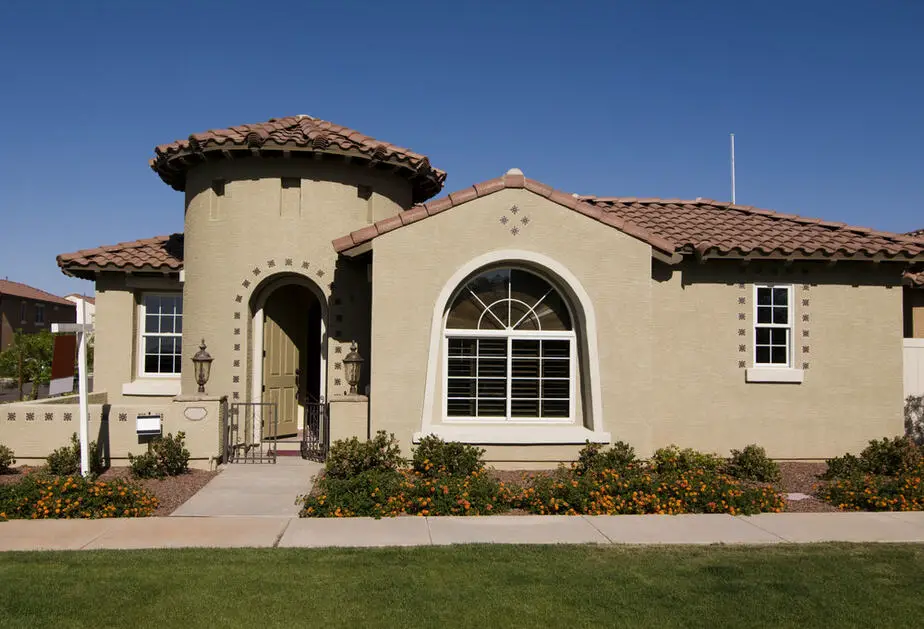 Large areas of grass require regular watering, which is going to be a hassle in areas with very little rainfall. Be that as it may, you can still grow small, manageable areas of grass with proper watering to add some greenery around your house. A few water sprinklers here and there should do the trick or you can just water the lawn manually. Don't disregard the idea of a lawn completely just because you live in an arid region.
Install Bright Lights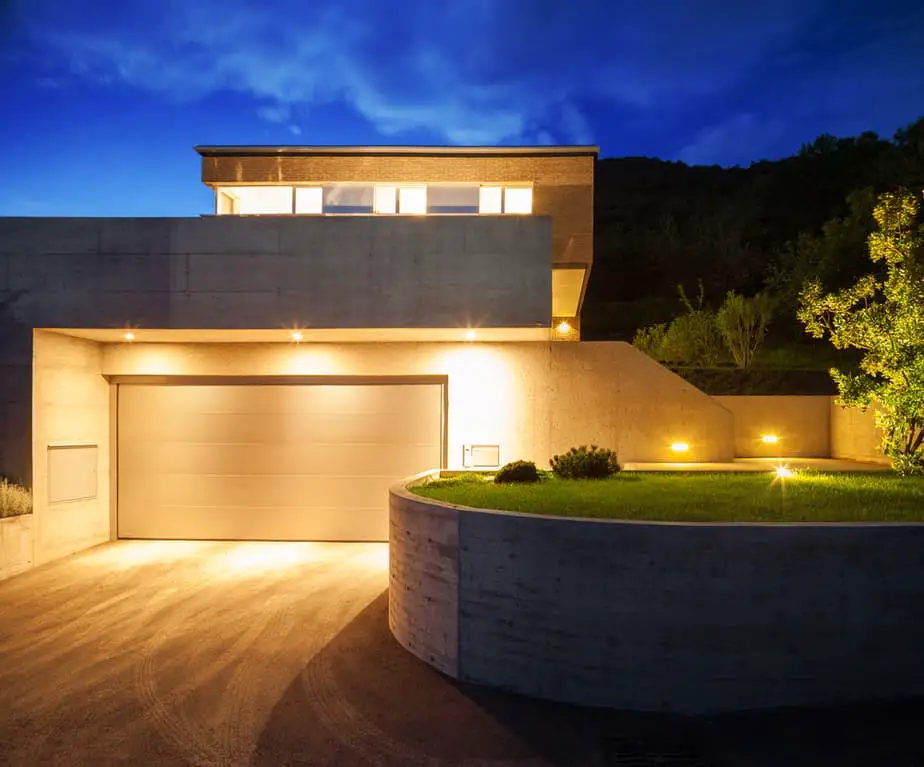 Without proper lighting around your property, all the landscaping choices you've made will go unnoticed at night as you won't be able to see them clearly. Not only will surrounding your house with bright lights bring out the details and simplicity of your architecture and your landscape, but it will also add a starry effect that will make your house shine at night.
A Layer of Mulch
Mulch is usually used in the conservation of soil moisture, improving fertility, and reduction if weed growth. But it can also enhance the visual appeal of around your architecture by applying a new layer of color. Consider stones, sand, and gravel as they look more like desert elements and they drain quickly. Stay away from shredded bark, wood chips, and compost.
Walkway Paving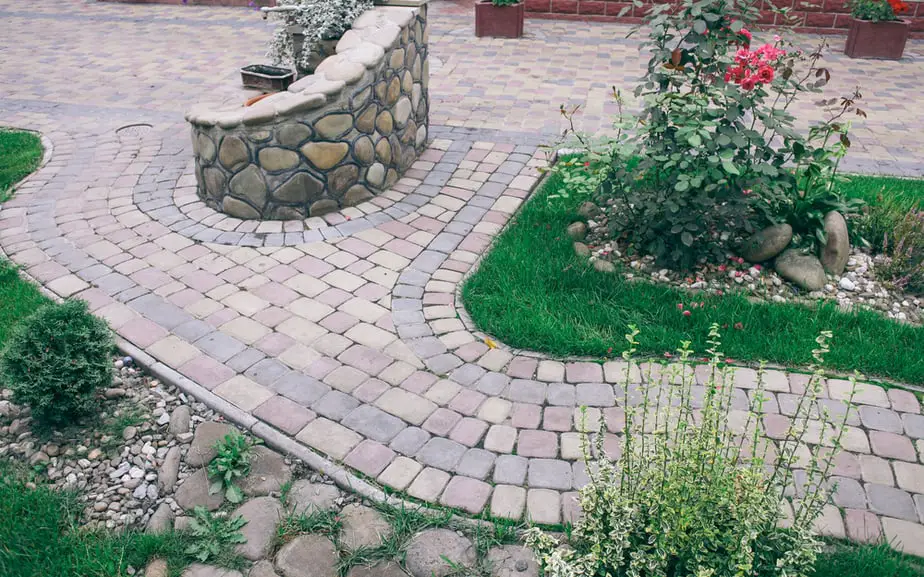 Walkway paving doesn't only create an elaborate entry walkway, but its various shapes, textured, and colors can provide eye-catching patterns and a lot of visual interest. You can surround your walkway paving with a sea of pebbles and stepping stones for a more alluring pathway. Pavings are usually placed over a bed of gravel and compacted soil, so you're assured there won't be any cracks.
Small Water Pools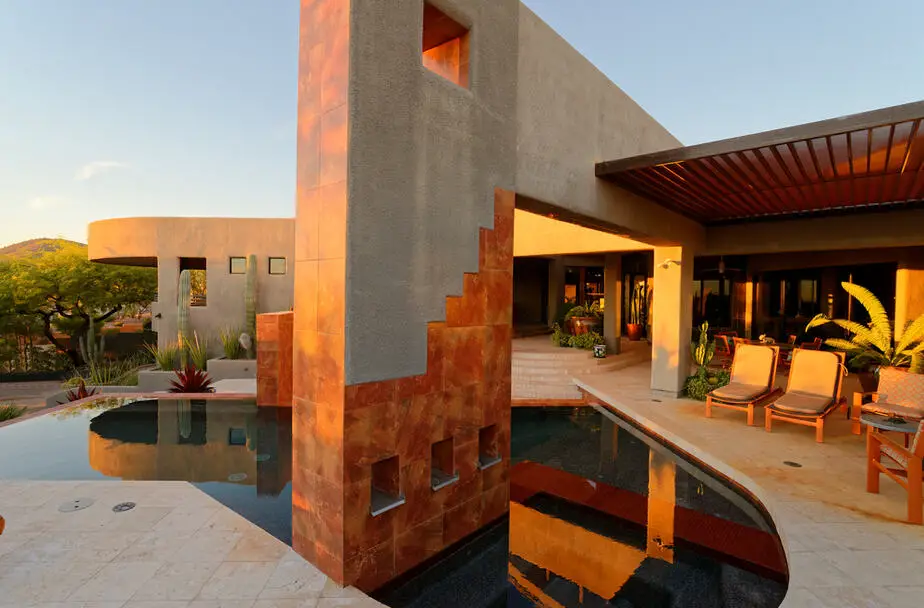 We're all used to having pools in our backyards, pushing them away from the spotlight. Alternatively, just like water features, you can incorporate smaller water pools as a part of your landscape to show more natural beauty without the need to adopt any high-maintenance landscape ideas. Further, water pools will help alleviate the heat of the day and keep your house feeling cool.
Potted Greenery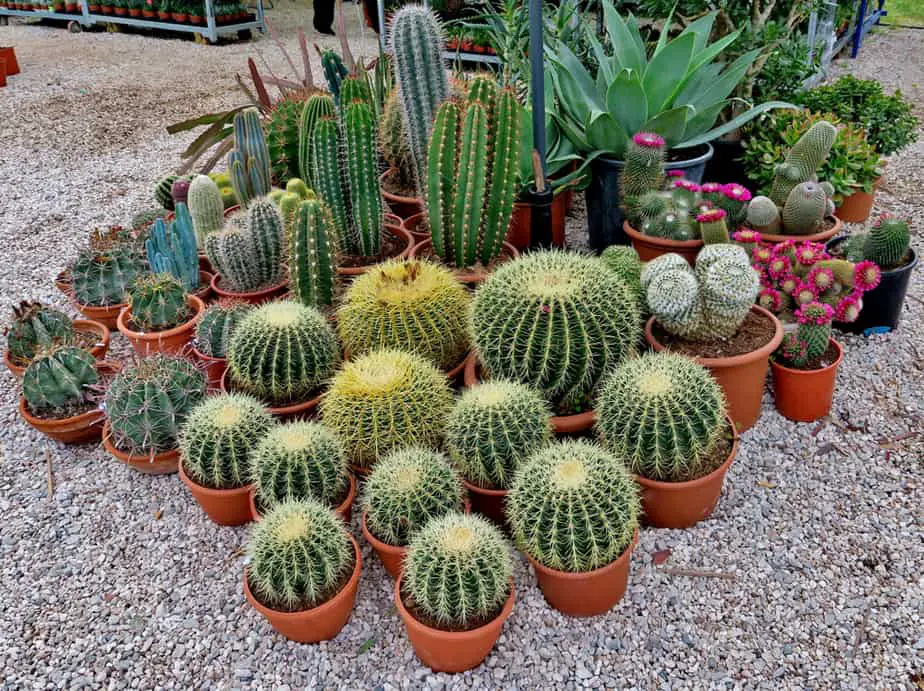 Container gardening is a fairly easy way to bring life to your yard with minimum effort. One of the perks that pot gardening provides is the ability to rearrange the pots as desired, giving you endless landscaping options. Also, unlike deeply-rooted plants and trees, container plants are easily interchangeable. A series of potted garden will definitely add color and versatility to your property.
Shrouded By Shrubs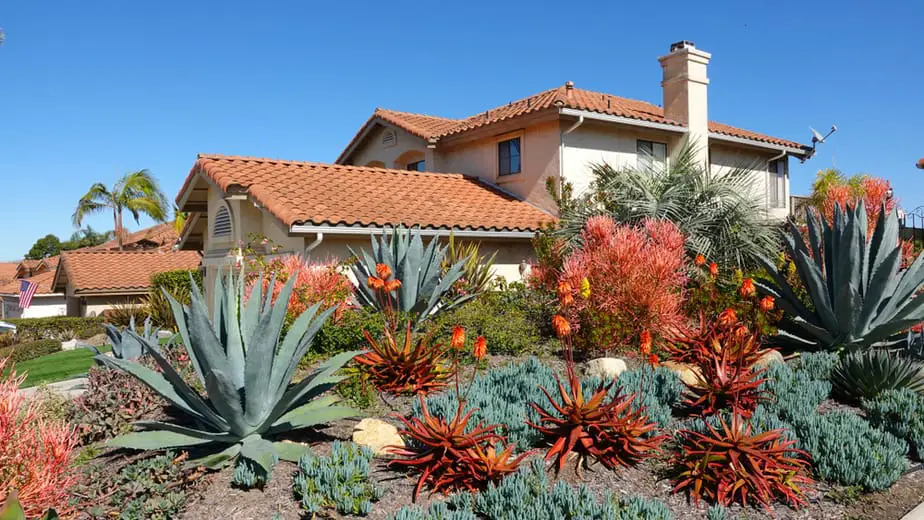 You can add more privacy around your by creating hedges of shrubs around it. Shrubs are also used as foundational plantings that make your home feel more welcoming and help tie into the surrounding landscape. You should try bougainvillea, deer grass, and cape honeysuckle if you're in the low desert. For the high desert, try mahonia and salvias.
Contemporary Planting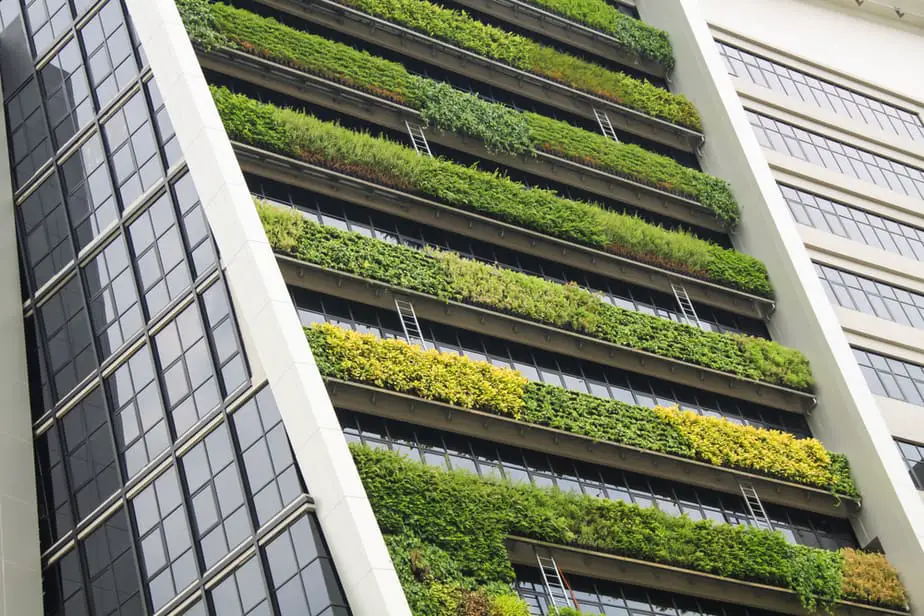 Architecture is not the only thing that can be presented in a contemporary fashion. Planters can also be incorporated as a part of the housing architecture by arranging them in right angles and straight lines. A vertical garden like the one shown above will help add interesting features into the architectural design and make it look more dynamic.
Seasonal Colors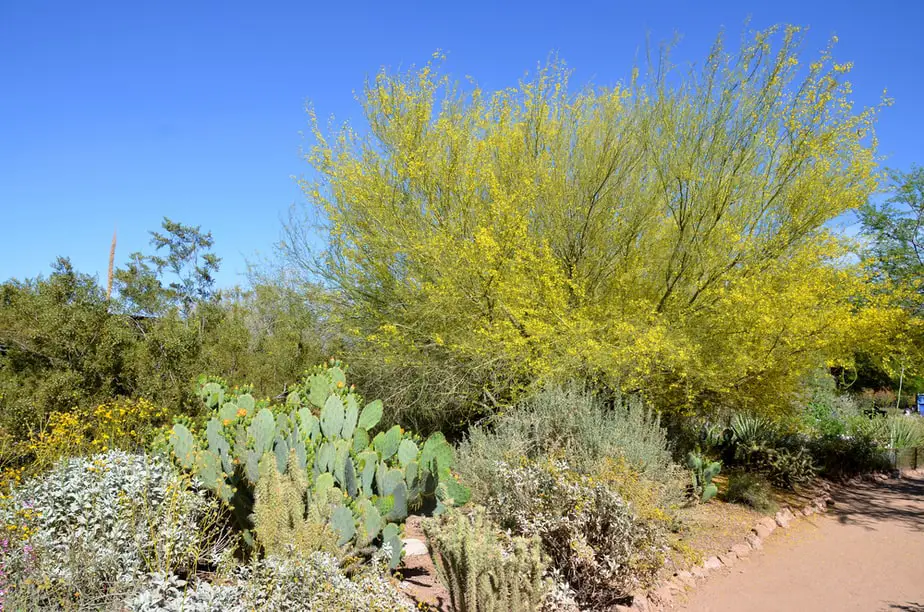 Like we've mentioned in the introduction, color should be a vital element in your landscaping considerations when going about a desert garden. To create more dynamism in your garden, go for plants that offer seasonal color patterns. The coastal ice plant, desert marigold, and the damianita daisy are great choices for the low desert. The cup flower, cosmos, and the California poppies are popular in the high desert.
Use Native Plants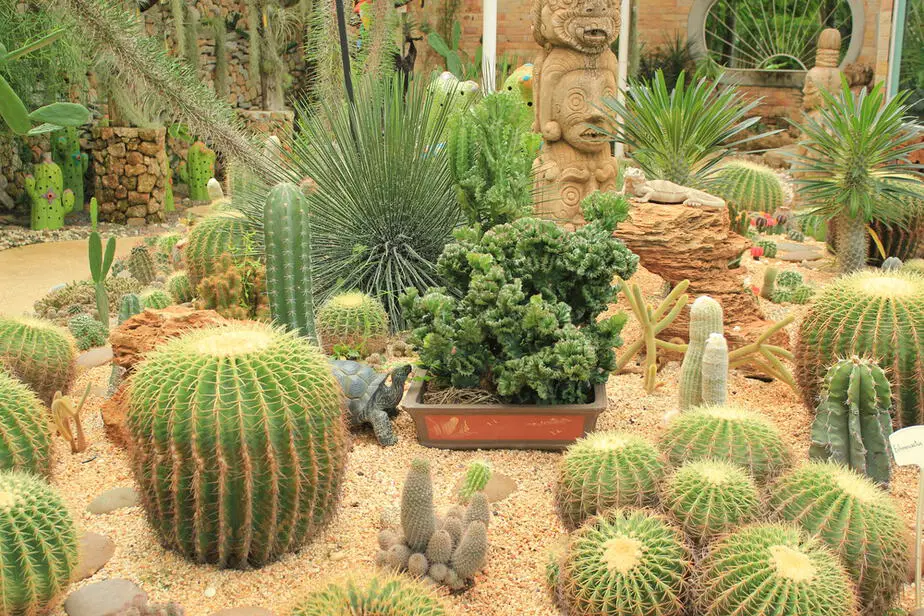 There are a lot of locations where landscape watering is often prohibited such as Las Vegas. If you live in one of those regions, it's strongly advised to save water and money by going with native plants that are well-suited for desert conditions. Instead of a lush lawn, go for layers of stone mulch and a few patches of succulents and wildflowers.
Garden Art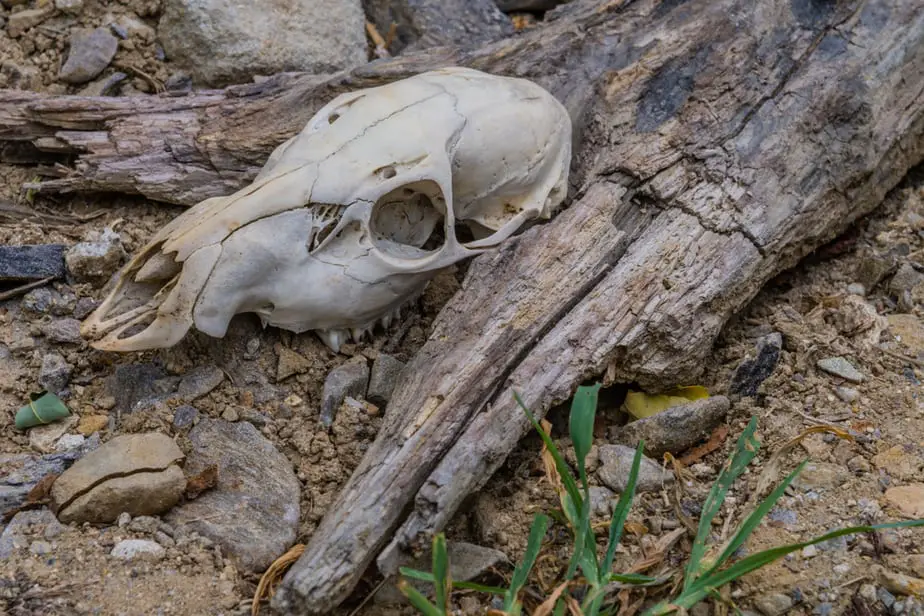 While plantings do add color and beauty to your landscape, they still can lack certain elements that show off personality. What better way to add more interest to your garden than to show off your creativity by throwing a skull or an old rusty wagon wheel in there. A few eclectic pots around your front porch and a piece of driftwood laying around will look authentic to the spirit of the desert.
Create Focal Points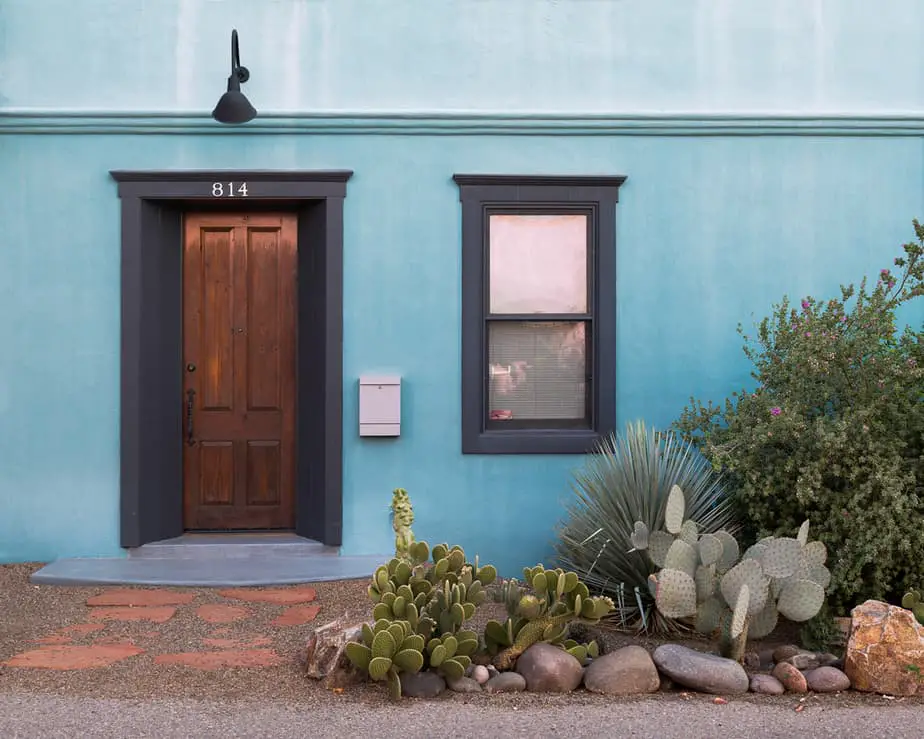 In places where things might seem a little stale and boring like walkways or in front of a wall, you can place a bunch of colorful plants to create a focal point that many will appreciate. Focal points aren't necessarily created by colors alone, rather, it's more about making a bold statement by using a variety of sizes and shapes.
Add a Wooden Bench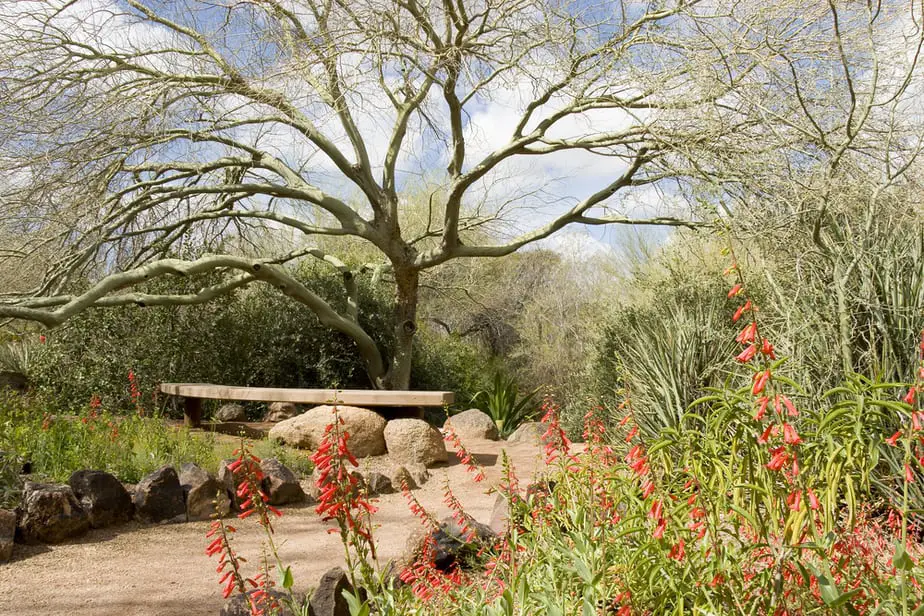 What if you or your guests would like to sit outside for a while? You can go inside your house and grab a few chairs to put outside, or you can find a tree that offers the best shade in your garden and put a bench underneath it. You don't really have to go and buy an actual bench, just place a long, flat piece of wood on top of two stable rocks and you got yourself a bench that integrates well with the desert landscape.
Patio Furniture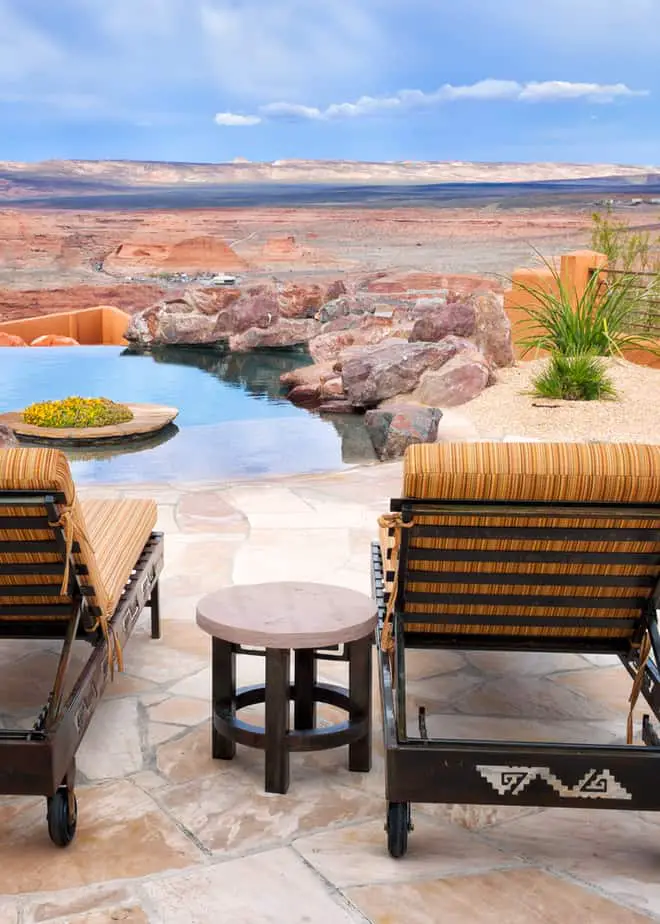 Patio furniture comes in a variety of styles and it's up to you to pick which one fits your desert garden. Whether you're going for a small table and a few chairs, or a massive conversation set and a dining table, you need to pay attention to the materials from which the furniture is made. For example, you want to stay away from metal chairs completely as the scorching desert sun will make them too hot for you to sit on.
Take Advantage of Rocks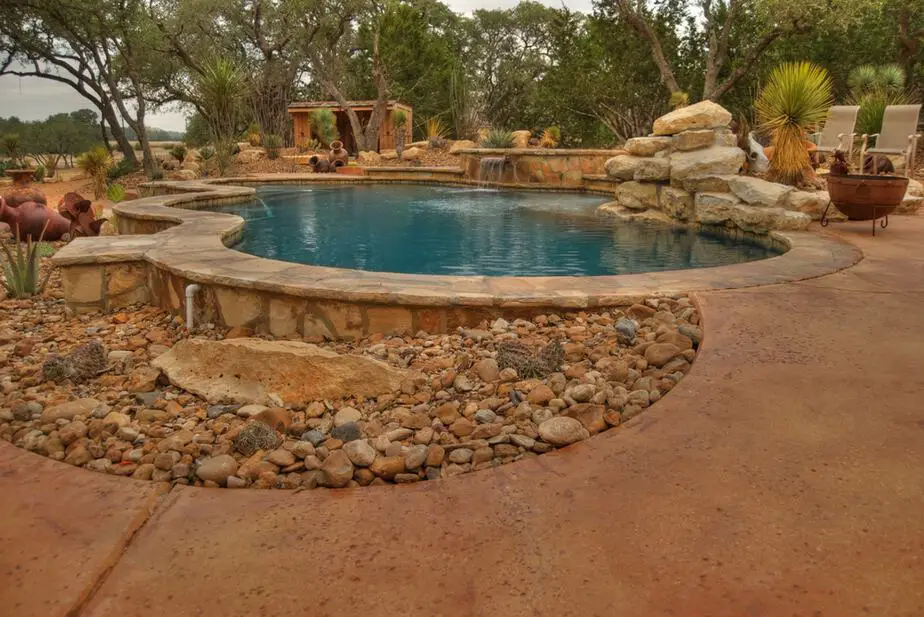 Desert areas are rich with a vast variety of rocks. You'll find rocks of different sizes, shapes, textures, and colors. Instead of just leaving them there, why not create an exciting environment out of them. It also helps to have nighttime lighting to bring out the beauty of such textures in the dead of the night.
Desert Beds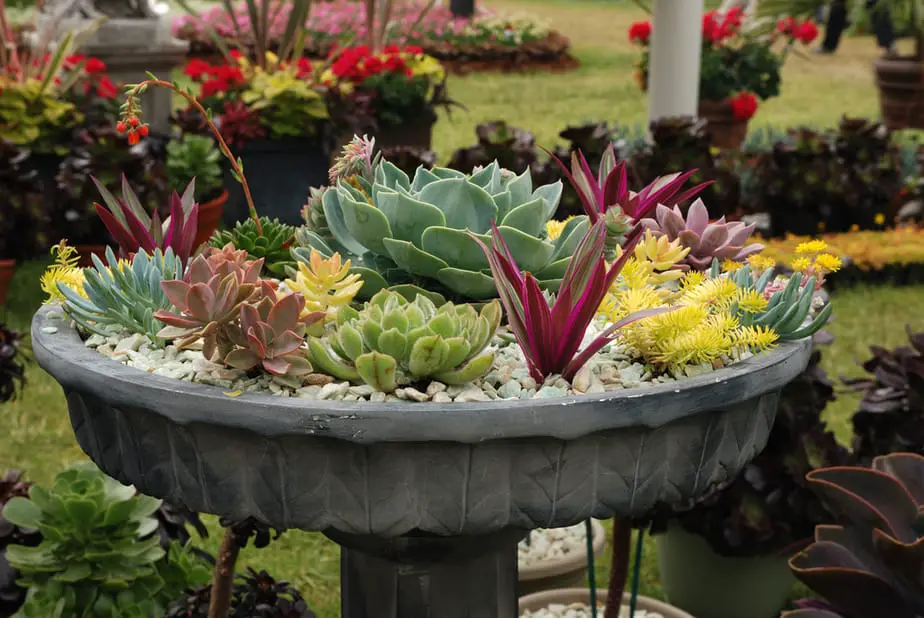 Landscaping large areas can require a lot of effort, which is why you should consider installing a well-placed garden bed. Garden beds make great focal points inside larger yards and they provide a colorful and diverse flora for your desert garden that will captivate all viewers.
Create Stages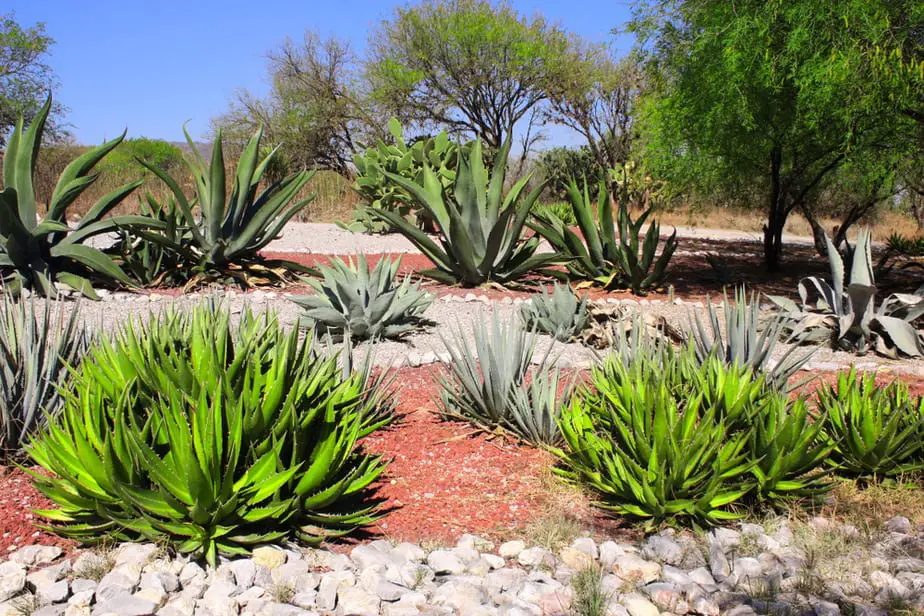 Smaller plants don't really garner the attention they deserve when placed in larger surroundings where there are towering trees casting shade all over the place. A good way to shed some spotlight on them is to create a planting pocket lined with rocks or a stone path that leads to a stage.
Add Some Sculptures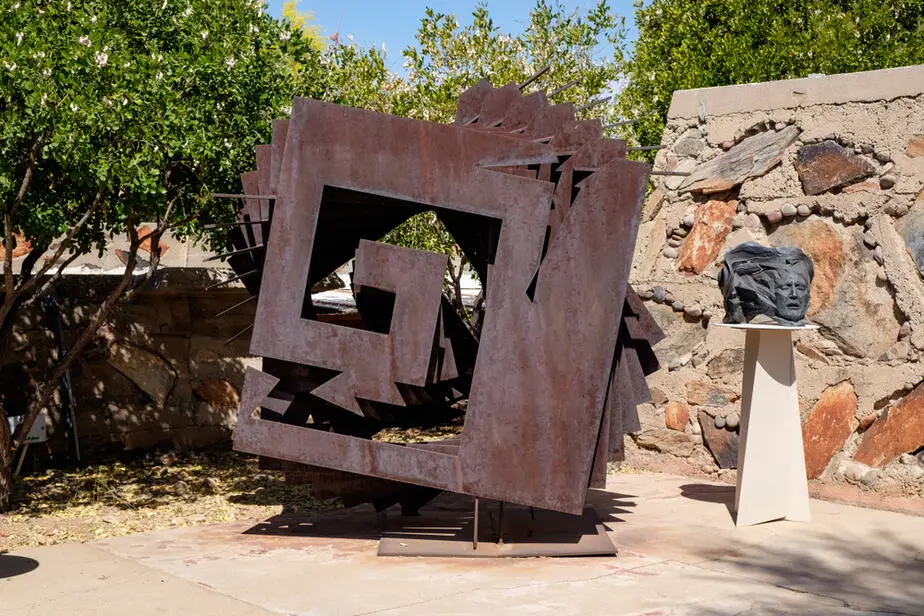 A well-placed sculpture is one of the most artistic ways you can add interest to your garden. Most sculptures are made out of materials that blend really well into a desert landscape. It can be a little costly to get a good sculpture in your garden, but it's well worth it.
Conclusion
Desert landscaping isn't as hard as many might imagine. It's all about foregoing all attempts to replicate an east coast or non-desert landscape design and incorporating the natural elements that the desert provides into your landscape. Hopefully, the above-mentioned desert landscape ideas have left you inspired to go out and create your very own stunning landscape design.