Take a look around, and you will find most front yards include a lawn, driveway, path, and plants. That is your basic front yard, whether you live in the desert or elsewhere. Some gardens will have other features like a water fountain, rockery, and decorative address marker. A desert front yard need not be stark. The desert has a striking beauty uniquely its own, a beauty as strong as it is resilient. That's why, in this article, we'll be going over our favorite front yard desert landscape design ideas!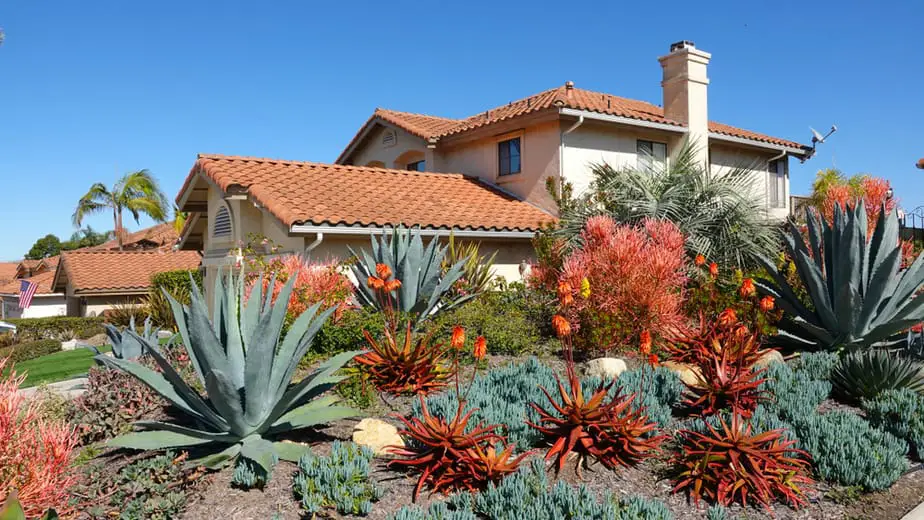 Planning Your Desert Landscape From The Soil, Up
Step back, look at your home, and allow your desert landscaping ideas to flow. Visualize your desert landscaping ideas. Where is your driveway? How can you utilize the space to create your very own desert garden? Keys to successful desert landscaping design are knowledge and planning.
The first step in your desert landscape is to prepare your soil by conducting a soil test to determine available nutrients. Based on the results, ask your local nursery what supplements they recommend for your desert garden. At this stage of your 'ideas' desert landscaping, keep in mind that drainage is important. If desert plantings receive too much moisture, their roots will rot.
Water is a precious commodity, particularly in the desert. Your desert landscaping ideas need to incorporate an irrigation system that is as efficient as possible. Drip irrigation is the best type for desert plants. When pondering your desert landscaping ideas, consider grouping plants according to irrigation needs. This reduces water wastage on hardy plants in your landscaping that need little or no water to survive in the desert.
Avoid lawns in your desert landscaping where you can because they require a lot of water. If you really need a lawn for the kids or pets, consider synthetic grass in your design ideas.
Planting Your Front Yard Desert Landscape
Growing native plants is the secret to successful desert landscaping, so make sure they feature in your desert landscaping ideas. Native desert plants are accustomed to the dry, hot climate, making them drought-tolerant, water-wise, incredibly low maintenance, and perfect for your desert landscaping design. You'll be amazed by the variety of desert plants available for your desert landscaping ideas.
'Ideas' desert landscaping means broadening your ideas to incorporate more than the wealth of plant and floral life available. Desert landscape ideas can include things like unique regional rocks, stones, and artifacts. Creating a spectacular front yard desert landscape should be a cinch.
Succulents are ideal for desert landscaping. They are water-retaining plants suitable for arid climates and soils. They collect and store water to survive long hot, dry periods. There are many varieties, including cacti, agave, yucca, aloe, and sedum. Desert landscaping design ideas would be incomplete without at least one of these.
The right tree can transform a front yard desert landscape by adding structural interest, seasonal color, shade, and scale. The best choice depends on the climate, available space, personal preference, and orientation of your landscape. When choosing a tree for a small space, look for a specimen that will create a focal point without dominating the front yard.
Many flowering desert trees provide multi-season interest by producing colorful berries and vibrant fall foliage. Grab some shade for your desert landscaping with red maples, pin oaks, poplars, paper birch, and 'American sycamores.
Desert landscaping ideas for shade and wind control can be fulfilled by planting the palm, and blue palo verde in your desert landscape.
Desert Landscaping Beyond The Plantings
A driveway gives guests and neighbors a first impression of your home and is a must in your desert landscaping. It needs to look good, be durable, and functional. Take into account the surrounding landscape design ideas and the home 's architectural style. Change the color of your paving to show visitors exactly where to park their car to prevent them from rolling to a stop too close to the edge of its design or even beyond it. Consider also accessories like gates and lighting.
If space permits with your landscape ideas, provide an additional 2 feet on either side of a driveway parking space to allow passengers to get in and out cleanly. To avoid cars damaging plants, set trees back from the pavement at least 3 feet for cars and 4 feet for trucks. Avoid tree species with very invasive or surface rooting tendencies that can damage the adjacent driveway because roots seek out moisture accumulating beneath the paving.
Don't overlook the walkways in your desert landscape design. We tend to concern ourselves with pools, patios, and plant selections, but neglect to consider how to connect the different spaces in our 'ideas' desert landscaping yard. A desert garden can become disjointed by ignoring paths due to the lack of thought put into the landscape ideas for transitions and connections. Use walkways to create mood and atmosphere.
Budget And Space For Your Front Yard Desert Landscape
Consider your budget, the desert traffic flow, the amount of foot traffic your walkway will receive, and safety in your desert landscape ideas. Small front yards look best with simple straight walkways, while curves can add much-needed design interest to a large front garden.
Sectioning off spaces in a tiny garden can make the overall landscaping feel bigger, and create a more usable space. Creating levels within the garden landscaping can also give the illusion of being in a different place.