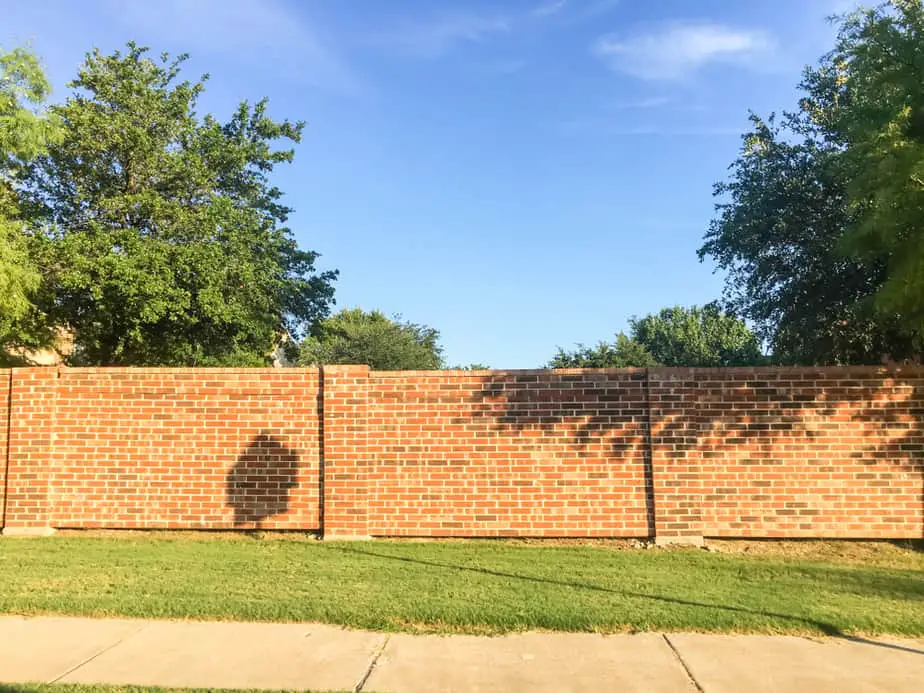 Nature has no straight lines. The terrain is one example of this fact. Having to deal with an uneven piece of land might pose a lot of challenges. For example, you need to prevent the soil from spilling down onto your backyard. This can be resolved by building a retaining wall. Don't be alarmed, it's not rocket science and we have some great retaining wall ideas.
Building a retaining wall is an opportunity to resolve the inherent terrain problems with ingenuity and a touch of charm and we will try to help you do this by providing information and some retaining wall ideas that you can choose from to embark on such a project.
Material
Poured Concrete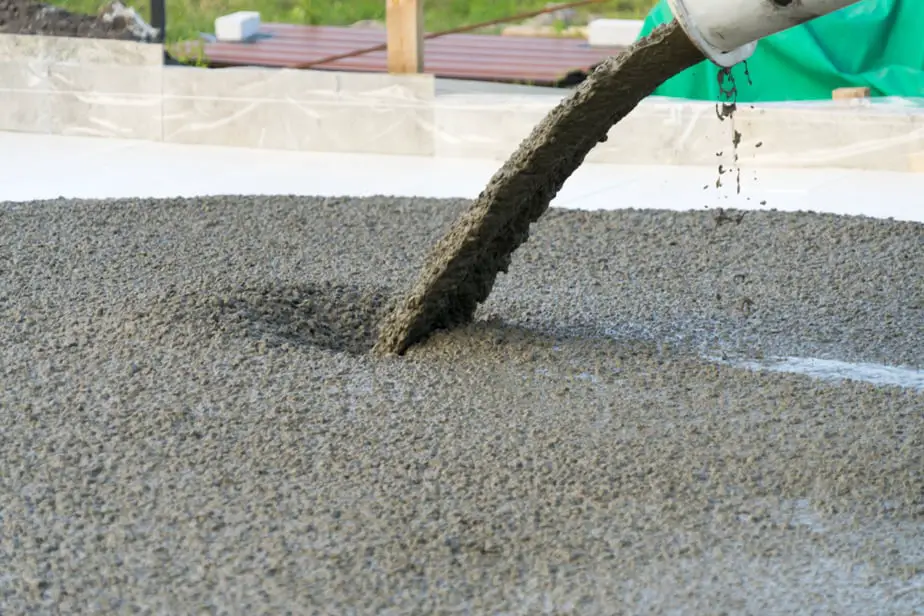 Simply put it's sort of a cast. It's the go-to simple option for building a retaining wall. You have to set the form along with your design lines then pour the concrete directly. It will provide a smooth clean surface that blends with modern architecture.
Pros
As it's poured, its density is much higher than concrete block walls and that gives it more strength.
Shape it as you wish and it will abide.
The wall will look the same all over with no inconsistencies.
As it follows the designed pattern the drainage and other needs are met with ease.
Cons
Supporting rods are needed as it's prone to crack.
The skill set needed to build the form in the right way is of much importance. It's not an easy undertaking.
Concrete is porous and dampness affects it, repainting is expected down the road.
It's affected negatively by chemicals so beware of using them around the wall.
Interlocking Concrete Blocks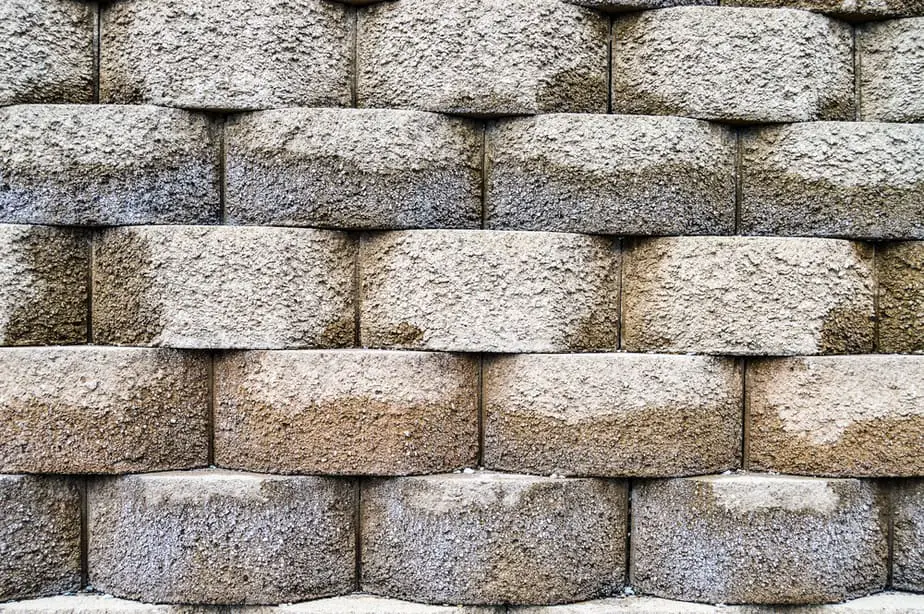 It's modern. It's a complex material. It's an industrialized product that comes in various forms and sizes giving you a variety of options. It can hold pressure and with the proper paint job, you can avoid the sterile look that it shows.
Pros
It's durable
It comes in many shapes and forms
It's easy to install
Maintenance is not hard
It's environmentally-friendly
Cons
A well thought of architecture plan might be needed, so seek advice from a professional to tackle drainage and ways to minimize support.
It should not be used for walls taller than 4 feet.
Once installed they're hard to remove or replace.
You will not get a natural view, unlike natural stone.
Stone Veneer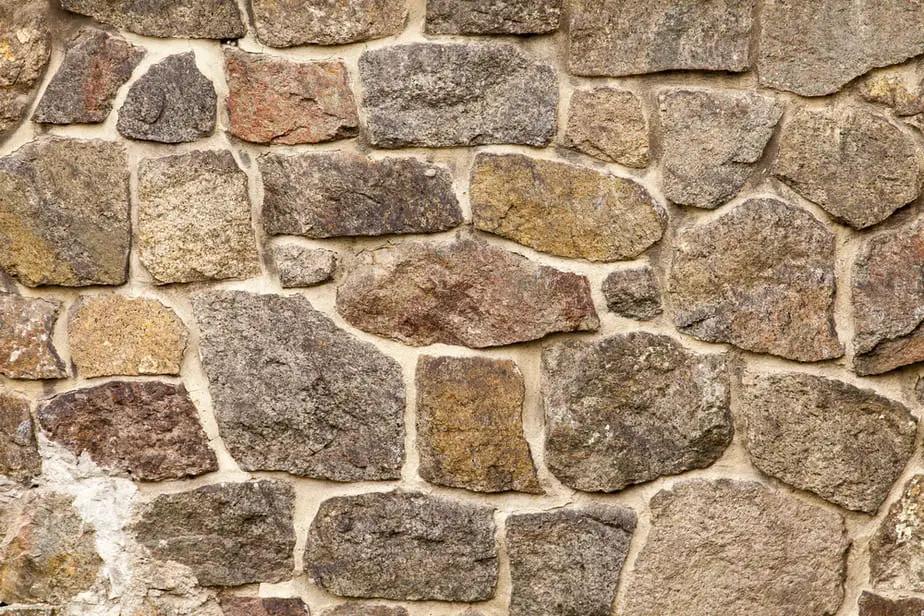 It's a material used to both protect and decorate wall surfaces. It's sort of a beautification accessory and therefore needs a well-structured backbone to be added upon. It provides a marvelous smart look to the wall and it comes with various patterns enabling you to build the facade the way you like.
Pros
It lasts a long time and won't fade nor crack as time passes by.
It displays the natural look required to show the vintage appearance. The varying patterns give richness to the wall.
It's a lightweight material that is easy to handle.
The backbone thickness and height are flexible.
Cons
It needs skilled labor to attach the material.
Matching the patterns with the surrounding property scheme might be challenging.
It needs a backbone so it's not enough by itself, consequently bearing additional costs and effort.
Boulders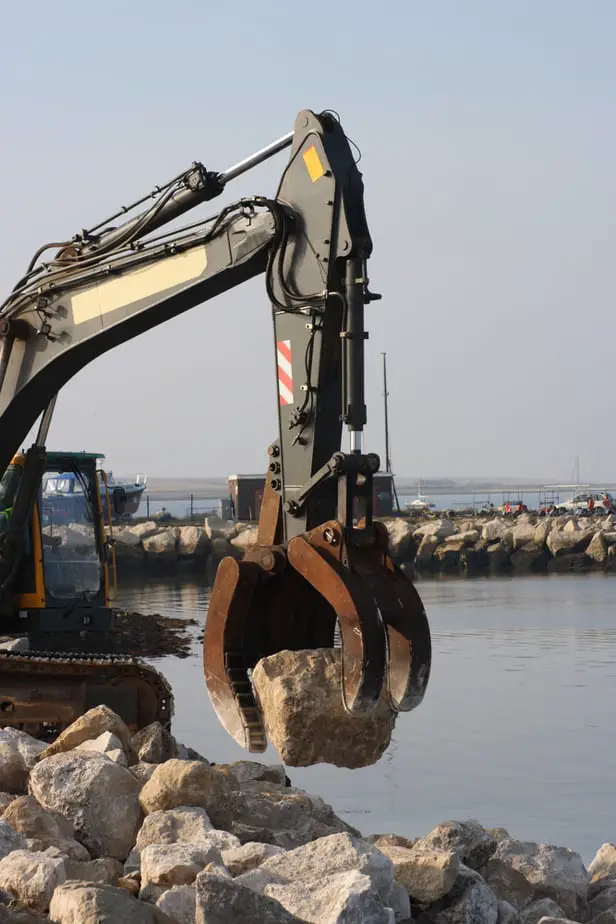 They've been around for ages, our ancestors used them time and again. Lasting structures. They're readily available in nature, you just need to go and get them. They fit many surroundings.
Pros
They're as natural as they get, the colors and texture of nature are evident and impressive.
It's not a complex endeavor to build a wall, just stack them as you see fit.
They will last for decades.
Cons
They're sizable objects so the intended area size would mandate if they're usable or not.
They're used for the basic needs of a wall, do not expect drainage control or other subtle needs.
Transporting them will cost you for sure if they're not within your vicinity.
The height will not be as flexible as that of concrete blocks.
Natural Stone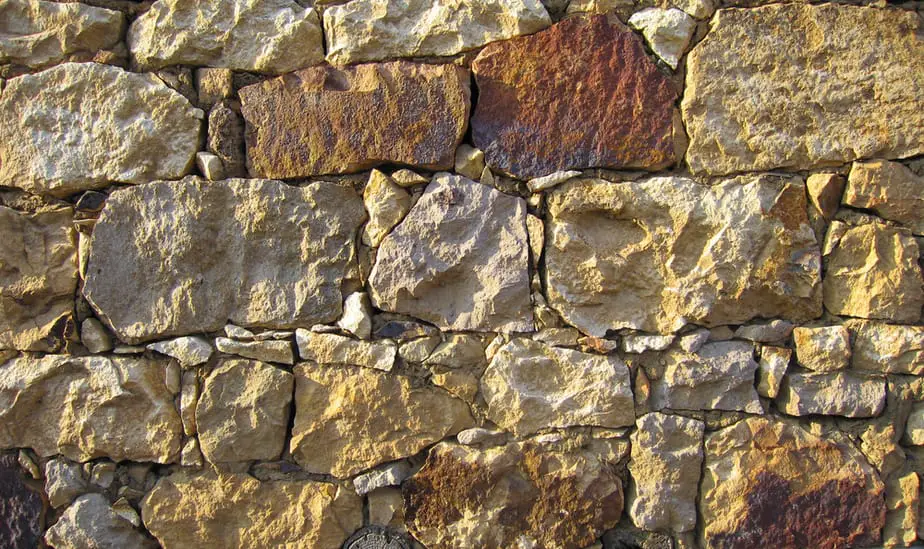 Vintage looks, nature colors, and awesome view. It provides all of this in addition to sturdiness and flexibility. It complements adjacent terrains and fits in traditional or modern surroundings. It comes in all forms and shapes and it's up to your creativity to build a beautiful wall using it.
Pros
Like the pyramids, natural stones last for a long time and provide a 100% natural view.
Every piece has a unique look and collectively provide a canvas of interrelated shades of colors.
They can be stacked as required.
Cons
Labor intensive and time-consuming
Fitting the different shapes might be hard
The drainage might cause issues a couple of years along the way.
It should not be used for walls higher than 3 feet.
Gabion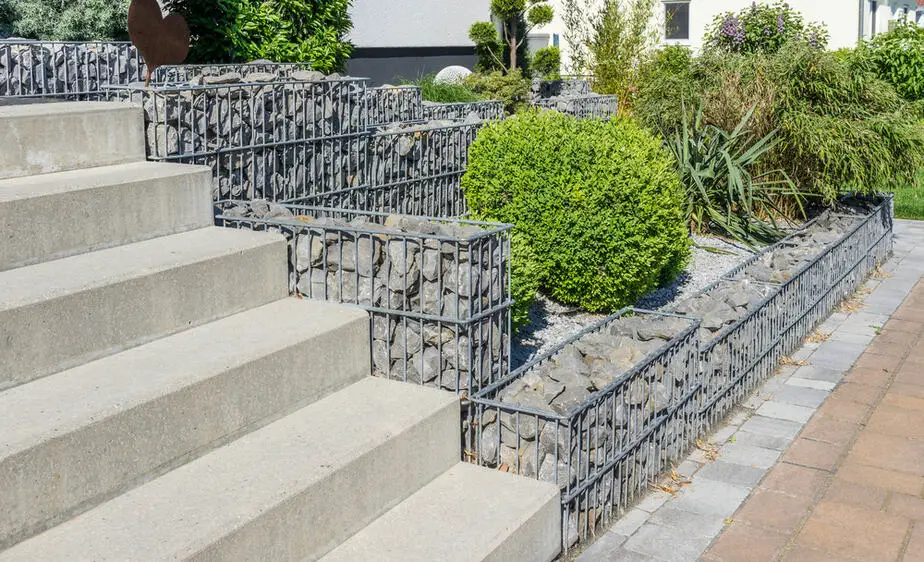 This method has been used for ages. Simply put, it's a cage constructed with steel or wires that hold stacked up rocks and stones. It's built in blocks that are put next to each other.
Pros
It will withstand the harshest of downpours as it's sturdy and solid.
As they can be built in blocks, flexibility is provided to fit in any area and the material in the cage could match the surrounding terrain as per your preference.
You can remove a block, add one, change the content, add to it, and this gives you a free hand to be creative with them.
No specific skill set is needed and, it can be a great "do it yourself " project.
A short time to build and an easy to transport object makes it a very convenient material to use.
Cons
The beauty aspect might be lower than other materials.
As steel and wires are used, rust is always around the corner, so maintenance is needed.
Bricks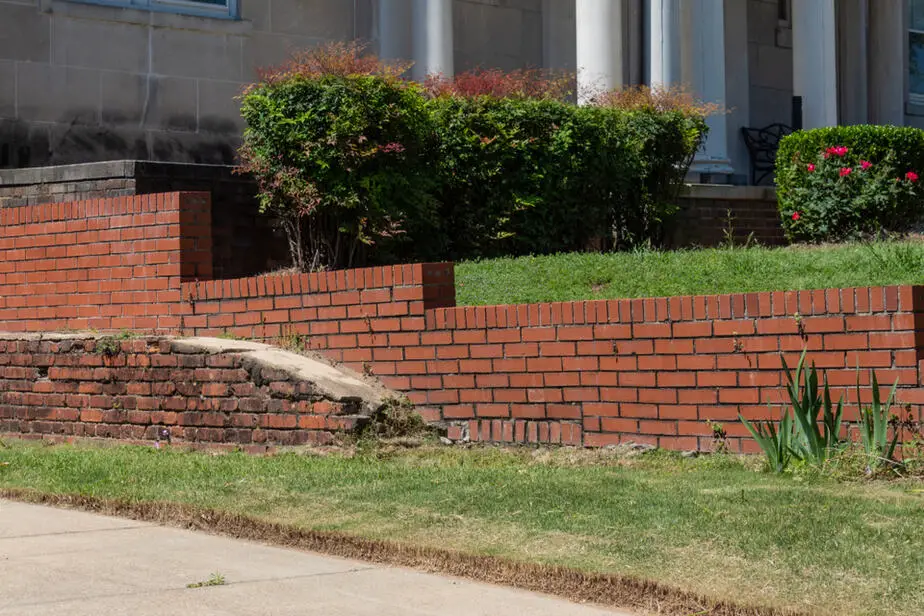 Look around you, you will probably see a structure built with bricks as they're one of the most used materials in constructions. They've their own charm. The warm color and organized sets give warmth to the onlooker.
Pros
They're durable, not as much as natural stones but close to them.
They can withstand weather and fire throughout the years.
Their color doesn't fade easily and hence repainting is not an issue.
Low maintenance is a big plus.
Marvelous look and they go both ways: traditional and modern.
Environmentally-friendly.
Cons
Not much color variety.
They're heavy and hence, the underlying structure has to be solid.
It's not easy to change a damaged brick nor is it easy to change the wall facade view.
Using them is labor intensive.
Drainage has to be carefully designed at the outset.
Wood/Timber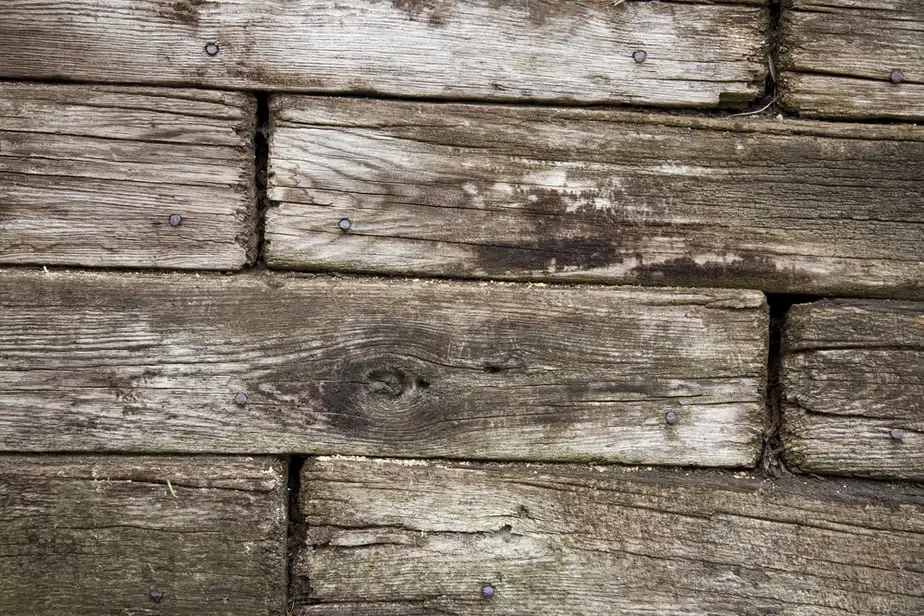 It binds us to nature. It gives us a sense of belonging and even the paint smell gives us a trip down memory lane. It fits almost every terrain possible be it traditional or modern.
Pros
A natural blending vintage for all terrains.
Easy to build one.
It's a lightweight material and it's not labor intensive as other materials.
Cons
Amongst the lowest in durability.
It does rot as the seasons pass by so depending on the location this might be a decisive factor as its strength diminishes day in day out.
Retaining Wall Typical Structure
Drainage gravel: prevents water accumulation behind the wall
Filter fabric: keep the soil from congesting the drainage gravel
Batter: the wall built in the shape of a slope to hold the weight of the soil
Weep hole: the water outlet to the wall base to be placed every 6 to 8 feet
Footing: the wall reinforcement support (usually concrete)
Footing drain: the water gateway channel
Cost
It varies. According to the material used, the height, the depth, the length, maintenance, and other factors. Will you build it on your own? Will you use a contractor?
A very informative source for cost calculation is available through https://www.homeadvisor.com/cost/landscape/install-a-retaining-wall/
This will help you have a good idea of how much a retaining wall might cost you.
Now take a look at the following awesome Retention Walls ideas
Concrete Retaining Wall
Interlocked blocks multi-level concrete wall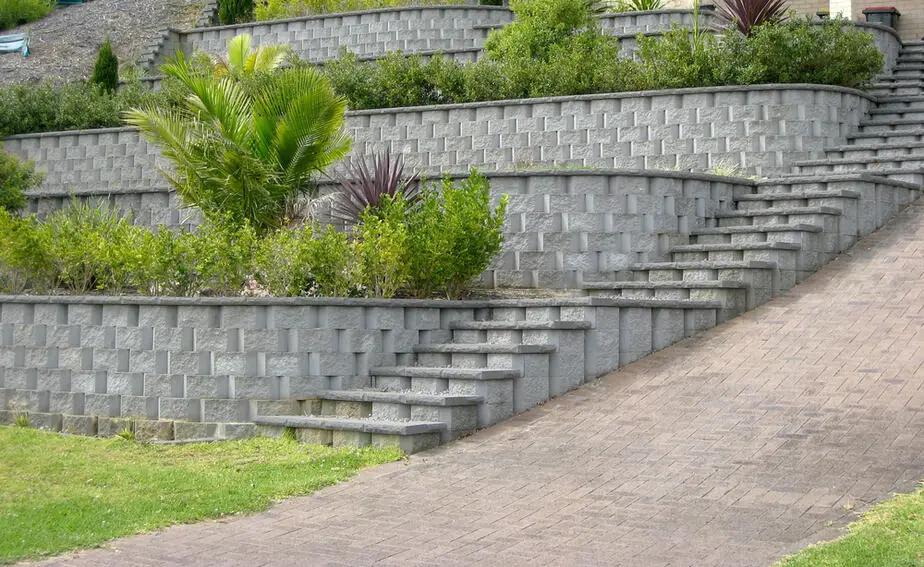 A sturdy retaining wall built up in multiple levels including ready-made planting surface. The round interlock provides a beautiful symmetrical view and mingles smoothly with the slope of the garden.
Planters concrete blocks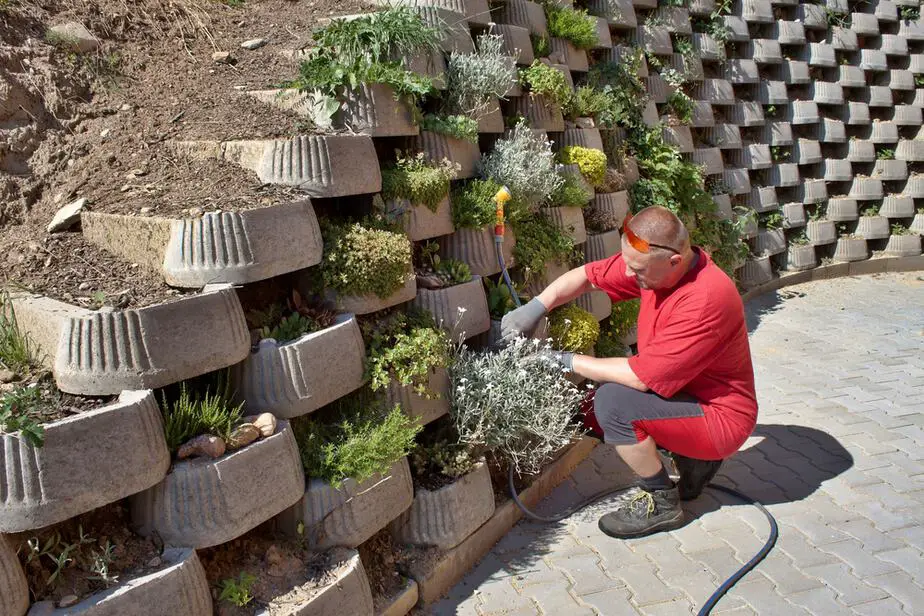 A wall that is stuffed with greenery and lush succulents surrounding the backyard. It provides a nice view, a rounded facade, and gives you the means to do gardening.
Same size concrete blocks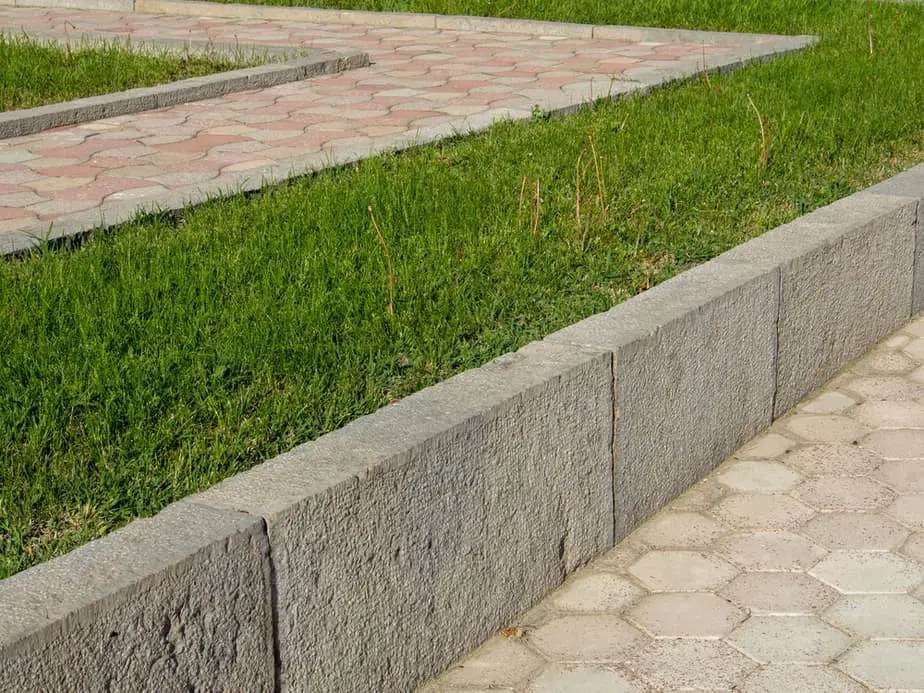 This wall can be used for small areas to surround the lawn and define a perimeter.
Cylindrical Concrete Blocks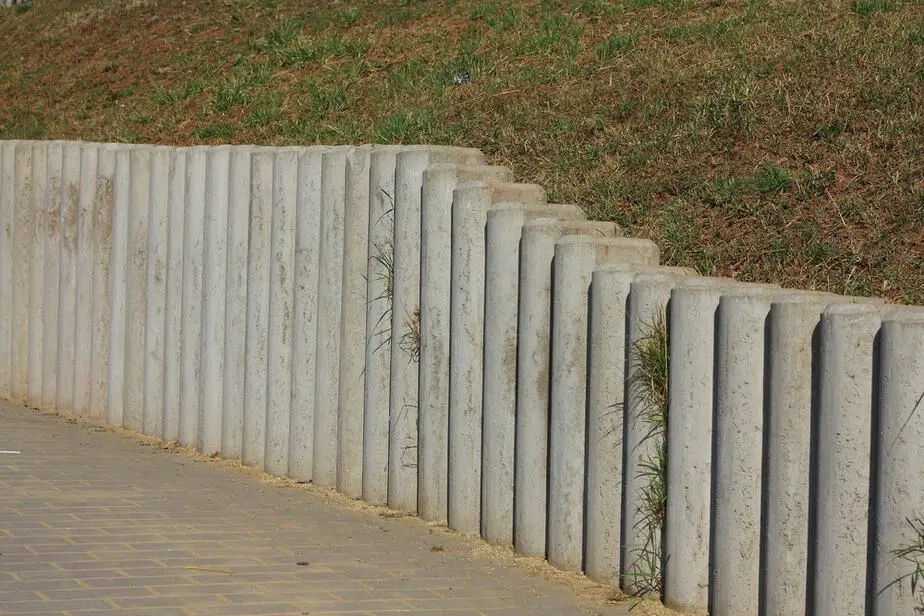 Concrete blocks come in many shapes providing freedom for you to follow the pattern you need. This cylindrical wall is sturdy and it follows the needed curves and even the height can be customized.
Stone Retaining Wall
Natural Stone lawn lining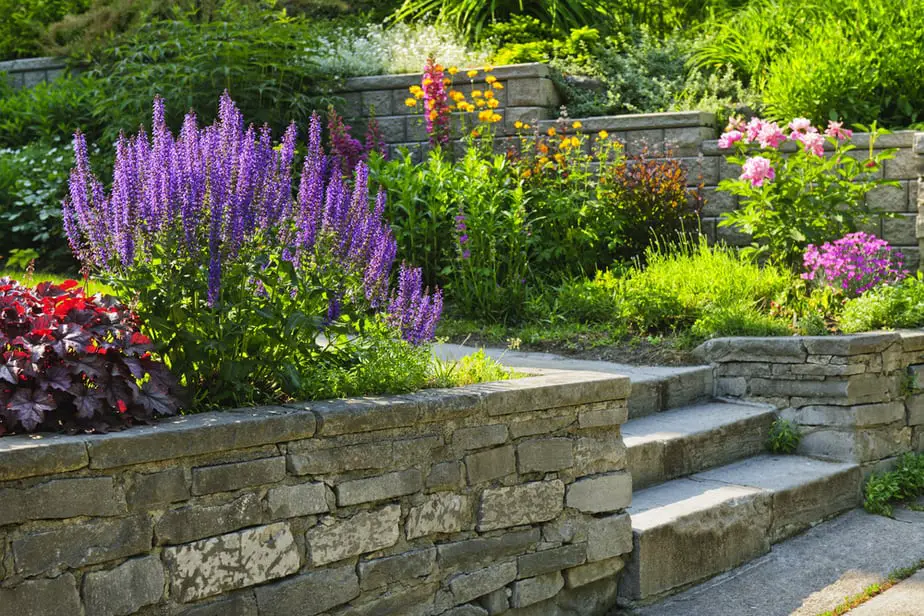 An elegant and sturdy mixture that blends with the landscape. It provides serenity and the ability to build multiple levels and incorporate a stairway using the same material.
Stone Wall and Patio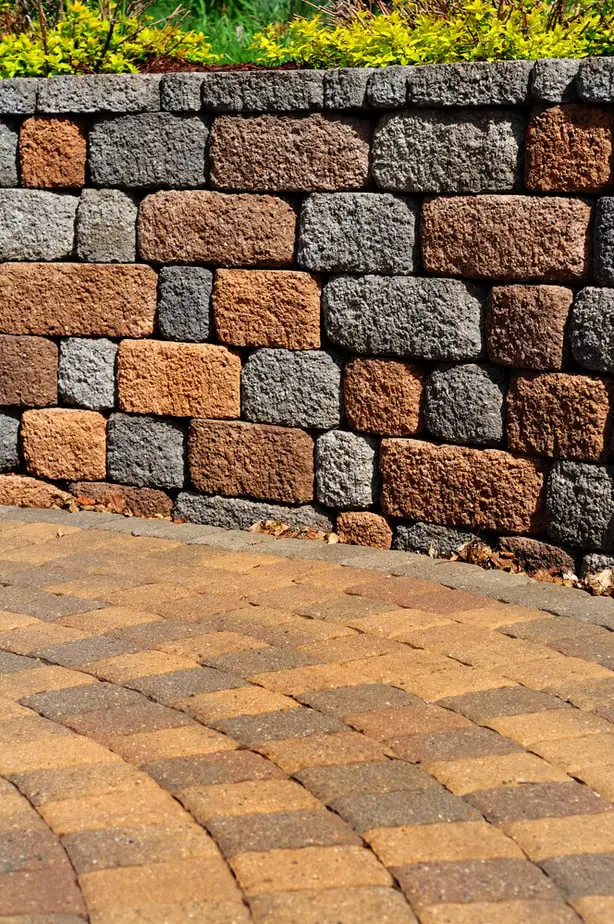 Intertwined stones of different colors as if knitting a rug. Matching the patio colors provides an elegant and comforting view. The top side stones of the wall are thinner and more uniform which gives a touch of artistic variance.
Tiered Retaining Wall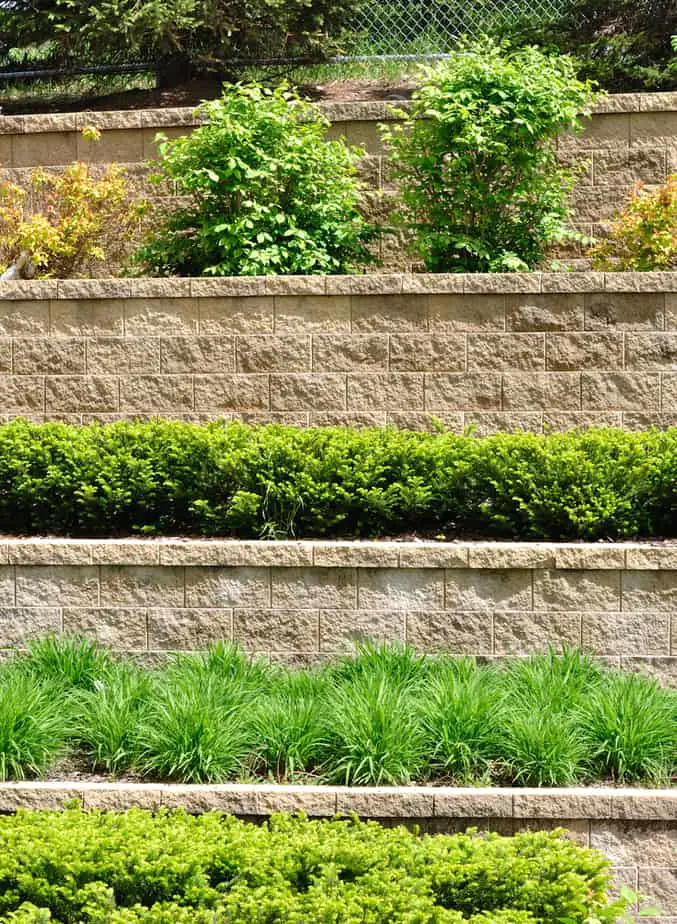 Natural stone with uniform size stacked in tiered levels. Each has a different kind of plants. A marvelous view, a smooth layout that gives depth and richness to the backyard.
Stone Wall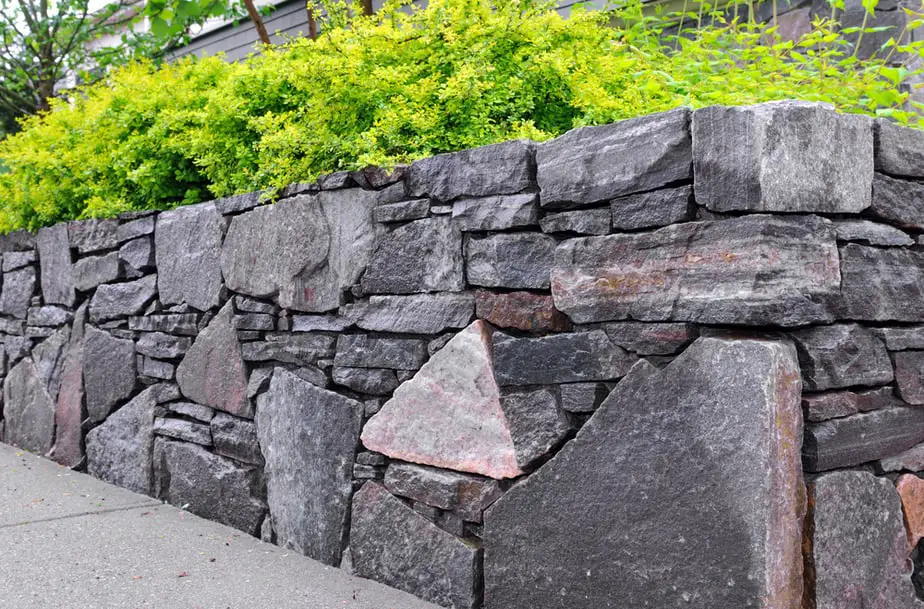 Natural stones with varying sizes complementing each other, providing a completed puzzle squaring the lush greenery and setting the perimeter of the property all around.
Natural Stone Terrace

A terrace wall that is built with varying stone colors but it still follows the overall scheme of the surroundings displaying an organized yet natural look. The stairs are also built from stone complementing the view. The wall embraces the shrubs and adds to the natural look.
Natural Rock Wall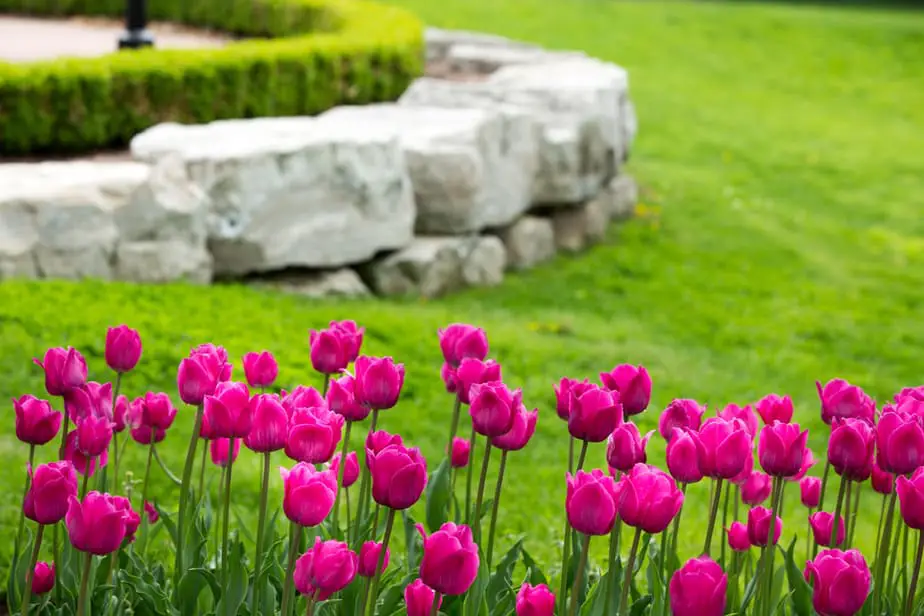 Set as the outline of the pathway and the hedge, complementing the grass plane, and setting the scene for the flowerbed. Simple layout with massive reward.
Boulders Pathway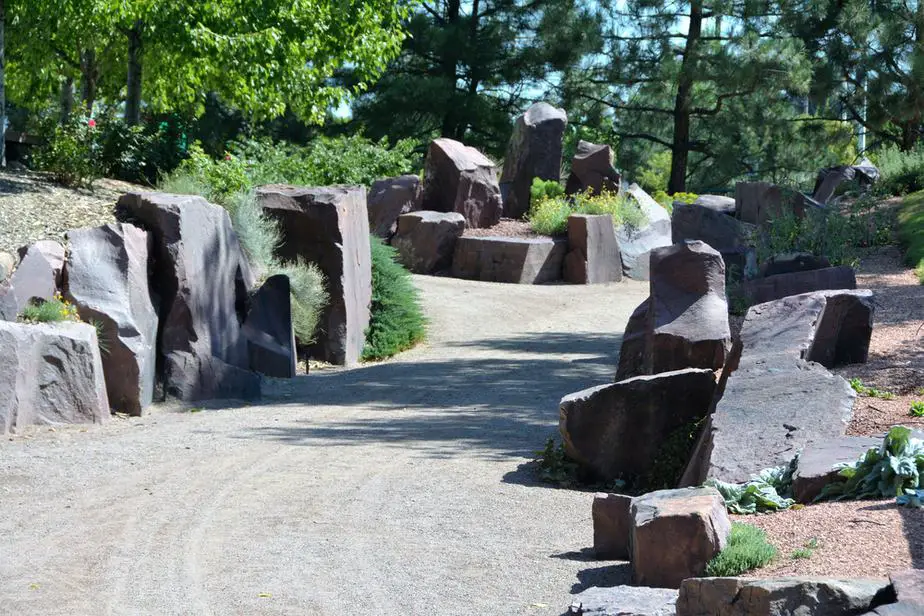 Boulders are set as a path. They provide a resemblance to a mountain path holding the adjacent foliage apart from the driveway. The size variation emanates beauty.
Gabion Wall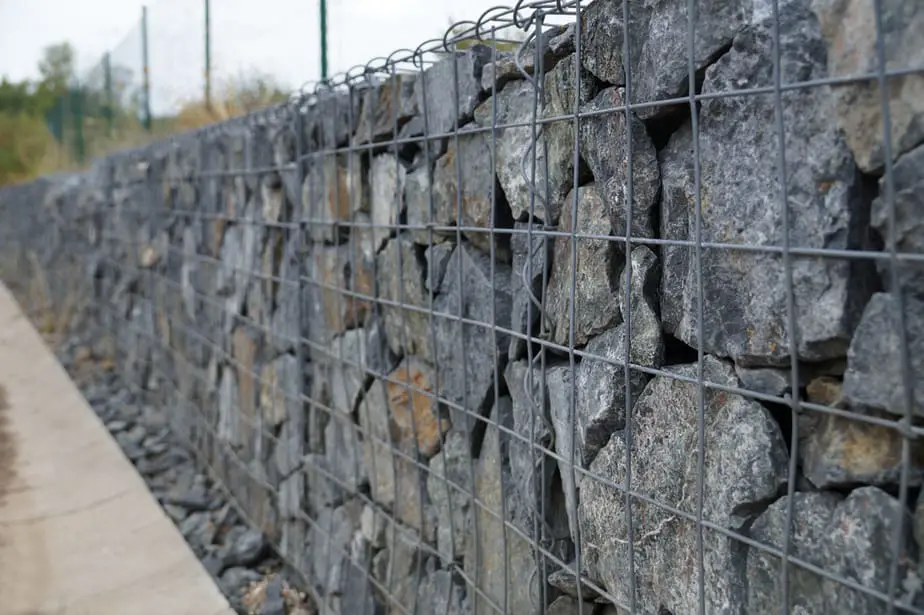 A steel mesh of a gabion wall provides a uniform plateau, yet the varying texture and size of the stones provides a contrast that pleases the eyes.
Brick Retaining Wall
Brick flower bed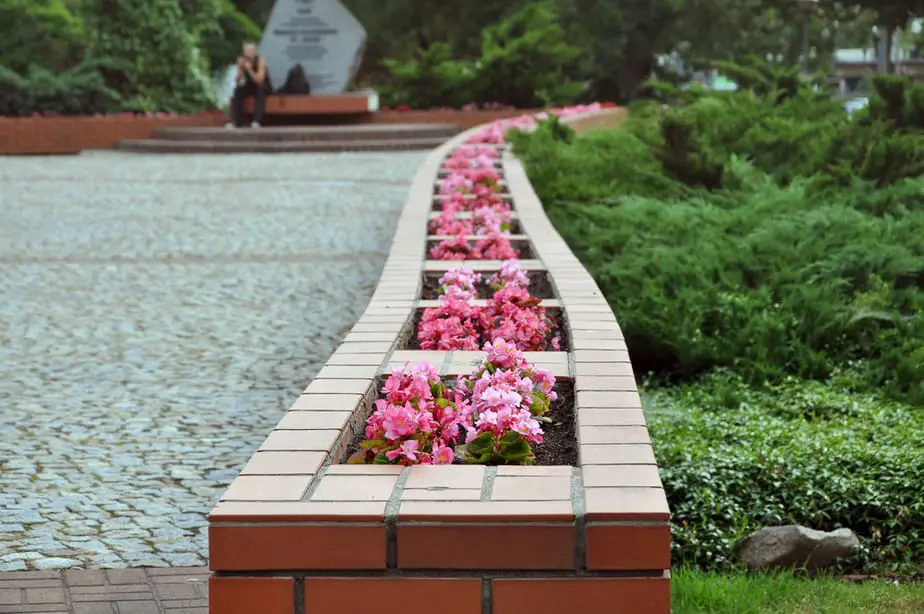 A brick wall that incorporates flower beds surrounding the foliage and at the same time is the pathway border. It gives a manicured look to the landscape.
Brick barrier wall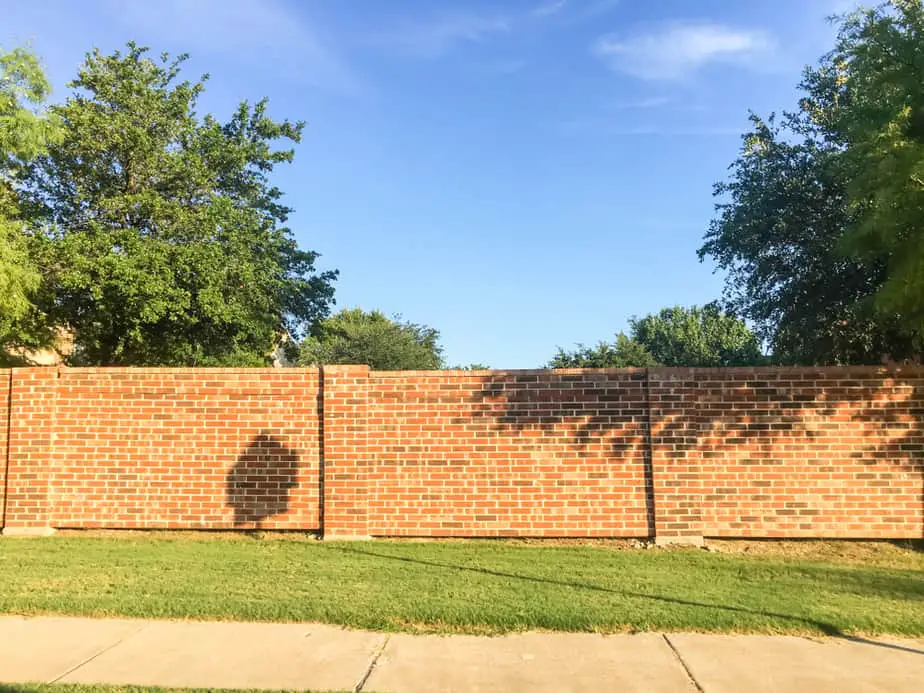 A wall that separates private and public properties, practical yet beautiful. It retains privacy which is much appreciated in congested neighborhoods.
Wood/Timber Retaining Wall
Wood Gabion wall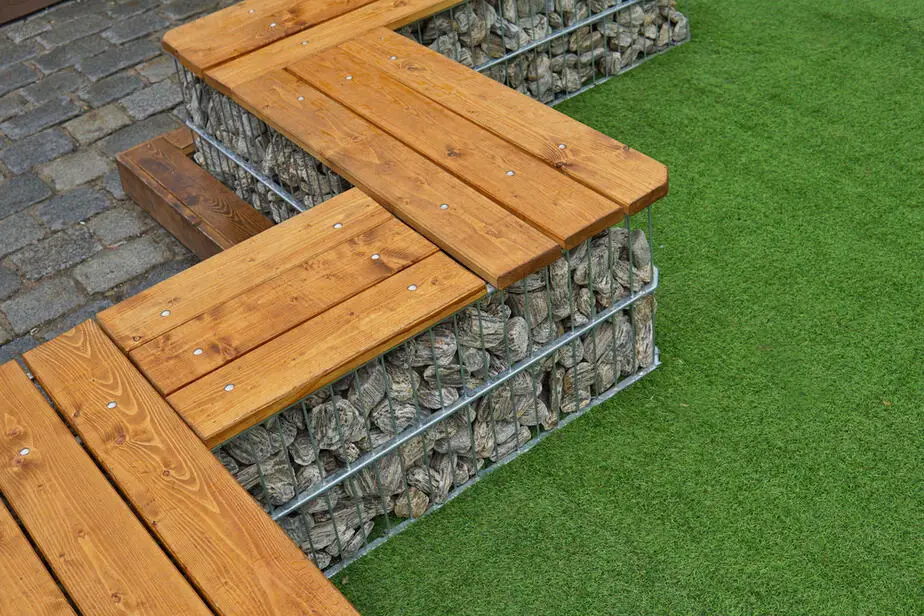 Combining 2 materials in building a retaining wall is a good idea. The wooden boards on top of the gabion wall are both functional and beautiful. A seating bench along the wall is available for residents and the wood gives a warm welcome feeling.
Wooden Beam Wall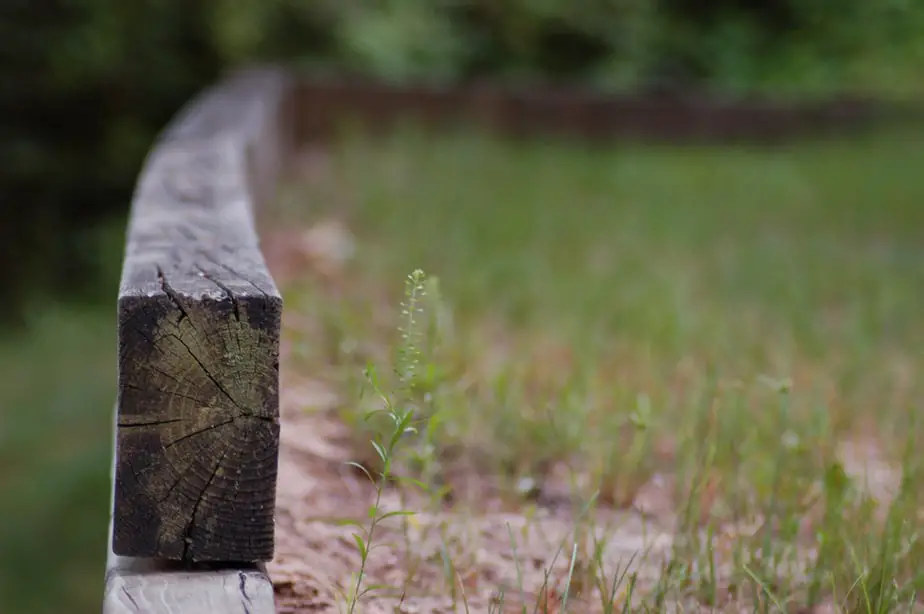 Simple structure with smooth integration with the surrounding foliage. Stack the beams and set them as a separator between areas.
Timber Wall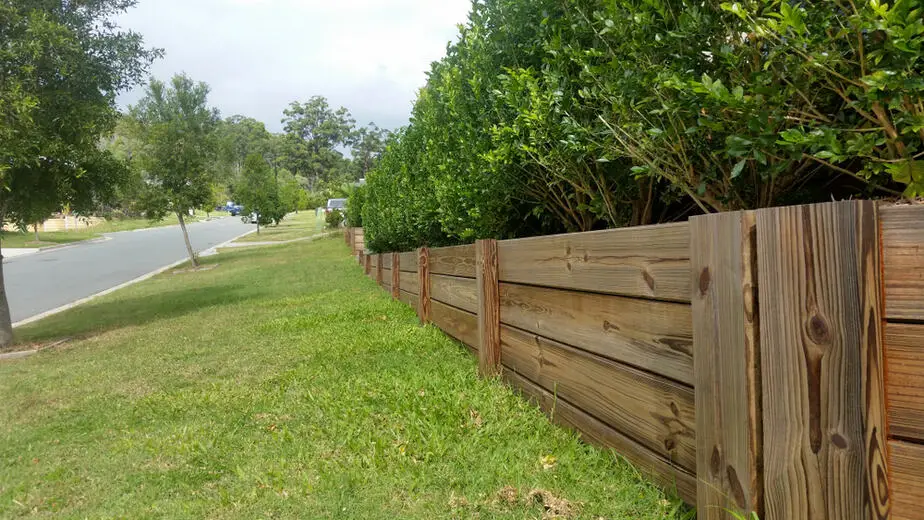 Timber retaining wall separating the backyard from the sidewalk and the street. It blends with the grass line providing a smooth separation between the public and private properties.
Wooden Beach Wall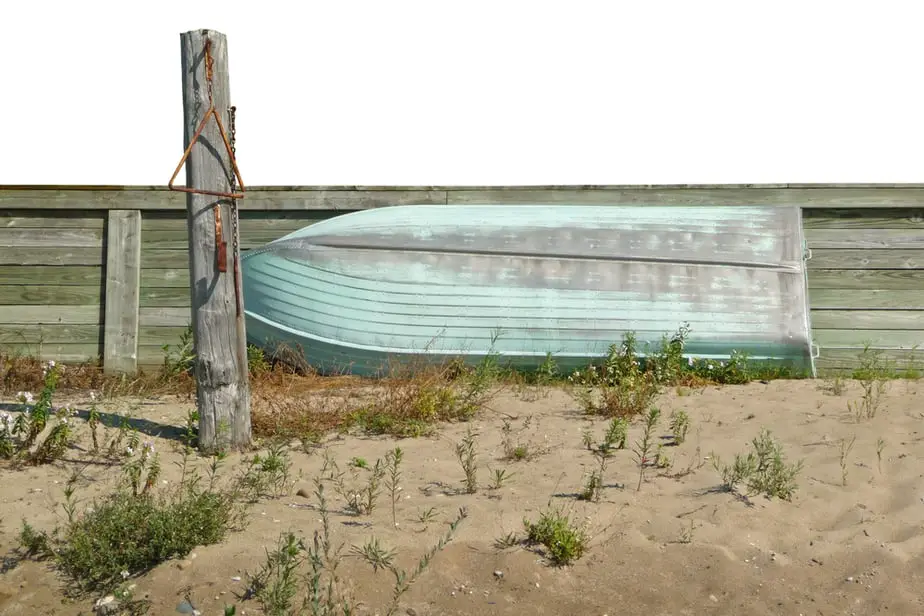 For the beach house, you can use rustic wood to build the retaining wall which will give a salty touch that mingles with the sea, sun, and fresh air.
Declining Wood Wall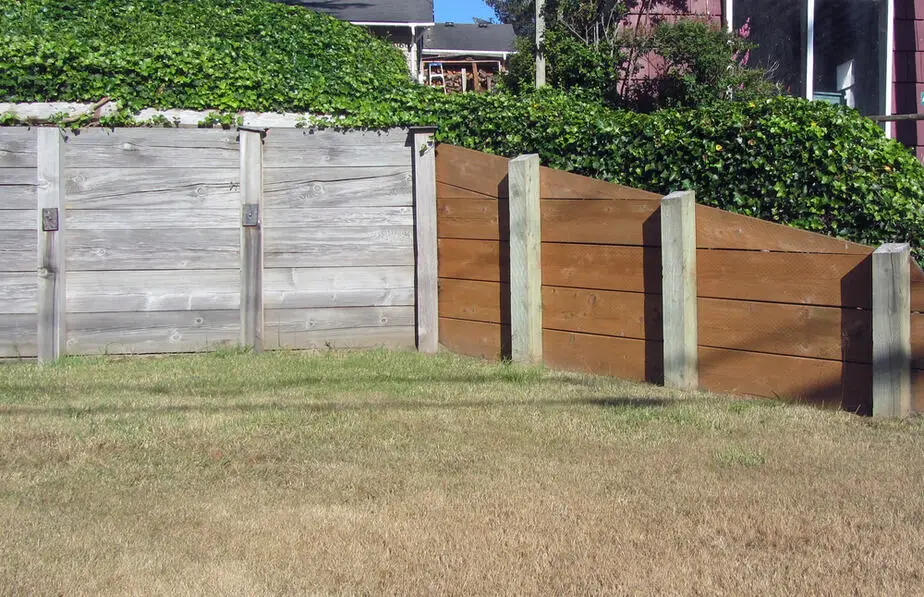 Build a wooden wall with different color sets and have the height follow the shrubs' height. This will give depth to the yard as well as a smooth transition from the higher level to the lower one.
Wrap up
A retaining wall is a necessity for practical reasons where needed, but its practicality does not hinder you from constructing a beautiful structure that blends within your specific property theme. You can use the most convenient material that fits your budget. You can do it on your own or use skilled professionals. You can make it big, small, modern, traditional, or any way you want.
We hope this article laid the way for you to embark on creating a wonderful solid landmark within your property that will make you proud.