Have you been keen on finding the best paintball regulator? If you are wielding a newer paintball gun, chances are you haven't given it much thought. Most of today's newer markers come with regulators already installed.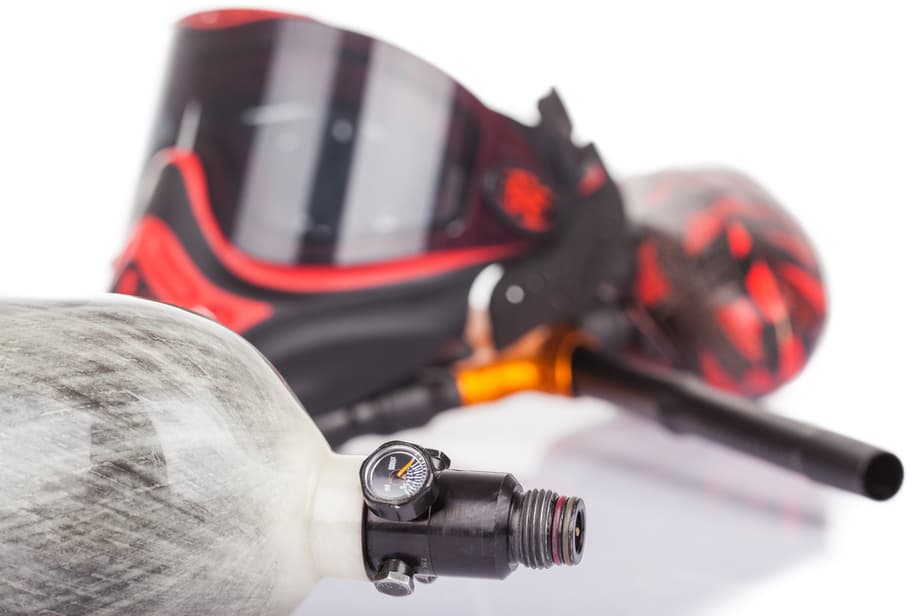 But if you are a paintball player, as one of the many, who still use an older style paintball gun, the need for a regulator is all too real. As you know, not just any regulator will do. You need a well-built unit that will give you an accurate readout.
For the most part, older paintball guns didn't come with regulators. As the owner of an older marker, you're probably already familiar with the purpose regulators serve. However, if you're just getting started in the world of paintball, we're going to cover some of the best tank regulators on the market. We've selected five units that we think will serve you well.
As we discuss the following regulators, we'll tell you what we liked about them, and what we didn't like about them. We'll also fill you in on their PSI so that you can better decide if it's a good fit for your paintball marker.
After you've read our reviews, be sure to check out our in-depth guide on paintball tank regulators below. This will be especially helpful to you if you are new and still somewhat confused as to what to look for in a paintball tank regulator.
In a Hurry? Here's Our Top Picks…
| Image | Title | Price | Buy |
| --- | --- | --- | --- |
| | 4500PSI Air Tank Regulator Output Pressure (1800PSI) | | CHECK ON AMAZON |
| | IORMAN Universal 4500PSI Paintball Air Tank Regulator & Valve Guage (800PSI Output) | | CHECK ON AMAZON |
| Top | Ninja Paintball Pro V2 Regulators (Standard, 4500psi) | | CHECK ON AMAZON |
| | Airsoft PCP Paintball Tank Cylinder Adjustable Compressed Air Regulator Output Pressure 0.825-14NGO Thread (0-3000PSI Output) | | CHECK ON AMAZON |
| | Gurlleu Adjustable PCP Paintball Tanks Regulator 0.825-14 NGO Output Thread Compressed Air Valve Gauge (0-800 PSI) | | CHECK ON AMAZON |
Product prices and availability are accurate as of the date/time indicated and are subject to change. Any price and availability information displayed on [relevant Amazon Site(s), as applicable] at the time of purchase will apply to the purchase of this product.
Prices pulled from the Amazon Product Advertising API on:
1. Ninja Paintball Pro V2 Regulators
Last update on 2023-11-25 / Affiliate links / Images from Amazon Product Advertising API
Ninja delivers an adjustable lightweight tank regulator with some pretty nice features. It has a ball valve that opens easily and a built-in mini gauge.
This unit lets you switch between standard, medium, and low PSI output. With standard, you can set it anywhere between 800 and 900 PSI. With medium, you can set it to 650 PSI. And on the lowest output, you can set it anywhere between 450 and 550 PSI.
You do this by simply removing shims. This helps you to save money on extra regulators and separate spring kits.
It also sports a mini fill nipple as well as a rotational collar. Ninja claims that you will see 30% more airflow with its Pro V2 regulator. It is ASTM-compliant and comes with a one-year warranty.
Things We Like
Easy installation
Adjustable pressure
Solid build quality
Great output
Things We Don't Like
Check Price and Reviews on Amazon
---
2. Outdoor Guy 4500PSI Air Tank Regulator
Outdoor Guy 4500PSI Air Tank Regulator Output Pressure
4500 PSI HP version with 800/1200/1800/2200 PSI output pressure for your option
The regulator is light weight and easily re-buildable with a high air flow rate.Can fit most of your tanks with threads 5/8""-18UNF.Output threads size G1/2-14.
Comes with Plastic Thread Cap.
Last update on 2023-11-25 / Affiliate links / Images from Amazon Product Advertising API
Next on our list is Outdoor Guy's 4500PSI regulator. You can set the output pressure to either 800, 1200, 1800, or 2200 PSI. Outdoor Guy's regulator uses standard 5/8ths threading and should fit most high-pressure air tanks.
This unit is very lightweight with an easy-to-read gauge built right in for your convenience. It's also easy to rebuild and has a high rate of airflow.
The build quality of Outdoor Guy's regulator is top-notch. It feels solid to hold, yet it weighs under 4 ounces. This unit is highly affordable and its pressure readout is accurate. We did find that we needed an additional O-ring to get a tight fit on some tanks.
For the most part though, Outdoor Guy's regulator fit well and had absolutely no leakage problems whatsoever.
Things We Like
High quality
Accurate
Great fit
Affordable
Things We Don't Like
May require an additional O-ring
Check Price and Reviews on Amazon
---
3. IORMAN Universal 4500PSI Paintball Air Tank Regulator
IORMAN Universal 4500PSI Paintball Air Tank Regulator & Valve Guage (5/8 Thread / 800PSI Output)
Max up to 4500psi high pressure gauge input, 800psi regulated output.
Fits most of air tanks with inlet threads 5/8"-18UNF, the outlet threads size is G1/2-14.
Premium quality regulator comes with a 3k and 7.5k burst disk.
Comes with standard 8mm quick disconnect male foster fitting adapter for filling.
The regulator is high air flow rate, light weight, easily operation and re-buildable, applicable medium with Air/CO2.
Last update on 2023-11-25 / Affiliate links / Images from Amazon Product Advertising API
Next up is IORMAN's Universal 4500PSI Paintball Air Tank Regulator. As its name suggests, this regulator has a maximum input of 4500 PSI. The unit's output is fixed at 800 PSI.
IORMAN uses 5/8 threading so that it will fit most air tanks on the market. This unit is solid and well-built. It comes with 3k and 7.5k burst disks.
IORMAN's regulator makes filling fast and easy. It has a standard 8mm quick-disconnect male Foster fitting adapter.
You get a regulator that provides a high rate of airflow and is compatible with both air and CO2. We found it did not leak, was easy to operate, and is highly rebuildable.
The only minor issue with the IORMAN regulator is the fact that its output is fixed at a rather low rate. If you're looking for a unit that provides a bit better kick you may want to look elsewhere.
Things We Like
Doesn't leak
Accurate
Fast installation
Things We Don't Like
Check Price and Reviews on Amazon
---
4. Airsoft PCP Paintball Tank Cylinder Adjustable Compressed Air Regulator
Last update on 2023-11-25 / Affiliate links / Images from Amazon Product Advertising API
Airsoft gives us a solid regulator that has some pretty decent output. Unfortunately, it does have a few performance issues.
Its output pressure can be adjusted to anything between 0 and 2000PSI. It has a maximum input pressure of 4500 PSI.
Airsoft uses a hard metal alloy that feels solid and sturdy. We did, however, find when used with some tanks, this regulator had slight air leakage.
And while the unit does come with a built-in gauge, we found that it's readout isn't always accurate. This, of course, is due to the unit leaking with some tanks. But the tanks that it did fit, the pressure was very steady and the gauge worked like it was supposed to.
Things We Like
Solid build
Steady pressure
Things We Don't Like
Slight leakage
Iffy readout gauge
Check Price and Reviews on Amazon
---
5. Gurlleu Adjustable PCP Paintball Tanks Regulator
Last update on 2023-11-25 / Affiliate links / Images from Amazon Product Advertising API
Gurlleu completes the list with its Adjustable PCP regulator. You can adjust the output to any setting between 0 and 800.
It has a top input pressure of 1500 PSI. It also sports a convenient, built-in gauge. This allows you to readily see your set amount of pressure.
The build quality of the Gurlleu regulator is top-notch. It feels solid and sturdy and has a great readout. The only problem we found was that it's hard to accurately adjust the output pressure. This is a great unit if you don't mind it's staying at a fixed amount of pressure.
Things We Like
Good build quality
Good gauge readout
Things We Don't Like
Check Price and Reviews on Amazon
---
What to Look for in a Paintball Tank Regulator
To know what you need to look for in a paintball tank regulator let's first discuss some of the basics in paintball guns. This will help all of you new folks out there and serve as a refresher course for the veterans.
All paintball guns must have sufficient air pressure in order for them to function properly. This air pressure is what makes the paintball shoot out of your gun. The more pressure or gas, the farther and harder your shot will travel.
Paintball guns that allow you to adjust the velocity with a screw are, in actuality, increasing the power of the striker when it hits the valve. How long that stays open depends on how hard it is hit. You get more air to pass through the valve the longer it stays open.
This is what causes the paintball to expel from your marker. So when you're increasing velocity, the truth behind it is that it's an increase in volume.
Do you need a regulator?
While most new paintball markers come equipped with regulators, you will need to add one if you're using an older style paintball gun.
The regulators found in today's markers work to lower the input pressure. Some models will only work with HPA tanks. If you have one of these guns, a tank regulator is of no use to you.
But if the idea of regulating your own pressure is of interest to you, you should look for a good used paintball gun that will allow you to add a regulator. Many will argue that adding a regulator gives you better airflow.
This allows you to have more consistent shots with reliable performance. While this will add extra cost to your paintball gun, you have much more control of your shots, how far they travel, and at what rate of speed.
For the ultimate precision and accuracy, you can set up your paintball gun to run on two separate regulators. This is a costly endeavor, but if you play competitively or professionally, you may want to look into it. Which brings us to…
Choosing your setup
This is where you decide whether you want HPA or CO2 as your propellant system. Once you've decided which to run on, you then need to determine where it's going to be installed on your gun. Some like their tank to be attached under the handle, while others prefer it to be vertical with the receiver.
If you plan on using a bigger tank you may want to run a remote line from your gun. This will allow you to carry your tank on your back.
Keep in mind that the closer the tank is to your marker, the better return you'll get from the tank. This can greatly impact the pressure your marker gets from the tank.
Obviously not all markers are made the same, so you may be forced to mount the regulator in certain areas only. You will also want to ensure that the mounting location of the tank doesn't interfere with the way you handle your paintball gun.
You will want to try your best to install it in a way that still allows you to safely operate your gun and you don't want the tank to cause your gun to be unbalanced either.
If installing a regulator or tank would cause your gun to be cumbersome during use, you may want to seriously consider running a line and carrying the tank on your back. You may sacrifice a little bit of velocity in your shots, but your safety will be intact. And safety, my friends, is paramount when playing paintball.
How much you are willing to spend will of course play a big role in your setup. But once you've decided on these factors, you can move on to choosing the right regulator that best fits your needs.
Choosing the right regulator
Once you're ready to buy your regulator, there are a few aspects you need to consider. What is the build quality like? Is it well-made or does it feel cheap? More often than not, you're going to spend more money on a regulator that performs well.
While this isn't a hard-and-fast rule, you would typically see less leakage and better pressure in more expensive regulators. If you get a cheaper regulator that leaks, you simply won't get the volume you're looking for. This will cause your shots to be less powerful, and thereby less effective.
If a regulator can't supply efficient PSI, you will be less likely to hit your targets or fire with accuracy. If you look at our reviews above, you can see the Ninja Pro V2 came out on top. It boasts great pressure due to the fact that it installs tightly and correctly.
This reduces the chance of leaks and therefore provides you with accurate and precise shots. The quality and its construction is also exceptional. It feels sturdy and solid. If you look into the Ninja Pro V2, you can see that it is rather expensive when compared with other units on our list. The old adage "you get what you pay for" certainly applies here.
As you can see in our reviews, most of the regulators listed have a built-in pressure gauge. This is a huge advantage as it gives you easy access to the pressure being used. This will also make it easy for you to see any drops in pressure during use.
If you go with a regulator that does not have a built-in gauge, do yourself a favor and buy one. They aren't very expensive and they will save you a lot of hassle while you're on the field.
Installing your paintball tank regulator
Now that you have your regulator, it's time for the fun part. Here, we'll discuss installing the regulator to your marker. If you've already got your regulator picked out, you probably have a pretty good idea as to where you're going to mount it.
There are going to be a few steps involved before you get the best performance out of your tank. The first thing you need to do is air up your gun with your entire tank of CO2. Now, adjust the velocity screw so it's at the lowest setting.
Once you have done that, go ahead and shoot your gun about a dozen times. You will want your hopper to be empty of paintballs for this step. You are just firing air through the gun at this point. If you feel your gun performed well, lower the outputs of your regulator and fire the same amount of shots again.
Keep repeating this process over and over until your gun finally refuses to re-cock itself. This is the time to increase the regulator's output pressure. Go ahead and fire off another round of shots. If it doesn't cock after a couple of shots don't worry, as this is normal. Increase the output pressure again and fire off another round of shots.
It may refuse to re-cock itself, but just keep slowly increasing the pressure until your gun starts working correctly again. Why do you have to do all these steps?
This ensures that your gun gets the best pressure possible. You can now load paintballs into your hopper and begin using your marker accordingly.
If you have a chronograph, continually check to see if the velocity is up to par with your field's specifications. The only caveat is that your velocity does not surpass 300 FPS.
If you decide to use two regulators as we discussed earlier, the setup process applies here the same as it does with a single unit. Dual regulator setups require a downstream regulator and an upstream regulator. The downstream regulator is the one that is going to be closest to the marker.
The upstream regulator is simply the unit that feeds the downstream regulator. It is crucial that you don't set the pressure of these units too closely together. This will make it difficult for the upstream regulator to keep up with the downstream regulator.
A good rule of thumb if your marker chant handle pressure is below 600 PSI, you should not need a second regulator.
The Best Paintball Regulator Brands
Ninja boasts an incredible back catalog of paintball regulators. They have made more regulators in the past 15 years than any other company on the planet. They have been in the paintball game for nearly 20 years. Their past clients include Kee Action Sports, National Paintball Supply, Procaps, Tippmann, Kingman, Custom Products, Smart Parts, WGP, JT Sports, and several others.
Custom products have been around since 1996. They're located in Gilbert Arizona and all of their products are made in the United States. Their components and accessories have a global reach, as custom products is one of the leading manufacturers in paintball Goods
Palmer's Pursuit has decades of experience, first coming on the scene in 1988. Their brand is one of the most copied in the paintball industry. Their expertise has allowed them to branch out far beyond paintball accessories.
FAQs
Q: What does a regulator do?
A: In the simplest of terms, regulators convert the liquid into a gas. This allows you to use this gas for various purposes. In the paintball industry, you're using this gas to propel paintballs from your paintball marker.
If the gas from your tank was simply released it would have no effect and would simply linger. The regulator allows it to build up a desired amount of pressure so that you can effectively use it for your desired purpose.
There are different regulators in the industry, but they all operate the same way. Each regulator has two chambers inside of it. One of these chambers is its input, while the second chamber regulates the gas that goes through it.
A small path connects these two chambers which can be closed off with a valve. A small piston inside works to regulate the gas. The pistons in regulators have a spring positioned on each side of the unit that allows you to adjust its pressure to your desired amount.
This is what allows you to get the level of velocity that you want in each shot fired. It's important to note that some regulators do not allow you to make these types of adjustments. Some have fixed outputs that stay at only one level.
If you feel you are going to need different levels of velocity while you are engaged in competition, it is important that you find a regulator that allows you to make adjustments.
Q: How does a regulator work?
A: There are a couple of things that take place inside the regulator that causes the CO2 to change its form. This is done by the level of expansion, which requires space and heat. To help you better understand this, think of your CO2 tank. If it is a 10 oz tank, it may only be filled up to around 9 ounces. This leaves enough space inside the tank for the liquid to transition into a gas.
Since most of us mount our tanks horizontally, manufacturers install anti-siphon tubes inside the valve of the CO2 tank. This is because that small area that's not filled is positioned differently in the tank. This helps to prevent liquid CO2 from entering your gun before it is turned into a gas.
If this process is not done correctly you will experience leakage and other problems. That is why it is so important for you to invest in a quality, albeit more expensive, regulator.
Some markers have expansion chambers that serve to prevent liquid CO2 from entering the valve. This gives a liquid more room to turn into a gas, whereby working more effectively and giving you better performance on the field. It also makes the transition from liquid to gas more manageable.
Remote lines also serve as an expansion chamber because they give the liquid CO2 more space to complete the transition. Now that we have the space part out of the way let's focus next on heat.
For a liquid to make its change to gas, it requires the right amount of heat for the process to be completed.
The regulator helps ensure that this process works seamlessly and efficiently, thus giving you the proper amount of gas you need for each shot you fire.
Conclusion
Now that you have a better understanding of the process that goes into making a regulator function properly, we hope you have an easier time choosing the right regulator for your needs.
If you are new to paintball, there is a wealth of information available on the internet to help you get comfortable with your marker. We hope you found our reviews helpful in pointing you to the best paintball regulator. As always, be safe and have fun!