When you're in the thick of battle, you need a paintball hopper that will provide you with paintballs the moment you need them. The best paintball hopper won't jam and will withstand rough gameplay.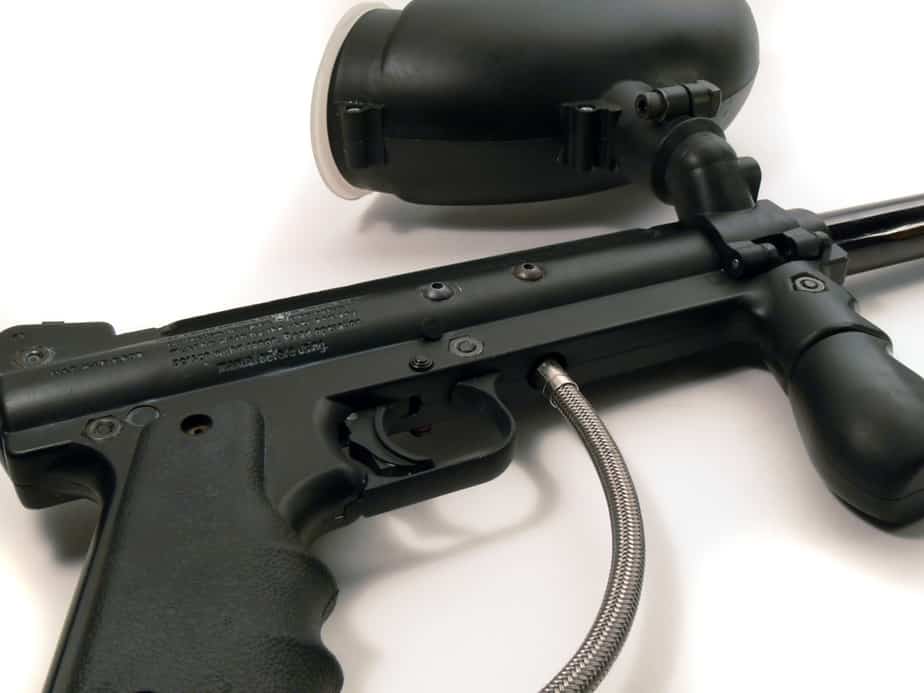 Paintball is a blast when you have the proper equipment. If you're playing with substandard gear, it can often bring a quick end to your game. Whether it's your face-mask fogging up or your gun jamming, what's supposed to be a fun pastime can quickly become just the opposite.
That's why we're here. We've put together a compilation of some of the very best paintball hoppers on the market. Don't let malfunctioning equipment cost you another game. Our guide to hoppers will give you the edge you need to smash your competition.
In a Hurry? Here's Our Top Picks…
1. Empire Halo Too Loader
Sale
Empire Paintball Halo Too Loader, Matte Black
Low battery indicator
Lightweight loader feeds 20 + balls per second
Polycarbonate shell can withstand the hardest of hits
180 ball capacity
According to legendary paintball pro Billy cranks, "this is the best loader for the money"
Last update on 2023-09-12 / Affiliate links / Images from Amazon Product Advertising API
Empire delivers a quality hopper that is sure to last. Its polycarbonate shell is tough and reliable, making it an excellent choice for competitive play.
The internal drive belt is smooth and quiet. It's capable of feeding 20 or more paintballs every second. Best of all, the Halo Too won't jam.
A built-in computer with sound-activated feeding lets you program the motor's rate of speed. You can also adjust the microphone's sensitivity and feed stack. It has a capacity of at least 180 paintballs, meaning you can spend more time watching your back and less time fighting with reloading.
An onboard indicator lets you know when the battery is low. It runs on either AA or 9-volt batteries. And after an hour of inactivity, the hopper automatically shuts off to conserve power. You can expect to get anywhere between 6,000 to 10,000 shots before needing to replace its batteries.
Things We Like
Won't jam
Tough polycarbonate
Sound-activated
Quiet operation
Things We Don't Like
Programming takes getting used to
Low capacity
Check Price and Reviews on Amazon
---
2. Dye LT-R
Dye LT-R Electronic Paintball Loader (Black)
Provides every style of player a loader that retains the quality performance that's needed to win at a price tag that's unmatched.
Patented DYE loader technology that fuses top-notch functionality with mind-blowing feed rates and reliability. Patented Rotor Force Fed Technology, 30+ balls per second.
The LT-R sets standard for battery efficiency, powered by only 3 AA batteries allowing the hopper to get 80,000+ balls shot count.
Adjustable feed tension and a built-in anti-jam Sharkfin release trigger makes sure your patented constant feed hopper can handle any paint and condition.
Trusted quality and proven consistency have made the DYE Rotor platform the number one choice in loader technology among paintball players worldwide.
Last update on 2023-09-12 / Affiliate links / Images from Amazon Product Advertising API
If you're looking for a hopper that's loaded with features, Dye's LT-R may be just for you. It's incredible just how efficient it is on batteries. You can easily fire off over 100,000 shots on three AAAs.
The feed rate is equally impressive. Dye uses its patented Rotor Force Fed tech here, allowing you to fire 30 or more shots every second. The LT-R is reliable, too. You needn't worry about jamming or malfunctioning components.
This is all thanks to the built-in adjustable Shark Fin release trigger. No matter what condition or grade of paint you use, Dye's LT-R can handle it.
Another nice addition is the Black-ops feature. This lets you turn off the battery light so you won't be seen if playing at night.
The LT-R has a paintball capacity of 200 with a patented spring-loaded floor tray. This ensures that your paintballs always go to your gun and won't cause jamming.
Things We Like
Easy to clean
Easy to operate
Superb battery life
Things We Don't Like
A bit too heavy
Confusing instructions
Check Price and Reviews on Amazon
---
3. Empire 200-Round
Sale
Last update on 2023-09-12 / Affiliate links / Images from Amazon Product Advertising API
Empire makes the list again, this time with its 200-Round hopper. This unit uses special polymers in its construction. This results in you having a hopper that can take a beating and still work like new.
It's highly durable, made for players who lean more toward the hardcore in their style of play. The Empire 200-Round Loader has been hit, fallen on, and slammed onto the ground. Yet nothing could damage it.
This hopper is a bit on the basic side. You don't get any fancy designs or features, but it works well and should withstand just about anything you can throw at it on the paintball field.
Keep in mind that this hopper is completely hollow and gravity-fed. So there's no drive belts or battery lights. But it does what it is supposed to and at a fraction of the cost of electronic force-fed hoppers.
Things We Like
Durable
Nice capacity
Affordable
Things We Don't Like
Check Price and Reviews on Amazon
---
4. BASE Anti-Jam
Last update on 2023-09-12 / Affiliate links / Images from Amazon Product Advertising API
BASE delivers a gravity-fed hopper that won't jam and can withstand rough use. It holds up to 180 paintballs and uses special construction that prevents rounds from getting stuck. No bottleneck effect here. Every paintball is fed evenly to give you ammo when you need it.
The overall body of the loader is solid and sturdy. This comes by way of an impact-resistant glass-filled nylon shell. It has a locking latch that keeps your rounds securely inside the hopper.
It's lightweight, too. So you don't have to fight with a bunch of added weight to your gun. The widened lid is made of tough polycarbonate, providing you with ample room to refill.
It's only capable of feeding around 10 paintballs per second. So depending on your play level, you may need a hopper that provides more.
Things We Like
Affordable
Anti-jam feature
No noise
Things We Don't Like
Occasional trouble feeding
Low feed rate
Check Price and Reviews on Amazon
---
5. Proto Primo
Sale
Dye Proto Primo Paintball Loader Hopper - Black
200 ball capacity
Primo loader helps sort and funnel as you shoot for a consistent vertical feed
Featuring a positive shelf designed to relieve pressure on paint balls
Comes with a clear spring loaded lid for easy reloading
Powered by minimal agitation of the gun
Last update on 2023-09-12 / Affiliate links / Images from Amazon Product Advertising API
Dye's Proto Primo is an attractive hopper that holds plenty of rounds. The paintballs are fed down into your gun by gravity only, so there's no need to concern yourself with the malfunctioning of the inner components.
The loader has a sorting funnel that works to give you consistent rounds as you need them. It can hold up to 200 rounds at a time, leaving you with more time to play and less reloading.
The lid on the hopper is spring-loaded and clear. This makes reloading easy, as you can keep an eye on your level of ammo at all times. It also has a shelf that prevents paintballs from getting squashed or broken.
Rounds are fed on the fly with every squeeze of the trigger. The only issue we ran into was that you have to shake your gun from time to time to get ammo to funnel through. Depending on your competitiveness, this could be a deal-breaker.
Things We Like
Attractive design
Large capacity
Great for starter weapons
Durable
Things We Don't Like
Requires shaking to feed rounds
Colored versions cost more
Check Price and Reviews on Amazon
---
6. Virtue Spire III
Virtue Spire III Electronic Paintball Loaders/Hoppers - Black
Hinged Shell Technology | Higher 230 Round Capacity | Faster Jam Proof Feeding
Dual LED Reload Indicator with Alarm | Brittle Paint Performance | Improved Toolless Design
Toolless Tray Disassembly | 35% Smaller Spire Drive | Shock-mounted G-force Sensor | CPU-Optimized Motor Logic
Removable, Flexible Spire Drive Fingers | Magnetically Attached Spire Drive | Integrated Backshell Windows
Smart Spring Ramp Included | Audible Reload Alarm | Smartphone Programming Interface for iPhone iOS & Android
Last update on 2023-09-12 / Affiliate links / Images from Amazon Product Advertising API
Virtue Paintball's Spire III is a technological marvel. It boasts some neat features in an ergonomic shell but has some issues that keep it from excelling further.
Its round capacity is great. It can easily store between 220 and 280 paintballs. And, it can handle rounds that are in any condition. Even the oldest, most worn paintballs were fed through without issue.
The hopper has built-in LED lights that let you know when ammo is running low. This is handy to have on the field and lets you focus on your targets instead of your gun. It even has an alarm so you don't have to keep looking at the indicator.
The biggest issue with the Spire III is its ability to integrate with your smartphone. Sure, this is a neat feature with loads of potential. But most users found it to be more of a chore than some huge advantage on the paintball field.
The app is supposed to help with things like reloading. But needing to update it and whether it will work flawlessly on your smartphone is questionable.
The Spire III is a cinch to take apart and put back together, so that's a big plus. It holds its ammo well and has nice battery life.
Things We Like
Innovative
Plenty of features
High capacity
Won't jam
Things We Don't Like
The power button is iffy
Mobile app syncing is a chore
Check Price and Reviews on Amazon
---
7. GENx Kit
GENx Kit Hopper - 200 Rounds - Black
Gravity Fed Paintball Loader
Holds up to 200 Rounds
Compatible with All standard Paintball Markers
Two-half body that allows the user to completely disassemble the loader for more thorough cleaning
Last update on 2023-09-12 / Affiliate links / Images from Amazon Product Advertising API
The GENx Kit Hopper is a no-frills loader with great capacity. It feeds your gun the paintballs by gravity alone, and can easily hold up to 200 rounds.
You can use this hopper with any and all standard paintball markers. It comes apart right down the center, making it easy to disassemble. This lets you clean it with the finest of detail to ensure that there's nothing preventing the natural flow of ammo.
The only problem with this is that the neck of the feeder is also two parts. Some might find this to cause uneven mounting.
The lid of the unit is clear and spring-loaded. This makes it easy to see when you need to replenish your ammo. And once full, the lid keeps your rounds securely inside while you run and jump.
The material used here is solid and tough. Play your heart out and as rough as you want. It should stand up to just about anything on the field.
Things We Like
Doesn't jam
Durable
Easy to clean
Things We Don't Like
Check Price and Reviews on Amazon
---
8. HK Army's TFX 2
Bunkerkings CTRL Electronic Paintball Loaders/Hoppers
[Advanced Tech] - Enhanced proactive feeding logic | Industry first angle indicator | never jams with magnetic drive cone
[Perfectly Balanced] - Sits balanced on all mechanical and electronic markers thorughout running, diving, or snapping
[Compact] - Smallest and lightest 200 round loader in paintball | Greater field of view with the compact profile
[Convenient] - Toolless disassembly with magnetic tray | Simple programming menu built onto tray | Soft on paint
[Perks You'll Love] - Durable nylon lid and (optional) ramps | Multiple solor and style combinations
Last update on 2023-09-12 / Affiliate links / Images from Amazon Product Advertising API
The TFX 2 features a great design with decent functionality. It has a big problem with reballs of any color other than red. If you try to use any other, you might be looking at a fancy doorstop.
Operation-wise, the hopper works pretty well. You don't have to rely on gravity for feeding here, and rounds are fed through nicely.
It runs on a rechargeable lithium-ion battery, which is a huge plus. An onboard LED light will alert when you need more juice. There's a standard USB port for charging.
You get around 22 rounds fed per second, making this a great choice for competitive play. It even includes SpeedFeed, and has a full coverage rain lid. Your rounds will stay locked in and dry.
The material used here is high-grade and impact-resistant. It should stand up to moderately to rough gameplay without breaking a sweat.
Things We Like
Rechargeable battery
SpeedFeed feature
Rain lid
Things We Don't Like
Doesn't work with all reballs
Check Price and Reviews on Amazon
---
What to Look for in a Paintball Hopper
There are a few very important aspects of hoppers that you will do well to consider. A lot of these come down to your experience level and personal preference. Let's go over each one at a time so you have the best understanding of what to look for.
Capacity
Obviously, this is how many paintballs the hopper can carry at one time. Depending on your level of experience, you may want to start out with a smaller hopper until you get used to the added weight and mass to your gun.
Once you're comfortable with a smaller unit, you can transition to a bigger one that is able to accommodate more paintballs. If you're playing against only one or two persons, the extra weight on your gun from a larger hopper may serve to be counterproductive. Less weight will help you move around better.
Material
Like every other piece of equipment, hoppers are made with different types of material. Cheap plastic is going to break easier than, say, polycarbonate. If your play style leans more toward the hardcore, invest in a hopper than can hang with you.
This, of course, goes hand-in-hand with…
Reliability
You need a hopper that you can count on not to break. And, your hopper needs to reliably feed paintballs to you at a solid rate. If it jams, it could be the difference between you winning and losing.
The more paintballs the hopper feeds, the greater chance there is for malfunctions. Gravity-fed hoppers tend to be more reliable, but that isn't a hard and fast rule.
You can't just sit back and expect your hopper to do all the work for you, either. You must be diligent in keeping it clean and maintained in order for it to operate as expected. Just as you would a real gun, it is important that you become familiar with every facet of your paintball gun; hopper and all.
It's best not to skimp on accessories or ammo. You might save a little bit of money at first, but you could pay for it in the long run, figuratively and literally. Buy only the best products for your paintball gun and it should provide you with years of fun.
The Best Paintball Hopper Brands
Empire makes some of the highest-rated paintball accessories in the world. From hoppers to goggles, their products sell well and have lasting value.
Founded in 1994, Dye has several years of experience under its belt. While they're founded in California, Dye has since expanded and now has locations in Germany and Taiwan.
This Finnish company makes paintball equipment that is used by both amateur and professional players alike. They pride themselves on making gear that is functional, not superficial. BASE extensively researches everything about their products to ensure the customer is satisfied.
They may have started out as a basement company, but Virtue quickly exploded into one of the industry's leaders. They unveiled their first hopper in 2012, and continue to contribute to the paintball business with new products every year.
In the same family as Empire, Tippmann's gear is made by players, for players. They offer innovative accessories for a wide range of play levels.
FAQs
How Do I Choose the Best Paintball Hopper?
This can depend largely on your experience level. If you've been playing for a long time, odds are you will need a hopper that feeds quickly. If you play hard, you're going to want a hopper that is built tough to withstand your playing style.
It's vital that you choose one that doesn't jam. There are fewer things more aggravating than a hopper that jams. Carefully research each brand to see what buyers are saying so that you can draw the best conclusion as to whether it is right for you.
Where Are the Best Places to Play Paintball in the United States?
There are many great paintball fields and arenas scattered across the country. Places like Illinois, California, and Pennsylvania have some of the very best.
Oklahoma and Colorado have some very nice facilities, too. Paintball Explosion, located in Illinois, hosts six main courses with zones that are based on popular video games. California's Camp Pendleton lets players engage on a real-life military base. Combat doesn't get more realistic.
Conclusion
As you can see, choosing the best paintball hopper largely comes down to what you prefer. Some have features that you simply don't need, thereby costing you money you don't need to spend.
If you're just getting started, consider a low-cost gravity-fed hopper. Once your playstyle improves, you may find that you need a hopper with more features. It can be tough making sense of all the options out there. We hope our list helps you sort through it all so you can get to doing what you love.
Need some help finding a great paintball gun? Be sure to check out our in-depth reviews on some really amazing paintball pistols here. We're sure you'll find it useful.