Bugs.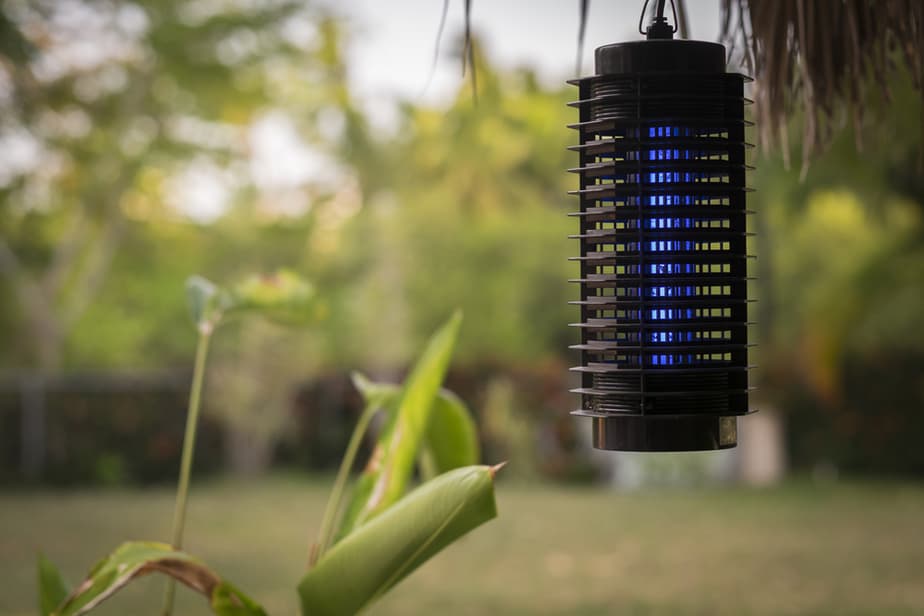 For some reason, these tiny critters love flying in our faces, landing on our food, and putting a damper on our daily outdoor relaxation time. From mosquitoes to gnats and everything in between, we've gathered 7 of the top best bug zappers to keep your evenings pest-free.
Without further ado, let's get started!
In a Hurry? Here's Our Top Picks…
1.
Elucto Electric Bug Zapper Fly Swatter 
No products found.
A number one best-seller in bug zappers, the Elucto Electric Bug-Zapping Fly Swatter is a must-have for barbecues and other outdoor gatherings. With thousands of positive reviews, this bug zapper won't disappoint.
Though a nontraditional route to take, this swatter works just as well as any hanging or otherwise-positioned conventional bug zapper – plus, this thing is just plain fun. You can spend your evenings demolishing mosquitoes and flies with a flick of the wrist, which can be both amusing and satisfying knowing those little pests weren't able to feast on your blood – or your hot dog.
Like conventional zappers, the Elucto Zapper Fly Swatter will kill bugs on impact with a single electric shock – no need for multiple swats to kill the pests. It's even powerful enough to kill wasps if they happen to come too close for comfort (we don't recommend you chase down a wasp for the fun of it for obvious reasons).
Its power is contributed to the lack of a protective screen in front of the wires (that you find in conventional zappers), as well as its changeable AA batteries – that are included with your purchase. And though it may sting slightly if you touch it, this bug zapper doesn't pose a risk to you or your family.
Likes:
An affordable option, even for those who may be on a tighter bug-zapper budget
Powerful enough to kill flies, mosquitoes, and even wasps on initial impact
The swatter isn't too bulky or uncomfortable in the hand
Comes with a set of AA batteries that can conveniently be replaced
It may be shocking (get it?), but this zapper, though unprotected by an outer screen, doesn't pose a threat to you or your family – other than a small volt if the wires are touched.
This can be a really fun way to combat pests during the warmer months
Dislikes:
After consistent use, the plastic pieces of the handle may become a tad loose
Check Price and Reviews on Amazon
---
2.
XMSTORE Bug Zapper
No products found.
Moving on to a more traditional bug zapper, the XMSTORE Bug Zapper is a 100% safe, non-toxic, non-radioactive, and non-chemical bug-killing tool. It can be used both indoors and outdoors and covers up to 500 square feet, 360 degrees for the ultimate pest protection.
Using high-intensity UV lights, this zapper will attract bugs directly into its wires for an instant electric shock. On the outside of the zapper is an aesthetically appealing cage that protects pets and children from accidentally shocking themselves. It's great for mosquitoes, gnats, flies, and other flying pests, and is even manufactured with a collection tray for easy clean-up after use.
This is a product that is of great quality, especially for the lower price point, and works immediately out of the box. Simply hang it as low as three feet off the ground, and watch as bugs line up to meet their electrical demise.
Likes:
The black, plastic outer protective shell isn't an eyesore like many bug zappers. It would go well with any outdoor decor
An affordable option, especially for the great quality and visual appeal
Protects up to 500 square feet, 360 degrees around a space
Works for either indoor or outdoor areas – would be a wonderful choice for cabins or camping
Kills bugs of various sizes on impact immediately
Contains high-intensity UV lights to lure nearby pests
Made with a collection tray for effortless clean-up and no mess in your home or on your porch
Dislikes:
This zapper has a pretty loud cracking noise and sparks when bugs are zapped. Noticeable cracking is normal for most bug zappers, but some users reported the crack was loud enough that they needed time to get used to it
Check Price and Reviews on Amazon
---
3.
GLOUE Bug Zapper Light Bulb
No products found.
Definitely one of the most innovative bug zappers on our list, the GLOUE Bug Zapper Light Bulb is a pest-infested home owner's dream. As you can probably tell by the name, this product is both a bug zapper and a convenient light bulb so that you can light up the night and ward off mosquitoes at the same time.
The bug zapper aspect of this bulb emits a high-intensity UV light to attract bugs into the electric wires, shocking them instantly. And with the 45-degree angle of the wires, the bugs will slide off of the bulb and onto the ground.
The bulb itself is a normal-intensity white light that has a dimming function. There are three settings for this bug zapper: zapper with light, zapper with dimmed light, and zapper with no light.
One of the best aspects of this zapper bulb is that it can be left exposed or placed in an open lantern or bulb cover. Either way, it attracts pests wonderfully.
Likes:
Efficient, two-purpose bug zapper
Can be used either indoors or outdoors
An affordable option for what the product is
Contains a UV light to lure bugs into the electrified wires
Wires are angled at 45-degrees so (most) of the dead bugs will slide right off after electrocution
The bulb emits white light of normal intensity
Has three functions: zapper plus the white light, zapper and dimmed light, or zapper with no light
Kills bugs instantly
Non-toxic and chemical-free
Dislikes:
Though the dead bugs will fall off of the bulb, for the most part, some bugs may get stuck, requiring you to manually remove them with a small brush or can of compressed air
Check Price and Reviews on Amazon
---
4.
Maxtry 4 Pack Plug-in Bug Zapper
No products found.
The Maxtry Bug Zapper is a set of 4 wall plug-ins that can be used anywhere there's an outlet. Though small, these zappers use UV lights to attract gnats, mosquitoes, and every flying pest in between, to a sparky death.
Within a few hours, you can expect a significant decrease in the number of bugs flying around your potted plants, in your kitchen, or around your outdoor seating area. Of course, because of their size, these are best used at night when the light is more visible.
There's no chemical smell, no chance of human shock, and the zappers are easily cleaned. Overall, this is a great option if you're looking for a pack of zappers that can be used virtually anywhere in or out of the home; for an affordable price.
Likes:
Affordable
Comes in a pack of four individual bug zappers
Kills bugs as small as gnats or as large as moths and mosquitoes
Easy to clean
Protective cover to keep from human shock
No chemically smell or smell when insects are shocked
Dislikes:
The zappers are small and won't be able to kill as many bugs as larger bug zappers
Because of their size, these may not be of great use during the day. The UV light works best at night
Check Price and Reviews on Amazon
---
5.
Flowtron BK-40D Electronic Insect Killer
Sale
Last update on 2023-09-10 / Affiliate links / Images from Amazon Product Advertising API
One of the more visually appealing bug zappers on our list, the Flowtron Electronic Insect Killer is a high-voltage, efficiently-performing bug zapper that costs only pennies a day to operate!
The UV light has been tested and proven to lure thousands of bugs per day and has even been praised for being one of the best bug zappers for attracting mosquitoes.
This product is available in a 1-acre coverage option, as well as a 1 and a half acre coverage, and a half-acre coverage option so that you can get the right zapper for your property.
The killing grid is non-clogging so that you won't have to worry about any blockages, cleaning, or other inconveniences. Instead, the dead insects will simply fall onto the ground and naturally deteriorate without any work on your part. The Flowtron Insect Killer is also weather resistant and will not rust, crack, or fade.
Likes:
Great for attracting mosquitoes
Weather-resistant build
Product is available in multiple coverage options
Affordable
Won't clog – no cleaning required
Dislikes:
Will not kill large bugs like Junebugs – but may kill wasps
Check Price and Reviews on Amazon
---
6.
LIGHTSMAX Solar-Powered Mosquito and Insect Bug Zapper
Last update on 2023-09-11 / Affiliate links / Images from Amazon Product Advertising API
The first in-ground bug zappers on our list, the LIGHTSMAX Mosquito and Insect Bug Zapper is a solar-powered option that is great for use in vegetable gardens, around delicate flowers, or around your outdoor lounge area.
While these aren't for use during the day, they're perfect for nighttime bug-zapping. They take 8 to 10 hours of direct sunlight to operate fully, so be sure to place them in an area that can receive adequate sun.
The build is weather-resistant, so you don't have to worry about rain or other conditions damaging the product or ruining its effectiveness. And the best part about these lights? They have two uses! You can use them as simple walkway lighting with one switch and a hardcore bug zapper with the next switch, depending on what mood you're in.
Likes:
Have two uses: lighting and bug zapping
Come in packs of 2 or 4
Solar-powered
Great for flower and vegetable gardens
Non-toxic and weather-resistant frame
Dislikes:
A little pricey for only 2 or 4 lights – but there's no electric cost due to the products relying on solar power
Check Price and Reviews on Amazon
---
7.
Aspectek Bug Zapper
No products found.
If you're in need of a very powerful indoor bug zapper option, this would be it. We recommend this for areas with lots of lights (like workshops, garages, or sheds) that attract an abundance of insects at night.
It attracts bugs from gnats and moths to mosquitoes and wasps and has a protective grate in front of the lights to prevent accidental shocks to kids or pets. This bug zapper is simple to install either by hanging it by a chain using the already-installed hooks on the sides of the zapper or by sitting it directly on the ground.
And while you'll have to remove the dead bugs from the bug zappers, clean up is easy thanks to the bottom tray. Simply slide it out, pour out the dead bugs, and slide it right back in place — easy!
Likes:
Extremely effective in areas that need lots of bug control
Great for killing large flies, mosquitoes, and other big pests – of course, it works on tiny pests, too
Made with non-toxic materials
Has a protective grate around it to keep humans or pets from accidentally getting zapped
Dislikes:
Large, not subtle or visually appealing
Makes quite a loud zapping sound that may take a bit to get used to
Will require removal of the dead bugs
Check Price and Reviews on Amazon
---
Safe Handling
There's not too much to handling safety when it comes to bug zappers, as they're relatively safe devices. However, there are a few things that you should keep in mind to protect yourself, children, and pets:
Always unplug or make sure the zapper is off before touching or moving it.
Don't allow children near the zapper. Though there is a protective grate on bug zappers, small children still have the potential of sticking their fingers inside.
Keep an eye out on curious pets that may lick the grate or chew on the electrical cord.
Though most outdoor bug zappers are weather-resistant, that doesn't mean they can be exposed to an abundance of water. Keep your bug zapper under a covering of some sort to avoid direct exposure to the elements.
Frequently Asked Questions
Q: Will bug zappers work for wasps and flies?
A: Yes.
Large bug zappers will attract and kill wasps and flies alike. If you're looking to target wasps specifically, be sure to place the bug zapper near the hive
Q: Are bug zappers dangerous?
A: Not necessarily, no.
Just as long as you practice common sense when handling electric bug zappers, and don't stick your fingers in the grates, you should be just fine.
Q: Are electric or solar-powered bug zappers better?
A: It really depends on your preferences.
That said, we recommend electric because they have a longer life span, you won't have to worry about whether or not a rainy day will affect the charge, and they're often more powerful. They're also not that expensive and usually only cost pennies to run per day.
Q: Are bug zappers waterproof?
A: Yes and no.
The standard for bug zappers is to be weatherproof so that they are not affected by rains, snows, winds, sunlight, etc. That said, you don't want to go dunking your bug zapper in the water anytime soon — especially if it's electric.
Q: Are bug zappers safe to use indoors?
A: They're safe, sure. Completely without downfalls? No.
You may just not want to use them in your home if you don't want dead bugs all over your pretty new carpet. We recommend only using bug zappers inside large buildings that are constantly open to the outdoors, like garages, worksheds, garden sheds, etc.
You also won't want them near your kitchen or dining room — anywhere people eat. According to researchers at Kansas State University (in an albeit older study), bug zappers explode bugs and, as a result, get their guts and microorganisms in your food…. gross. Might wanna keep your zapper away from the BBQ while you're at it.
Q: Are bug zappers loud?
A: The bigger the bug zapper, the louder it will be. Some bug zappers have fans, which makes them even louder, but those that don't have fans will only make a startling zapping sound when bugs go into it… which will probably be often.
Q: Can you get replacement bulbs for bug zappers?
A: Depending on what model of bug zapper you get, you should be able to get replacement bulbs.
Final Thoughts
If you've got a problem with pesky flying bugs, then a bug zapper is the way to go. Out of all of the great options on our list, our favorite is the Flowtron BK-40D Electronic Insect Killer. It's visually appealing, very high-quality, and isn't too much on maintenance since it's made with a non-clogging killing grid.
Whichever bug zapper you choose, we're sure they'll do wonders for the condition of your home, your shop, or your garden!