So you've built your own outdoor obstacle course, and after running it a few times, you feel like you've just gotten out of boot camp. What better way to follow up than with an airsoft match? Or, more realistically, by letting your kids blow off some steam with an airsoft match. But airsoft pellets pack a surprising amount of punch. They may not be deadly, but they can do some damage if you're not wearing the right protective equipment. To keep your kids safe while they shoot at each other, we've searched for the best airsoft mask on the market. We've also put together a handy buying guide.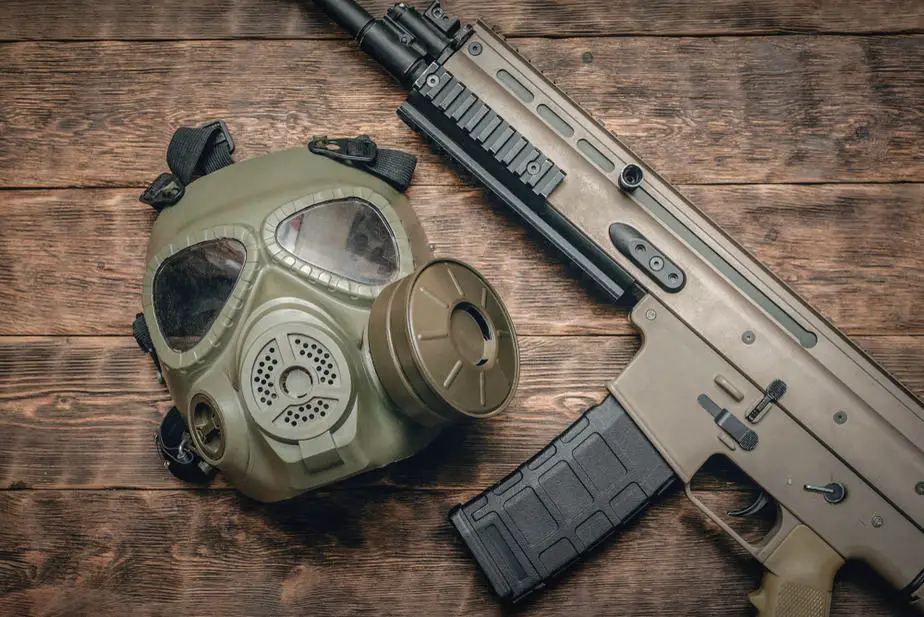 Let's begin!
In a Hurry? Here's Our Top Picks…
1. Valken Airsoft Sierra Thermal Lens Goggle
Sale
Valken Airsoft Sierra Thermal Lens Goggle-Clear lens,One Size
TPU frame features excellent resistance to cold and heat and Provides a perfect facial seal
The thermal system provides anti-fog protection in the worst weather conditions or extreme-temperature working environments
Exceeds ANSI Z87.1 high impact requirements, CE EN166 certified, CAN/CSA Z94.3-07, MIL-V-43511c ballistic standards
Last update on 2023-11-22 / Affiliate links / Images from Amazon Product Advertising API
If you're looking for a minimalist safety solution, the Valken Airsoft Sierra Thermal Lens Goggle is tough to beat. These look like a pair of ski goggles. And while the standard version is clear, they're also available with amber or darkened lenses, just like ski goggles. Not only will this protect your eyes from harmful UV rays, but it will also give you better visibility when the sun is in your face.
These goggles are rated to ANSI high-impact standards. This means they're rated for tactical use, not just to protect you from scratching. As a result, they can handle a powerful impact, even at point-blank range, and they'll still maintain their structural integrity. They're well-padded around the edges, so even a hard hit won't hurt your face or leave a bruise.
The fog protection is also very good. The vents are located on the outside of the lenses and are barely visible from the outside. This unobtrusive design is surprisingly effective. However, on very hot days, you might get some sweat buildup or condensation. If you're going to be playing in extreme heat, consider applying some defogging spray just to stay on the safe side.
Pros:
Easy to adjust
Well-ventilated
Available with amber or darkened lenses for sun protection
Cons:
Check Price and Reviews on Amazon
---
2. Outgeek Airsoft Half Face Mask Steel Mesh and Goggles
No products found.
The Outgeek Airsoft Half Face Mask Steel Mesh and Goggles is exactly what it sounds like. It's a steel mesh half-face mask that ships with a pair of polycarbonate goggles. This mesh design makes it exceptionally breathable, with plenty of airflow around your mouth and nose.
The Outgeek half-mask is available in five different patterns, including black and camouflage, with matching frames on the goggles. Cosmetics obviously come second to safety, but let's face it, it doesn't hurt to look cool while you're plinking away at your friends.
The goggles themselves have a form-fitting design, with a strap that's easy to adjust. They're generously padded with thick foam and are ANSI rated for impact protection. They also absorb UV rays, so they keep your eyes safe in more ways than one. That said, the lenses are clear, which means you may experience some glare in bright sunlight.
The mesh half-mask also features a single adjustable strap. The strap widens out as it wraps around from the back to the front, so it secures the mask along its entire side, not just at a single point. Combined with thick padding, this ensures a comfortable fit that won't impinge on pressure points.
Pros:
Comfortable and well-padded
Very breathable
Five stylish patterns
Cons:
Check Price and Reviews on Amazon
---
3. Outgeek M50 Airsoft Mask
Last update on 2023-11-22 / Affiliate links / Images from Amazon Product Advertising API
The Outgeek M50 Airsoft Mask is a full-face mask that looks like something straight out of World War I. This isn't hyperbole. It's designed to look like a gas mask, complete with large "filters" on both sides and a slotted outflow vent in the center.
The hard plastic shell is surprisingly comfortable. It's thickly padded around the outside, and there are four different adjustment points on the straps. You can adjust at the top or the bottom, on the left or the right, to get a truly customized fit without a whole lot of headache.
The "filters" on the sides aren't just for show. Each one houses a powered fan, which significantly improves ventilation. This ensures that the M50 won't fog easily or leave you gasping for air. However, the fans, each of which requires 2 AA batteries, add significantly to the weight. Overall, the M50 weighs over 2 pounds, which is a bit heavy.
The polycarbonate eye shield is well constructed. It has a wrap-around design, which allows for a wide field of view without needing to turn your head. It's also tinted, which reduces glare and UV rays.
Pros:
Highly adjustable
Full-face protection
Excellent ventilation
Cons:
Check Price and Reviews on Amazon
---
4. Gen X Global: GNX XVSN
Last update on 2023-11-22 / Affiliate links / Images from Amazon Product Advertising API
Technically, the Gen X Global: GNX XVSN isn't designed for airsoft. It's a paintball mask. That said, it's equally well-suited for airsoft. It's rated for high impact and is constructed from tough, durable plastic. You could probably take a sledgehammer to it, although we didn't test this.
Hyperbole aside, this is an excellent mask. It's not powered, but it's almost as well-ventilated as a powered mask. Instead, it has several rows of breathing slots, both on the front and on the sides. This allows for plenty of airflow. It keeps you breathing fresh air, and it keeps you from fogging up the eye shield.
That said, the eye shield itself is also treated for fog resistance. Even under extreme conditions, it doesn't easily get fogged up. It also has a wrap-around design, allowing for a full, 180-degree field of view. However, the polycarbonate is clear, which makes it prone to glare under some conditions.
Pros:
Full-face protection
Breathable and fog-free
Sturdy construction
Cons:
Check Price and Reviews on Amazon
---
5. OutdoorMaster Full Face Airsoft Mask
Last update on 2023-11-22 / Affiliate links / Images from Amazon Product Advertising API
The OutdoorMaster Full Face Airsoft Mask is a heavy-duty plastic mask that covers your entire face. It comes in five different patterns, including a skull, an American flag, and a British flag. There are two holes in the nose for easy breathing, and they also add to the mask's hardcore look.
The fit is comfortable and secure, with a foam rubber liner around the inner edge. In addition, there are six adjustment points, three on each side. This allows for a truly custom fit, ensuring that it will fit just about any face. Additional vents under the mouth allow for additional airflow.
The most outstanding features, however, are the steel mesh eye shields. At first glance, they appear flat black, which lends the mask an intimidating appearance. However, they're actually transparent when you're up close. They're easy to see through, they provide additional airflow, and they never fog up. However, they're somewhat recessed, which limits your peripheral vision. You'll need to turn your head to see to the sides.
Pros:
6 points of adjustment
Never fogs up
Five hardcore patterns
Cons:
Check Price and Reviews on Amazon
---
Airsoft Mask Buying Guide
When you're making your decision, it's important to understand all the available features. Because there are a variety of airsoft masks (and airsoft glasses) on the market, we decided to break down some of the different options. Here's a quick overview of the basics.
Full-Face or Half-Face?
The two broadest categories of airsoft masks are full-face masks and half-face masks. These are exactly what they sound like. Full-face masks cover your entire face, from the bottom of your chin to the top of your forehead. Half-face masks generally only cover your mouth, cheeks, and chin. As a result, you'll need to buy a separate pair of goggles to protect your eyes. But there are several other considerations.
Breathing is easier with a half-face mask. Typically, they have more air vents. However, this is highly variable. Vented full-face masks, in particular, can often be extremely breathable. The material is also a factor here.
Overall protection is better with a full-face mask. This makes sense, since a half-face mask, even when combined with goggles, will generally leave your nose and cheekbones exposed. This isn't terrible. An airsoft pellet might damage your eyes, but it's not going to break your nose. That said, a pellet can still leave a nasty bruise, which can be problematic if it's on your face.
Fogging can be a problem with many full-face masks. This can be a problem with goggles as well but to a lesser extent. That said, many full-face masks have built-in fans to aid with ventilation. This can significantly reduce fogging, ensuring that you've got a clear view of the playing field.
Adjustment options are usually better on a half-face mask. This is a no-brainer. Since the mask and the goggles are separate components, you can adjust them both independently, which allows them to fit a wider variety of faces. But there are exceptions, depending on how many straps are used.
Full-face masks also tend to be more expensive. This isn't always the case. For example, a relatively cheap full-face mask will cost less than a top-of-the-line half-face mask. Still, if you're trying to save a few bucks, a half-face mask and some goggles will be more economical.
Metal or Plastic?
Many different materials are used to construct airsoft masks. But primarily, they're going to fall into two categories: plastic and metal mesh.
Plastic is generally favored because it's easier to mold. Masks with unusual shapes or crazy designs are almost always constructed from plastic. And quality plastic can also be quite strong. When properly constructed, you can shoot a plastic mask point-blank with an airsoft sniper rifle and it will maintain its integrity.
That said, solid plastic isn't breathable. This can lead to fogging in full-face masks. It also makes it harder to, you know, breathe. If you're looking for a plastic mask, find one with large vents or even with built-in ventilation fans.
The metal mesh is a more affordable option for more mundane masks. Not only is it inexpensive, but it's also lighter than plastic, and it's naturally breathable. Metal mesh masks don't typically fog up.
That said, metal mesh isn't as protective as plastic. A point-blank shot can oftentimes punch through it, although point-blank headshots are generally frowned upon in the airsoft community, to begin with.
Some airsoft masks, like the OutdoorMaster we reviewed, have a hybrid design, with plastic construction and metal mesh eye covers. This prevents fogging entirely, while still allowing for some level of visibility.
Eye Safety
According to the American Academy of Ophthalmology, airsoft pellets can cause serious eye injury. These injuries can include detached retinas, corneal scrapes, bleeding of the eye, and even rupture of the eyeball. And as airsoft grows in popularity, these injuries are becoming more common every year. Sorry if we put any awful images in your head. That's just the nature of the sport.
Thankfully, proper eye protection can reduce or eliminate these risks. The most common choices are goggles or built-in visors. Both of these methods protect your eyes with polycarbonate or other hard, shatter-proof plastic. This ensures that even if you suffer a direct hit, the BB will not get anywhere near your eyeball.
The other choice is metal mesh, which we've already touched on. It's almost as effective as polycarbonate and is equally effective at any range outside a few feet. However, BBs sometimes shatter on impact. This can lead to small pieces penetrating an intact mesh, scratching your eyes. This isn't as serious a concern as a hit from an intact BB, but it's still something to think about.
Best Airsoft Mask Brands
Before you buy, it's a good idea to know a thing or two about the company you're buying from. To that end, we've done our research. Here's a little background info on our top manufacturers.
Valken Sports is a local company based in Logan Township, New Jersey. They got their start as a simple paintball shop but soon discovered that there's a lot of demand for quality airsoft gear. Since then, they've started manufacturing dozens of their own products, and have made them available online and through local dealers.
Outgeek is a China-based company that specializes in making products for hobbyists. They might be based in China, but they have a long track record in both the US and Europe. Their product lineup includes such disparate products as airsoft tactical gear and Christmas decorations.
Gen X Global is one of the better-known manufacturers on the market. They've been in business since 2002, and they manufacture equipment for both paintball and airsoft. They're based in the US and sell their products both online and through authorized retail dealers.
OutdoorMaster is a Texas-based manufacturer of outdoor wear. They cut their teeth by selling skiing and camping equipment. As a result, they have years of experience manufacturing rugged, durable equipment, which means they're well qualified to sell airsoft gear.
FAQ
Before we wrap up, there are a few common questions we thought we should answer. Here, we'll tie up our loose ends.
Q: Why is Ventilation Important?
A: Ventilation is important for two reasons. First off, it's essential because it allows you to breathe. But secondly, it also reduces fogging. Finally, good ventilation keeps you cool, which means you won't have to worry about sweat dripping into your eyes.
Q: What Are Some Good Ventilation Solutions?
A: The easiest option is to use a half-face mask. These masks almost always have better ventilation. At the very least, the hot, moist air you breathe out will be separate from your goggles. Metal mesh eye covers are another option, as we've already discussed. Yet another option is to use a mask with ventilation fans. These fans will actively push air through your mask, keeping your air clean and your view fog-free.
Q: What are the Advantages and Disadvantages of Powered Ventilation?
A: The advantage of powered ventilation is obvious. It provides significantly more airflow than simple breathing slots or even metal mesh. However, ventilation fans add weight. They also produce sound. Typically, they're not loud enough for your opponents to hear. But a pair of fans under your chin can make it hard to hear someone who's sneaking up on you.
Q: What About Adjustability?
A: The adjustability of an airsoft mask is primarily going to depend on the straps. The more individual straps you have, the more you'll be able to customize the fit. There are two main types of strap: nylon weave and elastic.
Nylon weave straps are more secure, and they don't dig into pressure points. They're also very durable. However, they tend to have a limited adjustment range. Elastic straps, on the other hand, are almost infinitely adjustable. However, when they're tight, they can dig into pressure points and even give you a headache.
Wrap-Up
So, which one of our choices is the best airsoft mask? As is so often the case, it depends on what you're looking for. If you want something lightweight and breathable, with plenty of protection, the OutdoorMaster is tough to beat. It also looks intimidating. That said, the mesh eye protection isn't as safe as polycarbonate, and your peripheral vision is limited.
The Outgeek M50 offers even better ventilation with a design that's almost as intimidating. The powered fans make a little bit of noise, but they ensure good airflow even on a stagnant, sweaty day. And the wrap-around eye shield offers an excellent peripheral vision.
The Outgeek Half Face Mask is an ideal choice if you want a half-mask. It protects the most essential parts of your face while allowing for easy adjustment. It's also very breathable, and eye protection is well-designed. The only downside is that the polycarbonate eye shield can produce glare in bright conditions.