There's something so outrageously delicious about pizza that you get in a restaurant. It's hard to duplicate at home—unless you learn how to build a pizza oven in your backyard. It's all about the heat. The pizza browns perfectly. The cheese gets melted and gooey. Yummy!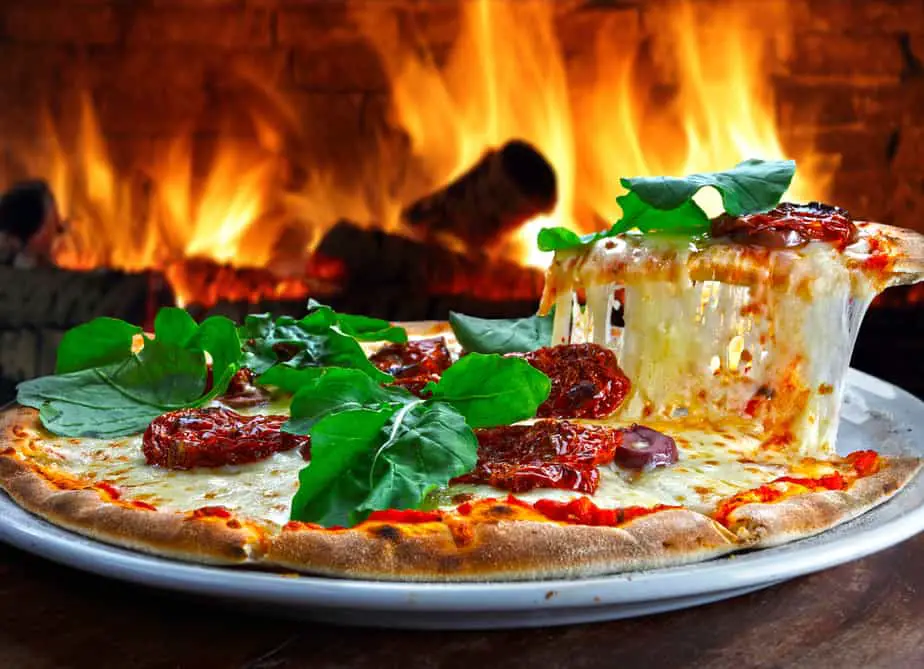 If you're jonesing for this feature as part of your landscaping, you're in good company. The 2018 Residential Landscape Architecture Trends Survey found that outdoor kitchens were the fifth most popular outdoor design element. It makes sense too.
People are finding more value in their yards, especially when you add things like a fire pit, outdoor furniture, or a deck to your backyard. It's natural to add a pizza oven to the mix. Luckily, it's a project that offers lots of flexibility for DIY work and hiring out steps that are out of your wheelhouse.
Honestly, the hardest part of building a pizza oven is all the downtime while you're waiting for things to dry or cure.
Before You Begin…
We suggest that you make a few phone calls before you start your project. First, contact your city hall and homeowner's association. Some municipalities have ordinances against wood burning. You may also need a building permit for this type of construction.
Also, the work will involve digging. That means you'll need to call 811 to find out where the utility lines are located on your property.
Step 1: Choose a Location
There are two vital things to keep in mind when deciding where to put your pizza oven: the high temperatures and the weight of the structure.
Depending on the construction, you can easily deal with the first item with insulation that will make the oven cool to the touch. However, there is still an open fire within it. Therefore, we strongly urge you to install it well away from the exterior walls of your home or deck.
A pizza oven is heavy. We're talking over 1,000 pounds when taking into account its foundation, the base, and the oven itself. Balance that fact with accessibility to the site.
Step 2: DIY or Kit? That is the Question!
You have two options for the pizza oven. You can build it from scratch, which can save you a lot of money—if you know what you're doing. Alternatively, you can go this route using a form to take the guesswork out of the design. There are also numerous free pizza oven plans you can follow, which will walk you through the process.
Another option is to buy an oven kit. You'll still have to assemble it, but you'll find it a lot easier if you've never worked with mortar. It'll also save some time so that you can fire it up quicker. On the downside, they aren't cheap. They're also heavy and may require special equipment to install them.
Even if you build a kit, we'd suggest looking at some plans anyway to give you some ideas about the final design of your pizza oven and its footprint.
Chicago Brick Oven® Residential Outdoor Pizza Oven Kit, CBO-500 DIY Kit
UNPARALLELED PERFORMANCE: CBO Ovens 1) hold heat longer 2) heat faster 3) can cook in excess of 1000°. All thanks to a proprietary blend of commercial grade refractory cement.
REMARKABLE FLAVORS: Anything cooked on a grill or in a conventional oven can be prepared in a wood-burning oven. The difference? Everything tastes better when it's wood-fired.
ENDLESS MENU POSSIBILITIES: Signature FlameRoll generates high, even temperatures, allowing you to fire up anything including grilled meats, roasted vegetables, bubbling cheeses, flaky pizza crusts, and more.
MADE IN THE USA: High-performance outdoor pizza ovens sourced and made in the USA to ensure safe and reliable year-round cooking.
CERTIFIED: For Residential & Commercial Indoor or Outdoor use. Conforms to UL Subject 2162, NSF/ANSI STD 4 and are certified to ULC STD S627.
Last update on 2023-05-20 / Affiliate links / Images from Amazon Product Advertising API
---
Step 3: Pour a Concrete Slab
This task involves several steps, some of which are tough work. However, you'll save some cash doing them yourself. The steps include:
Digging out a 6-inch base layer
Building a form for the concrete
Setting down a gravel layer
Laying down rebar for reinforcement
Pouring the concrete
Flattening the layer
The decision to job it out rests with the size of your pizza oven. Give some thought about how large of a surface you want for the base to determine how big a slab you'll need. For example, you might want some extra countertop space to help with food prep.
We'd suggest leaving at least a foot or two of space around the oven if just to keep the little ones a safe distance away from it.
You'll have to wait until the concrete is set before continuing to the next task. Unless it's very humid, you should be good to go the next day.
Step 4: Build the Foundation
Cinderblocks make an excellent base for a pizza oven. They're inexpensive. If you stagger them, you don't have to worry about mortaring them in place. Of course, they aren't the most attractive building material. But we have a solution for that…
Brick tiles to cover up the blocks.
There are several options for creating your foundation.
You can build a square of staggered cinderblocks about waist-high and fill the interior with stone, sand, gravel, and vermiculite.
Another thing you can do is place lines of rebar in every other hole and fill them with cement. It'll provide some added insurance that the structure will stay in place.
Otherwise, you could create a solid base of cinderblocks, which you can then fill with concrete. It's a smart choice if you're going to install a larger and heavier pizza oven.
Step 5: Pretty it Up with Brick Tiles
For this task, you'll need a trowel, mortar, and an appropriate number of corners and tiles for the size of your foundation. They are easier to work with than regular bricks. We'd suggest using a spacer between the individual pieces for a more uniform look. Wait the recommended drying time before moving onto the next step.
Doesn't that look a lot better?
Last update on 2023-05-20 / Affiliate links / Images from Amazon Product Advertising API
---
Step 6: Prep the Support Layer
Again, you have some choice about how to proceed. You can go with a wood or iron frame. Then, you'll place a backer board insert and rebar within it on which you'll pour another cement slab. Like your base layer, it must cure for a least a day before the next task. You can then add an insulation board on top of the concrete.
If you're using a kit, it may include other types of insulating layers that you can use instead. Be sure to follow the manufacturer's instructions on placement.
Step 7: Start Construction of the Pizza Oven
The procedure will vary, depending on your choice of an oven. If you have a kit, it's simply a matter of following the necessary steps in your user manual.
If you're using a form, you can place it on the countertop and position it where you'd like it. You may find it helpful to draw an outline with a carpenter's pencil around it. That's also a smart move if you're working from a plan.
The basic steps include the following:
Creating a base of fire bricks
Building the exterior, preferably with fire bricks too
Adding an insulating blanket over the oven
Forming the arch
Leaving space for a chimney
It's imperative to use fire bricks instead of the typical red ones used for masonry. The former can handle the extreme temperatures within the oven and won't crack. You can use a mud mix like adobe with sand and clay. Fireclay or refractory grout is also also a good choice.
The insulating layers will ensure that the warmth stays within it and not dissipate to the area around the oven. It will also keep the outside cool to the touch for a safer cooking environment.
Even if you don't use a form for the entire structure, using one for the arch is a smart way to get the correct shape and keep the bricks in place until the mortar dries.
Putting in a chimney helps fuel the fire and direct the smoke upward instead of out the front and in your face. You can build it with bricks or use a pre-fabbed one. Aesthetics is the main consideration. You can apply an outer coating of a material such as stucco once everything is dry and cured.
SHANGPEIXUAN Perforated Pizza Peel 12 Inch with 33 Inch Handle Rectangular Pizza Turning Peels Professional Anodized Aluminum Pizza Paddle
RUGGED AND DURABLE: The perforated metal pizza peel is made of lightweight and durable hard-film anodized aluminum, which has strong abrasion resistance and unparalleled heat resistance.A long-term investment in any pizzeria.
PERFORATED DESIGN: The perforated peel allow for the release of flour from the bottom of the dough, reducing the chances of burnt crusts. It also assists in reduced friction when moving pizzas, leaving movements in and out of the oven smooth and incident-free.
EASY TO OPERATE: Flexible head allows for a scraper effect making it easy to remove pizza dough from countertops. The handles of the Pizza Paddles have an oval tubular design, Strong yet light as a feather, Offers optimal grip and stability.
CLASSIC RECTANGULAR SHAPE: The rectangular shape helps keep the peel stable in your hands.The classic rectangular shape of the peel offers a large surface area to easily support pizzas as they're being moved, and the front of the peel is milled to make an easy grip point to lift pizzas.
USER-FRIENDLY KITCHEN TOOLS: This long pizza spatula is a excellent Father's Day, Mother's Day Gifts,Christmas Gift,Thanksgiving kitchen accessories,Boxing Day specials to your famlily,friends.Must have kitchen products,100% Satisfaction Guarantee.
Last update on 2023-05-20 / Affiliate links / Images from Amazon Product Advertising API
---
Step 8: Cure the Pizza Oven
This step is essential to make sure the interior of the oven is completely dry. Otherwise, the bricks may crack if you get an uber-hot fire going without completing this task.
The object is to create a small fire within the unit first. You'll allow it to burn for several hours, repeating it for four or five days. Patience is the key because it will make certain that the insulating layers and stay intact for better performance.
You can also build a fire in a grill and add it to the pizza oven to give you more control over the temperature. Ideally, you'll be able to keep your hand over the coals for over 10 seconds for the proper temp around 200 degrees Fahrenheit.
Step 9: Routine Maintenance Will Keep the Home Fire Lit
The best thing you can do to ensure that your pizza oven continues making delicious foods is to keep it clean. Brush out after each use. No one likes charred blackened bits. We'd also suggest covering your pizza oven with a tarp when it's not fired up and on the job.
It's also a smart idea to inspect it at the start of each season, especially after a winter with extreme temperatures. It's a good time to make repairs of any cracks that may have developed because of the cold weather.
Final Thoughts
While it involves a lot of hard work, there's no replacement for the satisfaction you'll feel when you pull that first pizza out of the fire. Learning how to build a pizza oven in your backyard is a straightforward task with plenty of ways to make the job easier. Properly done, you'll get years of enjoyment out of it. And don't stop at pizza! Anything you can put in an oven will cook up nicely in it.