You might not give them a lot of thought, but having the best soccer socks is an excellent way to cut the distractions and put your focus where it belongs—on your game! You'll likely notice that there are dozens and dozens of products from which to choose.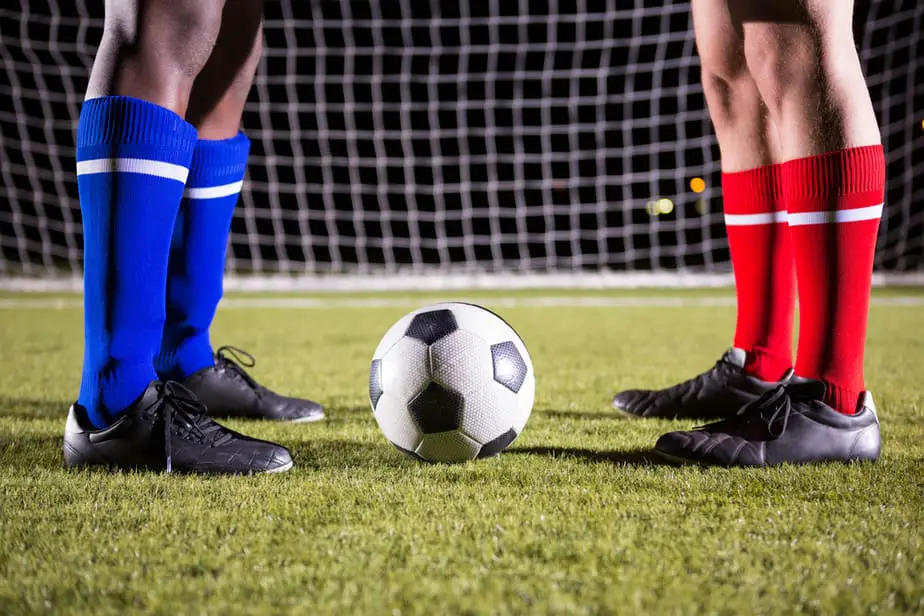 Our guide will help you decide from all the options which ones are best suited for you. We'll discuss several features of soccer socks that can make a difference in comfort and performance. If you've struggled with finding the right pair with adequate support, we have the answers and information you need to make an informed purchase.
Your feet will thank you.
In a Hurry? Here's Our Top Picks…
| Image | Title | Price | Buy |
| --- | --- | --- | --- |
| | Mid-Calf Crew Anti Slip Sport Socks Soccer Football Beesox (White) | | CHECK ON AMAZON |
| | adidas Unisex Metro IV OTC Soccer Sock (1-Pair), Black/White/Night Grey, 9-13 | | CHECK ON AMAZON |
| Top | Under Armour Soccer Over-The-Calf Socks, 1-Pair, Black, Shoe Size: Mens 8-12, Womens 9-12 | | CHECK ON AMAZON |
| | TCK Prosport Performance Tube Socks (White, Medium) | | CHECK ON AMAZON |
| | MadSportsStuff Soccer Ball Crew Socks (Black/Electric Blue, Small) | | CHECK ON AMAZON |
Product prices and availability are accurate as of the date/time indicated and are subject to change. Any price and availability information displayed on [relevant Amazon Site(s), as applicable] at the time of purchase will apply to the purchase of this product.
Prices pulled from the Amazon Product Advertising API on:
1. Under Armour Adult Soccer Over-The-Calf Socks
Under Armour Kids' Standard Soccer Over The Calf Sock, 1-Pair, White, X-Small
Shoe Size: Youth 8.5K-13.5K
Under Armour's mission is to make all athletes better through passion, design and the relentless pursuit of innovation
Where we started? It all started with an idea to build a superior T-shirt
The technology behind Under Armour's diverse product assortment for men, women and youth is complex, but the program for reaping the benefits is simple: wear HeatGear when it's hot, ColdGear when it's cold, and AllSeasonGear between the extremes.
Last update on 2023-09-02 / Affiliate links / Images from Amazon Product Advertising API
Under Armour Adult Soccer Over-The-Calf Socks tick off a lot of the boxes we like to see with these types of products. They are lightweight, comprised of a blend of synthetics including nylon, polyester, and spandex. That gives them a snug fit that keeps them in place no matter how active you are.
We also like the fact that they do an excellent job at moisture wicking to keep your feet dry. The anti-odor feature is another thing we appreciate with sports gear like socks. You also have your choice of nine colors including white and black. They measure 14 inches with plenty of material to fold over your shin guard.
Pros
The arch support is excellent.
The construction of the socks means no seams for a more comfortable fit.
The breathability and moisture-wicking are top-notch.
The socks are affordably priced.
Cons
Some individuals may find the socks a bit tight.
Check Price and Reviews on Amazon
---
2. TRUsox Mid-Calf Crew Cushion Soccer Socks
Sale
Trusox Standard 3.0 Cushion Crew Socks, Navy, Small
TECHNOLOGY: TRUsox patented INEXtech helps you change direction quicker, maximizing the power transfer from foot to footwear
HOW TO WEAR: Since TRUsox simultaneously grip your foot and footwear, they must be worn with direct contact to both the foot and shoe
THIN VS CUSHIONED: Thin version is worn with newer boots that are tighter on the foot. Cushioned best for boots that have been broken in
BENEFITS: The added friction maximizes energy transfer in every step, resulting in excellent control, and increased agility
CARE: Machine wash in cold water with like colors. No Bleach. Hang dry
Last update on 2023-09-02 / Affiliate links / Images from Amazon Product Advertising API
TRUsox Mid-Calf Crew Cushion Soccer Socks differ from a lot of products you'll find because of its anti-slip feature. One major complaint many athletes have is blisters. These socks alleviate that problem by staying in place while providing extra stability when you're on the field. They are also comfortable with a blend that includes nylon, cotton, and spandex.
The product is well-made, albeit, expensive for what it is. While they fit well, the care is a bit of a pain. Washing in cold water is imperative, whether you hand wash them or throw them in the washer. You also have to let them air dry, which can make odors an issue. Overall, the socks are a suitable choice for athletes that have issues with blisters.
Pros
The product works as described with excellent balance.
Your feet stay dry, thanks to its moisture-wicking properties.
The socks are well-constructed with plenty of support.
Blisters are a non-issue with these socks.
Cons
It's best to hand wash the socks to keep the anti-slip feature intact.
The socks are expensive.
Check Price and Reviews on Amazon
---
3. Adidas Metro IV OTC Soccer Socks
Last update on 2023-09-02 / Affiliate links / Images from Amazon Product Advertising API
Adidas Metro IV OTC Soccer Socks cover a lot of bases with a well-designed product. The support is excellent through the arch, along with the compression around the ankle. The quality is evident when you put them on your feet. They are lightweight with a blend of nylon, polyester, latex, and spandex. However, the inclusion of latex makes them a dealbreaker for individuals with allergies.
You get your choice of 16 colors, including some outlandish striped offerings. The price is right for these socks, considering the quality and support. You can wash them and put them in the dryer on low. The fit is snug but not too tight.
Pros
The support in the design is well done.
The care is easy-peasy.
The moisture-wicking properties are excellent.
Cons
The addition of latex can be problematic for some individuals.
The socks are slick because of the high amount of nylon in the blend.
Check Price and Reviews on Amazon
---
4. TCK Prosport Performance Tube Socks
No products found.
TCK Prosport Performance Tube Socks are a well-made product, thoughtfully designed for the athlete. They look good, considering what they are. They fit snug without bunching to prevent blisters. The moisture-wicking and odor control properties are excellent. Care is easy too since you can put them in the washer and dryer.
There are 23 color choices to please just about anyone. The support is well done throughout the construction of the arch and heel. The blend is primarily polypropylene with some spandex for elasticity. The combination is a winner that stays in place.
Pros
For tube socks, they look great.
The design and construction is top-notch.
The elasticity holds up well to regular use.
They are comfortable with ample moisture-wicking properties.
Cons
The socks run small, especially after washing.
Check Price and Reviews on Amazon
---
5. MadSportsStuff Soccer Ball Athletic Crew Socks
MadSportsStuff Soccer Ball Crew Socks (Black/Neon Orange, Medium)
PERFECT SOCCER SOCKS: Add of a touch of fun to the season with this fresh take on the traditional soccer sock. This sock is a crew length (hits mid-calf) and comes in many team color combinations. Sure to be a hit with young girls and teens alike!
ACCURATE SIZING: MadSportsStuff Sock Size: Small - Youth Shoe Size 12-5, Medium - Womens Shoe Size 5-10 Mens Shoe Size 5-9, Large - Womens Shoe Size 10-13 Mens Shoe Size 9-12, X-Large Womens Shoe Size 13+ Mens Shoe Size 12+
PERFORMANCE MATERIALS: Fiber Contents: 77% Polypropylene, 17% Nylon, 3% Elastic , 3% Lycra Spandex
PERFORMANCE FEATURES: Moisture Wicking, Arch and Ankle Compression to reduce fatigue, Blister Control, Lightweight, Double Welt Top, Heel/Toe Design, Advanced Yarns Help Control Odor
QUALITY CONSTRUCTION: Made with love in the USA
Last update on 2023-09-02 / Affiliate links / Images from Amazon Product Advertising API
MadSportsStuff Soccer Ball Athletic Crew Socks aim to bring fun to the game. The features include many that serious soccer players will appreciate, starting with a double welt top that keeps them in place. The support in the construction is first-rate with arch reinforcement and well-placed padding where you need it to prevent hotspots.
These socks are ones that you'd wear for casual games instead of serious match play. The design screams for attention with 11 color choices. They are crew length. On the downside, they do run small, so you'll need to order up to get the right fit. On the positive side, the manufacturer is USA-based and family-owned.
Pros
The support is excellent where you need it most.
They provide great protection against blisters.
The product is USA-made.
The manufacturer backs up their product with satisfaction guaranteed.
Cons
Some may find the design too unconventional and gaudy.
Sizing runs a bit small.
Check Price and Reviews on Amazon
---
Soccer Socks Buying Guide
Few sports are as physically demanding as soccer. The energy is constant. That's why it makes sense to find the best soccer socks to keep you comfortable and blister-free so that you can focus on the gameplay.
Socks have come a long way in recent years with new materials and technologies that can have a direct impact on your game. While you can find multi-purpose athletic socks, you'll also see ones designed specifically for the demands of soccer. Things to consider include the following:
Length
Materials
Moisture-Wicking
Construction
Arch Support
Compression
We'll cover each one in detail with tips for making the right choice for your style of play.
Length
If you're not a fan of long socks, getting them for soccer is a smart idea for several reasons. For one, it'll keep your shin guard in place with extra to spare. There is also the look that many pro players sport. You'll likely see terms such as "OTC," which means over the calf that applies to these products.
We can't forget the fact that the more skin you have covered, the better protection you'll have from scrapes and cuts.
There are other styles as you'd find with any type of athletic socks, such as crew length. These are an excellent choice to give you more freedom of movement and perhaps keep you just a bit cooler on the field.
Materials
The materials play a significant role in comfort and durability. Remember that your socks will see a lot of time in the washer. You need something that can handle that punishment of regular washings.
Cotton is a popular choice simply because it's comfortable and affordable. However, it's not the best option for sports like soccer. The problem is that when it gets wet, it stays wet for a long time. It can also promote instead of preventing blisters.
There is a vast array of synthetic materials that are better suited for activewear. Think of things like acrylic and Lycra spandex. The overriding advantage of these types is that they are lightweight and durable, two factors that are essential when playing soccer. On the downside, they won't keep you warm, which may make them less appropriate if you play outdoors in cooler conditions.
You'll also see proprietary materials such as Dri-Fit and Climalite. These products strike a balance between comfort and durability that you may find worthwhile. Many socks are a blend of two or more kinds.
Moisture-Wicking and Breathability
Moisture-wicking is an essential feature of the best soccer socks. They will keep your feet dry to help prevent blisters and reduce odors.
When your core temperature rises, your body will try to dissipate heat by directing more blood flow to your extremities like your hands and feet. That makes breathability crucial for keeping you more comfortable.
We consider this feature essential for any socks you wear when active.
Construction
We prefer soccer socks with a snug fit to prevent wrinkles that could cause chafing. Likewise, seamless ones are a must-have for the same reason. Having your socked feet rubbing against anything in your cleats is asking for trouble.
You'll typically see soccer socks with extra padding in areas that take the brunt of the force of movement, such as the heels or balls of your feet. However, there is a fine line between comfort and discomfort. Therefore, we recommend trying them on with your soccer footwear to make sure they aren't too tight.
We'd suggest looking for pairs that have a left and right sock, as opposed to one size fits both. The position of any extra padding will provide better protection if they are fitted for one or the other.
Arch Support
Arch support is vital for a sport like soccer. You're constantly on the move, often making quick moves in various directions. It'll give you the extra stability you need when the gameplay gets active. You'll see this feature in the construction of the socks with reinforced padding for that extra underpinning to help prevent common sports injuries such as plantar fasciitis.
Compression
The degree of compression directly impacts circulation in your feet and legs. You'll see this spec measured in mmHg. The higher the number, the greater the effect. It is a matter of preference with some leaning toward a fit that is less tight. However, you might find this feature more important if you have problems with your feet swelling.
Best Soccer Socks Brands
Adidas
Adidas is a household name from its roots in 1924 to Jesse Owen's use of the company's products at the 1936 Summer Olympics. In 2019, it surpassed its most ambitious milestone yet, selling over 1.1 billion items and making it the world's second-largest manufacturer of sporting goods.
TRUSOX
The TRUsox company puts performance and innovation in the spotlight with its proprietary non-slip construction in its line of athletic socks. The result is improved stability and better control.
Under Armour
The primary mission of the Under Armour company is the performance. From its humble beginnings in 1996, it is a global brand that has established itself on several playing fields from baseball to American football to golf.
Frequently Asked Questions
Q: Why do soccer players wear long socks?
A: The reason that soccer players choose this way of wearing socks is twofold. It's traditional and part of the image of the sport. There are also practical considerations. The materials protect your legs from the roughness of the turf.
If you hit the ground, the chances are it's going to hurt—a lot with nothing between your skin and the point of contact. How you wear your socks is also a matter of preference and team rules.
Q: Why do soccer players wear double socks?
A: Protection plays a part with this answer too, only the primary considerations are cushioning and blister prevention. Nothing can sideline you quicker than a hotspot. Bear in mind that perspiration and elevated body temperatures are the perfect storm for infections to develop too. Therefore, moisture-wicking is also a vital consideration.
Q: Is it normal for my socks to leave marks?
A: The tighter your socks, the more likely you'll see marks on your legs when you remove them. That's because of materials like elastic that keep them from sagging. Remember that your calves will likely swell during gameplay too. That will probably make it more noticeable, especially if they have a higher degree of compression.
Final Thoughts
The rapid-fire pace of the game makes investing in the best soccer socks a wise choice. As you've seen, advances in technology have resulted in a myriad of options for matching the right product to your preferences and playing style. They may not top your list of the most critical items, but they can make a huge impact on your game.