It used to be that your yard was the place you sent the kids to play. There were the obligatory swing set and sandbox, along with a tree swing and a grill for the occasional cookout to celebrate a holiday like the Fourth of July. Let's just say that you've come a long way, baby! Join us as we discuss how to build a backyard oasis to take you away from the stresses of work and everyday life.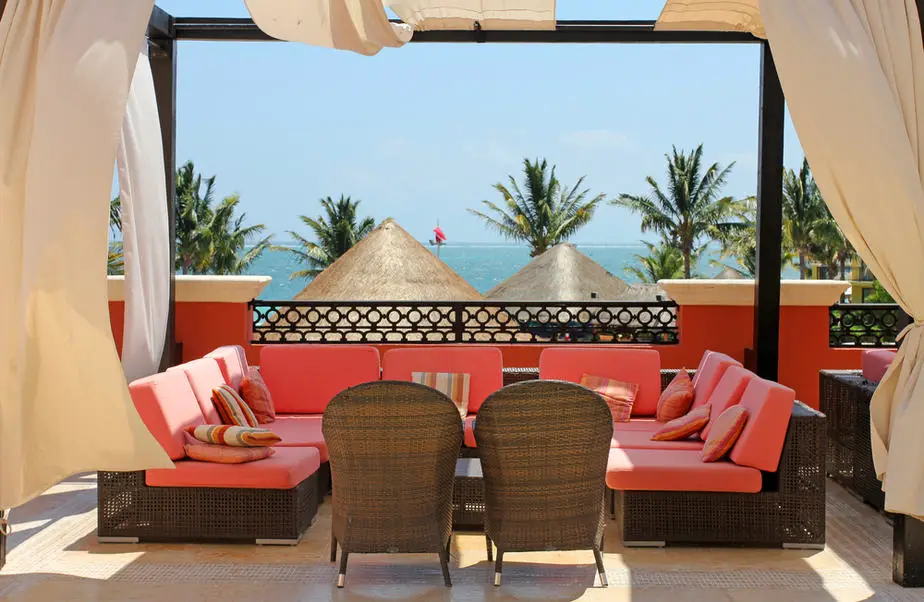 The key to making it your own is planning. We'll go over some points to keep in mind, along with tips to make sure you have all your bases covered. After all, we are talking about an oasis. There's no room for gotchas and other nuisances. Always keep the endgame in mind as you go through the process. Let that be your motivation.
Ready to find your happy place? Let's get going on a DIY project that will pay off in spades!
Step 1: Start with a Budget
We suggest beginning here, even though it's likely a cause of stress. The reason is that you'll likely follow the siren's call with all the things and little touches that can add up to some serious cash. Call it grounding. In these early stages, it's vital, even if it sounds dogmatic and boring. Remember that you're trying to make it a happy experience for the long term.
However, give yourself some wiggle room. Bear in mind that you'll likely find a more affordable substitute for most anything you simply can't do without. And you can save a lot if you take on as much of the prep and labor as possible. It'll also give you a sense of ownership, which is priceless. A sense of belonging is an essential ingredient in creating a backyard oasis.
Step 2: Define Oasis as You want it to Be
Oasis means a lot of different things, depending on who you ask. Let's start with the definition, "something that provides refuge, relief, or pleasant contrast."
Remember that you don't have to take up the entire yard. You can block off your own space and create a garden room. Keep that in mind if money is an issue. However, don't let space limit you. The area you have isn't necessarily a function of the amount of land you can devote to a backyard oasis. Sometimes, less is more.
Things you might consider include:
Flowers and pleasant scents wafting your way
Water features and white noise to reduce noise pollution
Privacy and a quiet space
Garden with vegetables, herbs, and fruits
Hot tub to relax and ease your aching muscles
One way you can home in on your ideal oasis is to brainstorm. Write out a list of words that come to mind immediately when you imagine your space. We'd also recommend adding what each thing needs, whether it's a power source or water. Don't forget to give some thought about maintenance too. A line of rose bushes is lovely, but the upkeep is another story.
Think of what you want else is part of your oasis. Is grilling out a part of your vision? Or would you rather just veg out and hang out with family and friends? Is entertaining others on the menu? Do you envision it as a daily retreat or something that you plan to use only during the warmer months? After all, a backyard oasis doesn't have to have a season.
Make a list of the things you'd like. You're not writing these things in stone. You're merely letting your imagination run wild and ultimately, guide your choices. We suggest prioritizing each of the components. It'll make it easier if you're toeing the line of your budget too closely. You may find that you have to mix up different elements to get the right mix for your budget and comfort.
Make sure to get the dimensions of the elements you want to add. That includes any plants, too. Use the expected widths and heights to avoid any nasty surprises down the road. We prefer a straight and narrow path.
Also, think about what you don't like about your yard. Now is the time to find a way to hide that air conditioner and make it less of an eyesore in your oasis. Consider this project an opportunity to tick off a lot of the things on your honey-do list.
Sale
Intex 28481E Simple Spa 77 Inch x 26 Inch 4 Person Outdoor Portable Inflatable Round Heated Hot Tub with 100 Bubble Jets, Carry Bag, and Cover, Gray
Pamper and treat yourself with the 100 soothing high-powered jets that give you the ultimate spa experience in relaxing water up to 104 degrees Fahrenheit
Round 77 by 26-inch above-ground blow-up tub provides relaxation at the touch of a button for up to 4 people with the easy-to-use tilt-adjustable control panel
Spa for adults has a built-in hard water treatment system ensures a gentle feeling on skin, clothes, and the entire spa system; Water capacity: 210 gallons
Includes insulated cover, heater/blower system, 2 filter cartridges, thermal ground cloth, inflation hose, carry bag, floating chlorine dispenser, and test strip
Disclaimer: This item requires 28523E energy efficient cover for purchases shipped to California, if not, the order is subject to be canceled due to shipping restrictions
Last update on 2023-11-19 / Affiliate links / Images from Amazon Product Advertising API
---
Step 3: Think About the Theme of Your Backyard Oasis
A sense of cohesiveness can act as a significant stress reliever. Clutter, whether it's in your kitchen or your backyard, is aggravating. It nudges you to think about tidying up when all you want to do is relax.
Choosing a theme doesn't have to be a make-or-break deal with a formal English garden and topiaries. The relaxed look of a cottage garden invites lingering. Also, give some thought about the elements that you associate with it and how they can fit in with your overall plan.
You might find it helpful to think in general terms, first. Using materials like stones and wood can foster a connection with nature that many find relaxing and the perfect addition to a healthy lifestyle. Others find minimalist elements equally comforting with their simple lines.
The principles of design can provide some welcome inspiration. Don't forget about the psychology of color, either. Your choices can have a profound effect on your mood and thus, your satisfaction when considering how to build a backyard oasis. For example, cool colors like blue, earth tones, and green encourage relaxation versus the energy of yellow and orange.
Some possible color combinations include:
Seafoam green and white
Sky blue and taupe
Prussian blue and white
Mauve and silver
Gray and lavender
You might also find it helpful to take a lesson from art and look at the concepts of complementary and color harmony to help you decide on a scheme. You can then use it with the flowers you choose as well as the other design elements like garden furniture.
Warm and Cool Colors
When considering your color scheme, think about its color temperature. You're likely familiar with this concept when choosing cool versus warm lights in your home. The former are stark and bright, something akin to something you'd put in an office or your garage where you do other DIY projects.
Warm lights, on the other hand, are the ones that work well in your living room to encourage relaxation. Colors have a temperature too. Consider the coldness of a navy shade versus the warmth of a yellow ochre. We'd suggest keeping with one over the other to create harmony in your backyard oasis.
For example, you'll find hostas in yellow-green variegated strains that are warm colors. You'll also see varieties that appear bluish, denoting a cool hue. You'll likely see a broad variety in ornamental flowers, shrubbery, and other plants that run the gamut of warm to cool.
Step 4: Measure Once and Measure Again
Before you start browsing online, measure the area with which you have to work. It may sound tedious but trust us. You'll save yourself a lot of hassle in the long run. Don't forget to get the heights of any overhead eaves, power lines, or trees, too. And while you're at it, verify property lines if you're getting close to your neighbor's space.
Here is another area that can help you with planning if you are using shrubbery for borders. The spread of the plants will come into play here too.
Last update on 2023-11-19 / Affiliate links / Images from Amazon Product Advertising API
---
Step 5: Ask for Permission Instead of Begging Forgiveness
You should also give your city planner's office a call to find out what you need to keep the local government happy. We strongly urge you not to skip this step. Building permits aren't cheap, but they are a heck of a lot less cash than the fine that you'll get if you get caught—plus the cost of the permit. Yes, you may end up raising your property value and your taxes, depending on what you do.
Consider it the price of admission.
Step 6: Call 811
If you plan on doing any digging, call 811 first before your shovel meets the ground. The call is free. The fines and repair costs if you hit something is not. Enough said.
Doing so will show you where the utility and phone lines exist on your property.  Most will lie at least 24 inches below ground. Bear in mind that if you're planning on adding a deck, you'll have to put footings well below this distance because of the frost line. Depending on where you live, that could be three or more feet below the surface.
That puts you in the danger zone.
Step 7: Make Your Plan
Here is where the fun starts. You have your budget. You know what you want your backyard oasis to look like. Your measurements are in hand. Let's get busy!
You can go the old-school route with a pencil and graph paper—and an eraser. You can also free landscaping software that can simplify the task. Play around with different layouts. Don't be tempted to push the limits on adding plants. Remember that you're trying to make it a relaxing space without clutter to detract from its ultimate purpose.
We'd also suggest borrowing a tip from writers. Once you have a plan, set it aside and revisit it the next day with new eyes. Be sure to get the input of others in your household too, especially those who will lend a hand in its construction.
Step 8: Let's Go Shopping!
We'd recommend keeping some alternatives in mind. It's the bane of buying seasonal items that many products are as-long-as-supplies-last. Have some backups with the shops too. Brick-and-mortar shops offer the advantage of no shipping costs. On the other hand, online sites provide more choices.
Even if you stick with the internet, take the time to look at displays or other homes that have similar features. That way you can try it on, virtually.
Zero Gravity Chair- Arm Rest|Foldable for Camping Black
This chair is built with quality UV-resistant mesh, a sturdy Steel frame, and a comfortable removable pillow
Designed with a lockable reclining system, this chair adjusts comfortably to your body
An effortless folding mechanism provides easy transportation and compact storage
No assembly required
Last update on 2023-11-19 / Affiliate links / Images from Amazon Product Advertising API
---
Step 9: Lay Everything Out Before Placing Them
Everything looks different in real life than it does on paper or on the computer screen. That's why it's essential to put the stuff in place before you start digging and making it permanent. This dress rehearsal will save you a lot of effort. You can move things around if a different arrangement works better. Think of your plan as a recipe. You can still spice it up before it's complete.
Another way you can get a handle on the placement is to use spray paint to delineate the areas of the different components of your landscaping plan. We like this method because it forces you to think of the long-term layout of your backyard oasis.
Step 10: Step Back and Take it all in Before Setting Anything in Place
This one is our second favorite step. Now, you can get excited because you're almost done! But, don't forget about your measurements and placement. If you change anything drastically, look back at your plan to make sure it will still work.
Step 11: Making the Plan Happen
You don't have to do a lot of landscaping before you figure out that it's hard work that can take a toll on your back. It takes time to do it right, so don't rush to complete it a day. Be sure to wear work gloves and please use that knee pad when planting anything.
If you are adding flowers, trees, or shrubbery, dig holes of the recommended sizes on the label. Loosen the root balls gently and fill the spaces with water to give them a head start. If you're mulching around them, plan on getting as many bags as fit the area. Multiply the length times the width by the inches of mulch you want, divided by 12.
Most bags are either 2 or 3 cubic feet. Take your figure and divide it by the size you're covering to determine how many to get. The chances are that it's probably a lot more than you thought. If you're getting a lot of mulch, you might consider buying it bulk to save some cash.
If you have dogs that go outside in the yard, make sure to avoid getting cocoa bean mulch. It is toxic to these animals. It contains the same ingredients in chocolate, which, as we all know, is poisonous to our four-legged friends. Stick with more pet-friendly types like cedar or pine, instead.
Sale
Gorilla Grip Extra Thick Kneeling Pad, Supportive Soft Foam Cushioning for Knee, Water Resistant Construction for Gardening, Bathing Baby, Workout Supplies, Lightweight, Garden Work Gifts, Black
HIGH DENSITY FOAM FOR SUPERIOR CUSHIONING: constructed from ultra durable, high density foam, the 1.5 inch thick pad helps provide more support and helps reduce discomfort while you're kneeling; your knees will feel more comfortable in seconds; the thick cushion of the kneeling pad provides 70 percent shock absorbency for more comfort
DIRT AND WATER RESISTANT: even when used outdoors, pad is designed to withstand rocks, rubble, and moisture; pad is also water resistant, so it absorbs minimal water while you are outside on moist ground
WON'T BREAKDOWN OR COMPRESS OVER TIME: don't worry about the pad breaking down over time; the extra thick and durable construction of the pad can withstand use after use; designed to last for years to come
TEXTURED DESIGN: kneeling pad features a soft, textured topside and bottom that helps prevent slipping and sliding while in use
GARDENING, PAINTING, EXERCISE AND MORE: the versatile design of the pad makes it a great option for multiple tasks and activities; ideal for gardening supplies, yoga and exercise workouts, bathing your baby and kids, sporting events, camping, everyday household chores, plumbing, painting and more; even makes great gifts; pad measures 17.5 by 11 inches
Last update on 2023-11-19 / Affiliate links / Images from Amazon Product Advertising API
---
Step 12: Try it on and Tweak as Necessary
Your hard work is done. Now it's time to bask in the fruits of your labor. You'll likely find that once you're living in the space that you'll have a plethora of ideas about what you can add to it or change.
That's perfect!
When considering how to build a backyard oasis, it's essential to view it as a work in progress. The pre-planning takes care of practical matters like budget and measurements. Once you have the bones in place, now is the time to make it your own. Run with it!
If privacy or noise control were part of your must-haves, you can tweak your design to make sure that you're hitting all your major points as you envisioned them to be. We like to think of our backyard oasis as a living and breathing thing. We have no problems with adding an extra touch here or there.
Final Thoughts About Building a Backyard Oasis
The most important thing about thinking about how to build a backyard oasis is realizing that it's all about you and your comfort. It will live and grow with you and your needs. That's the best part of taking on this project. It's all about making your property, your space. We think that you'll find it one challenge that you'll love to take on and complete.