Having an HVAC system is a necessity, whether you live in a warmer or colder part of the country. But, let's face it. The compressor isn't the most attractive thing in your backyard. That makes it essential to learn how to hide an air conditioner unit outside to get rid of clutter and unnecessary elements in your landscaping.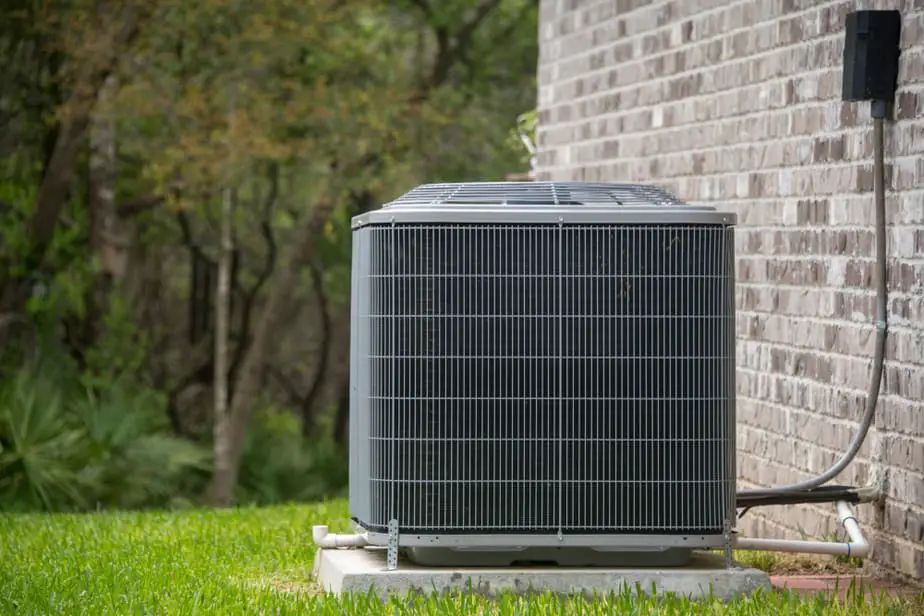 You have two challenges when figuring out how to deal with this eyesore. First, whatever solution you use must not block the free movement of air around the unit. That's because the air compressor, the outdoor portion of a split HVAC system, has to release the heat the refrigerant has taken from the interior of your home out into the environment.
Second, you can't just box it up and call it a day. Easy access is imperative for routine maintenance that you or your service rep will handle. It's also essential for repairs. An HVAC system won't last forever. You can expect to get about 20 years, give or take 10 either way. Therefore, make your camouflage easy to around or break down, if it's in the way of replacing the unit.
Step 1: Consider the Lay of the Land
This step can save you a lot of money when figuring out how to hide an air conditioner unit outside. You may only have to install some kind of screen, instead of enclosing the entire unit. Consider how you use your yard and when you or visitors will see the air compressor. For example, you may need to cover only one side if people only see it when entering your backyard.
Remember that the compressor probably is close to your house, anyway. It can provide the screen on one side, leaving you to figure out something for the rest.
Also, we encourage you to think of it as an opportunity to add another decorative element to your landscaping. You don't have to make it obvious that you're hiding something behind the visual barrier. Instead, make it a part of the overall design.
Step 2: Measure the Space You Need to Cover
As we mentioned earlier, air circulation is critical. We'd suggest at least 12 to 24 inches all around the unit. You have some wiggle room if you're not covering three or four sides. Consider the typical wind patterns to give you some insight into how much space you must have and how you'll have to set up your screen.
Take into account what angle you must cover to hide the unit. If visitors will walk by the air conditioner to use other parts of your backyard, you'll need to consider the vertical profile too. That'll mean a screen about 6-foot tall. Otherwise, you only have to cover it up to the top with some extra inches to hide it adequately.
Step 3: Review Your Options
This prep will give you the info you need to narrow down your choices. First, you don't need to have a solid wall around the air compressor. Lattice or slatted frames will provide both cover and enough airflow. You can also use fence sections that can also add a decorative element so that it seems less utilitarian.
Other materials you can consider include:
Pallets
Trellis
Hazel switches
Cement blocks
Bamboo screen
Patio pavers
Willow fencing
Potted plants
It doesn't have to be only a screen. You can make it functional and use it as a planter, garden seat, or storage. We'd encourage you to think out of the box since it'll add another layer of concealment. You'll find that many of the design elements you can use to create privacy will also work well for this task.
Another option is to visit your local antique store and find an old door, window shutters, or a room screen to repurpose. It'll make your solution a focal point and add some interest. After all, no one said that it has to be boring.
If you opt for a trellis or latticework with vines, make sure to consider the weight of the plants when you install your screen. Don't be tempted to put in a fast-growing and invasive variety that will take over the space—and then some!
We'd suggest going with an evergreen vine such as English ivy or purple wintercreeper instead of a flowering deciduous one so that you have the air conditioner covered year-round.
Master Garden Products Willow Twig Privacy Screen Fence, 48 by 96-Inch
These natural-looking willow twig fences will blend right into your garden; Provides complete privacy for your home
Easy installation, simply wire to a chain-link fence or attach to fence posts; Excellent for irregular and uneven landscape
Natural material, rapidly renewable resources
Last update on 2023-11-24 / Affiliate links / Images from Amazon Product Advertising API
---
Live Plant Solutions for Hiding Your Air Conditioner Unit
Alternatively, you can use shrubbery to hide the AC unit for you while adding to your landscaping. Plants with a sleeker profile like arborvitae are excellent choices. They will provide the year-round cover that you want without seeming obtrusive. Make sure to give the plants plenty of room adjacent to the compressor.
Also, you must keep up with routine maintenance like pruning to ensure adequate airflow. Clean out the space between the shrubbery and the AC, removing dead leaves and other debris that could interfere with its performance. Leave enough space around it so that you can access it easily.
Considerations When Using Other Materials
If you opt for something plain like cedar panels or pallet wood, you'll probably have to paint it every year or two to keep it from becoming the eyesore. Also, some materials like lattice are not as sturdy as solid wood. That means your fix might be a temporary one. Keep that in mind when you make your choice of a material to use.
Step 4: Do Your Homework if You Want to Dig
More likely than not, you'll have to pick up a shovel and anchor your screen into the earth somehow so that it can handle the wind and stay upright. It could be a formidable force, depending on the lay of the land since its location near your house could cause it to swirl and gain strength. That means that you'll have to dig, whether you're adding shrubbery or putting in a lattice screen.
But, there's one precaution that you must take.
Call 811 to arrange for your local utility company to flag the area around the air conditioner for lines and wiring. Some are closer to the surface than you may think. Also, make sure to give yourself some wiggle room around the marks, especially if it is an older house. After all, the previous owners have likely changed the surrounding yard and the landscaping.
As long as your screen isn't enclosed and is a smaller size, you probably won't need a building permit. However, it won't hurt to call your city planning office to play it safe.
Sale
Fiskars Digging Shovel - Heavy Duty Gardening Tool with Straight Handle - Lawn and Yard Tools - Black
GARDENING ESSENTIAL: Heavy duty, ergonomic shovel ideal for a variety of gardening tasks like digging in tough soil, digging all holes, turning soil, and more to encourage overall plant health and appearance
MAXIMUM POWER AND PRECISION: Welded 14-gauge hardened steel blade and 18-gauge steel shaft boost power for digging in tough soil and enhances rust resistance; Steel shaft handle allows for more control of shovel and withstands tough digging
LONG-LASTING AND RELIABLE: Sharpened steel blade penetrates tough soil with ease and stays sharp through heavy use, providing excellent durability for lasting value; Fiskars shovels and garden tools are built to last
QUALITY GARDEN TOOLS: Designed to help you cultivate a better garden, Fiskars garden and yard tools are equipped with smart technologies and award-winning, ergonomic features that make it easier and more enjoyable to transform your outdoor space
INCLUDES: 1 Fiskars Digging Shovel; Full lifetime warranty
Last update on 2023-11-24 / Affiliate links / Images from Amazon Product Advertising API
---
Step 5: Gather Your Materials
The next task is to get the supplies and hardware you need to install the screen. You have two options at this point. You can either use premade materials or make them yourself.
The advantage with the former is that it cuts down on your time and effort. You can complete the project in an afternoon. However, on the downside, you'll likely pay more for the convenience. On the other hand, you're not making a large structure. You may find that the difference in time and labor justifies the added expense.
The benefits of the latter include the ability to customize it to your needs and other uses if you're planning to add other elements like window boxes or a trellis for vines. Bear in mind that your project may require additional tools, depending on how elaborate your plan. It may also extend the time of your project.
Supplies and tools you may need include:
Tape measure
Hammer
Level
Speed square
Saw
Hardware
If it's a new installation, you also must have the supplies necessary for a platform on which the unit will sit. Often, it's a concrete slab, which can handle the weight of the compressor and the heat it generates. While you're considering the rest of the unit, you might want to extend your screen down to cover the platform or at least paint it so that it blends into the background too.
Sale
Last update on 2023-11-24 / Affiliate links / Images from Amazon Product Advertising API
---
Step 6: Install Your Screen
The best thing about this DIY project is that you can tweak it. Consider it a work in progress if you find that you see more of the air compressor than you'd like. You can even do a dry run and place everything in temporary spots to make sure it's doing its job before you commit to the final placement.
It's a smart option when you're figuring out how to hide an air conditioner unit outside since it forces you to consider all angles and the way people enter and use your yard. You can also use it as an opportunity to create a feature by drawing the attention away from your screen to the accompanying elements.
We'd urge you to incorporate the design with your landscaping theme to make the most out of it. For example, if you have a country garden, consider using a trellis with vines to carry on this natural look. Keep in mind that you may need to give any plants a wider berth because of the heat that the compressor emits.
Final Thoughts
Having an outdoor air compressor is a necessary evil if you want the comfort and convenience of an HVAC. However, you don't have to put up with this unsightly unit. There are many ways you can conceal it so that it doesn't detract from the ambiance of your landscaping.
The essential things to remember are access and circulation. As long as you cover these two things, you can install something that looks attractive while remaining functional. You'll probably find that learning how to hide an air conditioner unit outside is easier than you think.