Obstacle courses are not only fun but beneficial for kids! Why not set up a simple obstacle course for kids in your backyard?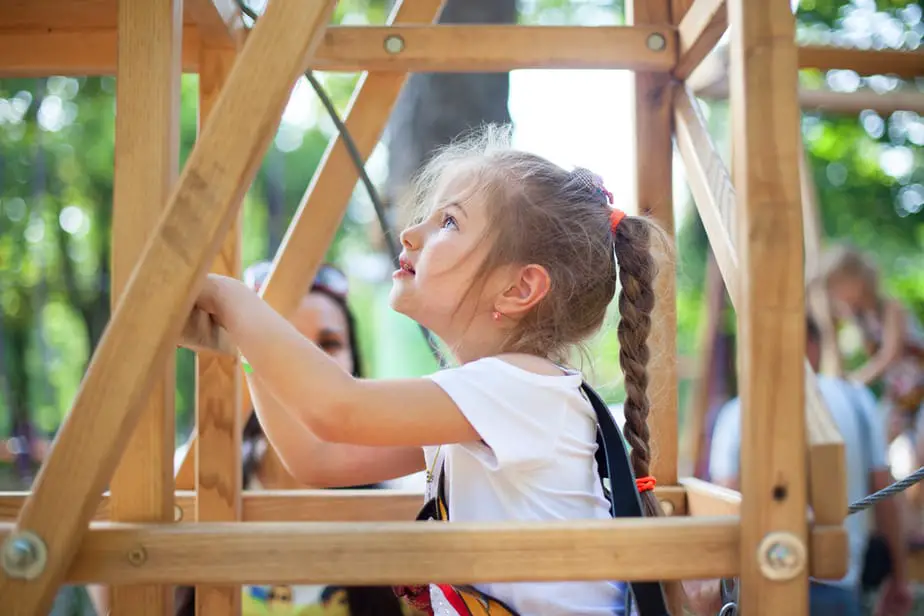 More and more kids are stuck in a sedentary lifestyle. Obstacle courses will not only engage them physically but will benefit their development.  Through multi-step sequences, children build their sequencing and memory skills. Obstacles provide a wide range of proprioceptive, linear, side to side and rotary sensory input. The course will also build strength and balance helping to improve their sports and dance skills. These are just a few of the multi-benefits of building an obstacle course for kids in your backyard.
Obstacle courses are beneficial to us parents, as well! You will be surprised how long your kids enjoy playing and running through the obstacle course. This will leave you free to do, well, whatever you want!
Obstacle courses for kids can be as short or as long as you want to make them. When your kids seem to tire of one layout, you can change the layout of the course for a whole new challenge! We have laid out easy and simple ideas to get your backyard obstacle course rolling!
Balance Obstacles
Every great obstacle course has some element of balance involved. These first few ideas will test participants' balance. Choose one or more of these ideas for your obstacle course.
1. Balance Beam
The classic balance beam never goes out of style. You can purchase a balance beam or make one yourself. If you purchase one, we suggest one similar to this one (pictured below).
To make your own balance beam, you will need a wood post that is 4 x 4 x 8. Eight feet long is a great length for a balance board, but you can opt for smaller or longer boards as well. To ensure the wood does not roll while walking on it you will need to attach some footings. Use a 2 x 4 board cut into 2 pieces about 18 inches each. Place the cut pieced about 6 inches from each end.  Secure with two wood screws.
Giantex 4 Ft Floor Balance Beam Gymnastics Equipment for Beginners & Professional Gymnasts Skill Performance Training Easy Storage (Blue)
Sturdy and Comfortable Balance Beam: Constructed with 0.5" EVA filler at top and 3.4" EVE filler at bottom, the balance beam integrates steadiness, durability and comfort, which can well support trainer while keeping you comfortable when training.
Easy to Connect with Magic Sticks: Composed of 2 parts, our gymnastic beam is perfect for your kid to choose the suitable length. And the two parts can be easy to tightly and stably connect with the 2 end magic sticks.
Easy Storage and Portability: This balance beam composed of 2 parts can be separated to a short size that is easy to store without occupying much space. And being lightweight makes it easy for transport so that you can easily move it from one room to another.
Suitable for Indoor Training: The balance beam make it possible to practice kicks, handstands, jump, leaps and other skill training at home or gym. The top surface is 4" wide that is suitable to do all kinds of professional training while ensuring safety.
Ideal to Improve Performance Skills: The gymnastic beam is perfect for kids to do performance training from basic balance skill to professional training, which not only improves professional skill for strength, but increases your kid's focus skill and eye-hand cooperation.
Last update on 2023-11-18 / Affiliate links / Images from Amazon Product Advertising API
---
2. Balance Buckets
If you are creating an obstacle course for younger children, balance buckets are a great option.  They can be used both indoors and outdoors.  Kids love pretending they are exploring and jumping across rocks while improving their physical agility and balance! Our favorite balance buckets are pictured below.
Last update on 2023-11-18 / Affiliate links / Images from Amazon Product Advertising API
---
3. Frisbees
Yes, you read that right! Frisbees are a multi-functional tool. In this case, we suggest using them as stepping stones! Lay your frisbees flat in a zig-zagged line. Space them far enough apart that the kids have to really stretch or jump to reach them. Arrange the pattern any way you want or have your kids create their own!
Jumping
Jumping tasks are another must-have for an obstacle course for kids in your backyard. This can include high walls, hurdles, tires, or lateral jumps.
4. PVC Hurdles
PVC hurdles can be made to any height and can easily be changed out for different heights. Three hurdles is a great number to start with in any obstacle course. Check out this website for instructions on how to make a PVC pipe hurdle. With elbow joints and pairs of pipes cut to your desired height, you can create a simple hurdle. By not gluing the joints, you can try out hurdles that are all the same height or have varying heights!
5. Pool Noodle Hurdle
Pool noodles are cheap multi-taskers. They make a great hurdle for kids. Purchase a couple of pool noodles next time they are on sale! You can create a hurdle by taping each end of the noodle to chairs or buckets of the same height.
If you don't have chairs or buckets to use, you can also create arching noodle hurdles. Just place two pens or chopsticks into the ground and put the noodle hole over each pen to create a noodle rainbow.
These pool noodles can double as hurdles or a crawl-through tunnel. Another idea is to create an over-under course by having them leap over the first pool noodle and crawl under the second. The kids will build agility as they increase their speed going over and under the noodles.
Pool Noodles, Fix Find 5 Pack of 52 Inch Hollow Foam Pool Swim Noodles, Bright Multi-Colored Foam Noodles for Swimming, Floating and Craft Projects
BRIGHT COLORED - This 5-pack assortment of big pool noodles are 1 lime green, 2 yellow and 2 red. These bright colors combined with the large noodles make them impossible to miss. Colors are subject to availability and may vary slightly from the images shown.
MORE THAN JUST SWIMMING - These foam noodles can be used for DIY projects or arts & crafts. The foam tubes work excellent for padding, edge cushion, or as creative kids accessory. Use your imagination to think of even more uses.
DURABLE & STRONG - These premium pool noodles provide excellent flotation for endless use whether you're in the pool or the lake. The soft, but firm foam allows for last use from even the most intense pool sword fights.
LARGE SIZED NOODLES - 52 inches in length, approx. 2-1/4 to 2-1/2-inch diameter with approx 3/4-inch hollow core. Due to the manufacturing process the actual length varies (+/- 1"). All Fix Find pool noodles are proudly made in the USA.
RECREATIONAL USE ONLY - These pool noodles are not a lifesaving device. These pool noodles are not meant as a flotation device for kids or adults.
Last update on 2023-11-18 / Affiliate links / Images from Amazon Product Advertising API
---
6. Pogo Jump
The pogo jump is a great skill developer. Have the kids jump from one starting point to the other on their pogo stick. You can even use this in areas of the yard that may not be covered with grass.
Sale
Geospace Jumparoo Deluxe Bungee Boing Foam Bouncing Toy - The Squeakiest, Easiest Pogo Stick Ever! for Kids 3 Years & Up, Pogo Stick
BOING, BOUNCE, SQUEAK - The Deluxe Bungee BOING is the easiest pogo for young children and beginners. Squeaks with each bounce, encouraging little kids to keep going!
ENCOURAGES GOOD HEALTH - Gets kids active and is great exercise; develops motor skills, strength, balance and coordination.
USE ANYWHERE – Can be used indoors or outdoors, easy to travel with and store away when not in use.
SUPERIOR DESIGN - High quality construction, made from durable foam and rubber. Foam handle bar provides a comfortable grip, independently tested and meets all US and European safety standards.
SPECS - Suitable for kids between age 3 and 8 years old. For kids 8 and above, or once kids outgrow our Bungee Boing Pogo they will be ready to advance to one of our standard Boing Pogo sticks which can be found on Amazon by searching "Boing Pogo". Foam jump pad is 9.75" wide and provides plenty of foot space.
Last update on 2023-11-18 / Affiliate links / Images from Amazon Product Advertising API
---
7. Hurdle Kit
If you are not someone who likes to do-it-yourself, this hurdle kit is for you! The hurdles are kid-friendly and easy to set up. It even comes with suggested courses to set up! There is a start and finish flag along with rings that can be incorporated into your obstacle course. If you had nothing else in your course, your kids would still be engaged with the activity for a long time!
Antsy Pants Obstacle Course Set | Encourage Active Play | Works Indoor or Outdoor
ALL YOU NEED:: Includes 1 Obstacle Course Kit with agility ring course, start flag, finish flag, adjustable height hurdles, and weave pole course
EASY SETUP: No tools necessary
LIMITLESS PLAY: Build 1 of 4 courses suggested, or create your own!
GIVE PLAY TO OTHERS: For every item purchased, Antsy Pants helps national nonprofit KaBoom! build playgrounds for kids living in poverty across America
Last update on 2023-11-18 / Affiliate links / Images from Amazon Product Advertising API
---
8. Hula Hoop Hopscotch
With a couple of hula hoops, you will have a variety of jumping obstacles for your backyard course. The possibilities and patterns for jumping are endless. We have listed a few ideas of hula hoop patterns, or you can have your child come up with their own!
Classic hopscotch: two hoops, then one, two, one. First jump with feet apart in the two hoops, then jump landing with feet together in the single hoop. Repeat until the end of the hoop course.
Bunny Hop: Line up single hoops. Jump with feet together down the line of the hoops to the end like a bunny. A variation would be hopping on one foot to the end.
Tire run: Place a hoop on the right, then one step in front on the left. Alternate hopping in the hoops with the right foot then the left foot until you reach the end.
9. Trampoline
If you have a trampoline or are thinking about getting one, why not incorporate it into your obstacle course? You can have kids jump 10 times or perform a trick on the trampoline. Other ideas include:
10 seat drops
Jump high enough to grab a flag
Jump and full spin
In the market for a great trampoline to incorporate into your backyard? Check out our article to find which trampoline is best!
Crawl Obstacles
Crawling obstacles challenge the participant by varying the height of the tasks. Get low and squirm your way through. These skills may slow down the sprinters in your crowd!
10. Army Mud Crawl
Map out a rectangle in your course with wooden stakes. Place 3-4 stakes on each long side sticking up about a foot or two above the ground. Next, stretch string or rope diagonally across the rectangle. For this obstacle, the participant must army crawl from one end to the other without touching the strings.
11. Tunnel
For younger kids, you may opt for a tunnel instead of the army mud crawl. Purchase a toddler tunnel, such as the one below. Place it in the course.  Kids crawl from one end to the other.
Last update on 2023-11-18 / Affiliate links / Images from Amazon Product Advertising API
---
12. Pool Noodle Tunnel
Pool noodles are versatile. If you created pool noodle hurdles, make sure to use them as a tunnel as well!  Create a tunnel by lining up the pool noodle rainbows. Now have the participants crawl through as fast as they can. Create different patterns by putting them in a straight line, lining them up in an "S" pattern, or even putting them in a circle!
13. Hula Hoop Ring
Use your hula hoops to add a crawling element to your obstacle course for kids. Dangle the hula hoop from a tree using a rope. Have the hula hoop be a foot or two off the ground.  Kids will need to crawl through the center of the hoop. The height you place the hoop will depend on the size of the kids participating. Put it high enough to make it a challenge, but not too high that they cannot step through it!
Climb
14. Monkey Bars
If you have a swing set with monkey bars, these are a great strength builder for the obstacle course. Make sure to set the direction that the monkey bars must be completed. Clarify if skipping bars is allowed to avoid any arguments!
15. Rope Climb
Rope climbing is a strength-building skill that will never go out of style. Hang a rope in a tree or any space you have available. Mark a goal line at the top of the rope. When the climber has successfully reached this point, they may climb down.
16. Wall Jump
The wall jump or warped wall is another common course you will find in Ninja Warrior courses or adult obstacle courses. For a kids' course, the wall does not need to be very high to give the feel of the wall jump. This can be as simple as a hay bale or short retaining wall to climb over. Or you can build a short 3-foot wall from wood. A wall jump is sure to be a favorite obstacle!
Water Play Obstacles For Kids
Are you creating an obstacle course during the warm summer months? Why not throw a few water elements into your play? These obstacles will challenge the participant while they enjoy cooling off with the splashes of water. Gather water balloons, kiddie pools, sprinklers, sponges, and buckets for these water play ideas.
17. Water Balloon Strike
Hang several water balloons from strings. Using a wiffle bat, have the obstacle goers smash a water balloon. They cannot successfully move on until the balloon has popped!
18. Sponge Bucket
Place a bucket full of water on one end with a large sponge in it and an empty smaller bucket on the opposite end. The player must take the soaked sponge to the empty bucket on the other end. From there, they squeeze as much of the water as possible into the empty bucket. They must repeat until the second bucket is filled to a certain point.
19. Slip 'N Slide
A slip 'n slide is the perfect obstacle to have near the finish line. Make sure the obstacle course players have room for a running start and can slide to the finish line! If you are having multiple players racing at once, these racing slip 'n slides are a perfect addition!
Sale
Wham-O Slip 'N Slide Surf Rider Double Sliding Lanes 16ft , color may vary
GRAB YOUR BEST FRIEND AND SLIDE INTO THE SUMMER! The Original Slip 'N Slide Surf Rider Double by Wham-O is right here to slide you into the summer water fun!
WANT TO BE ALL SOAKED IN WATER? Streams of water on the end and side of the slide will keep you sliding fast and will ensure you are all soaking wet! There is never enough splashes when you are under the burning sun!
SEEKING REAL WATER FUN? Trust us, the 16ft Slip 'N Slide Surf Rider Double will turn your backyard into a private water park! All kids will not only be busy by staying active and enjoying the outside backyard fun but will also make unforgettable summer memories!
LOOKING FOR FAMILY BONDING TIME? Wham-O has introduced its Original Slip 'N Slide back in 1961, changing backyard fun forever! Ask your moms and pops to share their favorite Yellow Slide memories from their summer holidays with you!
BUY WITH CONFIDENCE: Wham-O is a company and lifestyle brand that is steeped in the American cultural tradition of classic, well-made toys. Founded in Southern California more than 70 years ago, Wham-O has introduced a lineup of consumer products that appeal to people of all ages. We manufacture and market some of the most recognizable consumer brands in the world today, from classics like Frisbee, Slip 'N Slide, and Hula Hoop, to outdoor brands like Morey, Boogieboard, SnowBoogie sleds, and BZ Pro Boards.
Last update on 2023-11-18 / Affiliate links / Images from Amazon Product Advertising API
---
20. Water balloon catch
The water balloon catch is perfect for a team obstacle course.  One partner tosses a filled water balloon.  The second partner must successfully catch an un-popped water balloon in order to move on to the next obstacle.  The team must keep trying until they are successful. To catch the water balloon kids can use their shirts, or you can provide catch nets.
21. Sprinkler
To change up a traditional obstacle course, just add a sprinkler.  Whether it is to your hula hoop hopscotch or pool noodle tunnel, add a sprinkler to the obstacle.  Now you are ready for a summer-fun and water-filled obstacle course.
22. Squirt gun
Purchase a simple water gun from the dollar store and set up a target.  One idea was to use a coffee filter hanging as a target. The child must hit the target with the squirt gun, then move on.  You can also add multiple targets that must be hit before moving to the next task.
23. Pool Splash
Do you have a swimming pool in your backyard?  Whether it is an above ground, kiddie pool, or underground pool, it is the perfect obstacle for your obstacle course.  Think of a task that would be appropriate for the size of pool you have.  It may be swimming a lap in the pool if your kids are old enough, with parent supervision of course! Or you can blow a pool sailboat from one end of the pool to the other.  For a kiddie pool, they may just need to jump into the pool and make a splash!
Task Completion in Obstacle Course For Kids
A variety of tasks should be included in every obstacle course. We call these short "fillers". They often involve slowing down and concentrating on a skill. Tasks can be physical feats or thinking-based. Here are a few ideas of tasks to disperse and fill out the holes in your obstacle course.
Crab walk
Frog jump
Jump rope
Bear Crawl
Dash to the end
Stack the blocks (or anything you have on hand!)
Solve a riddle
Complete a math problem
Push a ball with a pool noodle down a path
Blow a bubble
Shoot a target
Ring toss
Tips for a Successful Obstacle Course
Keep things simple when you are creating an obstacle course.  This may mean starting out with items that you already have in your backyard and slowly adding to your course over time.  Think about the objects you already have in your yard, can they be used as an obstacle?  Logs can become balance obstacles or cones to run around. Retaining walls can be used in place of a balance beam or as an obstacle to climb. If you have a swing set incorporate the various elements into the course.  Add tasks such as moving a ball down a path with a stick or shooting a basket.
When purchasing items, choose items that can be used in a variety of ways. Hula hoops, pool noodles, and cones are versatile.  These items can be used one way then switched up for a whole new obstacle.
When your kids begin losing interest with one setup of the course, it is time to make a change! Enlist the help with the children to come up with new obstacles and new orders.
You can also switch up how you play. One way is to time each participant as they weave through the obstacles.  The fastest time is the winner. Another way is to create teams. Each team member must complete the course. Time is stopped when the entire team crosses the finish line. You can also add partner tasks into the course during team competitions. Partner tasks may be tossing a ball back and forth or a "wheelbarrow" race. Team play also helps children to learn cooperation and the value of teamwork.
Ways to Sequence Your Course
Combine learning with your obstacle courses by incorporate age-appropriate skills into your sequencing. For example, to learn the alphabet, mark the order of the course using the letters of the alphabet. Your child must do the activities in the correct alphabetical order. This same concept can be applied to numbers!
You can incorporate other learning tasks into the obstacle as well. One example may be to have a task where the kids must match the same colored objects. Another idea would be to incorporate learning independent tasks. Check out this website for independent skills listed per age.
For older children, think about what they are learning in school and add it to the obstacle course as a task between more physical obstacles. Make the obstacle course a fun way to practice math facts, spelling words, and even reading sight words! The possibilities are endless, but these ideas should get you started!
Wrap up
Building an obstacle course for kids in your backyard is a great way to benefit your child's development. Obstacle courses are fun play with inherent skill-building in sequencing, balance, and strength.
Many different obstacles can be created with simple objects. Make sure to include obstacles with elements of balance, jumping, crawling, and climbing. For additional fun in the warm months, add an element of water play to your obstacle course for kids!
Obstacle courses are great backyard activities.  In the event of inclement weather, you may want to check out our list of rainy day activities because your kids will not even remember the games on their phones, Nintendo, or their favorite TV show!