Oh no! It's raining again! If you need a fun activity for the kids to do, then we have just the list for you! In this article, we'll be covering 40 Rainy day activities for kids – all fun and technology-free!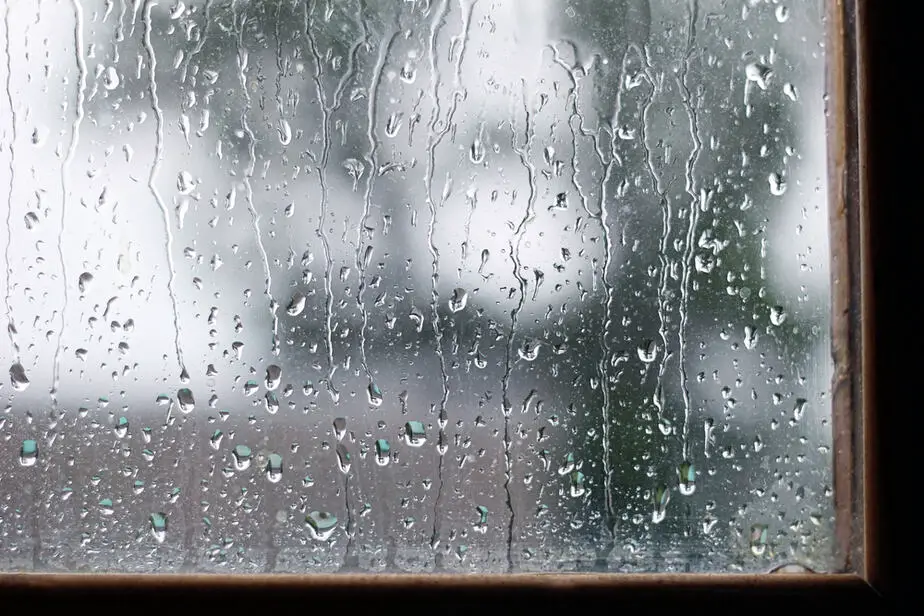 We're here to help you make some amazing memories on your rainy days! So let's jump right in!
Technology-Free Rainy Day Activities
1. Indoor Scavenger Hunt
Pick any number of their favorite toys.
Grab a sheet of paper.
Write down clues to find the toys.
Hide the toys to match the clues.
Send your kids to find the toys!
You could also do this with letters, numbers, shapes, colors, or anything safe for kids. You can make it more difficult by making them find certain color objects first, or find the letters in alphabetical order if you're using letters. If you do the more difficult way, you can help them work on remembering where they last saw the object.  It would be like a real life-size hidden pictures game.
If you want an even more exciting game, try turning the floor into lava while on the scavenger hunt. Then they'll only be able to walk on certain things, such as pillows or towels, to reach the objects.
2. The Floor is Lava
We used to love this game as kids! They even have a game on Amazon you can purchase to play!  If you don't already have the game, no worries. Grab some pillows, blankets, or couch cushions, then place them on the ground and tell the kids that the floor is lava. Don't touch the floor or you'll get burned!
Chairs, furniture, pillows, and blankets will be your safe spots. Spread them out on the floor to the difficulty level you prefer, and be sure to review the rules with the kids!
Rules:
Start in the middle of the room.
Yell, "THE FLOOR IS LAVA!"
Everyone should get to a safe spot.
If they do not get to a safe spot they're out.
No products found.
---
3. Sock Baseball
This game can be really fun. You grab an old sock and roll the sock up into a ball. If you have bases stored somewhere, go grab them. If not, no worries, we can get creative! Set up pretend bases; the couch could be first base, – not the whole couch, just a section of the couch – the chair could be second base, and the third base could be another piece of furniture or a sheet of paper. Now, all we lack is the home plate and the pitcher's mound. Get creative or use more old socks for home plate, the pitcher's mound, or the bases.
Now that you've got your bases and the ball, it's time for the bat – your hand.
With all your indoor sports equipment gathered, all that's left to do is follow the easy rules of baseball. This game can be played with two or more people.
Rules:
Three strikes and you're out.
Three outs and it's the other teams turn to bat.
Remember the ball is a sock.
The bat is your hand.
4. Pillow Fight!
What is a childhood without the occasional pillow fight? After you've gathered your pillows, let the pillow fight begin! If the kids start getting a little too rough, Uh Oh, the floor is lava! Get to a safe spot! There's so much fun to be had on this rainy day!
5. Laser Tag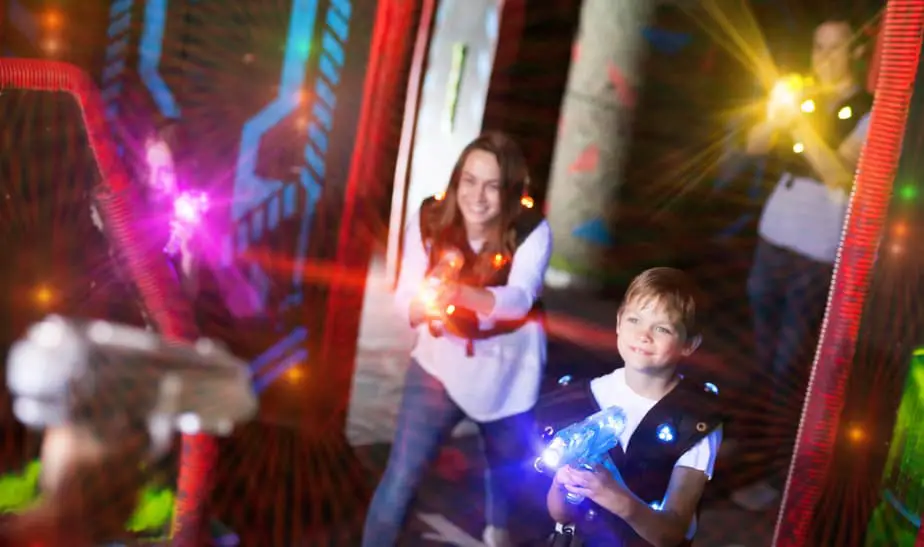 Another great way to fight the rainy day blues is to battle it out laser tag style. Laser tag isn't actually that big of a stunt to pull off at home, either. You can find laser tag equipment online through Amazon.com. You can even DIY some fun obstacles to hide behind, or just use your walls and furniture. It'll be fun either way!
Sale
ArmoGear Laser Tag – Laser Tag Guns with Vests Set of 4 – Multi Player Lazer Tag Set for Kids Toy for Teen Boys & Girls – Outdoor Game for Kids, Adults and Family – Ages 8+
AUTHENTIC LAZER TAG GAME 🔥 Turn your home or backyard into a laser tag arena with the ArmoGear laser tag blaster set, the most advanced set of laser tag blasters out there! No other laser tag set has real TARGET VESTS, INVISIBILITY MODE, NIGHT VISION FLASHLIGHT, VOICE-GUIDED DIRECTIONS, and an extreme 150 FT SHOOTING RANGE!
MULTI-PLAYER, MULTI-AMMO 🔥 Up to 4 teams can play in this riveting battle! Switch between the unique powers of PISTOL, SHOTGUN, MACHINE GUN, and ROCKET to blast your enemy and declare victory! These laser blasters are ergonomically designed with a solid grip in your hand, even for young kids. Using child-safe infrared emission.
FUN FOR THE WHOLE FAMILY 🔥 Tactile vibrations and lifelike shooting sounds make for deeply immersive gameplay, turn kids and adults away from their screens! Have a blast and create cherished memories on holidays, snow days, or birthday parties, with a fun family laser tag tournament! It's the PERFECT GIFT IDEA, sure to delight kids of all ages!
PREMIUM QUALITY & CHILD SAFETY 🔥 The ArmoGear laser blasters for kids are made according to the highest manufacturing standards for a top-quality, long-lasting toy. LITHIUM RECHARGEABLE BATTERIES are NOT included for child safety, each blaster uses 3 AAA batteries and each vest uses 3 AAA batteries. (set of 4 totals to 24 AAA batteries, batteries not included)
For nearly a decade ArmoGear has been devoping quality toys that inspire imaginative play, outdoor fun and creativity. Bring out the best in your little one!
Last update on 2023-08-29 / Affiliate links / Images from Amazon Product Advertising API
---
6. Nerf Gun War
This is always a fun activity for families. You can even make obstacles out of furniture or boxes to make the game more challenging and exciting! Get all of your Nerf guns and bullets out and ready, then set up some safety rules. Remember no shooting at people's faces!
Have fun!
7. Hide and Seek
What's better than a good old traditional game of hide and seek?  First, decide who will be "IT". The person who is "IT" will be the seeker. You also need to decide if you will utilize a base. A base will be a designated safe spot where the seeker/tagger can not tag you if you're touching it. Right before you start, decide what number the counter should count to, as well.
Rules:
The counter starts counting to the agreed-upon number.
The hiders run and hide somewhere.
The counter reaches the number and yells, "Ready or not here I come!".
They will then go try to find the other players.
Whoever they find first will be "IT" the next time.
8. Baking with Help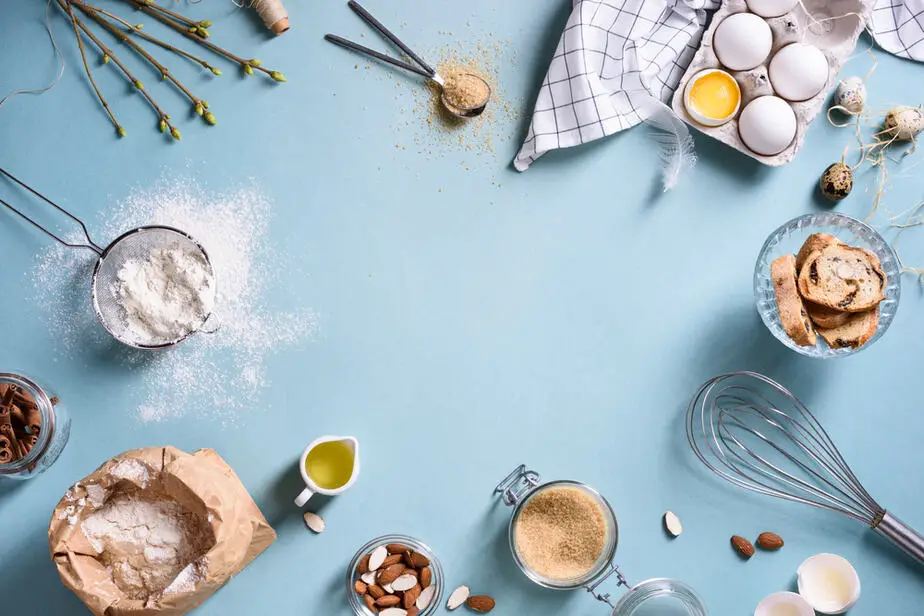 Every kid loves to help mom bake! Bake their favorite cookies, cake, or anything you have handy, then let your kids help decorate them with icing or sprinkles.
9. Build a Fort
Forts are an awesome way for your kids to engage in imaginative play when they're stuck indoors on a rainy day. They're easy to put together, great for keeping your kids occupied, and can even be fun for mom and dad, too!
Supplies Needed:
blankets
chairs
furniture
pillows
Drape the blankets over the chairs or furniture making sure they stay there. If they don't stay, you may need to try to hold them in place with an object of your choice. Get creative and build a fort your kids won't soon forget!
10. Dance Party or Competition
A simple to-do from our list of rainy day activities is dancing. If your kid loves to dance or has great dance moves let them show them off! Turn on their favorite songs and dance in the living room – let the fun memories begin!
11. Make a Racecar Track
If you have duct tape on hand, then you have the materials you need to make a racetrack. Grab your tape and some matchbox cars. Place the tape on the floor in the shapes of roads, tracks, or parking lots. After that's all done, you're all set!
Makeshift racecar tracks are a wonderful way to encourage imaginative play. And if you have boys, you can expect them to be enthralled in a racing world of their own for hours at a time!
12. Teach Your Kids How to Tidy Up
It goes without saying that kids will one day become adults. And adults need to know how to clean. What better time to teach your children how to tidy up than on a rainy day when they're stuck inside? Turn on some music, make a game out of it, and get to cleaning! Maybe if you make it fun enough, they'll be willing to help out more often!
13. Play Dress-Up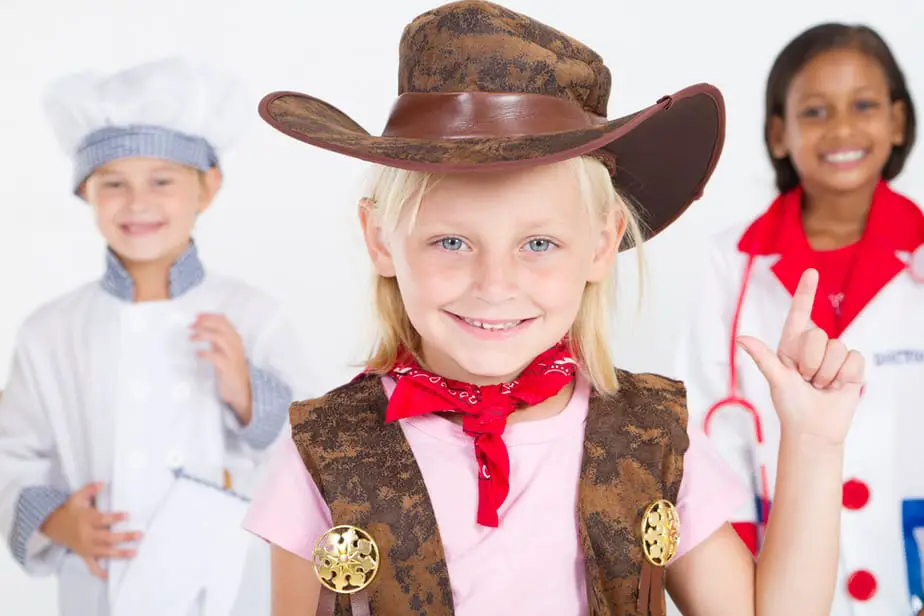 Get out your old Halloween costumes, your superhero costumes, your fairy or princess costumes and play dress up. What kid doesn't like playing pretend? Encourage them to act out the characters, play a game revolving around their new facade, or have a fashion show right there in your living room!
14. Make an Indoor Obstacle Course
Get creative and find anything and everything to make an indoor obstacle course for the kids. Or if you can't come up with something creative, there are plenty of options to choose from on Amazon! If you want to try a homemade indoor obstacle course, we have a few ideas to help you out!
Example Supplies Needed:
Chairs or stools to weave through.
Blankets or pillows to jump over.
Something to jump through, like a hula hoop.
Antsy Pants Obstacle Course Set | Encourage Active Play | Works Indoor or Outdoor
ALL YOU NEED:: Includes 1 Obstacle Course Kit with agility ring course, start flag, finish flag, adjustable height hurdles, and weave pole course
EASY SETUP: No tools necessary
LIMITLESS PLAY: Build 1 of 4 courses suggested, or create your own!
GIVE PLAY TO OTHERS: For every item purchased, Antsy Pants helps national nonprofit KaBoom! build playgrounds for kids living in poverty across America
Last update on 2023-08-29 / Affiliate links / Images from Amazon Product Advertising API
---
15. Red Light, Green Light
As mentioned in our previous post, Red Light, Green Light can be played anywhere. With no extra equipment needed you could play it without the hassle of gathering lots of supplies.
First, you need to establish a start line and a finish line. Also, decide who will be "IT", whose job is to call out "Red Light, Green Light".
How to Play:
The players will line up across the start line.
The person who is "IT" will be at the finish line.
"IT" will turn their back to the other players.
When "IT" calls out, "Green Light", the players will start walking towards the finish line.
When "Red Light" is called, the players will need to stop immediately. If they do not stop they're out.
Continue this until someone reaches the finish line and tags the person who is "IT".
The person who tagged the "IT" will take their place in the next game.
For extra fun, you could even throw in "Yellow Light" to make the players move in slow motion!
16. Duck Duck Goose
To play Duck Duck Goose, have your kids sit in a circle facing each other, sitting criss-cross applesauce. Then, decide who will be "IT". The great thing about this game is that you don't need any supplies. You do, however, need several people to play.
Rules:
The person who is "IT" will walk around the circle tapping or pointing to each player, saying "duck" to each one.
They will eventually say "goose" to one player.
The player who is "goose" will hop up and try to catch the person who is "IT".
The person who is "IT" will be trying to make it back to their old spot by making a complete roundabout of the circle.
If they make it back to their old spot then the "goose" is "IT".
If the "goose" tags the "IT" then they are "IT" again.
Repeat and have a blast!
17. Simon Says
Another fun game on our rainy day activities list is Simon Says. Simon Says can be played anywhere, and you don't need any extra materials to play the game, either! To play, you'll need three or more players.
How to Play:
Choose who will be "Simon".
The person who is "Simon" will give instructions that the other players must follow.
If "Simon" says, "Simon says touch your toes", then the other players should touch their toes.
If "Simon" says, "Touch your toes", then they should not do anything.
You only follow the instructions if they say, "Simon Says".
If they do not follow the instructions when they are supposed to they are out.
If they follow the instructions when they are not supposed to they are out.
Whoever is the last one playing will become "Simon" for the next game.
18. Tag
Another popular game from our list of rainy day activities is tag. Tag can be played with two or more people. You can play tag with or without a base.  A base would be a safe spot you could touch where the tagger can not tag you.
How to Play:
Decide who will be "IT". They will be the tagger.
The other kids take off running and the person who is "IT" will try to tag them.
Be sure to decide if you are going to use a base before you start the game.
If you feel like changing it up you could play freeze tag! If you get tagged in freeze tag you have to freeze. To get untagged, another player has to tap you to unfreeze you. Be sure to decide how many times someone gets frozen before they become the tagger. You will need three or more people for freeze tag.
19. Limbo
Another dance activity from our rainy day activities list is limbo. Grab a broomstick and prop it on two chairs or have two people hold it. Then, you can play Limbo!
Limbo, Limbo, Limbo!
20. Hopscotch
To play Hopscotch, you'll need some tape handy. First, tape the squares onto the floor, placing them however you want. If your kids are old enough, let them help you tape the numbers down. If it gets too hard, that's okay, your children can play without the numbers.
21. Movie with Family
A more calm idea from our rainy day activities list is watching a family movie. Pick out an awesome family movie and get some popcorn poppin'!
22. Make Puppets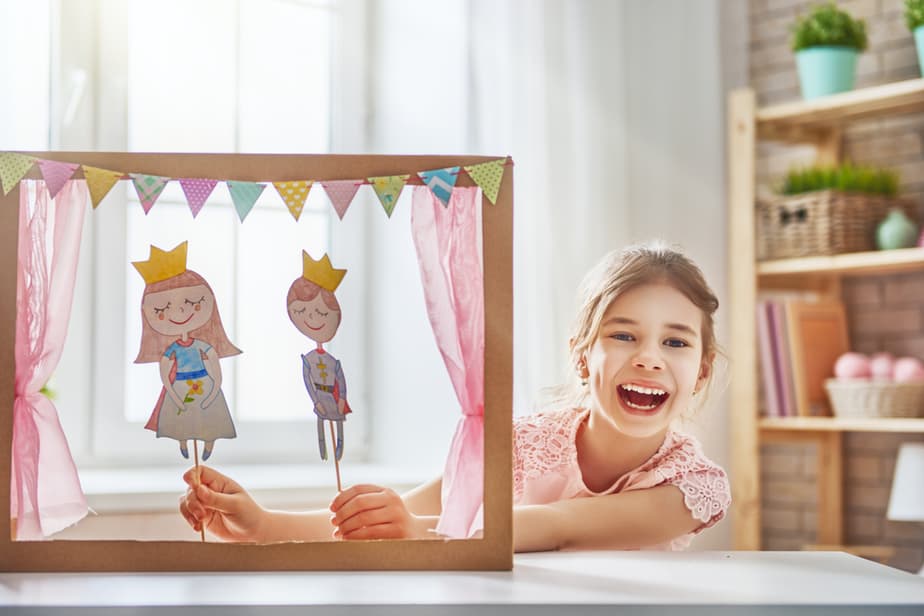 If it's been a long day of active activities, you and your kids can wind down and get creative for a bit. Use paper bags, old socks, buttons, and googly eyes to make your very own puppets. Then, act out your story or play that you created as a family.
23. Paint
Let your little artist work on their painting skills. Grab some paper, paint, and a paintbrush. Then ask your kids to paint whatever their little heart desires!
24. Craft
You can't go wrong with DIY crafts! And you can get tons of ideas online. Get your crafting supplies out and let your kid's imagination run wild, creating anything they want. If there's a holiday fast approaching, take this time to find a cute holiday craft you want them to make for the refrigerator.
25. Play with Play-Doh
Who doesn't love play-doh? You could even make your own if you have all the ingredients. Make different shapes, letters, numbers, or words out of it or a cool design with it.
26. Make Slime
There are a ton of homemade recipes out there for slime! There are so many different types of slime to choose from. There's fluffy slime, glow-in-the-dark slime, glittery slime, magnetic slime, and many more choices out there. Choose which one you think your child will like the best and make it with them.
Last update on 2023-08-28 / Affiliate links / Images from Amazon Product Advertising API
---
27.  Make a Calm-Down Bottle
This can be a really fun and useful way to pass the time. Everyone gets upset every now and then right? A simple way to combat frustration is to make a calm down bottle or jar – and there are tons of ideas out there.
First, you'll need a jar or bottle. Then you'll need glitter glue, glitter, beads, and water.
Directions:
Fill the bottle or jar three-fourths of the way full.
Pour your glitter glue in and mix it up.
Pour your glitter or beads in and mix it up.
Top it off with water until it is almost full.
You are ready to use the calm down jar.
28. Make Moon Sand
Make your own homemade moon sand with your favorite recipe as a simple and fun way to pass time on a rainy day.
Ingredients Needed:
Flour
Oil (baby or vegetable)
A container for the moon sand
After you've got the moon sand made, grab some Play-Doh tools for your kids and have them use them in the sand. You could even grab some of your kid's little cars, trucks, or tractors as sand digging tools!
29. Paint Rocks
A great way to spread a little joy is by painting rocks with encouraging messages on them to hide in your community. Someone may be having a bad day, then when they happen to look down, they see the rock with your child's sweet message on it. How awesome would that be? Your child's simple rainy day activity could brighten someone else day!
30. Board Games and Cards
Board and card games are timeless classics. And the good news is that there are tons of games to choose from. Hopefully, you have enough games stored so that you and your kids can make a day of it!
31. Put together a Puzzle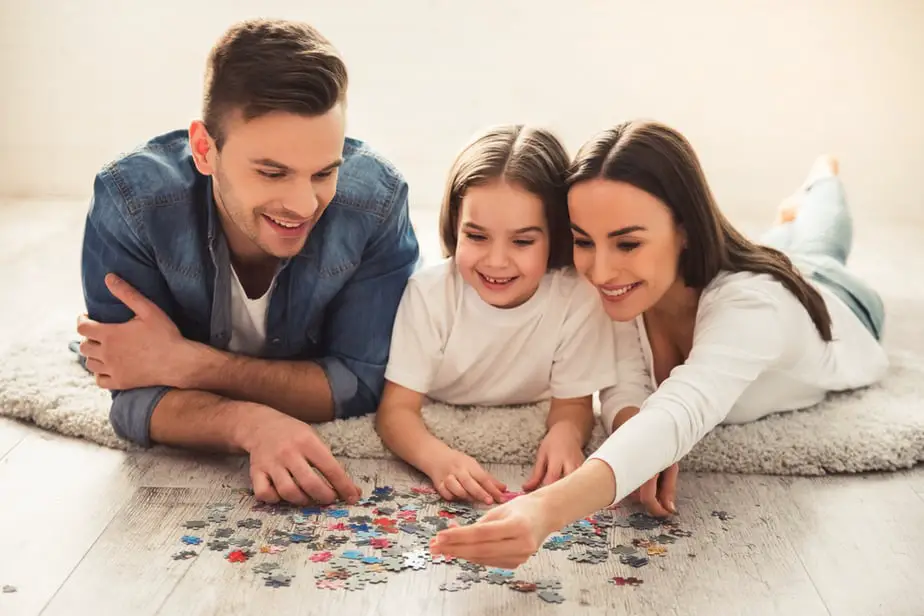 If your child likes puzzles, a rainy day might be the best day to pull one or two out and complete them as a family.
32. Color
We don't know about you, but those adult coloring books sure can be addictive. How fun would it be to sit down with the kids, relax, and color in your book as they color in theirs? It might not be a long-lasting activity, but it's worth a shot!
33. Make Home Videos
Take the time to video your children. Reality is just as they say: the days are long but the weeks are short and your kids will be grown before you know it! So pull out that video camera of yours and make a few videos to document the days with your children. Making them the center of attention is fun for them, too!
34. Read Books
We don't know about you, but there's something about a rainy day and a good book to read. Ignite your kid's imagination through reading a great book. You could even have them read it then act it out or tell you all about it.
35. Make Up Your Own Story or Play
This could be really fun and silly. Help the kids make up their own story or play. Maybe they need to work on their writing or spelling skills? Let them write it down to practice.
36. Learn Something New
Take a break from the other rainy day activities and take this time to learn something new. Maybe your child needs help tying their shoes still, or maybe they need help with spelling or reading? Take this time to make learning fun for them.
37. Write a Card
Make heartfelt cards for Mom, Dad, Grandparents, Aunts or Uncles or take this time to make a card or two for someone who is sick or hurt.
Supplies Needed:
Paper or construction paper
Pencils, crayons, markers, coloring pencils
38. Ask Your Child
Ask your child or children what their favorite toys are. Play with them one-on-one or as a group and watch their imaginations work. Ask them to give you a toy they want you to play with. Just let them pick.
Maybe you have a daughter who loves to play Barbies. Play them with her! Or maybe you have a son who loves superheroes – play supermom or superdad!
39. Lego Competition
Another idea from our list of rainy day activities is to play with Legos.
Pull out all the Legos and see who can build the highest or strongest tower. See who can build the coolest design, or build something together. You could even try to build a cool Lego city together! The possibilities are endless!
40. Go Play in the Rain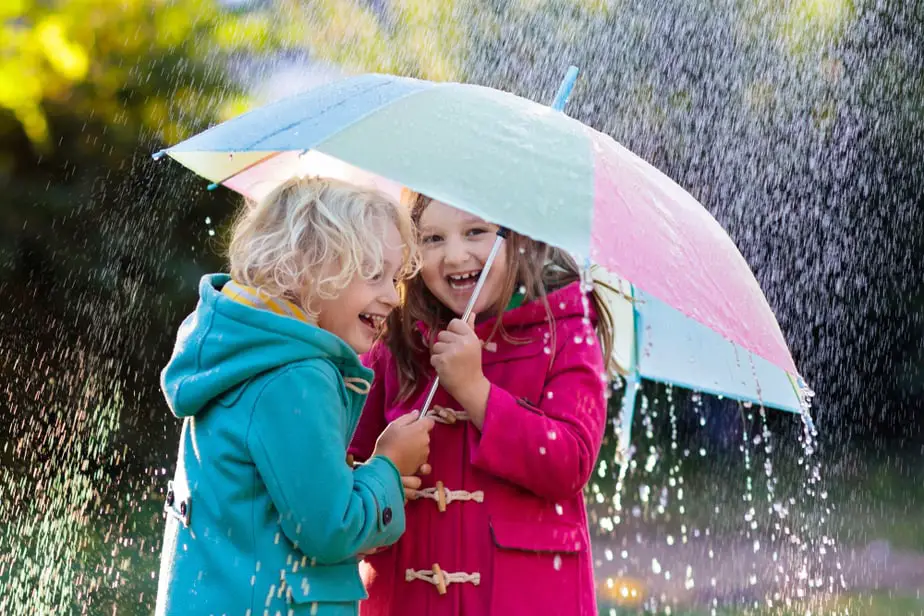 If it's not storming or cold, grab your rain jackets and your umbrellas and go jump in a puddle or run through the rain with your kids!
Rainy Day Activities Away from Home
Go to the local museum your kids have been dying to go to.
Visit your local jumper park.
Check out your local trampoline park.
Visit your local skating rink.
Try out your local bowling alley.
Visit your local Library.
Conclusion
We hope you have an amazing time making memories while completing our 40 rainy day activities. If you've already tried a few then great! If not, pick a few to try and go make some memories. We urge you to jump right in with the kids and do the activities, and don't forget to remember our ideas for the next time it rains!