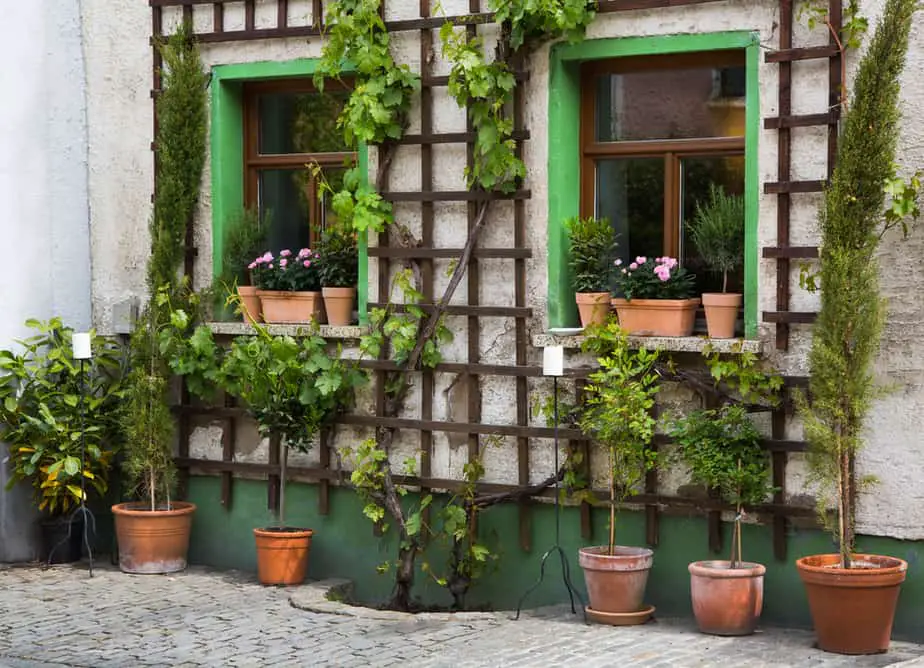 Need to maximize the planting space in your garden or backyard? Wish to plant some veggies that need some extra support? This is what a good trellis can provide. Planting fruit and flowers off the ground makes them less prone to diseases and adds an aesthetic value to your gardening space.
There are many designs for garden trellises; some of them are easy DIY projects while other trellis ideas are more complicated. In this article, you'll find a few options that you can consider if you want to add a special trellis to your house.
Amazing Trellis Ideas
A trellis can be made of wood or metal, and there are several designs that you can choose from until you find one that blends well with your garden's décor and style. Here are some of the best trellis ideas.
1. Simple Wall Trellis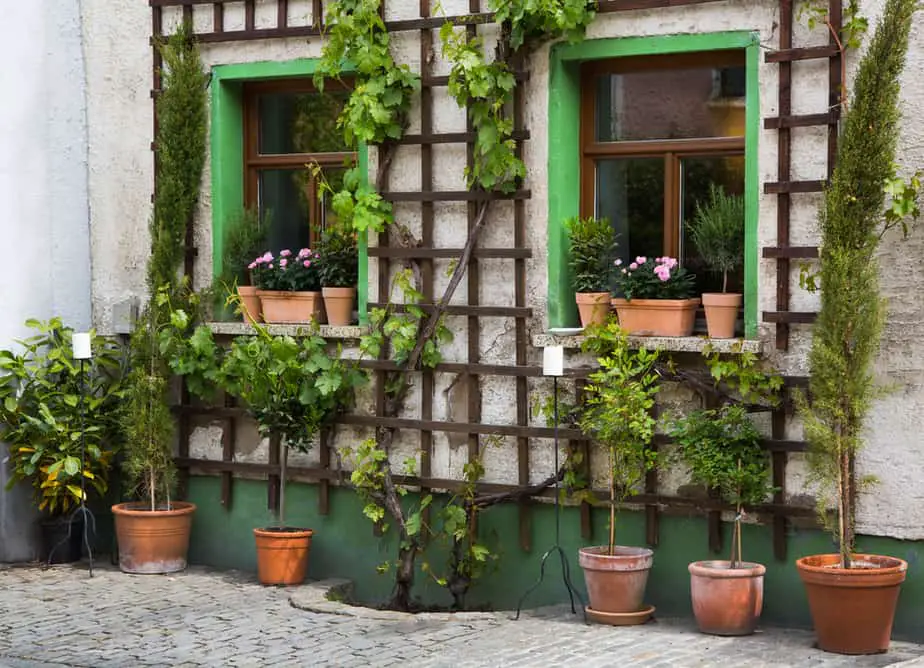 With this garden trellis idea, you can transform the back of your house into a special planting spot with the help of this simple trellis and some pots. The wood trellis design is very simple, made of wooden rods arranged perpendicularly on top of each other. This is a suitable arrangement for any climbing plants or flowers and doesn't cost much to execute.
2. Simple Bamboo Trellis for DIY enthusiasts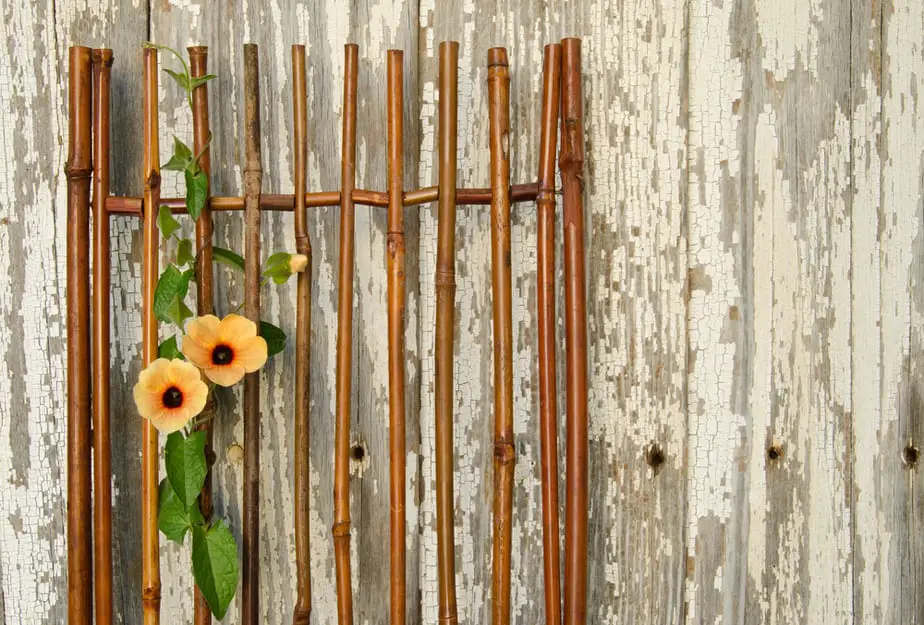 A few bamboo stalks arranged vertically is all it takes to create this simple DIY trellis. This is the perfect spot for a vining plant as it doesn't take much effort or time. At the same time, choosing fast-growing plants will transform the look of your vintage wall without breaking the bank.
3. Chipped Headboard Trellis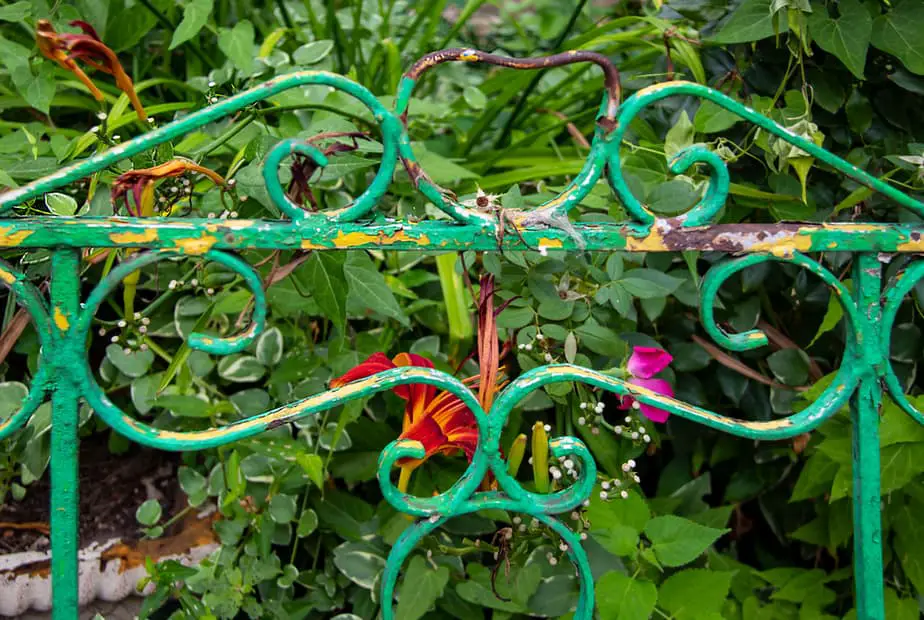 A trained eye won't miss the aesthetic value of this old metal headboard. Long after the bed is no longer used, this chipped metal structure will provide the needed support for your climbing plant and colorful flowers. You can keep the chipped look as it is for the vintage look or paint it in a different color, the choice is yours.
4. Overhead Trellis For Vines and Flowers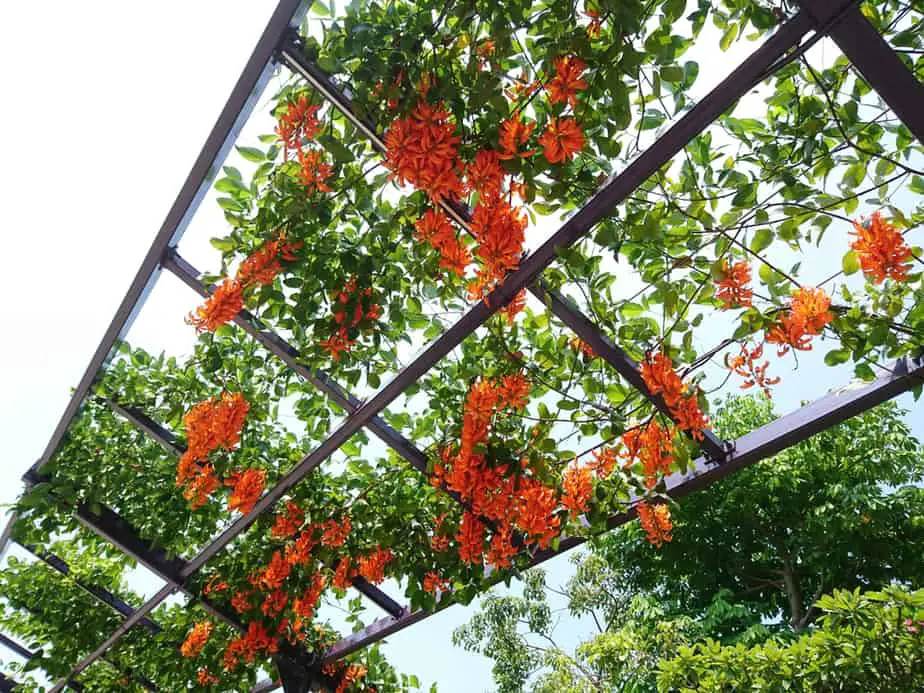 This trellis idea won't only support your colorful flowers and vines; it will also create shade in your garden or backyard. You can make use of the space underneath by placing a few chairs and a table or a swing so you can enjoy the views. The size is customizable, so you can make it bigger or smaller depending on the space available.
5. Wall Trellis Ideas on a Budget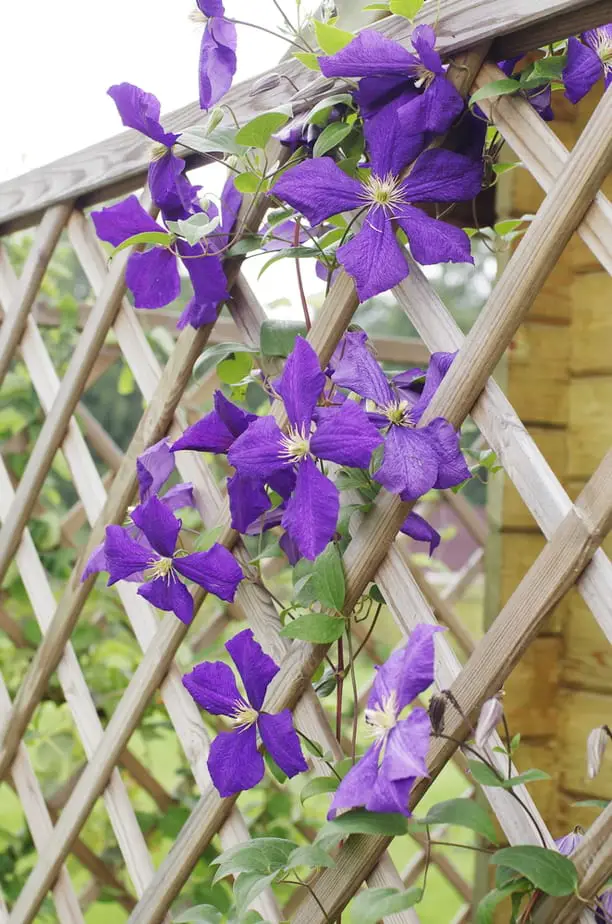 The best thing about clematis is that it's evergreen, adding color and life to your garden even in the tough cold months. This simple trellis can be installed against a wall, in the backyard, or used as a fence or screen. You can also add other vines like bougainvillea which withstands drought and hot temperatures, guaranteeing that your trellis will look amazing all year long.
6. Arched Metal Trellis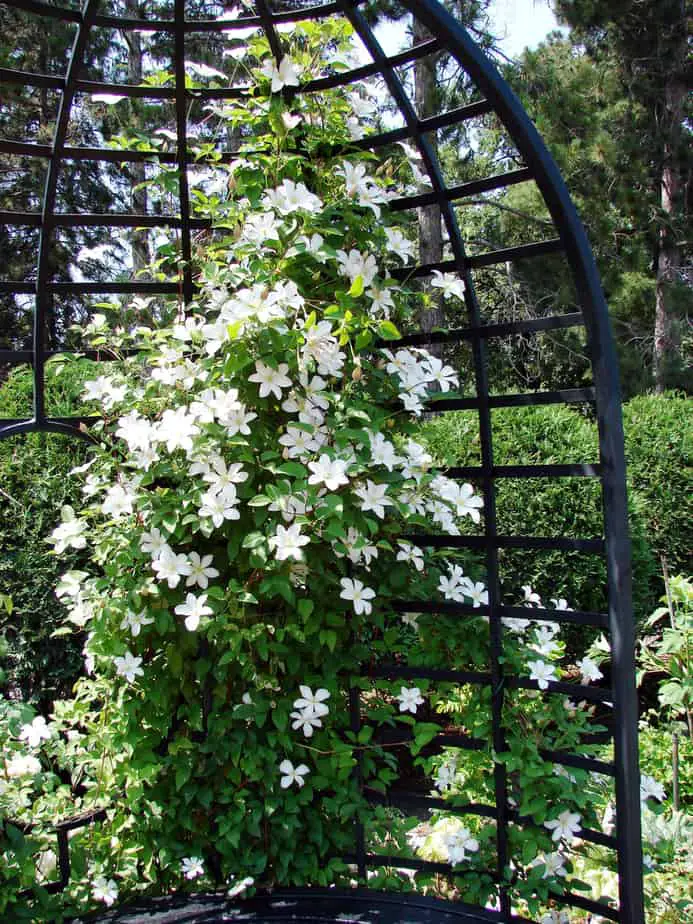 An arched trellis or an arbor is the perfect space to plant your vines. This arbor is made of wrought iron, but you can also choose durable pressure-treated wood that will withstand different weather conditions. All you need is to give your plants some time, and they will blossom creating the perfect addition to your landscape.
7. Raised Vegetables Bed with Trellis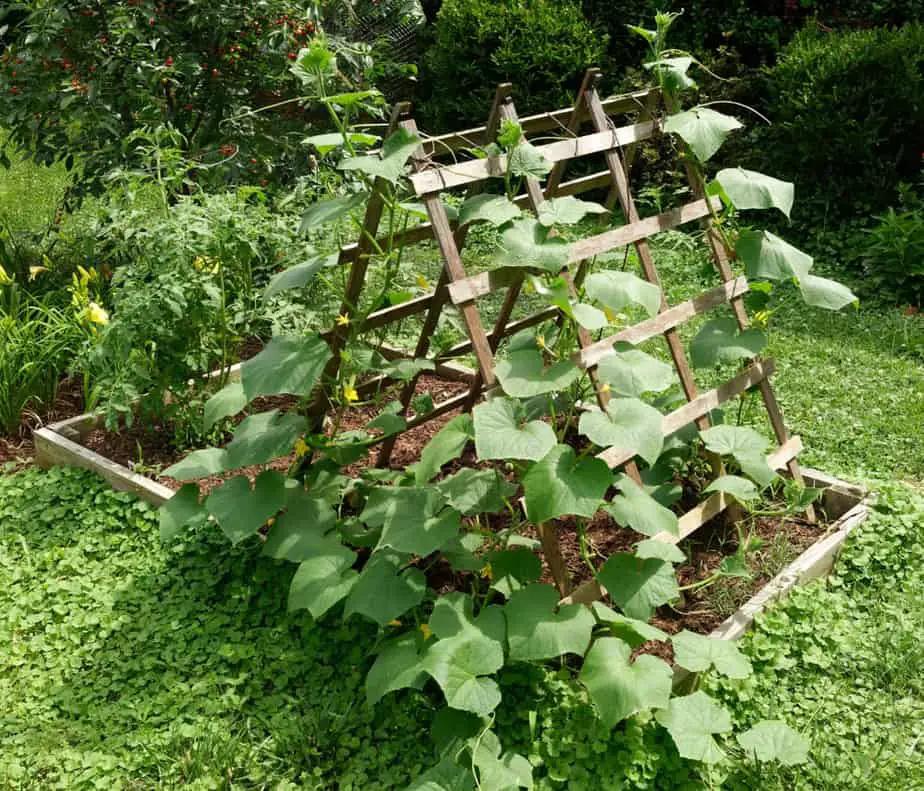 This is a simple structure that you can easily set up in your backyard. Several beds are enough to cover your needs for fresh vegetables, so you can grow your food with your own hands. If being a Master Chef isn't your dream, you can plant several colorful flowers instead.
8. Metal Bird Trellis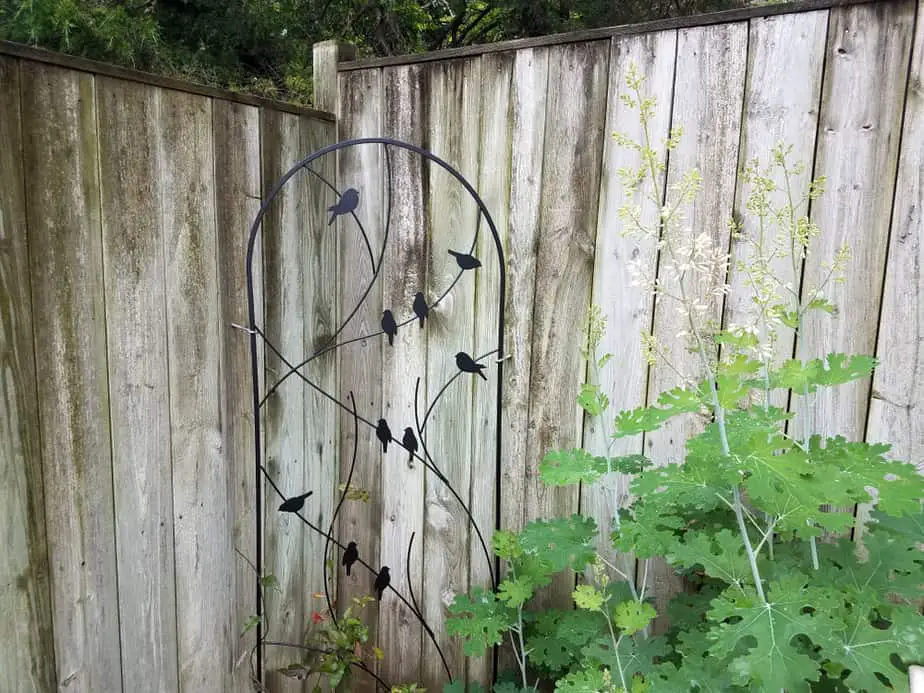 It doesn't take much to add a little edge to your traditional fence. This metal bird trellis is the perfect spot to start growing your vines. Choose the hop vine or any other fast-growing plant to change the look of your garden using a simple structure.
9. Trellis Fence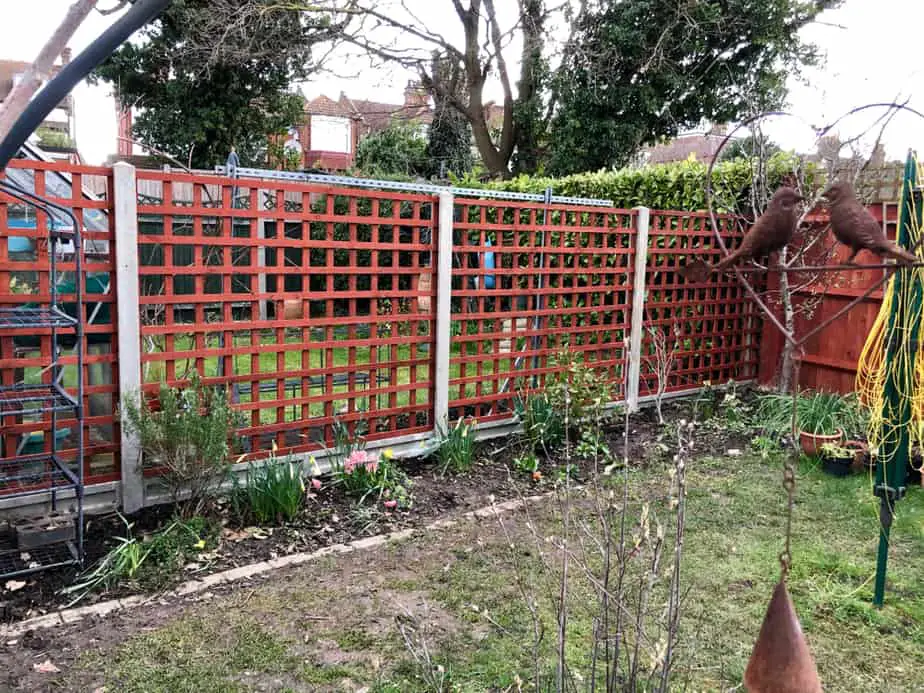 Install this unique trellis fence instead of the traditional wooden planks. With a little maintenance and some patience, it will turn into a beautiful green fence. You can add a mixture of morning glory and moonflower vines to your new trellis structure and watch them as they add beauty to your garden in daylight and at night.
Choosing fast-growing vines guarantees that your fence will provide the needed privacy, although this will take some time to achieve. This is an excellent choice for people who don't have enough space to install a separate trellis.
10. Trellis for Herbs
A vertical garden is a perfect solution for small backyards. You can build this simple trellis against the fence or any wall to create space where you can grow herbs, plants, and flowers.
The wicker flower pots feature metal handles so you can easily remove or replace them when needed. This simple vertical garden will allow you to have a fresh supply of your favorite cooking herbs.
11. Vintage Bicycle Trellis with Lights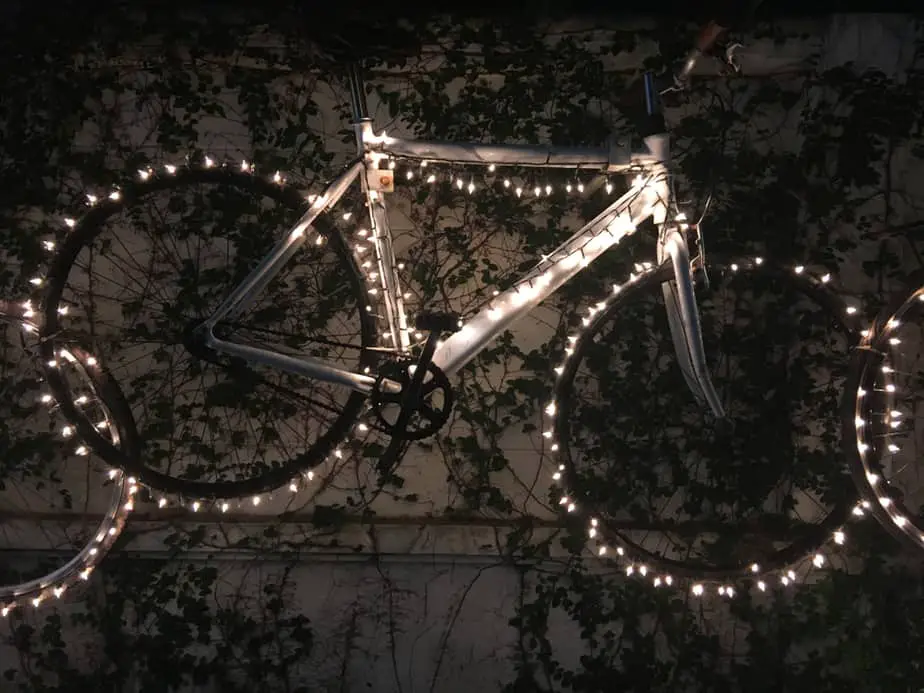 You don't have to throw away your old rusty bicycle. This can be an easy DIY trellis for your beautiful vines once you install it. In the morning, you will enjoy the peaceful fresh green color, and at night you can install these hanging lights to create a beautiful ambiance in your garden or backyard. This is a good choice for people who don't want to spend lots of cash.
12. Simple Pergola and Trellis Design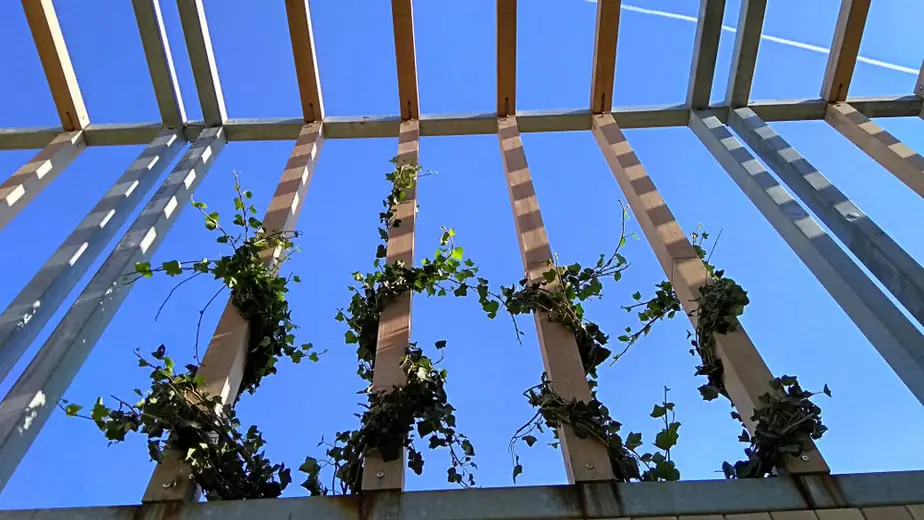 This trellis serves as a pergola to create some shade in your garden. It's made of parallel wooden planks arranged on top of metal pipes or rods. Your vines or other climbing plants will grow freely on this trellis as they twirl and twist with a little help from you.
After a while, you'll have a beautiful pergola and peaceful shade that you can enjoy in your garden. Add some comfortable seating furniture underneath, and you'll enjoy the perfect getaway spot right in the comfort of your home.
13. Trellis Wheel Umbrella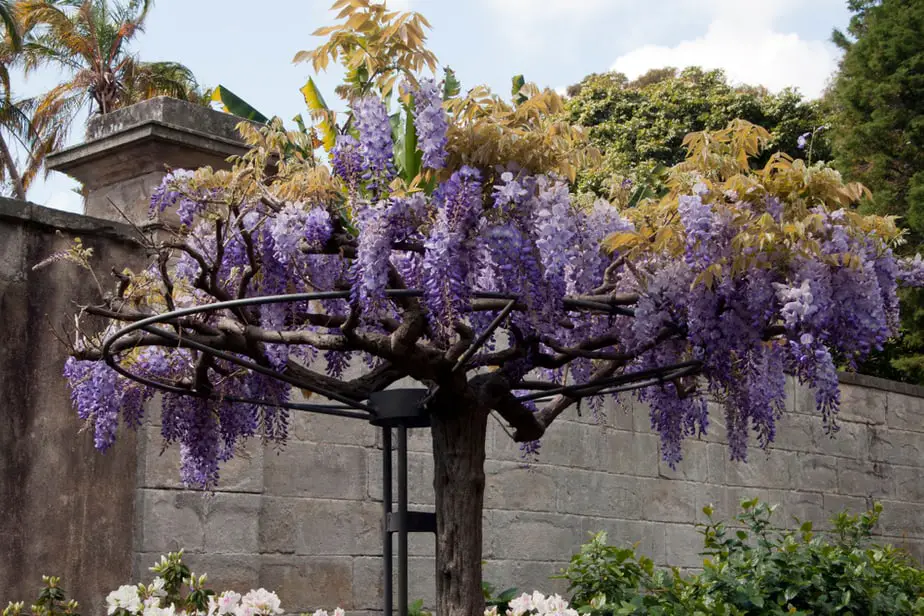 Wisteria grows pretty face, and before you know it, you'll have a colorful umbrella that provides amazing shade in your backyard. You'll need a professional carpenter or blacksmith to put this trellis together, but the fast-growing pale violet color of the wisteria is an excellent addition to your garden's landscape.
14. Metal Trellis with Flower Pots

Even if you don't have a garden or a backyard, you can have this beautiful trellis installed on the balcony or patio. The simple metal design is fitted with pots that you can fill with your favorite flowers, creating a beautiful view wherever you choose to place it.
The hanging flower pots are quite easy to maintain. This trellis design is suitable for people who want to add a few plants but lack the needed ground space.
15. Bamboo Trellis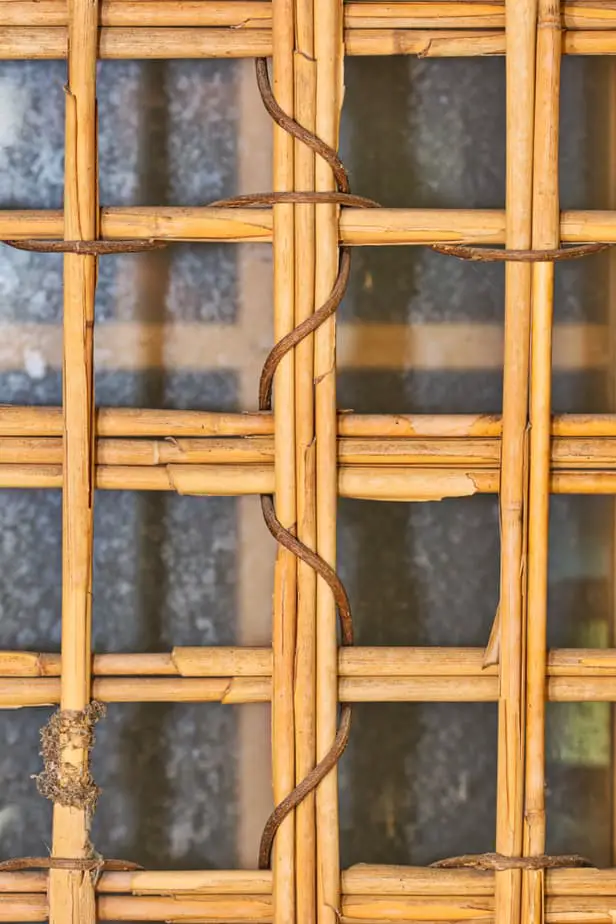 This bamboo trellis is a simple DIY project that you can easily put together with a little help from other family members. You can customize the size of the bamboo stalks to suit the area you need to cover. This trellis can be installed in front of an unused window, a wall, or against a fence.
Use rope or another natural material to secure the stalks together. You can use the same or different number of vertical and horizontal stalks to create the shape you prefer.
16. Decorative Arched Trellis with Garden Gate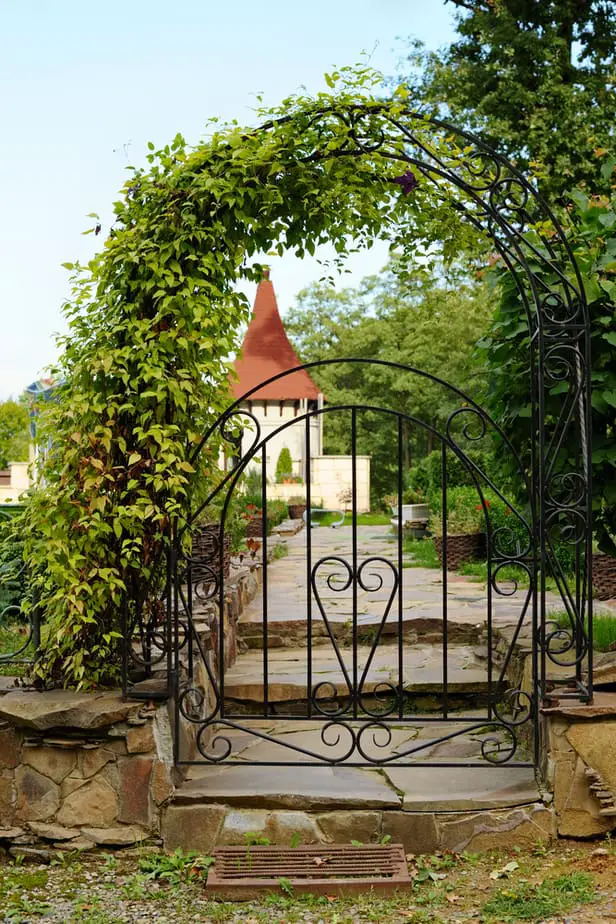 Adding a little edge to the garden gate, this arched trellis will be the new home of your vines. It's made of wrought iron which is shaped into beautiful curves that will support the stems of your ivy or jasmine. Every time you pass through this gate, it will feel like stepping into a fairy world.
17. Wire Trellis Ideas for Beginners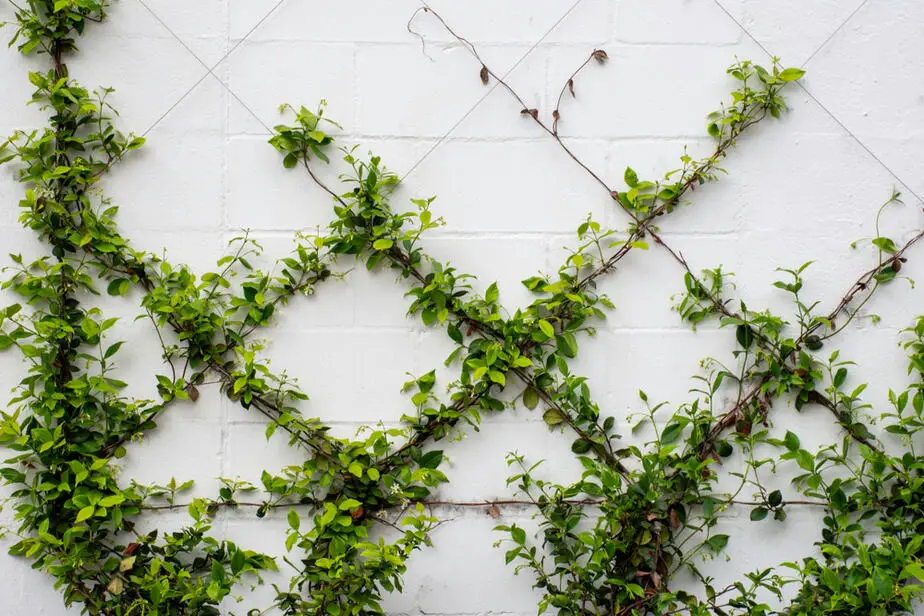 In this landscape setup, the vines are trained to grow to cover the metal wireframe. Choosing a fast-growing plant like ivy or morning glory will quickly create a lovely diamond pattern against the back wall of your house. The wire is easy to maneuver, so you can create different shapes and patterns.
18. Vintage Metal Bed Trellis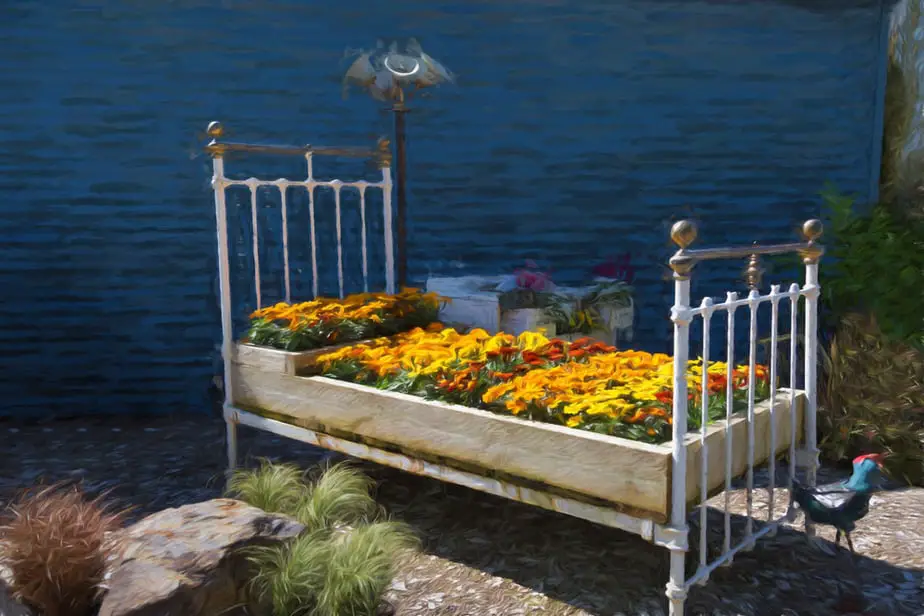 The inspiration for this landscape design comes from vintage watercolor and oil paintings, as well as romantic novels. An antique metal bed frame is a unique addition to your backyard or garden, unlike a traditional trellis.
The body serves as a flower bed while the metal headboard is the perfect spot for your vines. At the back, the vintage lamp post is another structure that will support your fast-growing climbing plants.
19. Trellis Gate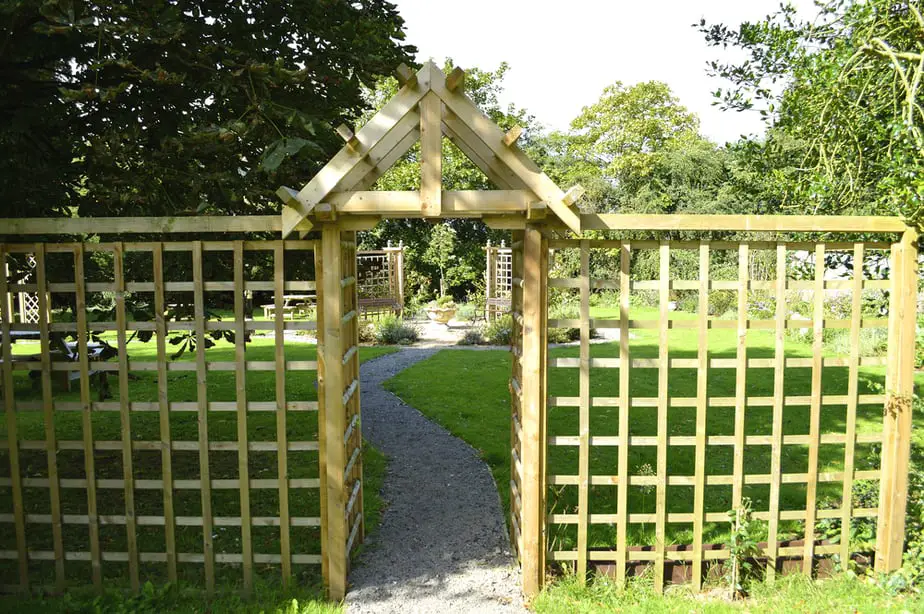 This trellis screen can be installed at the entrance of your house as an innovative gate. As the vines grow, you'll be able to enjoy the views from inside the house or the driveway.
This screen can divide different areas in your garden or highlight the way to your guesthouse. Choose fast-growing vines like wisteria and everyone will admire the beauty of this trellis structure. This is a rather challenging project, so you'll need to hire a professional to get the measurements right and install it properly.
20. Metal Wagon Wheel Trellis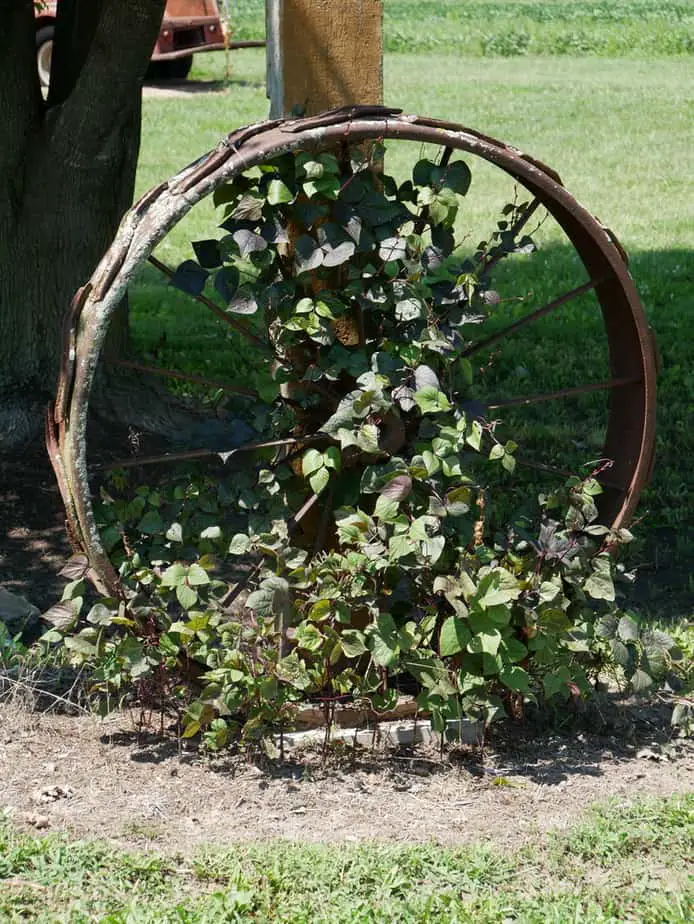 Whether you're on a tight budget, or really into recycling, you'll immediately fall in love with this metal wagon wheel trellis. All you need is an unused old wagon wheel and you'll be good to go. You can install more than one structure, adding a different plant every time to create a special and innovative landscape design that doesn't take much effort to set up.
21. Arched Trellis Design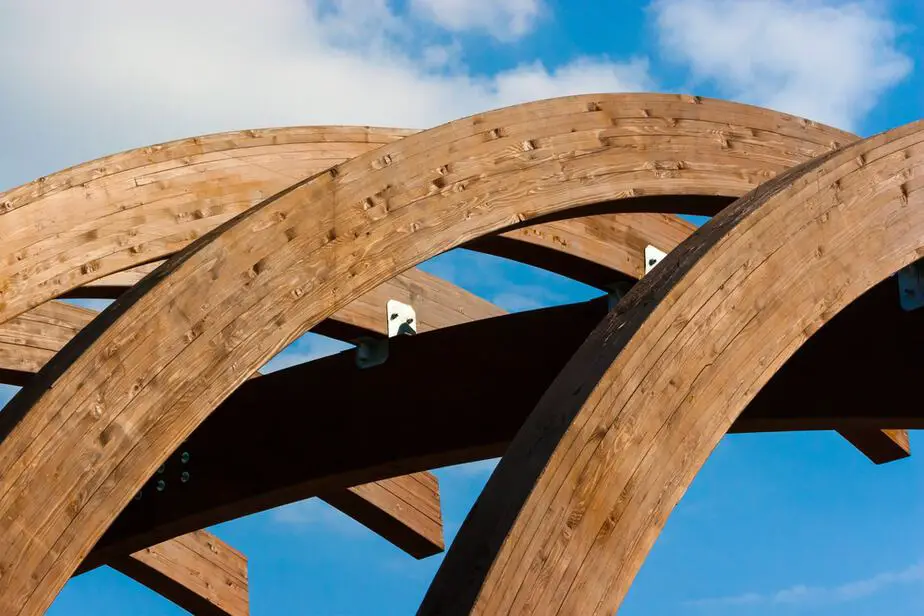 If you're tired of the traditional wooden planks, you can consider this arched trellis design. Install the curved timber on a supportive frame to create the perfect room for your vines. A carpenter will be able to create a balanced structure that can support star jasmine or other flowers that look and smell great.
22. Colorful Garden Trellis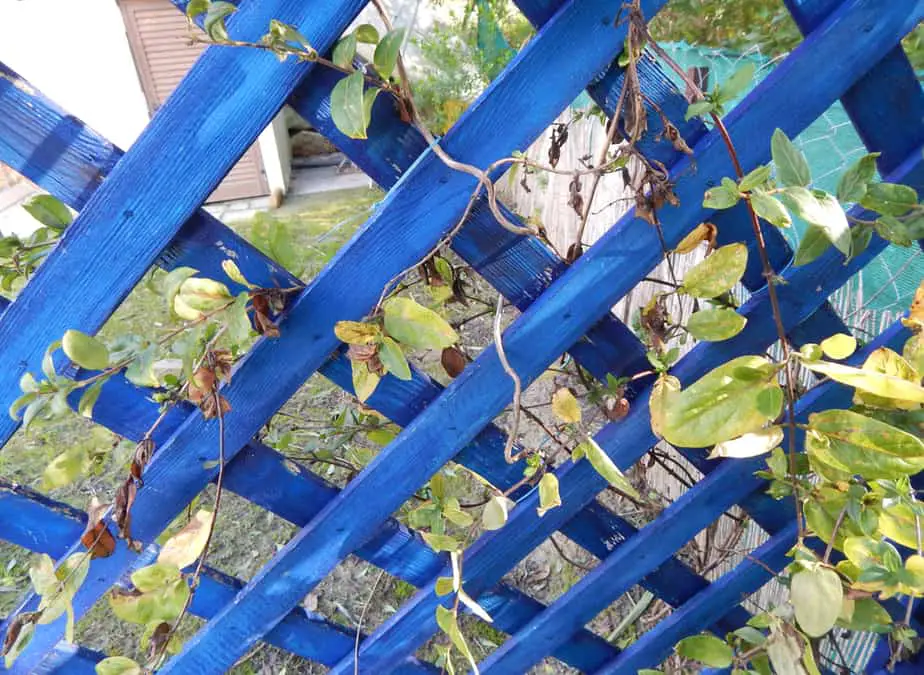 It's quite common to use the original color of timber while building your trellis. But adding a pop of bold color can make a great difference. In this simple design, the blue color blends beautifully with the white flowers and green leaves in a peaceful and elegant landscape design.
23. Obelisk Trellis In the Backyard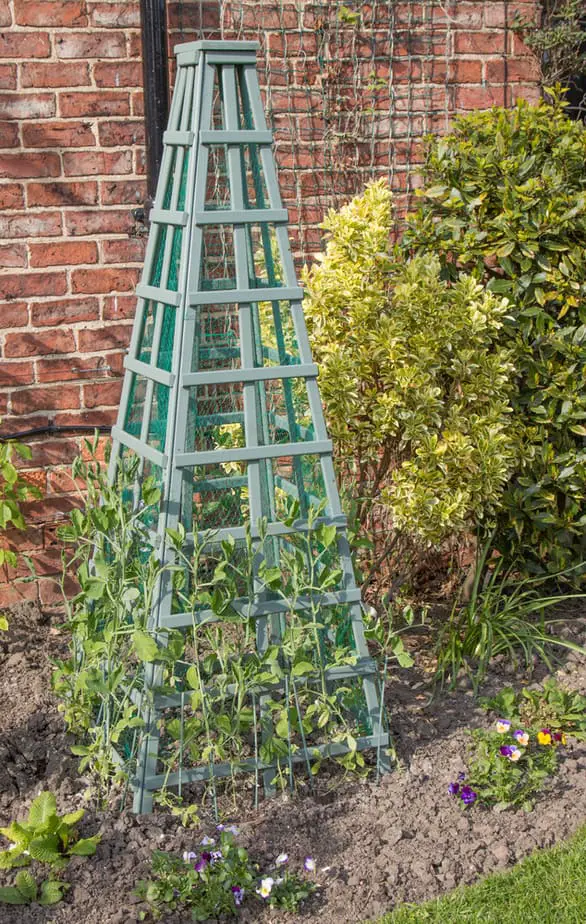 This is a suitable trellis for growing sweet peas and colorful flowers. The obelisk structure can be set up anywhere in your backyard and customized to fit the available space.
If you're good with woodwork, you'll be able to execute it on your own. You can also place a small flower pot on top after you add a wooden board to the top of your homemade obelisk.
24. Metal Trellis Frame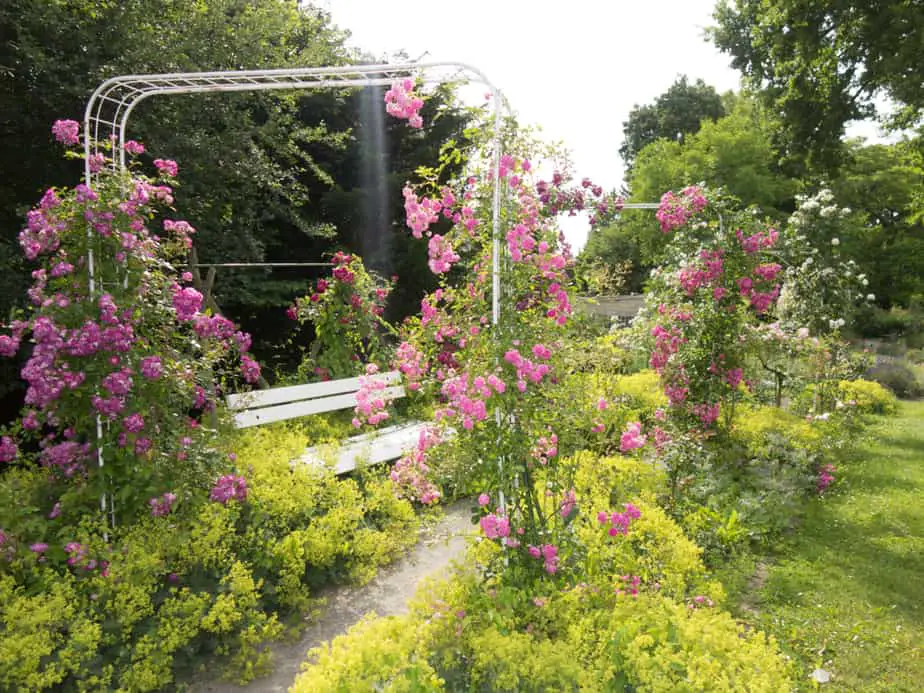 A simple metal trellis like this one will look exceptional when you give your plants time. This is an affordable option to consider when you're planning the landscape of your garden or backyard. All you need is a fast-growing flowery plant, and you'll have a spot that reminds everyone of fairy tales.
If you need a quick and colorful cover, you can go for the Virginia creeper that turns red in the fall. You can also invest in the coral honeysuckle that has a pleasant fragrance and will attract hummingbirds to your magical spot.
25. White Trellis with Vintage Water Fountain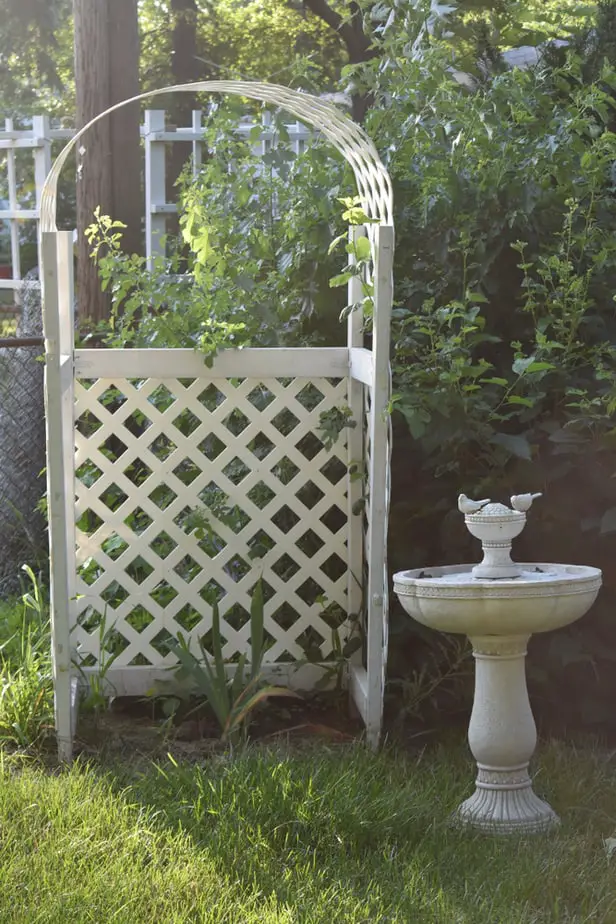 This white wooden trellis will support your vines while the fountain will add that vintage edge to your garden or backyard. Hire a plumber to get the fountain to work, and the birds will love this spot as much as your guests.
Wrap Up
The best trellis ideas will add a unique taste to your garden or backyard. There are simple styles that you can easily execute on your own using DIY materials or recycled items. On the other hand, there are elegant and complicated structures that will increase the value of your property and add an exceptional flavor to your landscape but are better left to professionals.
It takes patience and some imagination to pick the right model, after thinking of the desired result. Whether you choose to plant vegetables, creeping plants, or leave the structure bare, there is always something special about adding a trellis to your garden.