The best thing about camping is getting away from it all. Many of us take to the road to find that special place to call our second home. What if you want it closer to where you live? Perhaps you're like a lot of people who go camping close to your house. Having your rig close by would make it convenient to travel. That may leave you wondering can you park your RV in your backyard?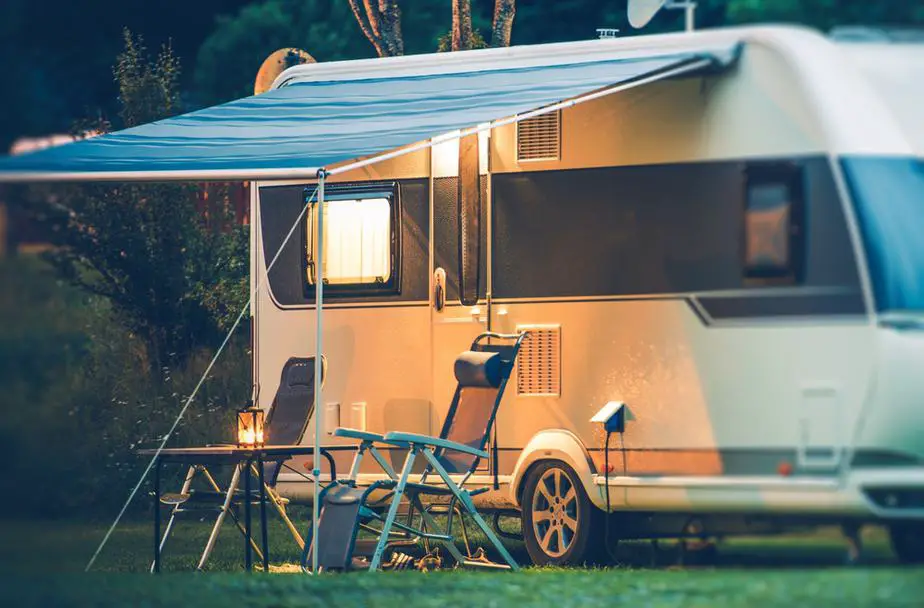 There are several ways to look at this question. You can view practically for camping close to home—literally. You might want to keep it as a spare bedroom for guests. Of course, there is also a storage thing. If you have space, you can save some cash by parking it in your yard instead of paying a rental fee someplace else. These are all valid considerations.
They also are deciding factors when it comes to answering this question.
Last update on 2023-11-13 / Affiliate links / Images from Amazon Product Advertising API
---
Things to Know
The mobile lifestyle attracts a lot of people with the romance of living on the road. There's a good reason that over 1 million people have ditched their homes for this way of life. RV ownership has skyrocketed in recent years, with over 500,000 sold in 2017, alone. The question of can you park your RV in your backyard is a natural one.
Several things come into play when deciding to keep your RV in your backyard, aside from the obvious ones about whether you have enough space. Even though you may own or rent the land, there are other players and considerations that go beyond your decision to keep your rig at hour house.
They include:
Visibility to the road and neighbors
Length of time that the RV is parked
Use as a dwelling unit
Permanency as a place to live
Zoning laws
A lot depends on where you live. For example, there isn't an issue with a boat in your backyard if you live in Minnesota. It is the state of 10,000 lakes, after all. Others might see it differently. The same boat in Illinois is illegal. The fact remains that you must research the answer to this question from a local, state, and federal point-of-view.
HOAs and Visibility
The first thing to check, therefore, is the local law about parking RVs in your backyard. If there is an HOA, they'll also have a say. Most likely they won't allow it because it would detract from the view of the neighborhood. If you signed a contract, violating this regulation will probably land you with a fine. Make sure to read the fine print for the precise terms. It may hinge on the next consideration.
Length of Time
Sometimes, the legality rests with the time you're going to park it. The chances are that no one will say anything about your RV if it's a temporary situation and it's legally parked. For that reason, we'd suggest keeping it in your yard as opposed to the street. The question rests on whether it's an abandoned rig. Some areas may allow parking only at certain times of the year.
Granted, this point may seem like overkill. What difference does one week or one month matter? A lot of it depends on how you use your RV while it's there. Is it simply storage or are you planning on using it?
Dwelling Unit
Here's the million-dollar question that tips it to the federal level. The government has a precise definition of what a dwelling unit is and is not. If you're going to use it for the relatives, you can probably get away with it for a few days. However, even if it's on your property, you can't live in your RV permanently. If it's manufactured housing, you probably can if local laws and the HOA permit it.
The problem often rests with the utilities. You must have potable water and an adequate septic system. You need protection against the elements for it to be considered living quarters. If so, using your RV as a dwelling makes it a second home if it fits these criteria. In that case, it also means property taxes.
We strongly urge you to investigate this point thoroughly. Paying taxes often hinges on whether it could be a dwelling. The chances are if there isn't a bathroom, the law won't consider it a second home, for example.
Advantages of Parking Your RV in Your Backyard
Cost savings are probably the most compelling consideration, especially if you have a larger rig. Many storage facilities charge by the foot, which can certainly add up if you have a Class A motorhome. The other factor is convenience. With the RV right there, you can take off on an impromptu camping weekend getaway without making arrangements to get it out of hock.
Seeing it in your yard is also an incentive to use it more often. If you've paid up for it, it only makes sense to get your money's worth out of your purchase. That way, you can take advantage of the benefits of being outdoors whenever you need to get away from it all. Over 40 million Americans would agree with you. The visual reminder is often a powerful motivator.
You can also camp in your RV right there in your backyard. It's an excellent way to teach children about RVing when they're within the proximity of the safety of their homes. Add some camping chairs and a campfire, and you have the perfect stay-cation. You'd be in good company, too. Over 2.5 million Americans camp within ¼ mile of their house.
On the positive side, you can also keep a closer watch on it. Checking it periodically can help prevent a rodent problem and help keep it clean. That will make it quicker to get on the road for your next trip. If you're planning on upgrading your RV, you can take your time on the project with the rig close by your workshop.
The other factor is safety. Storage lots probably don't get a lot of traffic once the facility is filled. Unless there are security cameras all over the place, leaving your RV makes it vulnerable to theft and vandalism. We get it. Sometimes, it feels better to have your prized possessions close by you. And if you have space, why not?
Many storage facilities state that they are not responsible for any vandalism. The onus to keep valuables out of your RV is your responsibility. Having your rig at home can give you some protection with your homeowners or renters insurance.
Sale
RVLock Compact and Key Fob Keyless Entry Keypad, RV/5th Wheel Lock Accessories
SECURE KEYLESS RV HANDLE: If you're looking for a way to secure your valuables as you travel with loved ones in the family trailer or camper, this programmable keyless handle is just what you need. This handle is perfectly designed for individuals who are right-handed and has a heavy-duty steel core for durability.
FITS MOST TRAILERS: We have designed our innovative keyless lock technology to fit campers, 5th wheel, bumper-pull style, horse, and cargo style trailers. In addition, it works well for most traveler trailer entry doors. This handle offers all the benefits of the V4 handle in a more lightweight option. It replaces standard handles of about 3.75" x 2.75" x 1.5 and will draw less attention because it is more compact.
VARIETY OF FEATURES: Our compact lock comes with a variety of useful features, including a keyless handle, integrated keypad with your choice of over 1 million possible rolling codes, a remote fob (add up to 10), mechanical keys, 4 aa batteries, and an easy 10-minute installation. You can choose to use the keypad or the wireless fobs to lock or unlock the handle.
PEACE OF MIND FOR ANY JOURNEY: This innovative technology is just the RV accessory you need to enjoy your vacation. You can also get other security equipment for your RV's interior, such as storage locks, making it easy to have all the doors keyed alike for convenience. Now you can bring valuables along with you on your trip without worrying about a burglary.
ABOUT RVLOCK: As the first and original keyless entry lock company for trailers, RVLock has enjoyed bringing innovation, ergonomics, and style to thousands of RV and trailer enthusiasts across the country. We build the highest quality trailer security products on the market to give our customers a greater sense of security, comfort, and style.
Last update on 2023-11-13 / Affiliate links / Images from Amazon Product Advertising API
---
Disadvantages of Keeping Your RV at Home
There is a downside to parking your rig at home, too. It'll take up a lot of space that you could use for landscaping or other options. Having an asphalt or gravel pad for it is one thing. Keeping it on your lawn will kill off the grass and probably put some divots in it. When you do move your RV, you'll have an eyesore on your hands.
You also have to think of the rig, itself. Inside storage is a better option than leaving it parked in the sun. Over time, it can damage the tires and leave you with a bigger headache. That is saying nothing about the elements, debris and sap from trees, and anything else that could happen to it. If it's in the sunlight, cover the tires with a tarp or cover meant for this use.
Then, there are utilities. If you're not using it, it's a moot point. However, if you want to use it occasionally, that means hooking it up and supplying power to it, which adds to your costs. There's also the added maintenance if you go back and forth with active use.
You have to think about your neighbors, too. Would you want to look at someone else's rig all year round? We suggest, if possible, pick a spot that is out of their view. Be proactive. That brings us to the next point to consider when parking your RV in your backyard. Where does it go?
Explore Land Tire Covers 4 Pack - Tough Tire Wheel Protector for Truck, SUV, Trailer, Camper, RV - Universal Fits Tire Diameters 26-28.75 inches, Black
Refer to our fitting guide picture for size selection, set of 4 covers fits entire tire diameter up to: 26''-28.75'', it's NOT the rim size.
It's a perfect all-season cover, 4 covers in 1 set. Protects tires and wheels from sun damage, rust and dirt when your vehicle is parked. And the tire cover is easy to clean, wipe only with clean water.
Ideal for use on Jeep, car & truck, SUV, trailer, camper, motor home & RV, or anything with the correct tire size.
Durable water resistant coating with UV stabilized treatment, long-lasting and tough enough as a tire cover, bonded with soft, non-scratch backing.
Elastic cord with auto-lock design easily makes a snug-fitting installation within seconds. Our design has remarkably raised the wind resistance capacity and we don't need ties or holes anymore to stay in high wind. 3 YEAR WARRANTY.
Last update on 2023-11-13 / Affiliate links / Images from Amazon Product Advertising API
---
Finding a Place to Put Your RV
If the law is on your side, the next thing you need to decide is where to park your rig. You might not have a lot of room with which to work. The median size for a lot only 8,560 square feet. If your RV isn't on-site yet, take the time to measure the space that it will take up before pulling into your backyard. We'd also suggest thinking about how easily you can get it out once you've parked it.
You should also decide how you plan to use your rig, if at all. Make sure it's within reach of an outlet to hook it up if you or your kids want to spend the night inside of it. Look at the situation as you would when pulling up to a campsite. Scan the lay of the land for the best spot that doesn't infringe on other parts of your yard. Think about the amount of shade or sunlight it will get.
If you have a garage or other outbuildings, you might consider placing your RV next to it to take advantage of the windbreak and protection from the elements and UV radiation. If that isn't possible, at least cover it with a tarp or RV cover that is securely attached to the rig.
Amazon Basics Trailer RV Cover, 22-24 Foot
Trailer cover with thick, extended, 3-ply roof material and 1-ply breathable sides; protects against dust, dirt, rain, snow, nicks, and scratches
Quick-drying materials; integrated air vent system minimizes wind lofting and inside moisture
Adjustable front and rear tension panels; elasticized hem corners for a custom-like fit
Integrated buckle attachment system; included toss bag removes the need to crawl under the trailer
Fits travel trailer bodies measuring 22 to 24 feet and up to 118 inches high; storage bag included; backed by an Amazon Basics 1-year limited warranty
Last update on 2023-11-13 / Affiliate links / Images from Amazon Product Advertising API
---
What to Do if You Can't Park Your RV in Your Backyard
If the zoning laws don't allow it, forget about risking it. You might have some leeway, depending on the regulations. For example, some areas may permit it if there is a concrete pad. You might also check into adding an awning or canopy next to your home to satisfy any requirements. In a worst-case scenario, you can put it in your garage or build one if you don't have one already.
Final Thoughts
The question of can you park your RV in your backyard has legal, practical, and aesthetic considerations. Yes, sure, it's your property, but the law or your HOA will have a say in the matter too. We suggest checking all fronts before you haul your rig to your yard. Look at the local, state, and federal aspects of the question. You'll save yourself a lot of hassle in the long run if you do.