There's undeniable magic about a fire. You're drawn to it even if it isn't cold outside. The dancing flames are mesmerizing. It's part of our collective DNA, although it isn't necessary for survival anymore. Nevertheless, that may leave you wondering can you have a fire pit in your backyard?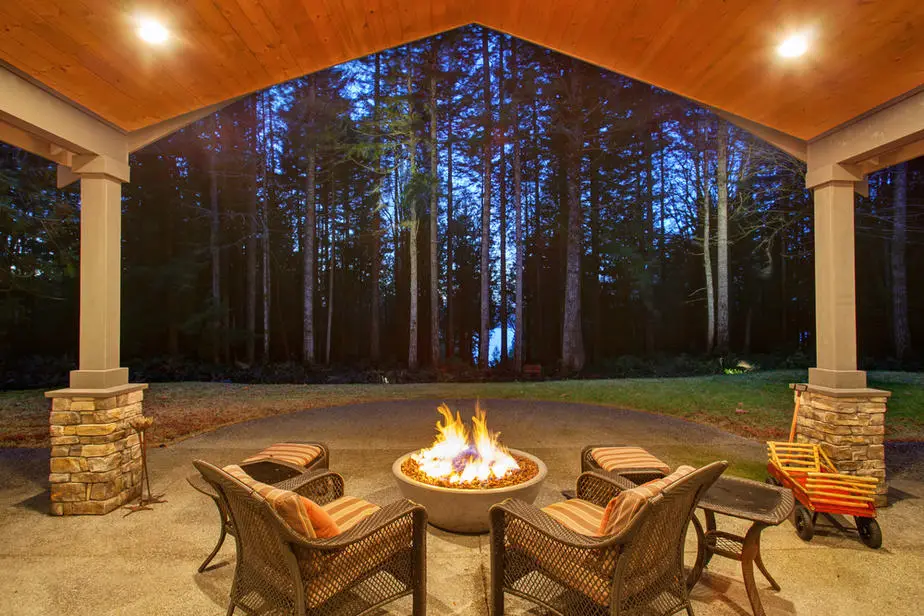 If getting a fire pit in on your honey-do list, you're in good company. The American Society of Landscape Architects reports that it is the fourth most requested landscaping element. It makes sense too, given our passion for grilling. Americans fire up the barbie more often and in colder times of the year. You have to stay warm, of course, while you're flipping burgers and brats.
A grill is one thing. There's likely no question about its legality. When you're talking about an open fire, that's another story. The concern is valid. The former is a factor in an average of over 10,000 fires and 19,000 ER visits a year. That begs the question.
Can you have a fire pit in your backyard?
Sale
ROMANTICIST 20pc Complete Grill Accessories Kit - The Very Best Grill Gift on Birthday Wedding - Professional BBQ Accessories Set with Case for Outdoor Camping Grilling Smoking
【The Most Complete & Professional BBQ Grill Set】This is a great BBQ tool set that comes with all that you need to get right into barbecue, grilling, kitchen cooking or outdoor kitchen, bbq set including 4-in-1 spatula, all-purpose knife, superior-grip tongs, barbecue fork, silicone basting brush, grill cleaning brush, brush head, 4 kabob skewers, 8 corn holders, aluminum storage case.
【Premium Quality Stainless Steel & Dishwasher Safe】Our BBQ grill set is made with top quality stainless steel and well polish finished, getting the construction durable, easy to clean and long lasting, which will keep your BBQ grill accessories looking great season after season.
【Special Design for BBQ and Grilling needs】Stored and carried conveniently with luxury aluminum storage case - Hanging hook for convenient placement when not in use - With a built-in bottle opener, a serrated edge on both sides in slotted spatula - Grill cleaning brush comes with brass bristles and scrapper to total clean.
【Perfect Grilling Gift for Everyone on Your List】This deluxe grill tool set with case can be absolutely made for gift presentation for family and friends on Birthday, Wedding, Saint Valentine's Day, Fathers Day, Mothers Day, Christmas Day.
The ROMANTICIST promise of quality and innovation lives on every barbecue tool we manufacture. Now find here the grill tools and accessories made specially for you.
Last update on 2023-09-18 / Affiliate links / Images from Amazon Product Advertising API
---
The Legal Issues
This issue hinges on the legal side of things. The US Environmental Protection Agency (EPA) acknowledges the popularity of recreational fires for Americans, whether it's a charcoal grill or fire pit. The agency does get involved when it comes to what you burn inside of your home and the appliance that you use.
The stuff outside is different…
Safety is the main concern because of the fire risk. With enough dry litter around the site, a fire can spread quickly. As much as we like to think otherwise, we question whether everyone having a fire has a shovel and garden hose close by, just in case.
Most likely, the biggest obstacle you'll run into when finding out can you have a fire pit in your backyard is the local government. We strongly urge you to check with the city before you strike that first match. Some areas may ban fires of any type, outright. Others may require a permit—and fee. You may also have to place it a certain distance from your home.
It's probably the smartest thing not beg forgiveness, afterward. Get permission first.
PHI VILLA 32" Wood Burning Fire Pit Clearance, Outdoor Large Steel Firepit Patio Fireplace Cutouts Pattern with Poker & Spark Screen
32" Large Fire Pit With Screen: Measures Dia.32" x H19.7". Approx 25 pounds. Lightweight and portable to move by catching the iron ring around
Spark Guard/Poker/Steel Net: Heavy-gauge spark screen protects you and your guests from sporadic flames and embers, offering an extra layer of safety. The poker helps you remove the spark screen and move logs more easily. Additional steel net is included to support the wood and let the air in beneath
Deep Steel Bowl: Large, deep-drawn steel bowl accommodates large fires for added warmth and convenience. Stable steel construction and heat-resistant painting keep the fire pit long lasting. Decorative lattice design cutouts for better flame visibility
Airflow Technology: Wood-burning fire pit features airflow technology that draws in air through the cutouts pattern for increased combustion, giving you longer and warmer fires
Great for any occasion: Suitable for backyard, outdoor entertaining, bonfire pit, RV trips, camping, tailgating, beach, parties, BBQ's, relaxing, chilly evenings (Note: Don't put on wooden floor when it is burning)
Last update on 2023-09-18 / Affiliate links / Images from Amazon Product Advertising API
---
Local Governments and Fire Regulations
Some towns may stipulate the type of fire you can have and what type of fuel you can use. They'll often make a distinction between recreational and the burning of yard waste. As much as we love the smell of leaves burning, some municipalities may forbid it. We recommend looking at the fine print to stay on the right side of the law.
Often, these regulations depend on the population density of an area. The chances are it's legal to have a fire pit in the country. You're more likely to have a roadblock if you live in a suburb or an urban area. Part of the reason is also the heat island effect.
Ambient temperatures in the city tend to be warmer than in rural areas. Think about it. There are buildings all around you with lots of impervious surfaces like roads and parking lots. All are absorbing and retaining heat from the sun. The closer environment also interferes with the smoke leaving and making it more of an issue when it comes to human health.
There's also a question of risk…
More is at stake if you start a fire in the city versus the country. That's why you'll often find that fires of any kind are not permitted in these places.
Other Factors to Consider
If you live in an apartment, check with your landlord or property manager. Some will stipulate within a lease whether you can have a fire pit or burn on-site. The same precaution applies to your HOA. If you've signed a contract, you're legally bound to follow all the rules, including those regarding fire pits and other landscaping elements.
We'd also suggest checking the terms of your renters or homeowner's insurance policy too. You may find that you're not covered if there are any mishaps.
House Rules
One vital aspect to the question, can you have a fire pit in your backyard, is your house rules for having fires, especially if you have small children. Only an adult can tend it or add any wood. No exceptions. Use the experience as a teaching moment so that they will learn to respect fire.
Last update on 2023-09-18 / Affiliate links / Images from Amazon Product Advertising API
---
Your Health and Wood Smoke
We have to address the elephant in the room, the smoke. Even if you're burning dry, seasoned wood, it still emits harmful chemicals like formaldehyde, a known carcinogen. That's saying nothing about particulate matter, which you can inhale. If you have fires often, you can increase your risk of chronic obstructive lung disease (COPD). Children, the elderly, and those with compromised immune systems are most vulnerable.
It's a point worth thinking about since you'll likely have more outdoor fires if you have a fire pit. If anyone in your household has asthma or a respiratory condition, it might not be a smart idea to invest in one. It's not a legal question but one of common sense. In any case, make sure there is plenty of air circulation around your fire pit to lessen the health risks.
The Environment and Wood Smoke
The things that can hurt you from having a fire can impact the environment and wildlife too. There is also a concern about visibility. If you start a large blaze in your fire pit, it can affect the air quality and create haze, especially if you use green or wet wood. That can, in turn, interfere with traffic. Combine that with a temperature inversion, and you have a recipe for disaster.
Playing Safe with Fire
If you've done your homework and all is good, let's discuss the right way to use your fire pit to get the most enjoyment from it. That runs the gamut from choosing the product to putting out the flames.
You'll find a variety of models at varying price points. Durability is, by far, the most important feature. It has to handle the weight of the wood and the stresses of the temperature changes. That makes cast iron an excellent choice.
The location of your fire pit is crucial too. We'd suggest placing it at least 10 feet away or more from your house and the place where you'll store extra wood. Those are the last places you want a stray spark to travel.
It's also a smart idea to clear the area around it from brush or other materials that can catch fire easily. We'd also suggest gathering everything you need to start it while it's still light outside. It's easier than fumbling around in the dark to get another log for the fire.
Last update on 2023-09-18 / Affiliate links / Images from Amazon Product Advertising API
---
Fuel Types for Your Fire Pit
Fire pits use a range of fuel types, such as LP. However, over two-thirds prefer wood. It's inexpensive, easy to find, and has a pleasant scent. If you go this route, make sure to use only store-bought or natural wood. That way, you can rest assured that you're burning something that won't contain any nasty surprises or emit foul odors.
Do not use treated lumber or other types of manufactured products. They may also contain harmful chemicals from any paint or other materials. It doesn't stop there. Many other things can also affect the safety of having a fire.
Other no-nos include:
Styrofoam
Particleboard
Pallets
Plastic
Poison ivy
Finally, put down the can of lighter fluid. Don't be that guy.
Other Necessary Precautions
It's essential to check the weather conditions before starting any fire whether it's in the fire pit or a campfire in a ring. A good rule of thumb is to avoid setting anything ablaze if the wind speed is over 10 mph. If you don't have your smartphone with you, look around to see if the leaves in the trees are moving a lot. If you're near water, check if there are white caps.
If you see either one, it's probably blowing faster than 10 mph. A fire isn't a good idea.
Also, check the direction. Your neighbors might not appreciate the smoke blowing into their house. Remember that the smoke will stay closer to the ground if precipitation is on the way. That could increase the effect of the smoke.
Not good, either.
As we mentioned earlier, always have a shovel and garden hose handy when using your fire pit. There's that stray spark you have to worry about that could wreak havoc with your relaxing evening. Also, never leave a fire smoldering, either. Make sure it is completely extinguished before you go back into the house. A sudden gust of wind could stir up the embers and reignite it.
Last update on 2023-09-18 / Affiliate links / Images from Amazon Product Advertising API
---
Final Thoughts
Few things are more compelling yet relaxing than a fire. We understand its allure. The flames are beautiful. The warmth is welcome. However, it's essential to be both legal and safe. Before you light it up, find out first about can you have a fire pit in your backyard. It's the smart thing to do to avoid starting any unwanted fires.