It's a lovely summer evening. The temperature is perfect. Perhaps, you and the kids have stayed up, talking around the fire pit. No one wants to go inside yet. Maybe, you can spend the night here. But, then a thought crosses your mind. Is backyard camping safe?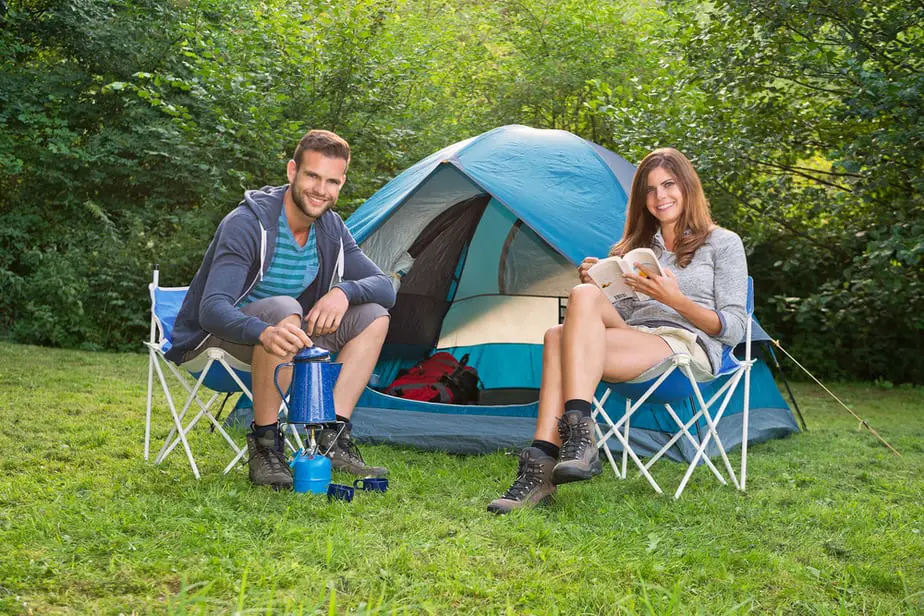 Americans have had a long love affair with camping. There's a good reason why over 41 million people participate in this recreational activity. Getting away from it all doesn't have to mean a trip cross country. Sometimes, just going out into your yard is enough to make that mental break from everyday stress.
However, your concern about safety is valid.
After all, you're in the open in a tent. There isn't the security of four walls protecting you from the elements and lest we forget, strangers of the not-so-kind variety.
What are the Risks?
The first thing to think about is what are you afraid will happen? Are you concerned about wildlife like raccoons or coyotes getting too close to your tent? Perhaps your fears rest with the two-legged variety. Those are convincing arguments to make you question safety.
Let's discuss both of them.
Wildlife and Backyard Camping Safety
It doesn't matter if you live in the country, city, or suburbs. Wildlife is all around you. Animals like deer and opossums have adapted well to us, humans. They have learned about our habits and have pillaged our garbage cans and backyards.
But just because a raccoon knocked over your garbage can, is it really a cause for concern?
The numbers tell the story. A study published in the journal, "Wilderness & Environmental Medicine," looked at the number of human-animal encounters from 2008 to 2015. The findings may surprise you.
The researchers found that there was an average of 201 deaths each year with about 86 from venomous animals. Your first thought is probably snakes. However, there are only 25 species of poisonous ones in North America. The primary concern in this category isn't reptiles but…
Bees.
Allergic reactions accounted for almost 60 deaths and 220,000 ER visits. Even the authors of the paper concluded that it's one area where the focus on public education and treatments should be.
You might wonder then about the non-venomous animals. As it turns out, 90 percent of these encounters involved cows or horses. The second most common incident rate involved dogs.
Okay, you're probably thinking what about rabies? There's not much there, either. According to the Centers for Disease Control and Prevention, bats are the most common rabid animals. However, even the other animals have seen declining rates over the last several years. Ironically, the numbers have increased for domesticated dogs and cats.
The animal that people should fear is the mosquito, which is responsible for more illnesses and deaths than any other one you may find in your backyard.
Safety at Home
The answer to this question rests with the security in your neighborhood. Undoubtedly, you know whether it's a smart idea to walk alone at night in your neck of the woods. The fact remains that the United States is a safer place today than it was in the past with crime rates declining sharply in recent years.
As a precaution, make sure you have your smartphone with you. We'd also recommend having a charger handy too, even if it means rolling out an extension cord. Better safe than sorry.
Weather and Camping Safety
A sudden storm that hits without warning is probably one of the greatest dangers you may face while camping in your backyard. According to the National Weather Service, there are about 27 fatalities from lightning strikes each year. The majority of the states haven't had a reported case in the last 10 years, either.
However, that isn't taking into account other causes of injury, such as flying debris with strong winds, falling trees or limbs, and other weather-related causes. However, there's an easy fix for this one.
Always check the forecast when you go camping whether it's in your backyard or at the state park. Make sure to enable weather alerts on your smartphone too. If you're traveling, set the location to the place you're staying. It won't help you to know if a storm is on the way if you're 200 miles away from home.
Benefits of Camping in Your Backyard
While we've spent a lot of time discussing what could go wrong, let's turn our attention to why backyard camping is a good thing.
If you have small children, it's an excellent way to get them used to the outdoor experience. The first time at a remote campsite is scary. We get it. There are unknown sounds coming from animals we can or cannot see. It might not be as comfortable at first. And many children fear the dark.
Camping in proximity to home helps foster a healthy respect for the outdoors while giving them the confidence to spend a night in a tent or camper if you go RVing.
It's also a benefit for Mom and Dad. It's much easier to try out a new piece of camping gear in the backyard where you can get out of the rain in case your new tent leaks. We'd recommend using new stuff near home if just to know how to set it up correctly.
How to Stay Safe While Camping in Your Backyard
There are several other things you can do to make camping safer and help your children feel comfortable with the experience. We'd suggest you approach it like you would any campsite. Check the ground for roots, rocks, or other debris that could affect your comfort.
The same precaution applies to above your site. Since you're at home, take the time to trim any overhead branches that don't look safe. And while you're at it, run the weed whacker around your campsite to keep the bugs under control. You'll also find it helpful to set up a bug zapper or fog the area so that the mosquitoes don't spoil your fun.
Prepare Your Campfire Site
Even if you camp in your backyard, a campfire is obligatory. Since you're at home, you can do the necessary prep ahead of time to keep it safe. Clear the area around the site for debris and vegetation. If you're going to cook on the campfire, now is a good time to clean the grate. You'll also want to gather some tinder and wood to keep the flames going.
Of course, you'll need to round up your equipment with a garden hose and a shovel for tending the fire. We suggest laying out the ground rules for campfires before you light the first match. In the heat of the moment, all the kids will want to be the fire tender. Leave it to Mom or Dad to play it safe.
Throw Some Light on the Subject
We'd also suggest investing in some have motion-detecting lights if you don't have them already. It's a luxury we love to have while camping. Place them near the house to make bathroom visits safer. You can also place them in other areas of your yard or near any outbuildings like your garage. Then, if a curious raccoon wanders too close, the flash of the light can startle them.
Final Thoughts
Camping puts us in touch with the part of us that loves nature and the outdoors. It doesn't have to mean a trip to a crowded park, either. You can find that same joy at home. When thinking about is backyard camping safe, remember that a lot of it is common sense. Take the same precautions you would when going to a campground. And enjoy the fact that you'll be able to take a hot shower the next day.