When you or a loved one has had an injury it can be hard to keep playing soccer without having one of the best ankle braces for soccer available. Ankle braces are great for rolled ankles, and other damages, helping to support and cushion your joint as you play. Considering that the ankle is one of the most important joints in soccer since you use it both to run and its the main contact zone for kicking, you need to be careful with it. Thankfully there are plenty of options for braces out there, but which one of them is the best for you? We grabbed the top ankle braces for you, so you don't have to scour the internet looking alone.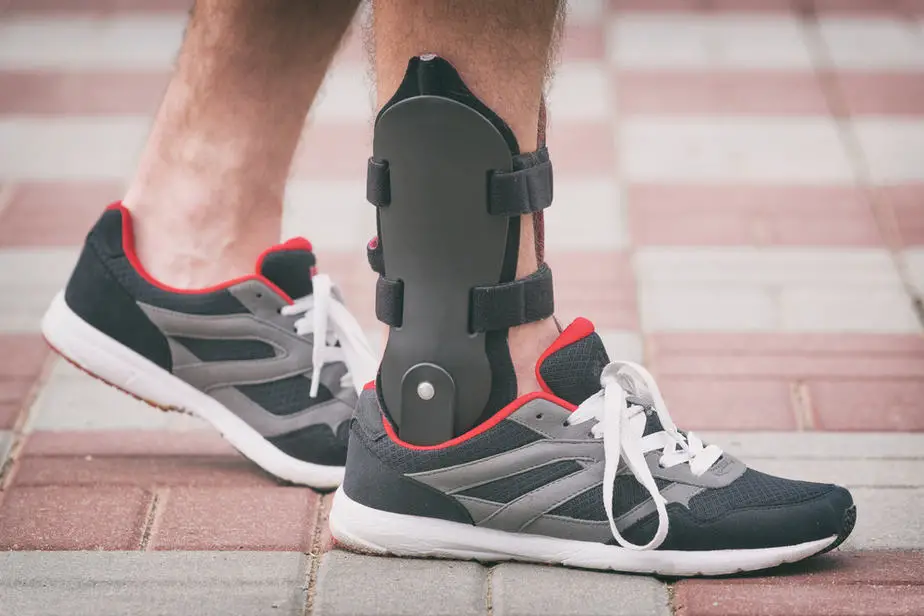 In a Hurry? Here's Our Top Picks…
1. The Protle Brace
Protle Foot Socks Ankle Brace Compression Support Sleeve with Silicone Gel - Boosts Recovery from Joint Pain, Sprain, Plantar Fasciitis, Heel Spur, Achilles tendonitis
✅SILICONE GEL SUPPORT - Features anatomically contoured silicone inserts sewn into the sock that fit gently inside and outside of the Malleolus bones to protect and support the ankle Ligament.
✅PAIN RELIEF - Our product evenly compresses your feet and ankles with right amount of pressure to relieve pain for the following conditions: Plantar Fasciitis, ankle arthritis, achilles tendonitis, foot & ankle swelling, inflammation, heel spur, heel pain, edema, sprain, runners' foot, soreness and stiffness after physical activities.
✅PROTECTION FOR SPORTS & OUTDOOR ACTIVITIES - Basketball, volleyball, skiing, skating, snowboarding, BMX/MTB, football, soccer, running, jogging, track and field, crossfit, weightlifting, tennis and various other physical activities.
✅ANATOMICAL DESIGN WITH COMFORT IN MIND - 3D weaving technology achieves equal pressure distribution throughout the injured area to improve blood circulation, recovery, and comfort. The breathable knitting structure delivers 360 degrees of elasticity for maximum comfort and flexibility. Woven with Comfort, Flexibility, and Durability. For Men and Women. Unisex. PLEASE CHECK OUT OUR SIZING CHART AND FIND THE BEST SIZE FOR YOU!
✅MATERIAL COMPOSITION: Polyamide 65%, Latex 32%, Spandex 3%. If rashes or allergies develops due to material such as Latex, discontinue use of product immediately and contact physician.
Last update on 2023-09-02 / Affiliate links / Images from Amazon Product Advertising API
The Protle foot socks are compression ankle braces that cushion the join itself in your foot. This brace is an excellent selection for those that have had a sprain, a heel spur, or Achilles tendonitis. The silicon gel support ensures that this brace fits snugly with your sock fitting perfectly around problem areas. With intense pain relief, this brace is for sure one of the best ankle brace for soccer. The anatomical design is crafted with comfort and pain relief in mind, and the material itself is soft. With an ankle brace like this, you'll be back on the field and playing again in no time. Helping you help your teammates score goal after goal without being hindered by a simple injury.
What We Like:
Incredibly comfortable
Great pain relief
What We Don't Like:
Might slip around with rigorous movment
Check Price and Reviews on Amazon
---
2. Crucial Compressions' Brace
Sale
Ankle Brace Compression Sleeve for Men & Women (1 Pair) - Best Ankle Support Foot Braces for Pain Relief, Injury Recovery, Swelling, Sprain, Achilles Tendon Support, Plantar Fasciitis Socks
Instant Support and Relief – You will feel the difference immediately with the Crucial Compression Ankle Brace. Get fast pain relief with less swelling, soreness, and discomfort. Our Power Support ankle stabilizer and protector compression technology improves circulation and provides secure support in all the right places. Stop suffering through injury, arthritis, sprains, swelling, achilles tendonitis, or any other ankle pain and get back to doing what you love!
Lightweight and Breathable – Some foot and ankle braces are too hot, too bulky, or impossible to get on. Why settle for anything less than the best? Our Premium ComfortFlex design provides a comfortable, snug, ergonomic fit without cutting off circulation. Thin enough to wear under shoes and socks with moisture wicking fabric to keep your feet dry all day long. Slip your foot in for soft, form-fitting compression support you need - without restricting your mobility.
Premium Quality – With unmatched support and durability, our ankle compression sleeves will take you wherever you need to go - we guarantee it. Top quality double stitching and long lasting construction that won't lose compression over time. Wear daily or whenever you need a little extra confidence on your feet. Feel confident with comfortable support while playing sports like volleyball, basketball, on your feet at work, or just getting through your day - without the nagging pain.
Incredible Performance – Designed and proven to benefit men and women who need effective ankle, foot, and arch support for lasting pain relief. Break through and reach your goals with vascular support to reduce fatigue, swelling, and injuries. Grab a few pairs to wear daily or through the night, or whenever you need it for a performance boost while walking, running, jogging, hiking, cycling or for gymnastics, Crossfit, fitness, training, soccer, football, tennis, or any other athletic sport.
100% "Perfect Fit" Assurance – Your comfort is our passion! Use our size chart to choose the best fit. If you are not completely satisfied with your ankle compression sleeves, return them for a full refund or replacement. No questions asked. We stand behind the quality of our products and excellent customer care and are confident you will love your ankle support brace.
Last update on 2023-09-02 / Affiliate links / Images from Amazon Product Advertising API
This ankle brace by Crucial Compressions is another excellent option for you to relieve pain on an injury. Helping with everything from arch support to joint pain and everything in between this compression ankle brace is truly one of the best ankle brace for soccer. It provides instant relief to the joint in pain, it's lightweight and breathable, unlike other braces that can be bulky or can trap heat. This brace lets you take it back to the field to run and play again without agitating your injury further. This brace comes with a little more cushion than others and its top-quality manufacturing makes it an excellent brace to choose. That additional cushion makes all the difference when trying to run with an injury.
What We Like:
Maximized relief
Great for getting back to the game
What We Don't Like:
May be too tight for some
Check Price and Reviews on Amazon
---
3. This Brace for Plantar Fasciitis
No products found.
If you're having an issue with Plantar Fasciitis specifically this may be the best ankle brace for soccer for you. Fitting for both men and women this brace is designed to sooth ache in your feet, prevent new injuries, boost circulation and reduce inflammation. The sleeve itself is incredibly easy to put on leaving little room for error. This brace comes in two different colors, each is both stylish and practical without drawing too much attention to the brace itself. Overall this is a great ankle brace providing maximized support for Fasciitis exactly where and when you need it getting you back on the field. We all know you'd rather be striking goals than striking a pose on the couch, and this brace can help you do that.
What We Like:
Great pain relief
Sits well on the foot
What We Don't Like:
Check Price and Reviews on Amazon
---
4. The Gonicc Professional Foot Sleeve
Last update on 2023-09-02 / Affiliate links / Images from Amazon Product Advertising API
The gonicc professional foot sleeve is another one of the best ankle brace for soccer than you can find, providing direct support and stability with a strong and breathable design. This ankle brace is a wonderful selection for those that play games like soccer and volleyball with a lot of movement. This brace encourages circulation, stabilizes ligaments and encourages maximized protection of aching ankles ad feet. If you're looking for a brace that provides all-around comfort this is the brace that you want to take a good, hard look at because it is likely the perfect brace for you. As long as you're careful to get the right size and you know it fits you well you will be working with the perfect brace for stability and circulation.
What We Like:
What We Don't Like:
Check Price and Reviews on Amazon
---
5. Bodyprox's Ankle Support Brace
Bodyprox Ankle Support Brace, Breathable Neoprene Sleeve, Adjustable Wrap!
One size fits both feet and up to 11" in feet arch circumference.
Protect the ankle and minimize the risk of injury. Perfect for chronic and acute ankle injury symptoms. Helps relieve pain and provides comfort related to plantar fasciitis.
Open heel design allows wide range of motion during activity and still provide support for the ankle tendons and joints. Ideal for indoor and outdoor sports that need strain ankles during exercise.
Breathable neoprene material retains heat and prevents skin irritation. Comfortable, flexible, durable and washable.
Speed up the healing phase, as it provides just enough and needed support for ankle and foot through compression on the tendons where you need it the most.
Last update on 2023-09-02 / Affiliate links / Images from Amazon Product Advertising API
This ankle brace by Bodyprox is another excellent choice and one of the best ankle brace for soccer on the market. Its breathable, supportive and has an adjustable wrap protecting the ankle and minimizing the risk of injury overall. This ankle brace helps relieve a slew of causes of joint pain, helping you feel relief right off the bat. The open heel design still permits a very large range of motion and is both breathable and prevents skin irritation. Overall this is a great choice for an ankle brace because it's designed to be used during games like soccer, to help improve movement and reduce pain. Helping you get back out onto the field, which is exactly where you deserve to be.
What We Like:
Super supportive
Great on the field
What We Don't Like:
Check Price and Reviews on Amazon
---
6. The Mcdavid Ankle Brace
McDavid Level 3 Ankle Brace with Straps, 1 Count
PREVENTS and/or helps RECOVER from common ankle sprains
SUPPORTIVE Design simulates athletic tape with figure-6 strapping pattern
COMPRESSION and COMFORT top strap for custom fit
ADJUSTABLE without unlacing or removing shoe
BREATHABLE ventilated tongue
Last update on 2023-09-02 / Affiliate links / Images from Amazon Product Advertising API
This ankle brace by Mcdavid is an excellent choice as one of the best ankle brace for soccer considering its specially designed for high impact games like soccer. This brace is perfect to prevent injuries as well as helping you to heal from injuries in the first place. The supportive design simulates athletic tape with the six-figure strapping overall. The adjustable strap can be moved and adjusted on a whim. Pair that with the fact that the comfort is through the roof and you have an excellent ankle brace that works well for years to come. The only real downside is that this brace isn't sold in a pair, you just get one.
What We Like:
What We Don't Like:
Check Price and Reviews on Amazon
---
7. This Awesome Brace
Sale
Bodyprox Ankle Support Brace, Adjustable Compression Ankle Braces for Sports Protection, One Size Fits Most for Men & Women
VERSATILE AND COMPREHENSIVE ANKLE BRACE STRAP---An innovative gear to helps improve blood circulation, prevent injury, help recover from any chronic ankle strains, sprains, fatigue, PTTD (Posterior Tibial Tendon Dysfunction, ankle instability, and Achilles tendon heel, etc. The Bodyprox Ankle Support Brace is primarily produced as a preventative brace strap for any sporting activities such as intensive exercise, running, soccer, weightlifting, hiking, other physical activities.
PREMIUM BREATHABLE ELASTIC MATERIAL ---- Bodyprox Ankle Brace Strap is made with latex-free, Neoprene not only to give needed compression, with how it is meticulously made, it also ensures to keep the feet dry, comfortable and odor-free throughout the entire because of its sweat-wicking feature. Great, lightweight ankle support!
NON-SLIP AND OPEN HEEL DESIGNED ---- Strategically produced with Soft-wavy Silicon Gel, a NEW feature for an added grip which perfectly holds the ankle in place to prevent sliding hence, minimizing the risk of an ankle injury and sprains at the same time an open heel design allowing full range of movement and amazing flexibility. Secure it with the strong velcro tab so, you can do more without worries!
HIGHLY ADJUSTABLE STRAP AND COMPRESSION ---- One size fits most and easy adjusting Ankle Brace criss-cross reinforced strap that allows the user to freely wrap and adjust it with the customized fit and pin-point compression needed which promotes blood circulation, effectively boost recuperation, and lessen fatigue build-up.
SLEEK DESIGNED, FITS EITHER FOOT ---- Wear with confidence! Sleek designed which perfectly fits the shoe. Get the support and compression you needed the most! Meticulously prepared for men and women, of all ages. Whether you choose to purchase One (1) or Two (2) packs of Bodyprox Ankle Support Strap, you are ensured it will fit, either way, that way you want it!
Last update on 2023-09-02 / Affiliate links / Images from Amazon Product Advertising API
This ankle brace is an excellent supportive brace that wraps snugly around your foot to ensure maximum support making it one of the best ankle brace for soccer. It's versatile and even has the option to get one or two braces depending on if you want to support one or two feet. They easily help recover from serious injury and help heal everything from sore ankles to tendonitis. This versatile ankle brace is an excellent way to ensure you can get back to playing as soon as possible. Its highly adjustable, non-slip, and even is designed to look sleek and efficient. Getting you out on the field in a discreet but efficient manner.
What We Like:
What We Don't Like:
Check Price and Reviews on Amazon
---
8. The Ultra Zoom
Ultra Zoom® Ankle Brace for Injury PREVENTION & RECOVERY, Custom Form-Fit, Maximum Support with 100% MOBILITY
NOTE: THIS BRACE WILL NOT HAVE IDEAL COMFORT OUT OF THE BOX. LIKE A NEW PAIR OF SHOES, THE ULTRA ZOOM NEEDS PROPER TIME TO BREAK-IN AND FORM-FIT TO THE ANKLE AND FOOT.
PREVENT and PROTECT your ankles from injuries.
SUPPORT – The Hinged Cuff Design helps restrict excessive twisting and turning which can cause HIGH and LOW ankle injuries.
COMFORT – Ultra Zoom CUSTOM FORM-FITS to YOU. The Performathane soft shell uses body heat to form-fit to your ankle.
PERFORMANCE – Ultra Zoom is the ONLY ankle brace built for performance. This allows you to play better and play more while losing less time to ankle injuries.
Last update on 2023-09-02 / Affiliate links / Images from Amazon Product Advertising API
The Ultra Zoom Ankle Protection Brace is one to be reckoned with. Its a seriously supportive brace with a stable solid plastic outside designed to support you without hindering you or causing you pain points of any kind. This is an excellent option for those that are looking for a bulky and sturdy brace instead of an adjustable or pullover brace. Overall this is an excellent choice and one of the best ankle brace for soccer options on the market. With little more than an adjustment or two, you can easily move this brace, which comes in black or white, to fit your foot and provide maximized support and comfort. On top of being a great brace, this brace has a great name, who doesn't like the name 'Ultra Zoom'?
What We Like:
Stable
Durable
Comfortable
What We Don't Like:
DIfficult to use with some shoes
Check Price and Reviews on Amazon
---
9. Vinaco
Sale
Vinaco Ankle Brace, 2 Pack Breathable & Strong Ankle Brace for Sprained Ankle, Stabilize Ligaments, Prevent Re-Injury, Ankle Braces for men & women with Adjustable Wrap, ankle support for men
1, 【360 Degree Stabilizing Ankle Support】: Vinaco compression ankle brace upgraded 360 degrees around the ankle support, offering adjustable compression and more stability for your ankle, effectively reduce pains by keeping compress on your ankle, controlling swelling and inflammation. Especially for the arthritis like plantar fasciitis, Achilles tendinitis, etc.
2, 【An ankle brace that Moves with You】: Invest in a long lasting ankle support brace. Our black ankle brace for women/men was designed with end users in mind. The lightweight ankle brace is slim fitting for superior comfort and can be worn comfortably throughout the day, breathable neoprene fabric keeps your feet dry. Flexible, durable and washable.
3,【Adjustable Ankle Brace Support】:The elastic straps with a strong hook and loop can be adjusted according to your needs. A tighter fit will disperse more pressure and provide more cushioning force during movement. It can also be adjusted according to any swelling you may have in your ankle. The versatile fit allows you to use our sprained ankle support for any situation.
4, [Keep Your Ankle Safe]: Ankle sprain brace was clinically proven to protect your ankle from sprains or injuries. Or even protect your foot from second injury during recovery. Never be afraid of getting hurt or sprained from jumping or running on uneven surface. This neoprene ankle brace effectively increase your confidence and improve performance while doing exercises or sports.
5, 【Optimal Support to Prevent Injury】: This ankle brace for sprained ankle is specifically designed to work effectively in any activity, such as volleyball, basketball, football, soccer, hiking, running, wrestling Etc. Maintain your best performance while being confident that your ankle will not be injured. Unlike an ankle sleeve, our brace can be adjusted to provide the level of support you desire. The X-protection compression straps allow you to adjust the tightness and compression level.
Last update on 2023-09-02 / Affiliate links / Images from Amazon Product Advertising API
The VINACO soccer brace is another one of the best ankle braces for soccer options you have available to you. With an adjustable strap, you can prevent injury and reinjury to an already hurt ankle. This ankle brace has compression support stabilizing your foot easily and efficiently without any issues. You get two braces in this pack and they even throw in a complimentary wrist brace. This ankle brace helps speed up recovery and puts you squarely on the path to a better time on the field. Breathable and lightweight this is an excellent option to help yourself feel better over and over again.
What We Like:
Breathable
Strong support
What We Don't Like:
Check Price and Reviews on Amazon
---
10. The MEDIZED Brace
MEDIZED® Ankle Brace, Stabilizer, Lace Up Adjustable Support, Stirrup Compression – for Running, Basketball, Volleyball, Injury Recovery, Sprain, Ankle Wrap for Men, Women, and Children
✅ANKLE BRACE WITH INNOVATIVE & 360° DEGREE DESIGN: MEDIZED has developed Ankle Stabilizer Support Brace that provides effective, stronger, and stable support for your Ankle. The brace is designed with 2 straps that forms figure 8 to protect and support ankle. Further, the brace has been designed with 2 side stabilizers to provide stronger and effective support. Its non-stretch stabilizing straps mirror the stirrup technique of an athletic taping procedures.

✅STRONG SUPPORT & STABILITY: The Ankle Stabilizer Support Brace has been developed with 2 Stabilizers on both the sides and 2 straps that provides strong support and effective stability to the ankles. The brace has been designed to help prevent and treat Ankle Sprains. The Ankle brace fits comfortably into normal athletic or street shoe. This is highly effective lace up Ankle Brace with straps that replicate ankle taping, securely locking heel in place.

✅RLIEF IN PAIN AND PROTECT & REHABILITATE THE ANKLE: Recommended for ankle injury rehabilitation/mobilization from sprains and strains. The brace is widely used for prophylactic use. It supports for chronically weak ankles. The ankle brace provides compression and comfort to a soft ankle with significant higher protection than traditional stirrups.

✅EFFECTIVE PREVENTION FOR ANKLE INJURIES: Effective in prevention of Ankle injuries and distortion. MEDIZED Ankle Brace is effective support and treatment for post Ankle injuries, Effective in chronic ankle instability, Prophylactic and therapeutic use in sport activities. The Ankle Brace is suitable to use in any sports activities where there is constant ankle movement including Running, Basketball, Volleyball, Soccer, Baseball etc.

✅BUY WITH CONFIDENCE: MEDIZED Ankle Brace comes with 100% satisfaction guarantee. We take proud delivering high quality of products and excellent customer services to our customers. We provide excellent customer services in case of any issues with replacement or 100% refund. With this guarantee you can buy MEDIZED Ankle Brace with confidence!
Last update on 2023-09-02 / Affiliate links / Images from Amazon Product Advertising API
The MEDIZED ankle brace really is one of the best ankle braces for soccer options available out there, with incredible support, you get wonderful treatment for post Ankle injuries that you may not have had before. This brace effectively eases pain for a wide variety of different kinds of injuries. From a sprained foot to damaged tendons. The innovative design is wonderful, it keeps you wrapped up snugly without jeopardizing your circulation while you recover. This ankle brace is best used off the field due to its bulky nature, but overall it's still an excellent brace to use when you're recovering and itching to get back on the field.
What We Like:
What We Don't Like:
Can be difficult to get on at first
Check Price and Reviews on Amazon
---
11. This Awesome Brace
Sale
BraceAbility Lace Up Kids Ankle Brace - Pediatric Figure 8 Sprained Foot Support Wrap for Active Youth, Children in Sports, Basketball Protection, Gymnastics, Soccer, and Volleyball (XS)
INJURY PROTECTION: Ankle foot orthotic (AFO) can help with treating sprains, strains, instability, sore or weak ankles, juvenile arthritis pain, ligament or tendon injuries; It also helps reduce excessive plantar flexion, eversion, and inversion of the ankle
FIGURE EIGHT DESIGN: Adjustable straps and laces help provide extra support and compression, allowing you to customize the fit to your child's foot and ankle; Protects the ankle and eliminates the need for ankle taping
PERFECT FOR ACTIVE KIDS: Suitable for everyday activities, injury prevention, youth sports including basketball, soccer, gymnastics, running, baseball, volleyball, ice hockey, football, and more
OPEN HEEL: Allows a wide range of motions while still providing support; The nylon material of this child lace-up ankle brace is thin and lightweight but strong; Tongue of brace is knitted and breathable
Last update on 2023-09-02 / Affiliate links / Images from Amazon Product Advertising API
This is another excellent brace that we happily add to our best ankle brace for soccer list. With a figure-eight design that fits most feet, this brace leaves very little to be wished for. It's great for kids and adults alike and protects against injury along with helping you heal from injuries that have already happened. The open heel allows for lots of movement and adjustment all around, making this lightweight but incredibly strong ankle brace one to be desired. With this brace, you can easily get back onto the field with all the support and care you could possibly need.
What We Like:
Sturdy design
Fits most people
What We Don't Like:
Check Price and Reviews on Amazon
---
How to Find an Ankle Brace
Trying to find the best ankle brace for soccer is going to be a difficult task. There are thousands of ankle braces on the market vying for your attention, so finding the right one right off the bat is absolutely essential. There are several things that each of the best ankle braces has that is incredibly important to take into account when purchasing them. Lest you buy an ankle brace that tears apart, is hard to use, is too tight, or can't be adjusted. Thankfully we've broken down exactly what makes the best ankle brace for soccer the best so you can decide what brace on this list is the best for you.
Durability
There is no sense buying an ankle brace if it's just going to come apart at the stitching a few weeks into using it. This is why durability is such an important factor overall. Durability ensures that regardless of the brace, of your movement, of what you're doing you will have constant support no matter what. This is essential when recovering from an injury, especially if you're doing so on the field and you're still playing soccer while you recover. Always get a brace that has a lot of durabilities.
Ease of Use
One of the worst parts about having an ankle brace is that they can be difficult to use. If you're having a hard time figuring out an ankle brace you'll be less likely to use one, leaving you open to further injury and further frustration. No one wants to be out for the soccer season just because they didn't wear a complicated brace. All of the braces on this list are either pull on or extremely easy to wrap, making it more likely you'll even use them, and giving you more time on the field.
Snug vs Tight
As a soccer player finding the best ankle brace for soccer also means finding a brace that's snug, but not tight. Braces depending on the size of your foot can come across as far too tight, to begin with. Causing a lack in circulation which does far more damage than you could guess. You'll lengthen your overall recovery time, and you'll need to be more careful on the foot. Getting a brace that is snug is best, it fits your form well, without causing serious circulation issues overall.
Adjustability
A lot of the pull on braces lack this feature, but its still a great feature to touch base on. Adjustability, either by being able to select a shoe size or by being able to wrap accordingly, is essential when you're looking for an ankle brace. If you can't adjust the brace either before or after purchase than you'll be stuck with the product you get. Even if it's too big or too small. Having the ability to adjust your brace ahead of time is absolutely priceless. It helps keep the brace snug without cutting off circulation and ensures you will be comfortable.
Frequently Asked Questions
Q: Can you wear an ankle brace all day?
A: You can, especially if you're playing soccer or doing other laborious activities.
Q: Do ankle braces weaken ankle muscles?
A: No they do not.
Q: Do I wear an ankle brace over or under the sock?
A: Wearing a brace under your sock is usually the best depending on the brace if it has any hard plastic you may want to place it over the sock for more comfort.
Q: Is taping an ankle better than an ankle brace?
A: There are pros and cons to each but ankle braces are the better more reliable option overall.
Q: Can you wear a brace while sleeping?
A: You can, but you shouldn't. Sleeping is a comfortable process that allows for a relaxed state and a lot of healing, a brace can seriously hinder that relaxation.
Q: What shoes can I wear with an ankle brace?
A: Your everyday sneakers should be just fine with any brace on this list, don't wear flats or any other kind of shoe unless you're on the field. Then, of course, wear your cleats instead of basic sneakers.
Final Thoughts
When you're trying to find the best ankle brace for soccer you can be sure you'll have a hard time finding just the right one. They're difficult to pinpoint which can be a huge frustration point when you're in pain and you want to get back on the soccer field. Thankfully this list is compiled of the best of the best. These ankle braces are durable, stable helpful and add ample protection and comfort to all of the right places. There is little that could go wrong when you're working with any one of these ankle braces on the soccer field.