As a soccer player, most of the movements you'll be doing involve your feet. Soccer can be intense on your feet with explosive foot movements and running for long periods of time. If you experience an excessive amount of foot pain, especially if you also feel sore during periods of time where you're not playing, you may benefit from a good insole. In this article, we'll go over the reason you may need insoles as well as what the best insoles for soccer cleats are, depending on why you need them.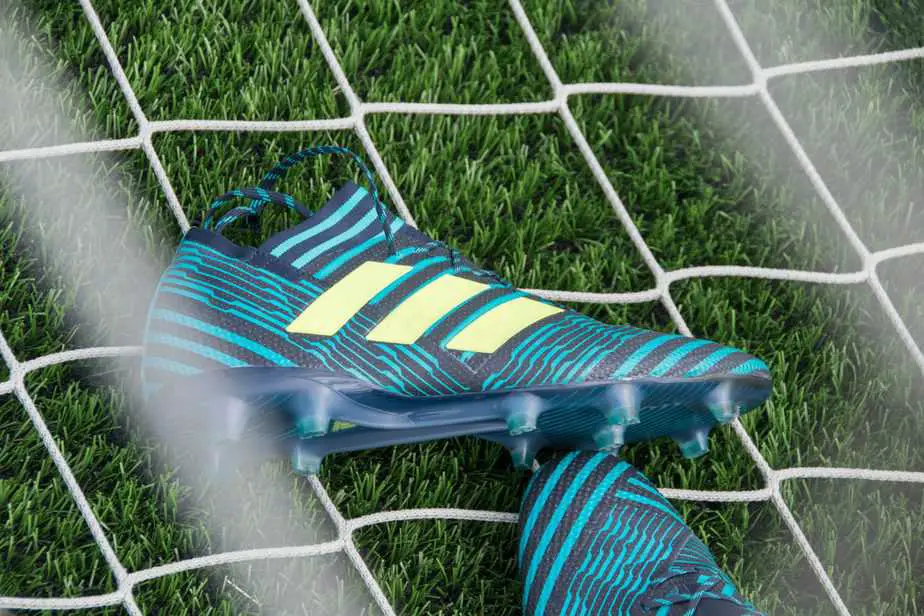 In a Hurry? Here's Our Top Picks…
| Image | Title | Price | Buy |
| --- | --- | --- | --- |
| | currex CLEATPRO - Quick Stops, Tight Turns, More Control – Football, Soccer, Baseball or Lacrosse, Feel The Difference in Your Game. | | CHECK ON AMAZON |
| | Physix Gear Full Length Orthotic Inserts with Arch Support Men & Women 1PAIR M | | CHECK ON AMAZON |
| Top | Plantar Fasciitis Arch Support Insoles for Men and Women Shoe Inserts - Orthotic Inserts - Flat Feet Foot - Running Athletic Gel Shoe Insoles - Orthotic insoles for Arch Pain High Arch - Boot Insoles | | CHECK ON AMAZON |
| | Superfeet CARBON, Thin and Strong Insoles for Pain Relief in Performance Athletic and Tight Casual Shoes, Unisex, Gray, Medium/D: 8.5-10 Wmns/7.5-9 Mens | | CHECK ON AMAZON |
| | New Balance Sport High Impact Insole, Vibrant Yellow, XXX-Large/15.5-17 Mens | | CHECK ON AMAZON |
Product prices and availability are accurate as of the date/time indicated and are subject to change. Any price and availability information displayed on [relevant Amazon Site(s), as applicable] at the time of purchase will apply to the purchase of this product.
Prices pulled from the Amazon Product Advertising API on:
Reasons You May Need Insoles For Soccer Cleats
If you play soccer regularly, then you know how demanding it can be on your feet. Between dodging the opponent, passing the ball, and kicking the ball into the goal, your feet can really get worn out.
There are different issues you may have, such as a high arch or plantar fasciitis, that could cause your feet to put in a little extra work. By correcting these issues with a soccer cleat insole, you can have a more comfortable game so that you play to your full potential. Not only that but choosing the best insoles for your soccer cleats can help prevent injury in the future.
Poor Foot Biochemanics
Foot biomechanics is the study of how the feet move during walking, running, etc. If you have poor foot biomechanics, you can experience a range of sports-related injuries. Because soccer involves a lot of quick sprints and sudden change of direction, you place a lot of stress on your feet and legs. Poor biomechanics can increase your chance of injury and even limit your athletic ability.
Plantar Fasciitis
Plantar fasciitis is a common cause of heel pain, which causes inflammation on the bottom of your feet. Any activity that includes a lot of foot movement can put you at risk for having plantar fasciitis, and soccer is no exception. Having an insole can give some cushion on your feet when you push off the ground during demanding soccer moves.
High Arch Foot Pain
While having high arches on your feet don't always cause pain, if you're on your feet a lot, then they may contribute to it. Having high arches makes it hard to find shoes that fit the curves of your feet, causing more pressure in the arch of your foot when doing explosive foot movements. Using an insole can help fill the gaps so that your foot has solid ground to land on.
How to Choose the Best Insoles For Soccer Cleats
Usually, when you purchase a new pair of cheap soccer cleats, they'll come with a generic insert that will provide minimal support. Replacing them with a firm, supporting arch support can help to reduce inflammation so you can play to your full potential without dealing with discomfort.
Assess the Fit of Your Cleats
When you try on your cleats, notice how well they fit. If they fit well, you'll want to find an insole that has a similar thickness to the generic one. If they feel snug, you can replace it with an insole that is slightly thinner, and if they're roomy, adding in insoles that are slightly thicker will improve your fit.
In some soccer cleats, the insoles are firmly attached to the inside of the shoe. In this case, you can still remove the thin insert layer by prying up underneath the middle of the arch. You should be able to remove it fairly easily, and it'll give you a little more space to insert a better, more supportive insole.
Choosing the Right Arch Support
If you have high arches, adding some extra arch support will help keep your feet from moving around in the cleats. Even if you have average foot arches, adding insoles with slightly more arch support can add a bit of extra cushion to your cleats. Ultimately, you want a pretty snug fit to keep your feet from moving around a lot. Loose-fitting cleats can also cause more blisters than a snug-fitting shoe.
Getting the Most Out of Your Cleats and Insoles
Although getting a good pair of insoles can make a huge difference for your feet, there are a few other things you can do to keep your feet feeling good and your insoles lasting longer.
Before choosing an insole, be sure that you have "the right shoe" in the first place. While insoles can make a drastic change in the comfort of your cleats, it doesn't make up for a wrong-fitting shoe.
Not only should you keep your soccer cleats as clean as possible to reduce odors and bacterial growth, but it's also just as important to keep insoles clean so they can last even longer. There are many ways to clean insoles this, but good ole soap and water should do the trick.
1. Currex CLEATPRO
CURREX CLEATPRO - Thin, Arch Support Insoles, Comfort, Cushion and Stability in Cleats, Soccer, Football, Baseball, Softball, Super Grip for Control, Shock Absorbing Inserts, Men and Women
DYNAMIC INSOLE SUPPORT: CURREX CleatPRO is a custom replacement insole engineered to improve the fit and feel of any cleat brand and model. Designed with a 3D arch, the insole shoe insert has anatomic support and dynamic stability for the best fit.
SUPER-GRIP TECHNOLOGY FOR CONTROL: A superior anti-slip grip provides the ultimate control in your cleats. Combined with a heel stabilizer for a perfect fit, wrap, and lock so you can perform your best. No need to purchase expensive grip socks, CleatPRO does it all.
ADDED CUSHIONING & REDUCES ODOR: The midlayer of these orthotic insoles provide moisture wicking and a charcoal layer to reduce odor. There is a PORON Heel for shock absorption and cushioning, along with PROPO+ for speed push and rapid acceleration.
DESIGNED TO REDUCE INJURIES & PAIN: These support insoles are designed to reduce foot pressure and fatigue. They improve performance and prevent injuries by reducing stress on joints, ligaments, and tendons; the cause of injuries in the foot, knee, and hips.
GREAT FOR ACTIVE SPORTS: Great for players of any age and level. Play better, pass more precisely, jump higher, save energy, and prevent foot problems. Good for one season or 12 months, whichever comes first.
Last update on 2023-11-02 / Affiliate links / Images from Amazon Product Advertising API
When choosing the right insole, it's important to find a pair that can provide support for your specific foot type. What's great about the Currex CLEATPRO insoles is that they come in a range of sizes as well as three arch profiles so that you can get a custom fitting insole for your feet.
Soccer players need to have full control of their feet, and the last thing you should be worrying about is your shoes sliding or moving during the game. These insoles feature NEO Touch SuperGrip anti-slip technology, keeping your foot stable so you can feel in control on the field.
When it comes to footwear, you want to have a snug fit in order to play your best game of soccer. The CLEATPRO insoles fill the void between your foot and the generic flat shoe liner, giving you more stability as you run. These comfortable insoles are designed to reduce foot pressure, improve your performance, and prevent injuries by reducing stress on your joints, ligaments, and tendons.
For a comfortable and functional liner, these insoles are a great option.
What We Like About This
Comfortable even when worn long periods of time
Feature NEO. Touch SuperGrip anti-slip technology for a better fit
Can reduce foot pressure and improve your performance
Check Price and Reviews on Amazon
---
2. Physix Gear Sport Full Length Orthotic Inserts with Arch Support
Sale
Physix Gear Plantar Fasciitis Feet Insoles Arch Supports Orthotics Inserts Relieve Flat Feet, High Arch - M
✅ STEADY ARCH SUPPORT: Physix high arch insoles are designed to be the best shoe inserts men & women need as a soothing solution for Flat Feet, Runner's Knee, Overpronation, Shin Splints, & Achilles Tendonitis. These plantar fasciitis insoles relieve Metatarsal Arch & Heel Aches, Metatarsalgia (Ball of Foot Pain), Patellofemoral Syndrome (Knee Pain), & Low Back Pain!
✅ LOW PROFILE, LIGHTWEIGHT, ULTRA THIN SOLES: Physix flat foot orthopedic insoles are more supportive than thick cushion insoles and won't alter the way your shoe fits. Our plantar fasciitis inserts allow more room in the toe box to ensure comfy fit in most shoe types: boots, booties, slippers, dress shoes, running shoes, sneakers.
✅ ERGONOMIC, NON SLIP DESIGN: Physix orthotic insoles are meticulously designed to reduce pain & discomfort, with semi-rigid arch support & heel cup for added support & stability while on the go. Plus each shoe insole has a non-slip heel to hold the insert securely in place throughout the day!
✅ SUPERIOR MATERIALS: Physix inserts are the best shoe insoles men & women love! Dual Base Layered High-Performance EVA foam & PU material helps correct abnormal walking patterns, relieves metatarsalgia, heel spurs, & knee pain.
✅ DEEP HEEL CRADLE FOR STABILITY ensures your feet get the best tender loving care they deserve, use after use. Ideal as overpronation insoles and perfect for improving performance & physical activity.
Last update on 2023-11-02 / Affiliate links / Images from Amazon Product Advertising API
The Physix Gear Sport insoles have an ergonomic design and were designed to balance the force structure of your foot, providing a solution for those with a variety of feet pain.
Made with medical-grade EVA foam, these orthotic inserts are extremely comfortable and give your foot a soft but firm platform to walk and run on. The shock absorption not only helps relieve pain in your feet but can help reduce fatigue on your ankles and legs. The less fatigued your legs and feet feel, the more power you'll have for your game.
These were designed to provide you with support for proper foot posture as well as good arch support. The non-slip heel will hold the insole securely in place, so no slippage during an intense game.
What We Like About This
Deep heel cradle that provides excellent stability
Lightweight and comfortable
High-performance, medical-grade EVA foam
Check Price and Reviews on Amazon
---
3. Superfeet Carbon Insoles
Superfeet Run Support Low Arch (Carbon) - Trim-To-Fit Unisex Carbon Fiber & Foam Shoe Inserts for Tight Athletic Shoes - Professional Grade - 7.5-9 Men / 8.5-10 Women
Trim to Fit: Superfeet insoles are made to be trimmed to fit your shoes and boots; follow cutting instructions before use, and if you're between sizes, size up and trim down to fit
Low Orthotic Support: Low arch orthotic support helps stabilize the foot while running, reducing stress on feet, ankles, knees, and back
Insoles for Men & Women: Heel cup positions and cradles the heel to optimize natural shock absorption and minimize fatigue; for slim-fitting athletic shoes
Superfeet Insoles for Odor Control: Moisturewick top cover helps reduce odors and keeps feet fresh; beveled foam edge fits in many running and walking shoes
Formerly Known as Superfeet CARBON: Run Support Low Arch (Carbon) insoles are the same great arch support insoles you love, now with a new name
Last update on 2023-11-02 / Affiliate links / Images from Amazon Product Advertising API
The Superfeet Carbon Insoles were designed to alleviate foot pressure and pain from issues such as plantar fasciitis, heel spurs, flat feet, ball of foot pain, etc.
Made with dual-layer foam, you can expect these to make your shoes feel extremely comfortable, even for the roughest of players. These insoles are constructed to cradle your heel and absorb impact so that you can feel stable in your movements on the field.
The organic, odor-control coating eliminates odor-causing bacteria, keeping your cleats fresher for longer – even if you play an exciting game. These also have foam perforations under the midfoot and forefoot that improve the breathability of the liner.
The low profile thin design makes this insole perfect for replacing the generic liner your cleat comes to give your shoes a better, more comfortable, and durable fit. They come in a variety of sizes for both men and women, so you can be sure you'll find an insole that fits your foot.
What We Like About This
Heel cup made to stabilize and absorb impact
Thinly made to fit comfortably inside of cleats
Have an odor-control coating
Perforations that improve breathability
Check Price and Reviews on Amazon
---
4. New Balance Sport High Impact Insole
Sale
Superfeet New Balance Sport High-Impact Orthotic Inserts With High Arch Support - 15.5-17 Men
Athletic Shoe Inserts: Specifically designed for athletes, our athletic insoles for men and women provide durable comfort and long-lasting support
High-Impact Support: Forefoot cushioning provides a bouncy underfoot feel and added protection during high-impact activities; Sculpted heel cups cradle the heel and help provide increased shock absorption
Versatile Wear: Our high-arch insoles for men and women are designed to replace the removable factory insoles in athletic footwear and training shoes
Moisture-Wicking: Our orthotic insoles for women and men are engineered to control odor and minimize friction by wicking away moisture
Shaped By Superfeet: Our shoe insoles for men and women feature a legendary orthotic shape recognized worldwide for providing a supportive, energizing foundation
Last update on 2023-11-02 / Affiliate links / Images from Amazon Product Advertising API
New Balance is well known for its sports shoes, so it should come to no surprise that this brand of insoles made our list. When it comes to footwear for athletes, they know how it's done.
These insoles were designed with athletes in mind to offer a durable, comfortable, and long-lasting supportive liner for athletic shoes. The New Balance Sport High Impact Insole was specifically designed to replace the factory liners your cleats come with.
Once you add these in, you'll experience added cushioning in all the areas you need it most. The forefront is cushioned to give a bouncy feel, and the sculpted heel cup provides extra protection by cradling the heel.
The moisture-wicking design helps to control odor and keep your cleats fresher for longer.
What We Like About This
Designed with athletes in mind
Sculpted heel cup for extra support and stability
Moisture-wicking design
Check Price and Reviews on Amazon
---
5. Sof Sole Insoles Men's ATHLETE Performance Full-Length Gel Shoe Insert
Sof Sole Men's 11-12.5 Insert, Blue
Performance orthotic insoles improve the comfort and fit of men's footwear; ideal for walking, running, cross training, and casual use
Contoured neutral arch is suitable for most foot types; inserts designed to fit in casual and athletic footwear
Lightweight cushioning and gel pads in the heel and forefoot offer comfort without bulk
Hydrologix moisture-wicking treatment helps to keep feet dry, managing temperature
Last update on 2023-11-02 / Affiliate links / Images from Amazon Product Advertising API
The Sof Sole Men's ATHLETE Performance Insoles that will add a layer of comfort and support for your cleats. These have gel pads in the heel and forefoot that will give you extra comfort in the areas with the most impact on your feet.
When you replace the generic insoles from your cleats with these lightweight insoles, you'll have a snug fit without the bulk. The inserts feature a contoured arch design that will comfortably fit most foot types.
These insoles feature hydrologic moisture-wicking treatment, which helps to improve the management of odors and temperatures. For soccer players, this means cooler and drier feet even after playing an intense game.
For comfort, durability, and ultimate moisture control, the Sof Sole Insoles are a great option.
What We Like About This
Comfortable gel pads in heel and forefront
Lightweight and easily replace generic insoles
Hydrologic moisture-wicking treatment
Check Price and Reviews on Amazon
---
6. FootScientific Arches Type 3 (High Arch) Orthotic Shoe Insoles
Last update on 2023-11-02 / Affiliate links / Images from Amazon Product Advertising API
For soccer players with high arches, you'll want to check out this insole from FootScientific. This particular insole is a type 3, meaning it's meant for anyone who has high arches. They mold to your arches to maintain alignment, absorb shock, and help prevent pain and injury those with high arches may be subjected to.
The heel-stabilizing padded foam helps to provide stability in the heel, offering both support and comfort for athletes. These insoles also feature a comfort layer of EVA foam for added relief on your feet. You'll feel these insoles support every step, pass, and kick you perform on the field.
With the aegis micro-shield coating, these insoles help to prevent odors from sweat and moisture from building up. You'll also notice that these insoles won't have sweat stain discolorations or staining because of the coating.
What We Like About This
Made for athletes with high arches
Heel-stabilizing padded foam for extra stability and support
Aegis micro-shield coating that prevents odor build-up
Check Price and Reviews on Amazon
---
7. Plantar Fasciitis Arch Support Insoles for Men and Women Shoe Inserts
No products found.
If you struggle with plantar fasciitis, these insoles can help provide some relief from the pain associated with this common issue. When using these, you'll feel like you're walking on clouds rather than a soccer field.
These insoles are podiatrist-recommended and are made to give you the perfect amount of arch support. One thing to keep in mind is that if your foot is not used to arch support, you may feel some discomfort for up to a week, and then it should subside. To help get your feet used to the insoles, start by wearing them for a couple of hours a day until your feet get used to them.
One great thing about these insoles is how customizable they are. Once you choose the size you want, you can further make adjustments by trimming the orthotics using their guide. This way, you'll feel like you have a custom made insole that's specifically for your feet.
They offer anti-pronation biomechanical reinforcement technology, which is basically a fancy way to say that you're going to experience outstanding arch support with these insoles. The deep heel cradle with the built-in heel support helps to keep the foot bone vertical, giving you optimal stability and balance.
Made with TPU in the arch support paired with a memory foam base, your feet will be both comfortable while feeling like you have durable ground to stand on.
What We Like About This
Help with plantar fasciitis
Good arch support
Customizable for multiple foot sizes
Feature a deep heel cradle
Check Price and Reviews on Amazon
---
8. Footlogics Full-Length Athletic Orthotic Soccer Cleat Insoles
Footlogics Full-Length Athletic Orthotic Soccer Cleat Insoles with Arch Support for Heel Pain, Ball of Foot Pain (Metatarsalgia), Flat Feet - Football, Pair, M
SPORTS INSOLE WITH AMAZING SUPPORT - Footlogics orthotic shoe insoles are medically approved insoles with cushion and support. This football pair is designed to fit soccer and gridiron boots.
FULL-LENGTH WITH ARCH SUPPORT - These full-length insoles, with a deep heel cup, built-in metatarsal raise, and strong arch support, fit comfortably in your boots. They can also be trimmed to size with a scissors if needed.
COMFORT AND VERSATILITY - Fits soccer and gridiron boots, as well as athletics shoes for running or basketball, giving you extra comfort and support when keeping fit or playing sports.
AMAZING PAIN RELIEF BENEFITS - Developed by Australian podiatrists, Footlogics football insoles provide relief from heel and ball of foot pain, over-pronation, and other foot complaints.
LIGHTWEIGHT, QUALITY MATERIAL - Made from durable, cushioning P.U. with a firm plastic T.P.U. outer shell and shock-absorbing forefoot and Gel heel padding. See our size guide below for a breakdown of available sizes.
Last update on 2023-11-02 / Affiliate links / Images from Amazon Product Advertising API
What we love about the Footlogics Full-Length Athletic Orthotic Soccer Cleat Insoles is that they were made with soccer players in mind. They were designed to take the pressure off your feet with the medical-grade insoles.
Designed by podiatrists, these orthotics help to treat common foot issues, such as heel pain and ball of foot pain. They also correct over-pronation, flat feet, and fallen arches.
When trying to correct your foot complaints, you want to be sure that you're choosing an orthotic with high-quality materials, which Footlogics boasts of. Footlogics are TGA-approved (Therapeutic Goods Administration), have strong arch support, and are made with cushioning PU, a firm plastic TPU outer shell, and shock-absorbing forefoot and Gel heel padding.
Overall, these insoles are a great option for most soccer players to use.
What We Like About This
Made specifically for soccer cleats
TGA-approved
Strong arch support
Made with high-quality materials
Check Price and Reviews on Amazon
---
In Conclusion
Whether you have a specific foot pain issue or just bought a new pair of cleats, using an insole can help give your feet more stability and comfort during your games. A lot of soccer players will experience some type of foot pressure if they play the game often, and using an insole can not only help with an existing condition, but prevent pain, pressure, and injury in the future. Choosing the best insoles for soccer cleats mostly depends on how much arch support you're looking for as well as the current fit of your shoe.